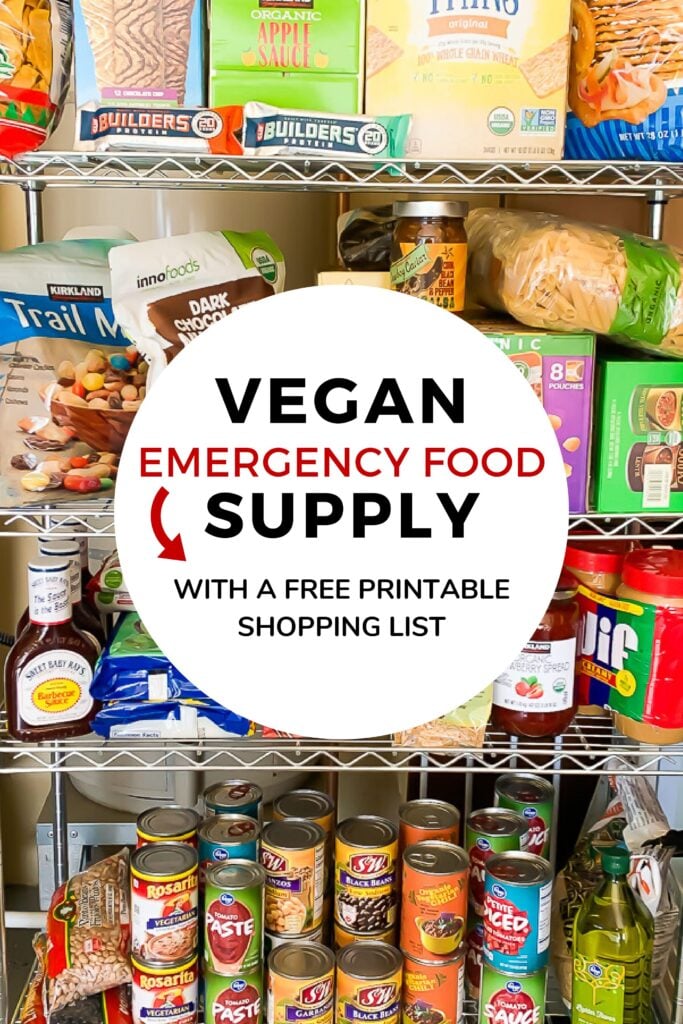 If you didn't know, I live just outside Portland, Oregon. We just got word that due to the virus circulating in the community, gatherings of 250+ people are to be canceled. We aren't sure if the schools are going to be closed soon as well, or really what is coming in the next several weeks or months.
A few weeks ago after the first case was confirmed in my town, I decided to start an emergency food supply. Just in case we are asked to stay home for a few weeks, or one of us gets sick. I felt overwhelmed and frustrated by the lack of information that I could find doing a google search for vegan emergency food, and that is why I have decided to write this post today.
I will share my vegan food supply list, and I have even included a free printable that is clean and clear. I hope you find it helpful, if this sort of thing is on your mind right now like it is my own.
If you have any food items to add to my list, please help by sharing it in the comments below for everyone to read! And if you think it would be helpful for me to come up with some super simple, budget friendly meals using these ingredients, please let me know in the comments as well.
I have focused on food alone, and am certainly not an expert on Disaster/Emergency Preparedness. Other things I personally have stocked up on are Tylenol and Ibuprofen, as well as the normal toilet paper and other essential items. But please seek out a different source on what else to have on hand, I am only an expert on the food side of things. 🙂
This post contains affiliate links. Read my full disclosure here.
Click here for the free printable list.
Vegan Foods to stock up on
GRAINS
Oats: quick or rolled, flavored packets work too

Grits or Malt O Meal

Brown or white rice

Quinoa

Farro

Bulgur

Millet

Cornmeal

Pasta

Ramen noodles

Rice noodles

Granola

Cereal/Muesli

Couscous

Flour, all kinds

Vital wheat gluten

Bread with long shelf life

Crunchy taco shells
BEANS/LEGUMES
Canned beans: black, pinto, chickpea

Canned refried beans

Dried beans of all kinds

Split peas

Red/brown lentils

Canned green peas

Shelf stable tofu (Mori Nu brand) 

Soybeans
VEGETABLES
Canned corn

Canned green beans

Canned carrots

Canned olives

Pickles

Sauerkraut

Artichokes

Canned tomatoes- diced, tomato sauce and paste

Potato flakes (instant mashed potatoes)

Potatoes/sweet potatoes and yams- will last for quite some time if stored in a dark cool place

Freeze dried veggies: kale, broccoli, and more

Canned greens like spinach, collard greens
FRUIT
Canned fruit: peaches, pears, oranges, pineapple

Applesauces

Dried fruits: raisins, dates, apricots and more

Freeze dried fruit: blueberries, strawberries, mango, apples and more

Stock up on apples and green bananas that will last for several weeks
NUTS & SEEDS
Almonds

Cashews

Walnuts

Pecans

Sunflower seeds

Hemp seeds

Flax seeds and ground flaxseeds

Peanut butter

Almond butter

Shelf stable nut milks
OTHER
Olive oil, coconut oil, canola oil

Lemon juice

Canned soups/chili

Prepared food pouches: curries, rice, whole grains (Trader Joe's has some options, as well as Target and other stores)

Better than Bouillon

Nutritional yeast

Spices you like: curry, chili powder, cumin, cinnamon and more

Salt

Vegan protein powder

Sweeteners: sugar, brown sugar, maple syrup

BBQ sauce, ketchup, hot sauce

Marinara sauce

Soy sauce

Coffee, if you drink it
SNACKS
Popcorn

Crackers

Vegan chips: tortilla, other chips

Salsa

Pretzels

Granola bars

Energy bars: Clif, Luna, Larabar

Oreos and other vegan treats!

Jam or jelly

Dark chocolate

Vegan chocolate chips

Chocolatey-chip teddy grahams

Trail mix
DON'T FORGET YOUR PETS!
Pet food

Pet treats

Cat litter

Anything else your pet might need
+ stock up on whatever vitamins you usually take, especially Vitamin B12.
COLD ITEMS
Since the coronavirus is not a typical disaster where the power should go out, a chest freezer is helpful. My refrigerator and normal freezer are pretty packed with my family of 5, but I may go buy a chest freezer and fill it with extra food. If you have space in your refrigerator, freezer or have a chest freezer, here are some food items to think about stocking up on.
Vegan "meats". I like Gardein brand, as well as Trader Joe's frozen meals and "meats". My kids are addicted to chickenless nuggets, so I will stock up on several boxes of these! Don't forget sandwich "meats" as well.
Vegan cheese, sliced and shredded to add to meals
Vegan mayo, vegan butter like earth balance, coffee creamer
Breads: Most breads/buns/tortillas won't last too long, but freeze them and you're good to go.
Apples, pears, avocados, carrots and other produce that will last a while in the refrigerator
Fresh bags of kale or spinach can be sent straight to the freezer and used later for adding to recipes or steaming. Or use for smoothies.
Frozen fruit and vegetables, stock up!