Learn how to make Vegan Bacon from carrots! Thin carrot strips are soaked in a smoky maple marinade, then baked until they're browned and crisp. Oven and air fryer instructions included.
Huge fan of vegan bacon recipes? Then you've gotta try my Tofu Bacon and Tempeh Bacon as well!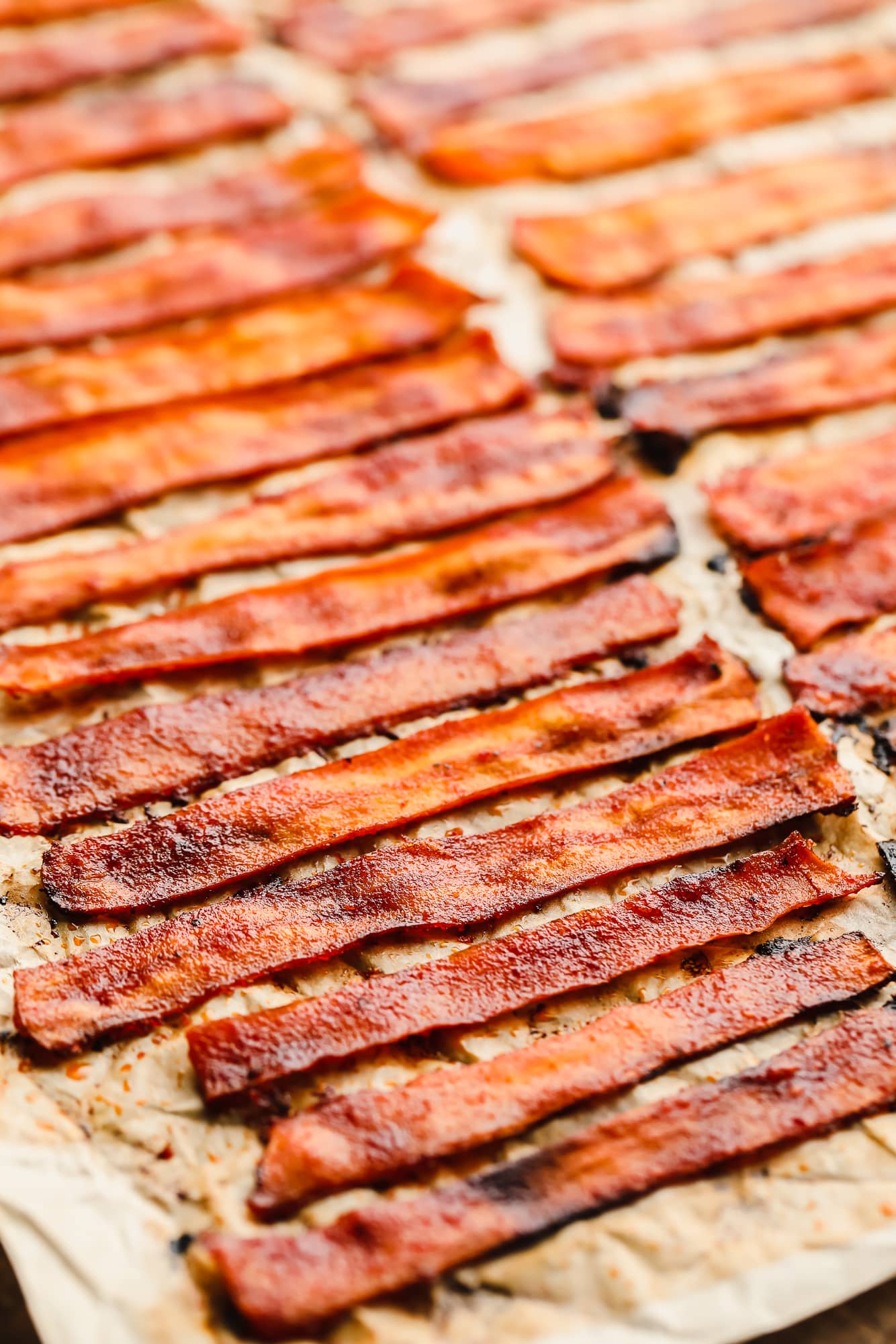 It's not every day that you hear "carrots" and "bacon" in the same sentence. That's all about to change because this Vegan Bacon recipe is made from, you guessed it, carrots!
The carrots are sliced thin, then soaked in a marinade made from soy sauce, liquid smoke, maple syrup, and a few other savory seasonings. That smoky sauce penetrates through the carrots, leaving them with a realistic bacony flavor. Bake the strips in the oven (or air fryer!) until they're crisp and use them wherever you love that maple bacon flavor.
Vegetarian bacon is nothing new, but vegans have been getting creative with the recipes in the past few years or so. The key to out-of-this-world plant-based bacon is in the marinade. As long as you have a good marinade, you can make vegan bacon out of pretty much anything.
Tofu bacon and tempeh bacon have long been my favorites. Love and Lemons has proven that coconut flakes and shiitake mushrooms are fantastic soy free alternatives, while The Edgy Veg has perfected ultra-crispy rice paper bacon. There's no telling what recipe creators will come up with next!
The best part is you can use carrot bacon anywhere you'd use regular bacon; in BLT sandwiches, over a bowl of potato soup, in a breakfast casserole, and so much more. It's a healthy alternative that tastes just like the real thing. Enjoy!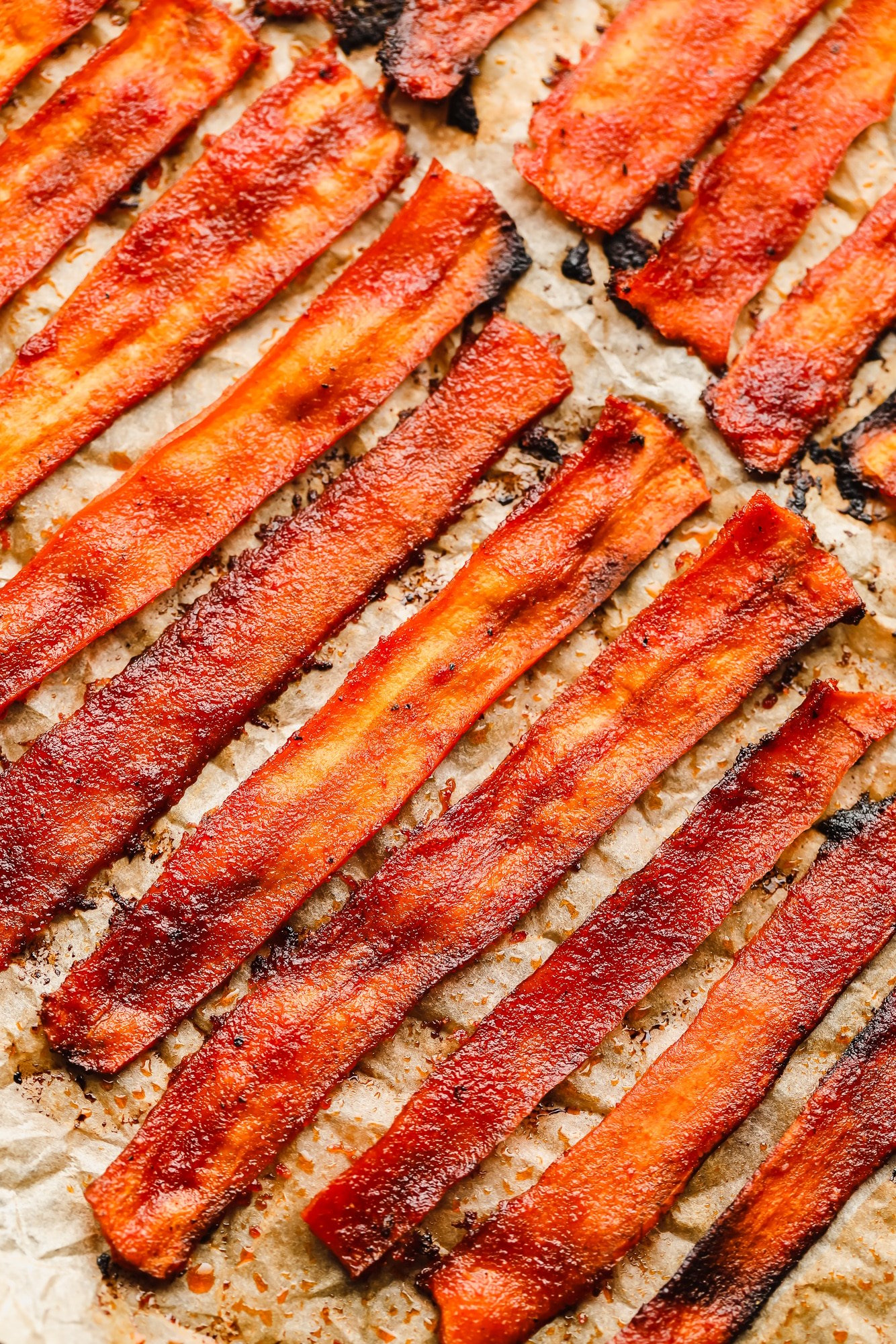 Ingredients needed (with substitutions)
Carrots – Medium-sized carrots are sliced into thin strips before being marinated and baked until crisp. Two carrots should be enough to feed the family, but go ahead and use more (plus more marinade) if you're serving a crowd.
Soy sauce – Use low sodium soy sauce to prevent the bacon from tasting overly salty. If you're gluten free, use tamari instead.
Olive oil – You can use another oil if you'd like, such as avocado oil or vegetable oil. It helps the carrot slices brown in the oven and improves the overall flavor.
Maple syrup – This adds a touch of sweetness to every bite, just like real maple bacon.
Liquid smoke – Try not to skip this! It's the secret to a smoky, realistic vegan bacon.
Tomato paste – This will thicken the marinade slightly and help it coat every inch of the bacon slices.
Garlic powder
Onion powder
Smoked paprika – Or use regular paprika to tone down the smoky flavors.
Black pepper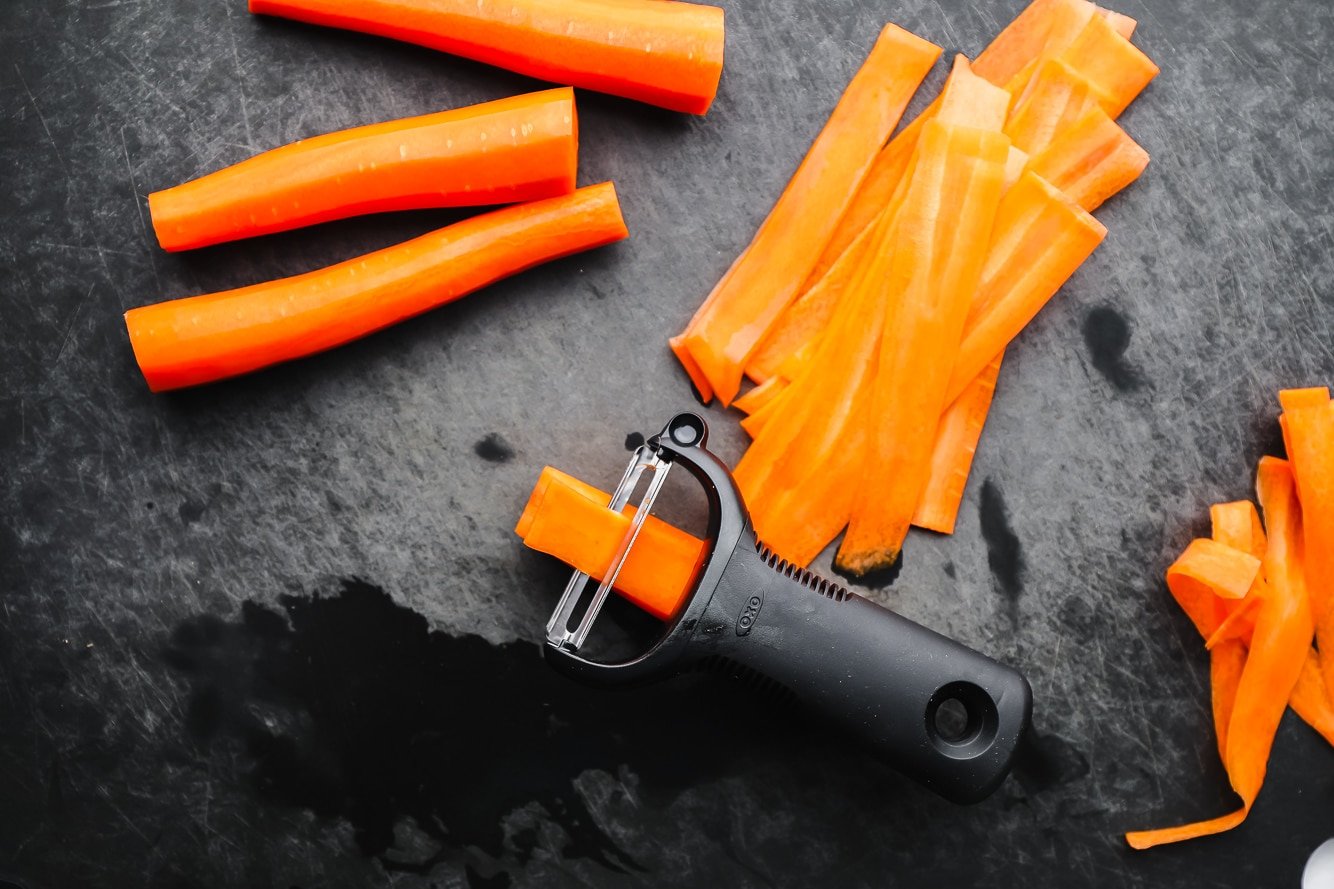 How to make vegan bacon
Find the complete printable recipe with measurements below in the recipe card.
Wash and peel the carrots, and cut off the ends. Use a wide vegetable peeler to peel long, thick strips from the carrots. Save any really thin strips for salads (they'll burn in the oven otherwise).
Whisk all of the ingredients (besides the carrot strips) together in a bowl. Add the carrots and move them around so they're evenly coated.
Let the carrot strips marinate in the bacon marinade for 20 minutes or up to 24 hours.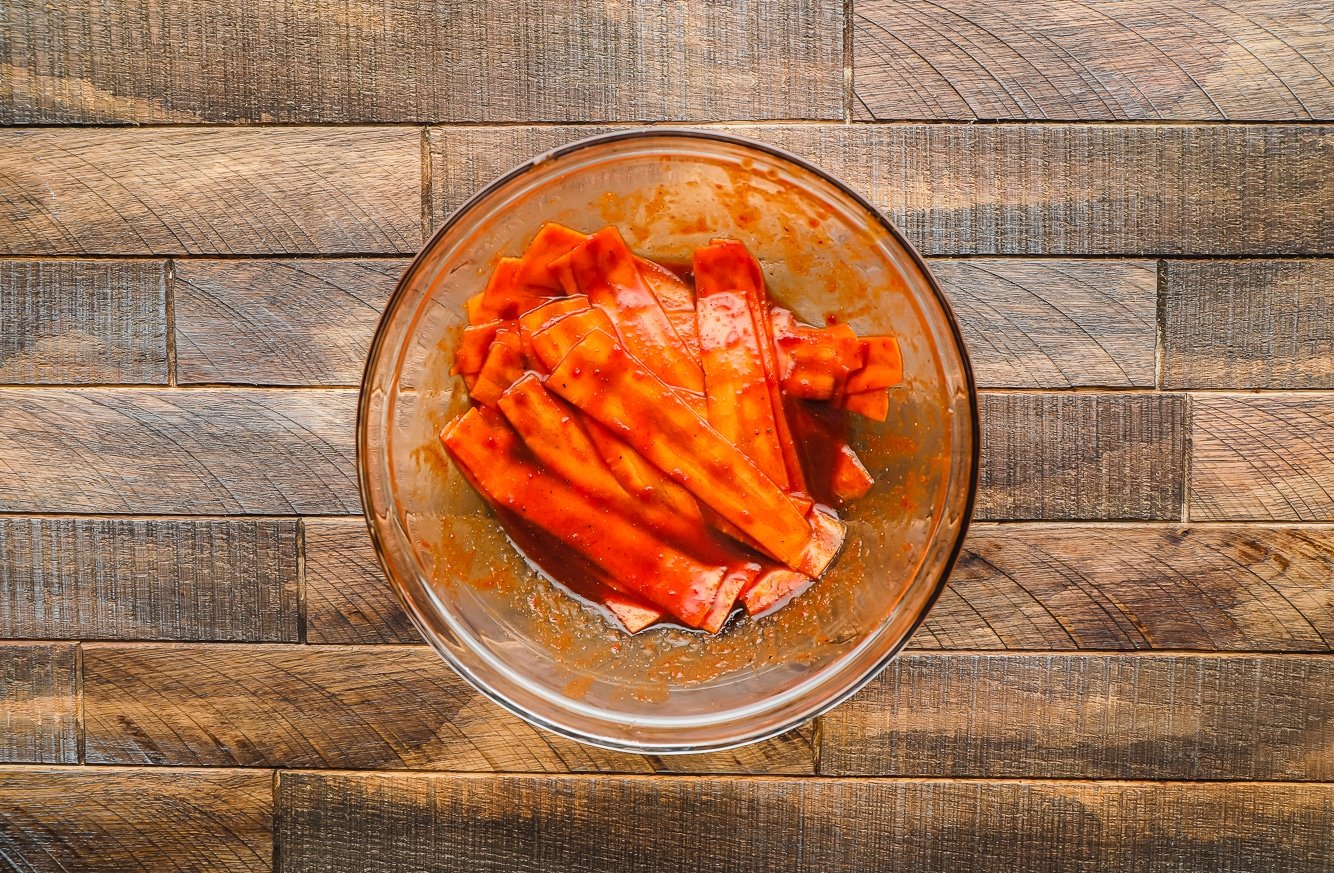 When it's time to bake, lay the strips on a parchment-lined baking sheet. Bake until they're browned and crisp (but not burned). You'll need to check on them often.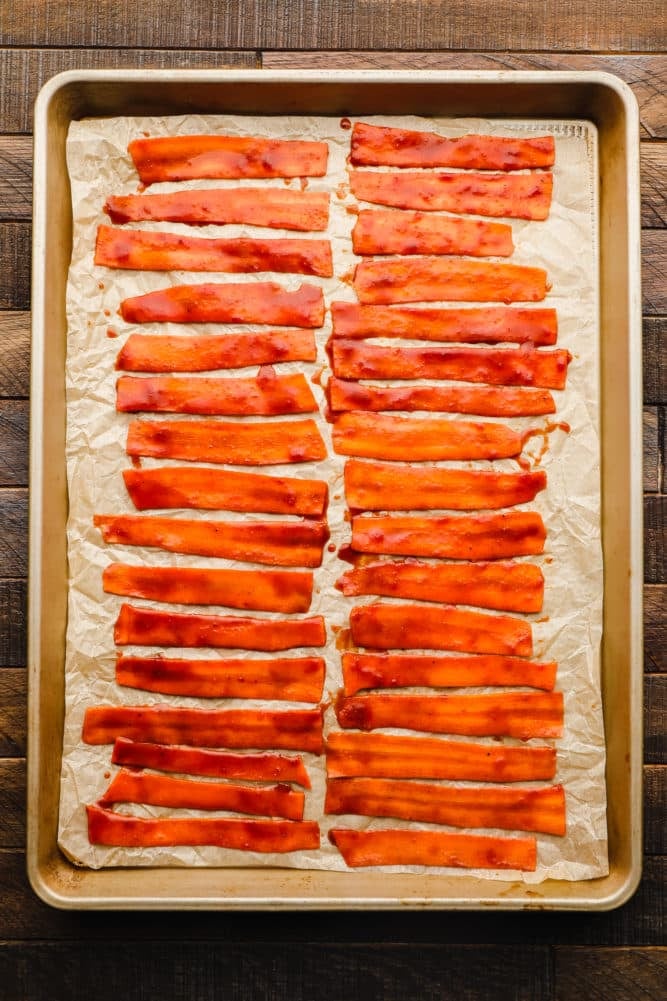 Let the strips cool on a wire rack before using them in a vegan BLT, with tofu scramble, and anywhere else you love the crispy crunch of bacon.
Air fryer instructions
Lay the carrot strips in a single layer in an air fryer basket (you'll likely have to work in batches or else the "bacon" won't crisp). Air fry at 400ºF for 5 to 8 minutes or until they're golden and crispy.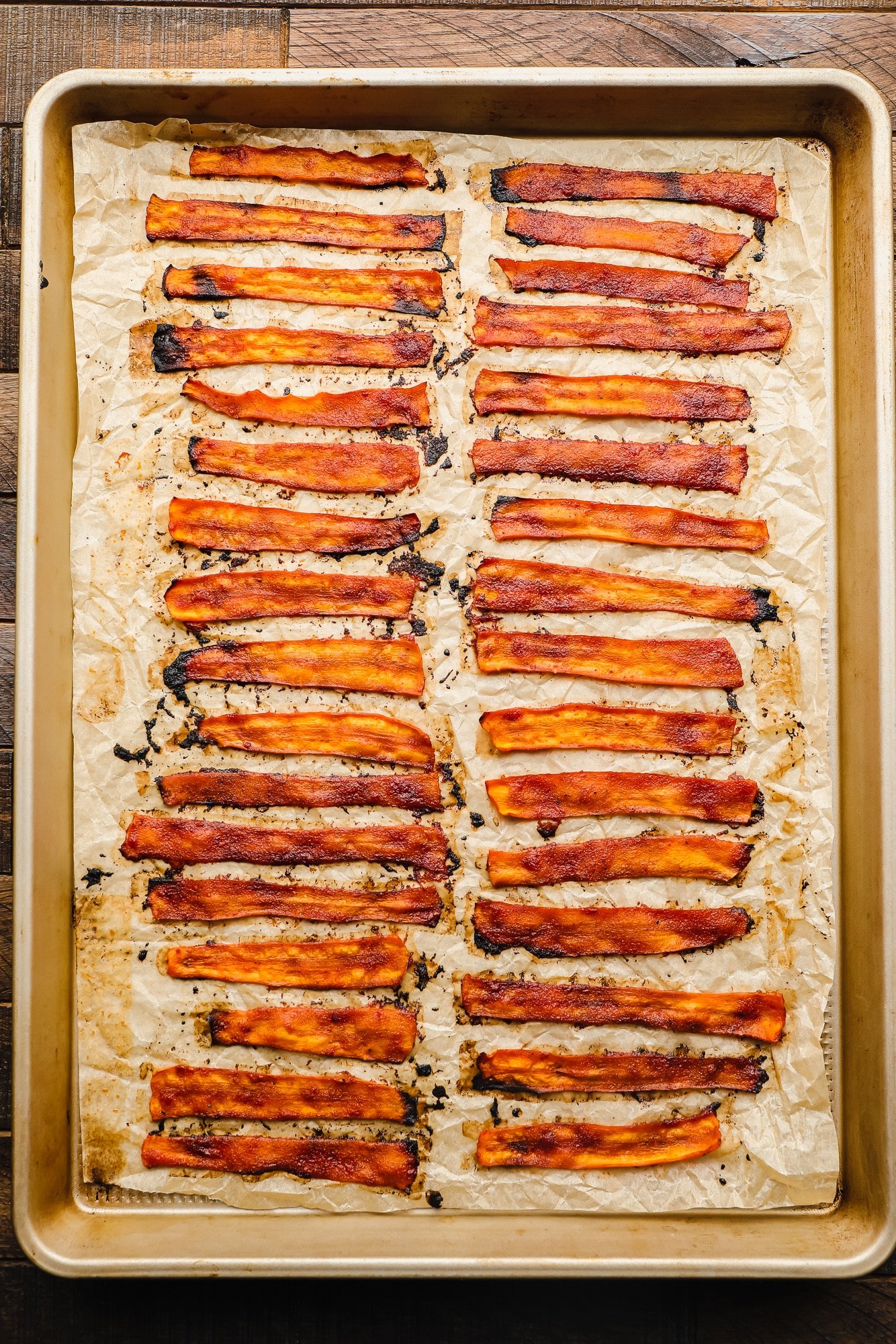 Serving suggestions
Serve the strips on the side of a breakfast casserole, vegan quiche, blueberry pancakes, or tofu scramble to take an all-out weekend breakfast or brunch up a notch. Otherwise, you can use them anywhere you would use normal bacon, like in sandwiches, wraps, on toast, or on a puff pastry tart. 
You can even chop the crispy bacon into smaller pieces and stir them into a vegan caesar salad, use them as a topping on potato soup or corn chowder, or stirred into the breakfast potatoes. The options are endless!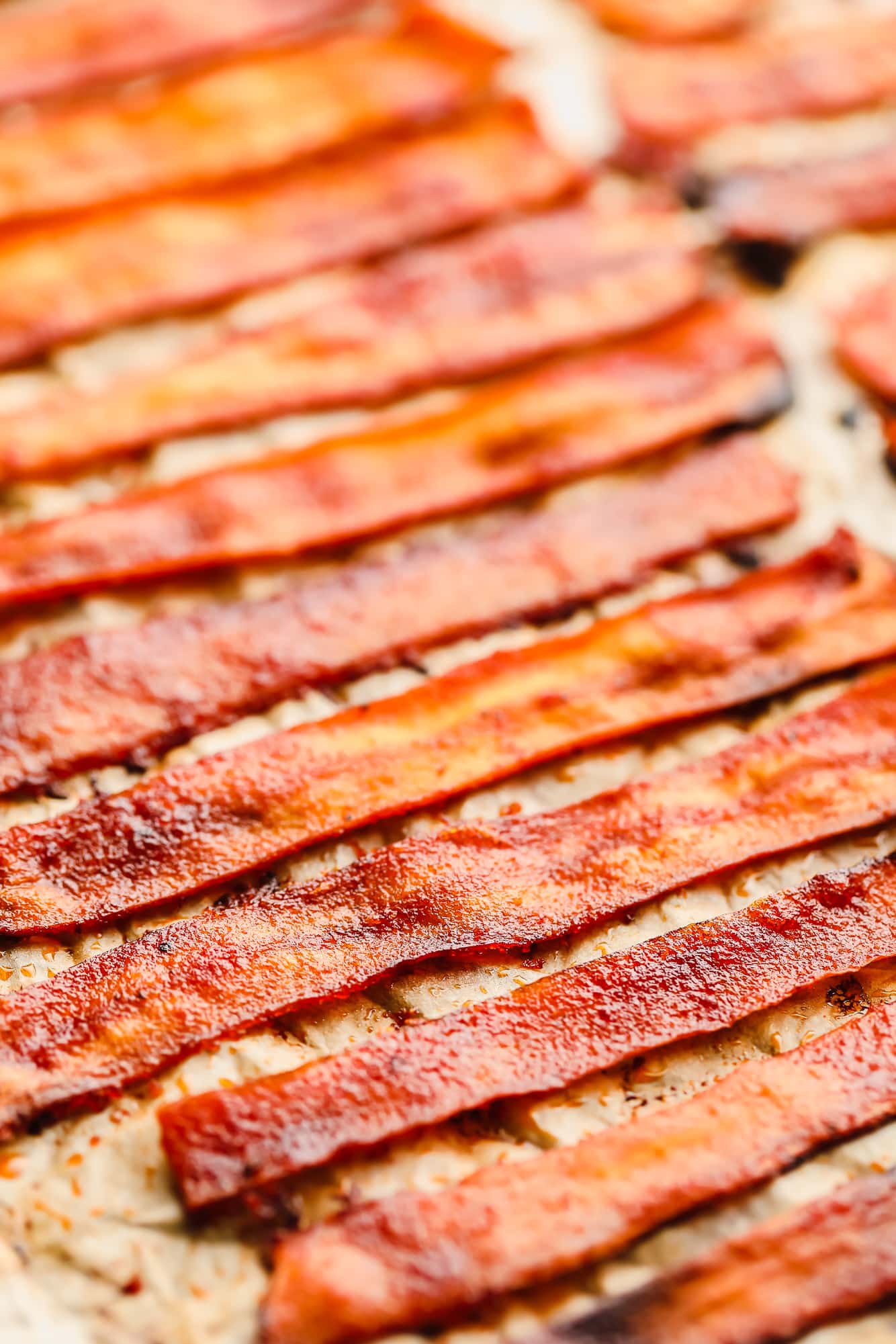 Want more vegan "meat" recipes?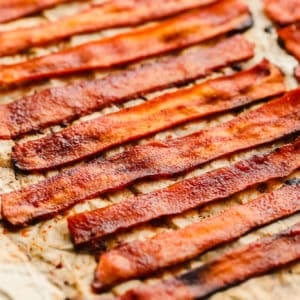 Vegan Bacon
Learn how to make Vegan Bacon from carrots! Thin carrot strips are soaked in a smoky maple marinade, then baked until they're browned and crisp. Oven and air fryer instructions included.
Ingredients
2

medium

carrots

2

tablespoons

low sodium soy sauce

1

tablespoon

olive oil

1

tablespoon

pure maple syrup

1

teaspoon

liquid smoke

1

tablespoon

tomato paste

1/4

teaspoon

garlic powder

1/4

teaspoon

onion powder

1/4

teaspoon

smoked paprika

few shakes black pepper
Instructions
Wash your carrots, peel and cut off the ends. Using a wide peeler, peel long thick strips of carrot (these are your bacon strips). The first few you peel will be super thin; I save these for salads or snacking and just use the wider strips. Don't use tiny carrots; medium sized or large carrots are what you want. 

In a medium-small bowl, whisk together all the other ingredients for the marinade. Add the carrot strips to the marinade in the bowl and move around so they are all coated in the sauce.

Let them marinate for 20 minutes in the refrigerator, or longer if desired (up to 24 hours).

Line a large baking pan with parchment paper and preheat the oven to 400 degrees F.

Lay the carrot pieces on the prepared parchment lined pan and bake for 10-15 minutes until they are browned but not burned. Check on them often so they don't burn.

Transfer to a cooling rack. Let them cool for a few minutes if possible as they will crisp up as they cool. Serve however you like and enjoy.

Air Fryer – You can make this carrot bacon in an air fryer as well. Simply air fry in batches (so they are in a single layer) at 400 degrees F for 5-8 minutes, or until crisp and golden.
Notes
For gluten free carrot bacon, use tamari instead of soy sauce.
If you took them out of the oven too quickly and they are still soft, you can stick them back in the oven for a few more minutes until they brown and become crispier. They will also crisp up a bit as they cool.
Nutrition
Serving:
1
of 4 servings
|
Calories:
66
kcal
|
Carbohydrates:
8
g
|
Protein:
1
g
|
Fat:
4
g
|
Saturated Fat:
1
g
|
Polyunsaturated Fat:
0.4
g
|
Monounsaturated Fat:
3
g
|
Sodium:
344
mg
|
Potassium:
184
mg
|
Fiber:
1
g
|
Sugar:
5
g
|
Vitamin A:
5218
IU
|
Vitamin C:
3
mg
|
Calcium:
20
mg
|
Iron:
0.4
mg