A classic tasting Vegan Meatloaf made with a base of chickpeas that is SO simple to make. This is NOT another mushy vegan loaf. It's beautiful, savory, hearty and extremely comforting alongside some mashed potatoes and green beans.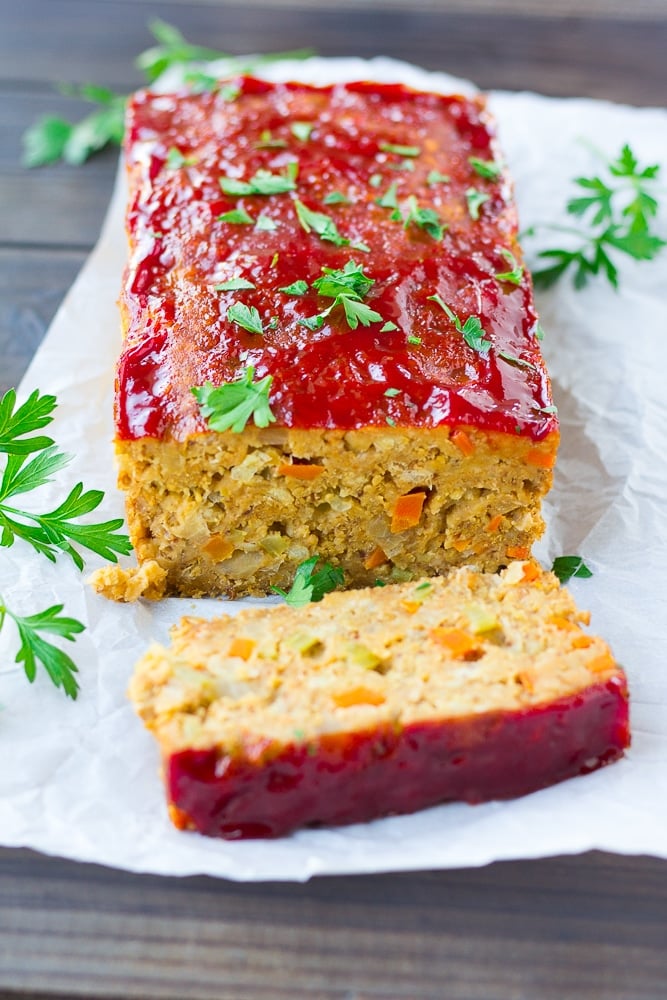 *This recipe was originally posted 10/12/17. Updated 9/24/18 with more appetizing photos and slightly updated instructions.
Ah, the Vegan Meatloaf. Have you tried making one yet? You can find many different versions all over the internet, from lentil loaf to tofu loaf, and probably many more.
Some I've tried have been quite good, but often even if they taste good, they don't look very appetizing. I wanted to come up with a Vegan Meatloaf recipe that had more "classic" meatloaf flavors and would also look beautiful. Chickpeas to the rescue!

The one thing you never want is a super mushy loaf. And it's pretty hard to avoid, actually. But through some trial and error, I have come up with a non-mushy, flavorful and beautiful loaf that would be just perfect as the main dish for Thanksgiving, Christmas or any other holiday.
I remember one Thanksgiving several years ago that I was super excited to make a popular blogger's lentil loaf recipe. I wanted to impress our guests with how good vegan cooking can be! Well, the loaf sunk in the middle and was just a complete mushy mess. Ugh. So frustrating.
HOW DO YOU MAKE VEGAN MEATLOAF?
This Vegan Meatloaf is easy to make, and most of the time spent is hands off.
First, saute the vegetables in either water or olive oil for a few minutes, until the onion is translucent. Remove from the heat and set aside.
Mash the drained/rinsed chickpeas in a large bowl (I always use a potato masher, works great!).
Then simply add the cooked vegetables and all the remaining ingredients. Stir very well!
Press the mixture into a loaf pan evenly, cover with foil and cook for 30 minutes. Remove foil, add the ketchup- Worcestershire topping and put back in the oven for 15 minutes.
Remove from the oven, let cool a few minutes, slice and serve.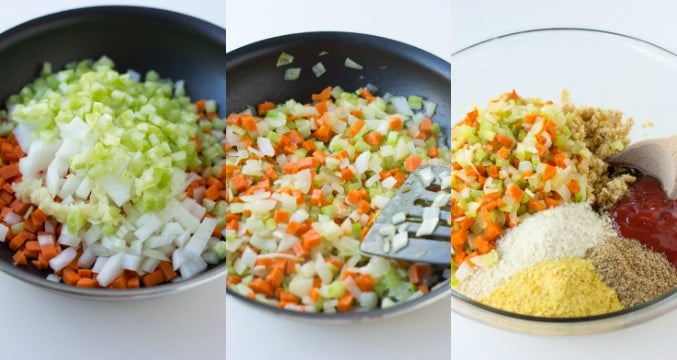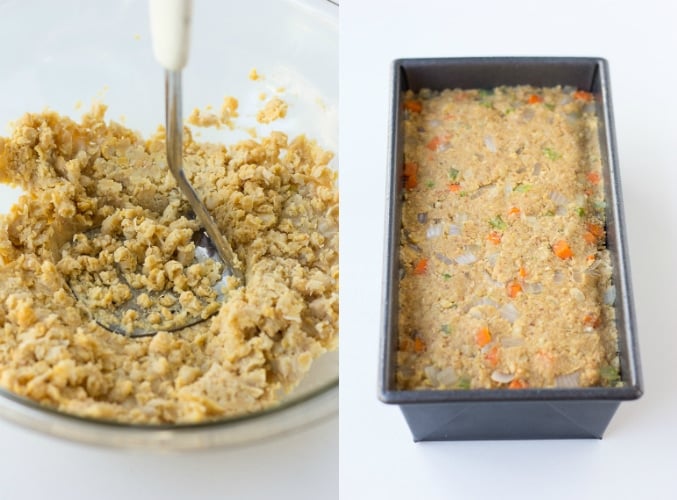 I hope you all enjoy this vegan meatloaf! It's:
Hearty
Smoky
Fiber-rich
Beautiful
& so Affordable
You can also leave off the ketchup topping and serve with this Easy Vegan Gravy instead!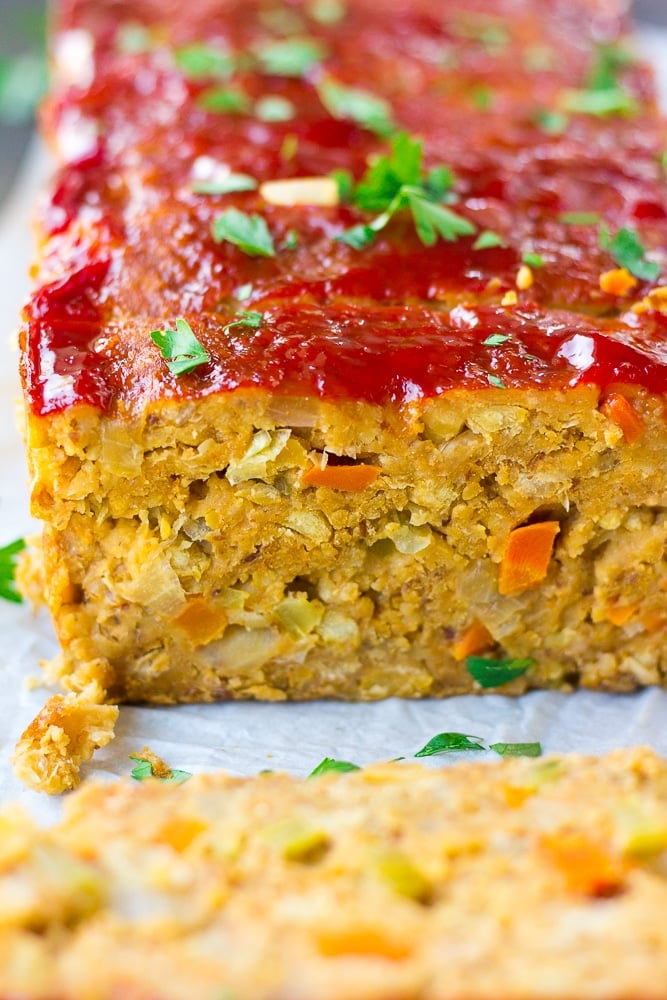 Want more savory vegan dishes? Try one of these!
Inspired by this recipe.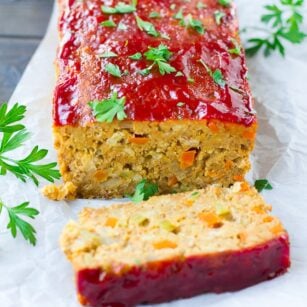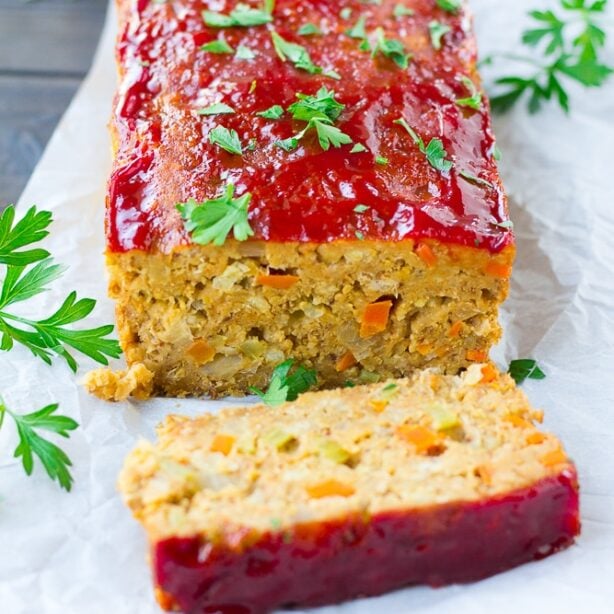 The Best Vegan Meatloaf
A classic style vegan meatloaf recipe made with a base of chickpeas. Unlike some vegan loaf recipes, this one is not mushy. It has a slight smoky flavor and makes for a beautiful centerpiece dish for any holiday or Sunday family dinner.
Ingredients
Vegetables for Sautéing
1-2

tablespoons

olive oil OR water for oil free

1

small onion, diced small

2

small carrots, diced small

2

celery stalks, diced small

3

garlic cloves, minced
Instructions
Preheat the oven to 375 degrees and lightly spray a 9 inch loaf pan with oil, or line the bottom with parchment paper to prevent sticking.

Saute the onion, carrots, celery and garlic in the olive oil or water over medium heat for 5 minutes, until the onions are translucent. Remove from heat and set aside.

Add the chickpeas to a large bowl, and mash with a potato masher (or fork). You do not want them to be completely pasty or mushy, but well broken up. Alternatively, use a food processor, but be careful not to over blend them and make them totally mushy. Pulse a couple of times if using a food processor.

Add the cooked veggies and all the remaining ingredients to the chickpeas. I have found 1 cup of breadcrumbs to be enough, but if the mixture seems really moist, add an extra 1/2 cup. Stir with a large wooden spoon until very well combined. 

Press the loaf mixture in the prepared pan, pushing down evenly with your hand. Cover with foil and bake for 30 minutes.

In a small bowl, stir together the ketchup and Worcestershire sauce for the topping.

After 30 minutes, remove the foil, spread the ketchup topping evenly on top of the loaf and bake for another 15 minutes, uncovered. Remove from the oven.

Allow to sit for at least 15 minutes before slicing if you can, it will hold up better. Sprinkle with fresh parsley if desired before serving.
Notes
You may substitute gluten-free or whole wheat breadcrumbs if desired. The amount needed depends on how moist or dry your chickpeas are. I have found this varies depending on the brand. Use 1 to 1 1/2 cups.
Make sure to find vegan Worcestershire sauce. Most have anchovies in the ingredients. Annie's brand has a good one you can find at most natural food stores. You can also order it online.
Find liquid smoke near barbecue sauce in most grocery stores. You can leave it out, but it adds a great "smoky" flavor. One bottle will last you a long time.
Nutrition
Serving:
1
serving
|
Calories:
286
kcal
|
Carbohydrates:
44
g
|
Protein:
13
g
|
Fat:
7
g
|
Saturated Fat:
1
g
|
Sodium:
843
mg
|
Potassium:
600
mg
|
Fiber:
10
g
|
Sugar:
9
g
|
Vitamin A:
3598
IU
|
Vitamin C:
5
mg
|
Calcium:
110
mg
|
Iron:
4
mg