Crispy baked tofu is tossed in a spicy chili sauce in this Gochujang Tofu recipe. It's a flavor and spice-packed dish to use in rice bowls, stir fries, tacos, and more.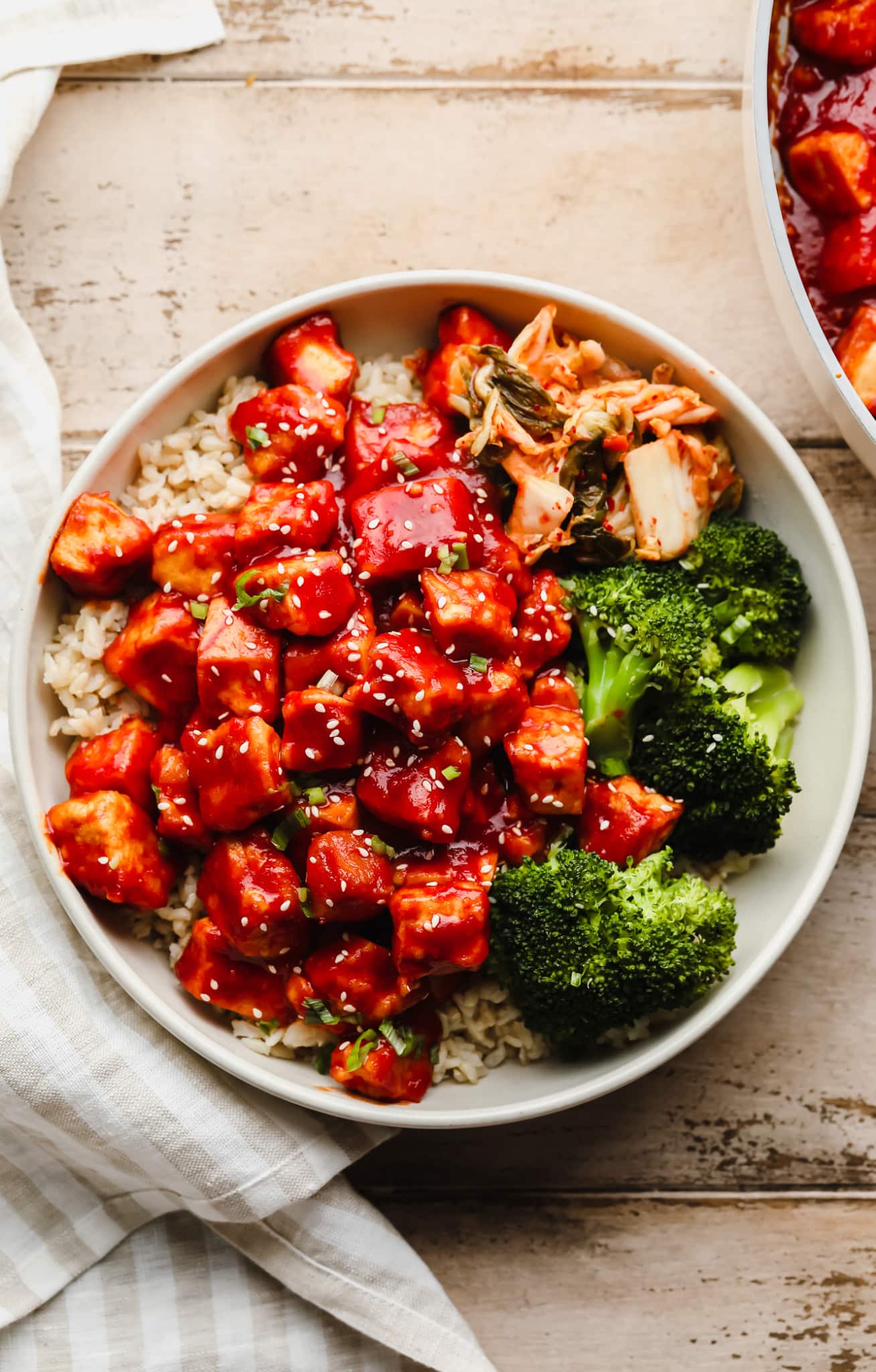 Crispy tofu with spicy sauce
Whenever you need a quick and easy dinner that doesn't lack flavor, crunchy tofu pieces covered in sauce is the way to go. The tofu is the easiest part; toss the pieces in cornstarch, then pan fry, bake, or air fry until crisp.
The hardest part is choosing the sauce!
There's teriyaki sauce, black pepper sauce, and so many more amazing sauces you can use to coat baked tofu. But this Gochujang Tofu? It's something special.
The crunchy tofu bites shimmer and turn a bright red color once they're coated in the spicy sauce made with gochujang paste (red chili paste). And while this dish is a definite 'yes' from the spice lovers, the heat in the sauce isn't overwhelming and can easily be toned down. Regardless of the heat, it's always nicely balanced with its savory flavors and subtle tang.
This gochujang tofu recipe is ready to enjoy in about 1 hour. Serve it over rice or noodles with broccoli for quick weeknight dinners or in stir fries and tacos for a more elaborate meal.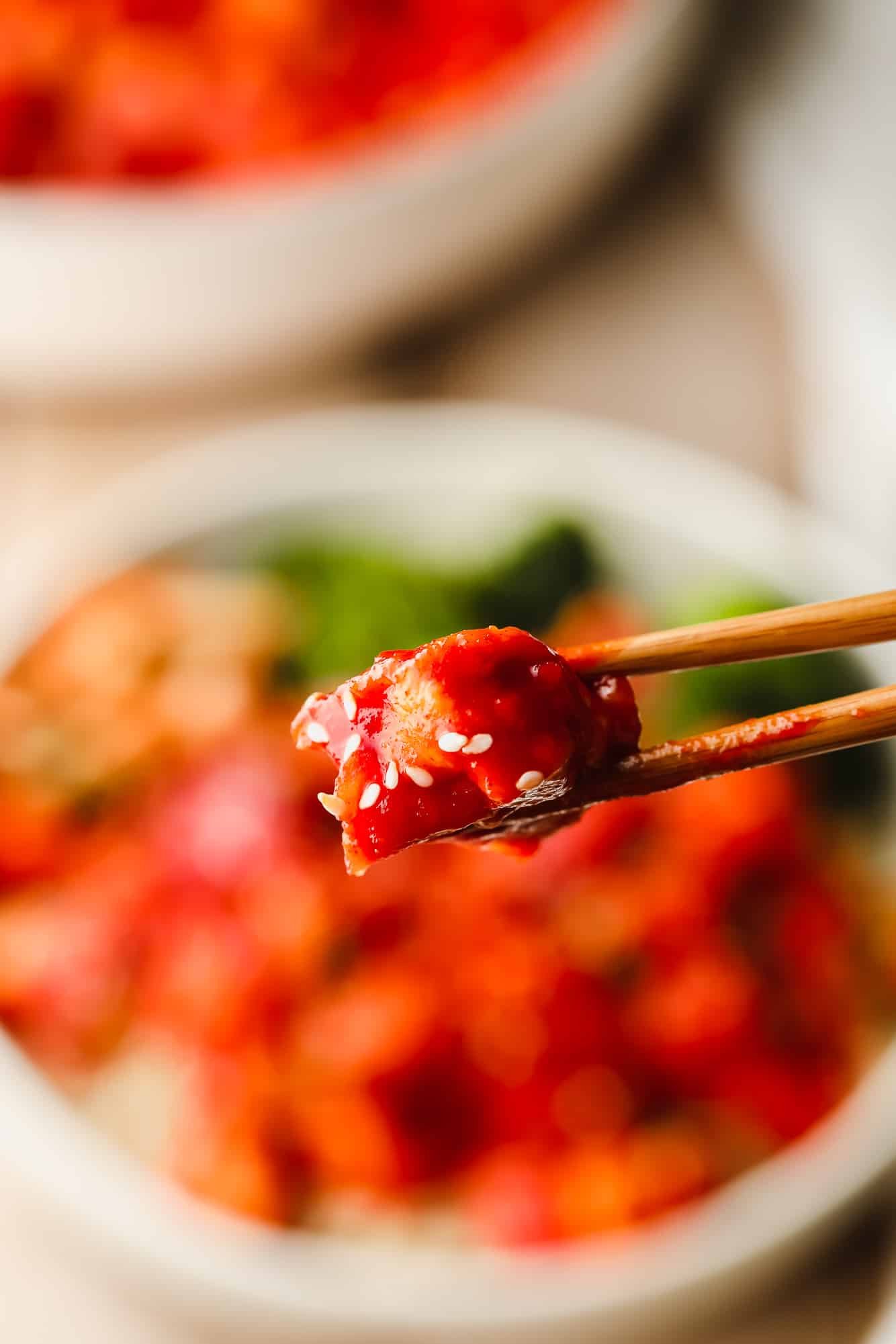 Ingredients needed (with substitutions)
Extra-firm tofu – Only extra firm or firm tofu will work for this recipe. Always take the time to press the excess water out of the tofu before tossing it in cornstarch, oil, and salt. The less water that's in your tofu, the crispier it will become.
Cornstarch – Arrowroot starch can also be used.
Olive oil
Salt
Tomato sauce – This is the base of the gochujang sauce. Make sure you use plain crushed tomato sauce without any added herbs or spices.
Gochujang paste – Gochujang is a spicy Korean chili paste made from Korean red chili peppers, barley malt, grains, fermented soybean powder, and salt. Only use 1 tablespoon of gochujang if you're worried about the sauce being too spicy.
Low sodium soy sauce – Low sodium is best because it prevents the sauce from tasting too salty and unbalanced.
Granulated sugar – Brown sugar, cane sugar, or coconut sugar will all work well here. Try not to skip the sugar, as it's important for balance!
Rice vinegar – This will help to thin out the sauce and give it a layer of tang. Apple cider vinegar should work in a pinch.
Water
Sesame oil – You can use olive oil or vegetable oil if you don't have sesame oil, but the sauce will be missing a delicious nutty, umami-like flavor.
Garlic – Fresh cloves are best.
How to make gochujang tofu
Find the complete printable recipe with measurements below in the recipe card.
Begin by pressing the tofu to remove all of its excess moisture. You can do this by wrapping the block in a clean tea towel and placing a heavy pan on top.
When it's ready, slice the tofu into 6 slices. From there, rip the slices into bite-sized pieces.
Place them in a bowl with cornstarch, olive oil, and salt. Toss to coat, then lay the pieces on a lined baking sheet. Bake until they're golden and crispy.
Want to speed up the process? Make my Air Fryer Tofu or Perfect Fried Tofu instead!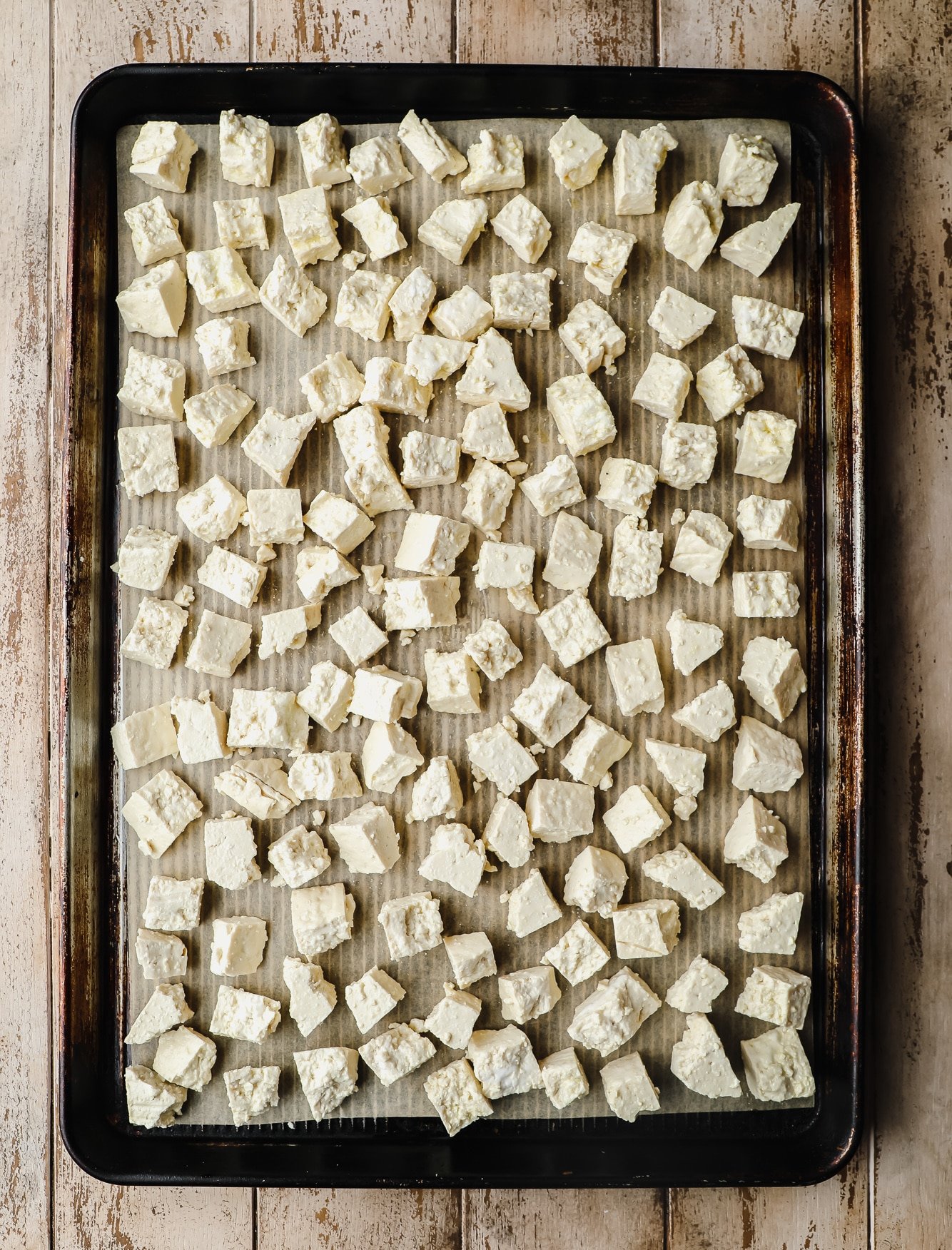 While it's baking, make the gochujang sauce by adding all of the ingredients to a large skillet. Stir to combine and bring it up to a boil. Reduce the heat to a simmer and keep stirring until the sauce thickens.
Do you want the sauce to be extra thick and sticky? Mix 1 tablespoon of cornstarch with 2 tablespoons of water, then stir the slurry into the sauce.
Toss the baked crispy tofu in the skillet with the sauce. Stir to coat, then serve over a bowl of rice, noodles, or wherever you'd like spicy tofu. Enjoy!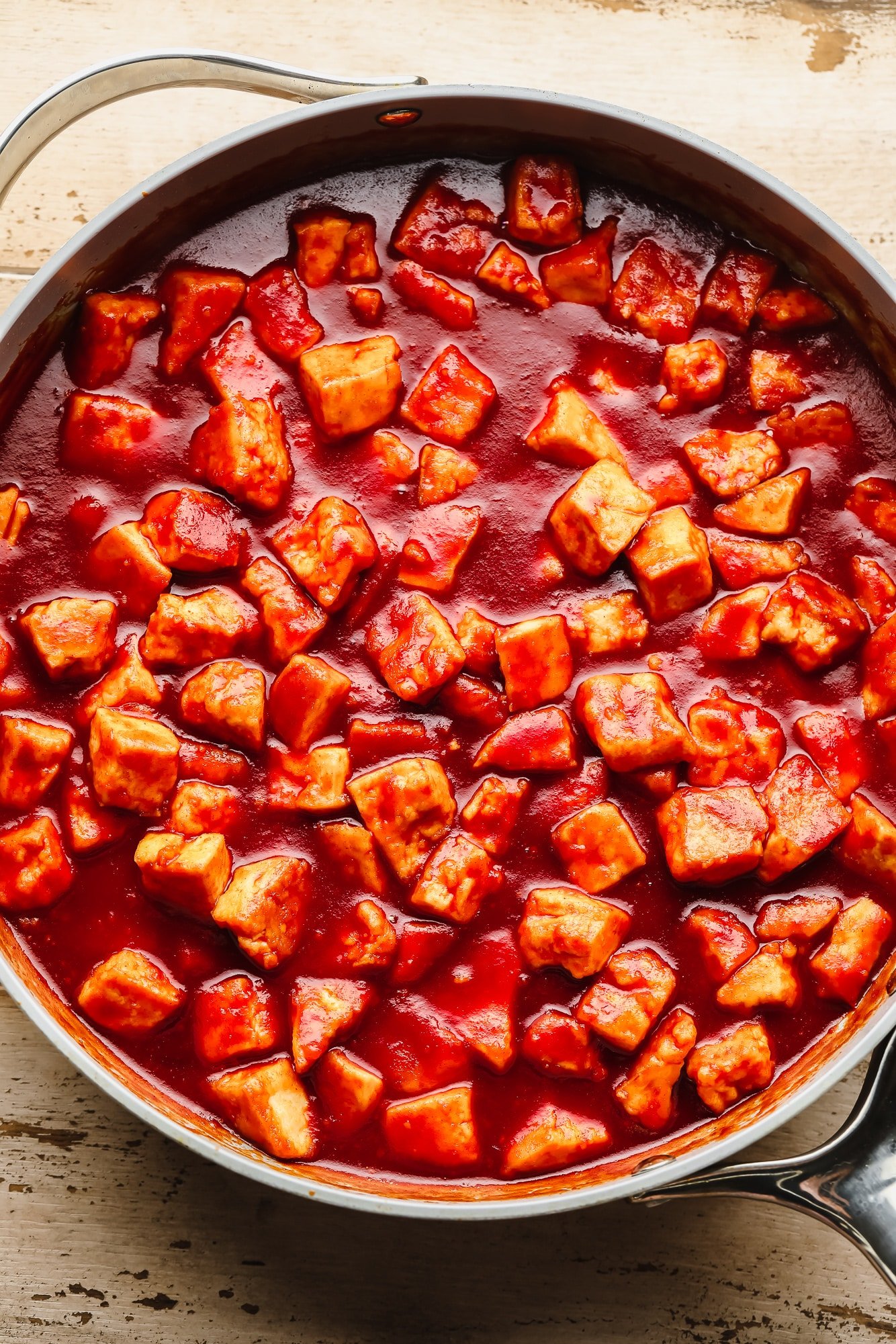 Frequently asked questions
Where can I buy gochujang paste? You can typically find it in the International section of major grocery stores or at Korean markets, or on Amazon. Check to make sure it's vegan; it's not always. If you're up for the challenge, make homemade gochujang instead.
Can you make the gochujang sauce ahead of time? Sure! Make it as normal and keep it in a sealed container in the fridge for 2 to 3 days. Reheat it in a skillet and add the crispy tofu right before serving.
How should you serve gochujang tofu?

The simplest way is over a bowl of

rice

or noodles with kimchi and steamed broccoli or green beans. It's also delicious in

buddha bowls

,

vegetable stir fries

,

spicy noodles

, soup, and Korean-inspired vegan tacos.

How do you store it? Any leftovers can be stored in an airtight container in the fridge for 4 to 5 days.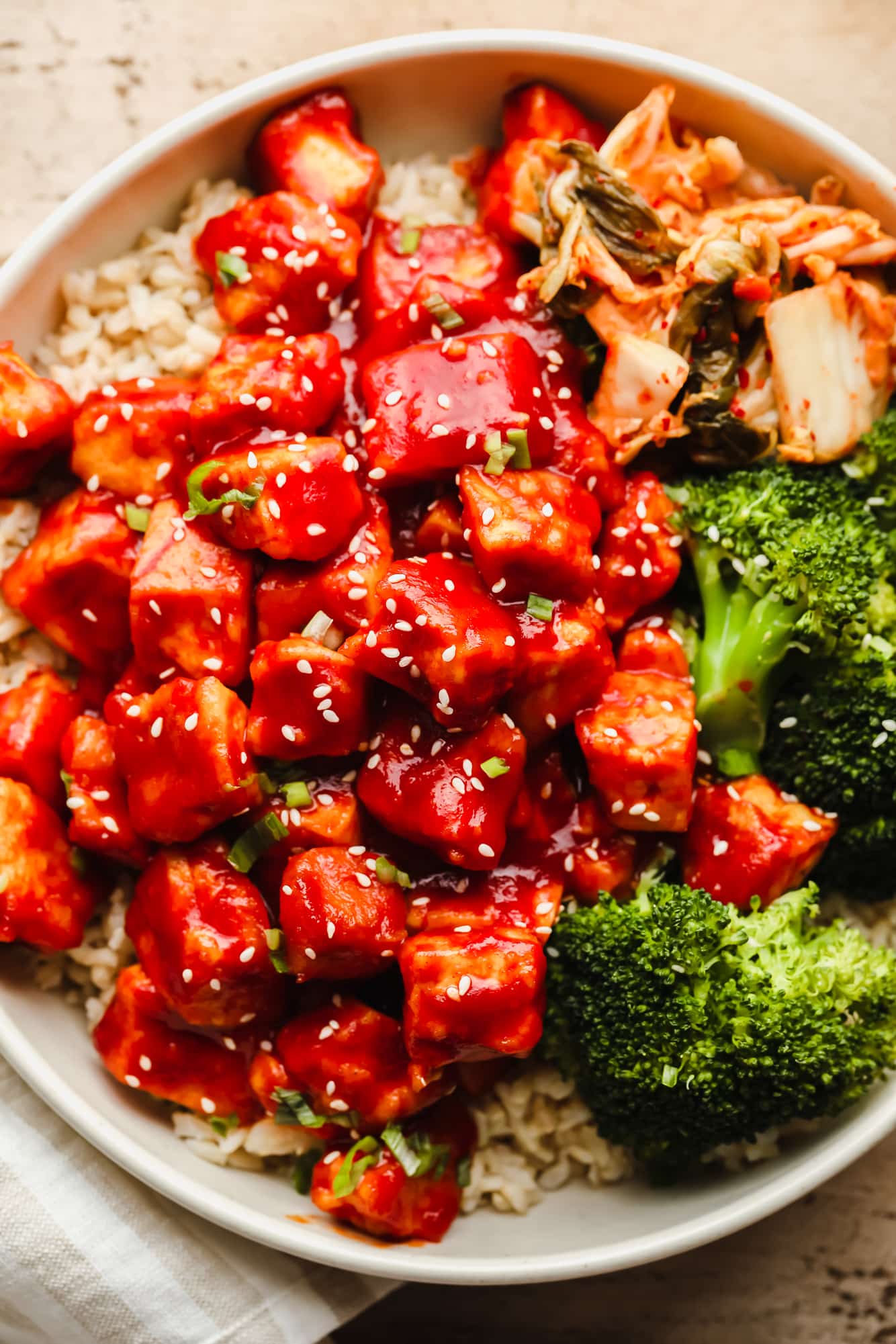 Want more tofu recipes?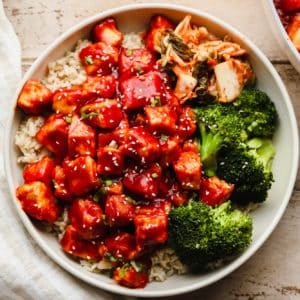 Gochujang Tofu
Crispy baked tofu is tossed in a spicy chili sauce in this Gochujang Tofu recipe. It's a flavor and spice-packed dish to use in rice bowls, stir fries, tacos, and more.
Instructions
Prepare the tofu
Press the tofu by wrapping it in paper towels or a clean tea towel and place a heavy cast iron pan or other heavy items on top of the tofu. Let it press for 20-30 minutes.

Meanwhile, preheat the oven to 400 degrees F and line a baking sheet with parchment paper. Alternatively, fry on the stovetop or use an air fryer, see Notes.

Slice the tofu into about 6 slices, then rip the tofu into bite sized pieces. Place in a large ziplock bag or bowl, add the cornstarch, olive oil and salt and shake or stir gently to coat the tofu pieces.

Transfer the tofu to the prepared pan in an even layer and bake for 25-30 minutes, until golden and crispy on the outside. Set aside until the sauce is ready.
While the tofu bakes, make the gochujang sauce
In a large skillet (big enough to hold the tofu as well once it's done), add all the sauce ingredients. Stir well to combine and bring to a boil. Immediately reduce heat and simmer, stirring frequently, for 5 minutes.

If you want a thicker sauce, mix 1 tablespoon cornstarch with 2 tablespoons water in a small bowl, then stir it in until the sauce thickens.

Add the baked crispy tofu to the pan with the sauce and stir to coat. Remove from heat and serve over rice or noodles, perhaps with a side of steamed broccoli and kimchi. Sprinkle with sesame seeds and green onions, if desired. Enjoy!
Nutrition
Serving:
1
of 3 servings
|
Calories:
242
kcal
|
Carbohydrates:
20
g
|
Protein:
14
g
|
Fat:
12
g
|
Saturated Fat:
2
g
|
Polyunsaturated Fat:
5
g
|
Monounsaturated Fat:
6
g
|
Sodium:
684
mg
|
Potassium:
153
mg
|
Fiber:
2
g
|
Sugar:
10
g
|
Vitamin A:
110
IU
|
Vitamin C:
4
mg
|
Calcium:
192
mg
|
Iron:
2
mg