Perfect fried tofu, pineapple, and vegetables are tossed together in a homemade sweet and sour sauce to make this Sweet and Sour Tofu! It's ready in about 30 minutes.
If you want more takeout-inspired vegan recipes, check out my Orange Cauliflower, Kung Pao Tofu, and General Tso's Tofu recipes.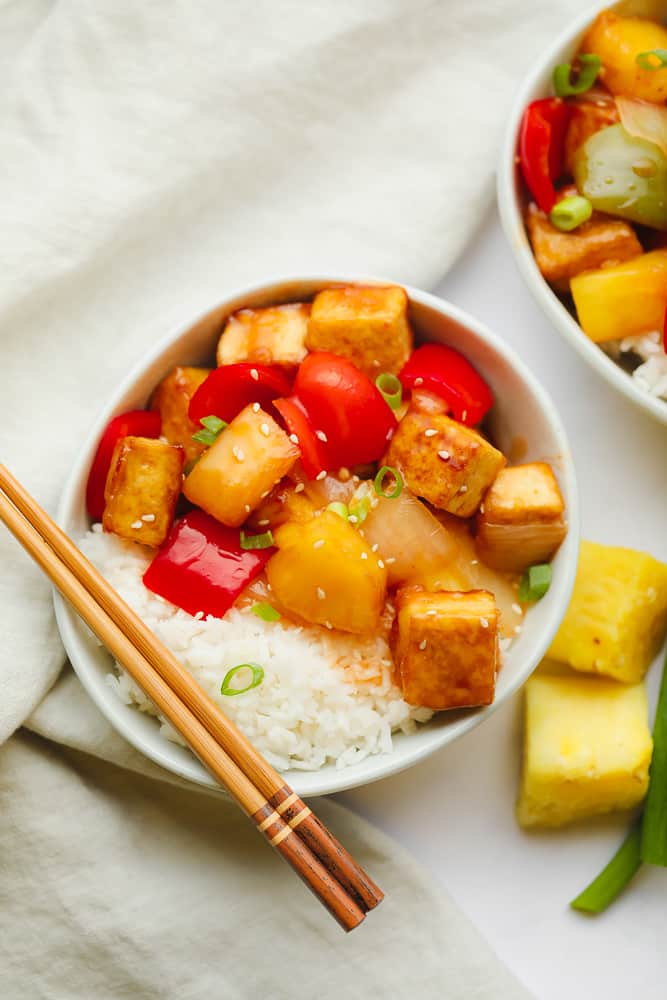 One of my go-to orders on takeout night is Sweet and Sour Tofu. A bowlful of crispy deep fried tofu and thick and syrupy red sauce always hits the spot!
Thankfully, making the same salty, fruity, and tangy flavors of this dish at home is just as easy as grabbing it to-go. This sweet and sour tofu recipe is super easy to make with pantry-stable ingredients and comes together in no time. Once you've pressed the tofu, the colorful mix of pineapple, bell peppers, fried tofu, and homemade sweet and sour sauce comes together in under 30 minutes!

You can serve this saucy tofu dish over a bed of fluffy steamed rice or make yourself a plant-based fakeout takeout feast with fried rice, teriyaki noodles, drunken noodles, or Thai peanut noodles.

This vegan sweet and sour tofu is:
Super simple and easy to make gluten free.
Comes together quickly, making it the perfect choice for busy weeknights.
Flexible! You can make it without the fruits and veggies or swap the tofu for your favorite vegan protein.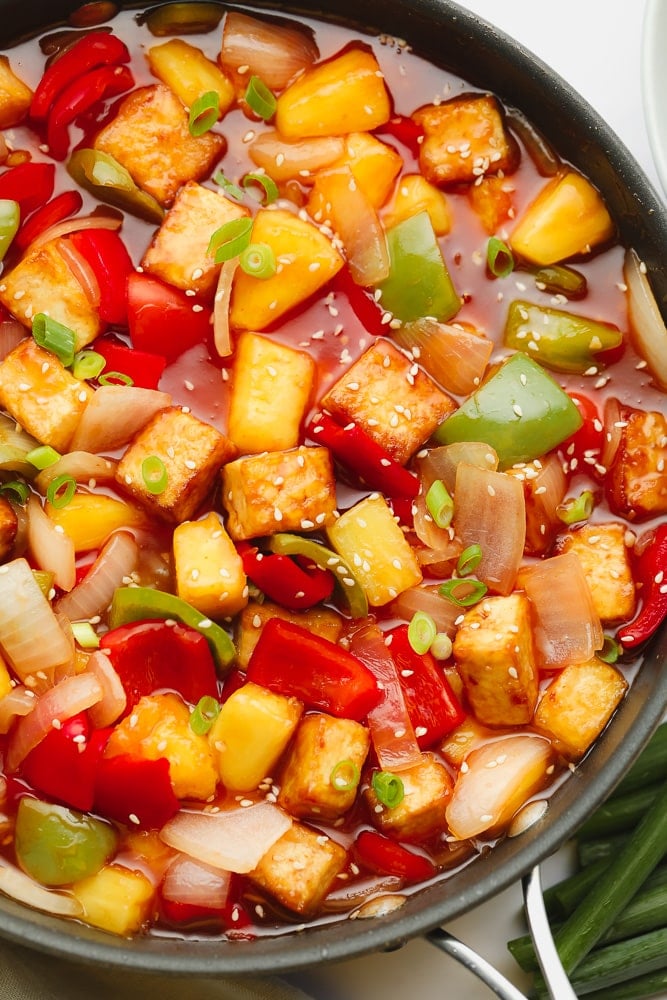 Ingredients needed (with substitutions)
Tofu – Extra-firm tofu has the least amount of water and holds its shape the best when cooked. Firm also works. To avoid pressing tofu, buy the vacuum packed super firm tofu.
Soy sauce – Or gluten free tamari or coconut aminos.
Cornstarch – A must for crisping the fried tofu and achieving the perfect texture in the sauce.
Pineapple chunks – For a bright, fruity flavor! If you don't care for pineapple, leave it out.
Bell peppers and onions – Sautéing peppers and onions before tossing them in the sweet and sour sauce gives the dish some added crunch and a pop of color.
Garlic – Feel free to add an extra clove or two for bolder flavors.
Sugar – Because it wouldn't be sweet without the sugar! Be sure to use a vegan brand of granulated sugar or swap it for coconut sugar. Agave or pure maple syrup could work, but I would use less.
Ketchup – This gives the sauce its signature red hue and a thick, syrupy consistency.
Apple cider vinegar – Or use rice vinegar.
Olive oil
How to make sweet and sour tofu
Before getting started, press as much liquid from the tofu as possible. You can do this using a tofu press or by wrapping the brick of tofu in paper towels, placing it on a plate, and resting a heavy skillet or books on top. Leave it to press for at least 30 minutes.
To make the homemade sweet and sour sauce, whisk the sugar, ketchup, apple cider vinegar, soy sauce, minced garlic, and cornstarch together in a small bowl until smooth. Set it aside.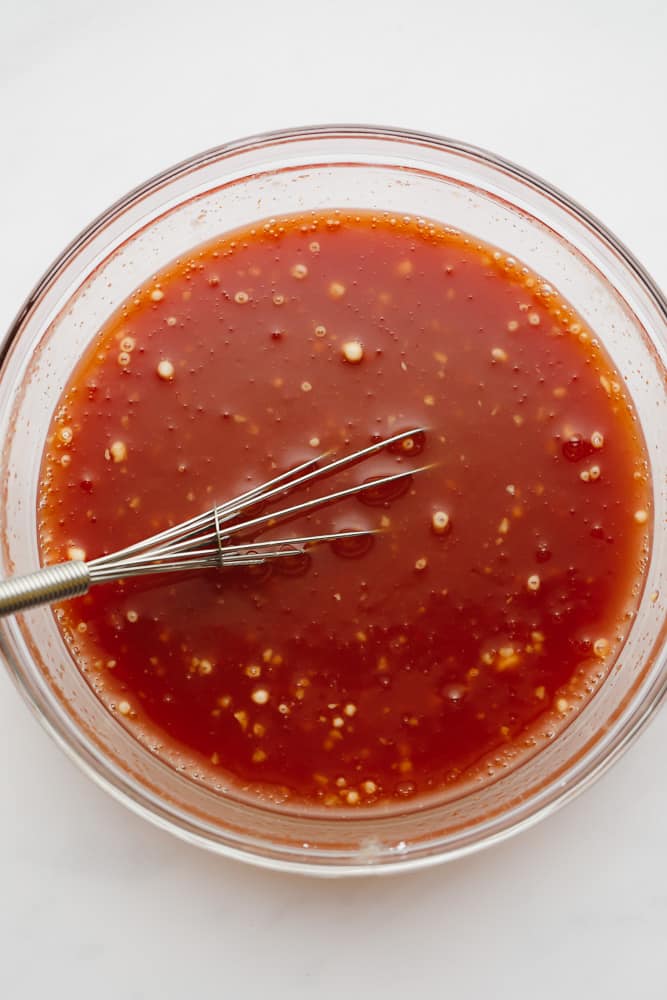 Next, make the fried tofu by cutting the pressed tofu brick into cubes. Place them in a bowl, drizzle the soy sauce over top, and stir to coat. Add the cornstarch and toss again.
Heat the olive oil in a large non-stick skillet over medium-high heat. Add the tofu in a single layer and leave it alone for a few minutes so it can become crispy and golden brown. Flip the cubes and cook until each side is golden brown. Transfer to a plate.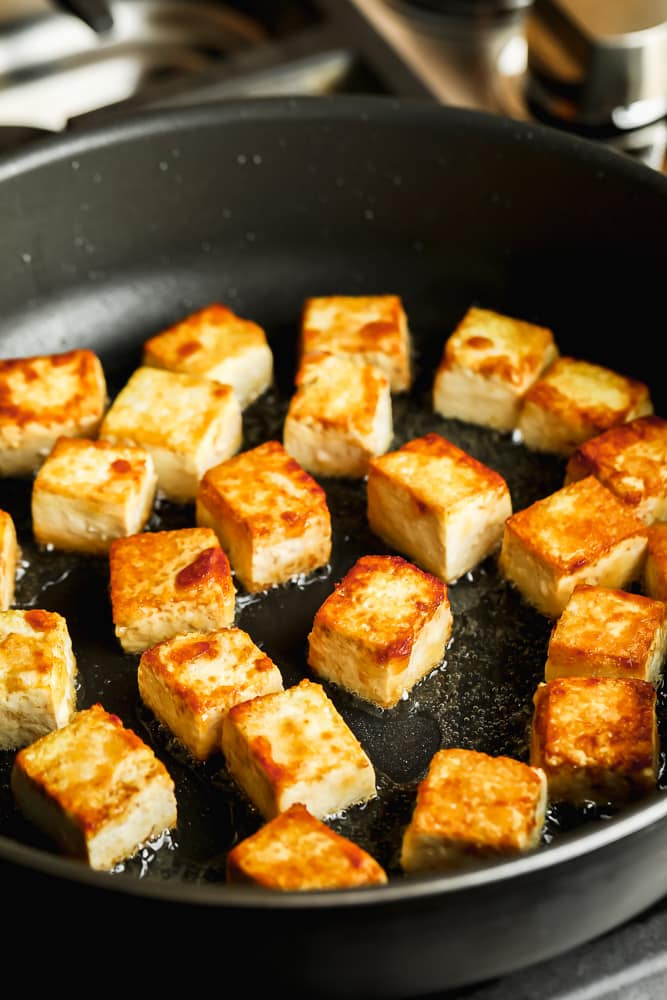 Pour a little more oil into the same pan and add the pineapple, bell peppers, and onion.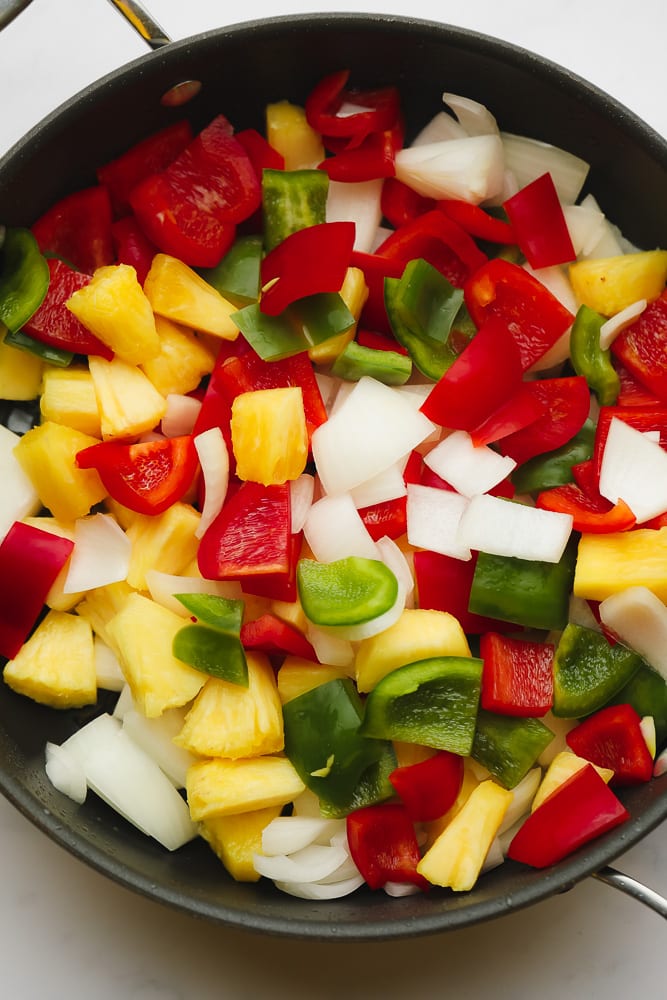 Sauté for a few minutes before pouring the sauce into the pan. Now you can add the fried tofu, stir it all together, and leave it to cook and thicken for about 5 minutes.
Once it's ready, serve each scoop in bowls with rice, green onions, and sesame seeds. Enjoy!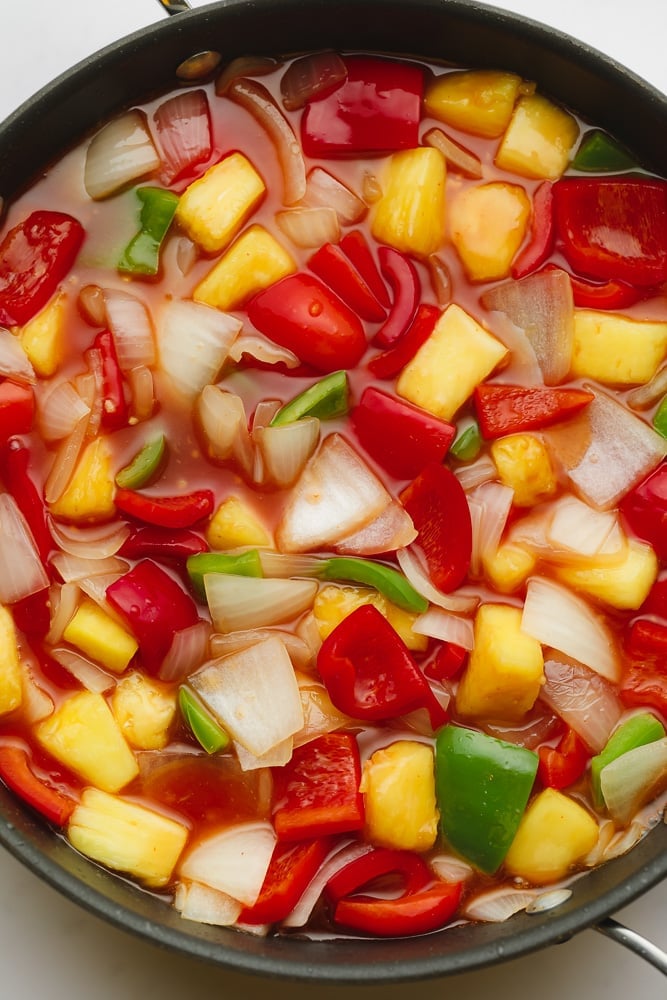 Tips and variations
To make perfect tofu – Frying tofu in a quality non-stick pan and not disturbing it is the secret to perfectly crispy tofu.
Hold the fruit and veggies – If you're not a fan of pineapple or bell peppers, skip them! Instead, I recommend doubling up on the tofu or using less sauce.
Hold the tofu – If tofu isn't your thing, you can use crispy fried cauliflower, mushrooms, leftover vegan chicken, or tempeh instead. Soy curls are awesome in any stir fry recipe that calls for tofu, like this Vegan Beef and Broccoli!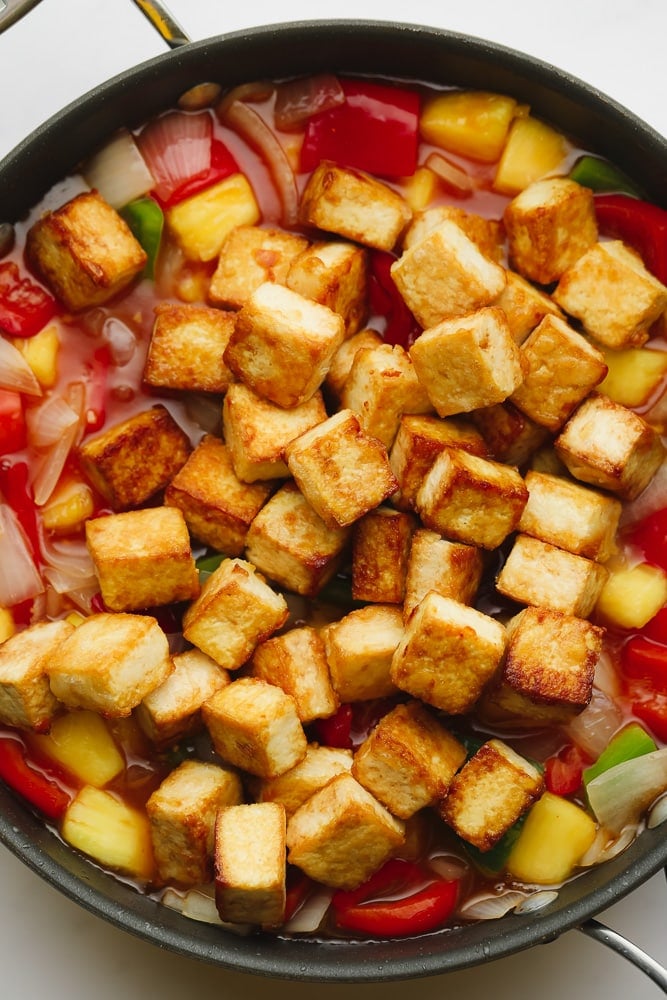 Frequently asked questions
Is sweet and sour tofu gluten free? To make this recipe gluten free, use tamari or coconut aminos in place of the soy sauce.
Can I make this recipe without sugar? Yes and no. The sweet and sour sauce can be made without granulated sugar, but it still needs something to give it that much-needed sweetness. You can use unrefined sugar instead, like coconut sugar, beet sugar, pure maple syrup, or agave (if you use a natural liquid sweetener, reduce the amount to ½ cup).
Can I fry the tofu in the air fryer instead of in a pan? Yes! To make air fryer tofu, place the tofu cubes in a single layer in the air fryer basket. Cook at 400ºF for 10 to 15 minutes, shaking the pan occasionally after 10 minutes.
How long does sweet and sour tofu last? Sweet and sour tofu is best served hot and fresh. However, you can store the leftovers in an airtight container in the fridge for 3 to 4 days.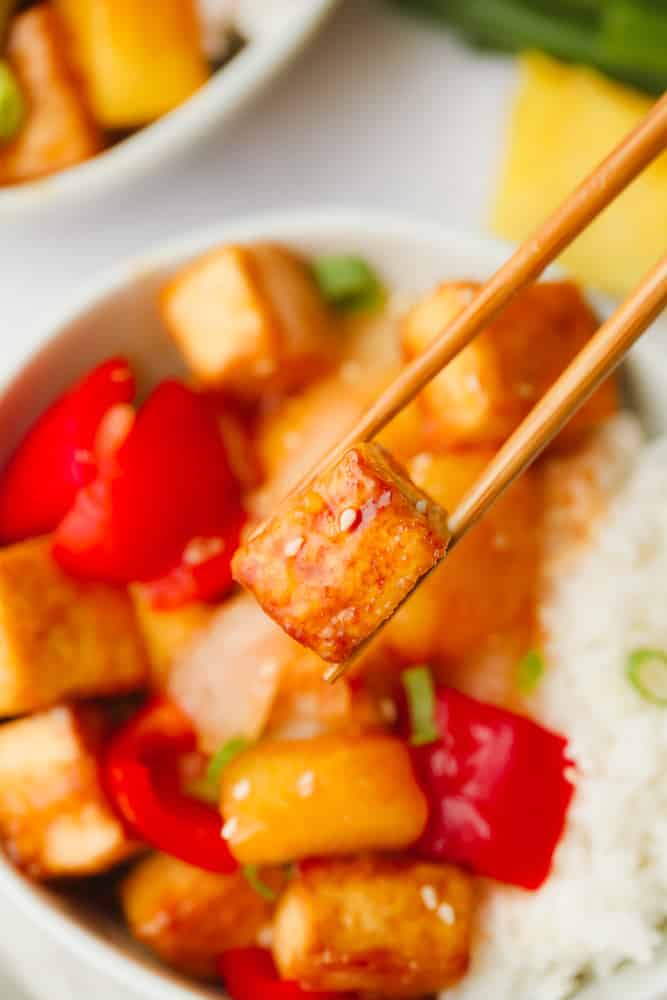 Want more tasty tofu recipes?
I love tofu so much I have a whole category dedicated to it: Tofu Recipes. Below are a few of my favorites: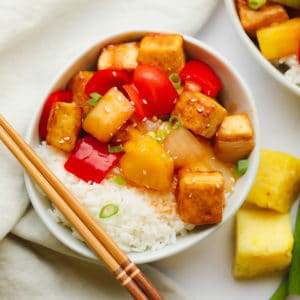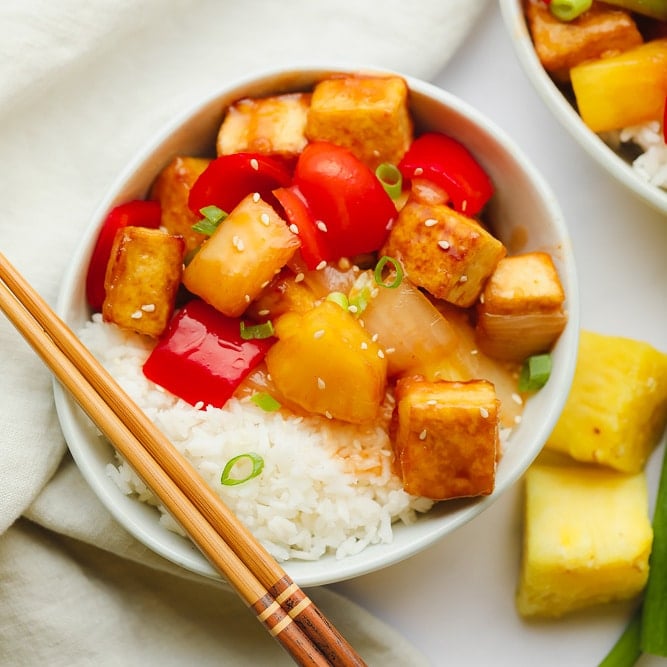 Sweet and Sour Tofu
Perfect fried tofu, pineapple, and vegetables are tossed together in a homemade sweet and sour sauce to make this Sweet and Sour Tofu! It's ready in about 30 minutes.
Ingredients
For the sweet and sour sauce
For the tofu
14.5

ounce

block extra-firm tofu

1

tablespoon

soy sauce (or tamari)

2

tablespoons

cornstarch

2-3

tablespoons

olive oil
The rest
1

cup

fresh pineapple chunks

or canned if needed

1

red bell pepper, seeded and cut into 1-inch chunks

1

green bell pepper, seeded and cut into 1-inch chunks

1/2

large

yellow onion, cut into 1-inch chunks

few more tablespoons olive oil, for frying

cooked rice, for serving

sesame seeds and green onions, for serving
Instructions
Make the sauce
In a small bowl, whisk together the sugar, ketchup, apple cider vinegar, soy sauce, minced garlic and cornstarch. Set aside.
Fry the tofu
Press the tofu: Press the tofu by wrapping it in paper towels (or a clean dry tea towel). Place a plate or pan on top of the wrapped tofu, and put a couple of heavy books or cast iron pan on top of that. Let the tofu press for 30 minutes to an hour. I like to press a few blocks at a time on the weekend, then keep in the refrigerator for quick weeknight meals.

Cut the pressed tofu into 1 inch cubes and add to a large bowl. Drizzle the soy sauce on top and stir gently with a silicone spatula or small spoon. Be careful not to rip the tofu.

Now sprinkle on the cornstarch and gently stir to coat the tofu.

Heat a large non-stick pan over medium-high heat. Add the olive oil so it coats the pan.

Once the oil is hot, add the tofu in a single layer (you might need to do this in batches, depending on how big your pan is). Let the tofu brown on all sides, it should be a nice golden color all over. Transfer to a plate nearby.
Cook the vegetables and finish
Add another tablespoon of oil to the pan, if needed. Add the pineapple, bell peppers and onion and cook for about 2 minutes until crisp-tender.

Whisk the sauce one more time before adding it to the pan and cook for 1 minute, stirring constantly as it thickens. Now add the fried tofu back to the pan and stir, cooking for about 5 minutes until the sauce thickens a bit.

Serve immediately with cooked rice and green onions or sesame seeds. Enjoy!
Notes
Sugar – Feel free to reduce the sugar by up to half, for a less sweet sauce. You could also use agave, maple syrup or coconut sugar as alternatives to regular sugar. I would reduce the amount by half for the liquid sweeteners though.
If you don't like peppers or pineapple, you can just double the tofu instead and serve with the sauce.
Nutrition
Serving:
1
of 3 servings
|
Calories:
518
kcal
|
Carbohydrates:
81
g
|
Protein:
15
g
|
Fat:
16
g
|
Saturated Fat:
2
g
|
Polyunsaturated Fat:
5
g
|
Monounsaturated Fat:
8
g
|
Sodium:
925
mg
|
Potassium:
361
mg
|
Fiber:
4
g
|
Sugar:
55
g
|
Vitamin A:
1558
IU
|
Vitamin C:
111
mg
|
Calcium:
199
mg
|
Iron:
3
mg