Southern-Inspired Crispy Baked BBQ Tofu is easy to make, completely addictive and perfect in bowls, sandwiches, burgers and more!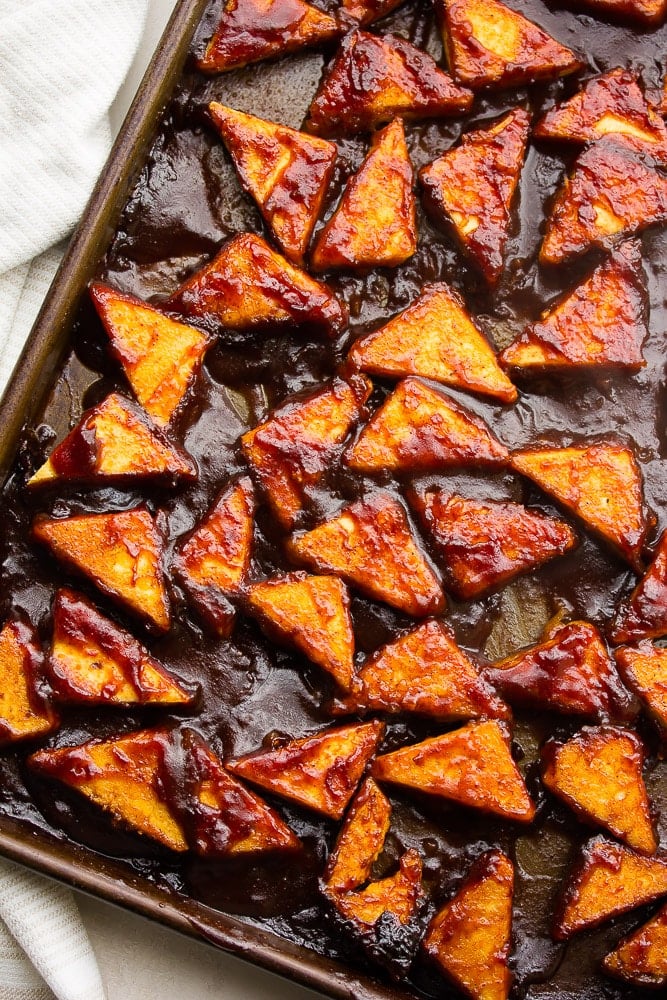 I honestly don't know how I've been sharing recipes for years and yet I don't have a recipe for BBQ tofu on my website! When I went vegan over 10 years ago, there was a BBQ tofu recipe from one of my very first vegan cookbooks (Veganomicon by the amazing Isa Chandra Moskowitz and Terry Hope Romero) that I made all the time. I think it was the first way I enjoyed eating tofu.
Now that I've had years of cooking with tofu, I've learned how to make it taste incredible every time. Trust me, I have had a lot of tofu flops in the kitchen!
This BBQ tofu is crispy on the outside, a little chewy but still tender inside. It gets perfectly crispy in the oven, so no pan frying is needed. I find it so much easier to bake tofu than to fry it, especially because I have a big family and I make a lot at one time.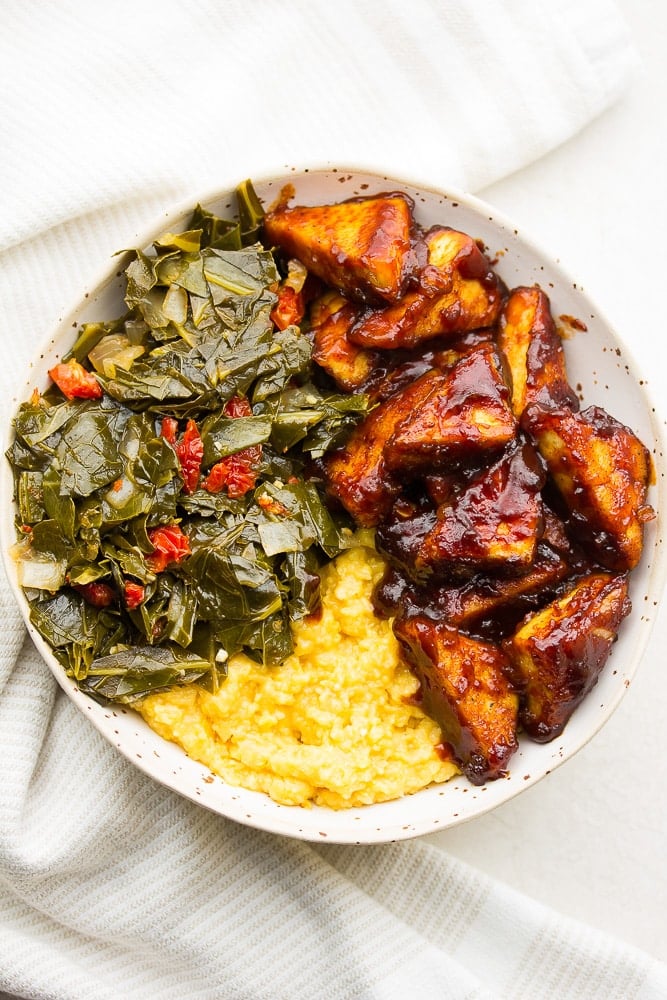 Pictured above in a Southern Soul Bowl with vegan cheese grits and collard greens. Recipes coming soon for each of them! Best bowl of my life, right here.
How to make it
First, press your tofu. Recently I purchased a tofu press which I do highly recommend, but you can also just wrap the tofu in paper towels and place something heavy on top of it, like a cast iron pan. About 30 minutes will do.
Then slice the tofu into triangle shapes, or cubes, and place in a large ziplock bag with a little olive oil, cornstarch and salt. Seal the bag and shake gently to coat the tofu. (You can do this in a large bowl as well.)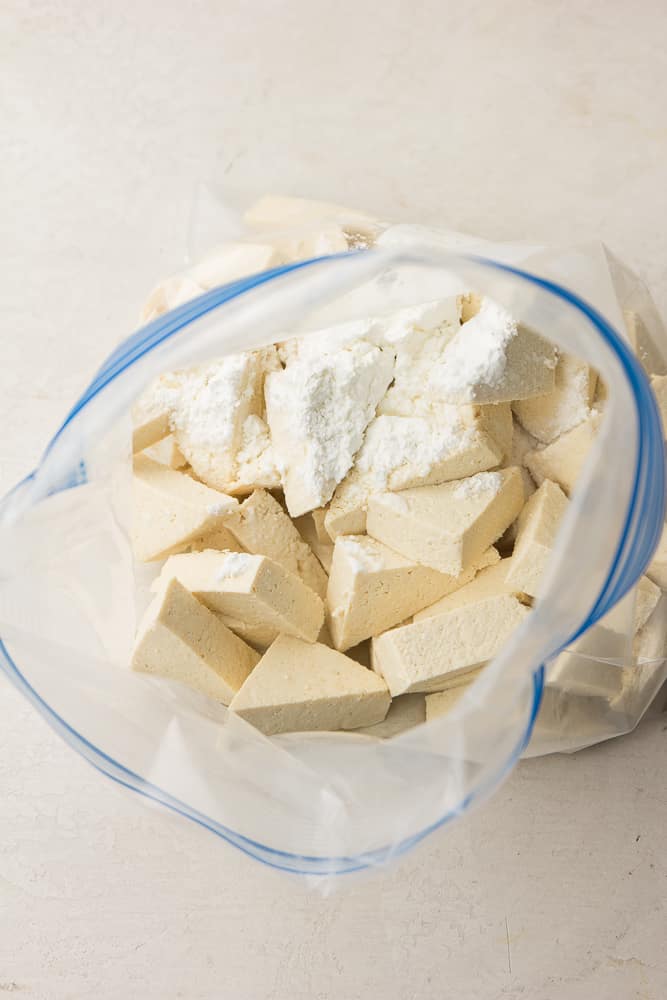 Place on a lightly oiled sheet pan and bake for 20 minutes at 400 degrees F until golden.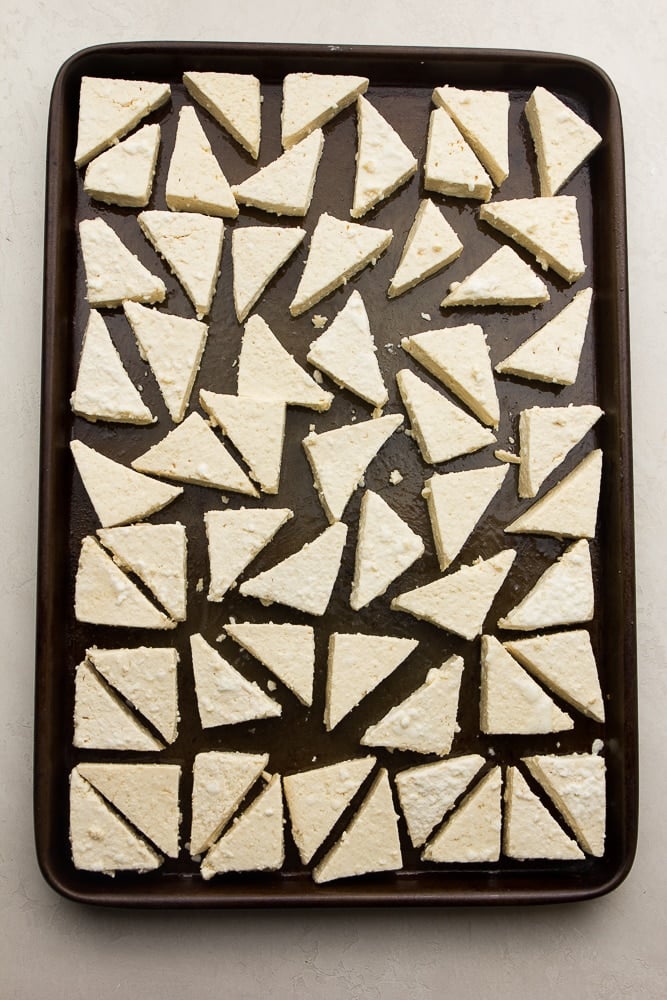 Add your favorite bbq sauce and stir to coat the tofu pieces in the sauce, and bake for 10 more minutes. That's it! Crispy, flavorful, delicious BBQ tofu is ready to eat.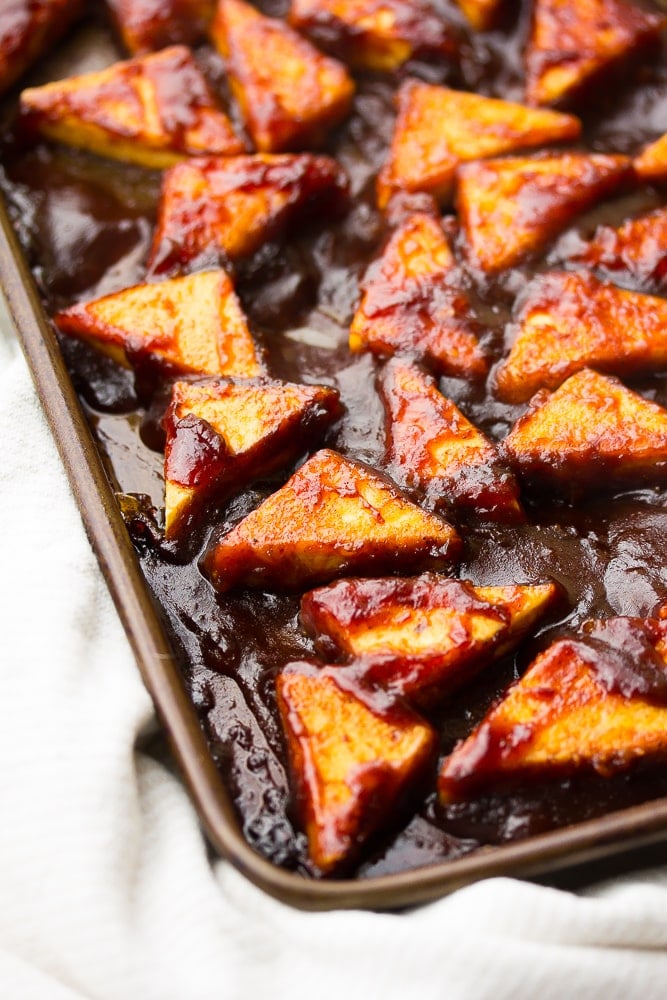 Serving suggestions
Make a Soul Bowl! It goes so well with grits and collard greens.
Serve alongside mashed potatoes and steamed green beans or brussels sprouts.
Put it in a sandwich with vegan mayo and lettuce.
Make a BBQ Tofu Burger, adding vegan mayo and coleslaw.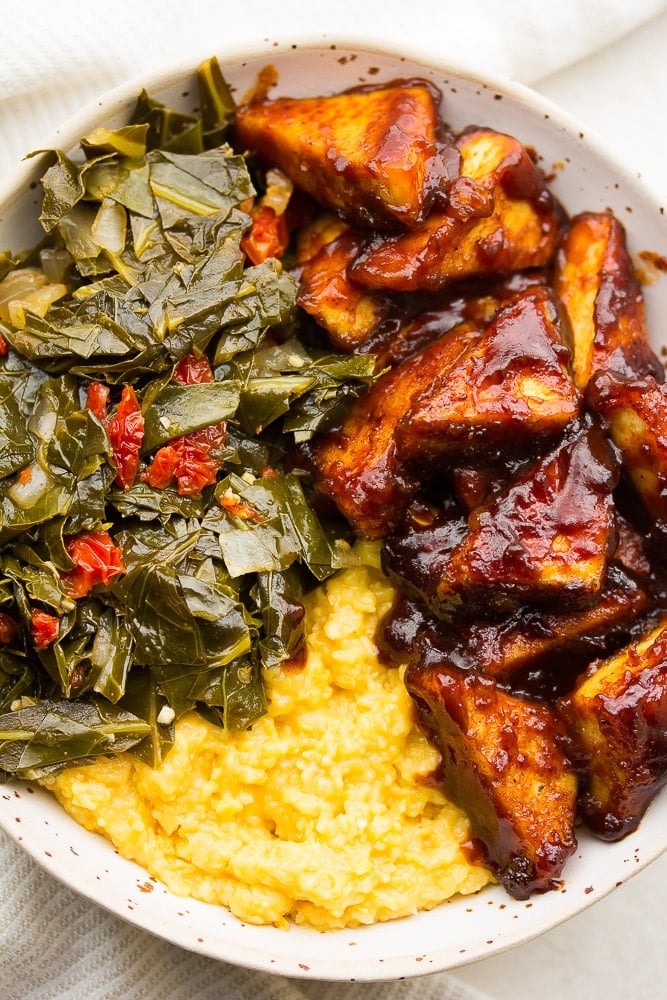 More vegan BBQ recipes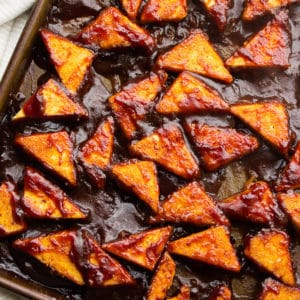 Crispy Baked BBQ Tofu
Southern-Inspired Crispy Baked BBQ Tofu is easy to make, completely addictive and perfect in bowls, sandwiches, burgers and more!
Instructions
Press the tofu by wrapping the blocks in paper towels or a clean tea towel. Place a plate or pan on top of the wrapped tofu, and put something heavy (such as a cast iron pan) on top of that. Let the tofu press for about 30 minutes.

Preheat the oven to 400 degrees F and grease a large sheet pan.

Slice the tofu crosswise into 1/2 inch pieces, then slice each piece diagonally into 2 triangles. You can also simply cut the tofu into cubes or rectangles.

Add the tofu pieces to a large ziplock bag (I wash and re-use these). Now add the olive oil, cornstarch and salt, close the bag and very gently shake to coat the tofu.

Arrange on the prepared baking sheet and bake for 20 minutes until golden on top. Remove from the oven briefly and pour on the bbq sauce, give it a little stir so the bbq sauce coats the tofu pieces and bake for another 10 minutes.

Remove from the oven and serve immediately. It can be stored in the refrigerator for 3-5 days, but it doesn't freeze well. You can reheat it in the microwave, air fryer, oven or the stovetop.
Notes
The flavor of the tofu will greatly depend on what bbq sauce you use, so make sure to use one you like! I used a Kansas City Style sauce. For a different flavor, use a spicy Korean bbq sauce. You can also make your own here: Quick & Easy Vegan BBQ Sauce.
Pictured in the post above is a bowl with the bbq tofu, vegan grits and collard greens. Those recipes are coming in the next few days, so stay tuned!
Additional ideas for serving bbq tofu: Alongside mashed potatoes and green beans, in baked sweet potatoes, or on a sandwich/burger or wrap. 
Nutrition
Serving:
1
serving
|
Calories:
245
kcal
|
Carbohydrates:
25
g
|
Protein:
12
g
|
Fat:
11
g
|
Saturated Fat:
1
g
|
Sodium:
689
mg
|
Potassium:
111
mg
|
Fiber:
1
g
|
Sugar:
16
g
|
Vitamin A:
107
IU
|
Vitamin C:
1
mg
|
Calcium:
181
mg
|
Iron:
2
mg