Soft, buttery Vegan Blondies give regular brownies a run for their money. Loaded with vegan white chocolate chips, these are seriously the best dessert bars ever!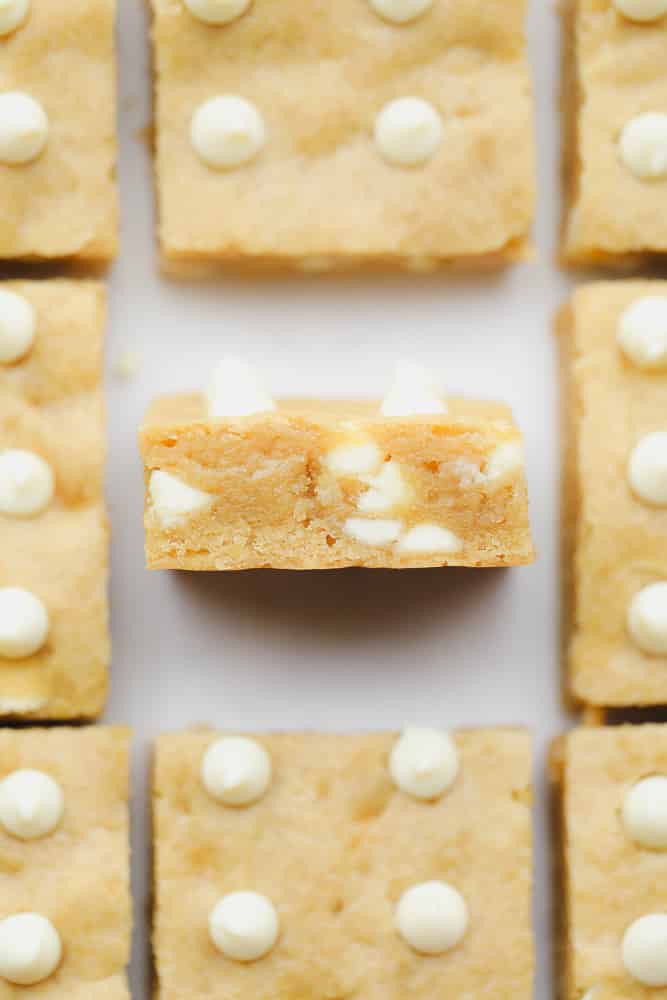 Do you know how I know these are the best Vegan Blondies ever? Because they've changed me from a die-hard brownie fan to a blondie fanatic!
Their rich, moist, butterscotch-like flavors are so nicely balanced and perfectly sweet. Unlike classic chocolate brownies, vegan blondies are made with brown sugar, butter, vanilla, and applesauce. No out-of-the-ordinary ingredients, like chickpeas, flaxseed, or aquafaba, are needed!
Every bite of these ooey gooey blondies are:
They're seriously so good! Enjoy these ​​white chocolate blondies as a sweet treat, an easy dessert, or to freeze for later. If you can't find vegan white chocolate chips, you can also mix in regular vegan chocolate chips.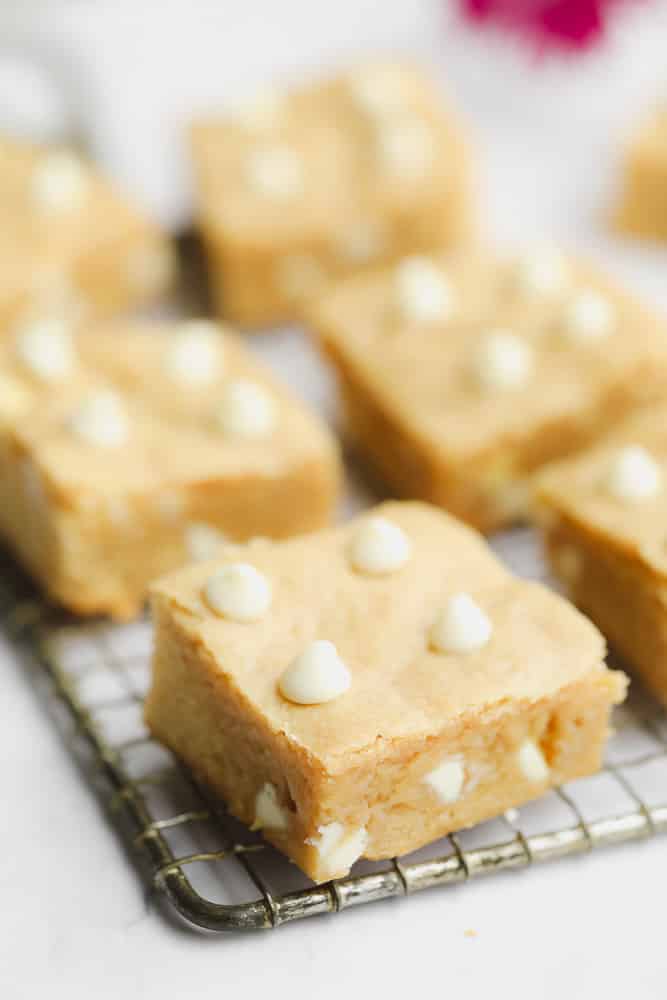 Are blondies the same as brownies?
Just think of blondies as brownies without the cocoa powder. Blondies get their signature caramel and butterscotch flavors from a few staple ingredients like brown sugar, vegan butter, vanilla and salt. Blondies are dense, chewy and very rich (similar to a chocolate chip cookie bar).
Blondies and brownies do have one key characteristic in common: they're both cut up into squares and served as a simple grab-and-go snack or dessert. Perfect for when those sugar cravings hit!
How to make vegan blondies
Find the complete recipe with measurements below.
First, melt the vegan butter. Add the brown sugar to the same bowl as the melted butter and stir to combine (it should look like smooth caramel). Next, mix in the applesauce and vanilla.
You can start adding the dry ingredients to the wet ingredients. Gently stir them together until you have a thick and sticky dough.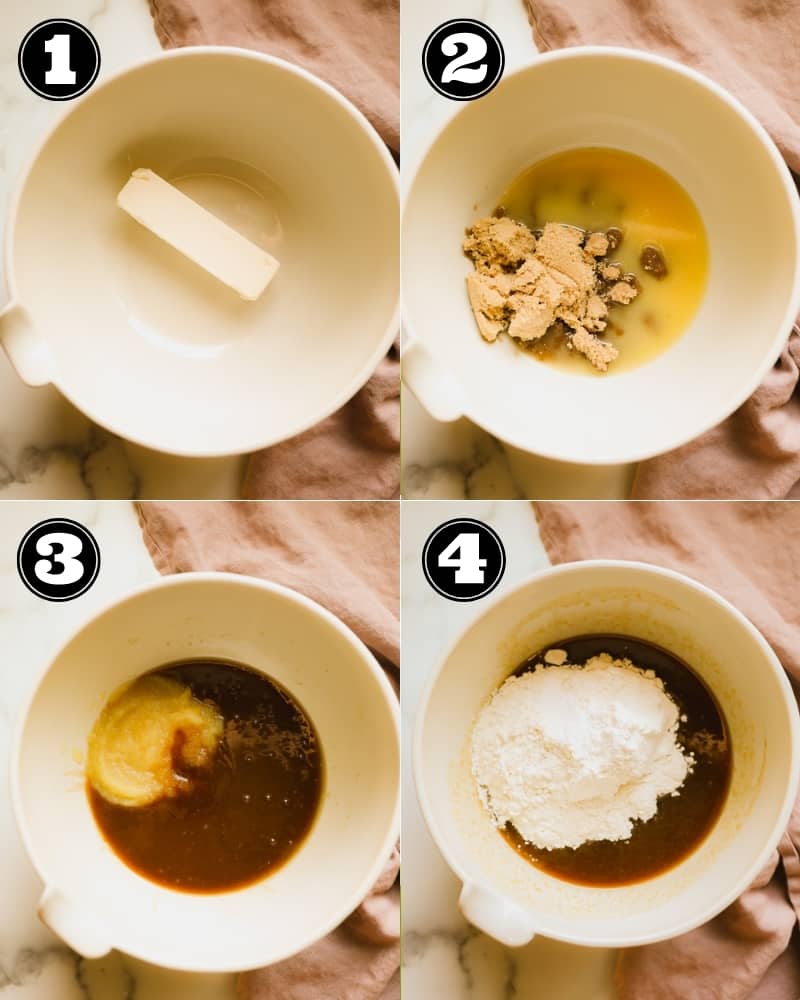 To finish, fold in the white chocolate chips (or regular chocolate chips). Feel free to use your hands to make sure they're evenly distributed.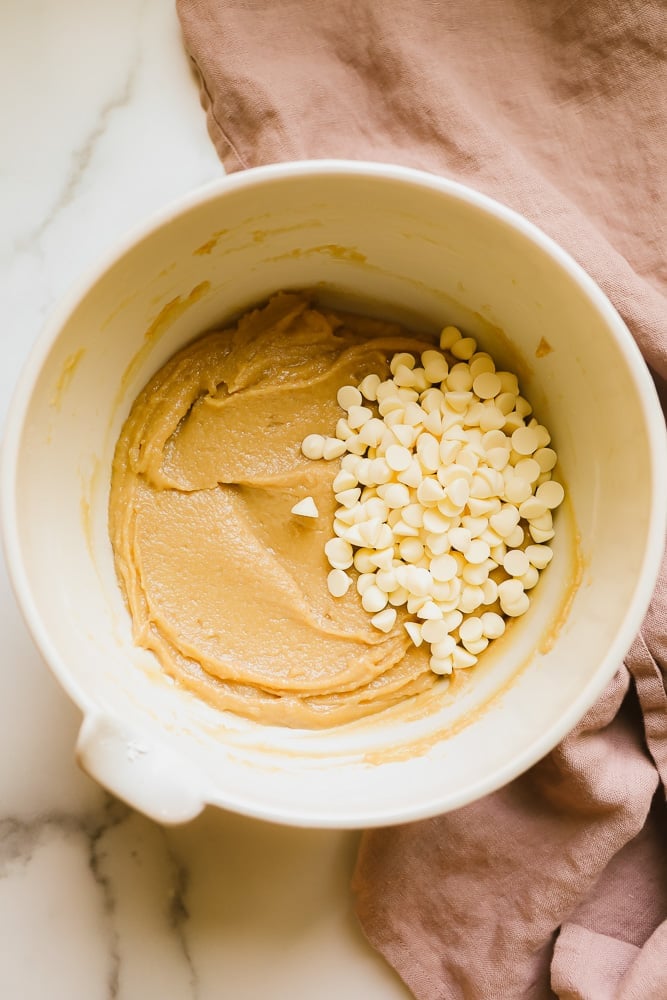 Transfer the dough to your prepared baking dish. Press it down so it reaches the edges of the pan and the top is in an even layer. Bake until the top of the dough is set and looks golden. Let the finished blondies cool completely before slicing them into squares.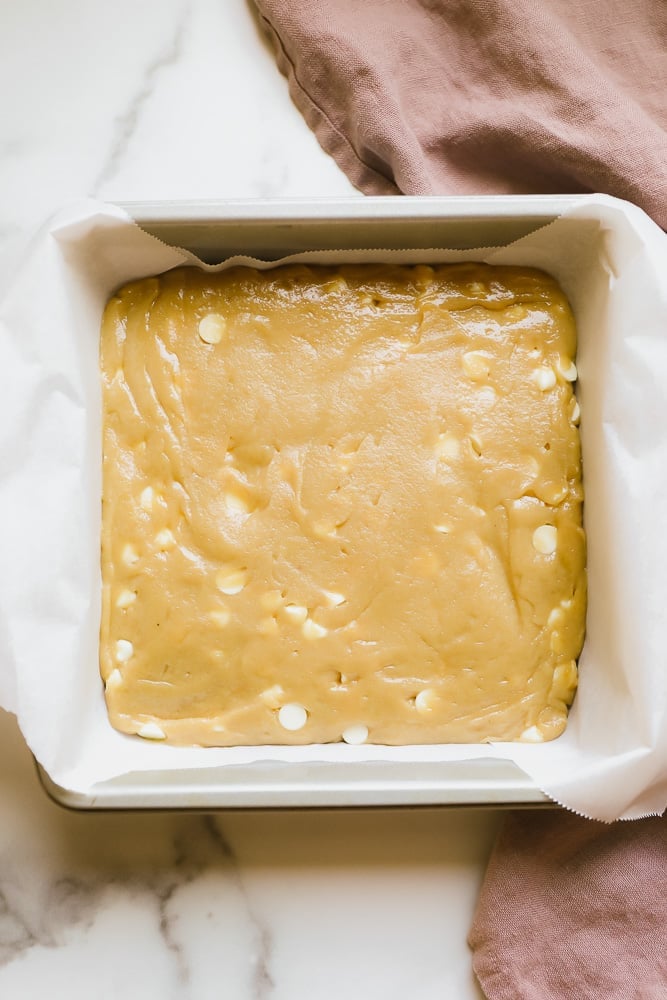 Tips and substitutions
Load them up – I folded vegan white chocolate chips into the blondie dough but you can load them with even more mix-ins, like regular chocolate chips, macadamia nuts, shredded coconut, walnuts, almonds, dried fruit, or anything else you like.
Applesauce – This is used as a replacement for oil and helps the blondies taste extra moist. If you don't have applesauce at home, replace it with a mashed banana or a flax egg.
Gluten free – Substitute the flour with gluten free all purpose flour to make vegan gluten free blondies.
Sugar – Brown sugar is a must in blondies. The only suitable replacement would be coconut sugar but they won't be as good.
Storing – Baked blondies keep well for about 5 days at room temperature. Pack them away in an airtight container so they stay fresh. They also freeze well.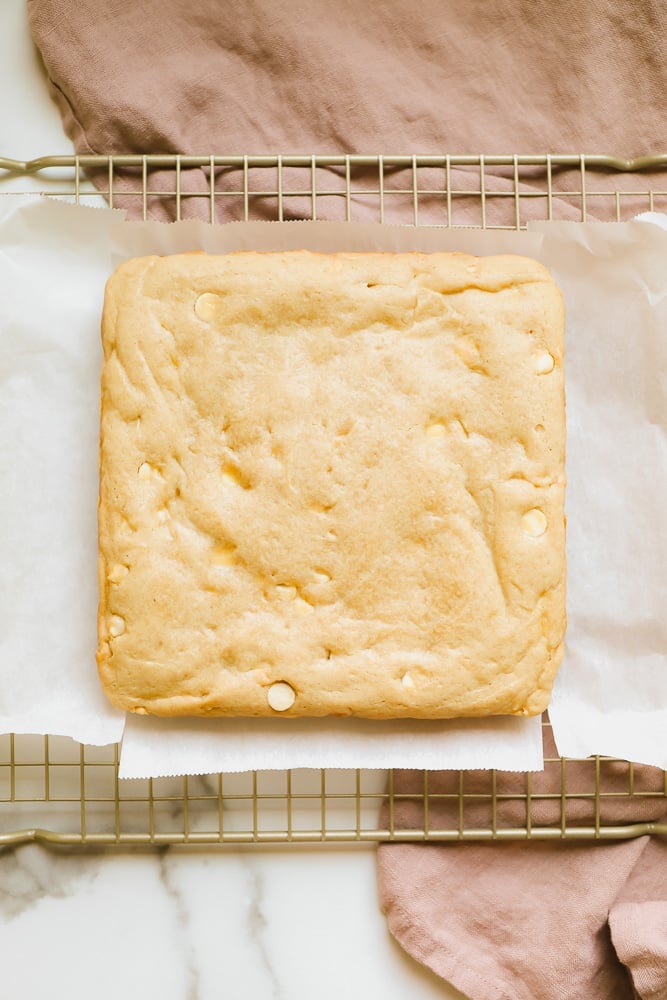 Frequently asked questions
Why did my blondies sink in the middle? Overmixing the batter can lead to the blondies sinking as they bake. Instead, gently stir each ingredient into the dough until it's just combined.
Should they taste cakey? Blondies should be soft and a little firm around the edges, like a cookie bar. If they taste cakey, it probably means they've been overbaked or you accidentally added too much flour.
Can I freeze blondies? Yes! Wrap the bars well in plastic and keep them frozen for up to 3 months. Just let them thaw in the fridge, then enjoy!
Level up your blondie experience!
Perhaps the very best way to enjoy a blondie is to serve a large square warm on a plate with a scoop of Vegan Vanilla Ice Cream and a drizzle of Vegan Caramel. You will think you died and went to heaven!
If you like this idea, you will probably love my Vegan Salted Caramel Skillet Cookie.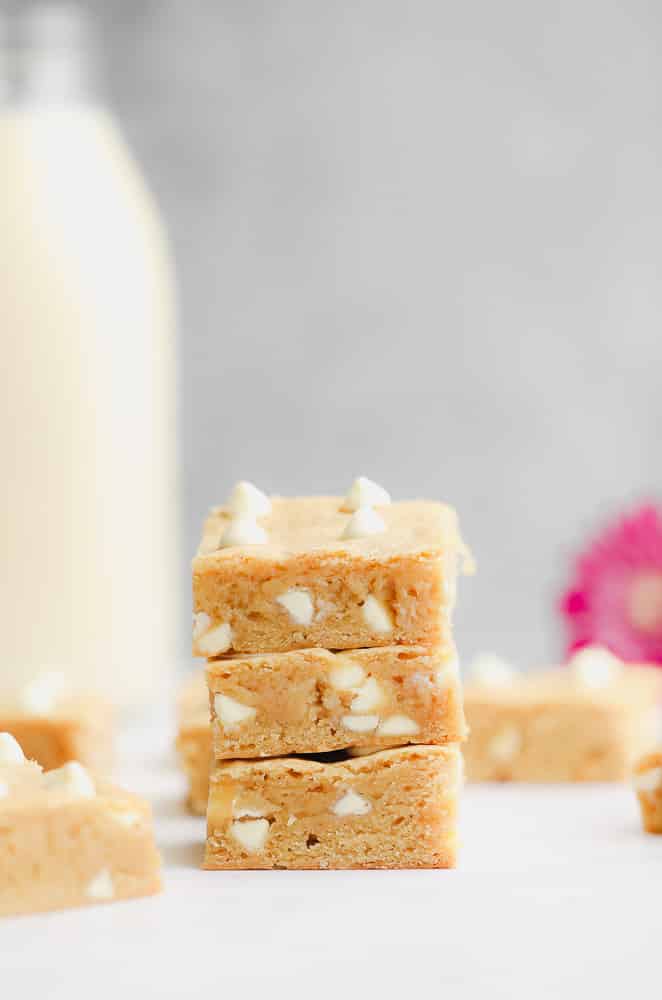 Craving more vegan dessert bars?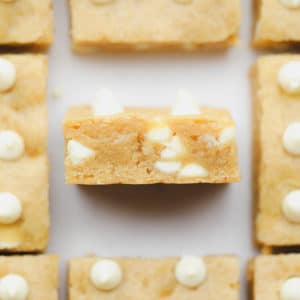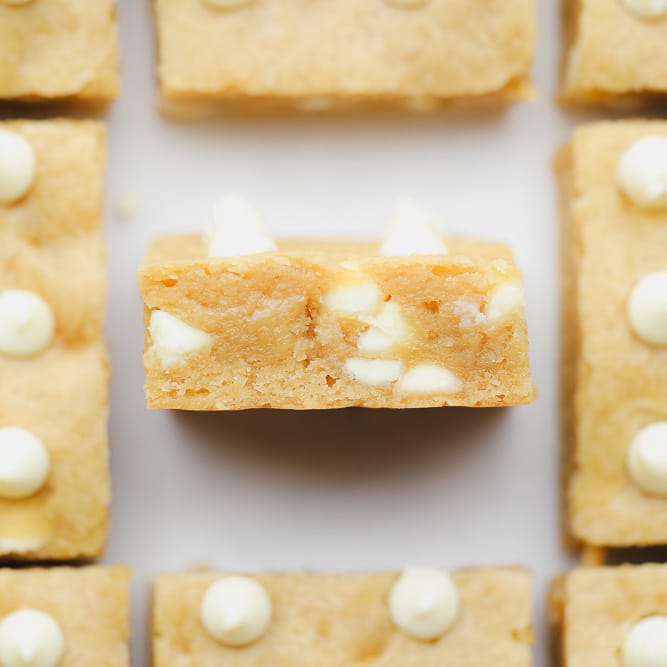 Vegan Blondies
Soft, buttery Vegan Blondies give regular brownies a run for their money. Loaded with vegan white chocolate chips, these are seriously the best dessert bars ever!
Ingredients
1/2

cup

vegan butter, melted

3/4

cup

light brown sugar, packed

6

tablespoons

unsweetened applesauce

2

teaspoons

pure vanilla extract

1 2/3

cup

all purpose flour

1

teaspoon

baking powder

1/4

teaspoon

salt

1/2-3/4

cup

vegan white chocolate chips

or regular chocolate chips
Instructions
Preheat the oven to 350 degrees F and line a 8 inch square baking pan with parchment paper, leaving overhang on the sides for easy removal.

Melt the butter in a microwave safe mixing bowl for 30 seconds to 1 minute.

In a large bowl, stir the melted vegan butter with the brown sugar until smooth like caramel. Now add the applesauce and vanilla and stir to combine.

Add the flour, baking powder and salt to the wet mixture and stir until just combined. The dough will be a bit thick and sticky.

Fold in the white chocolate chips (or regular chocolate chips). Use your hands if needed to get them evenly dispersed.

Transfer the mixture to the prepared pan and press down evenly with your hands or a spatula. Bake for 25-30 minutes, until the top is set and the blondies are golden.

Let the bars cool for 15 minutes in the pan, them lift them out using the parchment paper and let cool on a cooling rack for another 20 minutes, if you can wait that long! Slice into squares and enjoy!

To store: Keep leftover blondies in a covered container for up to 5 days or freeze for longer.
Notes
I tried these with both Earth Balance butter and Country Crock. I'm sure Miyoko's and other brands will work just as well.
Gluten free? Substitute a gluten free all purpose flour instead of regular.

I used vegan white chocolate chips I found at Wal Mart, but if you can't find vegan white chocolate you can always use regular vegan chocolate chips or just chopped walnuts.

If you don't have applesauce, use a flax egg by mixing 1 tablespoon ground flaxseeds with 2.5 tablespoons water. Add in when you would the applesauce.
Chopped walnuts, macadamia nuts and dried fruit are also wonderful mixed in.
Nutrition
Serving:
1
of 12 blondies
|
Calories:
216
kcal
|
Carbohydrates:
32
g
|
Protein:
2
g
|
Fat:
9
g
|
Saturated Fat:
3
g
|
Trans Fat:
1
g
|
Cholesterol:
2
mg
|
Sodium:
121
mg
|
Potassium:
101
mg
|
Fiber:
1
g
|
Sugar:
19
g
|
Vitamin A:
364
IU
|
Vitamin C:
1
mg
|
Calcium:
44
mg
|
Iron:
1
mg