These Eggless Brownies are rich and chocolatey with the perfect crackle top! You won't believe how amazing these brownies taste with no eggs or dairy!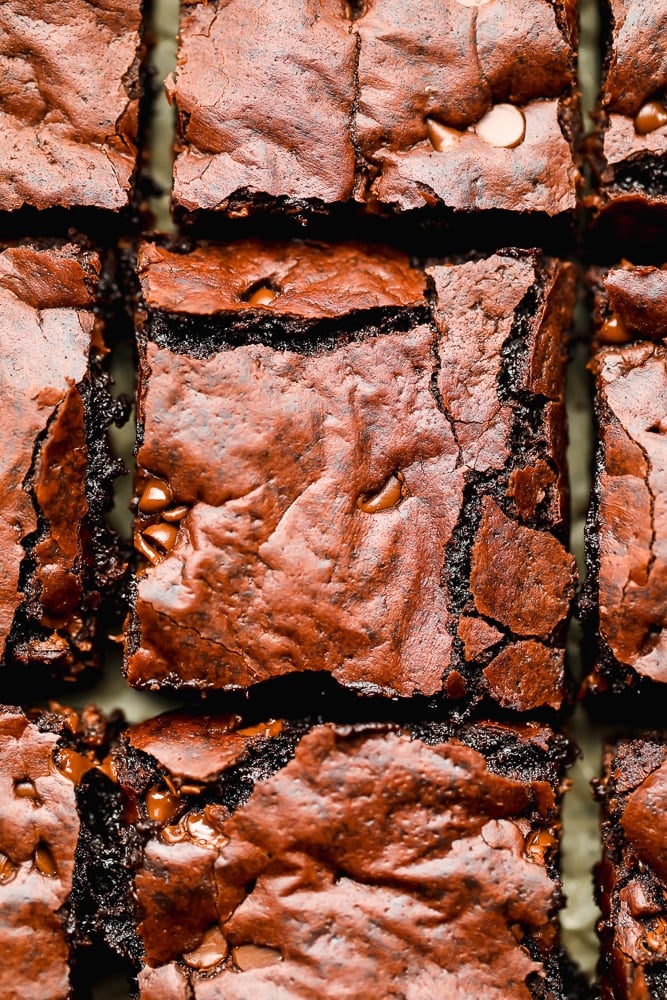 I'm no stranger to a great vegan brownie. Made with chocolate chips, walnuts, raspberries, or peanut butter, chocolate brownies made without eggs or milk never have trouble coming out of the oven tasting amazing.
Enter these vegan Eggless Brownies, my new favorite brownie! Made with whipped aquafaba, melted chocolate, and cocoa powder, this eggless and flaxseed-less dessert turns out moist and rich. Even without eggs or a traditional binding agent, aquafaba works its magic and transforms the chocolatey brownie batter into a vegan dream.
I won't be surprised if this becomes your new go-to brownie recipe because they're:
Thick, chewy, and fudgy.
Easy to make and flexible.
Ready to eat in about an hour.
A must-have for any vegan chocolate lover!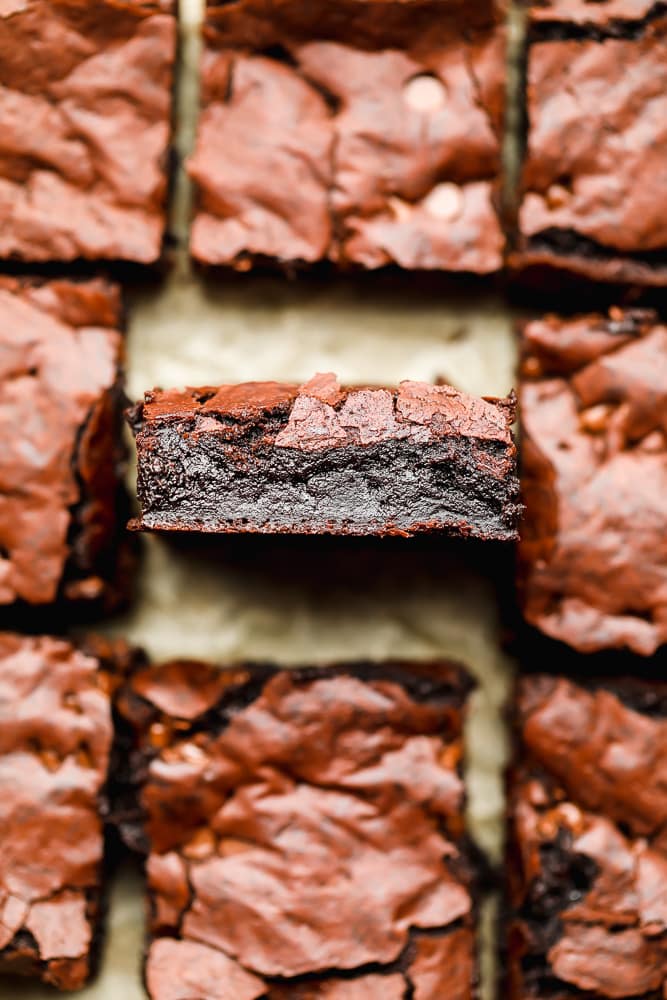 Aren't all vegan brownies eggless?
Technically, yes! All of my brownie recipes are made using flour, flaxseed, chocolate, and a handful of other vegan ingredients. There's just one separating this recipe from the rest: aquafaba!
Whereas flax eggs (made with water and flaxseed) are my usual egg replacer in baking, aquafaba (the water from a can of chickpeas) is a great binder and can be more accessible than flaxseed. When whipped like meringue, the aquafaba keep your brownies held together without messing with their rich chocolatey flavor. No little pieces of flaxseed to be found!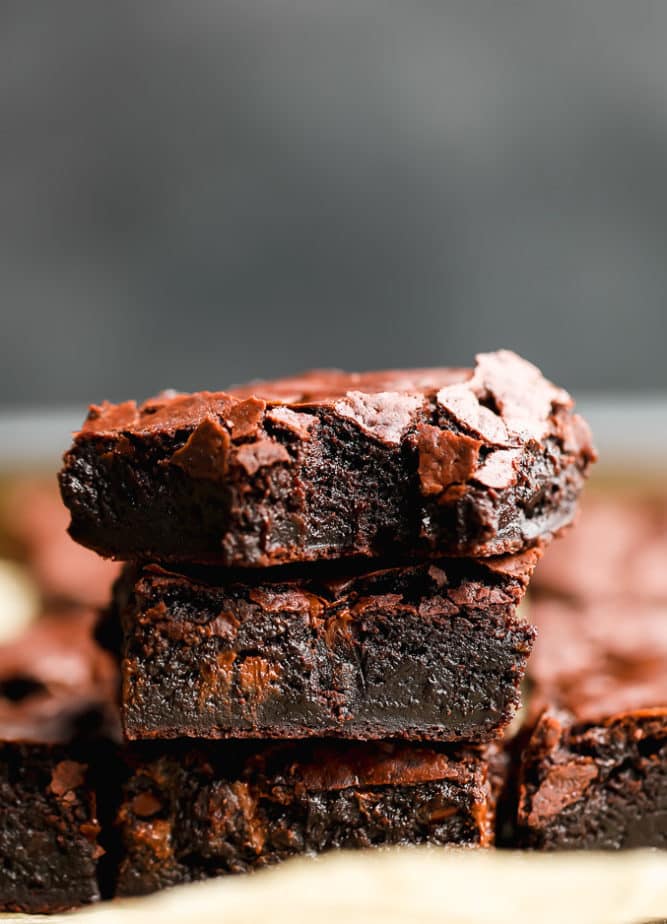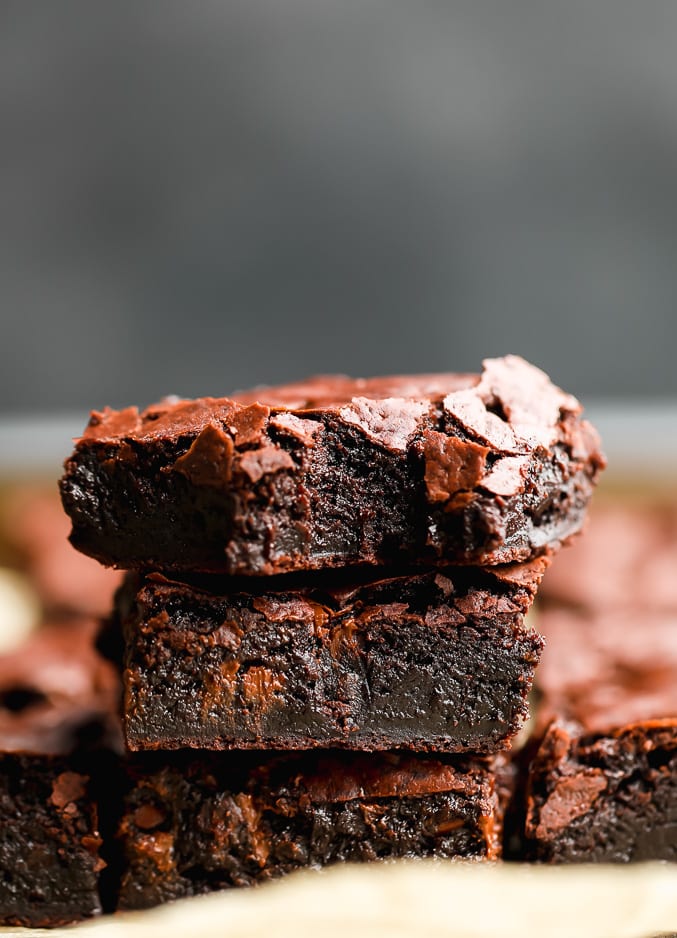 How to make brownies without eggs
Find the complete recipe with measurements below.
Whip the aquafaba and cream of tartar together until stiff peaks form. Slowly beat in the sugar until incorporated and the mixture is fluffy. Afterward, beat in the vanilla.
Melt the chocolate chips and vegan butter together in a microwave. Pour it into the aquafaba mixture and gently fold it all together using a spatula.
Whisk the dry ingredients together in a separate bowl. Pour them into the bowl of the wet ingredients and stir until combined. Lastly, fold in the chocolate chips before baking.
Bake the brownies until the top is shiny. Leave them to cool completely, then dig in!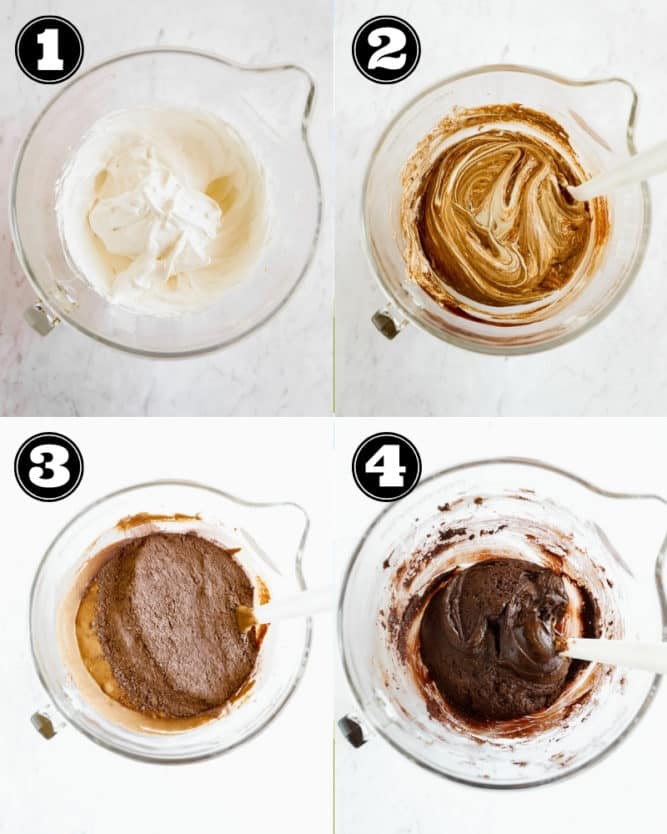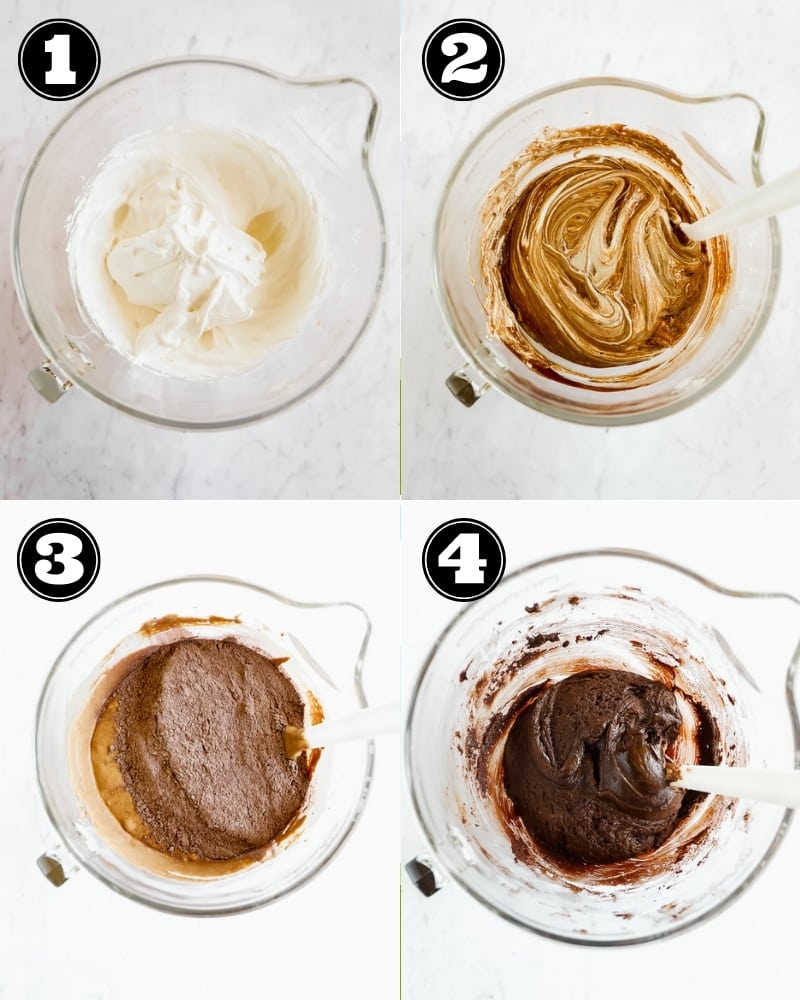 Baking with aquafaba
Aquafaba needs to be whipped well in order to be used in vegan baking (just like egg whites for meringue). The liquid aquafaba is beaten together with cream of tartar and sugar so it can stabilize and stiff peaks form. Not only does this prevent your brownies from tasting like beans, but it helps the them turn out soft and moist.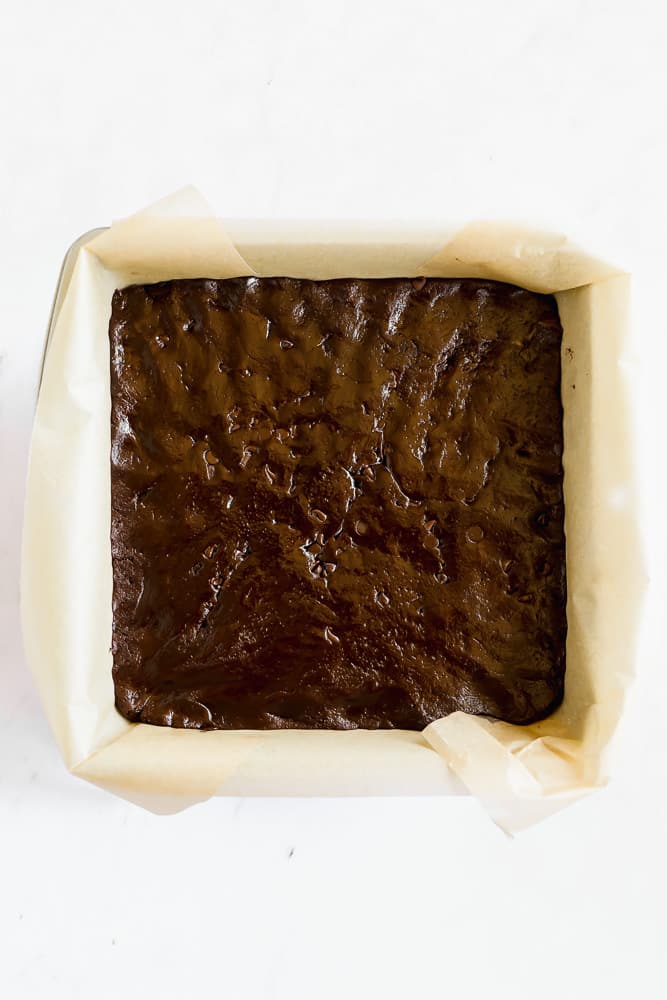 Variations
Gluten free – Use a 1:1 gluten free flour blend instead of all purpose flour. It works pretty well. Or go make my Gluten Free Brownies.
Coconut oil – Use melted coconut oil instead of vegan butter.
Without cream of tartar – You can leave it out of the recipe but the stiff peaks will take longer to form.
Add ins – Instead or in addition to the chocolate chips, fold in walnuts, raisins, shredded coconut, peanuts, peanut butter chips, or sprinkles.
Coffee – For a deeper chocolatey flavor, pour 1 ounce of brewed espresso or coffee into the brownie mix.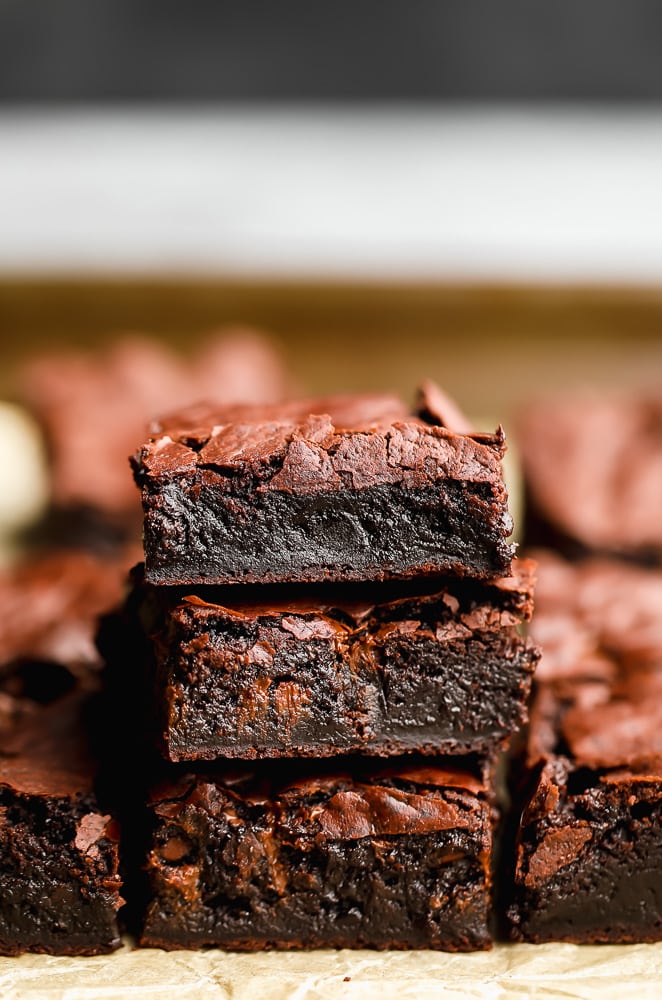 Looking for more vegan brownies to try?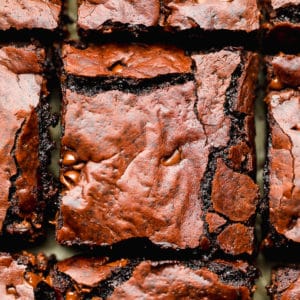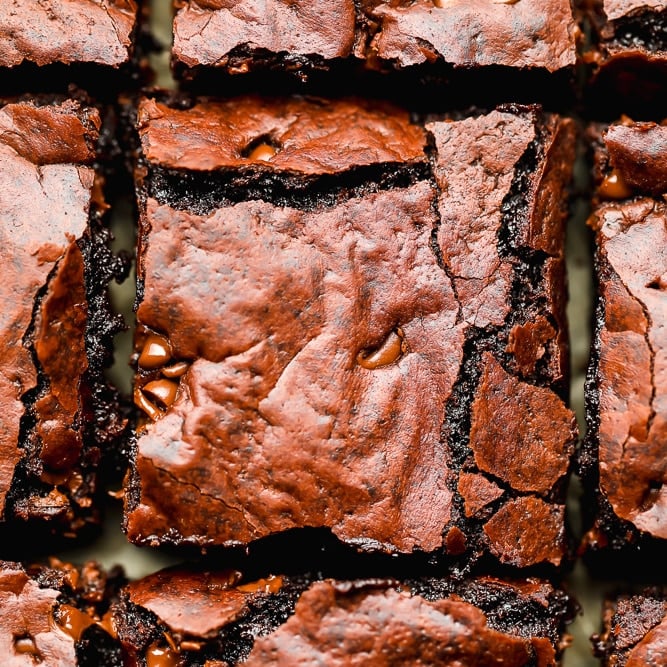 Eggless Brownies
These Eggless Brownies are rich and chocolatey with the perfect crackle top! You won't believe how amazing these brownies taste with no eggs or dairy!
Instructions
Line a 8×8 inch pan with parchment paper and preheat the oven to 350 degrees F.

Beat aquafaba with cream of tartar for 5 minutes until stiff peaks form. I use my stand mixer with whisk attachment, but you can use an electric hand mixer. Slowly add in the sugar, about 1/4 cup at a time, until it's all incorporated. It should be very fluffy at this point with stiff peaks. Beat in the vanilla and set aside.

In a microwave safe bowl, add the chocolate chips and vegan butter. Melt in the microwave in 30 second intervals, whisking well at each interval, until melted.

Pour the melted chocolate/butter mixture into the aquafaba mixture and stir gently with a spatula. The aquafaba mixture will shrink at this point but that is fine.

To a medium bowl, whisk the flour, cocoa, baking powder and salt together until combined and no clumps remain. If your cocoa is really clumpy, use a sifter.

Add the dry ingredients to the wet and stir until combined using a spatula. Fold in the additional chocolate chips, if using. Pour the brownie batter into the prepared pan, even it out with a spatula or your hands and bake for 35-37 minutes until the top is shiny.

Let cool for at least 30 minutes as the brownies will firm up as they cool. Enjoy!
Notes
May add in some chopped walnuts, if desired (1/2-3/4 cup).
You can substitute coconut oil for the vegan butter if needed, but vegan butter tastes better here.
You can try using a gluten free all purpose flour, but it will change the outcome slightly.
I prefer dutch processed cocoa for these brownies, aka dark cocoa. 
Inspired by Rainbow Plant Life's Vegan Brownies.
Nutrition
Serving:
1
of 12 brownies
|
Calories:
295
kcal
|
Carbohydrates:
48
g
|
Protein:
3
g
|
Fat:
12
g
|
Saturated Fat:
5
g
|
Trans Fat:
1
g
|
Sodium:
159
mg
|
Potassium:
119
mg
|
Fiber:
3
g
|
Sugar:
32
g
|
Vitamin A:
360
IU
|
Calcium:
41
mg
|
Iron:
2
mg