This Vegan Irish Soda Bread is a yeast-free rustic bread made with simple ingredients. After a quick bake, the slices are ready to be slathered in vegan butter and served next to vegan Irish stew and other soups and stews!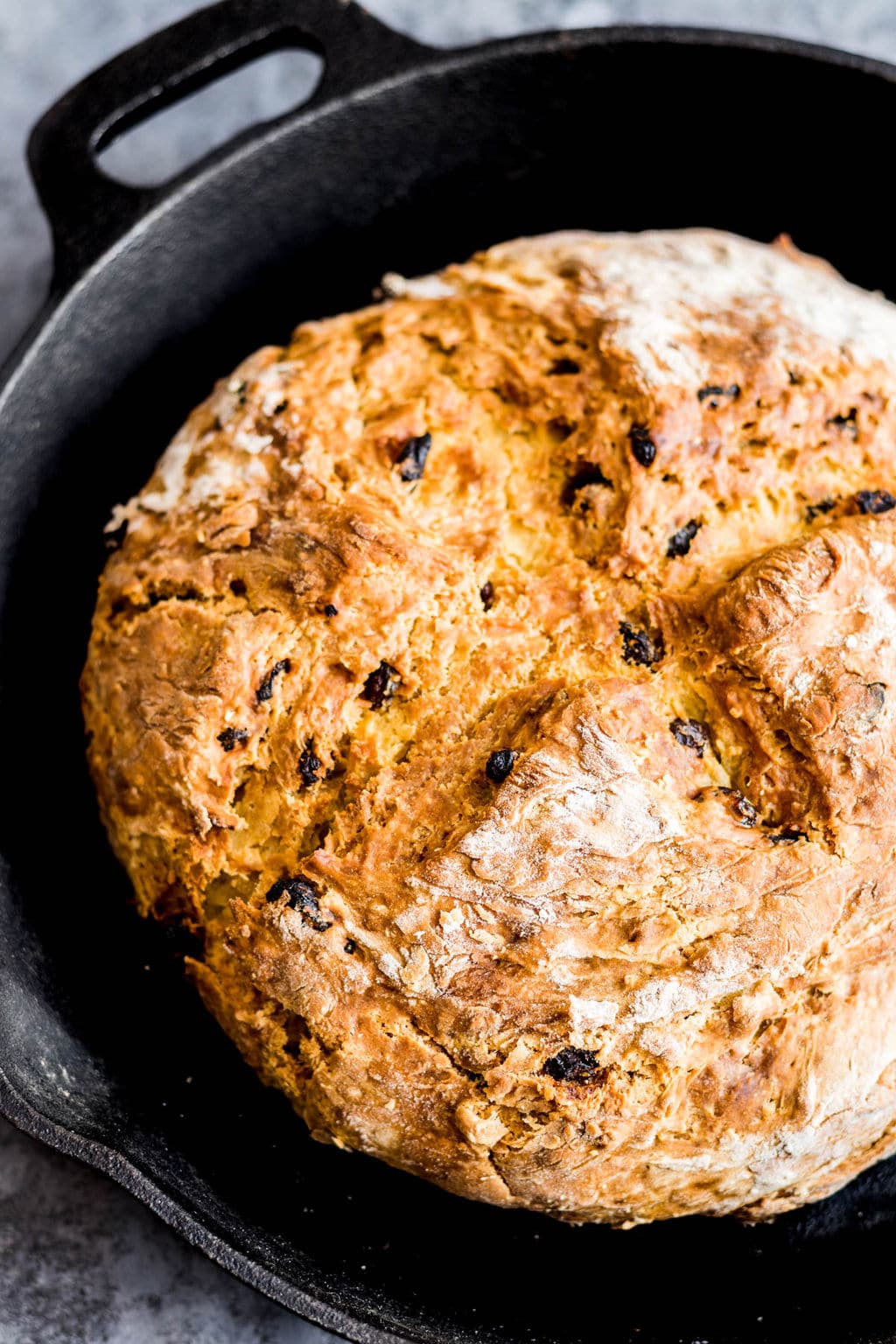 This Vegan Irish Soda Bread is an easy homemade bread recipe that any level of home baker can tackle. Not only is it delicious slathered in vegan butter and served with vegan Irish stew, but it's really easy to make using pantry staples, vegan buttermilk, and no yeast. The finished result is always crusty, flavorful, and rustic!
I know you're going to love this easy vegan soda bread because it's:
A foolproof yeast-free recipe.
Made from really simple ingredients.
Ready in just 1 hour.
Flavorful, tender, and moist.
Perfect for St. Patrick's Day or year-round!
The hearty slices are a must when you're serving soups and stews in the winter. Dunk 'em in a big bowl of classic vegan stew or this comforting lentil chili. You can't go wrong!
What is Irish soda bread?
Irish soda bread is an artisan-style quick bread that uses baking soda as the main leavening agent instead of yeast. The traditional recipe relies on the chemical reaction between buttermilk and baking soda to create little pockets of air throughout the bread, giving it lift and a spongy texture. Vegan soda bread recipes replace the real buttermilk with homemade vegan buttermilk made from vinegar and dairy free milk.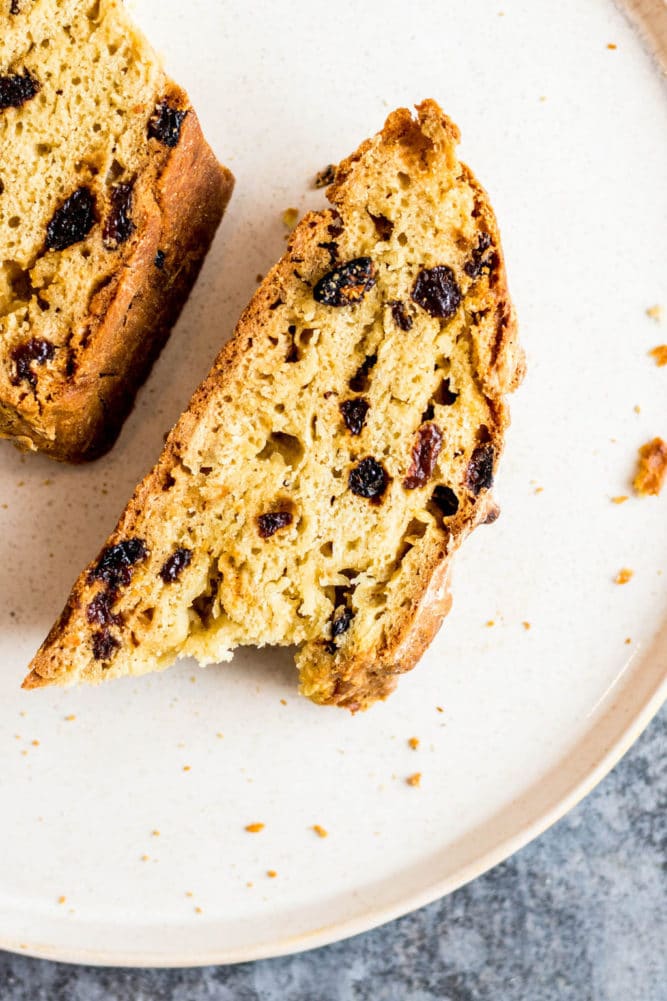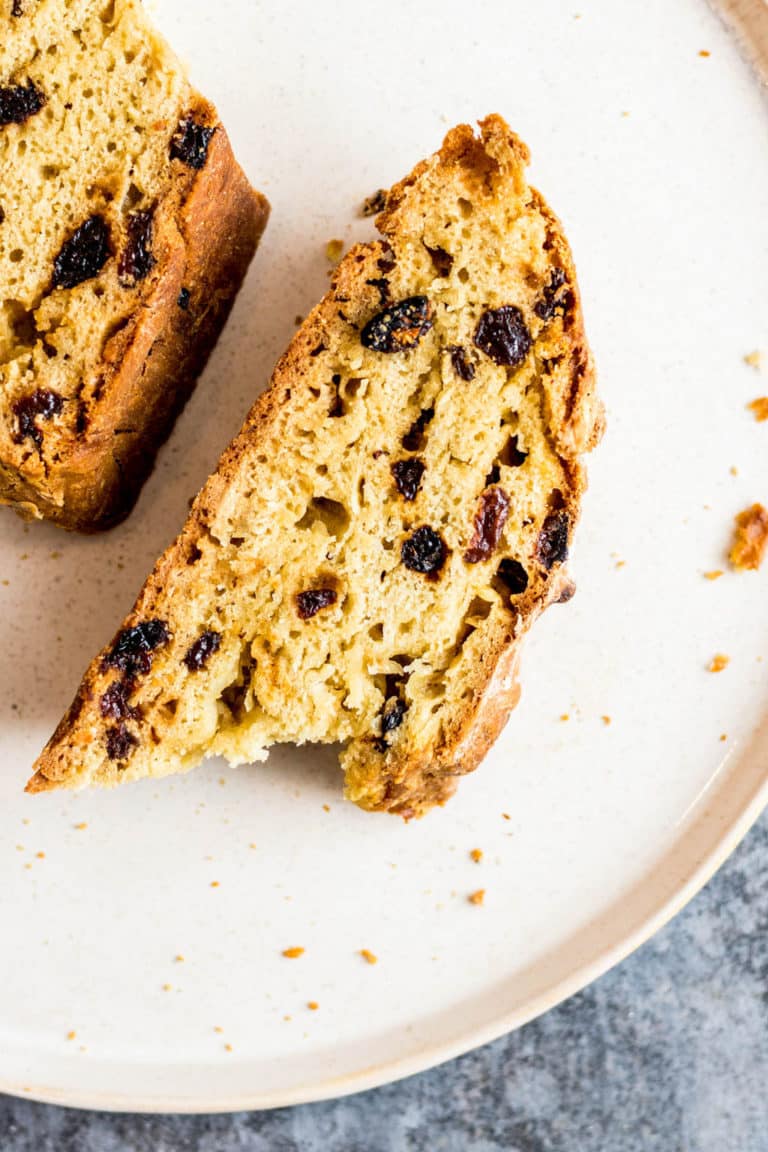 Ingredients needed (with substitutions)
Soy milk – I prefer using soy milk, but oat milk or almond milk are my other go-to's. 
Apple cider vinegar – Mixing vinegar with dairy free milk will give you a tangy and tasty vegan buttermilk substitute. It gives rise to quick breads, pancakes, biscuits, and more. If you don't have apple cider vinegar, use white vinegar or lemon juice instead.
All purpose flour – This will give the bread the best texture. A 1:1 mix of whole wheat flour and all purpose flour should also work.
Sugar – Granulated sugar will help the other flavors pop. Another granulated sugar (like coconut sugar) should work in its place, although the flavor could be slightly affected.
Salt
Baking soda – The baking soda will react with the vegan buttermilk, giving the soda bread plenty of rise.
Raisins – These are optional but give the bread added texture and a bit of sweetness.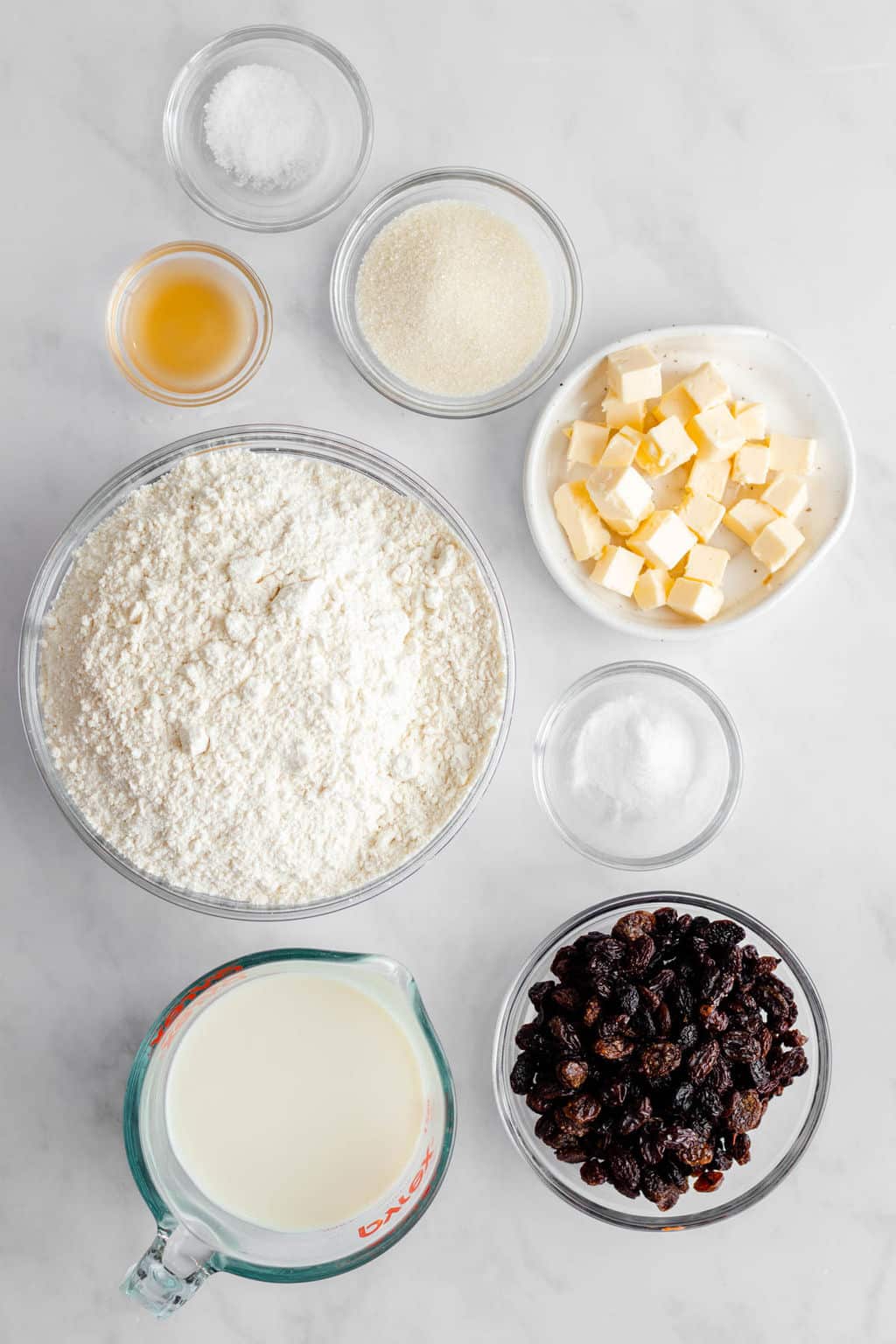 How to make vegan Irish soda bread
Start by mixing the soy milk and apple cider vinegar together in a small bowl to make the vegan buttermilk. Set it aside to curdle while you work on the dough:
Combine the flour, sugar, baking soda, and salt in a large bowl.
Use your hands to work the cold vegan butter into the flour mixture until it resembles coarse crumbs. This is when you can add the raisins.
Pour in the vegan buttermilk mixture and mix until a sticky dough forms.
Turn the dough out onto a lightly floured surface and knead it a few times. The resulting dough won't be perfectly smooth but not too sticky either.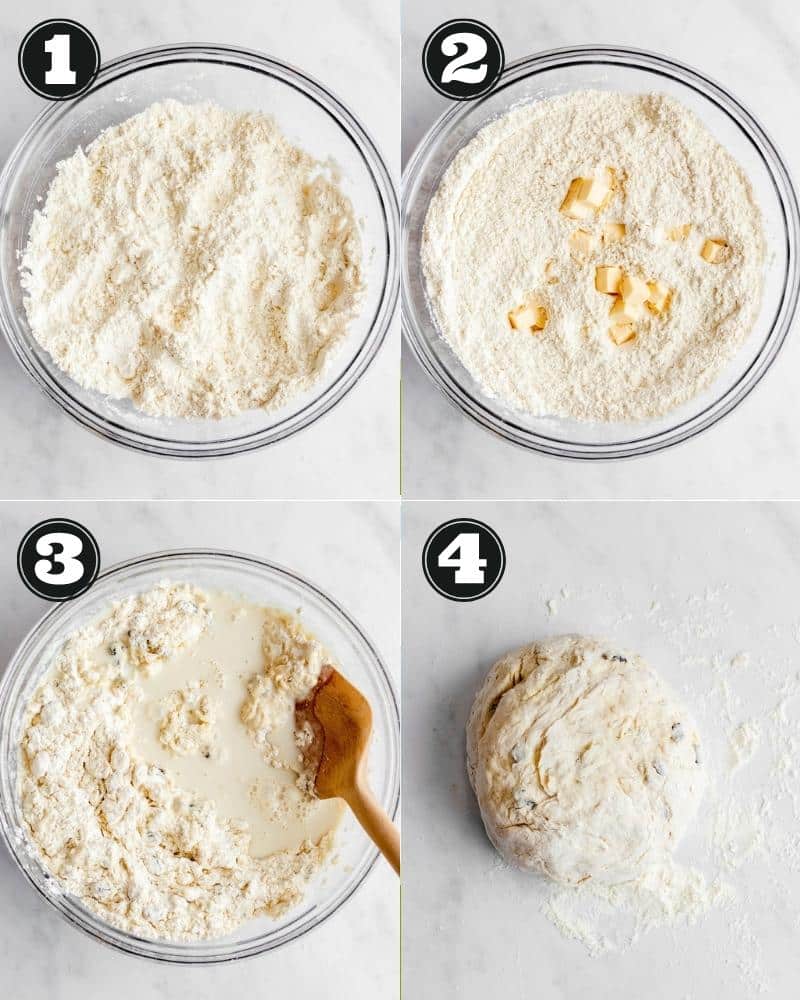 Use a serrated knife to score the bread before baking until golden brown. Let it cool slightly before slicing and serving.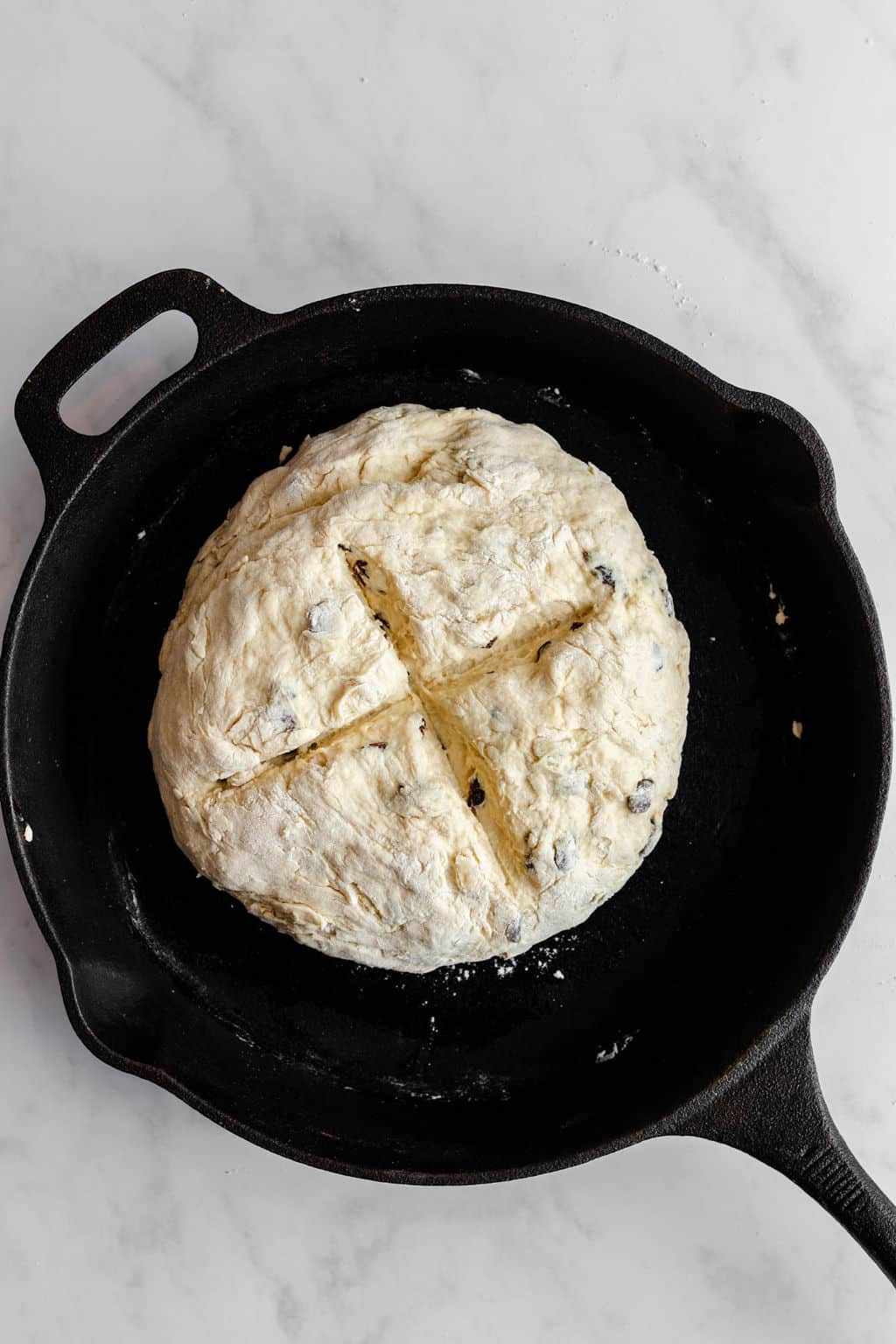 Serving suggestions
A few hearty slices of vegan Irish soda bread are the perfect match for soups and stews and other sauce-heavy dishes. If you're not serving the bread with Irish stew, dip the slices in a "meaty" bowl of spaghetti, use them to soak up the last few drops of curry sauce, or enjoy them with your favorite vegan chili instead. The leftover slices can be used for toast with butter or jam, or for sandwich bread.
Frequently asked questions
Is traditional soda bread vegan? No. Traditional Irish soda bread is made with real buttermilk and butter. This version replaces the dairy with homemade vegan buttermilk and vegan butter.
Can it be made gluten free? I haven't tried making this vegan soda bread gluten free, but I think it could be done. Try swapping the all purpose flour with a 1:1 gluten free flour blend instead. Just be aware that the finished bread will be slightly dense and have a crumbly texture.
What is the best pan to bake vegan soda bread in? A cast iron pan or Dutch oven will give your soda bread a crunchy crust while evenly baking the soft and chewy inside. If you don't have a cast iron pan or Dutch oven, you can bake your vegan soda bread on a regular cookie sheet.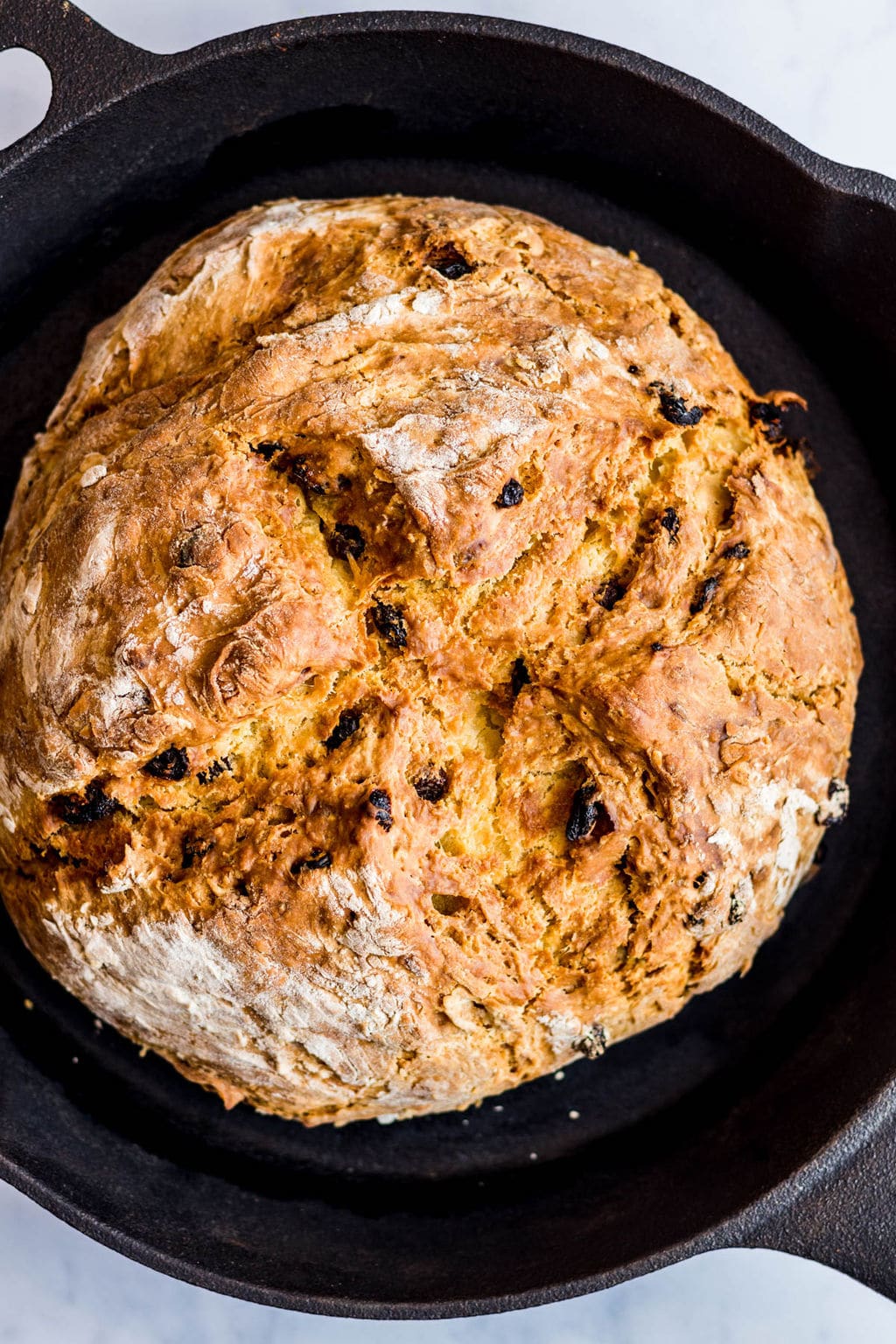 Want more yeast-free quick bread recipes?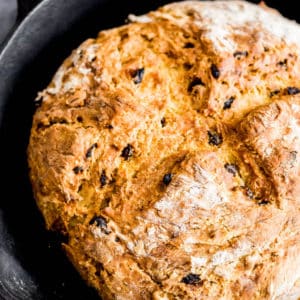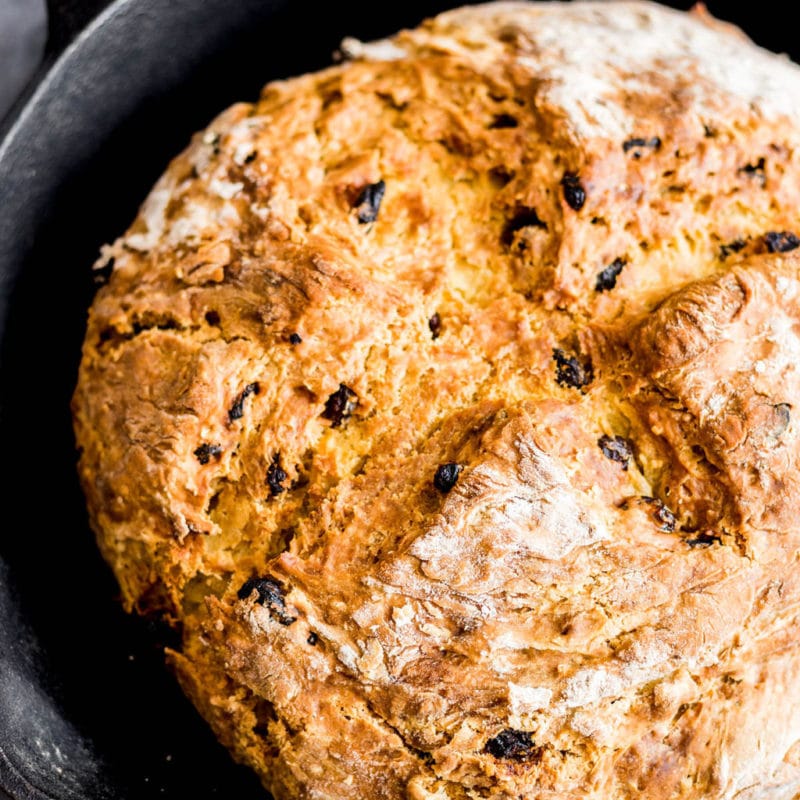 Vegan Irish Soda Bread
This Vegan Irish Soda Bread is a yeast-free rustic bread made with simple ingredients. After a quick bake, the slices are ready to be slathered in
vegan butter
and served next to
vegan Irish stew
and other soups and stews!
Ingredients
The Rest
4-4 1/2

cups

all purpose flour

3

tablespoons

granulated sugar

1

teaspoon

baking soda

1 1/2

teaspoons

salt

4

tablespoons

vegan butter, cold and cut into cubes

1

cup

raisins, optional
Instructions
Preheat the oven to 425 degrees F.

Make the vegan buttermilk by mixing the milk and vinegar in a bowl. Set aside to curdle.

In a large mixing bowl, whisk together 4 cups of flour, sugar, baking soda and salt.

Using clean fingers, work the butter into the flour mixture until it resembles coarse crumbs. Add the raisins in now, if using.

Pour in the vegan buttermilk and stir with a large wooden spoon until it's mostly together.

Knead the dough a little bit so it comes together. It won't be a perfectly round ball of dough. Add flour to the dough and your hands as needed if it's too sticky.

Transfer to a lightly floured surface and shape into a round loaf. Again, it won't look perfect! Now place the loaf onto a baking pan or better yet a cast iron pan.

Score the bread with an x using a serrated knife, about an inch to two inches deep.

Bake for 40-50 minutes, until golden. Cool for 10 minutes, then slice and enjoy.
Notes
May use another plant milk, such as almond or oat milk.
I haven't tested it gluten free, but you can try using an all purpose gluten free flour mix. Whole wheat flour may also work for a more dense loaf of bread.
This is a pretty salty bread, but you can choose to cut the salt in half if you want.
Nutrition
Serving:
1
of 8 servings
|
Calories:
334
kcal
|
Carbohydrates:
59
g
|
Protein:
9
g
|
Fat:
6
g
|
Saturated Fat:
1
g
|
Polyunsaturated Fat:
2
g
|
Monounsaturated Fat:
2
g
|
Trans Fat:
1
g
|
Sodium:
642
mg
|
Potassium:
151
mg
|
Fiber:
2
g
|
Sugar:
5
g
|
Vitamin A:
393
IU
|
Calcium:
86
mg
|
Iron:
4
mg