Vegan Sour Cream
This post may contain affiliate links. Read my full disclosure here.
Vegan Sour Cream, made with 4 ingredients and 5 minutes. It's thick, creamy, tangy and the perfect substitute for dairy sour cream!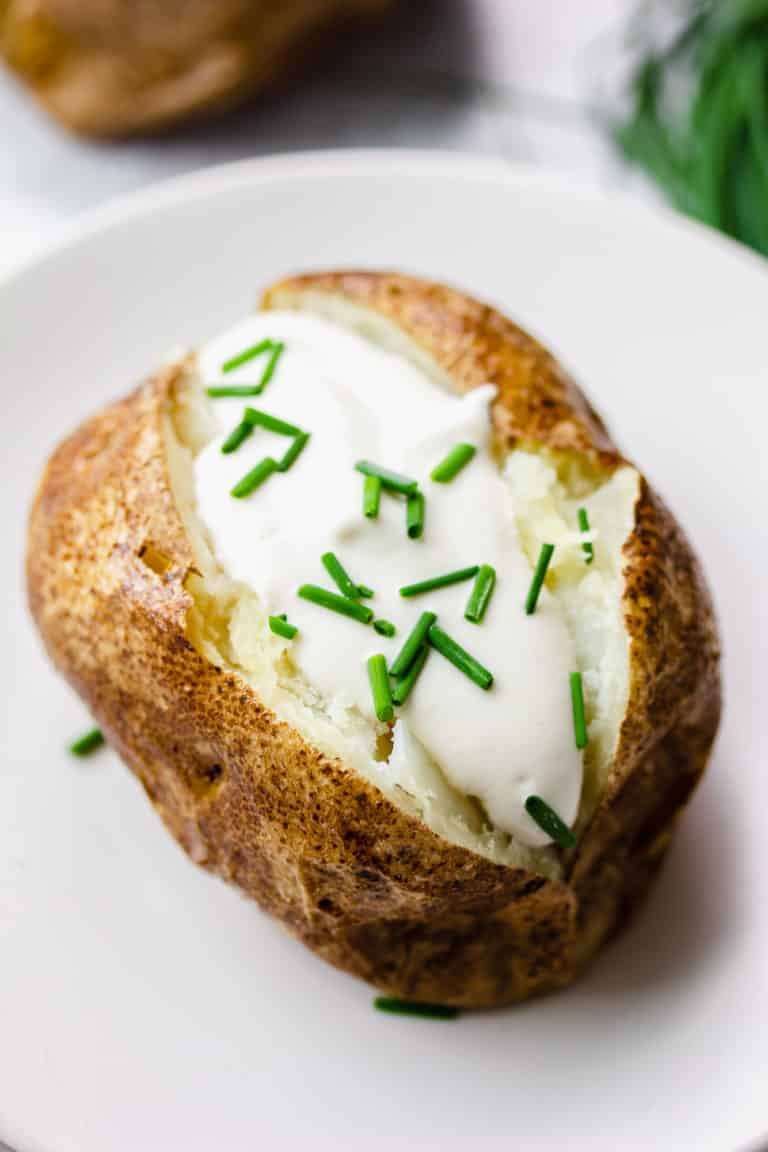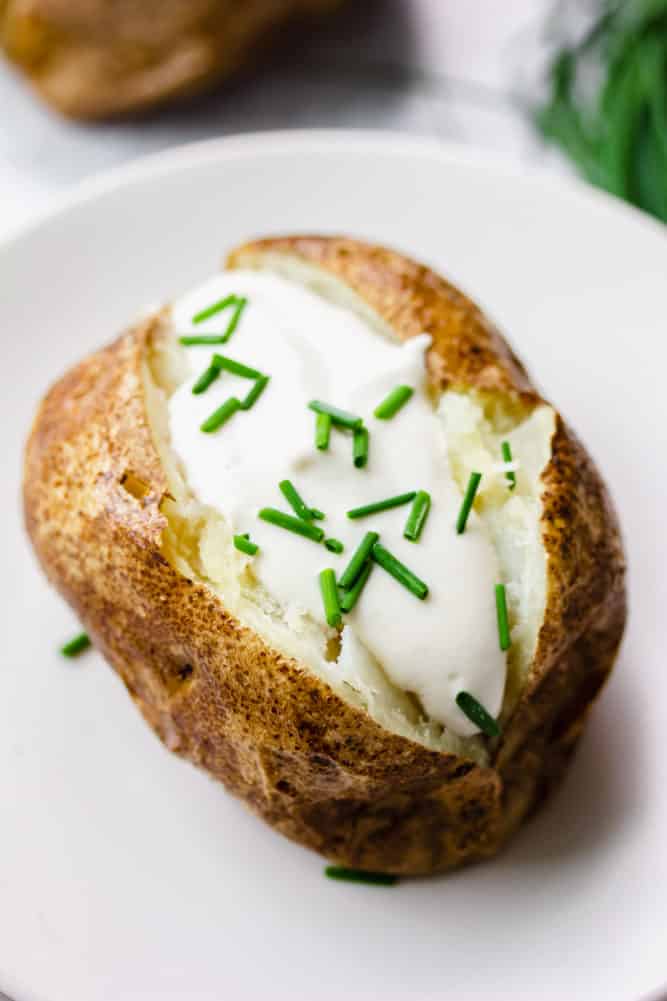 Do you miss sour cream? I used to love the stuff before I went vegan; a dollop here and there made food more delicious and satisfying.
Well now you can make your own dairy free sour cream with just 4 ingredients in minutes with simple ingredients!
Just like my Heavy Whipping Cream Substitute, Vegan Butter, Vegan Condensed Milk and Shreddable Vegan Mozzarella Cheese, this is a staple recipe you will want to have in the refrigerator at all times.
Vegan sour cream brands you can buy
If you don't want to make your own at home, there are several options nowadays for dairy free sour cream at the grocery store.
None of them taste as good to me as this homemade version, but I have used Tofutti brand in the past, as well as Kite Hill, Simple Truth, Forager, Follow Your Heart and Good Karma.
Make my homemade version if you can; it's so much better tasting!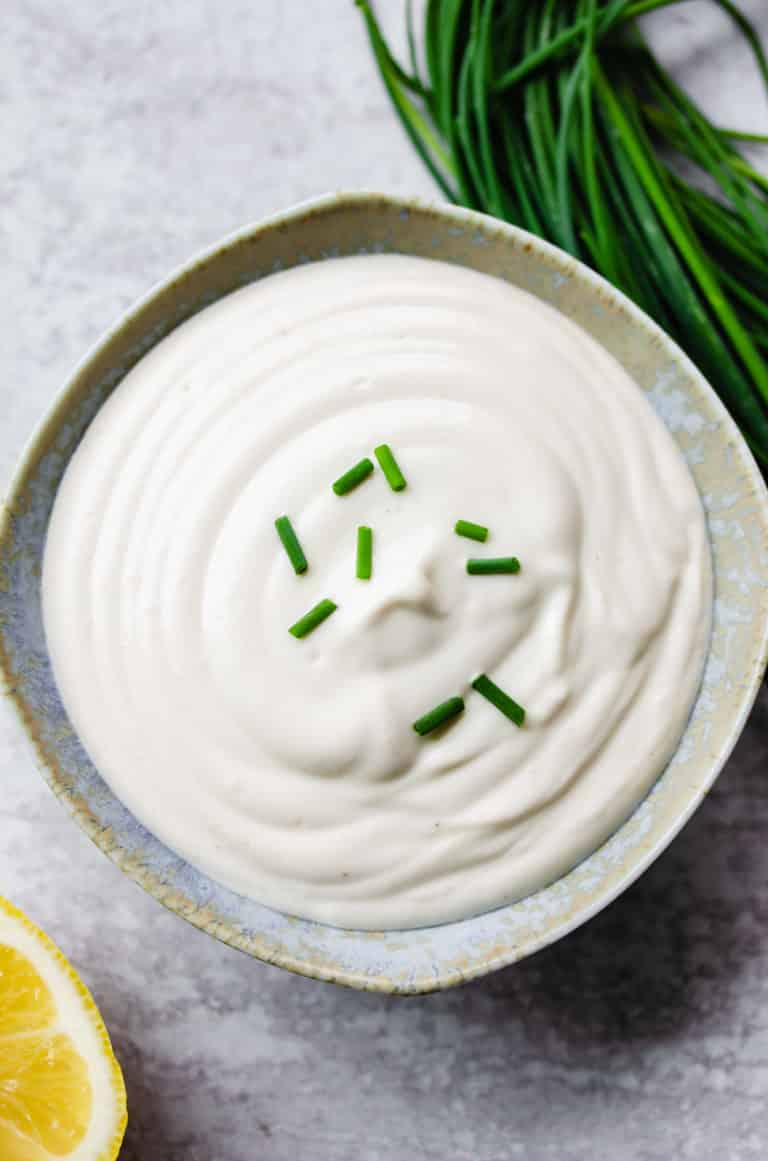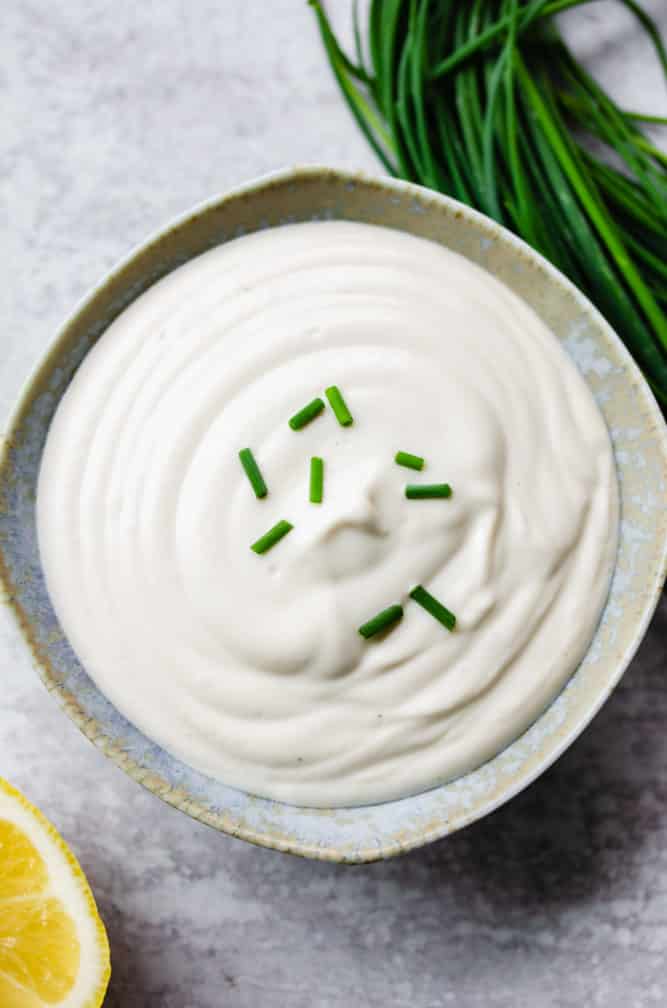 Ingredients needed for sour cream alternative
Raw cashews – Cashews are what gives this whole foods sour cream it's creamy texture. If you can't have cashews, you can try using slivered almonds instead. If you absolutely can't have nuts at all, try making a tofu sour cream instead! Or make sour cream from coconut milk.
Apple cider vinegar – or white vinegar or even more fresh lemon juice.
Fresh lemon juice – You can also use 1 teaspoon of lactic acid for the signature "tang" if you have it.
Optional: Unsweetened dairy free yogurt – This adds an extra creaminess and tang, but you can leave it out if needed. I like Kite Hill brand, but others work as well.
How to make vegan sour cream
Find the complete recipe with measurements below.
First, soak your cashews. I do this by pouring boiling hot water from my tea kettle over the cashews, then let them sit for about 5 minutes. They can sit for longer if you want, and if you don't have a high powered blender I suggest you let them soak for an hour, to get them really soft for blending.
Add ingredients to a high-speed blender. Drain the cashews, then add to a blender along with 3/4 cup fresh water, apple cider vinegar, lemon juice and salt. A food processor might work, but it won't get nearly as creamy.
Blend until very smooth. Scrape down the sides of the blender as needed, and make sure there are no pieces of nuts left. It should be super smooth and not grainy at all.
Add yogurt if desired. This last step is optional but will bring your sour cream to the next level! Pour the cashew mixture into a bowl, and stir in 1 cup of unsweetened non-dairy yogurt. It helps the sour cream be lighter in texture (more like real sour cream), and helps it to taste tangier.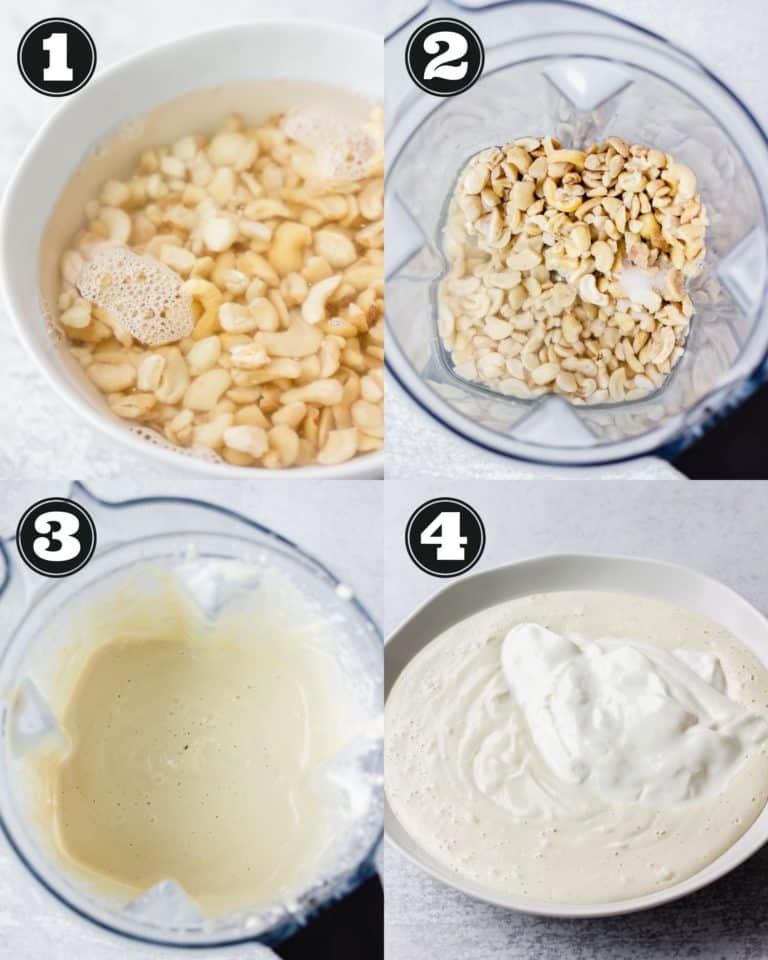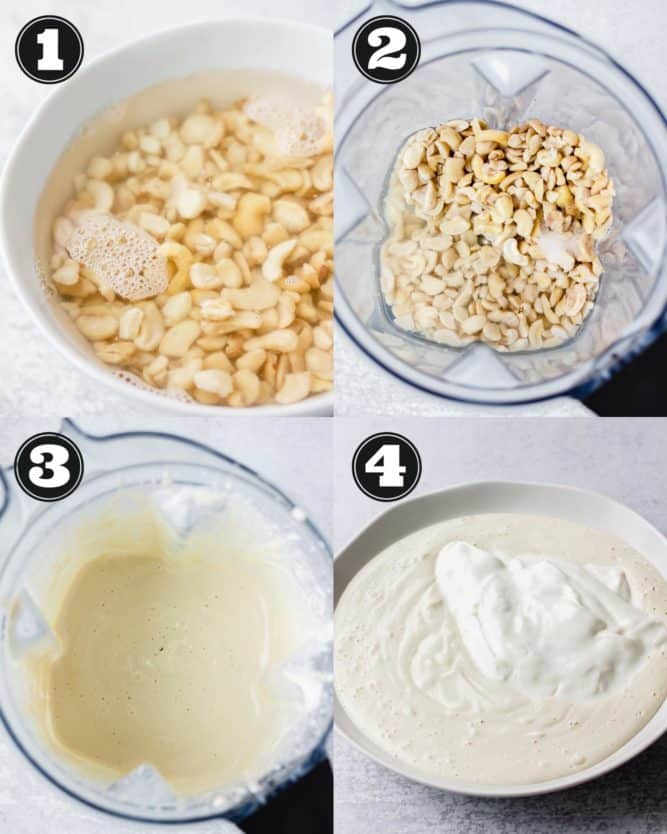 Can you make it without a high-speed blender?
It is possible, though it will probably be grainier and not as smooth as mine. If there's one thing you should invest in as a vegan home cook, it's a high powered blender. I love, love, love my Vitamix and can't live without it!
If using a regular blender or food processor, soak the cashews for a long time, an hour in hot water. That will soften them up even more so they will blend better.
Variations
Green chile sour cream – Add a can of green chiles when you blend everything together for a delicious variation.
Sriracha sour cream – Sometimes I add a teaspoon or two of Sriracha for spicy sour cream. This also goes great on nourish bowls.
Cheesy – Add about 1/4 cup of nutritional yeast for a slightly cheesy flavored sour cream. A little onion or garlic powder will also add a bit of flavor.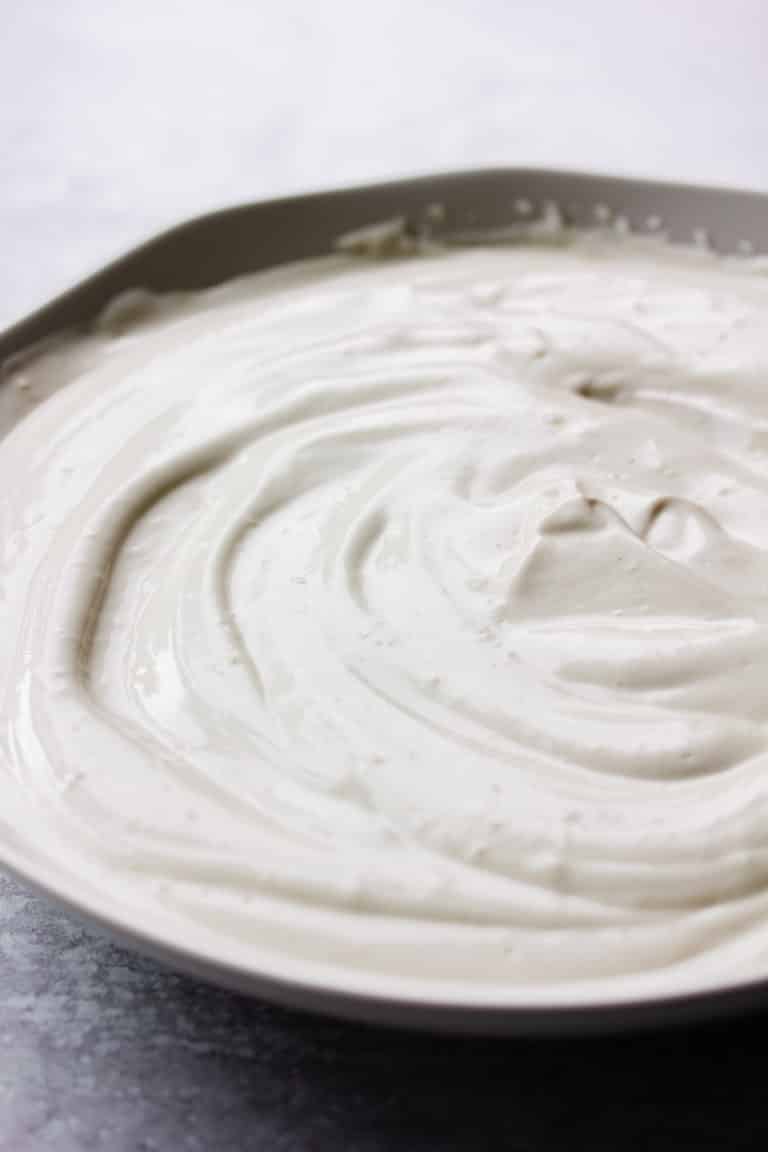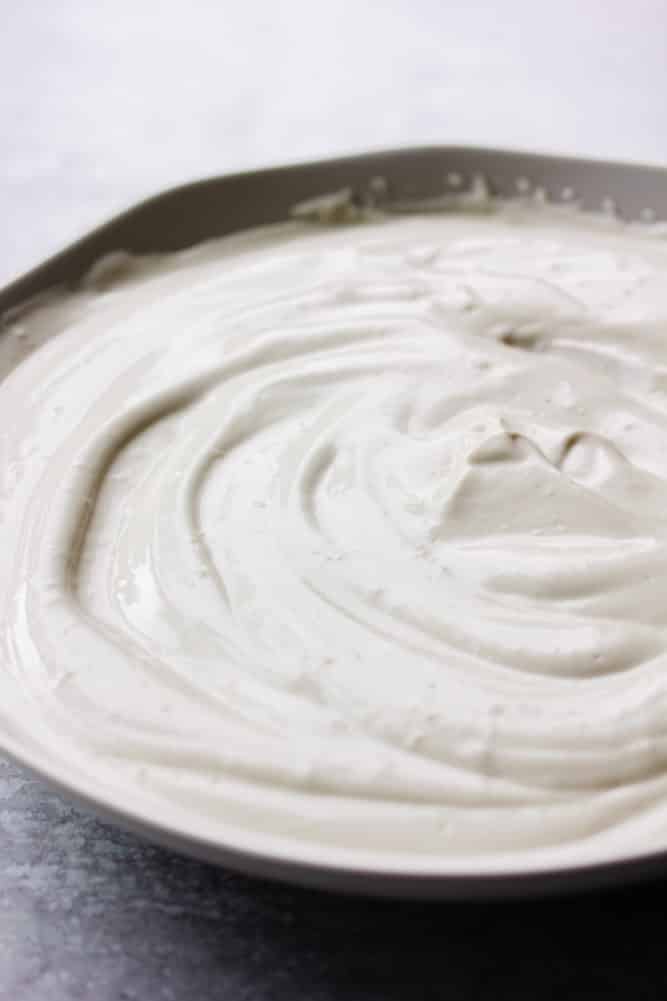 Frequently asked questions
What brand of non-dairy yogurt should you use? I used Kite Hill brand unsweetened almond yogurt. It's my favorite for this sour cream, and other recipes where I use yogurt to cook, like these Vegan Sour Cream Enchiladas. It's also very white, so it helps make your sour cream super white, just like real sour cream.
How long will cashew sour cream keep? I have found that it will keep about 1 week in the refrigerator, in a covered container. This recipe does make quite a lot, so freeze some if you want.
Can you freeze it? Yes, it freezes quite well. I often freeze my cashew based sauces and dressings with no issues. You can freeze a portion in a freezer friendly container, or even pour into an ice cube tray, then pop them into a freezer bag once frozen for single serving portions.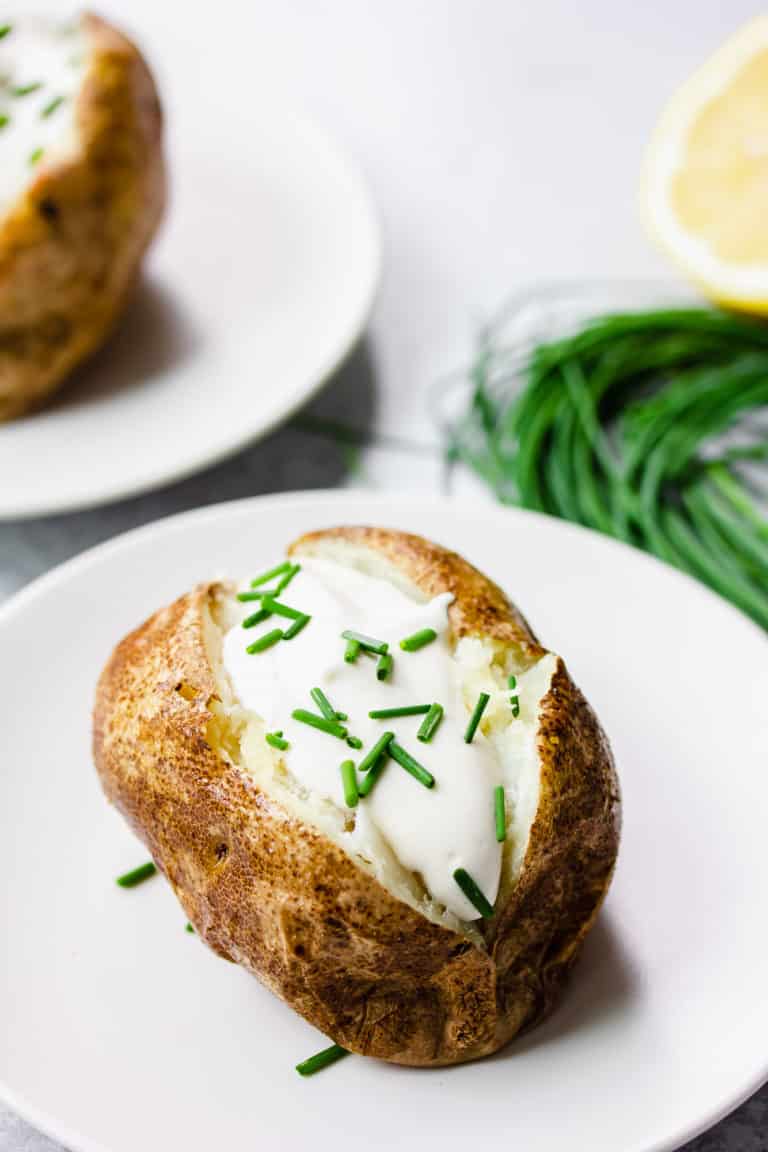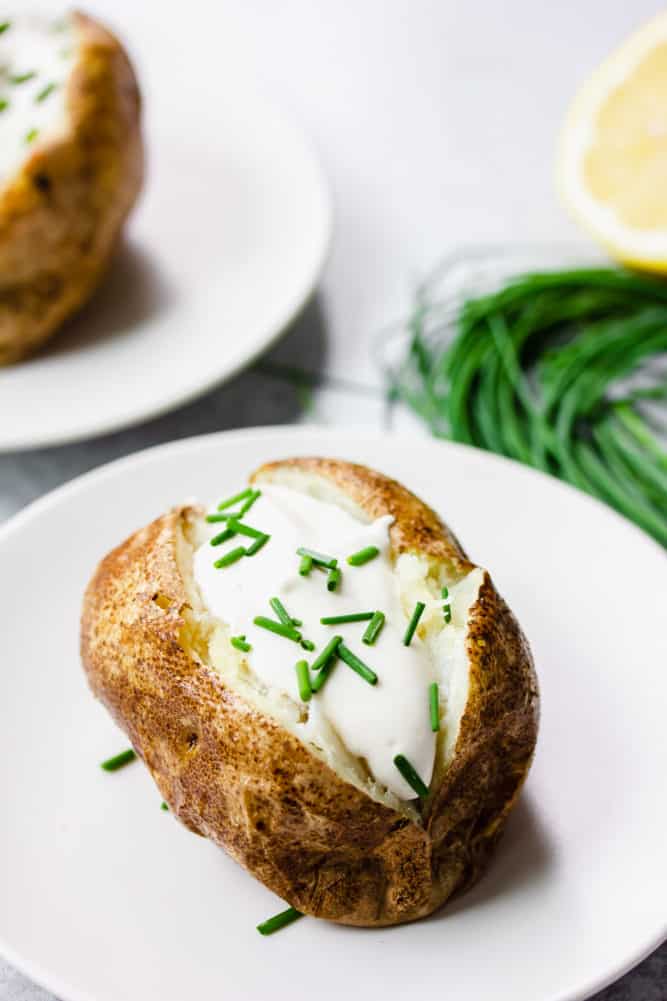 What goes well with vegan sour cream?
You can use this dairy free sour cream anywhere you would use regular sour cream! From burritos, enchiladas and tacos to buddha bowls, chilis and soups, the possibilities are endless. It's the perfect topping for any of the following recipes and more.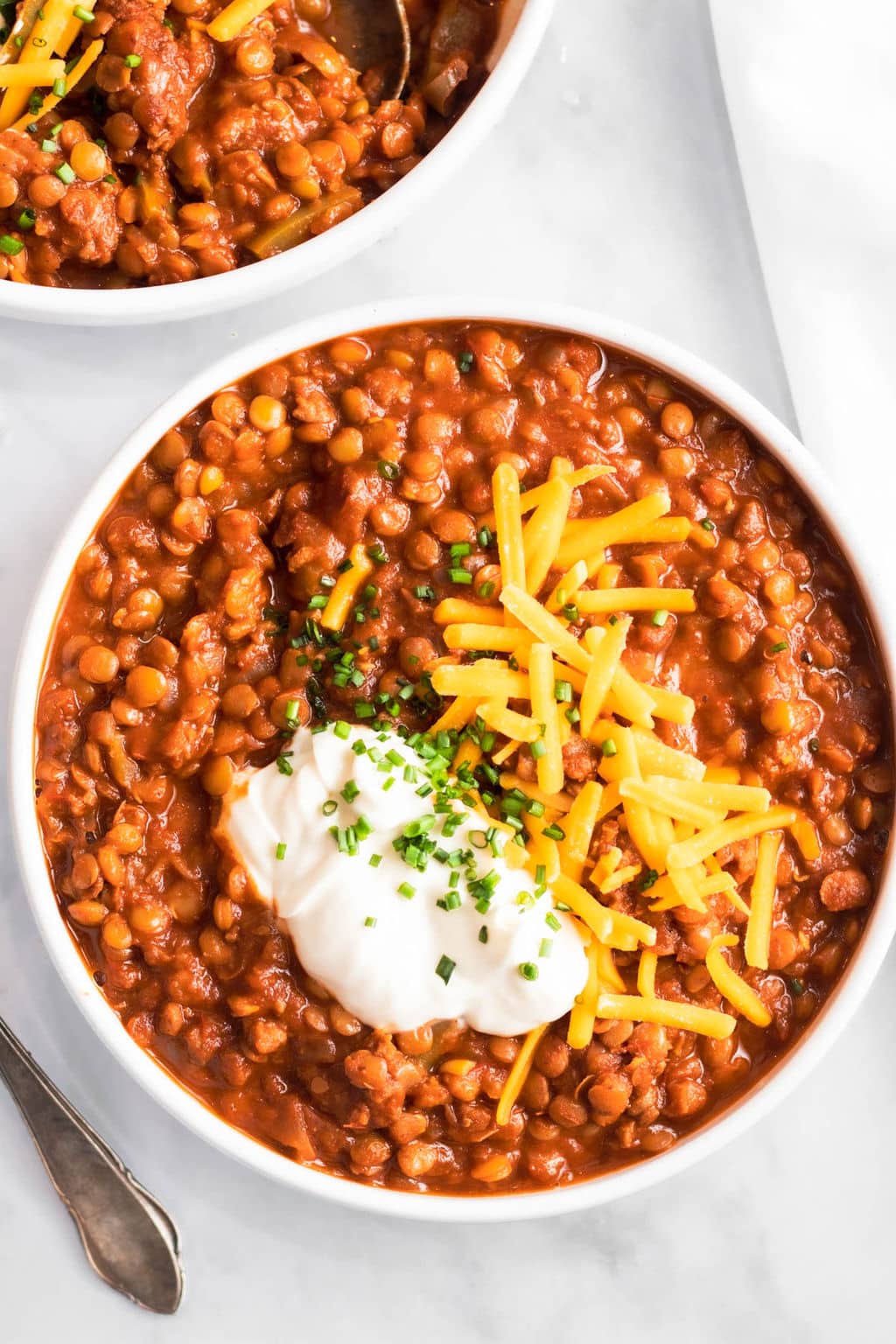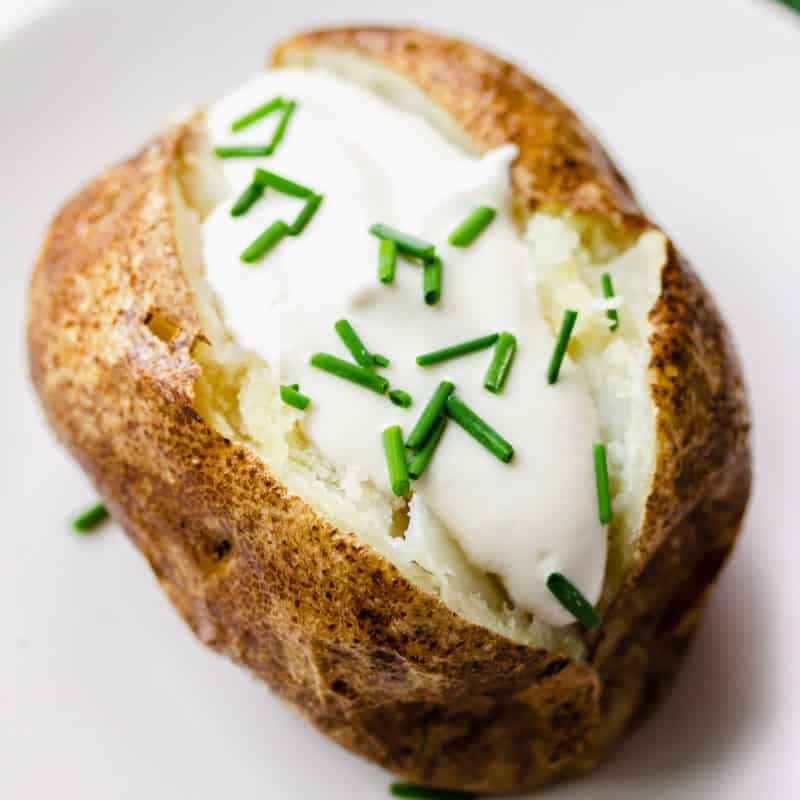 Vegan Sour Cream
Vegan Sour Cream, made with 4 ingredients and 5 minutes. It's thick, creamy, tangy and the perfect substitute for dairy sour cream!
Ingredients
1 1/2

cups

raw cashews

3/4

cup

water

2

tablespoons

apple cider vinegar

1

tablespoon

fresh lemon juice

1/2

teaspoon

salt

OPTIONAL:

1 cup unsweetened non-dairy yogurt
Instructions
Quick soak the cashews: Bring a few cups of water to a boil (I use my tea kettle for this). Add 1 1/2 cups cashews to a measuring cup and pour the boiling hot water on top to cover. Let them soak for 5 minutes, or 1 hour if you don't have a high powered blender.

Drain the cashews and add to high powered blender. Now add 3/4 cup fresh water, apple cider vinegar, lemon juice and salt. Blend until very smooth.

Pour the cashew mixture into a bowl and stir in in the unsweetened yogurt. This is optional, but it brings the sour cream to another level in terms of texture and flavor.

Use immediately, or transfer to a small covered container and refrigerate. It will thicken up as it chills. The sour cream will keep for about a week. You may also freeze this if desired. Enjoy!
Notes
May also soak the cashews overnight in water. I can never usually remember to do this so I use the quick soak method!
If you do not have a high powered blender like a Vitamix, you may need to soak the cashews even longer to get a smooth cream, an hour or so.
Add a can of green chiles to make a green chile sour cream, or a teaspoon or Sriracha hot sauce for spicy sour cream. 
Nutrition
Serving:
1
serving
,
Calories:
135
kcal
,
Carbohydrates:
7
g
,
Protein:
4
g
,
Fat:
11
g
,
Saturated Fat:
2
g
,
Sodium:
150
mg
,
Potassium:
160
mg
,
Fiber:
1
g
,
Sugar:
1
g
,
Vitamin C:
1
mg
,
Calcium:
9
mg
,
Iron:
2
mg
We are a participant in the Amazon Services LLC Associates Program, an affiliate advertising program designed to provide a means for sites to earn advertising fees by advertising and linking to amazon.com. Read my full disclosure here