Learn how to make the best dang vegan mashed potatoes that come out perfectly every time! Super simple to make with 4 ingredients.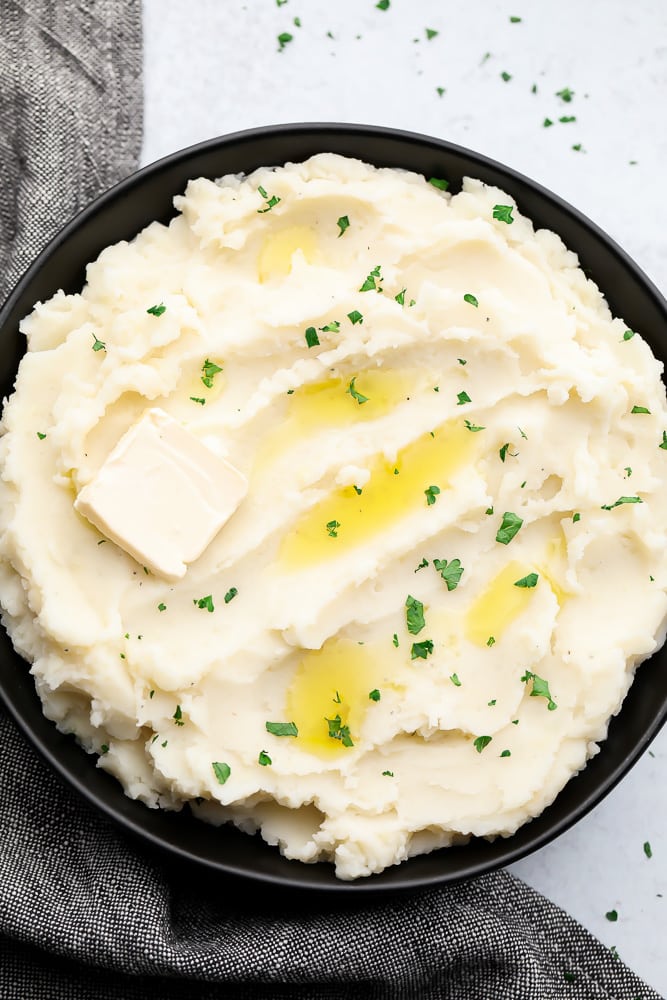 Perfect for any time of year, mashed potatoes may be the most well-loved side dish ever, and for good reason! These dairy free mashed potatoes are creamy, smooth, buttery and so simple to make.
If you're used to adding a lot of dairy to your potatoes, don't worry. Just because these potatoes don't contain butter or milk products doesn't make them any less incredible, and no one will know!
If you love potatoes, make sure to try my Vegan Scalloped Potatoes as well. Both recipes are a must-have at Thanksgiving dinner. And don't forget the gravy!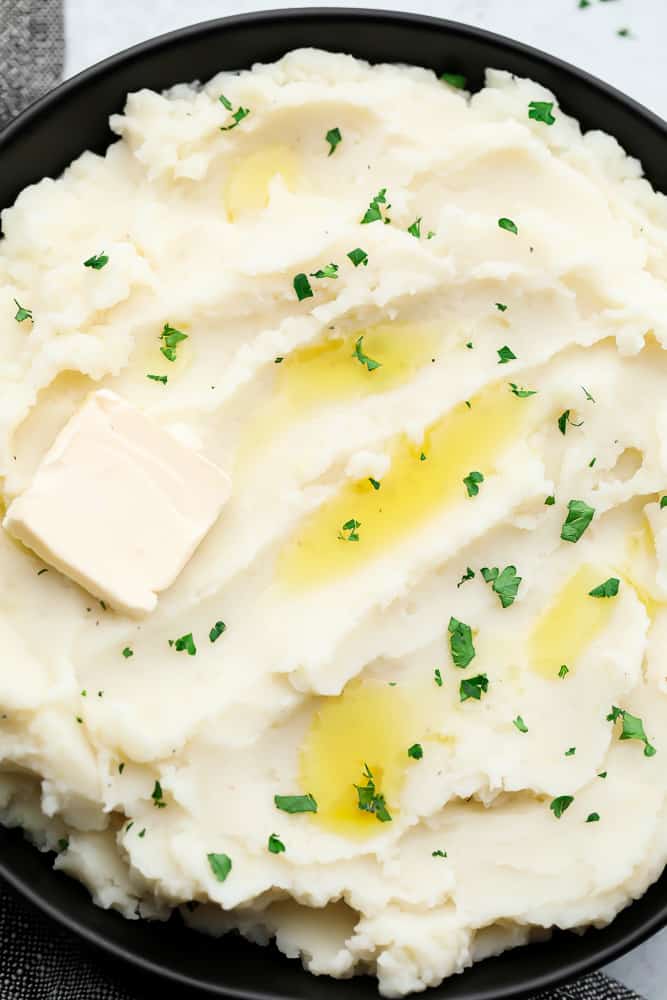 Ingredients needed (with substitutions)
Potatoes – My top choice for mashed potatoes are russet, but yukon gold are a pretty good choice as well. Leave some of the skin on if using yukon golds for texture, if desired. Red potatoes would also work.
Garlic – This is optional, but I love the addition. You will cook it along with the potatoes, infusing them with garlic flavor. Leave it out if needed or desired.
Vegan butter – There are so many options these days, so choose your favorite. I highly recommend Miyoko's brand here if you can, it is amazing. For oil free, just leave out the butter.
Plant milk – Make sure to use unsweetened AND unflavored milk here, no vanilla or sugar. Check the ingredients to make sure there is no sugar or flavoring, or your potatoes will be ruined. I prefer almond, cashew or soy milk here. For creamier potatoes, use Cashew Cream instead!
Salt + pepper – To taste.
How to make vegan mashed potatoes
It's so easy! Scroll down to the recipe card for the full, printable recipe. This is simply an overview with photos.
Wash and dry the potatoes.
Peel potatoes.
Chop them into large chunks.
Cover with cold water (add garlic to the pot as well), then bring to a boil and cook for about 15 minutes until fork tender.
Drain in a colander, and allow them to drain for about 5 minutes.
Add them back to the pot along with the vegan butter and begin mashing by hand. I don't recommend using a hand mixer, it tends to make gummy potatoes and is not necessary. A potato masher is all you need.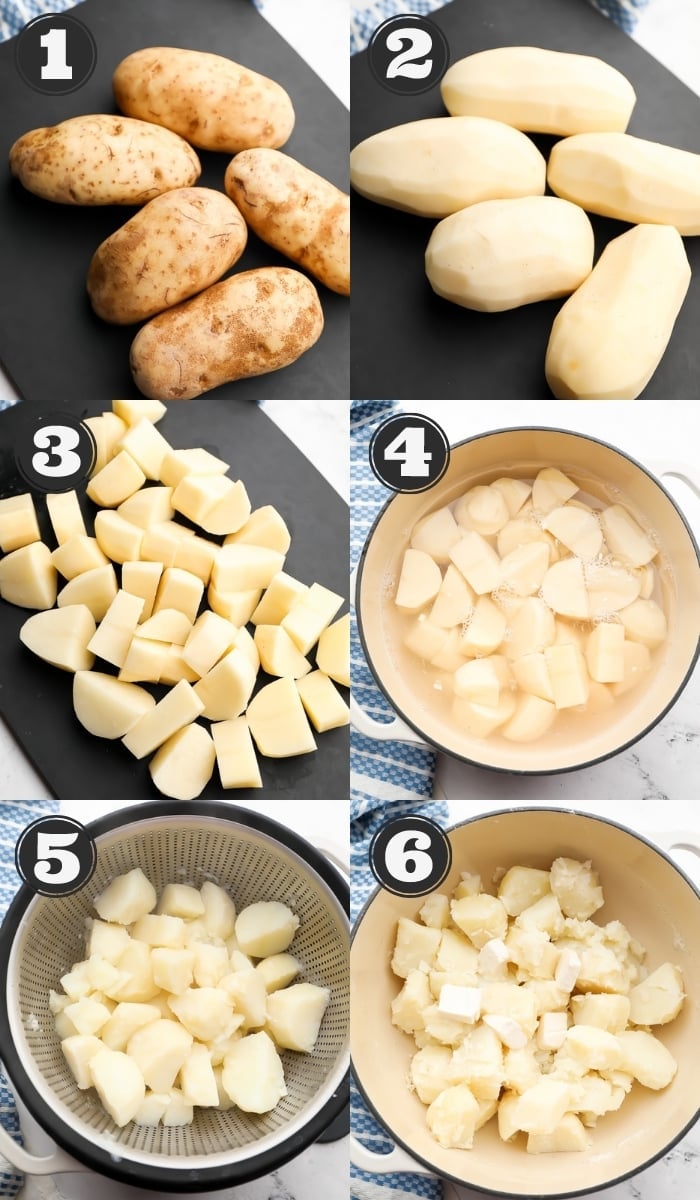 Heat your plant milk in the microwave until just warm, not boiling, then add a little at a time to the potatoes while mashing, until they are creamy and smooth. Season with salt and pepper, to taste until just right, and serve.
Meal prep
You can prepare the mashed potatoes up to two days in advance. Follow the recipe exactly, then cool, cover and refrigerate. When ready to serve, place in an oven safe dish and warm at 350 degrees F for about 30-40 minutes until warm, adding a little more milk if they dry out. Or re-warm in a crock pot on low for 3-4 hours.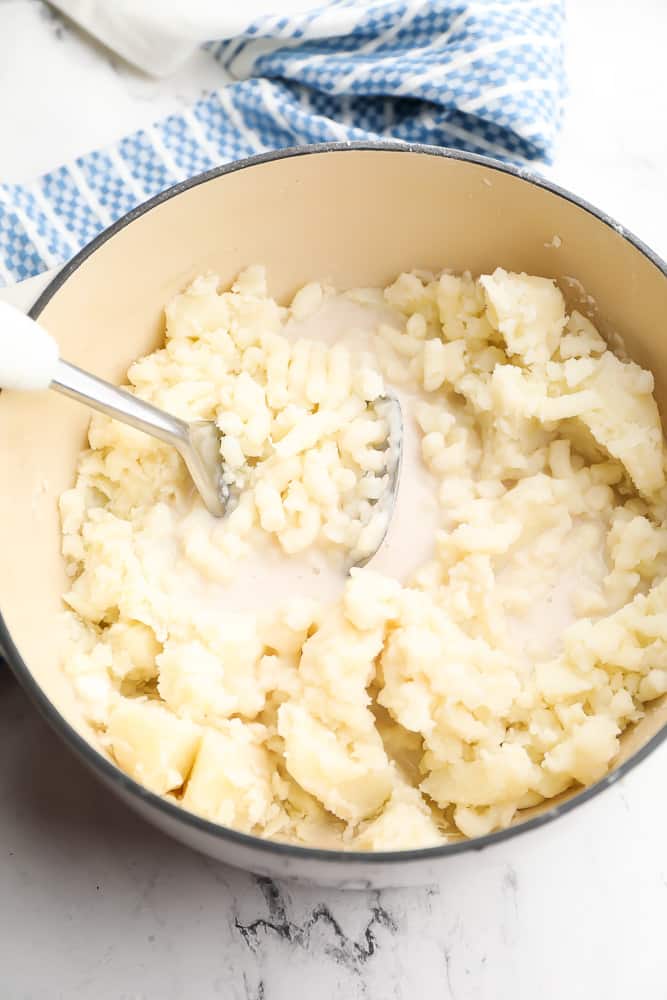 Tips for success
Mash with a potato masher, not a hand mixer. They will get plenty creamy and smooth, and you won't take the risk of having gummy mashed potatoes. Plus, it's easier!
The kind of potato you use matters, so use russet for the best classic mashed potatoes. Yukon gold potatoes are also a good choice, or even red potatoes.
Don't skip the fresh garlic cooked with the potatoes. It adds great flavor! If needed, add a little garlic powder instead.
Please make sure to use unsweetened, unflavored milk. Nothing worse than vanilla flavored mashed potatoes! And warm it before adding, so the potatoes stay hot and it absorbs better.
Use a quality vegan butter that you like, such as Miyoko's. I also like Earth Balance and Country Crock.
Frequently asked questions
Can I make them in an Instant Pot? To use the instant pot, place the peeled and chopped potatoes + garlic in the inner pot, cover with cold water and cook on high pressure for 10 minutes. Do a quick release and drain. Add back to the pot or another bowl and mash with the remaining ingredients.
Can I make them in a Crock Pot? Yes! Add potatoes, garlic and water to a 4-QT slow cooker and cook on high for about 4 hours or low for 7 hours, until tender. Stir every once in a while. Drain the potatoes, add back to crock pot and mash with remaining ingredients. Keep warm until ready to serve.
How to store or freeze mashed potatoes – Cooked mashed potatoes will keep for 2-4 days in the refrigerator. They can be frozen if needed. To freeze, place cooled mashed potatoes in a freezer safe bag or container. When ready to serve, thaw in the refrigerator for a day or two, if possible. Reheat on the stovetop or in the oven until warmed throughout.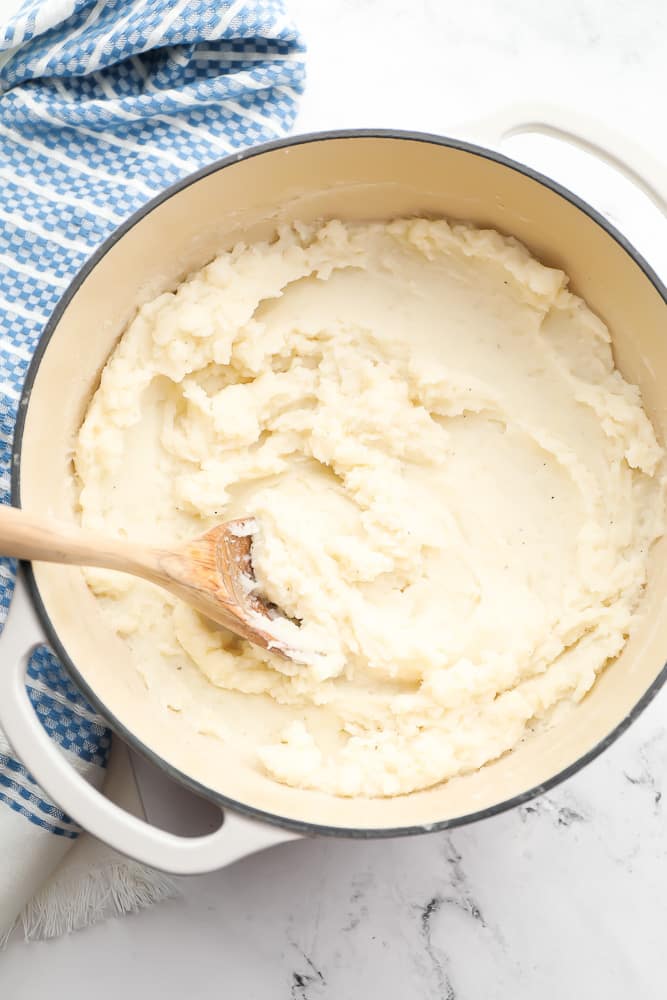 What to serve with vegan mashed potatoes
You can get really creative here! Mashed potatoes go well with many dishes.
For Thanksgiving (See all my vegan Thanksgiving recipes here) or holiday dinners, try serving with one of these:
Or for other every day meals: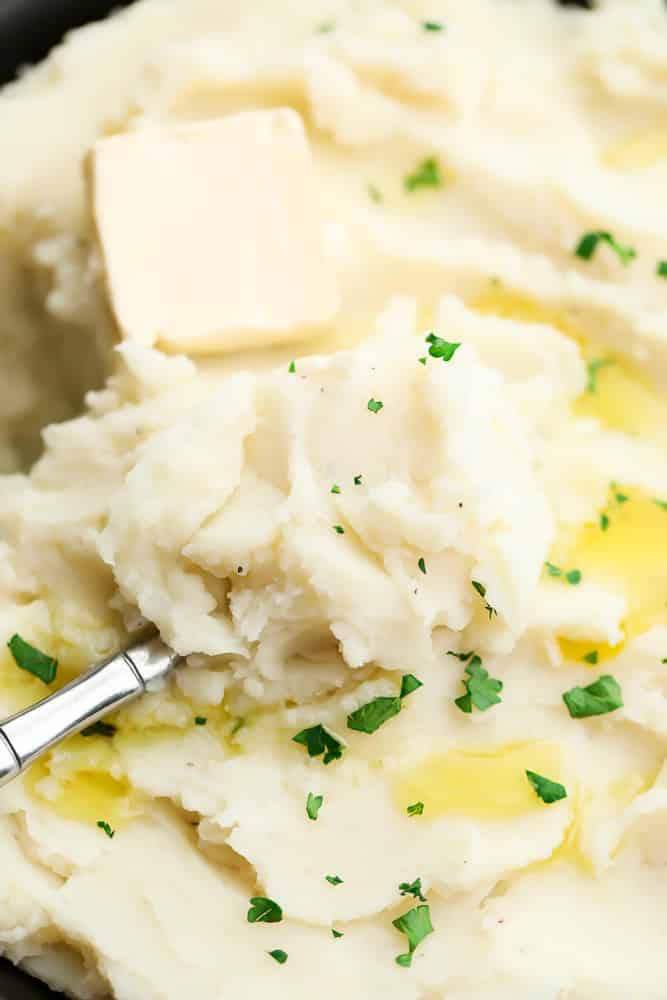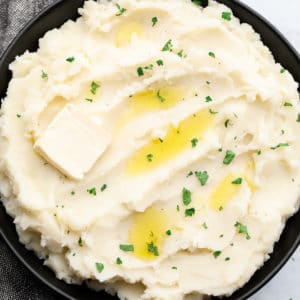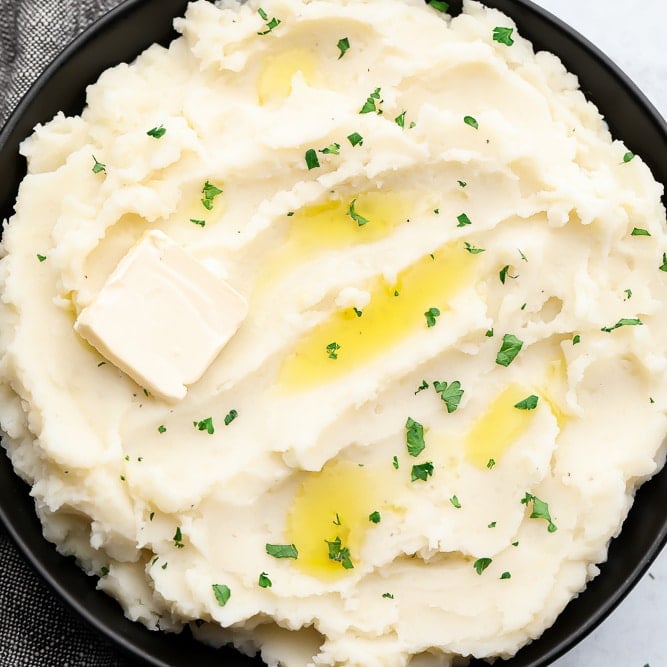 Best Dang Vegan Mashed Potatoes
Learn how to make the best dang vegan mashed potatoes that come out perfectly every time! Super simple to make with 4 ingredients.
Ingredients
4

pounds

russet potatoes

3

cloves

garlic, chopped

4-5

tablespoons

vegan butter

1

cup

unsweetened, unflavored soy, cashew or almond milk

salt + black pepper, to taste
Instructions
First, peel your potatoes and chop them into large chunks. Place the potatoes in a large pot along with the chopped garlic, and cover with cold water.

Bring to a boil and cook uncovered for about 15 minutes or until fork tender. How long they take will depend on how small you cut them. 

Drain the potatoes (and garlic) in a colander, letting them sit for about 5 minutes.

Heat your plant milk until just warm, not boiling, either in the microwave or stovetop. This will help keep your potatoes warm and it will absorb better. Set aside.

Return the drained potatoes to the pot, add the vegan butter and begin mashing by hand. Pour in a little milk at a time while mashing until they are smooth and creamy. Season with salt and pepper to taste and serve immediately. Enjoy!

Make ahead option: You can make the potatoes a day or two in advance if needed. Follow the recipe, then cool, cover and refrigerate. When ready to serve, warm in an oven safe dish for 30 minutes or so (350 degrees F) until warm. You could also warm them in a crock pot on low for 3-4 hours.
Notes
Potatoes: Russet are my choice for making mashed potatoes, but you could use yukon gold or even red potatoes. Feel free to leave some or all of the skins on for variety with gold or red potatoes.
Garlic is optional, so leave it out if desired.
Vegan butter: You can use any kind of vegan buttery spread, but Miyoko's is definitely my favorite for potatoes. Leave out completely for oil free mashed potatoes.
Plant milk: Please don't accidentally use vanilla or sweetened milk! It will ruin the potatoes. Check the ingredients for sugar or vanilla. I like almond or cashew best here for the most neutral flavor. Bump up the creaminess and use Cashew Cream in place of the milk, if desired.
Leftovers: Store leftover mashed potatoes in the refrigerator for 3-4 days. They can also be frozen then reheated in the oven or microwave with a little more plant milk, but they won't be quite as yummy.
Nutrition
Serving:
1
of 8 servings
|
Calories:
232
kcal
|
Carbohydrates:
42
g
|
Protein:
6
g
|
Fat:
5
g
|
Saturated Fat:
1
g
|
Sodium:
68
mg
|
Potassium:
987
mg
|
Fiber:
3
g
|
Sugar:
2
g
|
Vitamin A:
330
IU
|
Vitamin C:
13
mg
|
Calcium:
69
mg
|
Iron:
2
mg