This Vegan Tres Leches Cake is one of my favorites and consists of a light vanilla cake soaked in a triple dairy free milk mixture. Top with fluffy coconut whipped cream, a sprinkle of cinnamon and sliced strawberries.
The traditional version of this cake is soaked in a mixture of 3 milks and topped with whipped cream, so creating a vegan version was quite the project!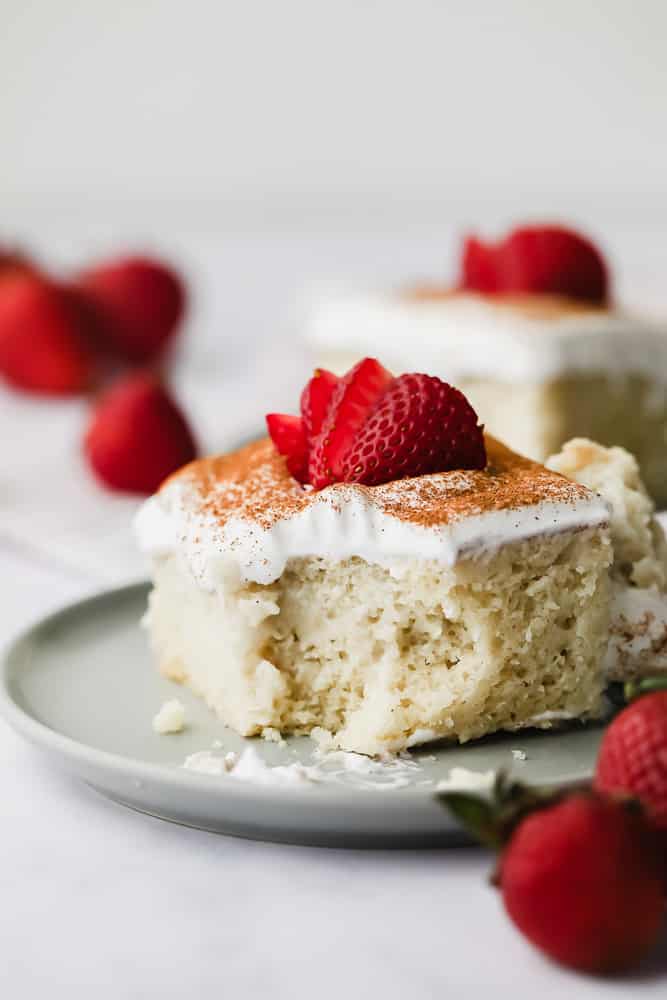 This vegan tres leches cake ranks as one of the best desserts I've ever made! Similar to my vegan tiramisu, it took me quite a while to get it just right and worthy of sharing. Desserts that rely so heavily on dairy products can be hard to replicate.
Once you've tried a bite you'll understand it was worth the effort.
What is tres leches?
Tres leches literally translates to "three milks" because a light sponge cake is soaked in a mixture of three dairy milks, usually sweetened condensed milk, evaporated milk and whole milk or cream. It is a wildly popular Mexican dessert and is topped with whipped cream.
This vegan version is far from authentic since I'm not using any dairy or eggs whatsoever. I think you will fall in love with this vegan tres leches cake!
It's perfect for bringing to potlucks or any other celebration. I love that it's not too sweet and tastes rather light while being a pretty rich cake.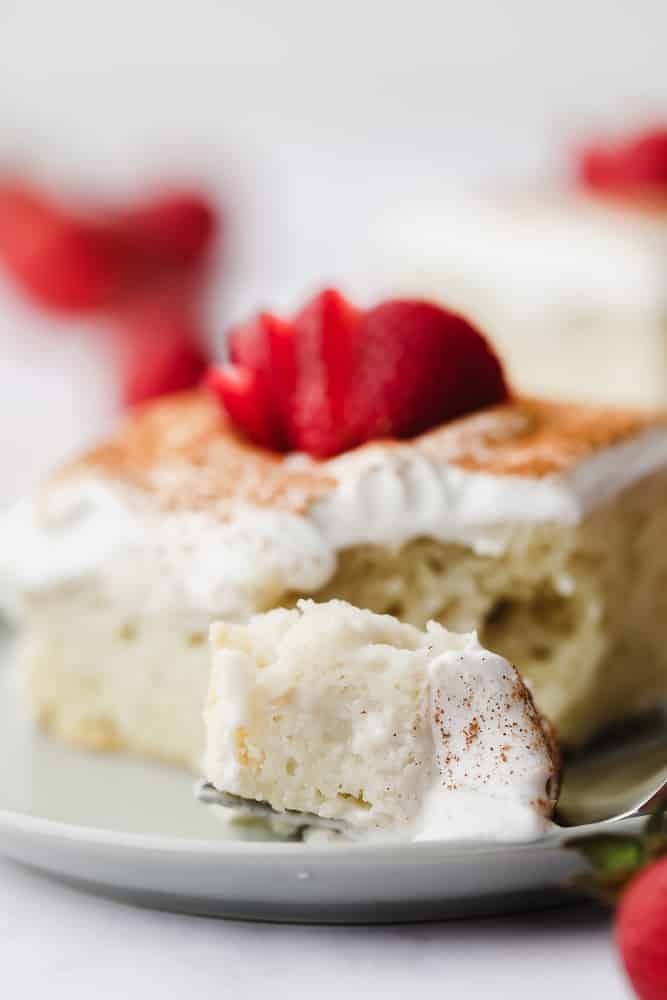 A vegan tres leches cake consists of
How to make vegan tres leches
First, make the easy vanilla cake in a 9×13 inch pan. Poke holes all over the cake. Not just a few holes, but literally all over, and all the way down to the pan! This will help the milk mixture soak all the way through, creating a deliciously moist cake.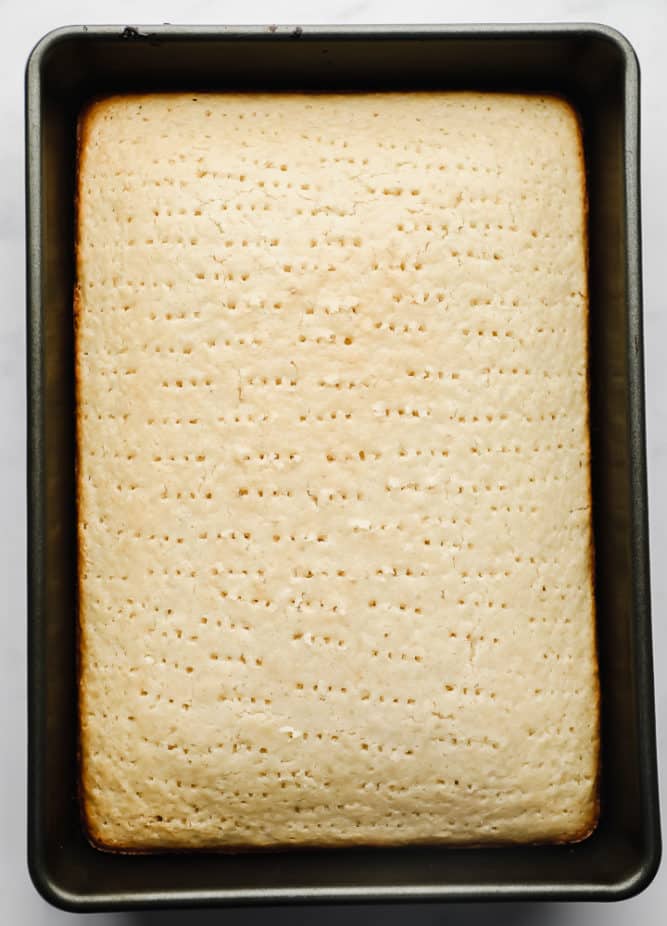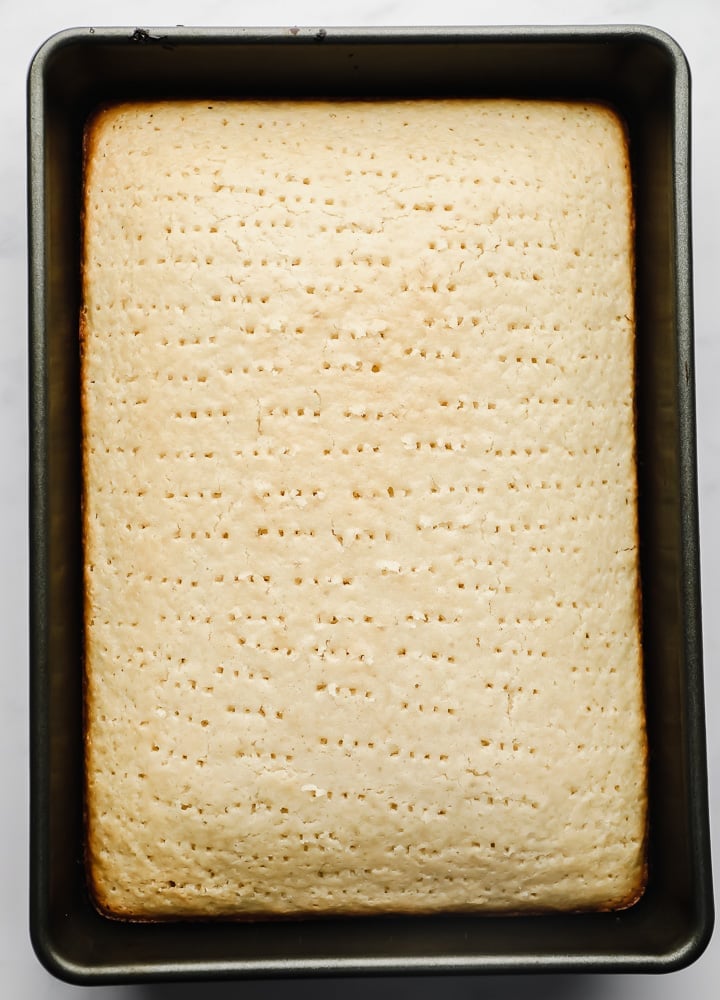 Mix your three milks together: full fat coconut milk, vegan sweetened condensed milk, and oat milk. Pour over the still warm cake with holes poked all over it. Chill for at least an hour.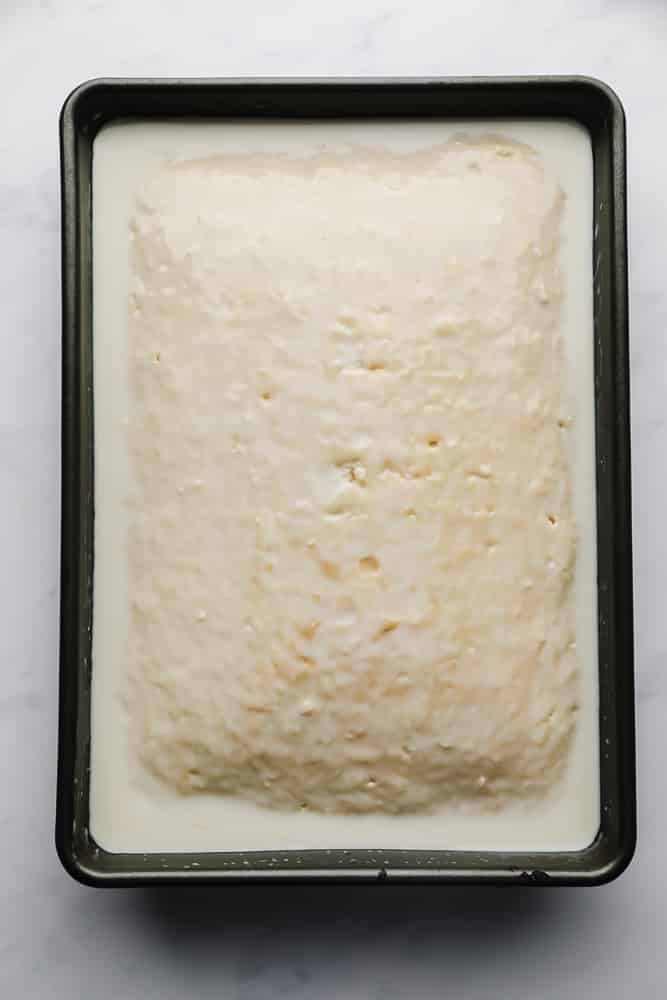 Top with vegan whipped cream. I used So Delicious Coco Whip which I love.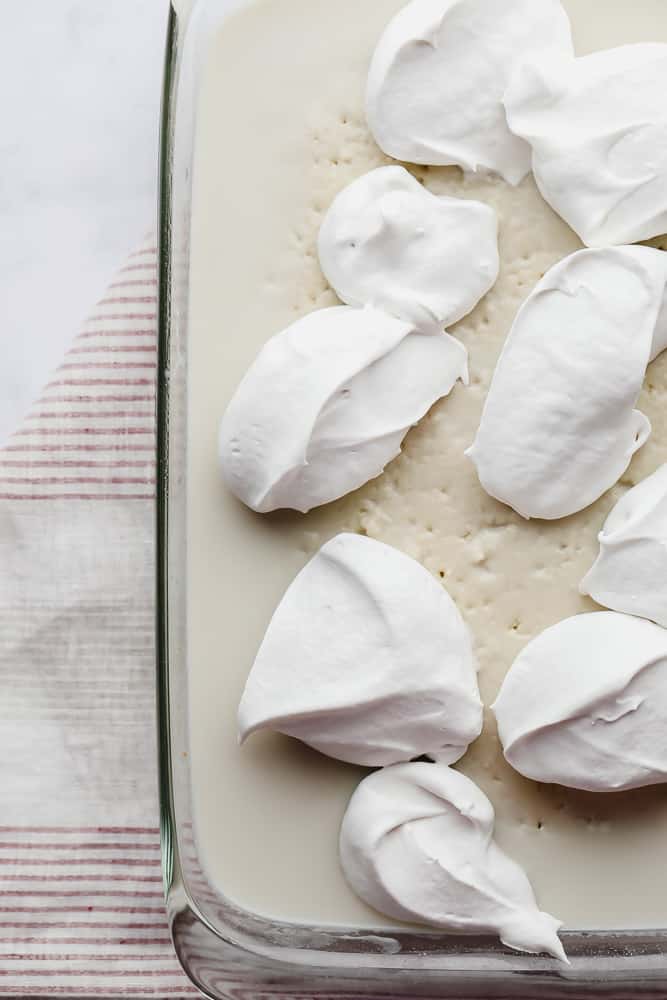 Spread whipped topping evenly over the milk-soaked cake.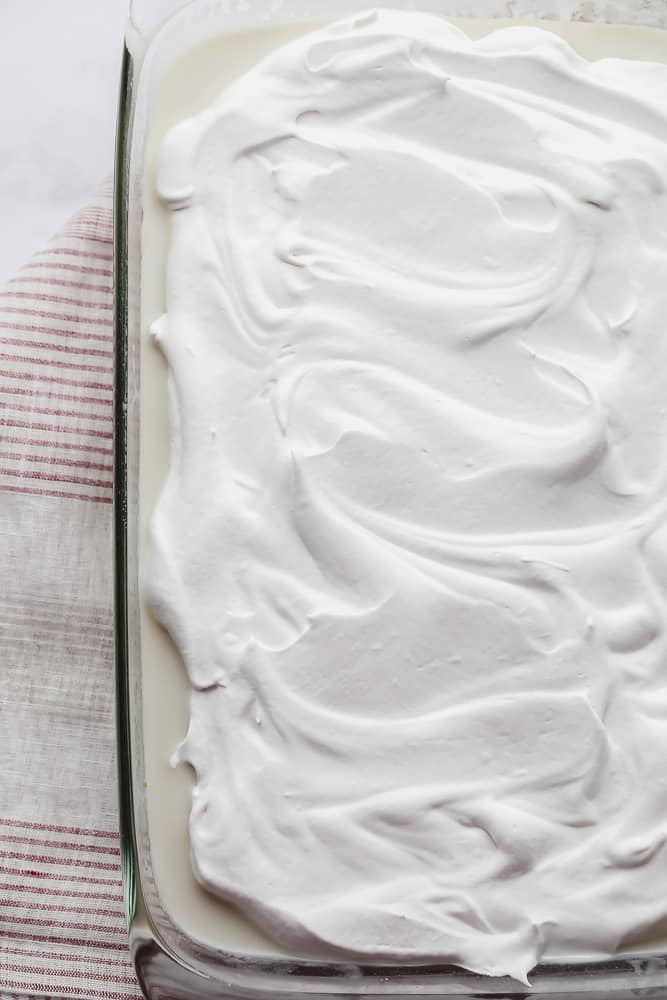 Sprinkle with cinnamon, if desired and serve with sliced strawberries.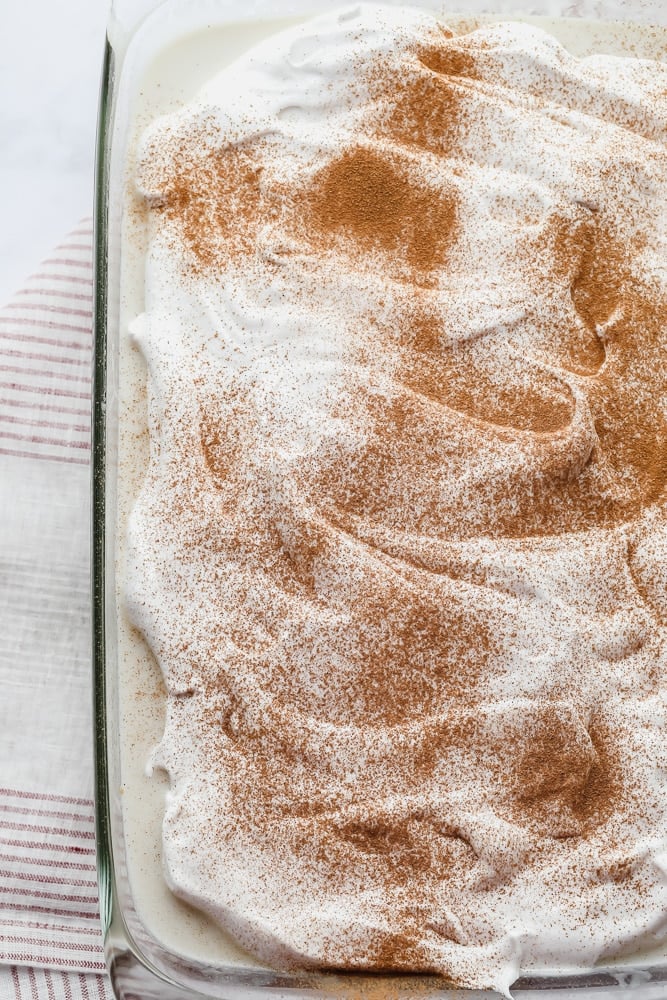 Make ahead option and storing
You can make this cake 1-2 days ahead of time, in fact it gets better with time! Keep covered in the refrigerator until ready to serve.
The cake will keep, covered, for 3-5 days in the refrigerator.
I would not freeze the cake that is already soaked in milk, but you could freeze the vanilla cake, then thaw and soak in the milk before serving.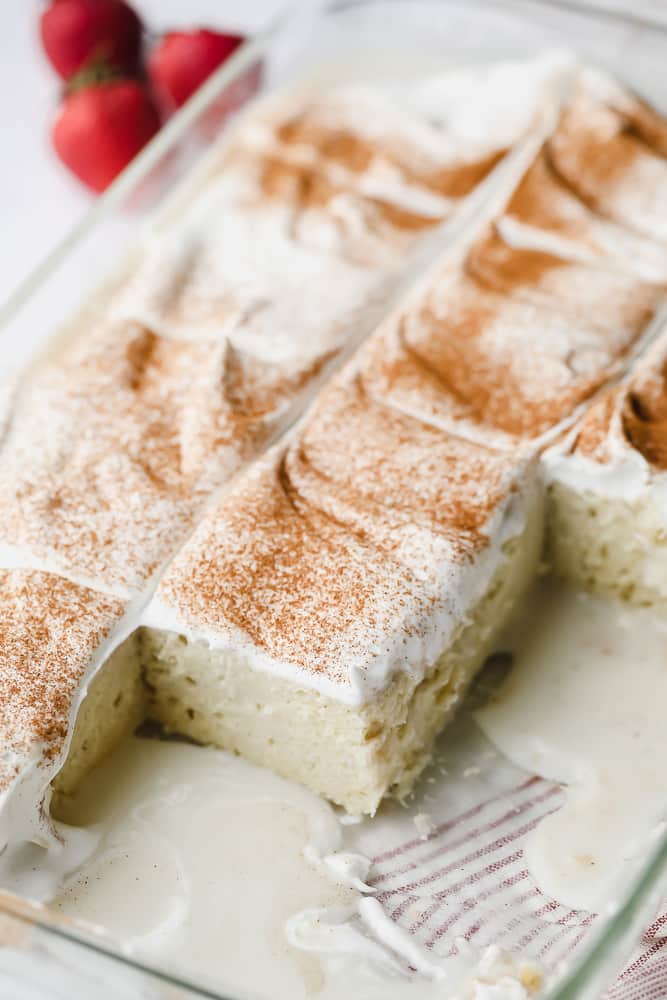 What to serve with tres leches cake
Serve with any of the following popular vegan Mexican-inspired recipes: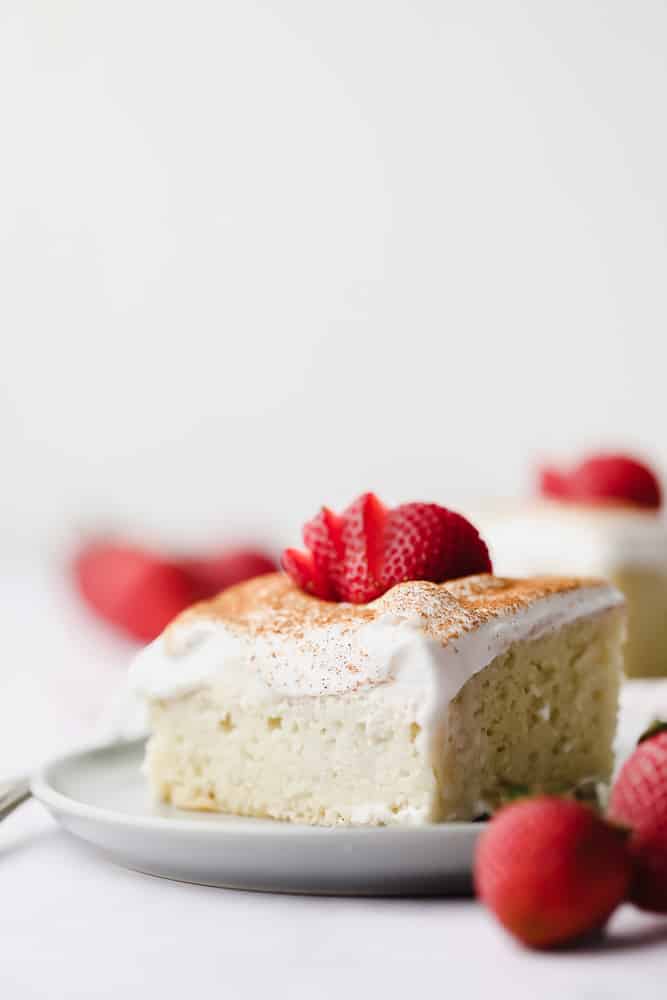 Want more crowd pleasing desserts?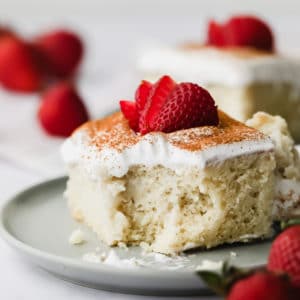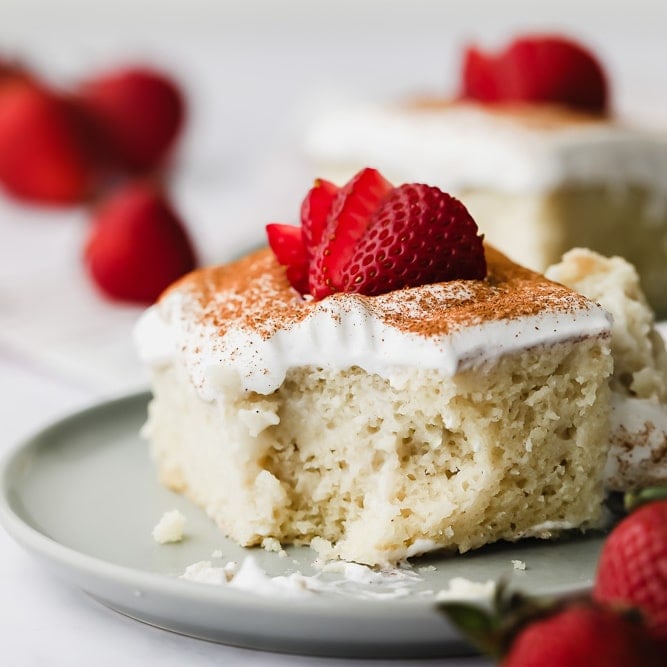 Vegan Tres Leches Cake
This Vegan Tres Leches Cake is one of my favorites and consists of a light vanilla cake soaked in a triple dairy free milk mixture.
Instructions
Make the cake
Preheat the oven to 350 degrees F and grease a 9×13 inch cake pan.

Combine the soy milk and vinegar in a measuring cup or bowl, stir and set aside for a few minute to curdle.

In a large bowl, whisk together the flour, cornstarch, sugar, baking powder, baking soda and salt.

Now pour in the milk/vinegar, oil and vanilla. Whisk until combined and there are no large lumps left in the batter.

Pour the batter into the cake pan, transfer to the oven and bake for 20-25 minutes, until a toothpick inserted in the center comes out clean. Remove from oven and let the cake cool for about 15 minutes. The cake should still be warm when you pour the milk over it; it will absorb better.
Prepare the milk mixture
Scoop/pour the full fat coconut milk into a large microwave safe bowl. Heat for 1 minute, until warm and there are no more hard white portions.

Add the sweetened condensed coconut milk and oat milk to the bowl with the coconut milk and whisk well.
Pour the milk mixture on cake and chill
Use a fork to poke holes all over the top of the cake, all the way down to the bottom of the pan.

Slowly pour the milk mixture over the cake.

Refrigerate the cake for at least an hour to let it soak up the milk.
Finish and serve
Prepare whipped topping. Remove the cake from the refrigerator and smooth whipped cream all over the cake.

Sprinkle with cinnamon and decorate with fresh sliced strawberries, if desired. Store vegan tres leches cake in the refrigerator for 3-5 days, covered.
Nutrition
Serving:
1
of 12 servings
|
Calories:
352
kcal
|
Carbohydrates:
46
g
|
Protein:
6
g
|
Fat:
17
g
|
Saturated Fat:
5
g
|
Polyunsaturated Fat:
3
g
|
Monounsaturated Fat:
7
g
|
Sodium:
173
mg
|
Potassium:
273
mg
|
Fiber:
1
g
|
Sugar:
28
g
|
Vitamin A:
154
IU
|
Vitamin C:
1
mg
|
Calcium:
163
mg
|
Iron:
2
mg