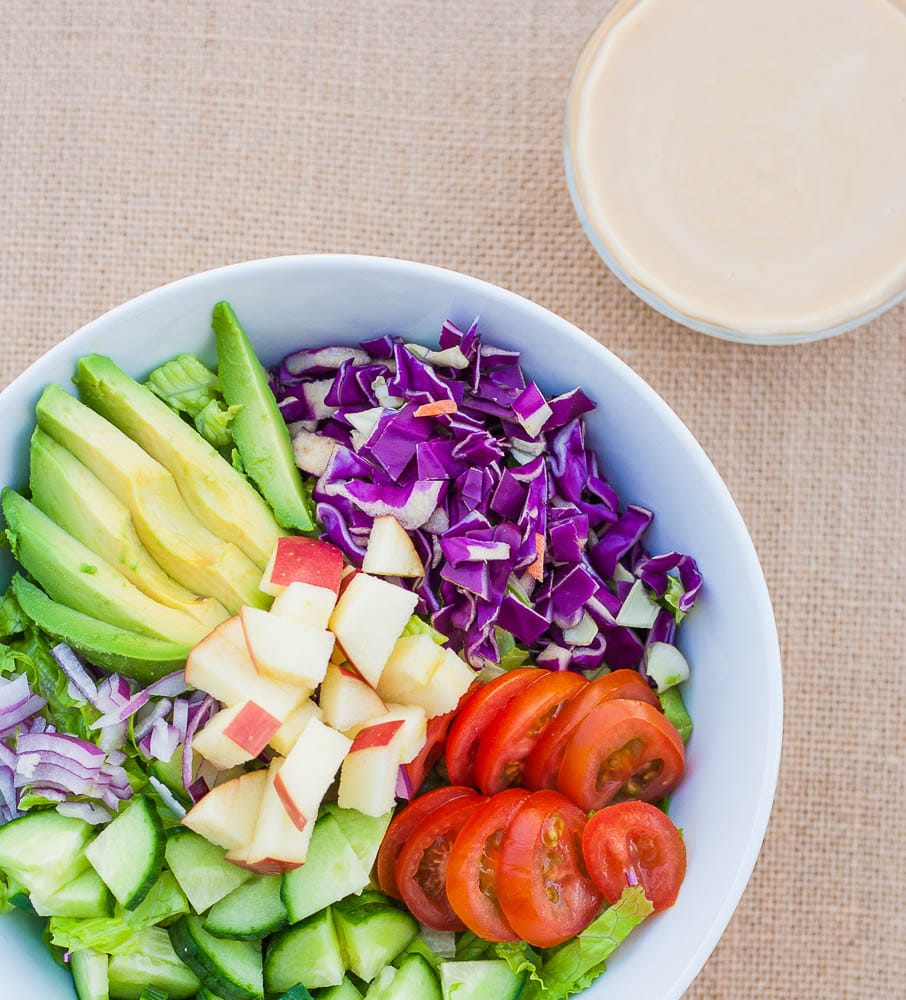 Hi there!
Sometimes, kids can be so unpredictable. Especially when it comes to food likes and dislikes. At least that's what I've discovered with my own children. For example, most people love melted cheese right? And most people assume kids like it too? Well, my 8 year old son hates anything with melted cheese (dairy or non-dairy) and always has. He doesn't really care for grilled cheese, really cheesy pizza, or quesadillas. He does love cucumbers, pickles, and my Sriracha Hummus. And of course he loves all things sweet. 🙂
My daughter has also continually surprised me with what she enjoys eating. Sometimes I think we don't give our kids the chance to develop a taste for "healthier" foods. I am certainly guilty of this! I just hand them the pasta or sandwich and don't think to serve them a salad alongside it, just assuming they wouldn't eat it anyways. I'm trying to get better about this!
So a few years ago, Emma wanted to try my salad with this Lemon Maple Tahini Dressing on it, and she LOVED it! She still calls it her favorite salad dressing, and gets so excited when I make it. Who would have thought?
I've read a couple of books about how to feed your kids, and I think the most helpful one I've read is this one: It's Not About the Broccoli. She doesn't write from a plant based perspective, but the concepts have really helped our family.
Another good one is Dr. Furhman's Disease-Proof Your Child. This one is more nutrition based, but also has some good recipes and ideas.
But this Lemon Maple Tahini Dressing is mostly enjoyed by myself and Alan! We love it, and can never seem to keep it around for long. This dressing is quick and easy to throw together, doesn't require a blender, and stays good in the fridge for quite some time. It's amazing drizzled over any type of lettuce: romaine, mixed baby greens, or kale. Try adding some chopped apples, grapes, blueberries or raisins to your salad with this dressing. And don't forget to add some beans to power you through the rest of your day! My favorite type of beans to put over a salad are chickpeas.
This Lemon Maple Tahini Dressing is:
Bright 
Fresh
Creamy
Light
Slightly sweet
Tangy
Do you have any tips on how to help kids eat healthier? Let me know in the comments! 🙂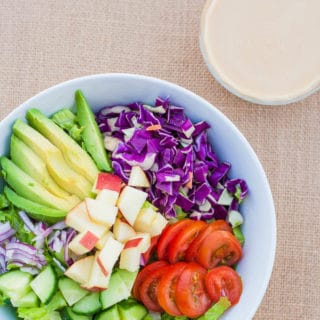 Ingredients
1/2

cup

tahini

2

medium-large

lemons, juice squeezed

1/4

cup

apple cider vinegar

2-4

tbsp

pure maple syrup, to taste

pinch of salt, optional
Instructions
Add all ingredients to a medium bowl. Whisk until well combined.

Store in the fridge for up to a week.

The dressing may thicken as it sits; add water, a tablespoon at a time, to desired consistency before using.