Vegan Teriyaki Noodle Bowls
This post may contain affiliate links. Read my full disclosure here.
These Vegan Teriyaki Noodle Bowls are filling, wholesome and delicious. They taste better and are so much healthier for you than any take-out or frozen meal you might be tempted to buy!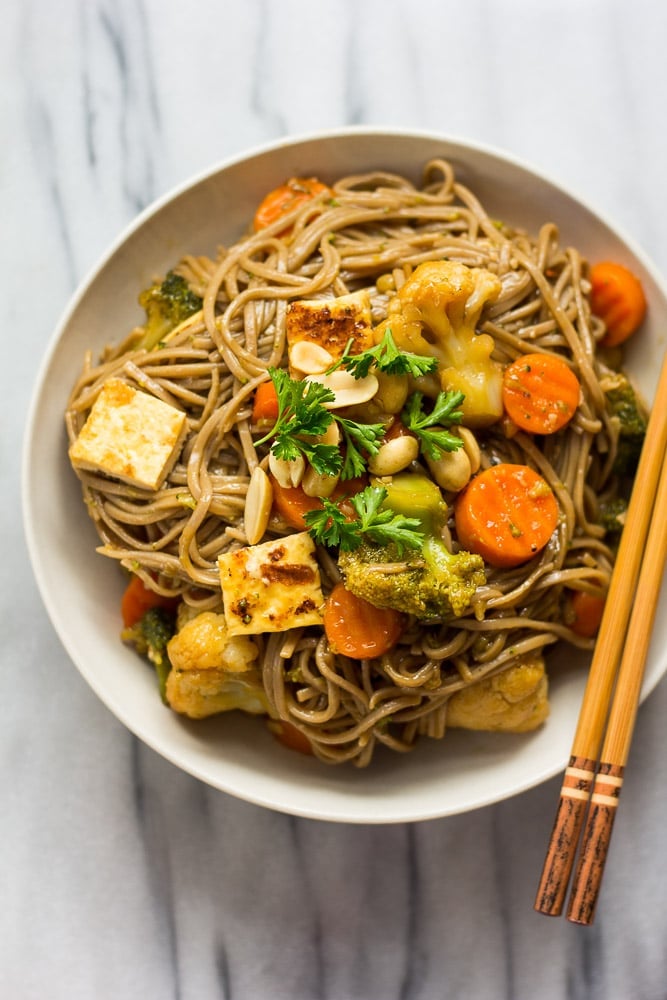 There is something so satisfying about a big bowl of noodles. Recently we got take-out from a local Vietnamese place. We ordered the vegetarian noodles, and while they were totally delicious, they were so full of oil that they made my stomach hurt. Believe it or not, I haven't made many asian type noodles dishes (I have no idea why, I ADORE them), so I thought I'd try to come up with a recipe that my kids would enjoy and that didn't leave me feeling heavy from all the oil.
Enter these Vegan Teriyaki Noodle Bowls. Inexpensive frozen mixed vegetables (you can use fresh if you want), simple baked tofu, buckwheat soba noodles and an easy teriyaki sauce come together to create a scrumptious meal that your entire family will love! You will find yourself coming back to this recipe again and again because that's how good and easy it is. My kids are a big fan of this recipe, especially the toddler who has suddenly decided he LOVES broccoli and cauliflower and fights me for them. 🙂 This is after more than a year of not touching either vegetable, so momma is happy.
At first glance this recipe might look like a lot of work, but it's really not. While your tofu is baking, you can get everything else ready and it will come together super quick on a busy weeknight. Better yet, bake the tofu the night before or if you do weekend meal prep.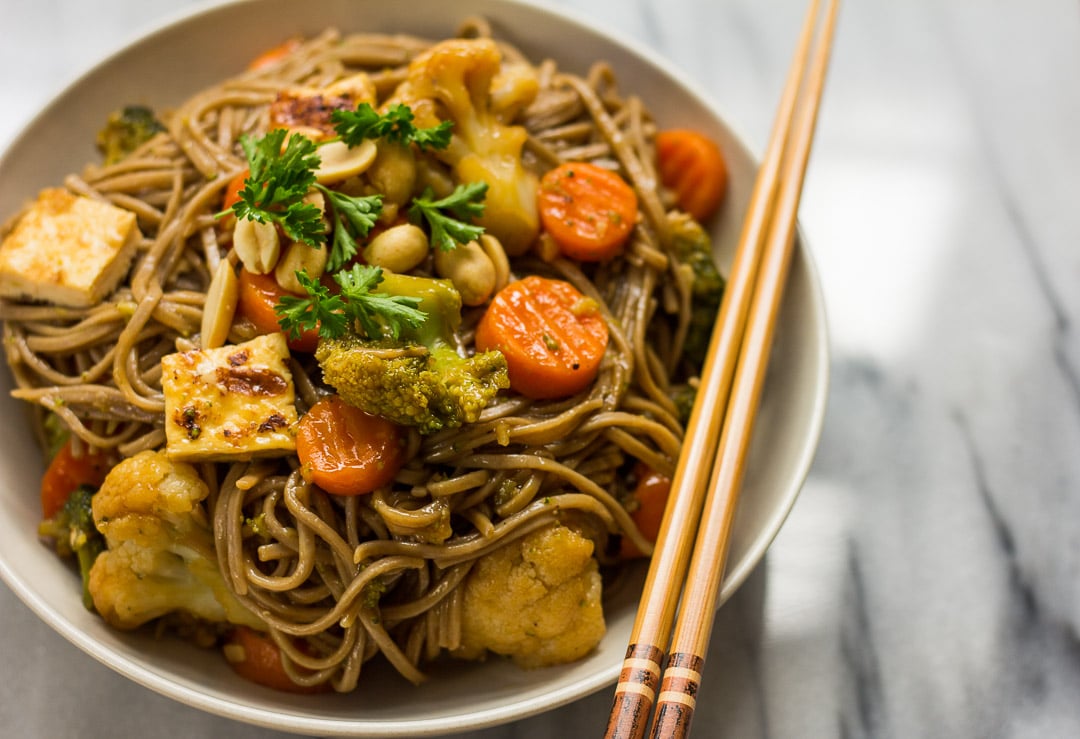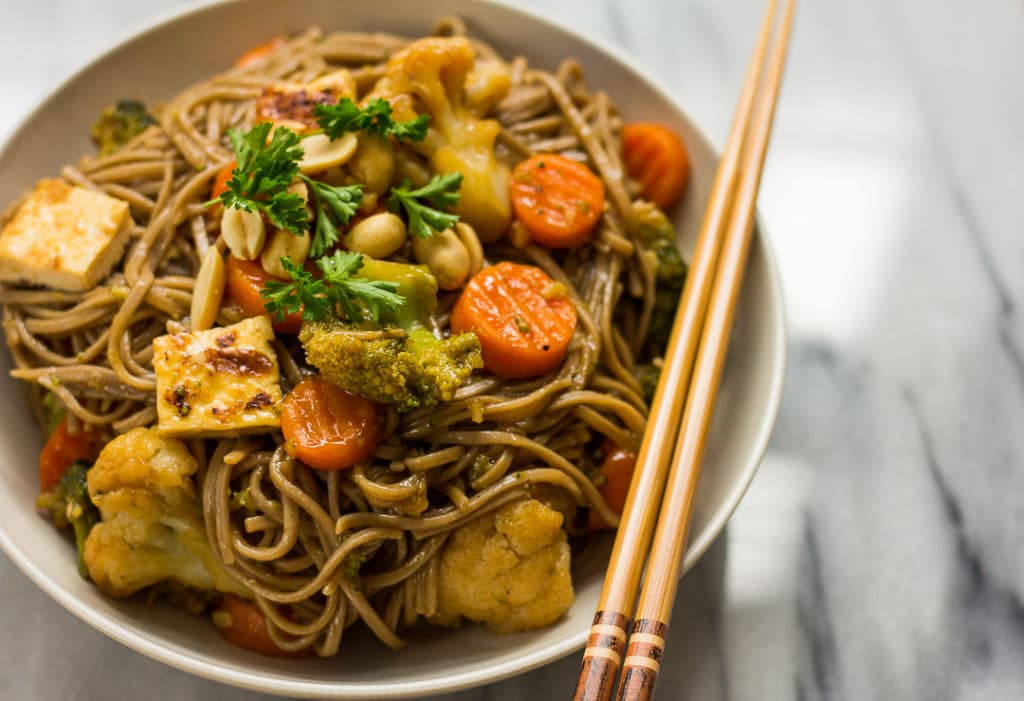 This recipe is flexible. If you don't want to use brown sugar, you can replace it with pure maple syrup, honey or agave. You can use fresh vegetables, I just used frozen because they tend to be cheaper and they are so convenient. You can also leave out the tofu if it's not your thing, you're still going to get plenty of protein from the veggies and noodles. Enjoy!
If you like this recipe, you may also enjoy this Crispy Baked Orange Tofu: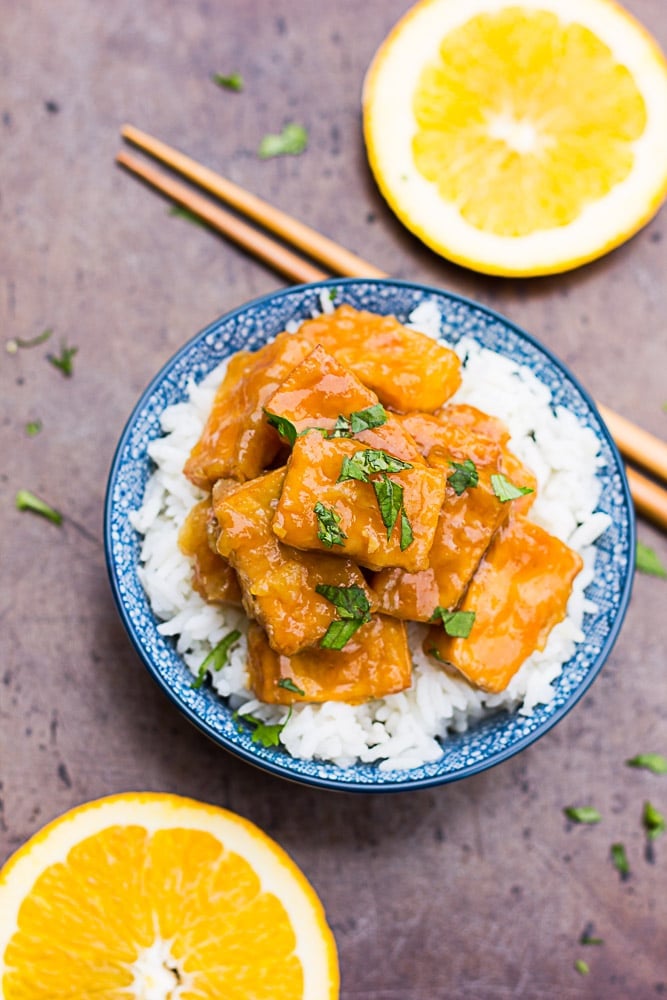 ♦ If you make this recipe, let me know how it goes! Rate it, leave a comment and tag a photo @noracooksvegan on Instagram or find me on Facebook. Enjoy! ♦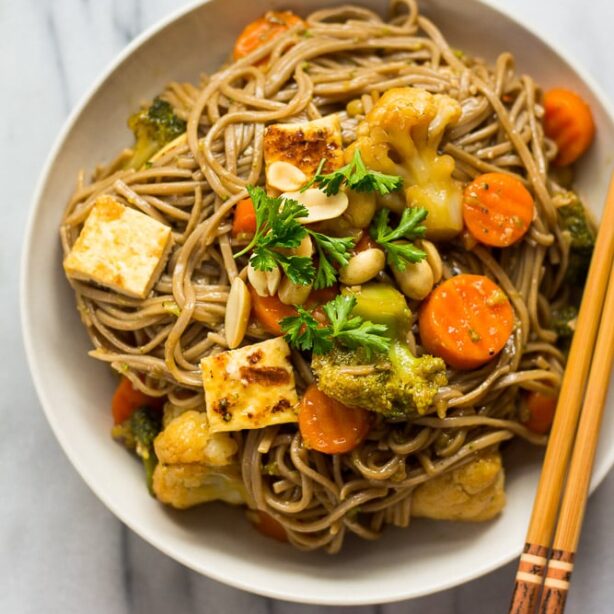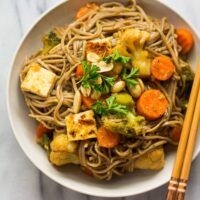 Vegan Teriyaki Noodle Bowls
An inexpensive, delicious and healthy alternative to take out!
Ingredients
1/2

cup

low sodium soy sauce

1/4

cup

rice vinegar

1/4

cup

brown sugar (or pure maple syrup)

1

teaspoon

sesame oil

3

cloves

garlic, minced

3

inches

fresh ginger, grated

2

tablespoons

cornstarch

1/4

cup

water

1

14-16 oz

extra-firm tofu

2

tablespoons

low sodium soy sauce

8

ounce

buckwheat soba noodles

1 1/2

pounds

frozen mixed vegetables (I used broccoli, carrots, cauliflower mix)
Instructions
Make the Teriyaki sauce: In a small pot, whisk together the soy sauce, rice vinegar, brown sugar, sesame oil, garlic and ginger together over medium-high heat until it starts to bubble. Mix the cornstarch and 1/4 cup water together in a small bowl, and then add to the pot, whisking until the sauce thickens slightly. Remove from heat and set aside.

Bake the Tofu: Preheat oven to 350 degrees. Slice the tofu into 1/4 inch thick slices, brush with the soy sauce on both sides and place on a pan lined with parchment paper. Bake for 30 minutes, flipping halfway through.

Cook the noodles: Bring a medium pot of water to a boil, and add the noodles. Boil for 5-6 minutes, drain and set aside. Do not overcook.

In a large wok type pan, add 1/4 cup water and the vegetables. Cook on medium-high heat for 5-10 minutes. Now, add in the noodles, baked tofu and teriyaki sauce. Stir to combine.

Serve by dividing the noodles into bowls, and spoon leftover vegetables and tofu on top. Enjoy!
Nutrition
Calories:
351
kcal
,
Carbohydrates:
54
g
,
Protein:
20
g
,
Fat:
7
g
,
Sugar:
13.5
g
 Click below to PIN:


We are a participant in the Amazon Services LLC Associates Program, an affiliate advertising program designed to provide a means for sites to earn advertising fees by advertising and linking to amazon.com. Read my full disclosure here