This homemade Tofu Vegan Mayonnaise recipe is easy to make (3 minutes, 5 ingredients) and so much healthier than regular mayo. Only 8 calories per serving!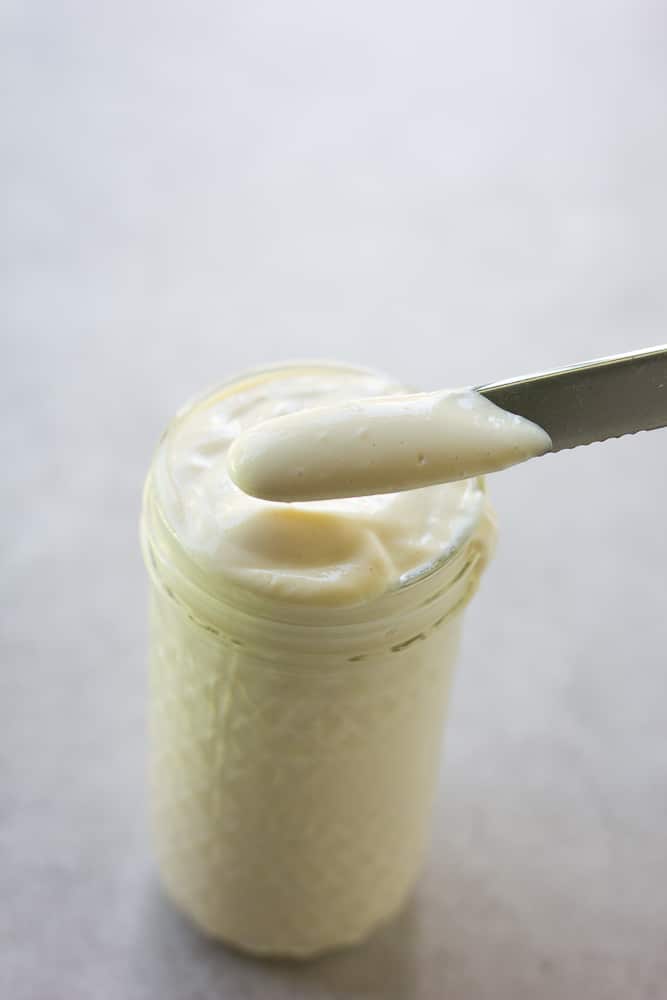 Sure, it's pretty easy to find egg free mayonnaise at the store these days, and it's true that they taste pretty darn good (better than regular mayo, in my opinion). But, while they may be egg free, they are still basically just processed oil, and are far from healthy. Not to mention super expensive! I don't use the stuff very often myself, but my kids love sandwiches and putting mayonnaise on them. I would love to stop buying the oil-laden stuff in a jar, so I went on a quest to make my own healthier, oil free vegan mayonnaise.
*PLEASE NOTE THIS PAGE MAY CONTAIN AFFILIATE LINKS. I ONLY LINK TO PRODUCTS I ABSOLUTELY LOVE AND RECOMMEND. THANK YOU FOR YOUR SUPPORT.
What is this vegan mayonnaise made with?
While you know I love cashews, I really wanted to avoid using them in this recipe. I needed this mayo to be SUPER easy to whip up for the week, and I didn't want to have to soak cashews or blend it to death. The great thing about this tofu vegan mayonnaise recipe is you can make it with any kind of blender, food processor or even an immersion blender. You don't need anything fancy!
The most important thing is the kind of tofu. If at all possible, get the Mori-Nu Silken Firm Tofu, in the little boxes, NOT the kind packed in water. It tastes better, and has a much smoother texture.
Where should I use tofu vegan mayonnaise?
Sandwiches, like this Vegan BLT
In creamy salad dressings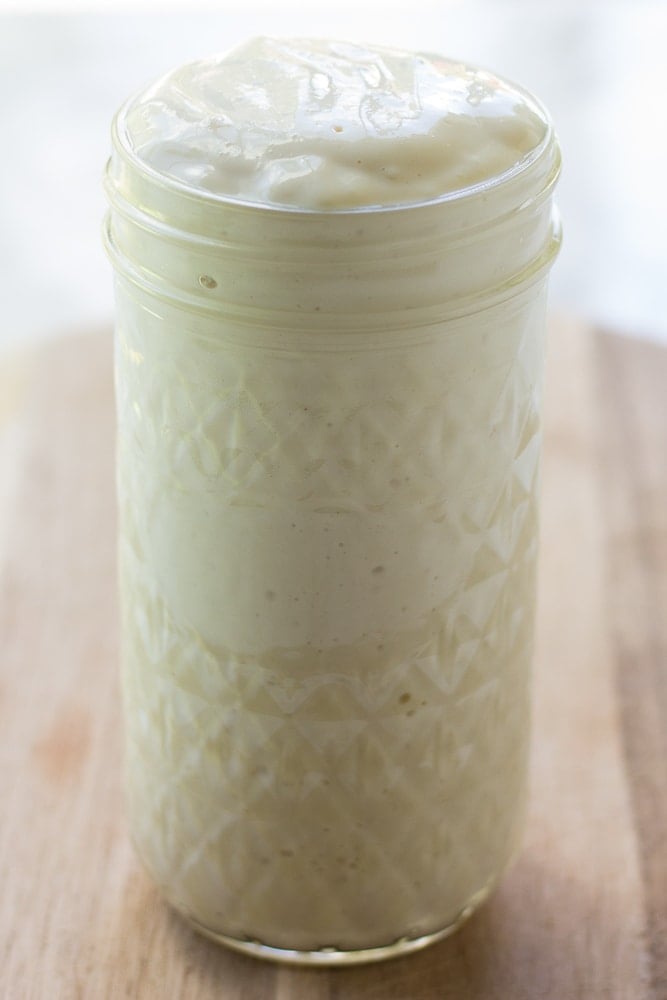 DON'T FORGET TO FOLLOW ME ON PINTEREST FOR MORE EASY, HEALTHY AND TASTY PLANT BASED VEGAN RECIPES!
Adapted from Genius Kitchen.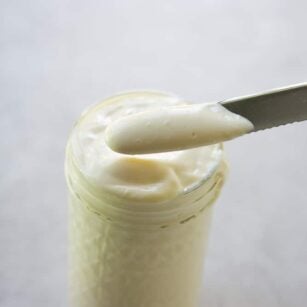 Tofu Vegan Mayonnaise Recipe (Oil Free)
This homemade vegan mayonnaise is easy to make (3 minutes, 5 ingredients) and so much healthier than regular mayo. Only 8 calories per serving!
Instructions
Add the tofu and all remaining ingredients to a blender, food processor or immersion blender. Blend until very smooth.

Store in a glass container in the refrigerator for about 1 week. Use in sandwiches, burgers, potato salad, coleslaw dressings and anywhere else you would use mayo.
Notes
Mori-Nu Silken Tofu is the best brand to use for this recipe. It has a mild flavor, and is very creamy and smooth. Regular firm tofu packed in water will yield different results and won't be nearly as good.
Nutrition
Serving:
1
serving
|
Calories:
9
kcal
|
Carbohydrates:
1
g
|
Protein:
1
g
|
Fat:
1
g
|
Saturated Fat:
1
g
|
Sodium:
27
mg
|
Potassium:
26
mg
|
Fiber:
1
g
|
Sugar:
1
g
|
Vitamin C:
1
mg
|
Calcium:
5
mg
|
Iron:
1
mg