This is the best Vegan Egg Salad, period. Made with finely chopped tofu and a flavorful, creamy dressing, it's the perfect meal to bring to the potluck or stuff into sandwiches.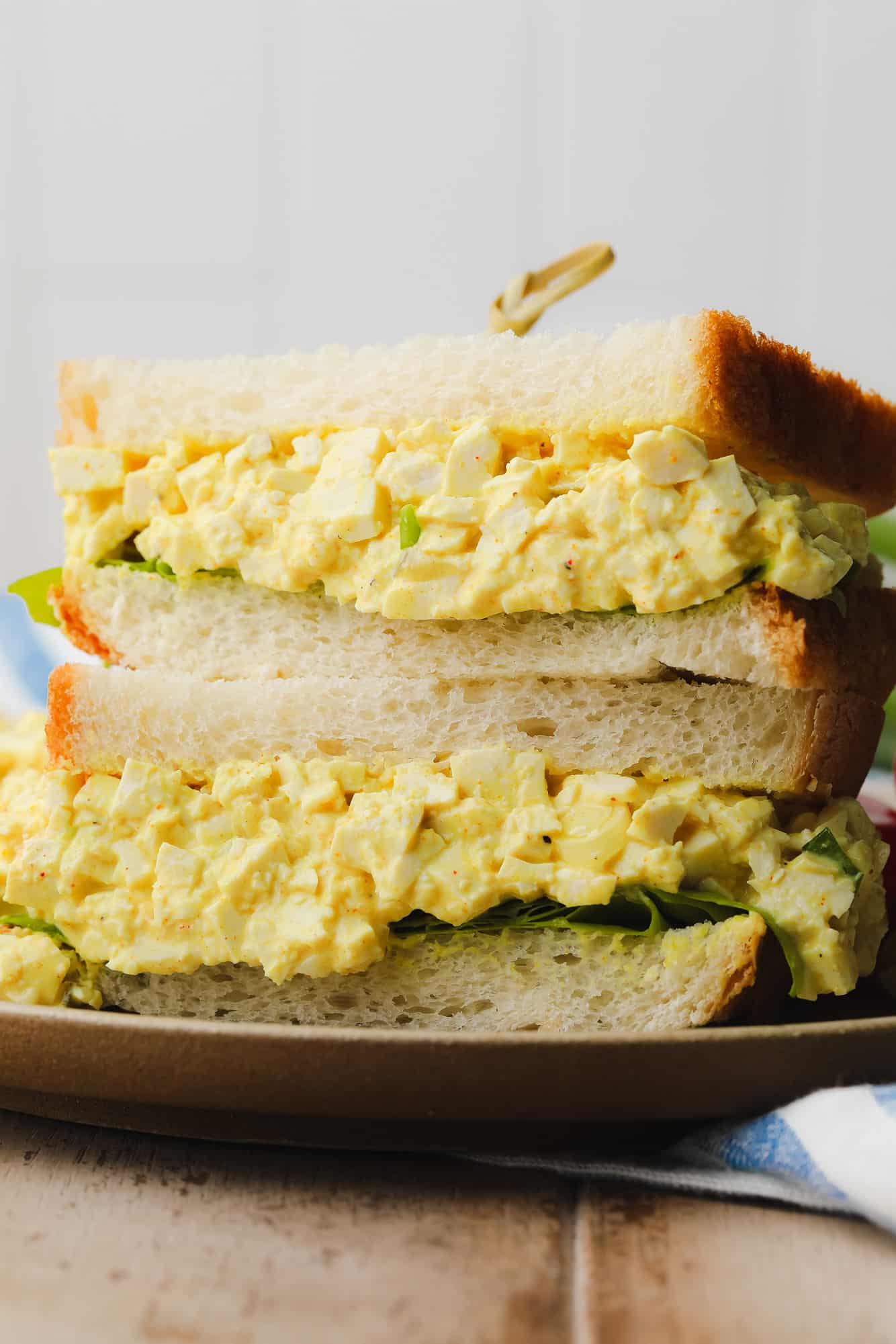 Whether you need an epic recipe for vegan meal prep, a healthy after-school snack, or a dish that's guaranteed to be a hit at the picnic, this Vegan Egg Salad recipe is the right choice!
Just like my Vegan Tuna Salad, it looks, tastes, and feels so much like real egg salad, but is completely vegan! The realistic texture is all thanks to a secret chopping technique. By pressing, then slicing a brick of firm tofu into pea-sized pieces, it takes on the same texture as real hard-boiled eggs.
And all bets are off when the tofu is combined with the creamy vegan egg salad dressing. It's easy to make using a mix of vegan mayo, simple spices, relish, and pickle juice, and can even be prepped ahead of time when you need faux egg salad in a hurry.
My favorite way to enjoy this recipe is in vegan egg salad sandwiches, but you can also use it as a topping on salads, stuff it in lettuce cups, enjoy it as a protein-packed snack, and more. The possibilities are endless!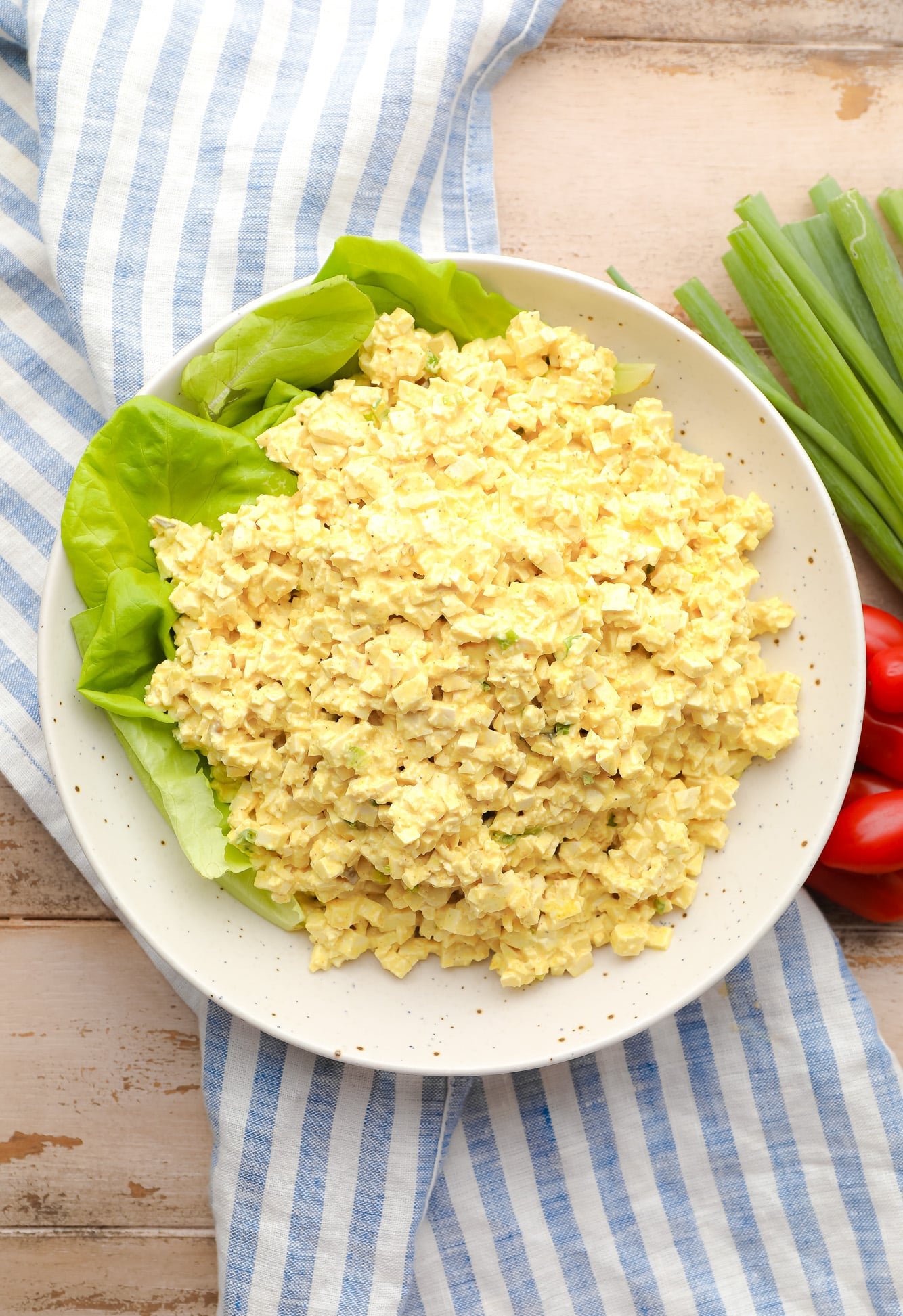 Ingredients needed (with substitutions)
Firm tofu – Remember to press the brick of tofu before you get started! You want to remove as much liquid from the tofu as possible to help it take on the firm, chewy texture of real hard-boiled eggs.
Vegan mayonnaise – Mayo and egg salad are the dream team. It gives the dressing a rich and creamy consistency and helps to tone down the other tangy and briny flavors. Feel free to use your favorite store-bought vegan mayo (I like the Just brand and Veganaise) or try my homemade vegan mayo or tofu mayo. If you don't have vegan mayonnaise at home, you can use plain vegan yogurt, cashew cream, or vegan sour cream instead.
Yellow mustard – Or you can use Dijon mustard for a deeper flavor profile.
Dill pickle juice – This, along with the sweet relish, gives the dressing a punchy and briny flavor.
Sweet relish
Dry spices – A mix of smoked paprika, turmeric, black salt, and black pepper will give the vegan egg salad dressing a realistic color and flavor.
Green onion
Bread – To make vegan egg salad sandwiches! Butter lettuce leaves hold the faux egg salad just as well if you want egg salad lettuce wraps. Or enjoy with some yummy crackers (gluten free if needed).
How to make vegan egg salad
Find the complete printable recipe with measurements below in the recipe card.
After pressing the tofu, slice the block into thin, rectangular strips.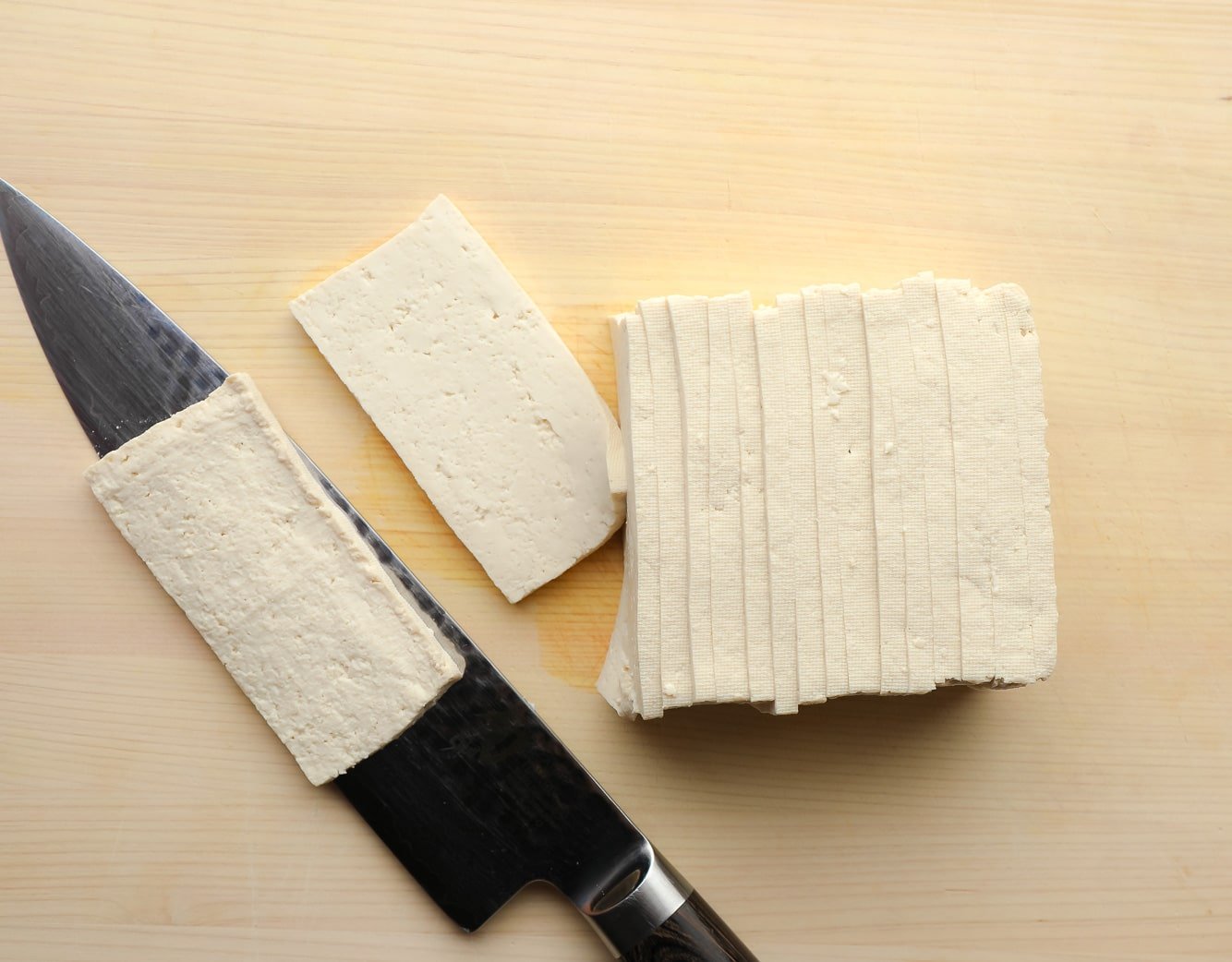 Pile the strips on top of each other, then, in the opposite direction, slice them into smaller pieces. Don't worry about making them all the same uniform size!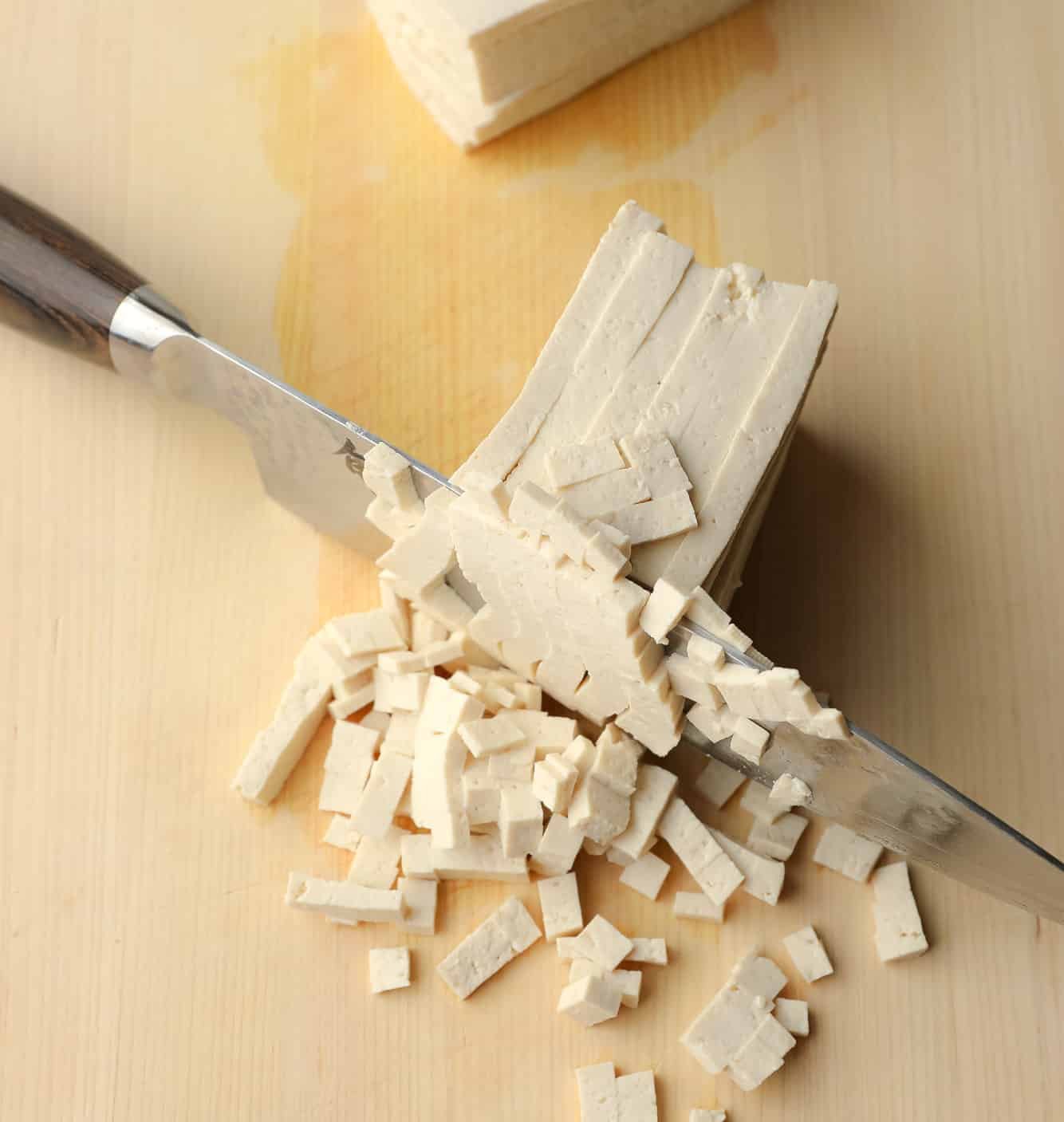 To make the dressing, whisk the vegan mayo, mustard, pickle juice, sweet relish, and dry spices together in a large mixing bowl.
Add the chopped tofu pieces to the bowl with the dressing, along with the sliced green onions. Stir to coat.
Cover the bowl with plastic wrap and place it in the fridge so the salad can chill for about 30 minutes. Afterward, serve the salad in sandwiches, on salad, or as a delicious snack!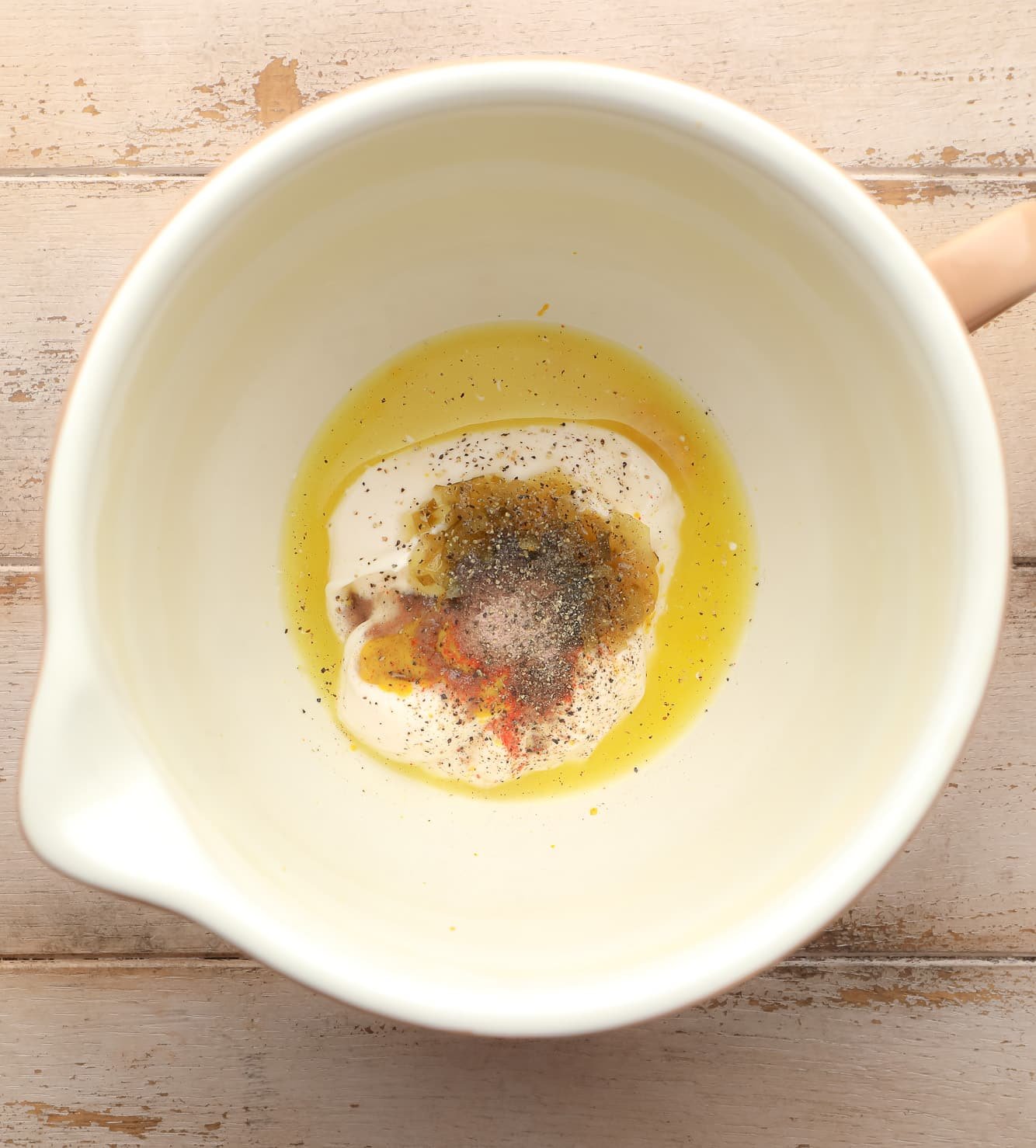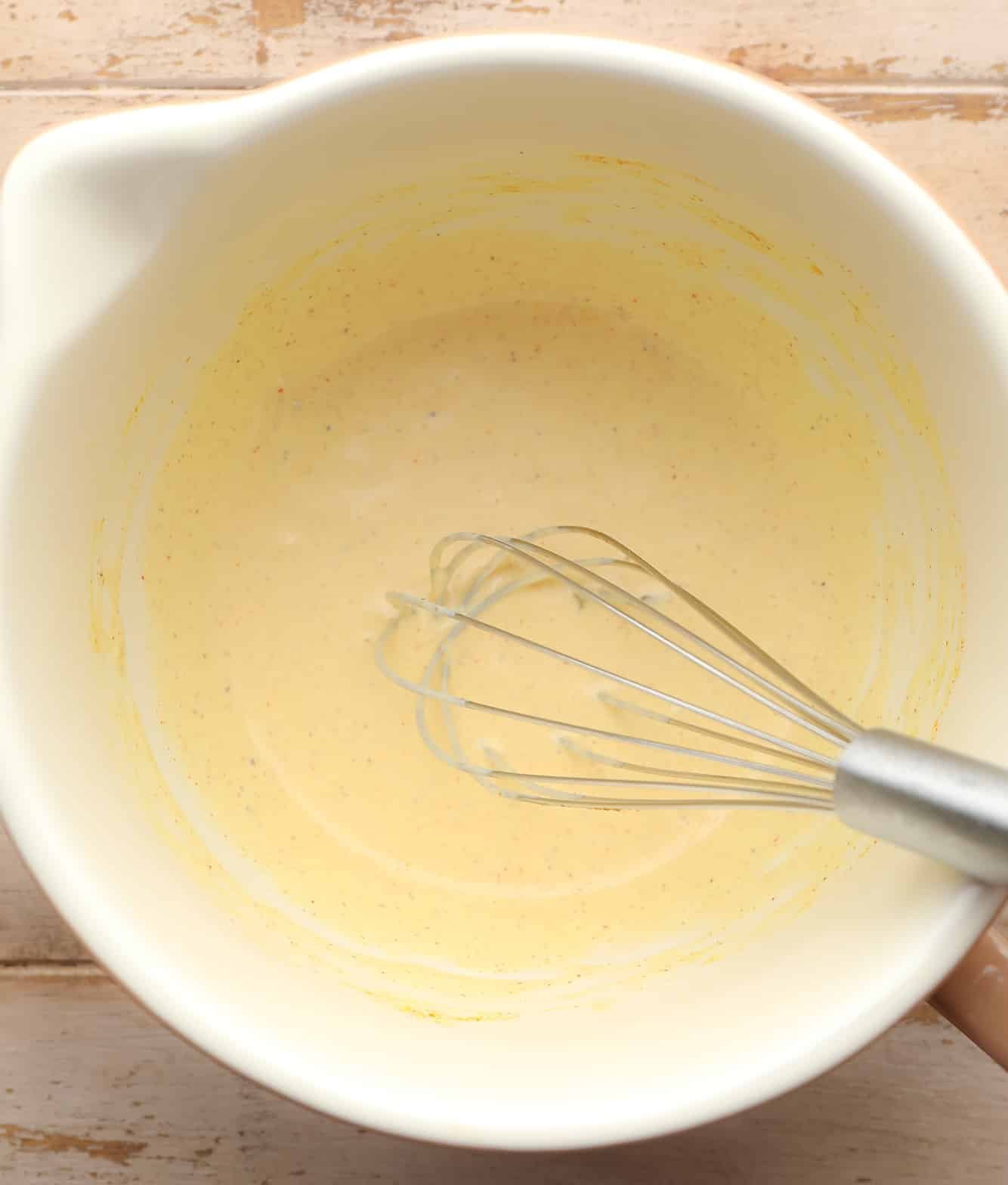 Tips for success
Always press the tofu to drain the excess water. Skipping this step could leave you with watery egg salad, and no one wants that. You can do this using a tofu press or by wrapping the brick in paper towels (or a clean tea towel) and placing something heavy on top. Let it sit and drain for at least 20 minutes.
Finely dicing the tofu into small, pea-sized pieces is the secret to the realistic egg-like texture. If you'd rather simply crumble the tofu, that's fine too.
If you have the time, chill the assembled salad in the refrigerator for 30 minutes before serving. This gives all of the amazing flavors time to get to know each other, yielding a much more flavorful salad!
You can make the egg salad dressing up to 1 week in advance. Just mix the ingredients together and store the dressing in an airtight container in the fridge until it's time to serve.
Variations
There's lots of room for add-ins in vegan egg salad! Check out these tasty suggestions:
Herbs – For a more vibrant flavor, stir fresh dill and/or chives into the egg salad mixture.
Veggies – Feel free to add finely diced red onion or celery, shaved carrots, or halved cherry tomatoes for extra crunch and texture.
Black salt – Black salt or kala namak will give the salad an even more intense eggy, sulfur-like flavor. I usually use this for a more "eggy" salad.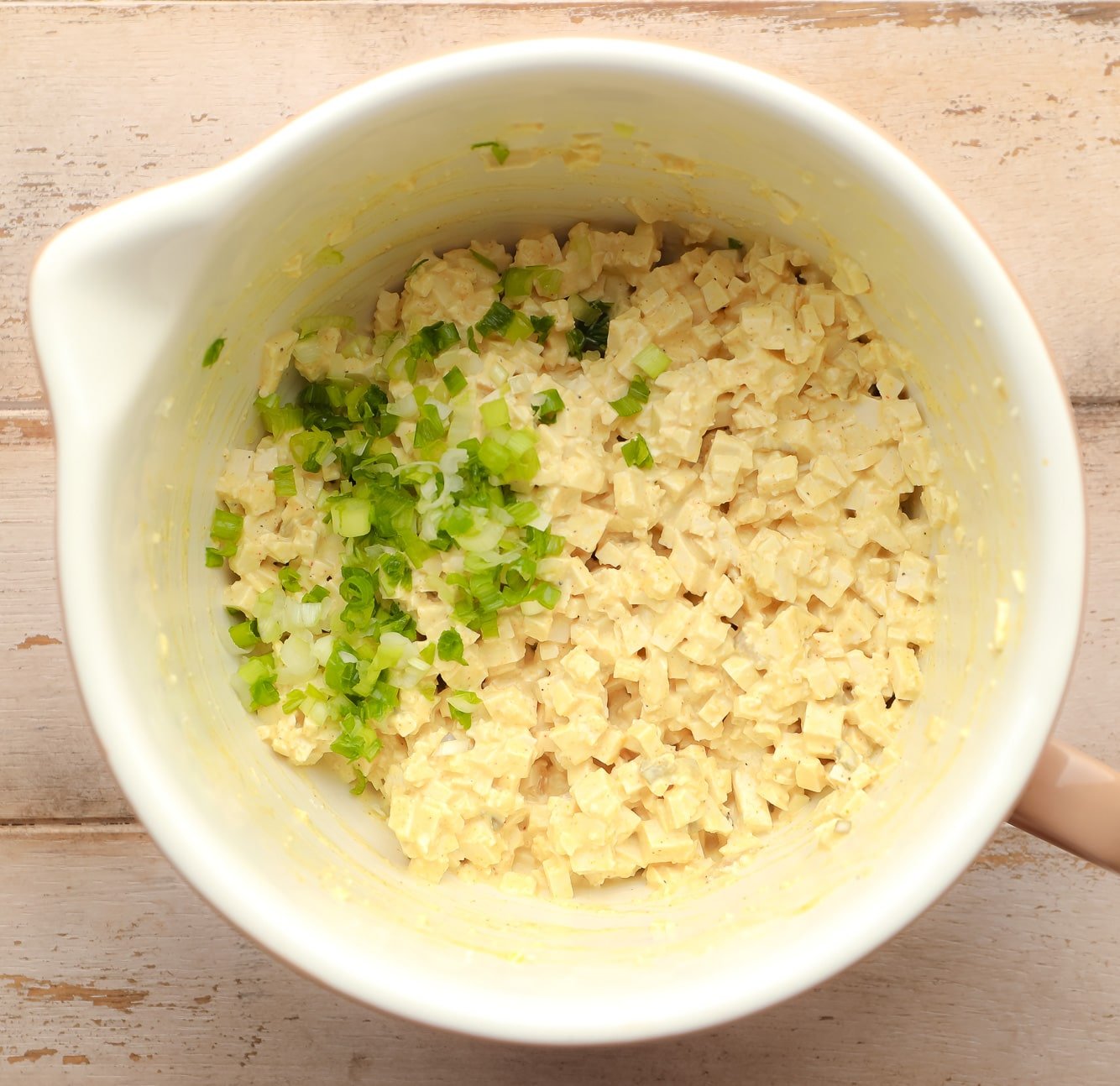 Serving suggestions
The best way to put this vegan egg salad recipe to use is in vegan egg salad sandwiches. Top the sandwiches with lettuce leaves, sliced avocado, pickled red onions, radishes, sliced tomatoes, then dig in!
You can also use the egg salad as a topping on salad greens or stuff it into lettuce wraps. Serve it alongside Vegan Potato Salad or Vegan Coleslaw for a complete (and delicious) meal or picnic.
And if you end up with leftovers, scoop them up with crackers for a quick, easy, and protein-packed snack!
Frequently asked questions
What kind of tofu is best for tofu egg salad?
Extra firm or firm tofu is best because it contains the least amount of water. Watery varieties, like medium, soft, or silken tofu, won't work as well and could leave you with soggy egg salad.
Does it taste like real eggs?
A lot of commenters can attest that the taste is just like real egg salad! However, you can give it an even stronger "eggy" taste by stirring black salt (kala namak) in place of or in addition to the regular salt in the dressing.
How long does tofu egg salad last in the refrigerator?
It will last for 4 to 5 days in the fridge when it's stored in an airtight container.
Can you freeze vegan egg salad?
No, do not freeze tofu egg salad! Once it thaws, the tofu will release a lot of liquid, which will water it down and ruin the creamy consistency.
Can I make it without tofu?
You could scramble up a bottle of JUST Egg, then mix it with the dressing for a tofu-free vegan egg salad.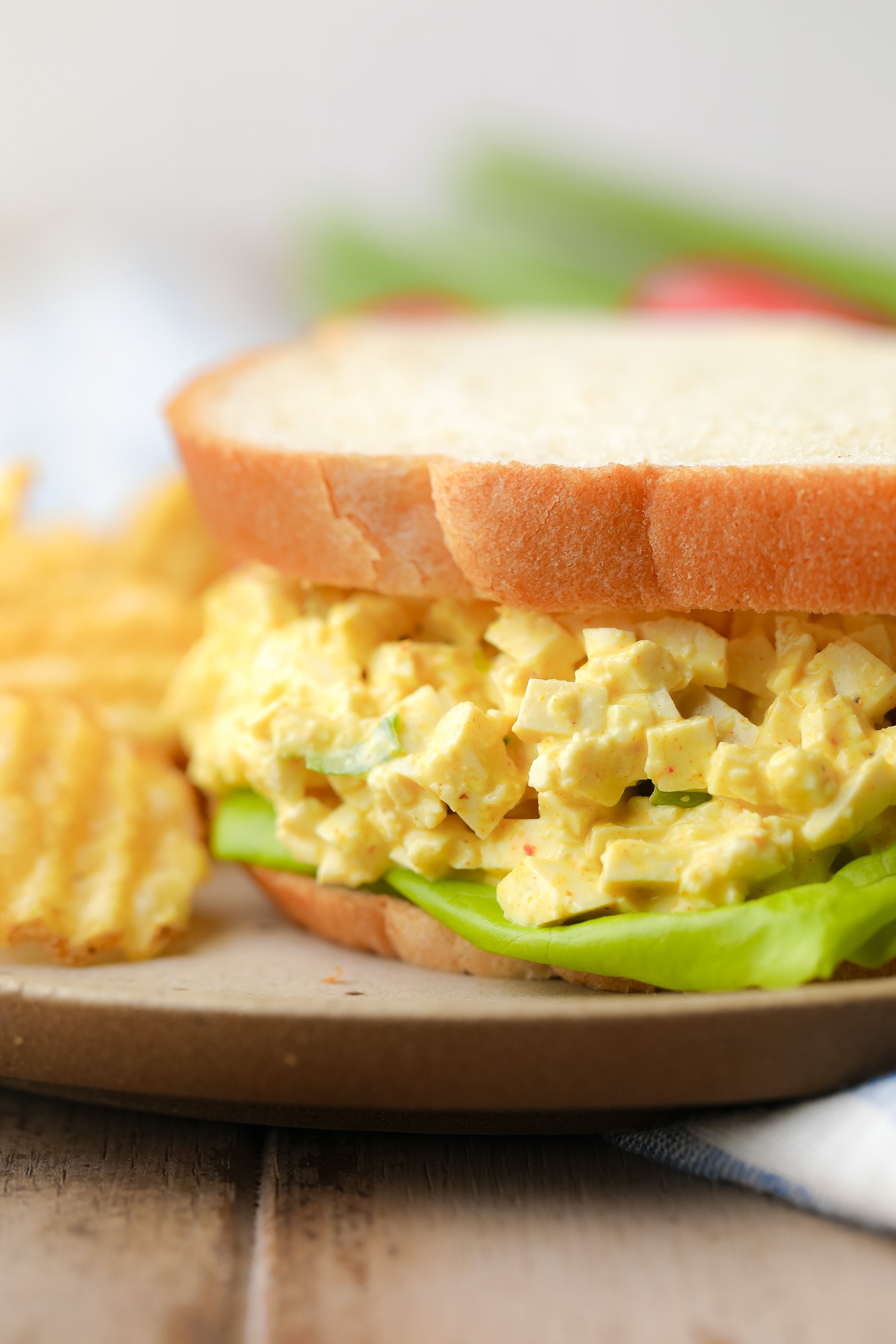 Want more creamy vegan salads?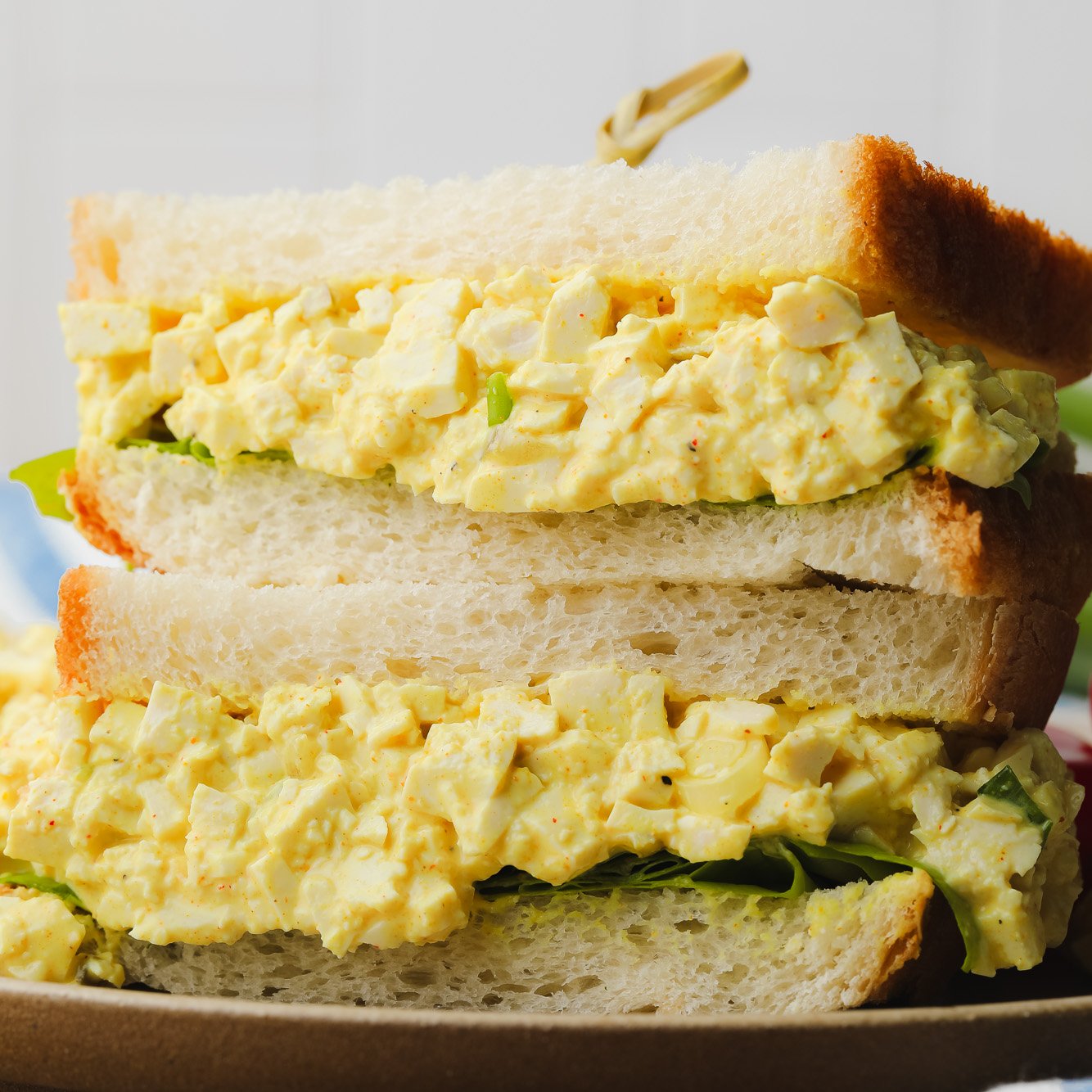 Vegan Egg Salad
This is the best Vegan Egg Salad, period. Made with finely chopped tofu and a flavorful, creamy dressing, it's the perfect meal to bring to the potluck or stuff into sandwiches.
Ingredients
14.5

ounce

block firm tofu

or extra-firm

1/4

cup

Vegan Mayo

1

teaspoon

yellow mustard

1 1/2

tablespoons

dill pickle juice

2

teaspoons

sweet relish

1/8

teaspoon

smoked paprika

tiny pinch turmeric

1/2

teaspoon

black salt

or regular salt, + more to taste

1/4

teaspoon

black pepper

1

green onion, white and light green parts, thinly sliced

loaf of bread, butter lettuce for serving
Instructions
Press the tofu: Wrap the block of tofu in paper towels or a clean tea towel. Place something heavy on top of it, like a cast iron pan, and let it sit for 20 minutes.

Slice the tofu: Once the tofu is pressed, slice the block into thin strips, then slice thinly the other way. Chop into even smaller pieces.

Add the tofu to the bowl with the creamy dressing, along with the sliced green onions. Stir well. Cover and refrigerate for 30 minutes if possible before eating, to let the flavors meld together. Serve on bread of choice with butter lettuce, sliced tomatoes, sprouts and whatever else you like. Enjoy!
Notes
Store leftovers in a covered container in the refrigerator for 4-5 days.
To make it without tofu, you could probably scramble up a bottle of JUST Egg, then mix it with the dressing.
Nutrition
Serving:
1
serving
|
Calories:
122
kcal
|
Carbohydrates:
3
g
|
Protein:
6
g
|
Fat:
9
g
|
Saturated Fat:
1
g
|
Polyunsaturated Fat:
2
g
|
Monounsaturated Fat:
1
g
|
Sodium:
328
mg
|
Potassium:
9
mg
|
Fiber:
1
g
|
Sugar:
1
g
|
Vitamin A:
62
IU
|
Vitamin C:
0.4
mg
|
Calcium:
88
mg
|
Iron:
1
mg