Soft, thick and fluffy Vegan Blueberry Pancakes are loaded with fresh blueberries. They are the best weekend morning breakfast!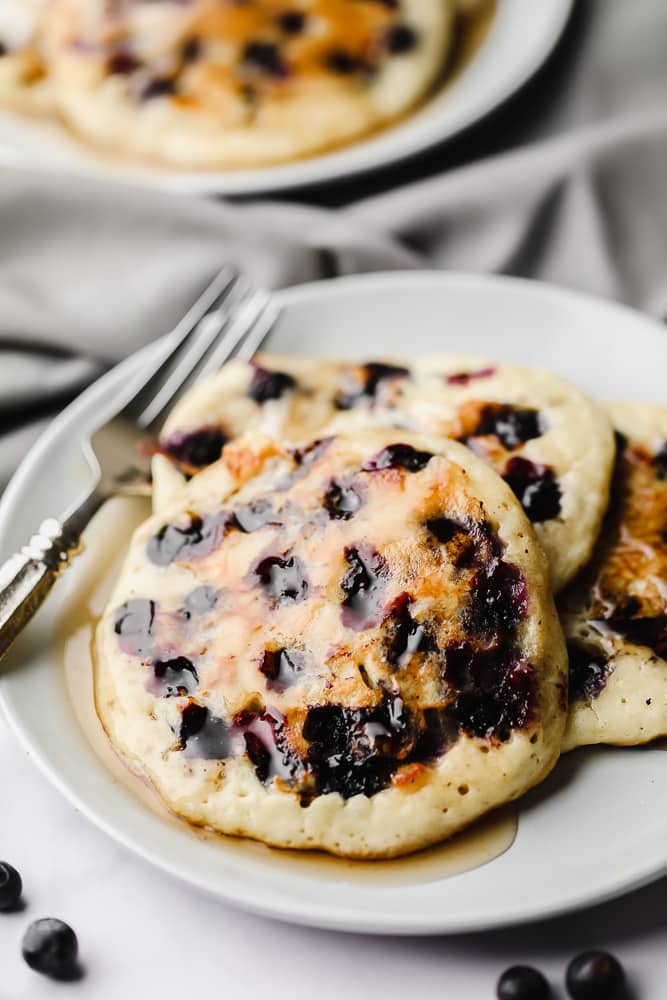 Vegan blueberry buttermilk pancakes are just as easy to make as my Simple Vegan Pancakes and Fluffy Vegan Banana Pancakes. The batter is simple and made with just 7 ingredients in one bowl. If you need gluten free pancakes, simply swap the flour for gluten free flour instead!
The pancakes get even better when you top them with vegan whipped cream, maple syrup, and more blueberries. Serve a stack for weekend breakfasts or Sunday brunch and enjoy!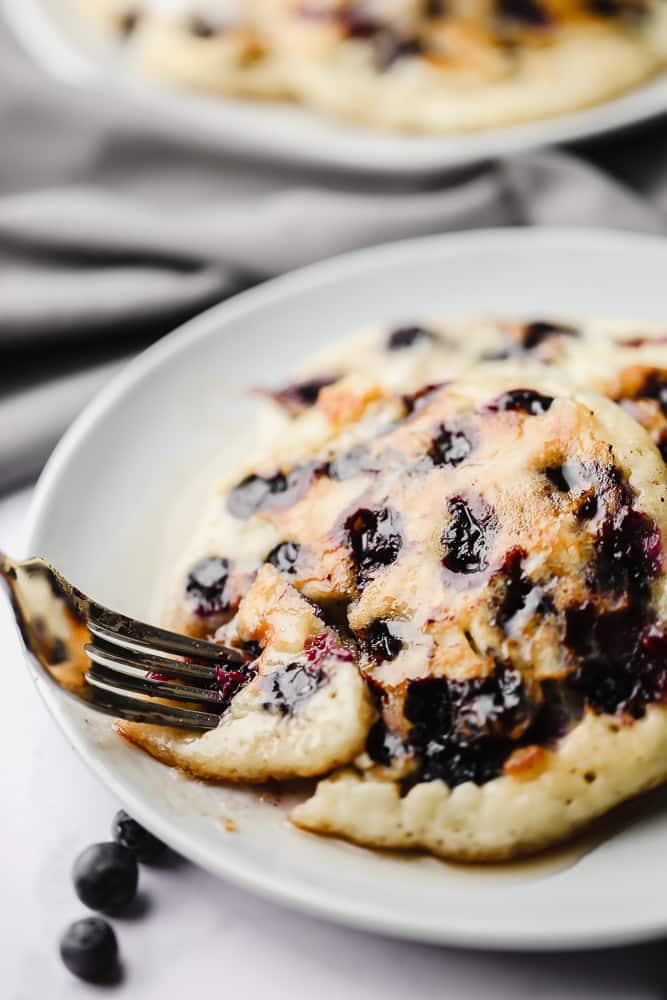 Ingredients needed (with substitutions)
Dairy free milk – Unsweetened dairy free milk is mixed with vinegar to make vegan buttermilk. Any milk will do, like soy milk, cashew milk, almond milk, or oat milk.
Apple cider vinegar – Mixing vinegar with dairy free milk will cause the milk to curdle, giving you vegan buttermilk. If you don't have apple cider vinegar, use white vinegar or lemon juice instead.
All purpose flour – Or substitute it for whole wheat pastry flour, gluten free all purpose flour, and spelt flour. Oat flour will likely also work, but be careful not to over mix.
Baking powder
Salt
Sugar – Granulated sugar is best, but coconut sugar or a liquid sweetener is also fine to use.
Vegan butter – Melted. Another neutral flavored oil (like grapeseed, canola, or vegetable oil) or coconut oil will also work.
Blueberries – Fresh or frozen. I prefer fresh, because frozen berries will likely make your pancakes purple. Plus, fresh are juicier!
How to make easy vegan blueberry pancakes
This is an easy 1 bowl recipe. I love simple recipes I can throw together in minutes!
Vegan buttermilk is the secret to super moist and fluffy blueberry pancakes. It's easy to make by mixing dairy free milk with vinegar. Let the mixture sit for a few minutes to curdle.
From there, make the pancake batter by whisking the flour, baking powder, salt, and sugar together in a large bowl. Add the vegan buttermilk and melted butter, then stir until just combined. Don't overmix the batter or else the pancakes will be rubbery and dense.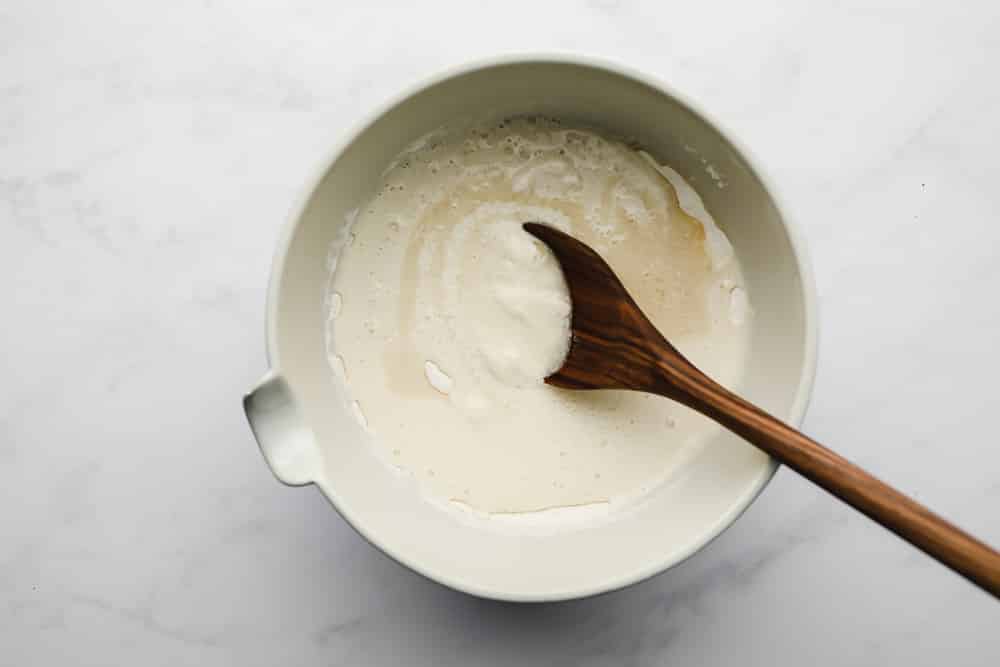 Melt a little vegan butter in a hot griddle or skillet over medium heat. Pour ⅓ cup of pancake batter onto the hot griddle/skillet and drop a few blueberries on top.
Once tiny bubbles form, flip the pancake and cook until golden brown on the other side. Repeat until you run out of batter.
Top your fluffy vegan blueberry pancakes with maple syrup, blueberry compote, vegan butter, coconut whipped cream, or fresh blueberries.
Serve with Tofu Scramble, JUST Egg Omelette, perhaps more fresh fruit and enjoy!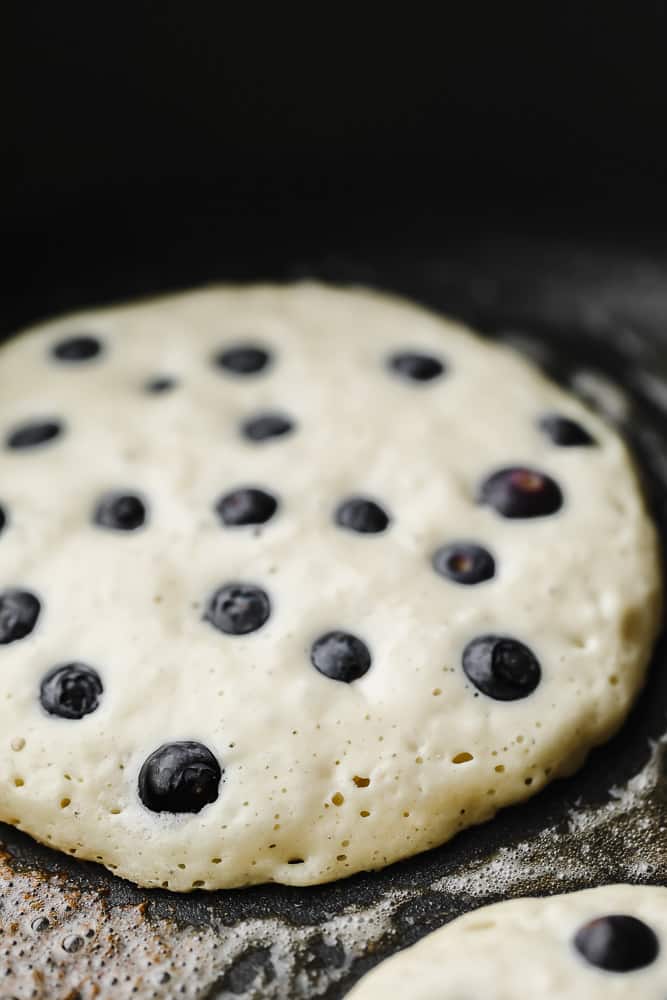 Frequently asked questions
Can they be made gluten free? Yes! Use gluten free all purpose flour instead of regular flour to make gluten free vegan blueberry pancakes. Almond flour or coconut flour will not work.
When are pancakes ready to be flipped? Pancakes can be flipped only when you see little bubbles forming all over the top and middle. Only flip the pancakes once!
Can they be made ahead of time? I don't recommend making the pancake batter ahead of time. Any leftover pancakes, however, can be made and stored in the fridge 1-2 days in advance.
Can you freeze vegan blueberry pancakes? The pancakes freeze beautifully, which is why I recommend you make an extra batch to freeze for later! To freeze, store the cooled pancakes in a large ziplock bag or freezer-safe container (a piece of parchment paper in between each one will prevent them from sticking) and freeze for up to 3 months.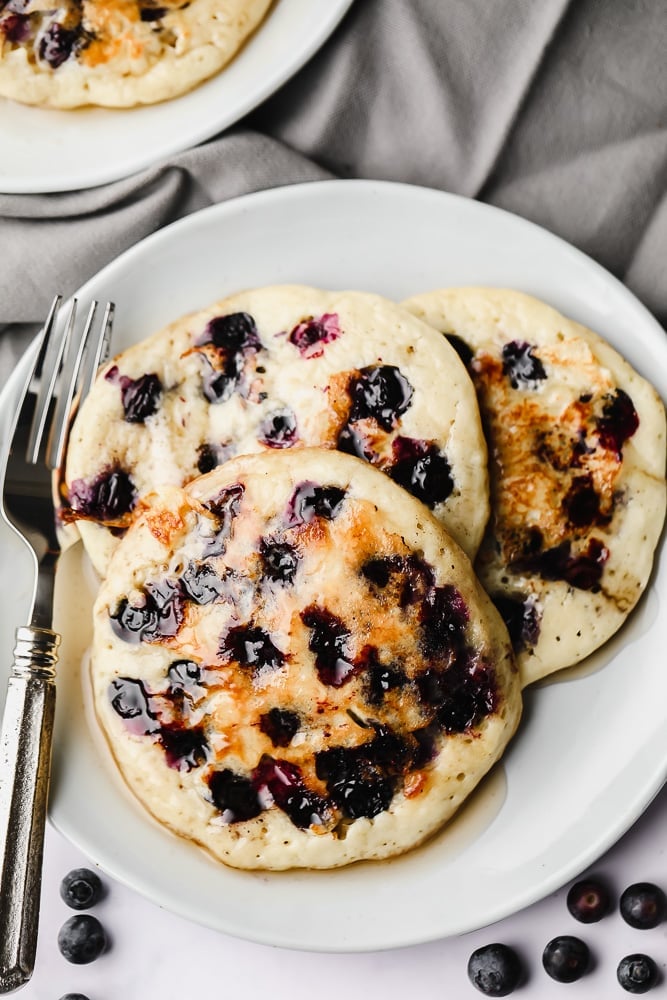 Want more vegan pancake recipes?
You don't need eggs, milk or butter to make delightful, thick and fluffy pancakes. Enjoy any of these mouthwatering vegan pancake recipes: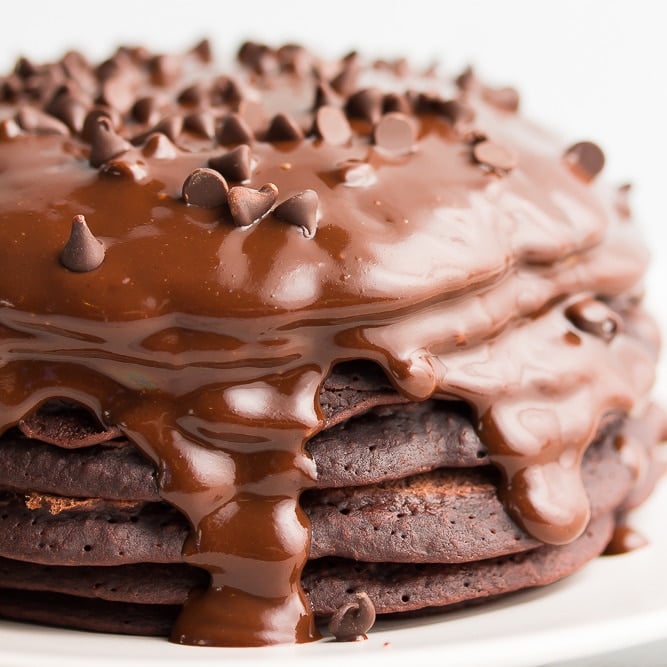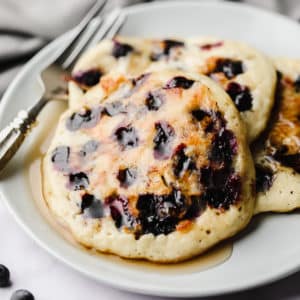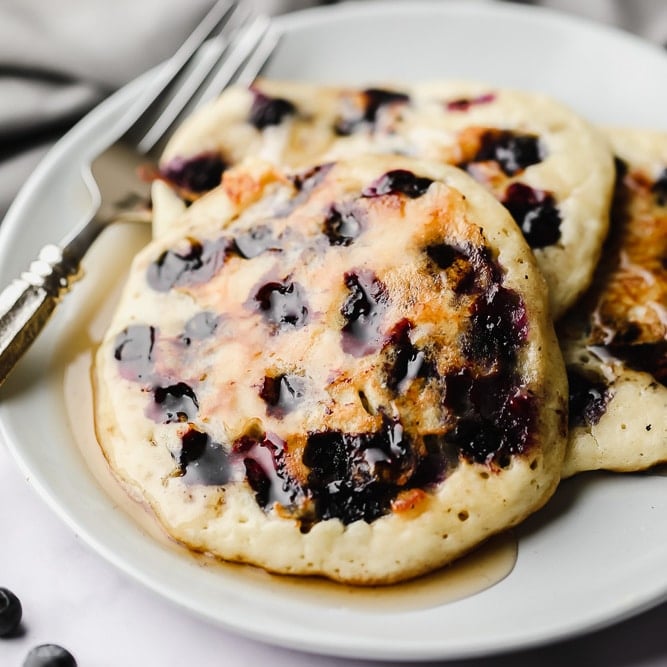 Vegan Blueberry Pancakes
Soft, thick and fluffy Vegan Blueberry Pancakes are loaded with fresh blueberries. They are the best weekend morning breakfast!
Instructions
In a large measuring cup or bowl, pour in the soy milk. Add the vinegar, stir a little and set aside to curdle. This is your vegan buttermilk.

In a large bowl, whisk together the flour, baking powder, salt and sugar until combined.

Pour the vegan buttermilk and melted vegan butter/oil into the dry ingredients. Stir with a large spoon until just combined. Do NOT over mix the batter or your pancakes will be rubbery and dense. A few lumps are just fine.

Heat a large griddle or pan over medium-high heat. Grease the pan with a little vegan butter or coconut oil and drop about 1/3 cup of the batter onto it. Arrange some blueberries on top (I like quite a few on each pancake!).

Cook until bubbles form, then flip and cook until golden brown on the other side, about 1-2 minutes. Repeat with all the remaining batter.

Serve with vegan butter, syrup, coconut whipped cream and more blueberries, if desired. Enjoy!

Leftovers – Keep leftover pancakes in the refrigerator for 1-2 days. They also freeze beautifully in a freezer friendly bag or container.
Notes
Milk – You may use another dairy free milk. Almond, cashew, oat, coconut or any other milk should work fine.
Vinegar – If you can't have vinegar, try lemon juice.
Flour – Also try whole wheat pastry flour, gluten free all purpose flour, spelt flour or oat flour.
Sugar – Maple syrup, agave or coconut sugar works just as well.
Butter – May also use coconut oil, another neutral flavored oil or applesauce for oil free.
Nutrition
Serving:
6
large pancakes
|
Calories:
207
kcal
|
Carbohydrates:
37
g
|
Protein:
5
g
|
Fat:
4
g
|
Saturated Fat:
1
g
|
Polyunsaturated Fat:
2
g
|
Monounsaturated Fat:
2
g
|
Trans Fat:
1
g
|
Sodium:
249
mg
|
Potassium:
349
mg
|
Fiber:
2
g
|
Sugar:
9
g
|
Vitamin A:
331
IU
|
Vitamin C:
5
mg
|
Calcium:
170
mg
|
Iron:
2
mg