This JUST Egg Omelette looks and tastes just like the real thing! Fluffy, flavorful, and filled with veggies, it's one of the easiest vegan breakfast recipes you can have ready in only 10 minutes.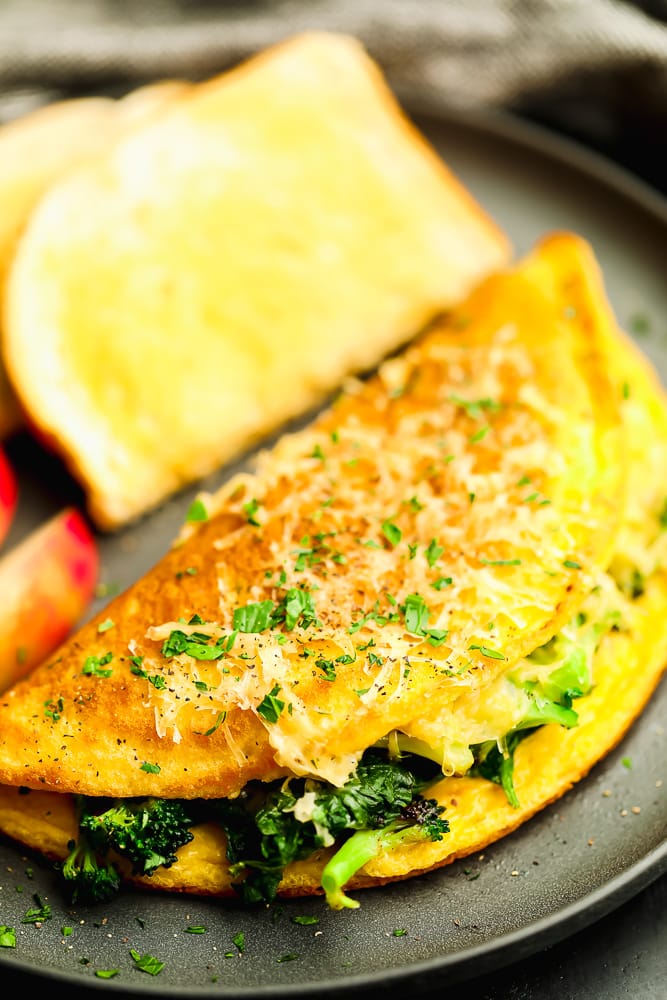 This post is not sponsored by JUST Egg. I truly just think it's a great product! 🙂
It's hard to believe this JUST Egg Omelette is made without any eggs at all! Fluffy, filling, and just so delicious, you may have to remind yourself that you aren't eating real eggs as you dig into this recipe.
JUST Egg is a company that really makes you feel good about where the future of plant based ready-made foods is heading. Just like liquid eggs, this vegan egg mixture is simply poured into a hot pan with a few extra add-ins and quickly turns into a fluffy vegan omelette. It's one of the most innovative vegan products on the market and I think you're really going to love it!
If you can't find JUST Egg where you live, you will love my Vegan Omelette made with simple pantry ingredients.
I made this easy eggless omelette with simple fillings like spinach, broccoli, and vegan cheese. You can fill the inside with almost anything you love and drizzle on a few fun toppings when it's done, like herbs, hot sauce, and even vegan cheese sauce. Make the meal extra special with breakfast potatoes and fresh fruit on the side, then enjoy!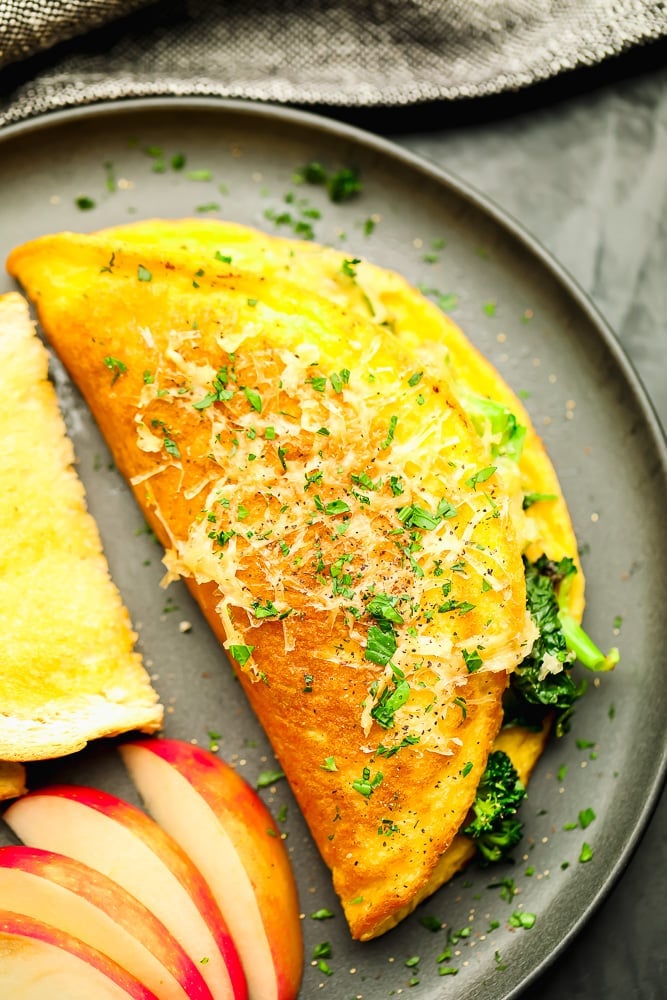 What is JUST Egg made of?
JUST Egg is a liquid vegan egg mixture made from two key ingredients: mung beans and turmeric. There are a handful of other ingredients in the mixture to help the cooked "eggs" taste realistic, hold together, and preserve the quality.
How to make a vegan omelette with JUST Egg
Melt vegan butter in a small pan and saute the veggies until they're soft. Set them aside and turn the heat down.
Whisk the JUST Egg with the flour, baking powder, and black salt in a bowl. The flour/baking powder helps the omelette cook up fluffy and the black salt will help it taste even more realistic!
Pour the vegan egg mixture into the hot pan. Cover with a lid and let it cook until it's no longer liquidy on top. Add the cooked veggies and shredded cheese on one side of the omelette, then fold the other side over top. Let it cook for a few more minutes or until the cheese melts.
Serve the omelette immediately with your favorite toppings and enjoy!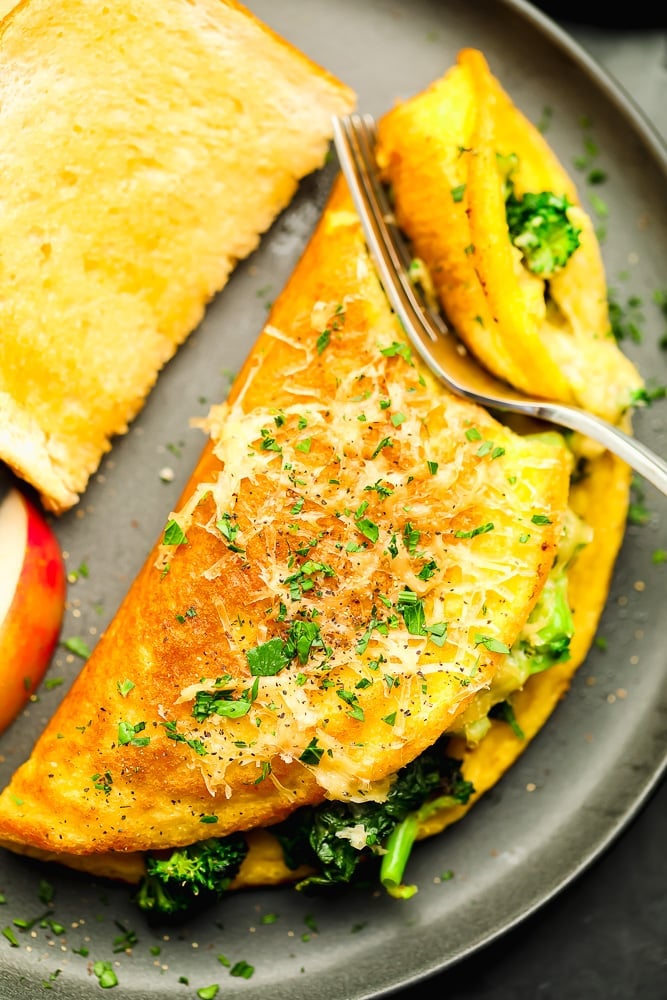 What does a JUST Egg omelette taste like?
The taste, smell, and texture of JUST Egg is almost identical to real eggs. Mixing the "egg" liquid with some black salt (Kala Namak) really takes the flavor up a notch and gives the omelette a true "eggy" taste.
Tips and substitutions
Flour and baking powder – This is the secret to an extra fluffy eggless omelette! Try not to skip them.
Make sure your pan isn't too hot. If you don't lower the temperature before adding the "egg" mixture, the bottom of the omelette can burn and it won't cook well.
Gluten free – Use your favorite gluten free flour instead of the all purpose flour.
Equipment – I recommend cooking your vegan egg omelette in a quality non-stick pan no larger than 6 to 8 inches. If it's too wide, the "egg" mixture will spread and be too thin.
Filling and topping ideas
An eggless omelette is only as good as its fillings. With veggies, vegan meats, and cheeses on the inside and a fresh garnish on top, every bite will be heavenly. Use these ideas to get started:
Kale
Mushrooms
Red pepper
Shallots
Avocado
Jalapenos
Hot sauce
Arugula
Tomatoes
Black beans
Cilantro
Ketchup
Hungry for more vegan "egg" recipes?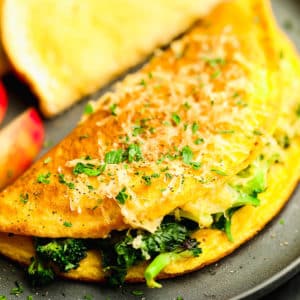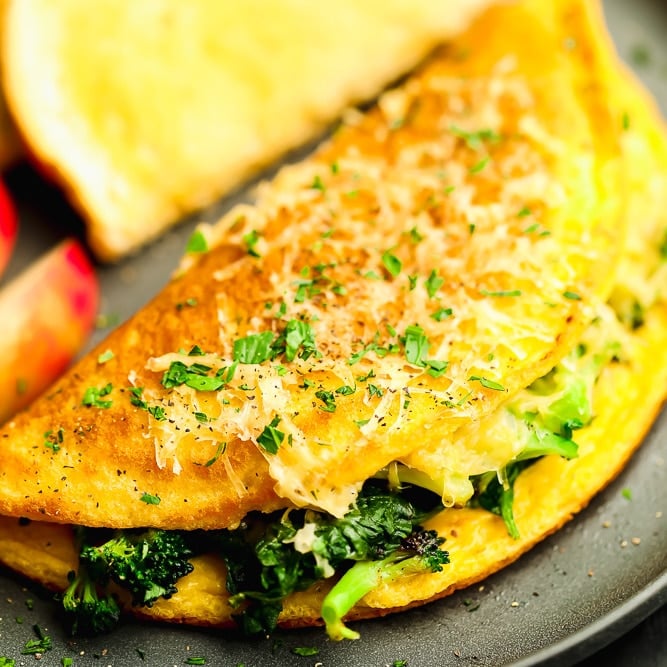 JUST Egg Omelette
This JUST Egg Omelette looks and tastes just like the real thing! Fluffy, flavorful, and filled with veggies, it's one of the easiest vegan breakfast recipes you can have ready in only 10 minutes.
Ingredients
Vegetables
1

teaspoon

vegan butter

1/2

cup

chopped small broccoli

1

cup

baby spinach
Optional fillings/toppings
1/4

cup

shredded vegan cheese

hot sauce, sliced avocado, chopped green onions, cherry tomatoes, fresh herbs
Instructions
In a small pan (8 inch is best), melt a teaspoon of vegan butter over medium-high heat.  Sauté the chopped veggies and spinach until softened a bit, and season with a little salt + pepper, to taste. Remove from the pan and set aside on a plate nearby. Turn the heat down to medium-low.

In a small bowl, quickly whisk the Just Egg with the flour, baking powder and black salt until combined.

Melt the second teaspoon of vegan butter in the pan, then pour in your "egg" mixture. Tilt the pan a little if needed to encourage it to spread into an even circle.

Cover the pan and let it cook for about 2-3 minutes, until it looks mostly cooked and no longer liquidity on top. Make sure your pan isn't too hot or it won't cook well and the bottom will burn. If it takes a little longer, that's okay.

Once the top looks done, add your sautéed veggies and shredded cheese, if using, to one side of the omelette. Now fold over one side to cover your fillings, cover and let cook for another few minutes until the cheese it melty.

Serve immediately with extra toppings of choice. I like Sriracha hot sauce, black pepper, chopped green onions and a few slices of avocado. 
Notes
You don't have to use broccoli and spinach, feel free to use whatever veggies you like such as kale, mushrooms, zucchini, asparagus or no veggies at all.
You may use vegetable oil instead of vegan butter, if desired.
Nutrition
Serving:
1
serving
|
Calories:
384
kcal
|
Carbohydrates:
25
g
|
Protein:
18
g
|
Fat:
25
g
|
Saturated Fat:
4
g
|
Polyunsaturated Fat:
2
g
|
Monounsaturated Fat:
3
g
|
Trans Fat:
1
g
|
Sodium:
945
mg
|
Potassium:
373
mg
|
Fiber:
3
g
|
Sugar:
1
g
|
Vitamin A:
3473
IU
|
Vitamin C:
49
mg
|
Calcium:
94
mg
|
Iron:
2
mg