Vegan Caesar Salad with Chickpea Croutons
This post may contain affiliate links. Read my full disclosure here.
Vegan Caesar Salad is the ultimate vegan version of the classic salad! It's made from whole food ingredients and is fairly simple to make. With crunchy roasted chickpea "croutons", a roasted garlic cashew dressing and optional vegan parmesan cheese, this salad is sure to impress!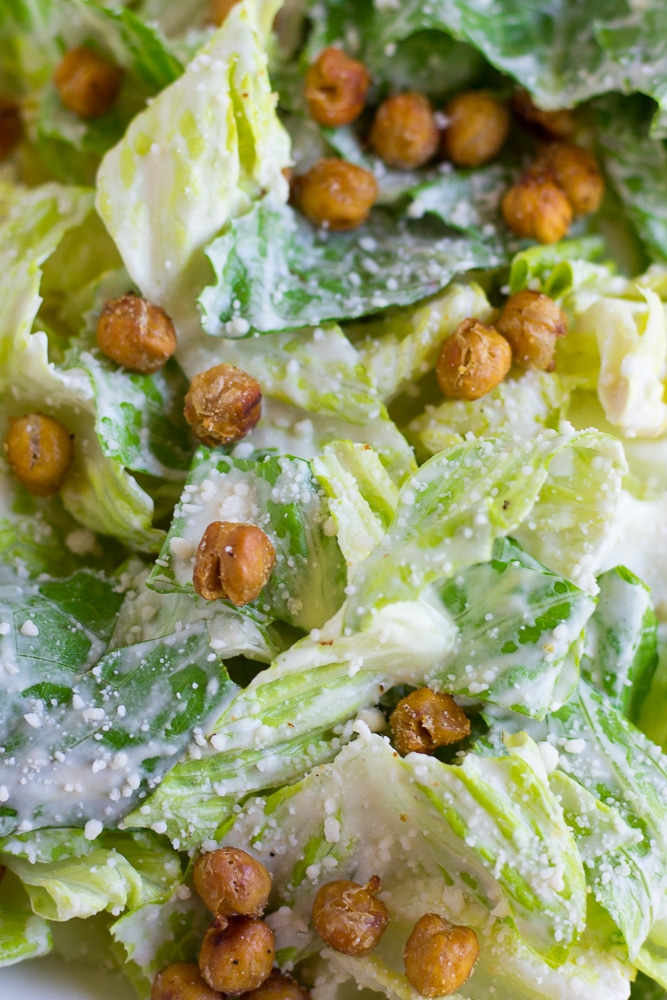 Caesar Salad was most definitely one of the only ways I would eat salad in my pre-vegan days. The creamy, garlicky dressing and crisp, fresh romaine is a fantastic combination. It's no wonder it continues to be a popular salad.
Of course, traditional Caesar Salad usually has anchovies in the dressing (um, ew) and lots of parmesan cheese. And chicken is often added as well.
We don't want any of that, so some substitutions and changes had to be made! But don't worry, what we are left with is an absolutely stunning salad, full or richness, flavor and textures. The vegan caesar salad dressing in this version gets it's creaminess from cashews and flavor from roasted garlic.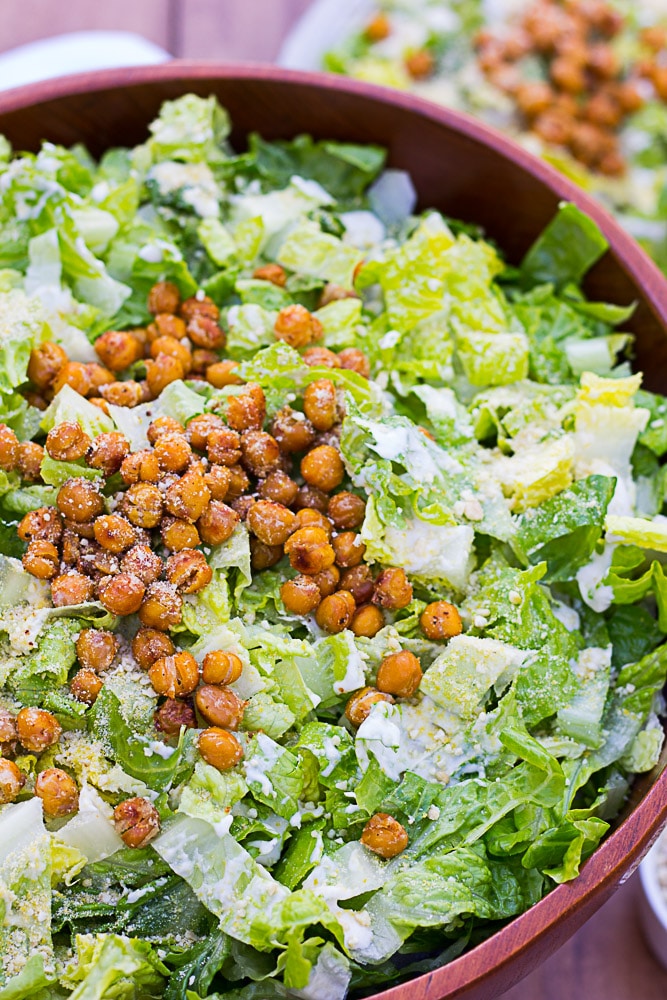 You are going to love this Vegan Caesar Salad. It's:
Satisfying & Filling
Full of protein from beans and nuts
Full of healthy fats
Creamy with a nut based vegan caesar salad dressing
Made with simple, whole foods
& So Crowd-pleasing!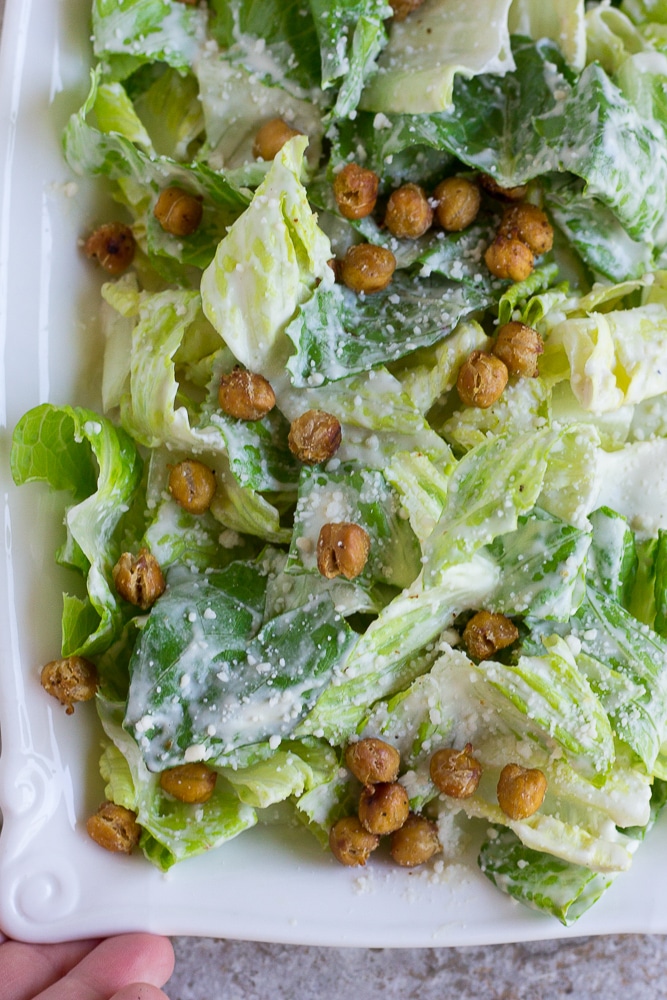 This Vegan Caesar Salad has a few parts to it:
Roasted Chickpea Croutons: Chickpeas are baked with a mixture of olive oil and seasonings, until they are crispy and have a crouton like quality to them.
Vegan Caesar Dressing: a garlicky, creamy dressing made with cashews and roasted garlic.
Vegan Parmesan (optional): Super quick to throw together, this is a condiment you will want to have in your fridge at all times! You won't use all the parmesan for this salad, so save the rest for later.
Crunchy, fresh, chopped romaine lettuce.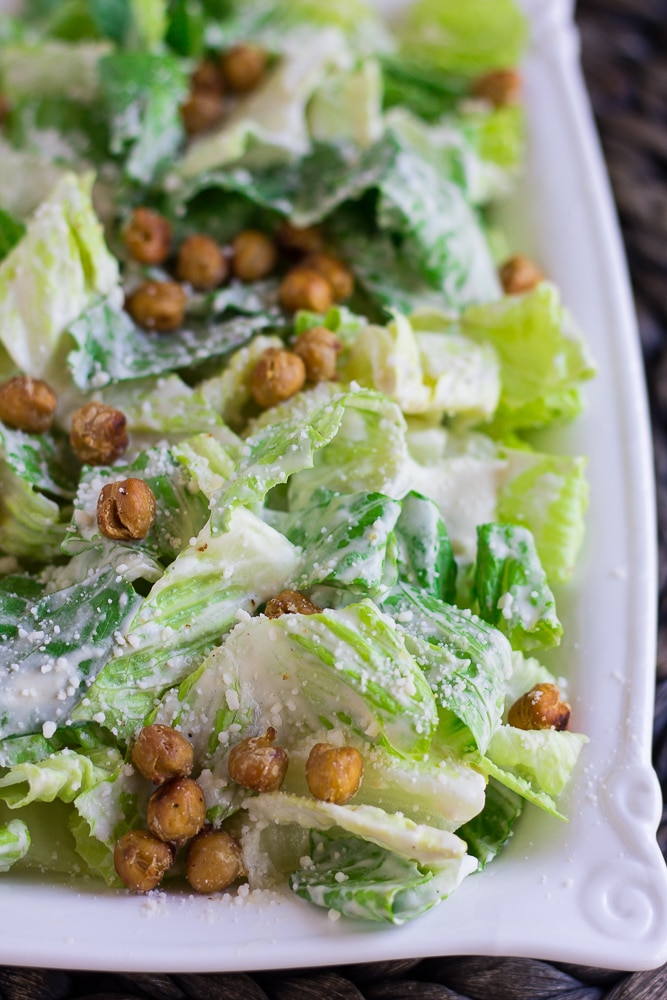 If you make this recipe, let me know how it goes! Rate it, leave a comment and tag a photo @noracooksvegan on Instagram or find me on Facebook. Enjoy!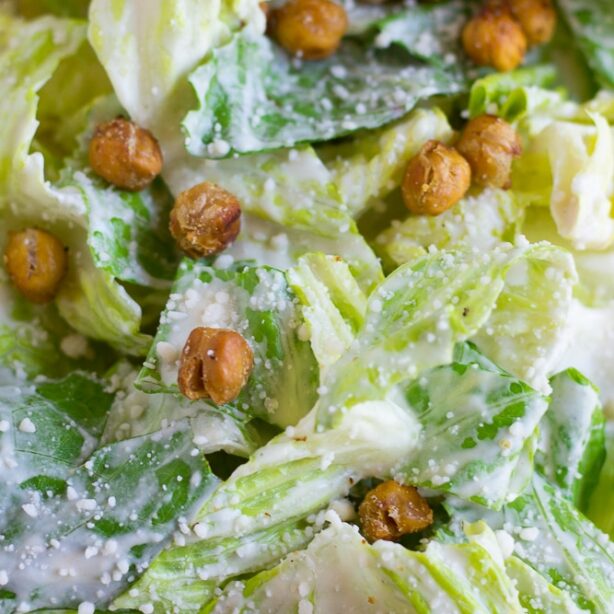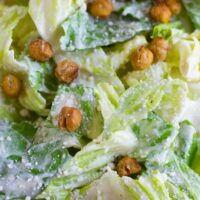 Vegan Caesar Salad with Chickpea Croutons
This Vegan Caesar Salad has it all: A creamy, cashew based dressing with roasted garlic, roasted chickpea croutons, and vegan parmesan cheese. A crowd pleasing recipe!
Ingredients
Chickpea Croutons
2-

15 ounce

cans chickpeas, or 3 cups cooked

1

tablespoon

olive oil

3/4

teaspoon

garlic powder

3/4

teaspoon

onion powder

3/4

teaspoon

salt
Caesar Dressing
1 1/4

cups

raw cashews

1

cup

water

4-5

cloves garlic, roasted *see instructions below

1

medium lemon, juiced

1/2-3/4

teaspoon

salt
Other
3

medium heads of romaine lettuce, washed and chopped
Instructions
Chickpea Croutons
Preheat oven to 400 degrees F. Drain chickpeas and dry slightly with a clean tea towel or paper towels, trying to remove as much moisture as possible.

Add the chickpeas to a baking sheet with a rimmed edge (so they don't roll off). Drizzle on the olive oil, and sprinkle on the seasonings and salt. Mix gently with your hands or a spatula in the pan. Bake for 20 minutes. Give them a little shake, and bake for 20 more minutes. Remove from oven.
Caesar Dressing
Roast the garlic at the same time the chickpea croutons are baking. Simply add the 4-5 cloves of garlic (still in their paper skins) to a baking sheet. Bake for 10-15 minutes, until fragrant and softened inside. Remove to let cool.

Soften your cashews by covering them in boiling water for 5 minutes. I do this by heating up water in my tea kettle, and then pour the boiling water of the cashews in a large measuring cup.

Drain the cashews, and add to a blender. Now add the roasted garlic, 1 cup of water, lime juice, and salt to taste. Blend until very smooth and set aside.
Vegan Parmesan
Add all ingredients to a food processor or high powered blender and pulse until crumbly. Store in the refrigerator, it will stay good for weeks and is excellent on pasta dishes like spaghetti or lasagna, and even for sprinkling on avocado toast. You will not need all of this for the salad.
Put it all together
Add the washed and chopped romaine to a large salad bowl. Pour in the dressing and toss with the romaine. Top with the chickpea croutons and a good sprinkle of vegan parmesan cheese. Serve with extra vegan parmesan cheese.
Nutrition
Serving:
1
serving
,
Calories:
429
kcal
,
Carbohydrates:
37
g
,
Protein:
17
g
,
Fat:
26
g
,
Saturated Fat:
4
g
,
Sodium:
790
mg
,
Potassium:
603
mg
,
Fiber:
9
g
,
Sugar:
3
g
,
Vitamin A:
1241
IU
,
Vitamin C:
3
mg
,
Calcium:
76
mg
,
Iron:
5
mg
We are a participant in the Amazon Services LLC Associates Program, an affiliate advertising program designed to provide a means for sites to earn advertising fees by advertising and linking to amazon.com. Read my full disclosure here