This is the best vegan caesar salad made with crispy romaine lettuce, croutons, shaved vegan parmesan and the tastiest vegan caesar dressing.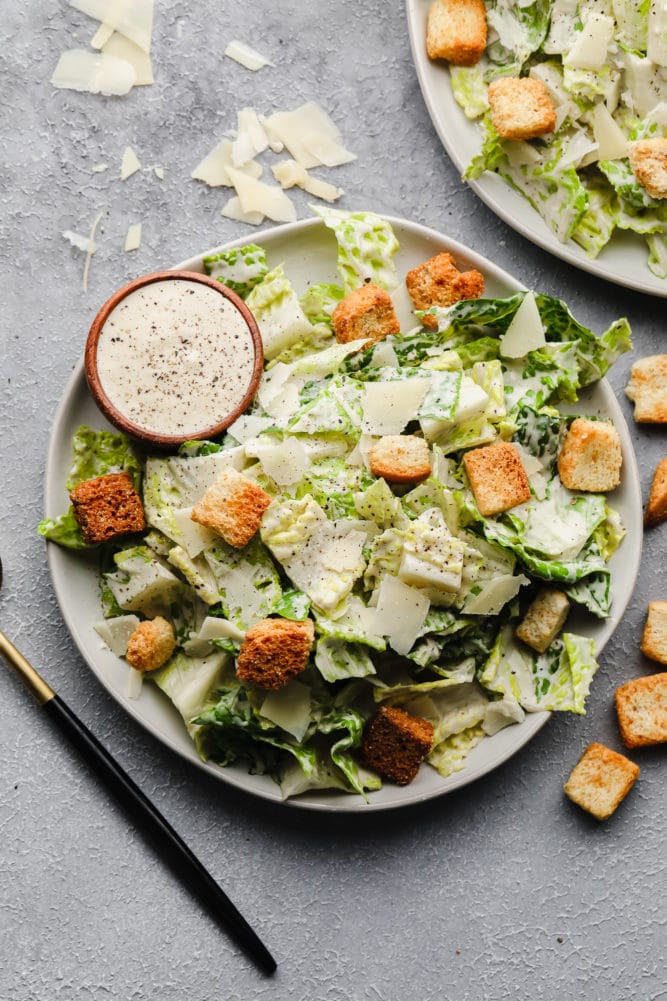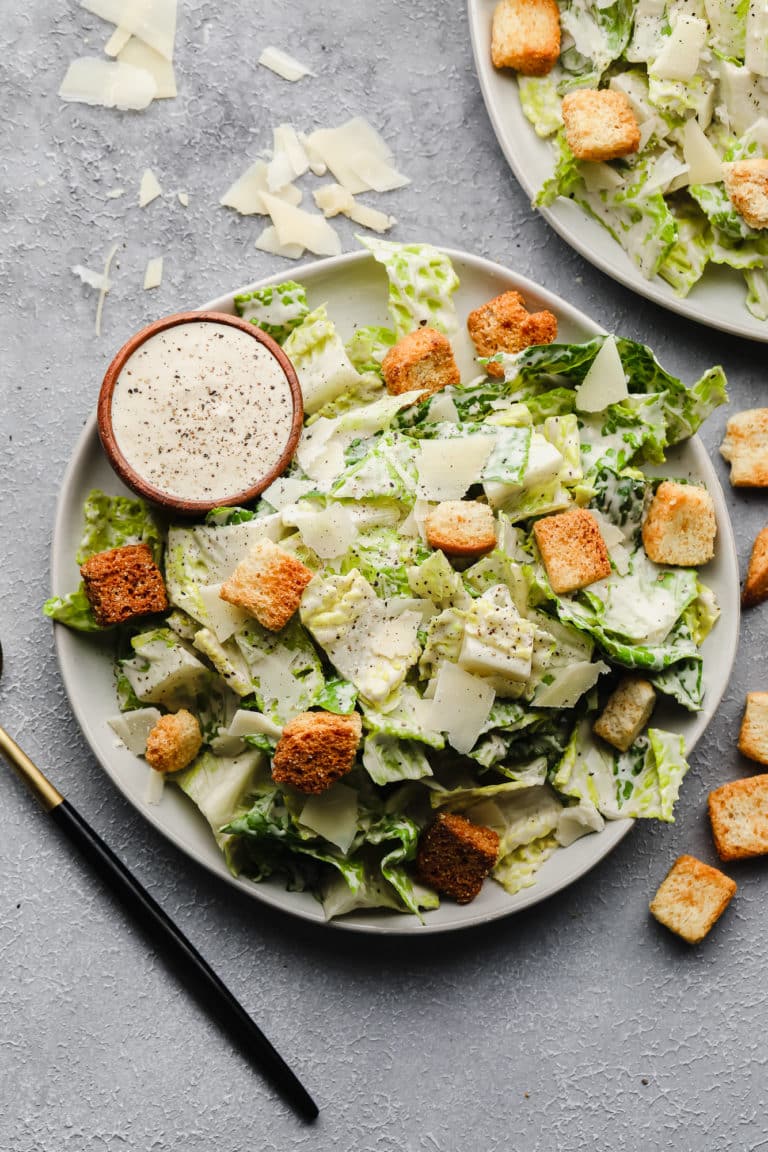 The best vegan caesar salad recipe
Caesar salad is my absolute favorite green salad, and this vegan version is free of eggs and anchovies. This simple salad makes a yummy light meal on its own or bulk it up with some Vegan Chicken, Marinated Tofu, or Roasted Chickpeas.
Vegan Caesar Salad is also the perfect side dish for your favorite main, like Vegan Lasagna or The Best Vegan Spaghetti.
Caesar salad is easy to make at home and made up of 4 parts:
Crispy, fresh chopped romaine lettuce
The most delicious Vegan Caesar Dressing
Croutons – Most are not vegan, so either make your own or find some that are vegan-friendly. I use this brand and try to keep some in my pantry at all times! Or use crispy chickpeas.
Parmesan cheese – I used Violife brand and shaved it with a peeler, but you can use homemade vegan parmesan or another brand if you'd like. Or leave it out if needed.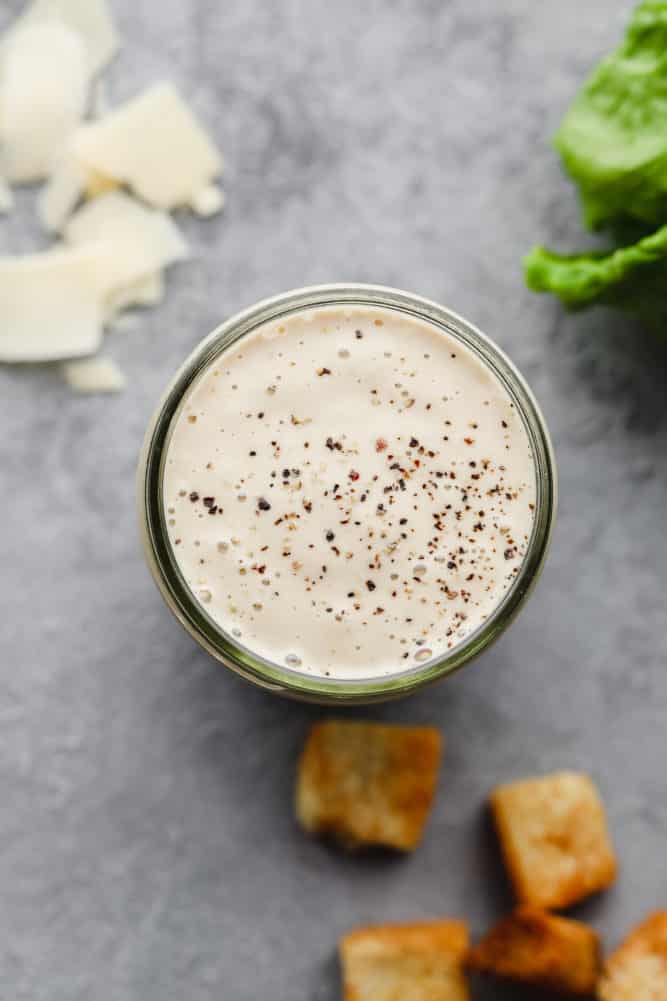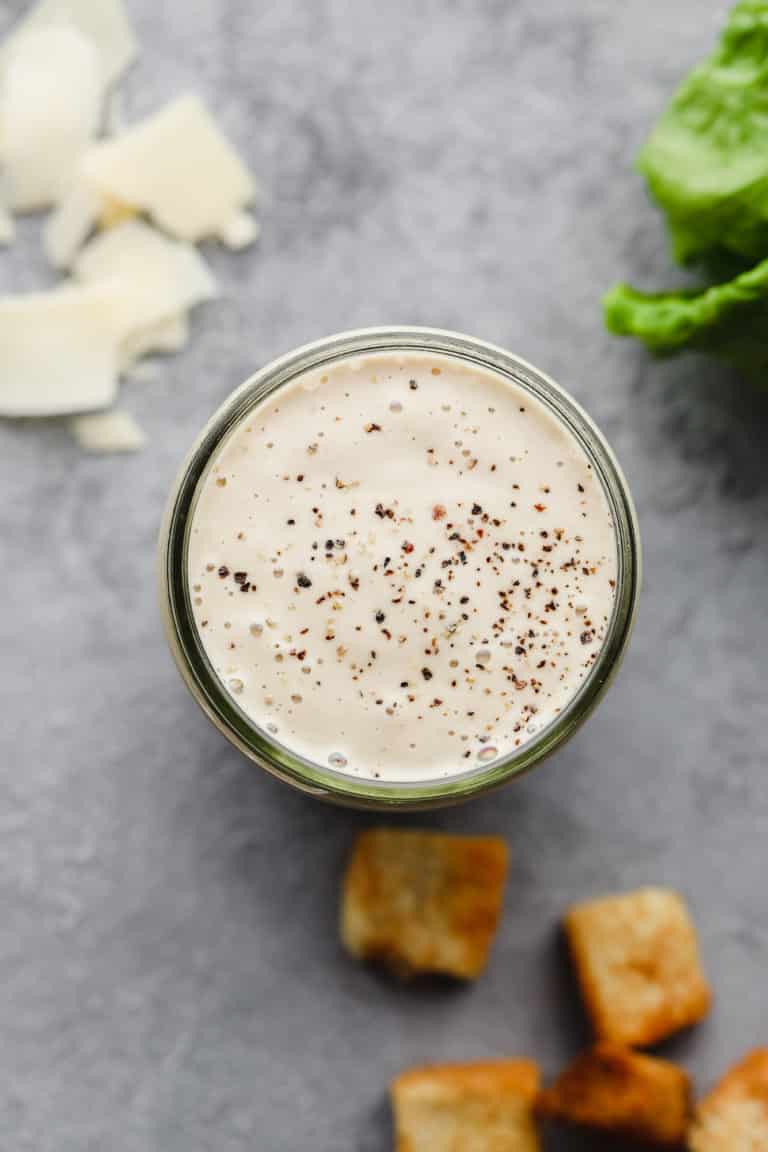 Frequently asked questions
Is Caesar salad vegan? No, it's not vegan because it contains eggs and usually anchovies as well. It's easy to make a plant based version though, and it tastes incredible!
How can I make it nut free? To make a nut free and vegan Caesar salad, make the mayo based version of the dressing (in the Notes section of the dressing recipe) instead of using cashews.
Can I add more vegetables to the salad? I usually keep it simple, but feel free to add any other veggies you like! Avocado slices are good, as well as tomatoes, cucumbers and anything else you desire.
How long will the salad keep? Once tossed with the dressing, it won't keep for more than a few hours in my opinion because the lettuce will quickly get soft. You can prep the other ingredients (lettuce, dressing, parmesan) and keep them separately in the refrigerator for 5-6 days.
What to serve with Caesar salad
Almost any dinner goes with a side of Caesar salad, but Italian-inspired dishes are especially good choices. Here are several ideas: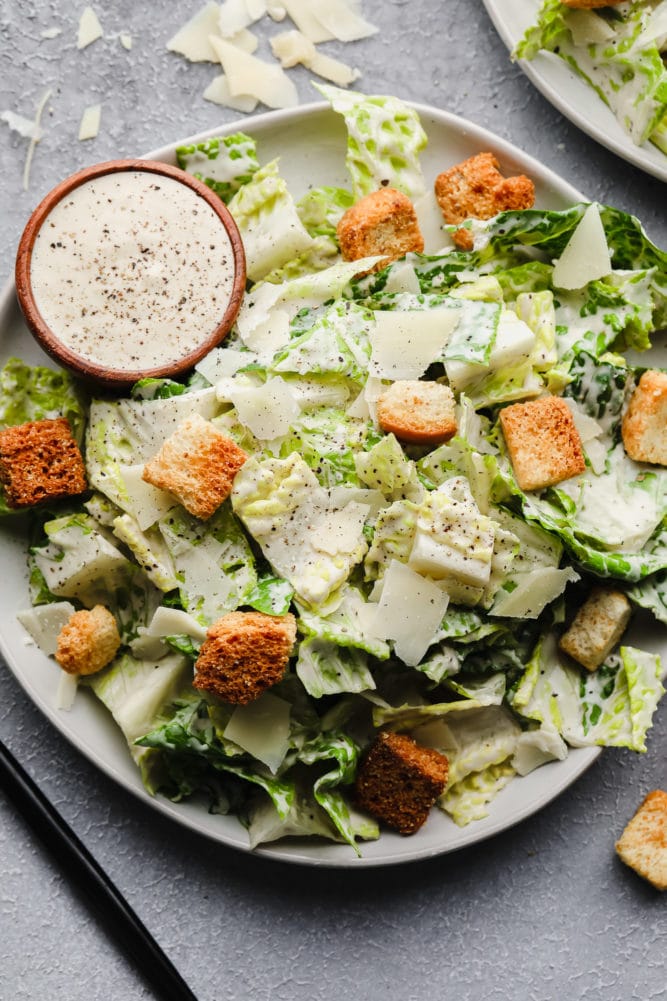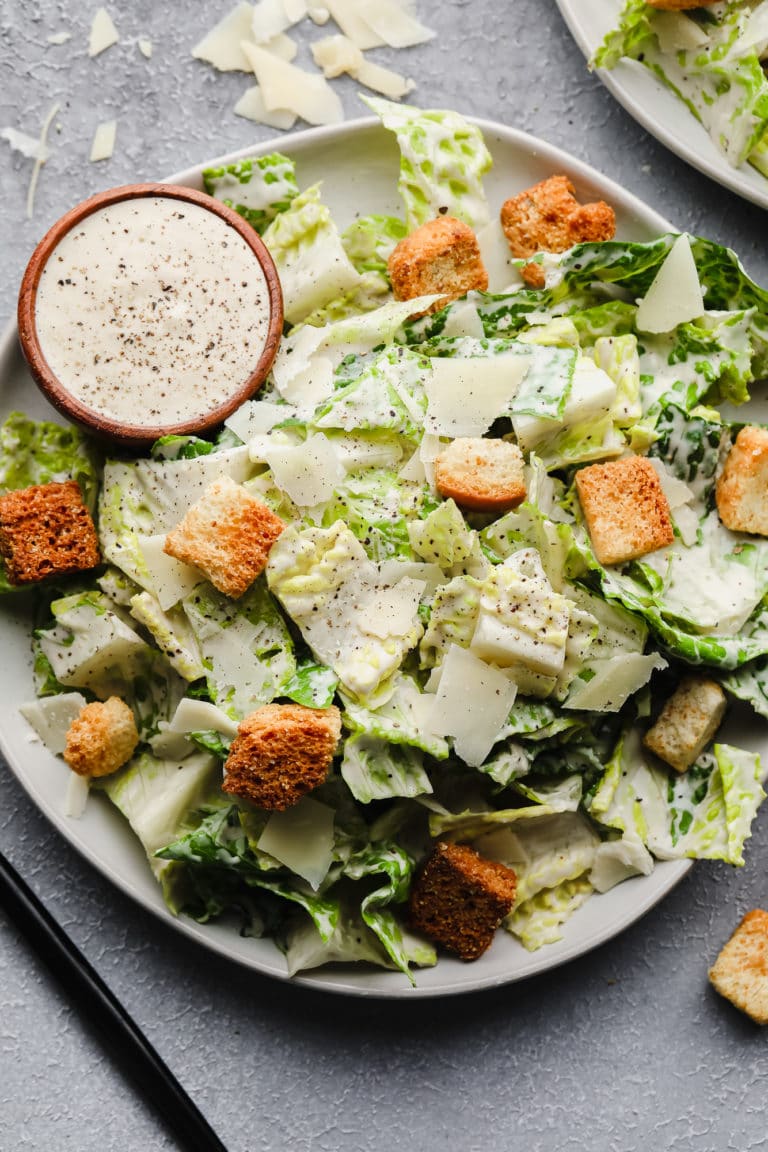 More salad recipes you'll love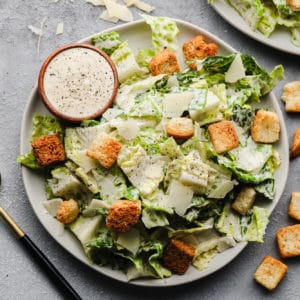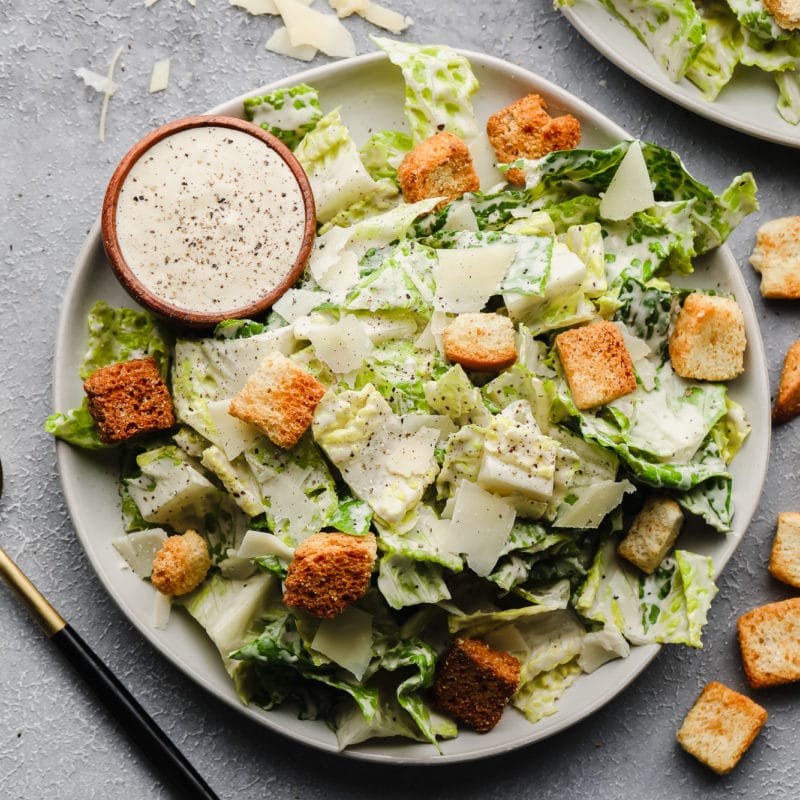 The Best Vegan Caesar Salad
This is the best vegan caesar salad made with crispy romaine lettuce, croutons, shaved vegan parmesan and the tastiest vegan caesar dressing.
Instructions
Wash and chop all the lettuce – I usually fill my clean sink with cold water, add the lettuce leaves and move them around with my hands to clean off debris, use my salad spinner to spin it dry, then chop.

Toss and serve – Add the chopped romaine to a large salad bowl or platter and toss with the dressing, as desired. You will probably not quite use all of it, and it's best to save a little for drizzling on top of each bowl. Sprinkle with croutons, shaved parmesan and a little fresh ground black pepper, if desired. Divide into bowls, serve and enjoy!

Prep ahead of time – To prep the salad ahead of time, wash and chop the lettuce, make the dressing and keep separate in the refrigerator until ready to serve.
Notes
Crispy chickpeas are a fantastic stand in for croutons. I like the Sea Salt variety Biena brand.
Feel free to add more vegetables, like sliced avocado, cucumbers, carrots or tomatoes.
I like Violife brand parmesan, which I use a peeler to make shaved parmesan. You can also use my homemade version.
Use a mix of kale and romaine for variety.
This makes 4-6 side salads, or 2-3 main dish salads.
Nutrition
Serving:
1
of 6 servings
|
Calories:
197
kcal
|
Carbohydrates:
18
g
|
Protein:
6
g
|
Fat:
12
g
|
Saturated Fat:
2
g
|
Polyunsaturated Fat:
0.1
g
|
Monounsaturated Fat:
0.3
g
|
Sodium:
428
mg
|
Potassium:
196
mg
|
Fiber:
2
g
|
Sugar:
2
g
|
Vitamin A:
1222
IU
|
Vitamin C:
3
mg
|
Calcium:
28
mg
|
Iron:
2
mg