This marinated tofu is hands down the best tofu I've ever tasted! It's super flavorful, simple to make, and very versatile. I like to serve it on a bed of rice with stir fried vegetables, or even sliced in sandwiches. Perfect addition to salads, too!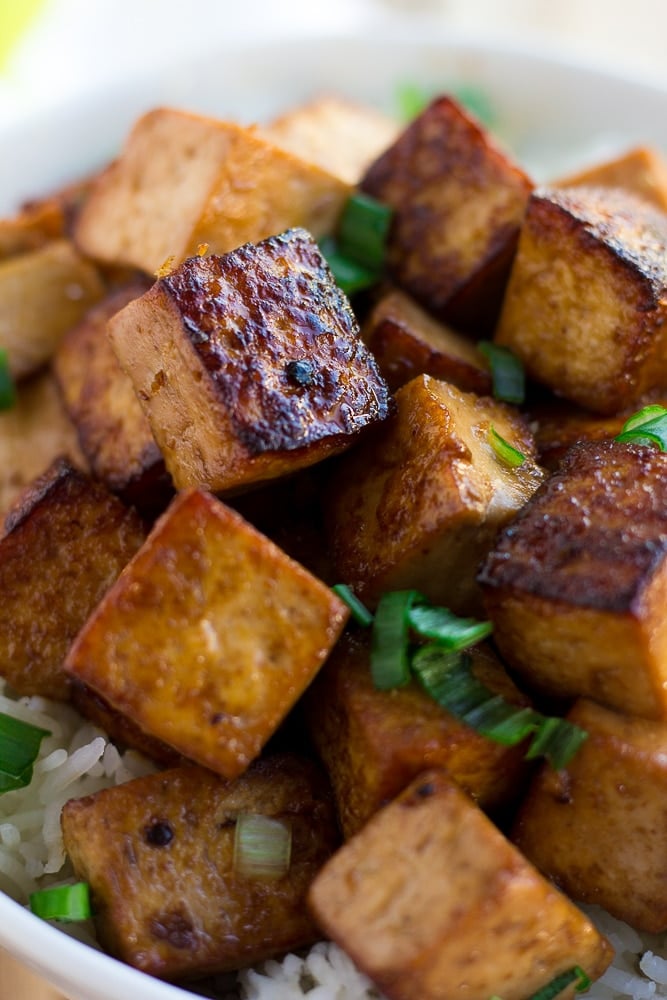 As I've shared before, I live near Portland, Oregon. I'm about 30 minutes from the city, and honestly, with my kids and everything else going on, I don't get to enjoy the bounty of vegan restaurants quite as often as I'd like. Several months ago, we ate at a place called the Bye and Bye, and they had the most delicious tofu. I got a BBQ tofu, brussels sprouts and rice bowl, and it was A-mazing. The tofu had flavor like I had never tasted! Flavor was infused all throughout each piece of tofu, and I decided I needed to find a way to re-create this deliciousness at home.
After several tries, I have finally perfected this flavorful marinated tofu. If you think tofu is bland, boring, or difficult to make, think again! I'll teach you how to make the best tofu ever. I love serving this with rice and some stir fried vegetables, but it's also good in sandwiches, on salads or simply as a high protein snack.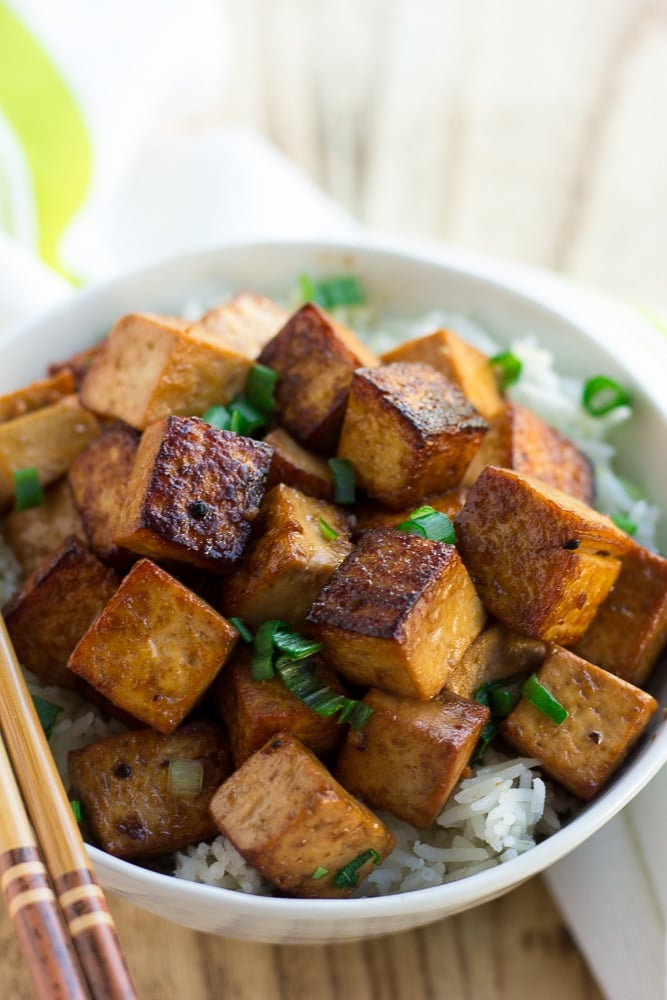 How to press tofu quickly:
There are a few things you need to know about tofu. The most common way to buy it is packed in water. You usually need to press the tofu to drain most of the water, especially for stir fries or baked tofu. You can skip this step buy purchasing super firm tofu that is vacuum packed, not in water.
To press it very quickly, remove the tofu from the water pack and cut into cubes. Place the cubed tofu on a flat surface like a cutting board, lined with paper towels (or a clean tea towel.) Cover with more paper towels, a baking sheet, and then place something heavy on top like a cast iron skillet. This way, you only need to let it press for about 15 minutes while you make the marinade.
My set-up looked like this: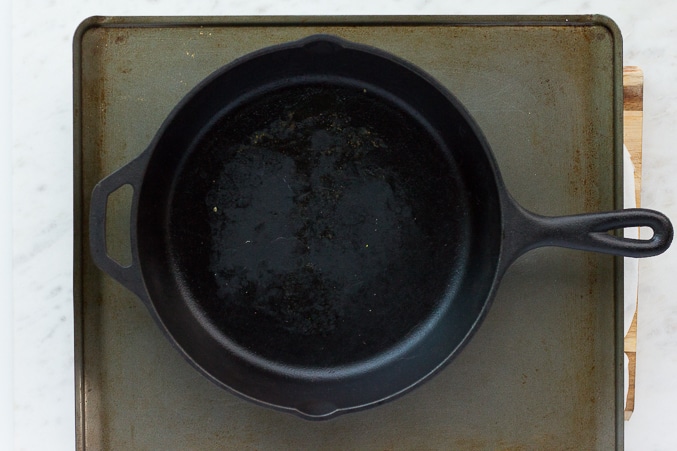 While it is pressing, combine the marinade ingredients in a small bowl. Once tofu is done pressing, place the cubes in a shallow baking dish and cover with the marinade. Let it marinate in the refrigerator for at least an hour, longer if desired.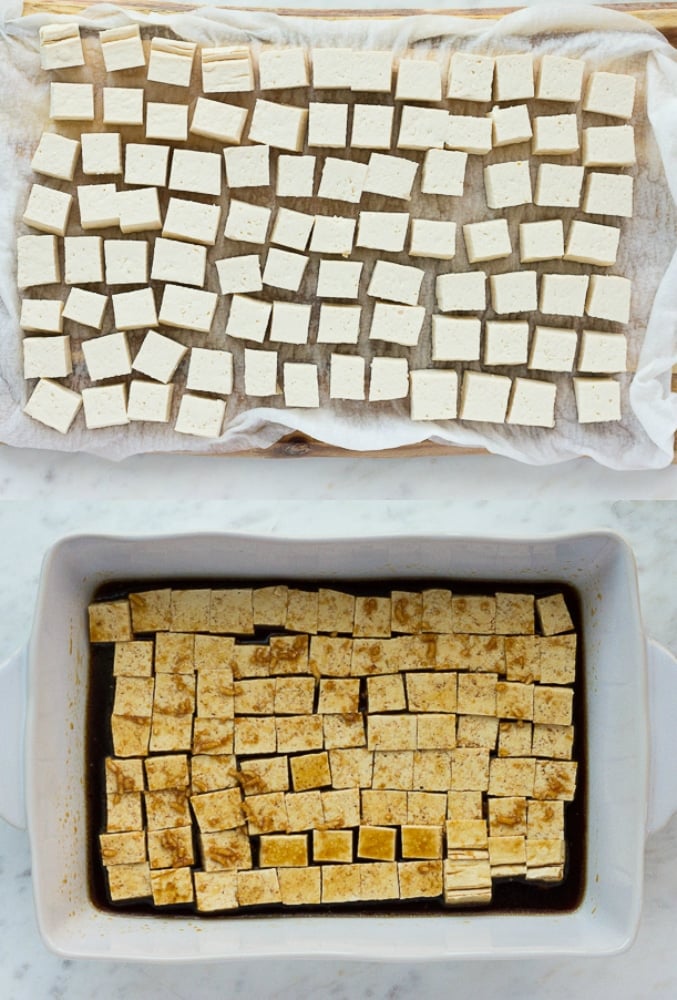 How do you cook tofu after marinating it?
After the tofu has marinated, warm a few tablespoons of canola oil in a pan, cast iron preferred. Remove the tofu from the marinade, but do NOT discard the extra sauce. Place the tofu in the pan and fry until golden brown on all sides.
TIP: How to prevent tofu from sticking in the pan
The key to keep tofu from sticking to the bottom of a pan is this: when you first add the tofu cubes to the hot pan with oil coating the bottom, let them cook, without trying to move them AT ALL, for 3-4 minutes. They should get browned and crispy on the bottom by then, and will be much easier to flip. Repeat once you flip them. Do this instead of trying to move them around too much. Use a quality spatula to move them around in the pan, and be gentle.
Can I bake the tofu instead?
If you prefer to make this tofu oil free, it can be easier to bake them. It works well, they just won't be as crispy as if you fried them. To bake, place the marinated tofu cubes on a silicone mat or a parchment paper lined baking sheet. Bake at 350 degrees F for 20 minutes, flip and bake 20 minutes more. To add extra flavor, quickly saute the baked tofu in a pan with the extra marinade.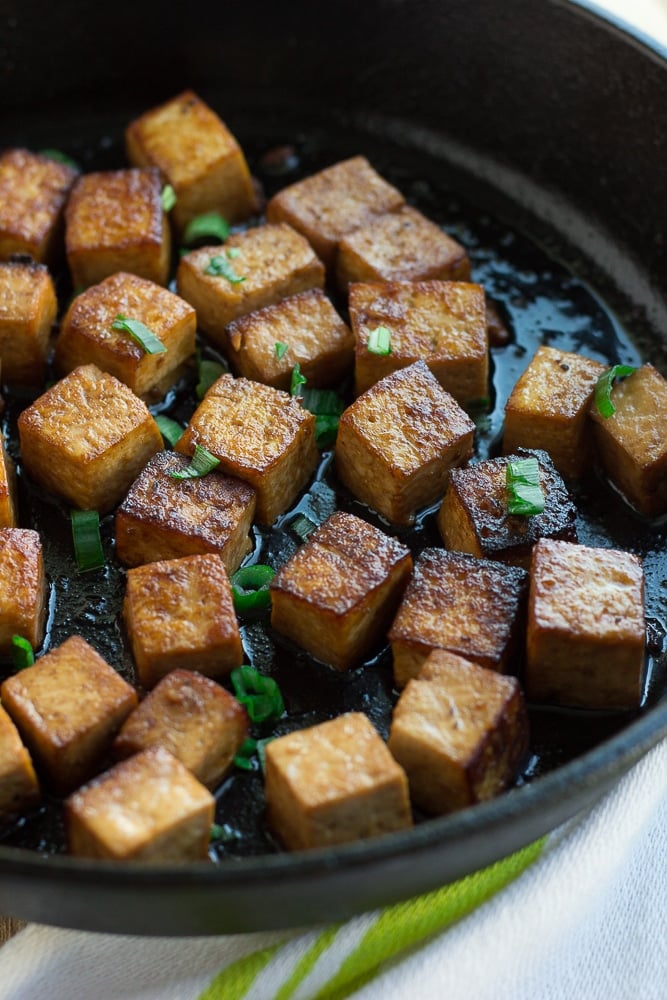 Want more mouthwatering tofu recipes?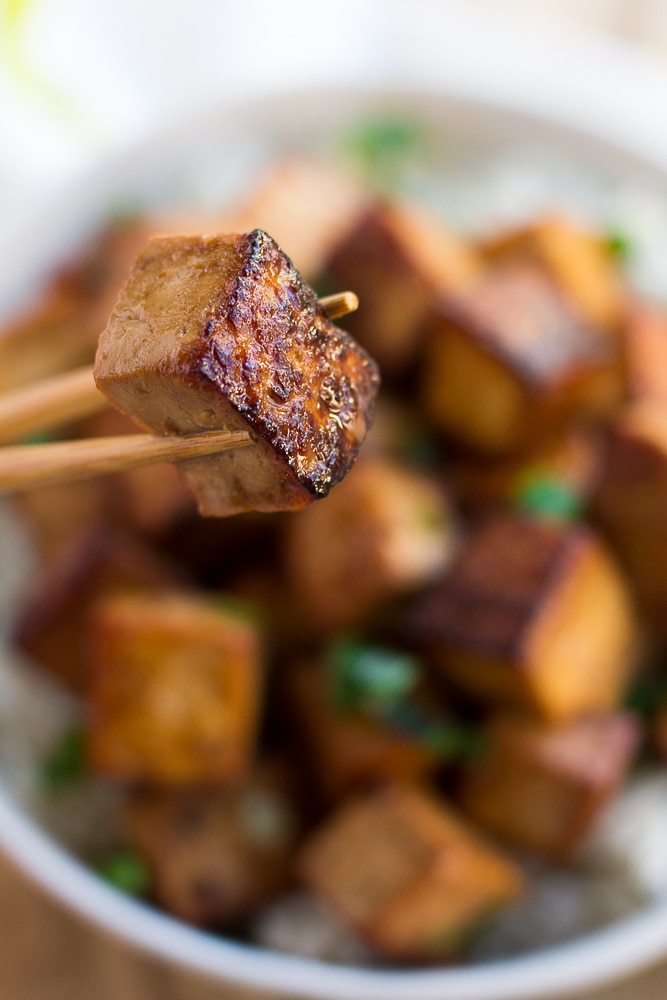 Recipe adapted from Genius Kitchen.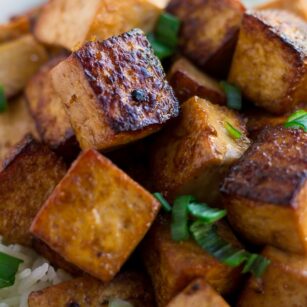 Marinated Tofu (The Best Tofu Ever!)
This marinated tofu is hands down the best tofu I've ever tasted! It's super flavorful, simple to make, and very versatile. I like to serve it on a bed of rice with stir fried vegetables, or even sliced in sandwiches. Perfect addition to salads, too!
Instructions
Quick press the tofu: Cut the tofu into cubes. Place them evenly on a flat surface such as a cutting board lined with paper towels or a clean towel. Cover with a layer of paper towels, set a baking sheet on top and then something heavy, like a large book or cast iron skillet. Press like this for 15 minutes while you make the marinade.

Make the marinade: In a small bowl, combine the soy sauce, rice vinegar, maple syrup, sesame oil, garlic and ginger.

Marinate the tofu: Place the pressed tofu pieces in a shallow dish. (In the photos above I doubled the recipe, so I used a 9 x 13 inch dish, but for one batch you will need a smaller dish, such as an 8 x 8 inch.) Pour the marinade over the tofu. Let it marinate for at least 1 hour, covered, in the refrigerator. If you want to leave it overnight, it will be even more flavorful.

Cook the tofu: In a large skillet, cast iron preferred, add a few tablespoons of a neutral oil, such as canola oil and heat over medium-high heat. You can omit the oil if needed, but you will need a very good non-stick pan so the tofu pieces don't stick. Remove the tofu pieces from the marinade and add to the pan. Do not discard the marinade sauce. Fry the tofu until golden brown on each side.

Once the tofu pieces are browned, pour any leftover marinade sauce into the pan with the tofu, and stir to coat. This makes the tofu even more flavorful! The tofu will quickly absorb the sauce. Remove from heat, and serve with rice and stir fried vegetables such as baby bok choy, mushrooms and carrots.

Store leftover tofu in a covered container in the refrigerator for 3-4 days. It's also good cold, as a high protein snack or in sandwiches and salads.
Notes
For gluten free, use tamari instead of soy sauce.
You can also bake the tofu if you prefer. Place the tofu pieces on a silicone mat or parchment paper on a baking sheet, and bake at 350 degrees for 20 minutes. Flip the pieces and bake for 20 more minutes. To add more flavor after baking, quickly saute in a pan with the leftover marinade sauce; you won't need to use any oil.
Instead of quick pressing, you could also press the whole block of tofu for at least an hour.
This recipe can easily be doubled or even tripled, and stored in the refrigerator for 3-4 days, if it lasts that long! I always double it as my family gobbles it up fast.
Nutrition information is for 1/4 of the tofu only, using 2 tablespoons of canola oil for frying.
Nutrition
Serving:
1
serving
|
Calories:
161
kcal
|
Carbohydrates:
8
g
|
Protein:
9
g
|
Fat:
10
g
|
Saturated Fat:
1
g
|
Sodium:
606
mg
|
Potassium:
215
mg
|
Fiber:
1
g
|
Sugar:
4
g
|
Vitamin C:
1
mg
|
Calcium:
46
mg
|
Iron:
2
mg