This ultra-versatile homemade Vegan Ricotta is perfect for lasagna, pizza, snacking, and more! It's just as fluffy and creamy as the real thing and easy to make in a blender with 5 ingredients.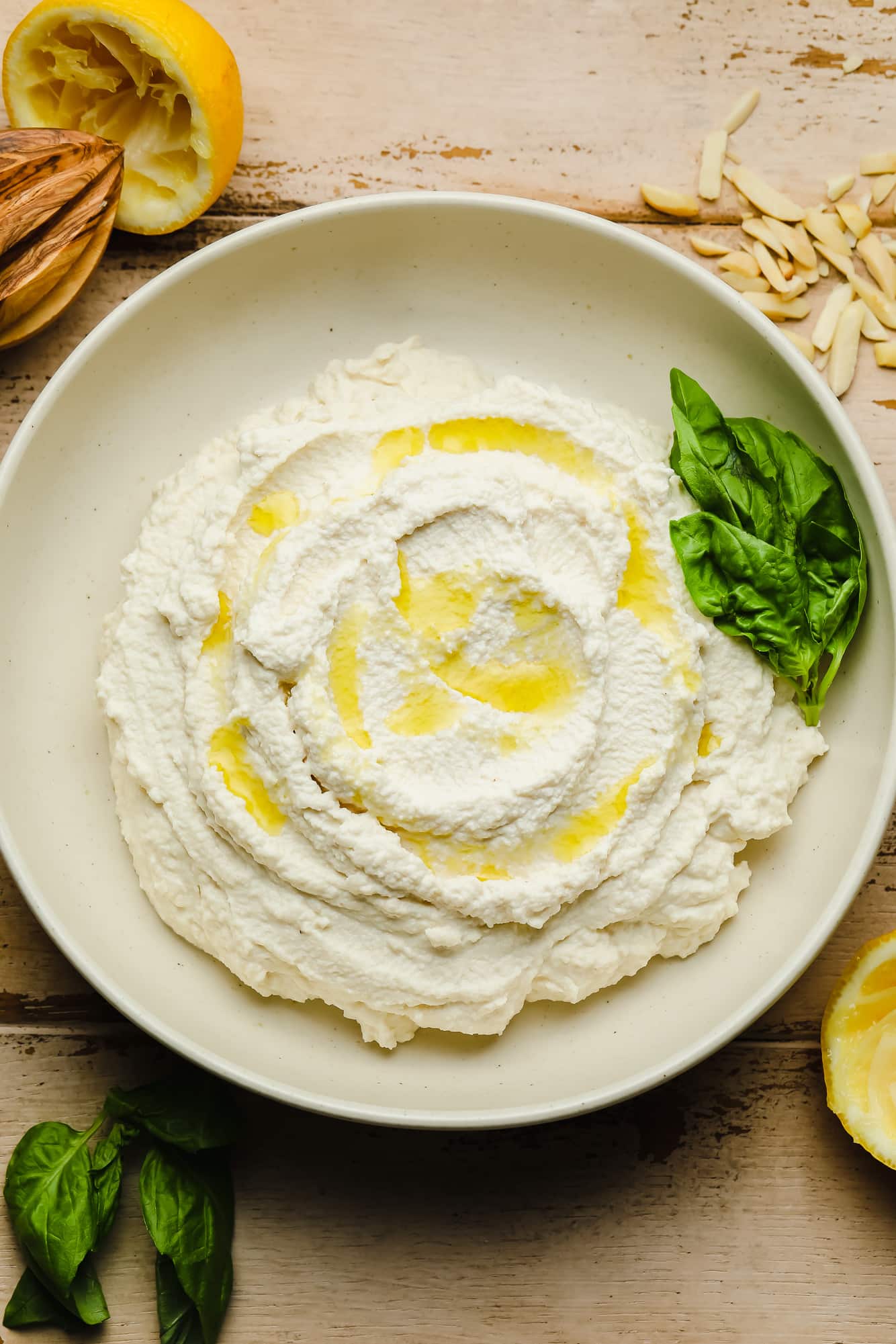 This is the best Vegan Ricotta recipe, and I don't say that lightly!
Not only is it easy to make with 5 simple ingredients, but this vegan cheese is just as creamy, fluffy, and silky smooth as the real thing. One taste and you'll be adding it to your pasta dinners, homemade pizzas, or enjoying it as a tasty snack!
What makes this vegan ricotta cheese so special is the base made from blended slivered almonds (or cashews). Simply throw them in a blender with the other 4 ingredients and your almond ricotta is ready.
The finished result is a versatile nut cheese that's mild in flavor, creamy, light, and fluffy. It's a must-have in my Vegan Lasagna, Stuffed Shells, and more!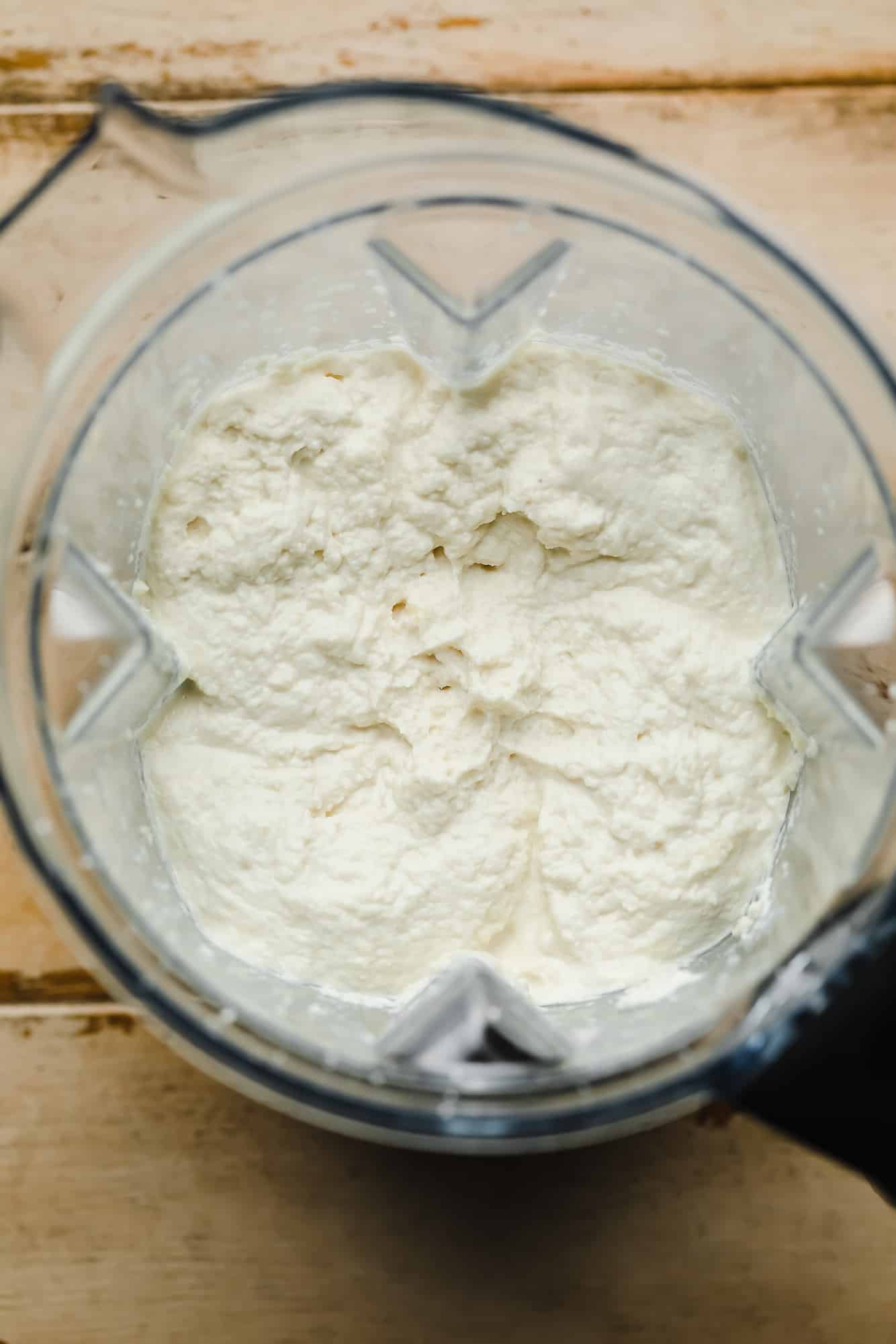 Ingredients needed (with substitutions)
Raw slivered almonds – These are my favorite option here, but raw cashews work as well. Raw whole almonds do not work because their skins leave brown flecks in the cheese. If you have a nut allergy and can't use either almonds or cashews, you can substitute a block of firm tofu for the nuts, and simply add water as needed to blend.
Lemon juice – Try to use freshly squeezed lemon juice instead of the bottled stuff.
Garlic powder – For just a hint of savoriness. A small clove of garlic works, too. Feel free to omit the garlic if you're using the ricotta in sweet recipes.
Salt – To round out the rest of the flavors.
Water – This will prevent your cheese from being gritty or grainy. Blend the ingredients with only ½ cup of water to start, continuing to add more until the cheese is silky smooth but still rich and creamy.
How to make vegan ricotta
Find the complete recipe with measurements in the recipe card below.
Soak your almonds in hot water for 5 minutes or up to an hour to soften.
Add the almonds, lemon juice, garlic powder, salt, and some water to a high-powered blender. Blend until smooth, scraping down the sides every so often. You can technically use a food processor, but you won't achieve that silky-smooth, fluffy texture. It will remain a bit grainy, which isn't the end of the world, but it's not nearly as good.
Keep blending until the cheese is fluffy and creamy, adding more water as needed to smooth out the consistency.
Once it's to your liking, feel free to serve the cheese right away or take it up a notch by stirring dried oregano or basil into the batch. Enjoy!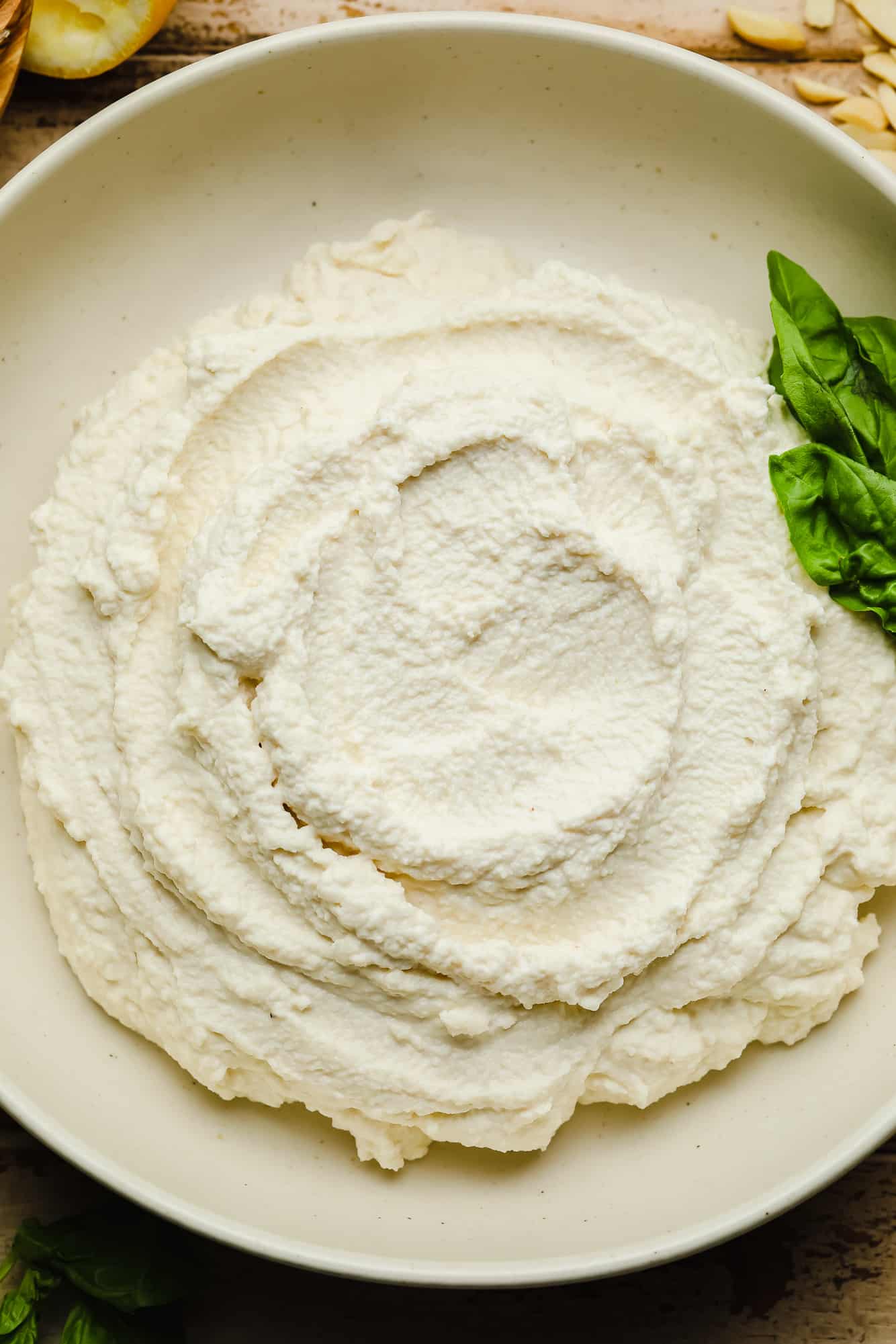 Serving suggestions
This is a very versatile vegan cheese. It's easy to cook with and can be used just like regular ricotta, but is still impressive and flavorful enough to serve as a simple snack with crudites.
For more ways to use vegan ricotta cheese, check out the ideas below:
Lasagna – Use it as an alternative to the tofu-cashew ricotta in my Vegan Lasagna recipe.
Pasta – Bake it into these stuffed shells or stir it into a bowl of cooked pasta noodles with lemon zest, spinach pesto, roasted vegetables, green peas, and/or wilted spinach. It's also perfect for creamy pasta bakes.
Grain bowls – Add a scoop to your favorite grain bowl.
Toast – Ricotta toast is the best way to make breakfast feel extra special. Spread the cheese over a piece of toast, then top it with avocado slices, sun-dried tomatoes, sliced heirloom tomatoes, and/or fresh basil.
Pizza – Dollop the ricotta on a homemade pizza before baking.
Dipping – Enjoy the cheese as a snack with crackers, pita bread, or vegetables for dipping. Drizzle extra virgin olive oil or add a dollop of pesto sauce on top to take it up a notch.
Dessert – Make the ricotta without the garlic (or replace the garlic with sugar), then use it as a filling in vegan cannolis, as a dip with berries and fruit, or spread it on regular toast or french toast with jam and berries or peach slices and balsamic reduction on top.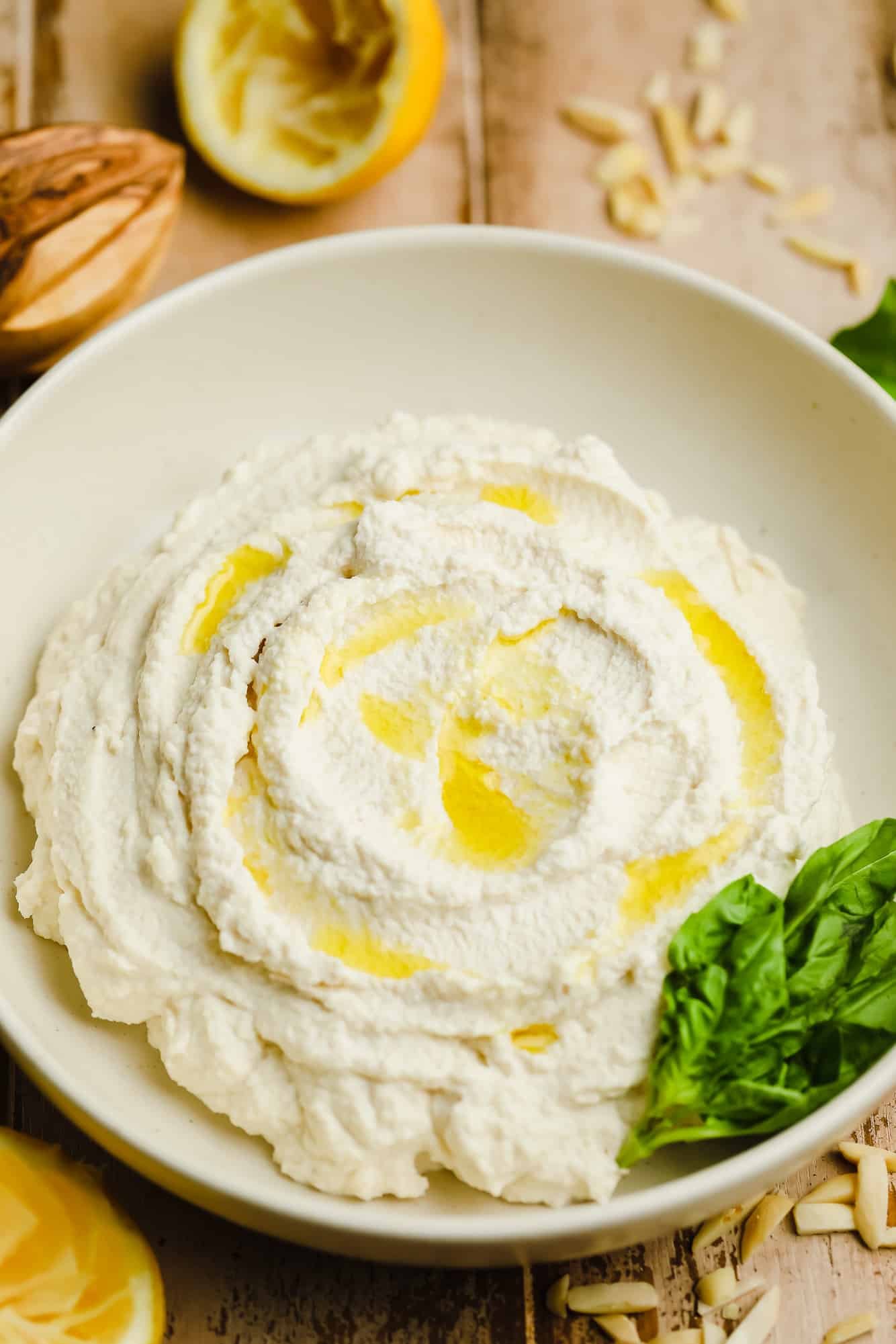 Frequently asked questions
Can you make this recipe in a food processor?
You can, but the cheese won't be as smooth or creamy. A high-powered blender really is the best tool to use because it pulverizes the almonds and yields silky smooth vegan cheese every time. It really is the key to the best ricotta!
Can it be made without nuts?
Yes, you can make the vegan ricotta without nuts by substituting a block of firm tofu for the almonds/cashews.
How do you store the leftovers?
The leftovers will stay fresh for up to 5 days. Keep them in a covered container in the fridge.
Can you freeze vegan ricotta?
Yes, it freezes very well for about 1 month. Let it thaw in the fridge before using.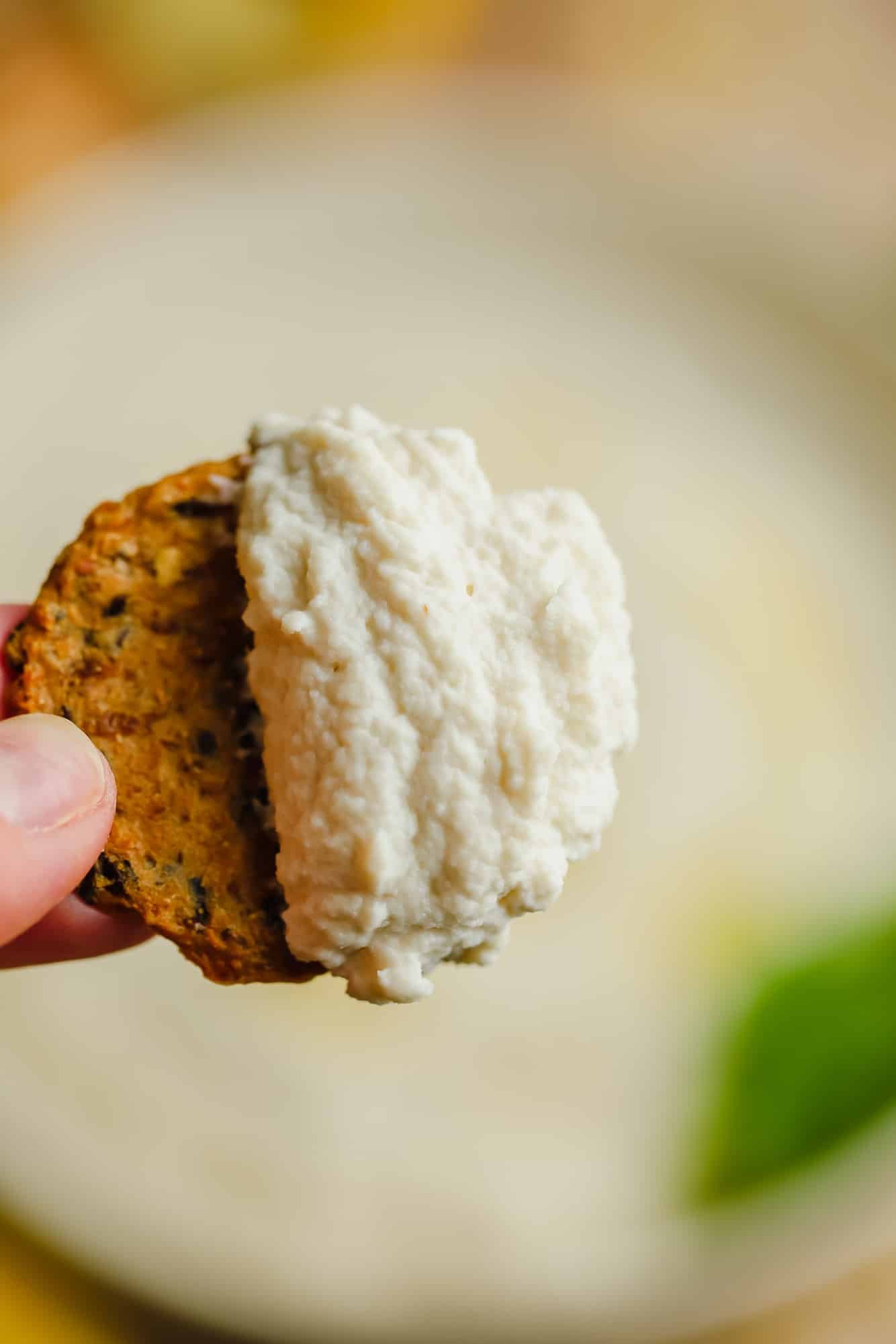 Want more vegan cheese recipes?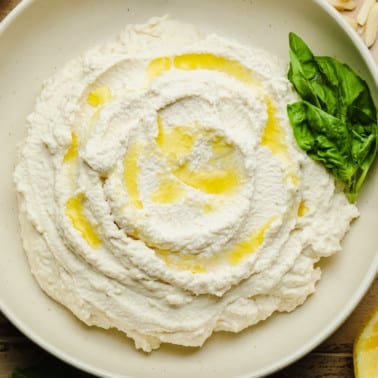 Vegan Ricotta
This ultra-versatile homemade Vegan Ricotta is perfect for lasagna, pizza, snacking, and more! It's just as fluffy and creamy as the real thing and easy to make in a blender with 5 ingredients.
Ingredients
2

cups

raw slivered almonds

2

tablespoons

fresh lemon juice

1/2

teaspoon

garlic powder

optional

3/4

teaspoon

salt

3/4-1 1/2

cups

water
Instructions
Quick soak the almonds: Bring a few cups of water to a boil (I use my tea kettle for this). Add the almonds to a measuring cup or bowl and pour the boiling hot water on top to cover. Let them soak for 5 minutes, or up to an hour.

Blend: Drain the almonds and discard the soaking water. To a high powered blender such as a Vitamix, add the softened almonds, lemon juice, garlic powder, salt and 3/4 cup of water. Blend until very smooth, scraping down the sides as needed. Add up to another 3/4 cups of water and blend until silky-smooth and fluffy.

Optional herbs: Feel free to add more herbs here, such as a teaspoon each of dried oregano and basil, or a handful of fresh basil.
Notes
Raw slivered almonds are my favorite choice, but raw cashews work as well. If you can't have nuts, substitute a block of firm tofu, but add water only as need to blend until smooth.
A high powered blender is essential for making a smooth and creamy ricotta. A food processor technically will work, but it might be grainy and not super smooth.
May substitute a clove of fresh garlic instead of garlic powder, if desired. Leave out the garlic if you plan to use it in sweeter recipes, like for pancakes.
Leftovers will keep in the refrigerator for up to 5 days in a covered container, or freeze if you won't eat it all before then.
Nutrition
Serving:
1
of 8 servings
|
Calories:
157
kcal
|
Carbohydrates:
6
g
|
Protein:
6
g
|
Fat:
13
g
|
Saturated Fat:
1
g
|
Sodium:
219
mg
|
Potassium:
190
mg
|
Fiber:
3
g
|
Sugar:
1
g
|
Vitamin C:
1
mg
|
Calcium:
71
mg
|
Iron:
1
mg