Creamy Red Lentil Lemon Soup with Bok Choy
This post may contain affiliate links. Read my full disclosure here.
A beautiful, creamy, lemony soup chock full of healthy red lentils and vegetables that will leave you feeling refreshed and full. Serve this soup with a good salad for a simple yet elegant meal.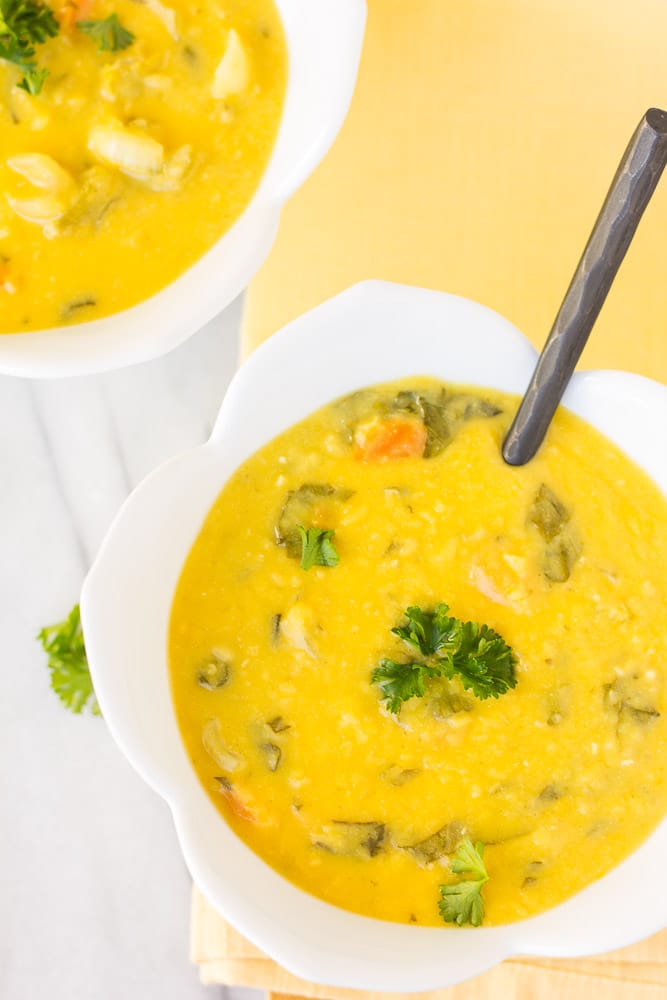 Ok, I know it's the middle of summer right now, but if ever there was a soup meant for summer, it would be this Creamy Red Lentil Lemon Soup with Bok Choy. It's light, lemony and fresh. My husband actually likes this soup cold! It doesn't have to be piping hot to taste good, though I prefer it to be at least somewhat warm…
Am I the only one who can eat soup all year long? I do rely heavily on salads and cooler foods in the summer, but soup is so great for many reasons.
1. It can be incredibly delicious when you make it at home with plant based ingredients.
2. You can pack it full of vegetables you don't normally eat, such as the loads of baby bok choy in this recipe.
3. As I understand it, you lose very few nutrients from your veggies when they're cooked in a soup, so a healthy soup is just bursting with nutrition. See this video by Dr. Greger about the best way to cook vegetables.
4. Soup is cheap and makes a lot! I often make a large pot of soup to have one night and then we have leftovers for lunch all week long.
This Creamy Red Lentil Lemon Soup with Bok Choy is also really easy to throw together. You do have to chop carrots and celery, but then you simply add the red lentils, broth or water and spices to a pot. Simmer for 30 minutes, then blend a few cups of the soup with the cashews and lemon juice and add it back to the pot. Stir in the chopped baby bok choy and simmer on low until it's cooked through, about 10 minutes. Then you have a nice big pot of soup! Enjoy!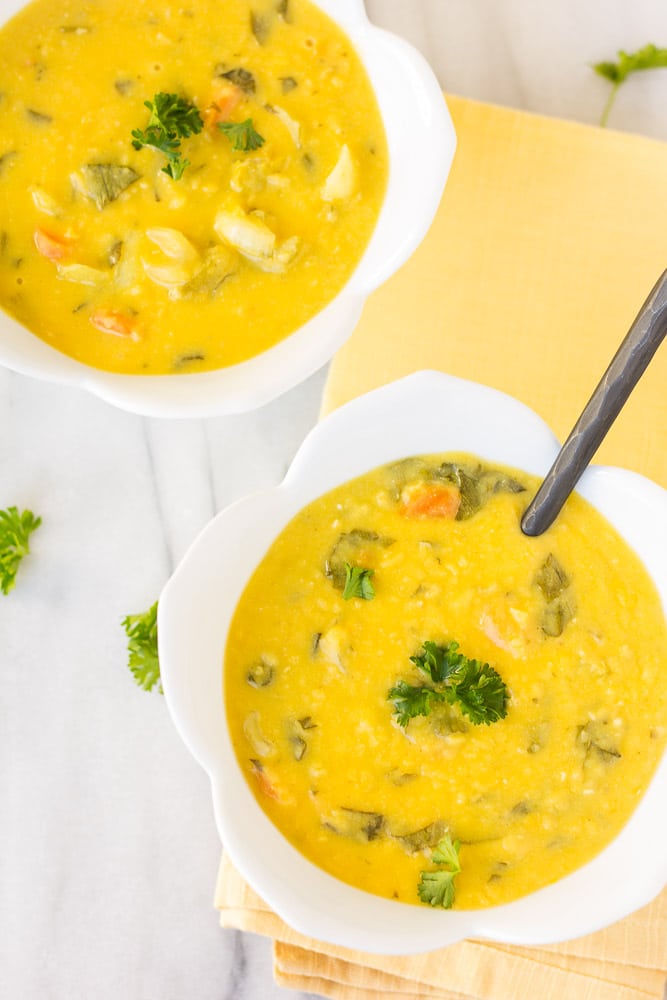 Try pairing it with this Watermelon Avocado Arugula Salad for a delightful summer dinner.
If you make this recipe, let me know how it goes! Rate it, leave a comment and tag a photo @noracooksvegan on Instagram. Enjoy!
Adapted from this recipe.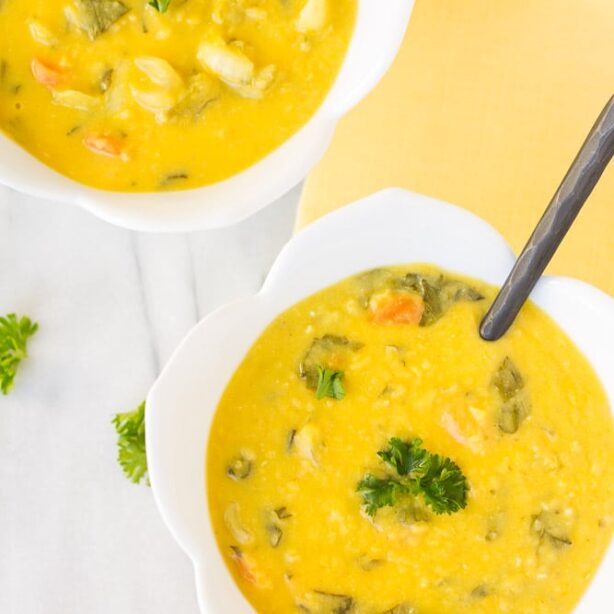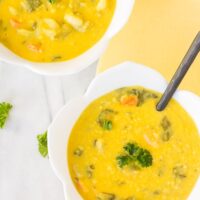 Creamy Red Lentil Lemon Soup with Bok Choy
This soup is so bright and cheerful, and great even in the middle of summer!
Ingredients
3

cups

carrots, chopped

1 1/2

cups

celery, chopped

2

cups

red lentils

8

cups

water or vegetable broth

2

teaspoons

cumin

2

teaspoons

coriander

1/2

cup

raw cashews

1/2

cup

fresh lemon juice

3-4

heads

baby bok choy, chopped*

1/4

cup

fresh parsley, chopped

salt, to taste
Instructions
Add the carrots, celery, red lentils, water or vegetable broth and spices to a large pot. Bring to a boil and simmer for about 30 minutes, until lentils are cooked and vegetables tender.

Place the cashews and lemon juice into a blender. Add 2 cups of the soup and blend on high until very smooth. Add the mixture back to the pot and stir.

Now add the chopped bok choy and parsely. Simmer, stirring occasionally, for about 10 minutes until the bok choy is tender. Add salt to taste. Serve and enjoy!
Notes
This soup freezes beautifully.
It will stay good in the refrigerator for a good 4-5 days.
You can also substitute spinach or kale for the baby bok choy if desired.
Nutrition
We are a participant in the Amazon Services LLC Associates Program, an affiliate advertising program designed to provide a means for sites to earn advertising fees by advertising and linking to amazon.com. Read my full disclosure here