This ​​Vegan Poke Bowl features marinated tofu poke and easy cucumber salad served in a loaded bowl with rice, creamy wasabi sauce, mango, avocado, and more. It's flavorful, healthy, and refreshing!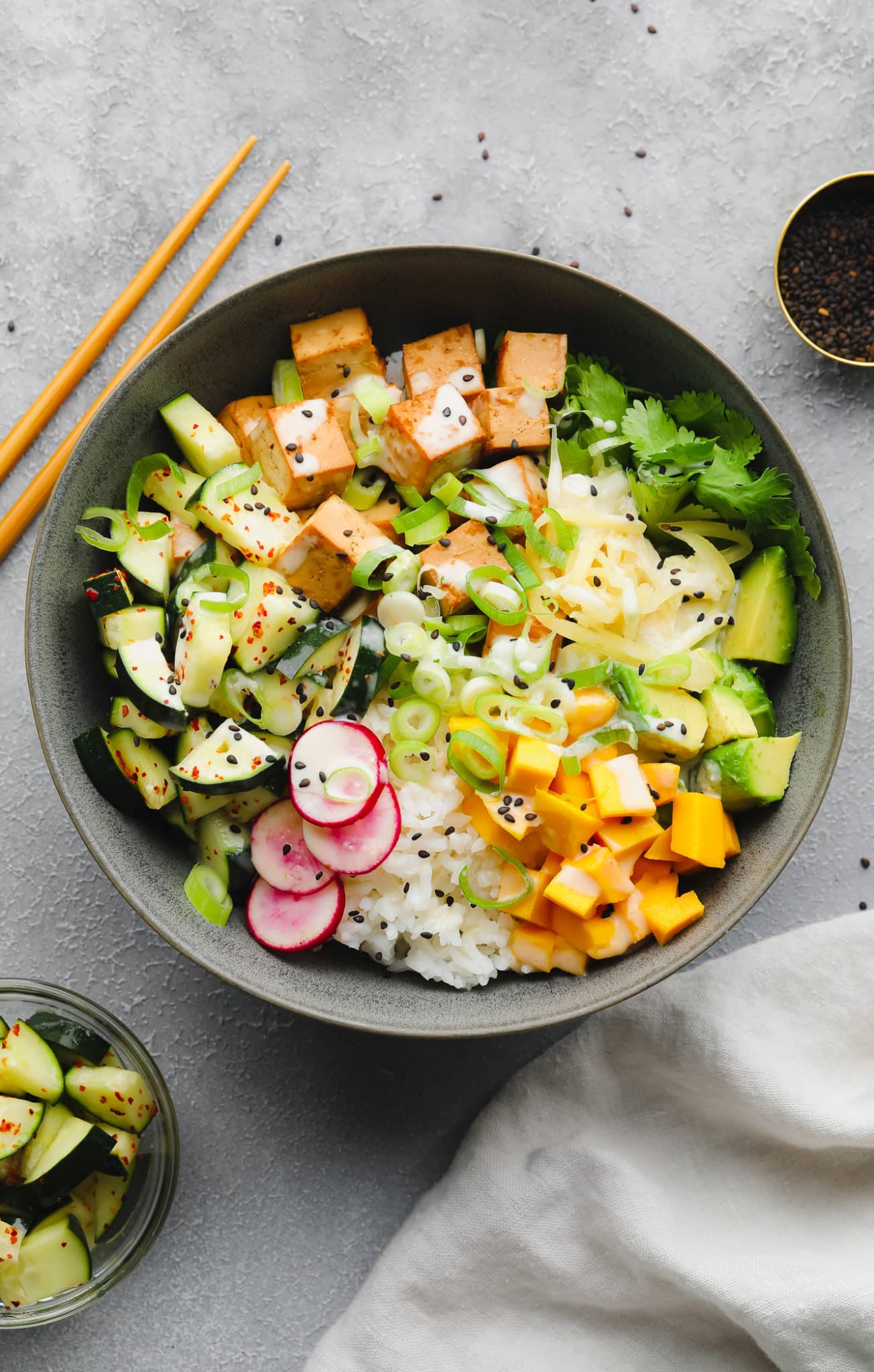 No fish vegan poke bowl
Hawaiian-inspired, this poke bowl without fish features layers of tofu poke, simple cucumber salad, fresh mangos, rice, avocado, and more! A colorful lunch or dinner is bursting with flavor and drizzled with an incredible but simple wasabi mayo sauce. I seriously can not get enough!
Poke (pronounced "poh-kay") is a Hawaiian rice bowl traditionally topped with raw ahi tuna tossed in soy sauce with fresh fruits and vegetables. There are, however, endless varieties of poke! That means a 'veganized' version is well within reach.
You'll love these easy-to-make vegan poke bowls because they're:
Ultra refreshing while packing just the right amount of heat.
Loaded with healthy toppings, like mango, avocado, radishes, seaweed salad, marinated tofu, and cucumber salad.
Perfect for meal prep, satisfying lunches, and dinners with a Hawaiian twist!
Are you new to poke? No problem! Think of this recipe as a blank canvas and add whatever you want. I love it with marinated tofu and spicy wasabi sauce, but you can use chickpeas, tempeh, pickled vegetables, and all kinds of fresh toppings instead. It's one of the most customizable recipes out there and there are no rules!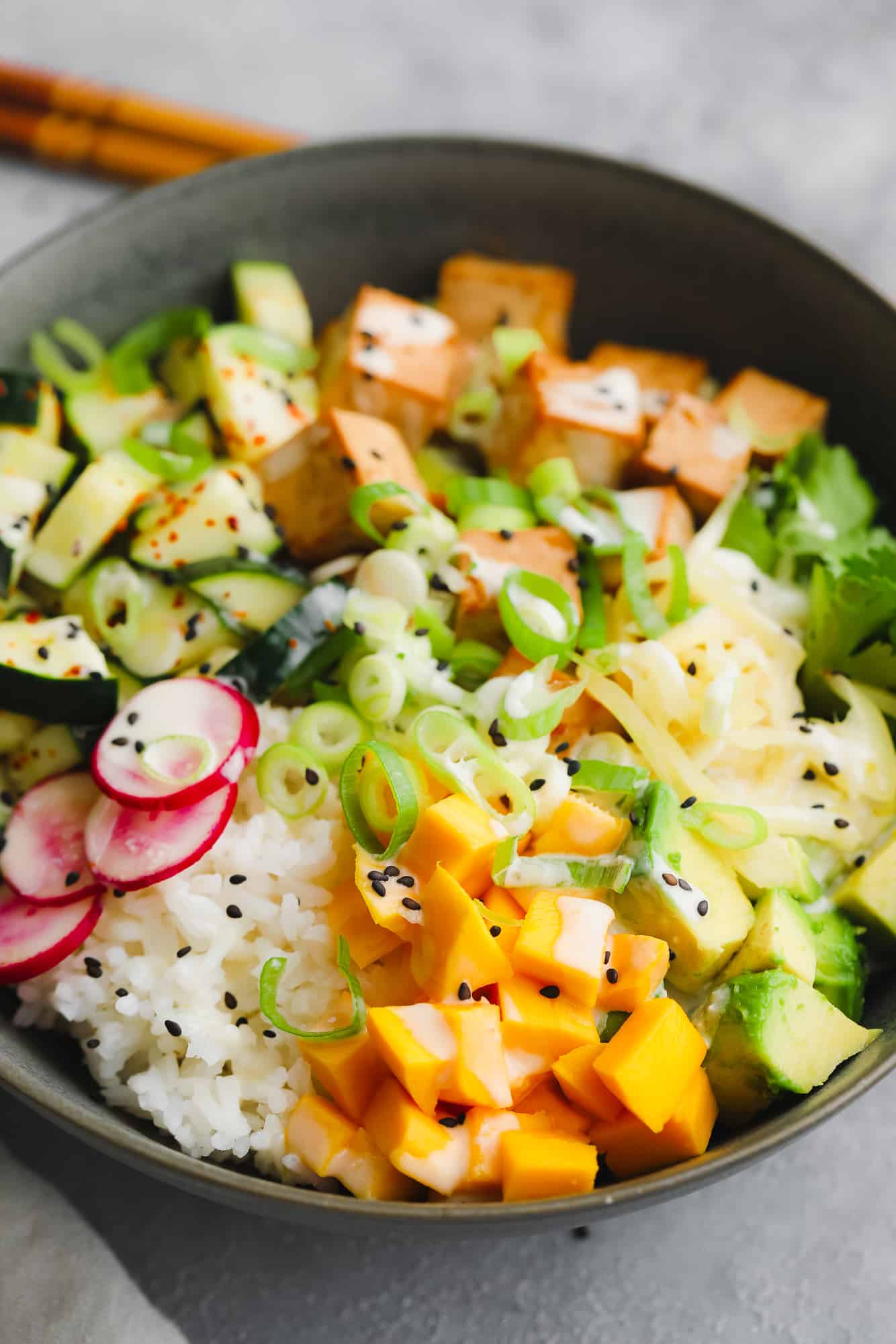 Ingredients needed (with substitutions)
Tofu – Use extra-firm or firm tofu to make the tofu poke. You'll press the rest of the moisture (by either wrapping the tofu in a towel or using a tofu press) out of the tofu before it's left to marinate. You can leave the marinated tofu poke uncooked to replicate the traditional poke experience, bake it in the oven, pan fry, or air fry it instead.
Soy sauce – Or tamari for gluten free.
Sesame oil
Ginger
Garlic
Cucumber – Small cucumbers are crisp, crunchy, and refreshing, making them the ideal choice for the quick cucumber salad.
Salt
Red pepper flakes – A little heat with cucumber salad never hurt anyone! The spice is welcome amongst the cooling cucumbers.
Bowl toppings – Like rice, mangos, avocado, and more. There's plenty to choose from! Scroll down for even more poke topping ideas.
Vegan mayonnaise – This is used as the base of the spicy wasabi sauce. You'll love this sauce not only on vegan poke, but on tofu tacos, tempura, and vegan sushi as well.
Wasabi paste – If you don't care for wasabi, substitute the wasabi mayo for my Sriracha aioli. You could also omit the spicy mayonnaise entirely because the bowl is flavorful all on its own!
Lemon juice
Agave – Or maple syrup.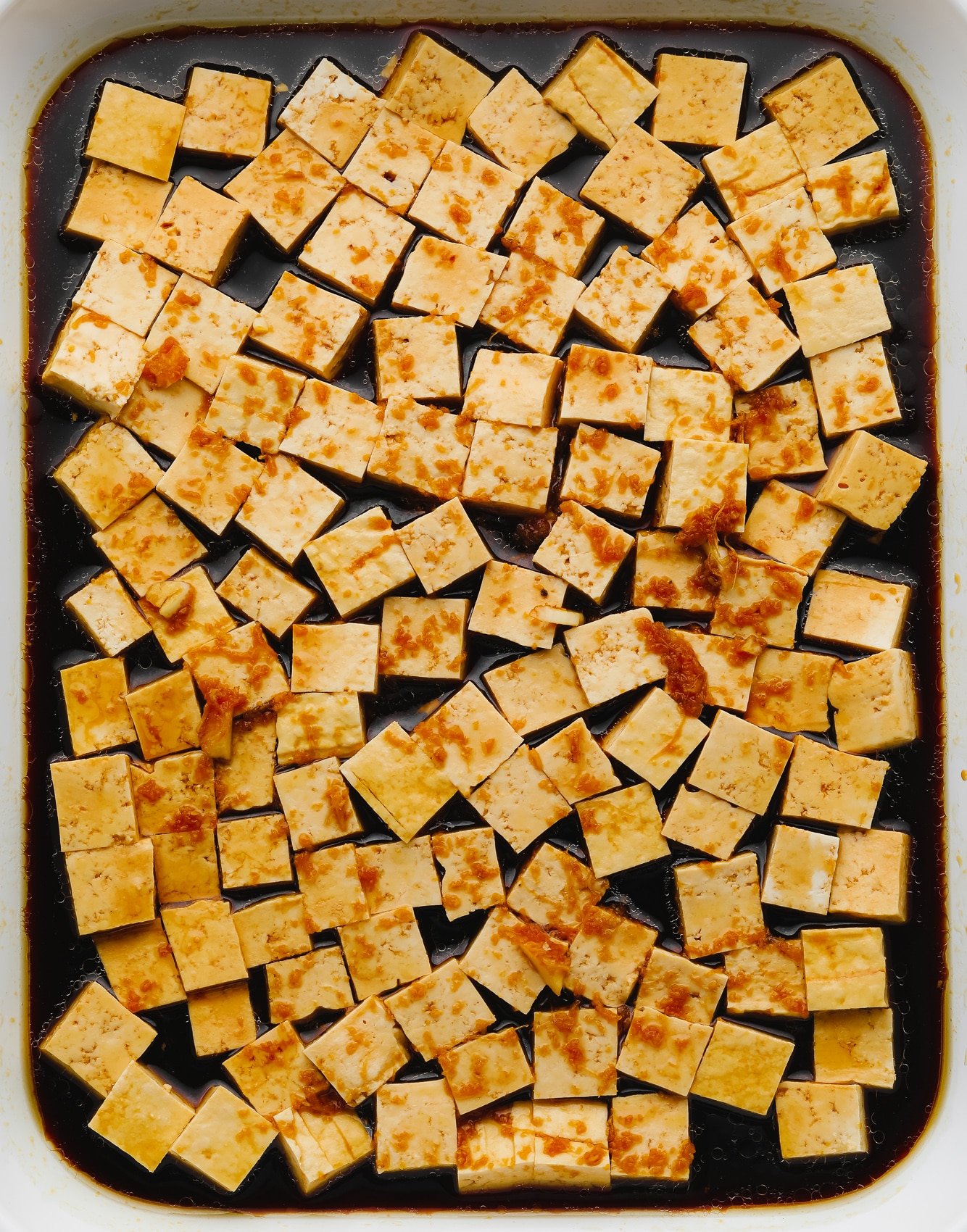 How to make a vegan poke bowl
Find the complete printable recipe with measurements below in the recipe card.
Whisk the tofu marinade ingredients together in a small bowl. Cut the pressed tofu into small cubes and place them in a shallow dish. Pour the marinade over top and leave it to marinate.
Once it's done, you can bake the marinated tofu in the oven until it's crispy or leave it raw if it's too hot to cook. I like to bake it just a little bit to deepen the flavor and improve the texture.
Prepare your toppings of choice and cook the rice. Toss all of the cucumber salad ingredients together in a bowl, and do the same with the wasabi mayo (but in a separate bowl). Set them aside until the tofu is done.
Now it's time to assemble! Divide the cooked rice into bowls and top with tofu poke, cucumber salad, and the toppings of choice. Finish with a sprinkle of sesame seeds and a drizzle of wasabi mayo, then serve and enjoy!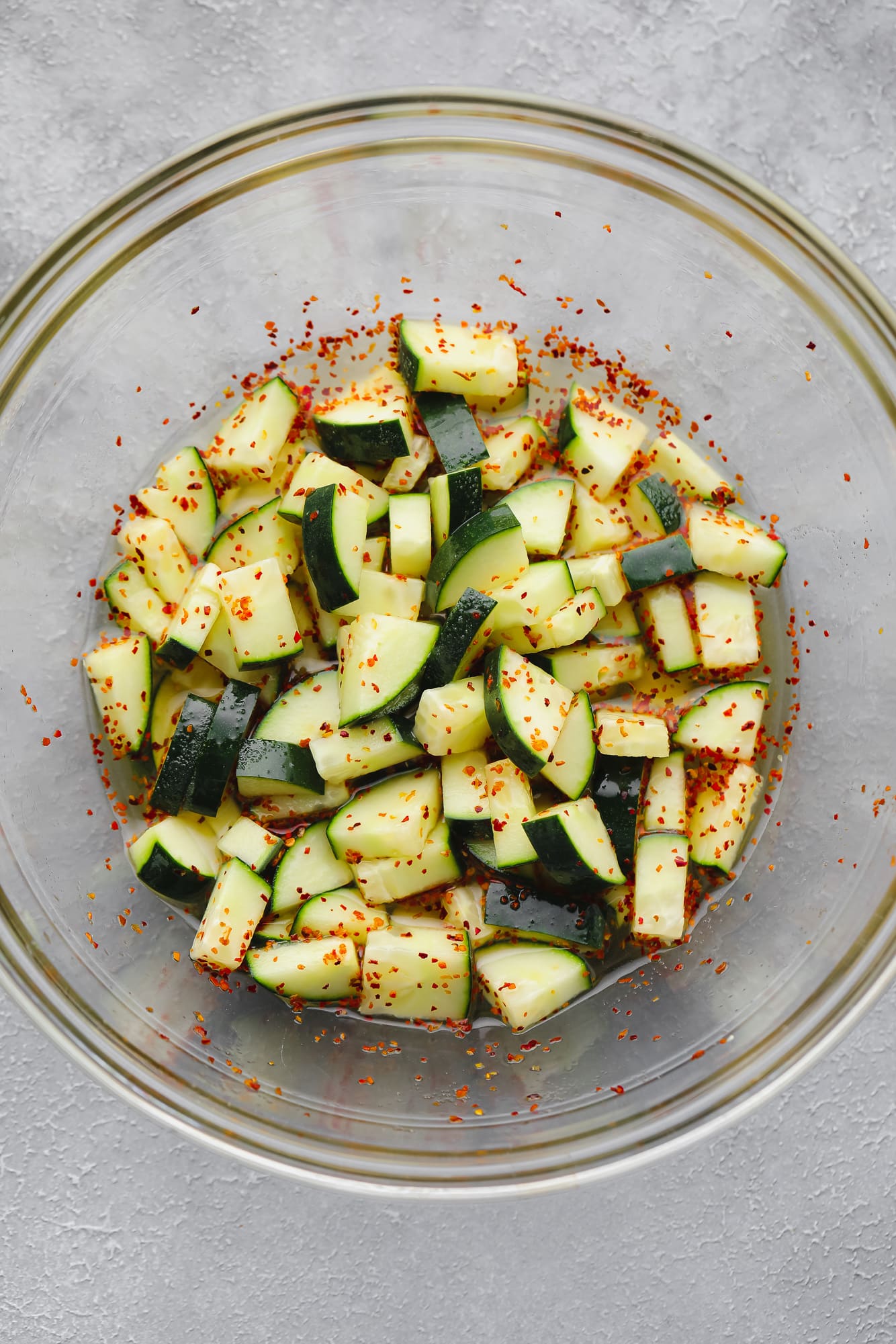 Vegan poke bowl toppings
There is no wrong topping to add to your poke bowl. Use any of these ideas for inspiration:
Cooked rice
Cooked quinoa
Cauliflower rice
Leafy greens
Rice noodles
Avocado
Mangos
Green onions
Carrots – Cut into matchsticks.
Radishes – Red radishes or watermelon radishes for a splash of pink.
Microgreens
Fresh cilantro
Sliced chili peppers – Like jalapeños.
Seaweed salad
Pickled ginger
Crispy wontons
Edamame
Peanuts
Sesame seeds
Variations
Gluten free – The recipe is gluten free as long as you replace soy sauce with gluten free tamari in the tofu marinade.
Oil free – Omit the sesame oil and use my oil free vegan mayonnaise to make the wasabi mayo.
Raw or cooked tofu? The tofu poke can be left uncooked but I prefer to bake it. Baking enhances the flavor and texture of the tofu, and it takes less than 30 minutes.
Instead of tofu poke – Replace it with marinated and baked tempeh or soy curls, or cooked chickpeas tossed in the marinade sauce.
Use a different sauce – The savory flavors would pair well with this tahini sauce or teriyaki sauce.
Storing
If you plan on eating poke for lunch, store the rice or quinoa, toppings, and sauce in separate airtight containers in the fridge for up to 4 or 5 days. Assemble the day of and enjoy!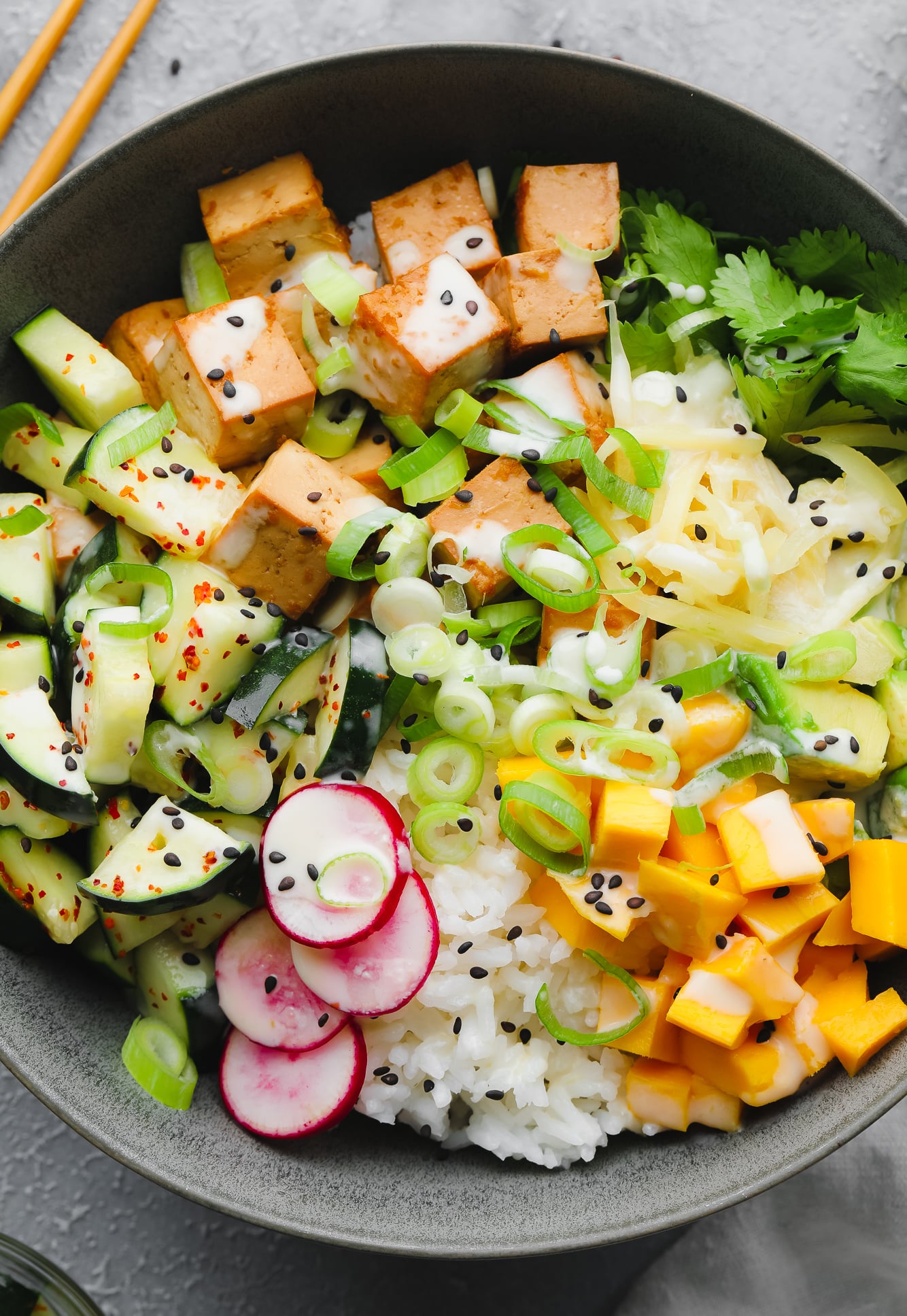 Want more flavorful tofu bowls?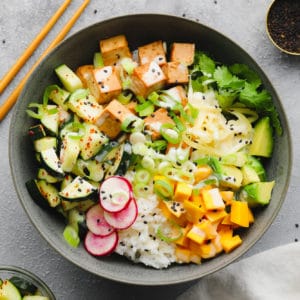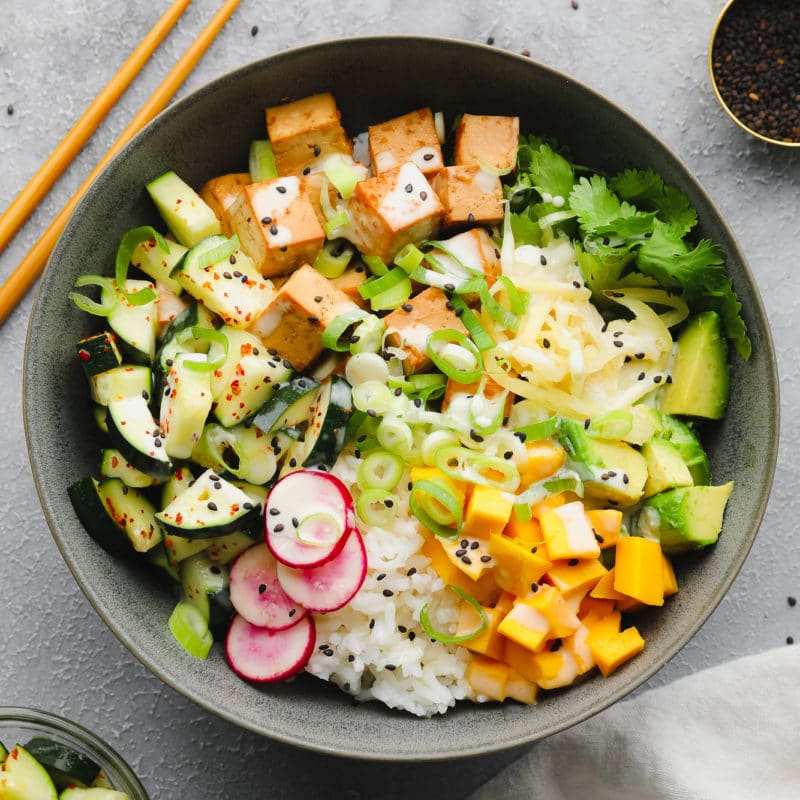 Vegan Poke Bowl
This ​​Vegan Poke Bowl features marinated tofu poke and easy cucumber salad served in a loaded bowl with rice, creamy wasabi sauce, mango, avocado, and more. It's flavorful, healthy, and refreshing!
Ingredients
Instructions
Prepare tofu poke
Press the tofu by wrapping in paper towels (or a clean dry tea towel). Place a plate or pan on top of the wrapped tofu, and put a couple of heavy books or cast iron pan on top of that. Let the tofu press for about 30 minutes.

Make the marinade by whisking the soy sauce, rice vinegar, sesame oil, ginger and garlic in a small bowl.

Preheat the oven to 350 degrees. You can also skip baking the tofu if you want, but I like to bake it a little bit.

Once the tofu is pressed, cut into 1/2 inch cubes and place in a shallow dish. Pour the marinade over the tofu and make sure every piece is coated. Cover and let marinate for at least 15 minutes, or up to a few hours.

Arrange the tofu in a single layer on a parchment lined baking pan and bake for 25 minutes. Remove from oven and set aside.
Prepare other bowl ingredients
While the tofu presses and bakes, prepare all the other ingredients. Get your rice cooking.

Cucumber salad – In a small bowl, toss everything together.

Chop your avocado, mango, green onions, radishes and anything else you are using.

Wasabi mayo sauce – Whisk all ingredients in a small bowl.
Assemble
Divide the rice into 4 bowls. Top with the tofu poke, cucumber salad and other ingredients of your choosing. Sprinkle with sesame seeds and drizzle on a little wasabi sauce. Serve and enjoy!
Notes
Raw or cooked tofu – You can simply marinate the tofu and eat it without cooking, but I prefer baking it a bit. Not until it's super crispy, but baking does enhance the flavor and texture of the tofu.

Gluten free – The recipe is gluten free as long as you use gluten free tamari instead of soy sauce.

If you don't care for wasabi, try

Sriracha aioli

or nothing at all because the bowl is flavorful all on it's own!
Nutrition
Serving:
1
of 4 servings
|
Calories:
485
kcal
|
Carbohydrates:
49
g
|
Protein:
16
g
|
Fat:
25
g
|
Saturated Fat:
3
g
|
Polyunsaturated Fat:
5
g
|
Monounsaturated Fat:
8
g
|
Sodium:
1388
mg
|
Potassium:
538
mg
|
Fiber:
6
g
|
Sugar:
16
g
|
Vitamin A:
727
IU
|
Vitamin C:
28
mg
|
Calcium:
164
mg
|
Iron:
2
mg