Tofu skeptics, this one's for you! The plain tofu pieces are seasoned and coated in cornstarch before they're baked to crunchy, meaty, and golden perfection. You'll be a tofu loving convert in no time!
If you want to learn more ways to cook tofu that actually tastes good, check out my Marinated Tofu, Air Fryer Tofu and Perfect Fried Tofu recipes while you're here!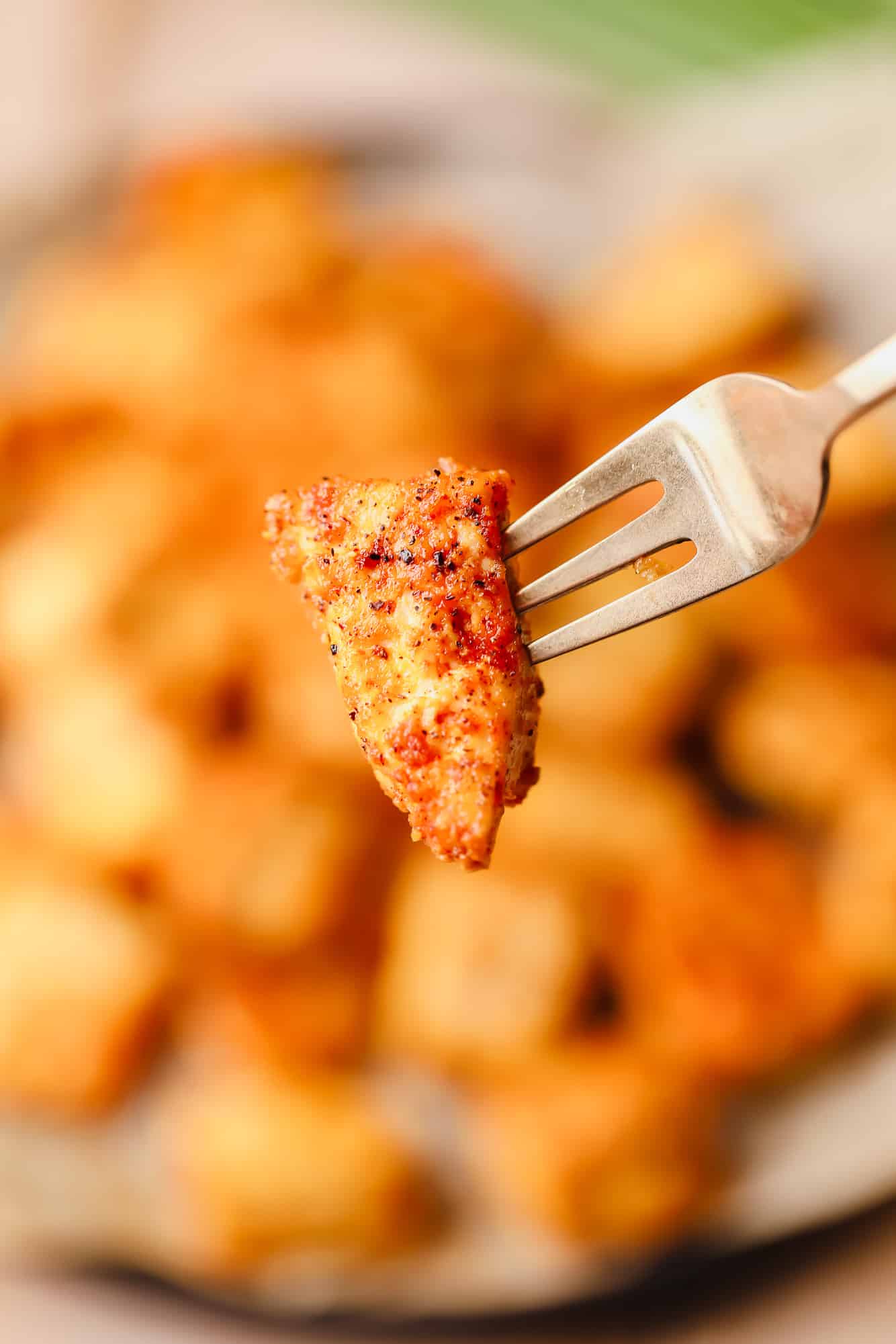 Are you still trying to figure out how to make tofu taste good? Do you want to convince the tofu haters that it's a tasty plant-based protein? Are you looking for more ways to spruce up this flavor sponge?
You're in luck because this baked tofu recipe transforms the watery soy block into crispy perfection! They make a perfect substitute for chicken in all kinds of recipes, from stir fry to butter chicken.
You may never look at tofu the same way again after trying my Crispy Baked Tofu. It's an easy recipe that begins with coating the tofu pieces in cornstarch and 4 simple seasonings, then baking them in the oven until they're golden and crispy.
It's a great place to start when you want to learn tofu basics or when you need a protein to add to a salad, grain bowl, and noodle dish. 
What's the secret to crispy tofu?
The only way to achieve crispy baked tofu is to:
Press all of the excess moisture out of the tofu ahead of time: Pressing the tofu before it bakes in the oven is crucial because the less water there is in the tofu, the meatier and crispier its texture will be.
Coat each piece in a thin layer of cornstarch: The cornstarch sticks to the outside of the tofu as it bakes, giving each piece a crunchy, golden exterior.
Follow these two steps and you'll be munching on game-changing tofu in no time!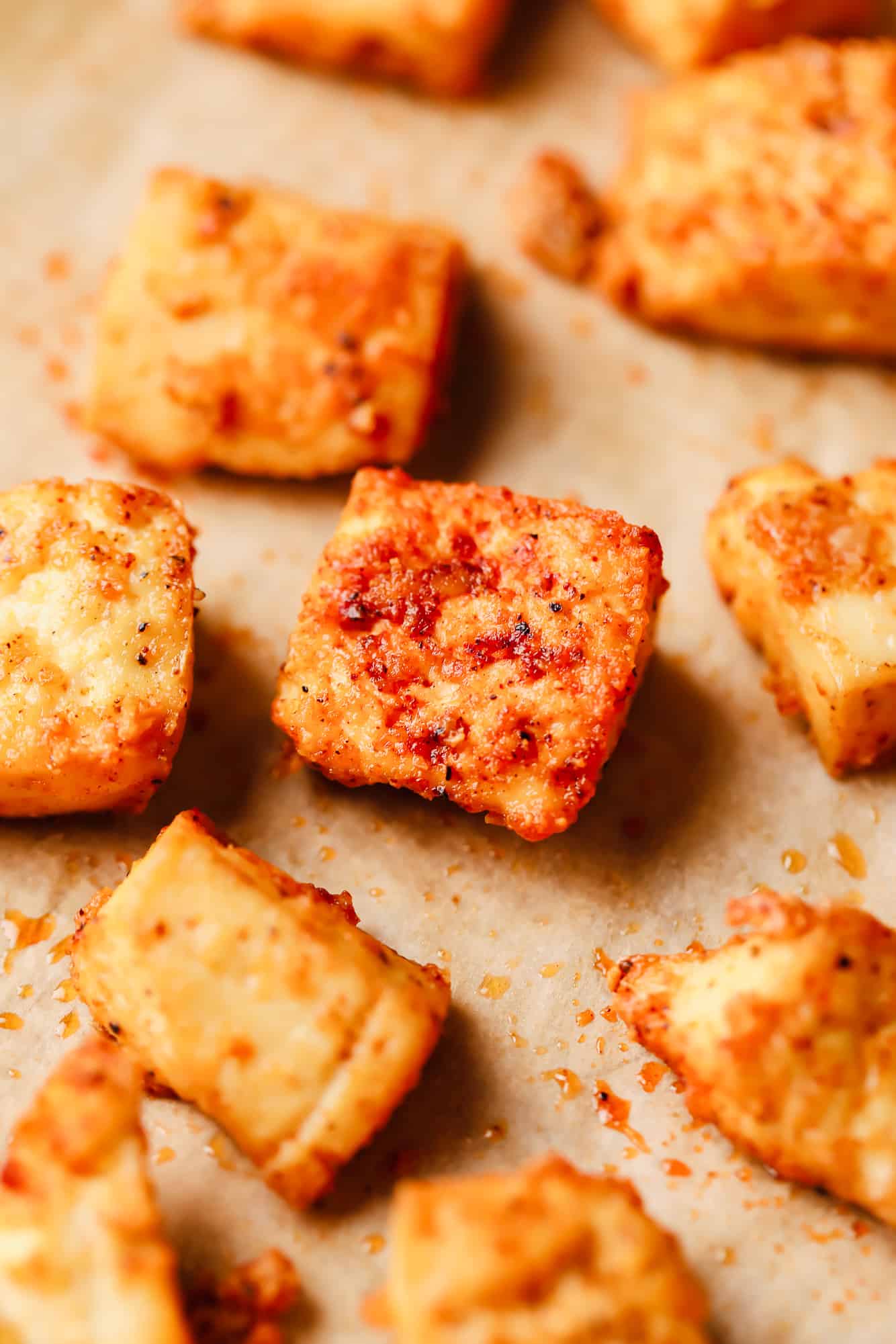 Ingredients needed (with substitutions)
Firm tofu – You need to use either firm or extra firm tofu. Both contain very little water, which means your baked tofu pieces will be firm, meaty, and tender.
Olive oil – Baking tofu in the oven means you'll be using less oil than the pan-fried version. It helps the seasonings stick to the outside and adds flavor to each piece. However, you can leave it out if you'd prefer to bake tofu without oil.
Garlic powder – For a delightfully savory and garlicky flavor.
Smoked paprika – Or use regular paprika if that's what you already have at home.
Salt and pepper
Cornstarch – Coating the tofu pieces in a layer of cornstarch is what makes each piece deliciously crispy. No cornstarch at home? Either omit it from the recipe or substitute it with arrowroot powder instead.
How to bake tofu
Find the complete recipe with measurements in the recipe card below.
Start by pressing the brick of tofu to drain all of the excess water. You can do this by wrapping it in a layer of paper towels, then weighing it down with a heavy pan or books, or with a tofu press. Let it drain for at least 30 minutes.
Afterward, slice the brick into 4 slices. Rip each slice into bite-sized pieces*.
*I find that ripping the tofu pieces apart gives them more texture compared to if you were to slice them into cubes.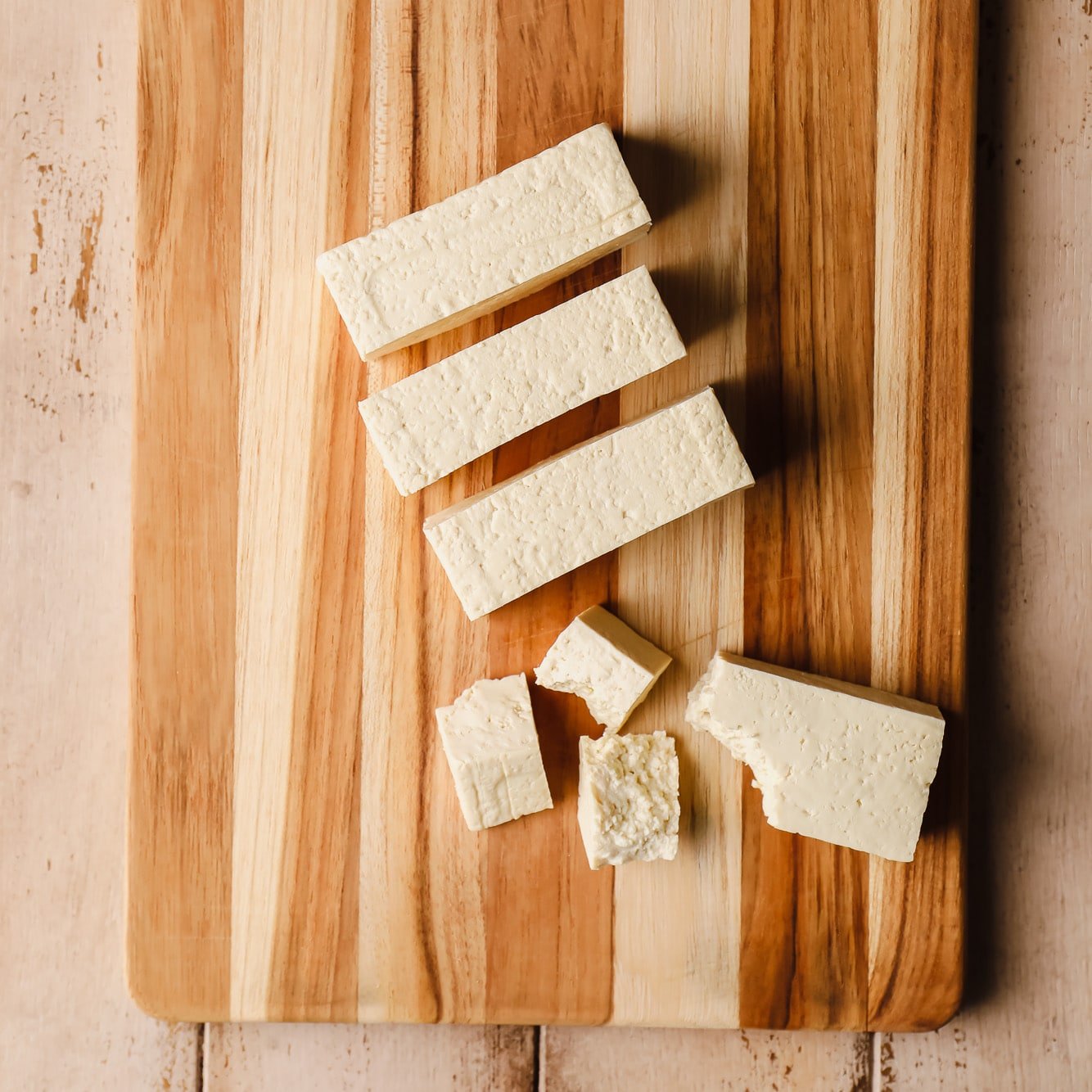 Place the ripped pieces into a bowl and add the olive oil, garlic powder, smoked paprika, salt, and pepper on top. Toss gently to coat.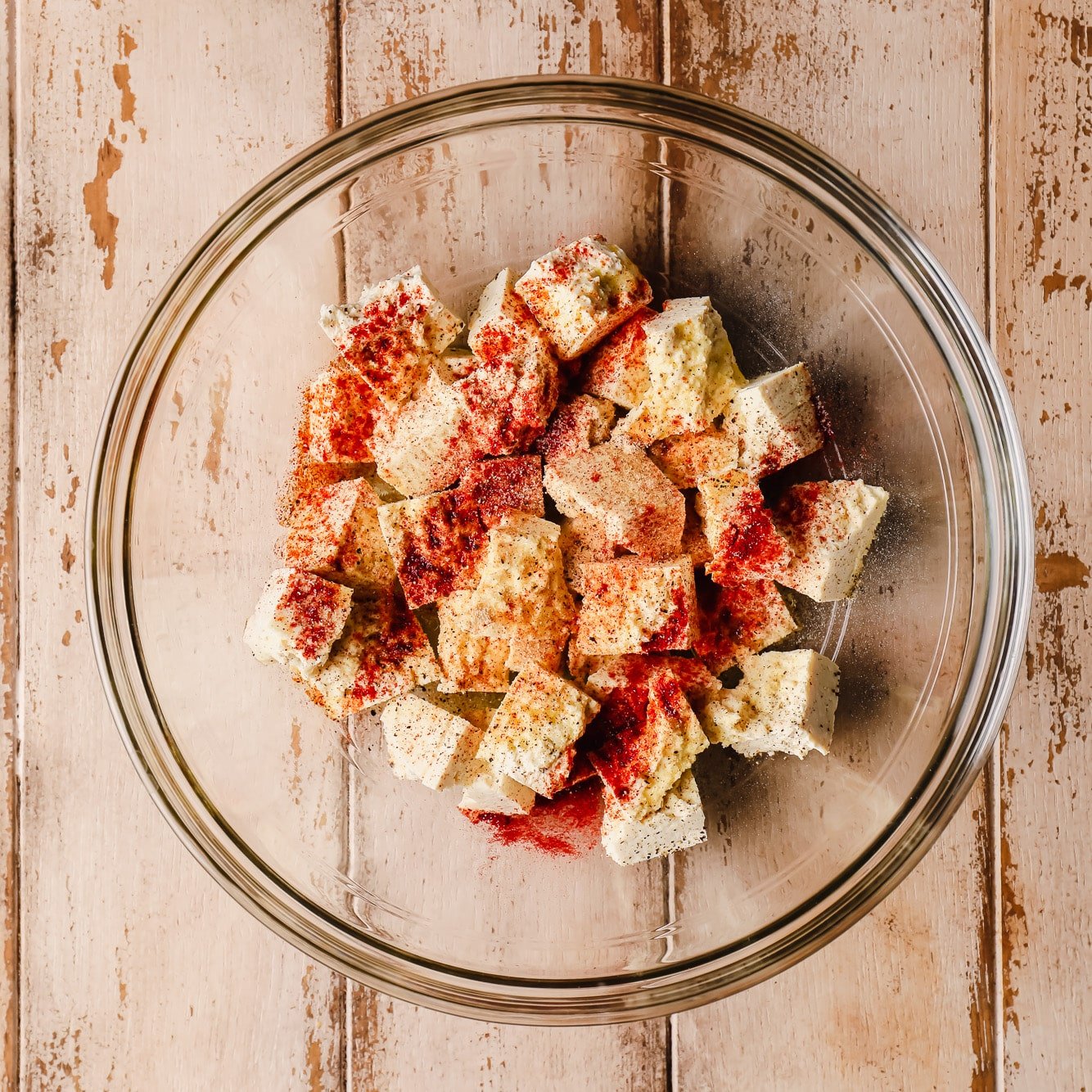 Sprinkle the cornstarch over top and toss again.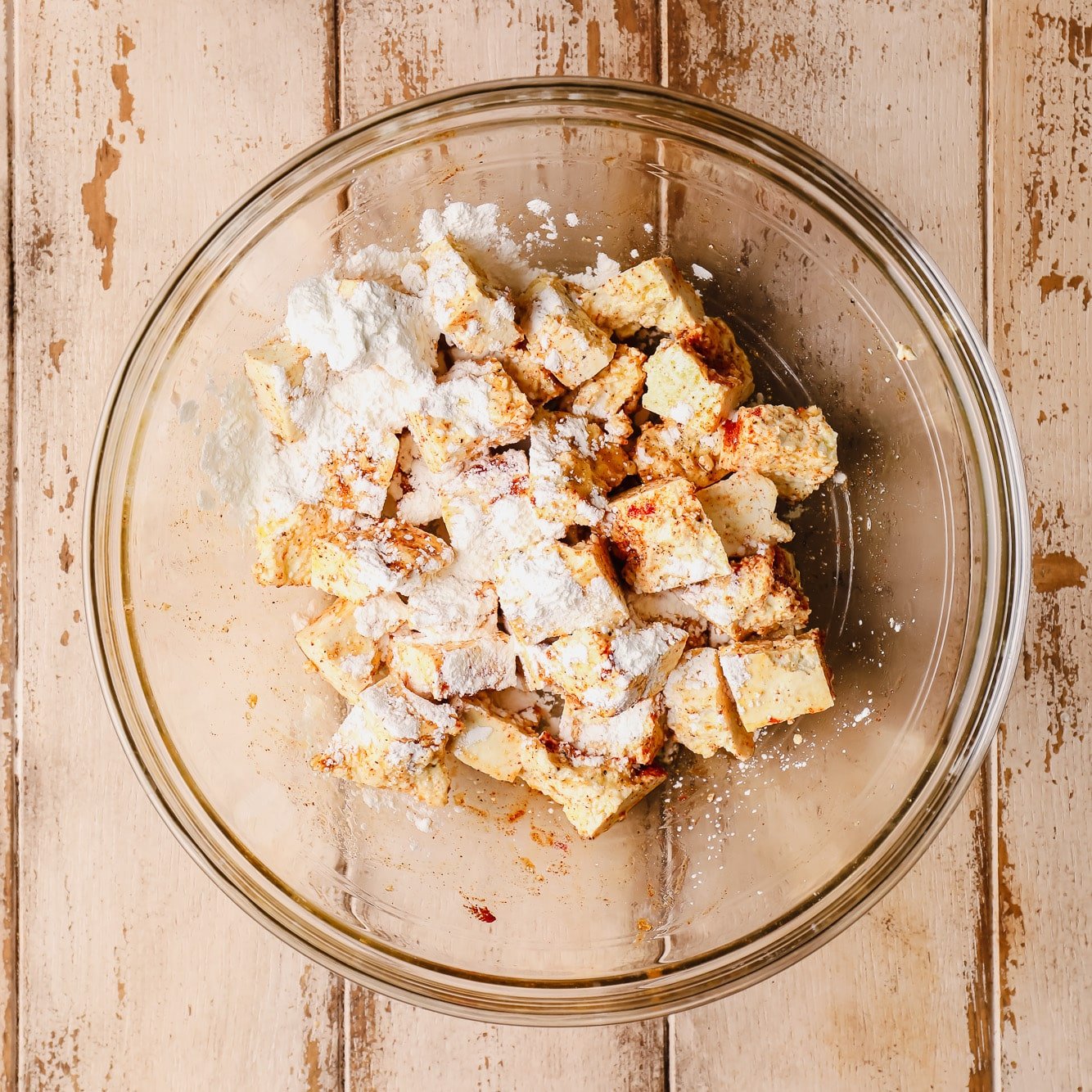 Make sure the seasonings and cornstarch are in all of the nooks and crannies, continuing to toss until they're coated evenly. Be gentle as you toss – tofu is fragile and can crumble easily!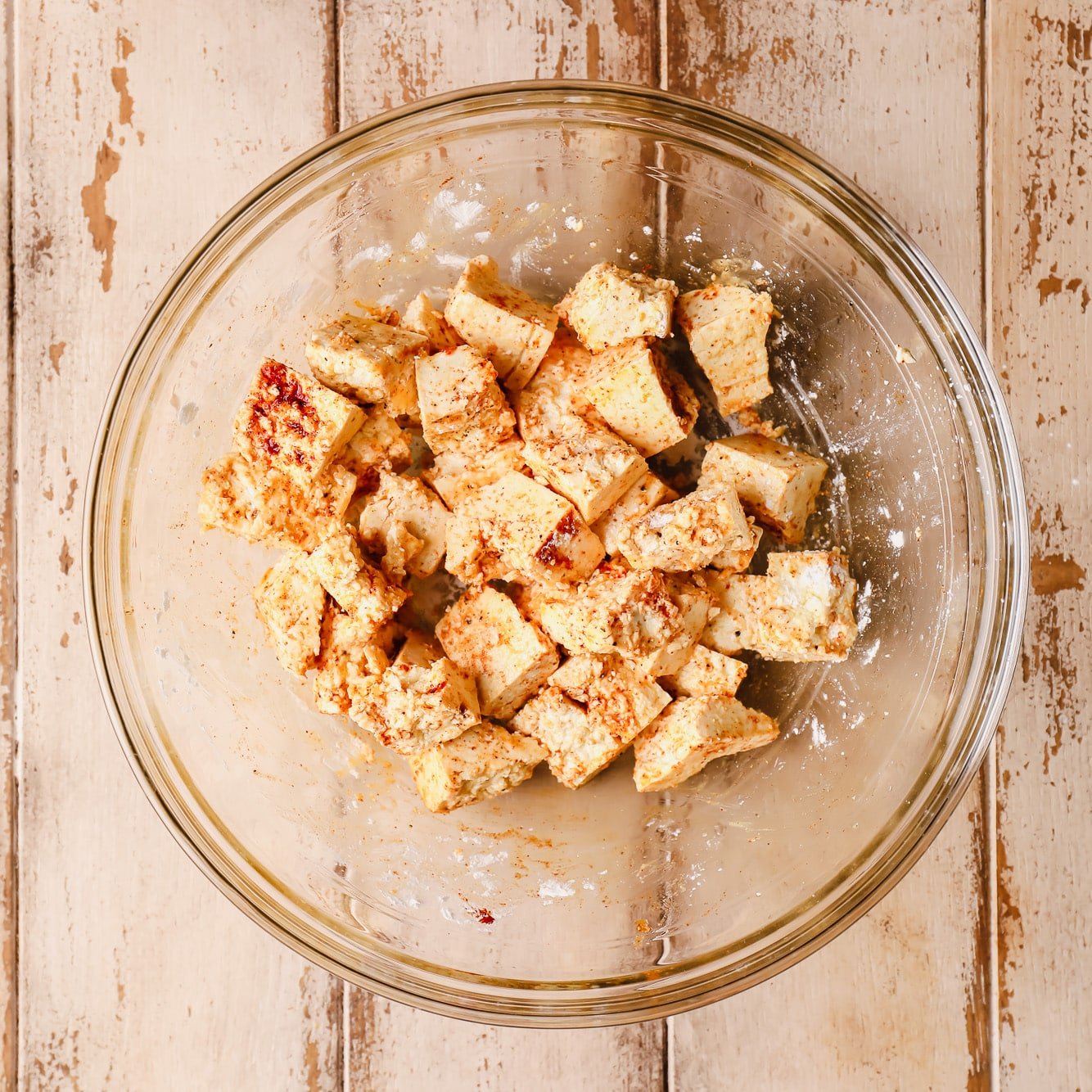 Arrange the seasoned tofu pieces in a single layer on a parchment-lined baking sheet.
Bake in the oven until they're golden and crispy, then enjoy!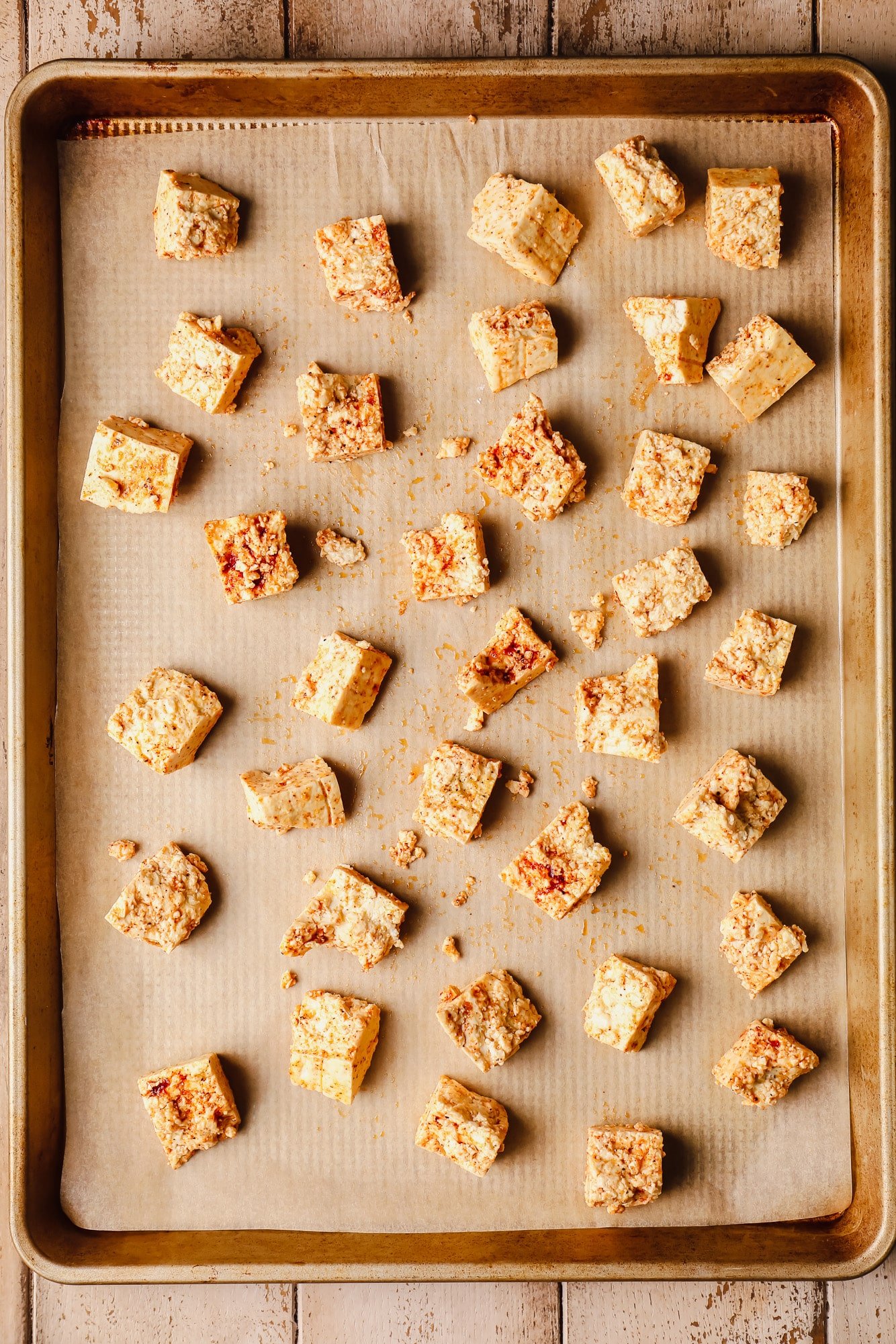 Tips for success
Pressing all of the water out of the tofu is key to a meaty texture! It will also prevent the pieces from falling apart or crumbling. Try not to skip this step.
Make sure the pieces aren't overlapping or touching each other on the baking sheet. Leaving some space in between each piece will yield crispier tofu.
The pieces only need to be flipped once as they're baking.
Storing – Leftover baked tofu can be stored in an airtight container in the fridge for 3 to 4 days. To serve, either eat the pieces cold or reheat them in a 375ºF oven or air fryer until warmed through.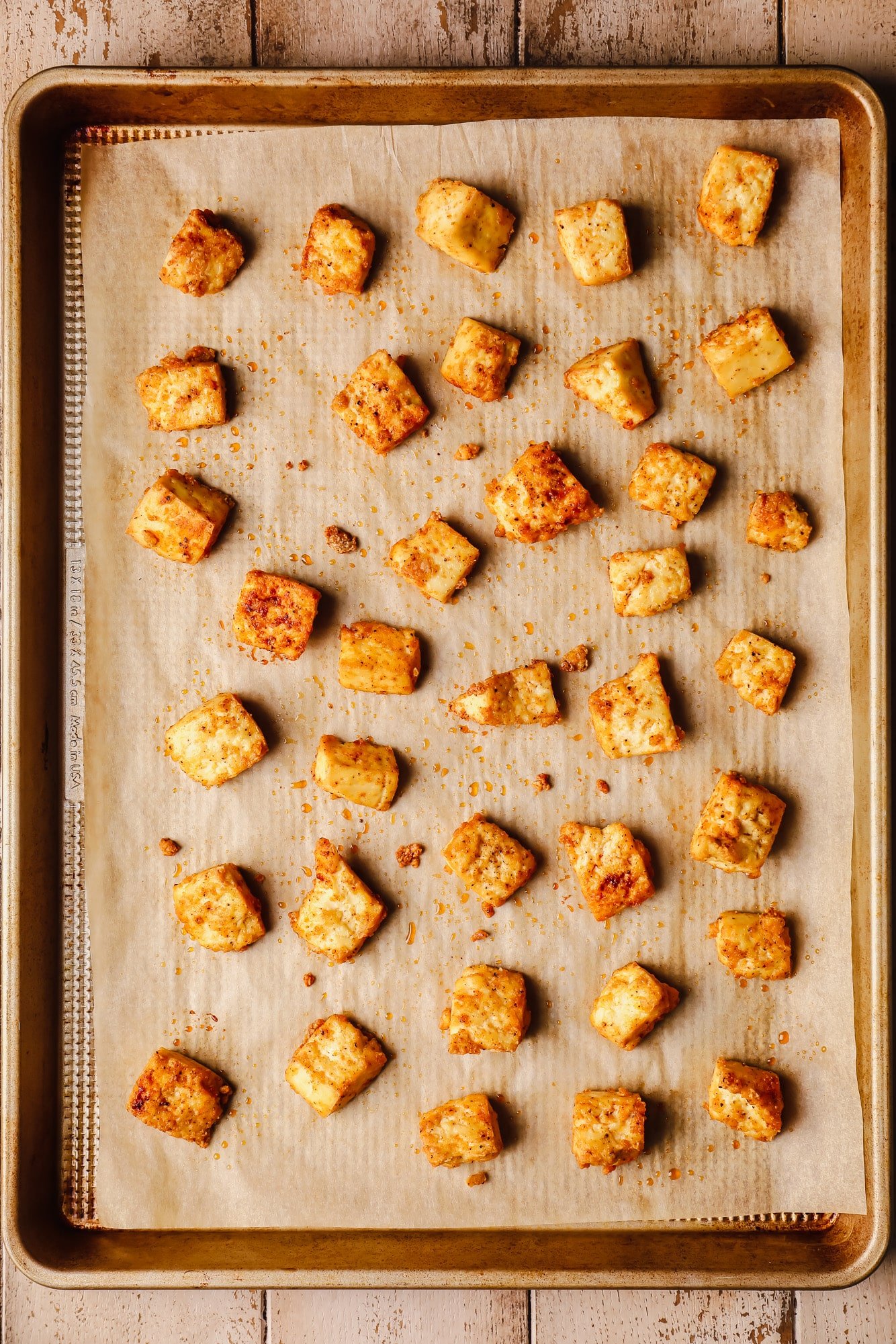 Serving suggestions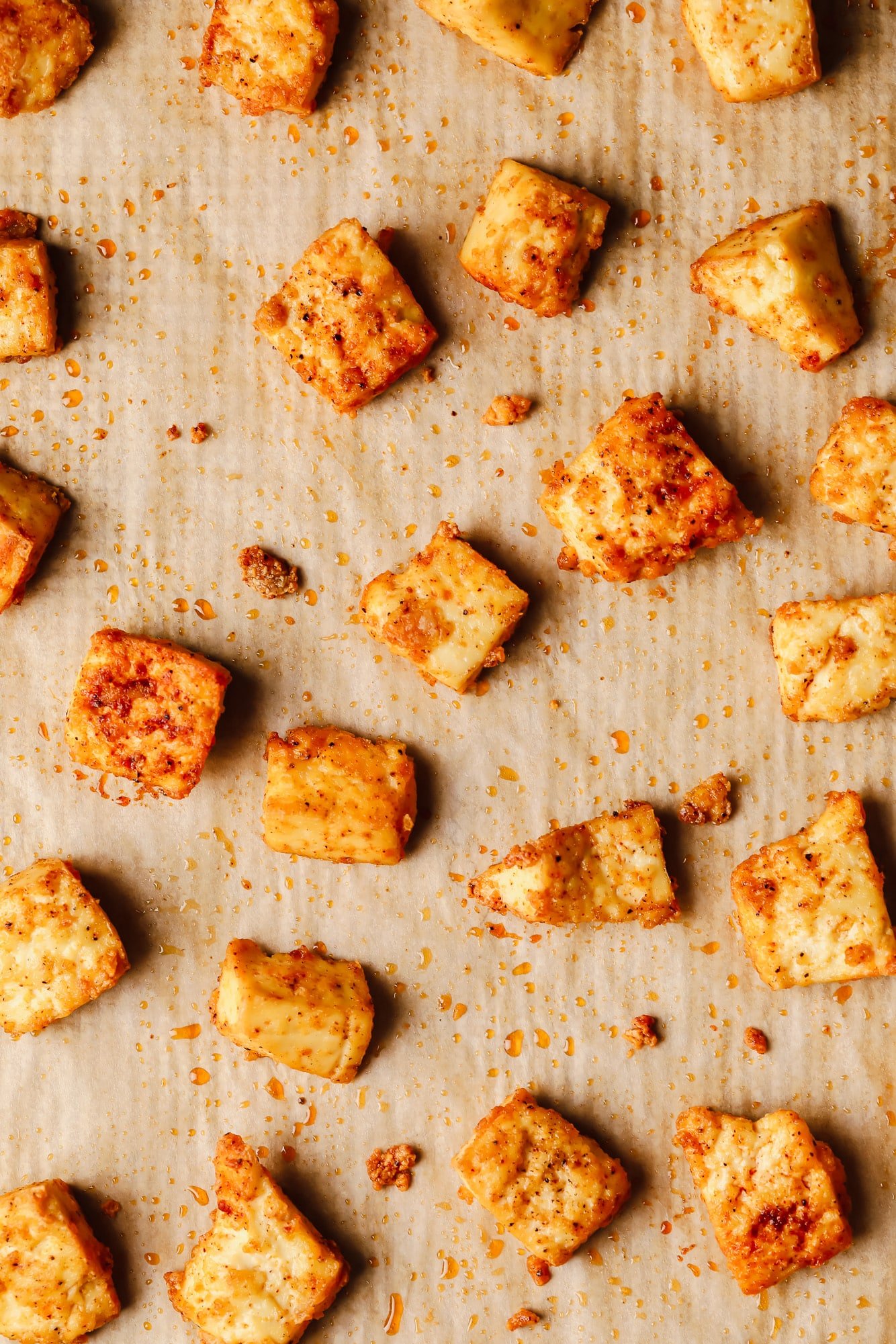 Variations
The best way to use baked tofu in everything is to season it with only garlic powder, salt, and pepper. But you can easily swap these or the spices in the recipe card for any of these suggestions:
Taco seasoning
Za'atar seasoning
Greek seasoning
Soy sauce, rice vinegar, and/or sesame oil
Chili powder
Onion powder
Curry powder
Nutritional yeast
Or make marinated baked tofu! Marinating tofu with simple condiments before baking is a fun way to infuse extra layers of flavor into each piece. Check out my Marinated Tofu recipe for tips and flavor ideas.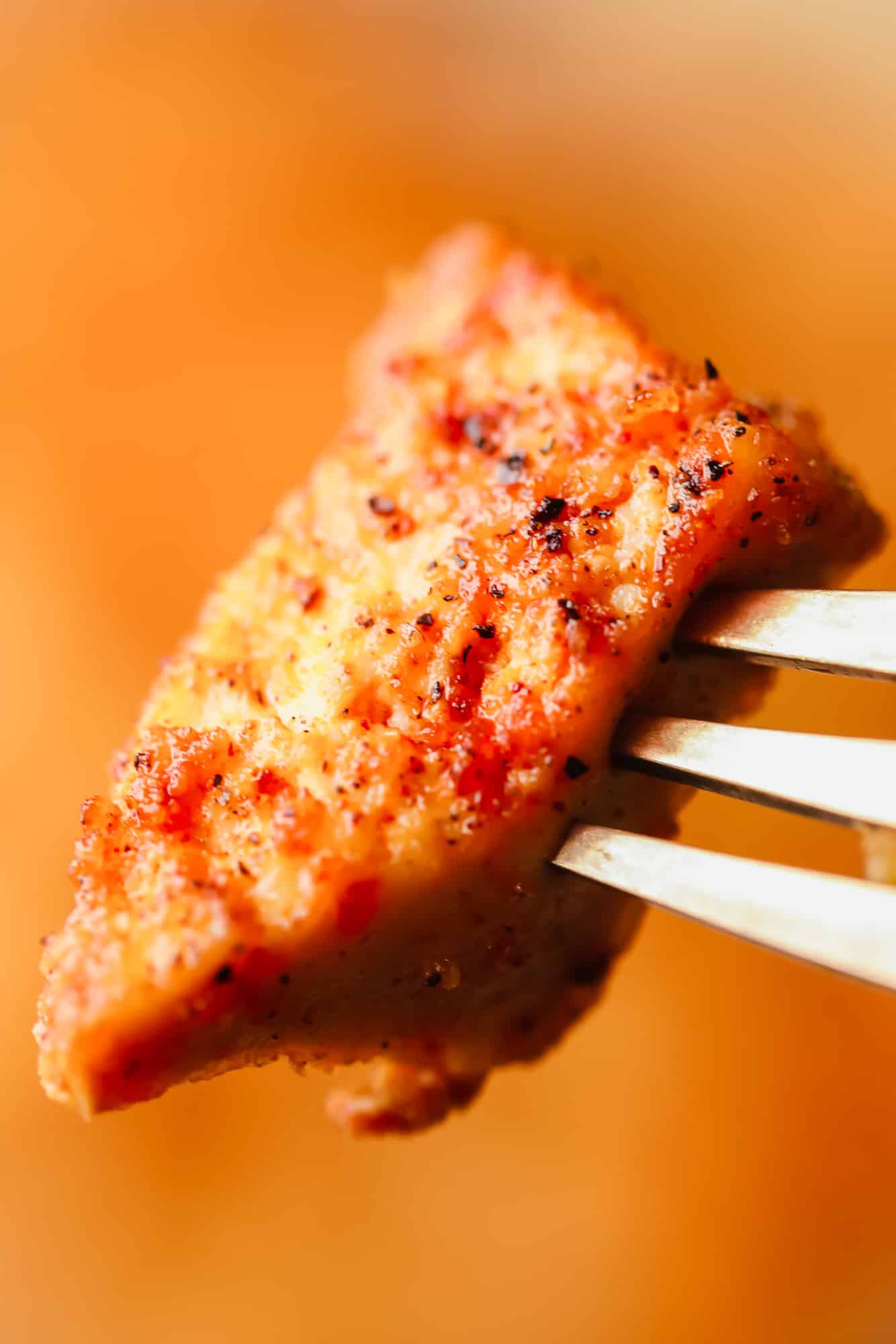 Want more incredible tofu recipes?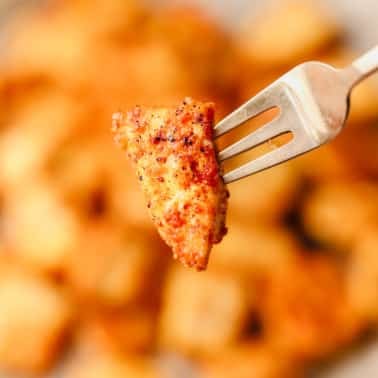 Crispy Baked Tofu
Tofu skeptics, this one's for you! The plain tofu pieces are seasoned and coated in cornstarch before they're baked to crunchy, meaty, and golden perfection. You'll be a tofu loving convert in no time!
Ingredients
14.5

ounce

firm or extra-firm tofu

2

tablespoons

olive oil

1/2

teaspoon

garlic powder

1/4

teaspoon

smoked paprika

1/4

teaspoon

salt

few shakes ground black pepper

1

tablespoon

cornstarch
Instructions
Press the tofu: Wrap the block of tofu in paper towels. Place a plate or pan on top of the wrapped tofu, and put a couple of heavy books on top of that. Let the tofu press for 30 minutes, or up to an hour.

Preheat the oven to 400 degrees F and line a baking sheet with parchment paper.

Slice the tofu into about 4 slices (see photos in post above for reference). Now, rip each slice into medium-large pieces.

Add the ripped tofu pieces to a large bowl, along with the olive oil, garlic powder, smoked paprika, salt and pepper. Toss, gently with a rubber spatula or spoon, until the tofu is coated in the oil and spices. You have to be careful with tofu, because it's fragile and you don't want to turn it to crumbles.

Now sprinkle on the cornstarch and toss again to coat.

Arrange on the prepared baking sheet in a single layer, not touching, and bake for 20 minutes. Flip the pieces and bake for another 10-15 minutes, until golden and crispy.

Remove from the oven and serve anywhere you like. Enjoy!
Notes
If needed, you can use arrowroot instead of cornstarch, or leave it out entirely.

Feel free to switch up the seasonings depending on what you plan on serving it in. For example, you can use taco seasoning, chili powder, nutritional yeast or Italian seasoning.
Leave the oil out if needed. I'd recommend substituting the oil for low sodium soy sauce or tamari and leave out the salt.
Nutrition
Serving:
1
of 4 servings
|
Calories:
157
kcal
|
Carbohydrates:
5
g
|
Protein:
9
g
|
Fat:
12
g
|
Saturated Fat:
1
g
|
Polyunsaturated Fat:
4
g
|
Monounsaturated Fat:
6
g
|
Sodium:
150
mg
|
Potassium:
7
mg
|
Fiber:
1
g
|
Sugar:
0.3
g
|
Vitamin A:
62
IU
|
Vitamin C:
0.01
mg
|
Calcium:
129
mg
|
Iron:
1
mg