Vegan Sausage Rolls are a savory pastry snack and are oh-so-comforting. Vegan sausage crumbles are wrapped in puff pastry, then baked until savory and crisp. Freezer-friendly and always a hit at parties!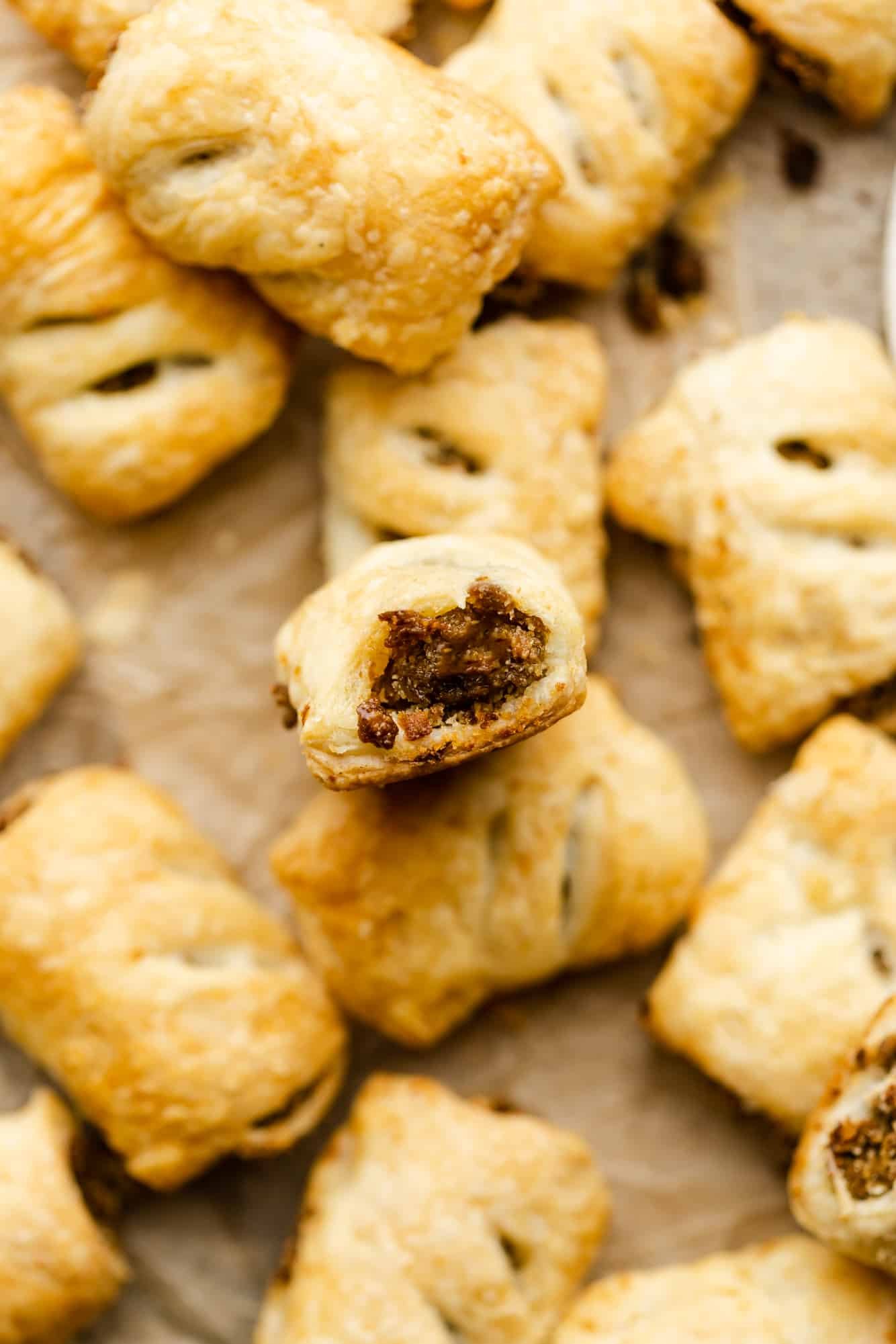 Your holiday party, get-together, or game day needs these Vegan Sausage Rolls! The meaty vegan sausage filling is wrapped in buttery puff pastry, then baked until light, crispy, and savory. Be sure to make extras because they'll be gone before you know it.
3 reasons why these are the best vegan sausage rolls:
Quicker and easier than the classic: Sausage rolls are a British appetizer traditionally made with seasoned minced pork wrapped in puff pastry. To 'veganize' this classic party snack, the real sausage is swapped for vegan sausage crumbles. These easy veggie sausage rolls come together in about 45 minutes from start to finish, making them much faster and easier than the non-vegan version!
Only 5 simple (and flexible) ingredients: You can play with the flavors and add-ins as much as you want in this recipe. Or, to keep things really simple, stick to the 5 ingredients in the recipe card.
A perfect make-ahead appetizer. No time to make a fresh batch? No problem! Simply assemble the sausage rolls, then freeze them for later. Pop the savory bites in the oven before your party guests arrive, then dig in!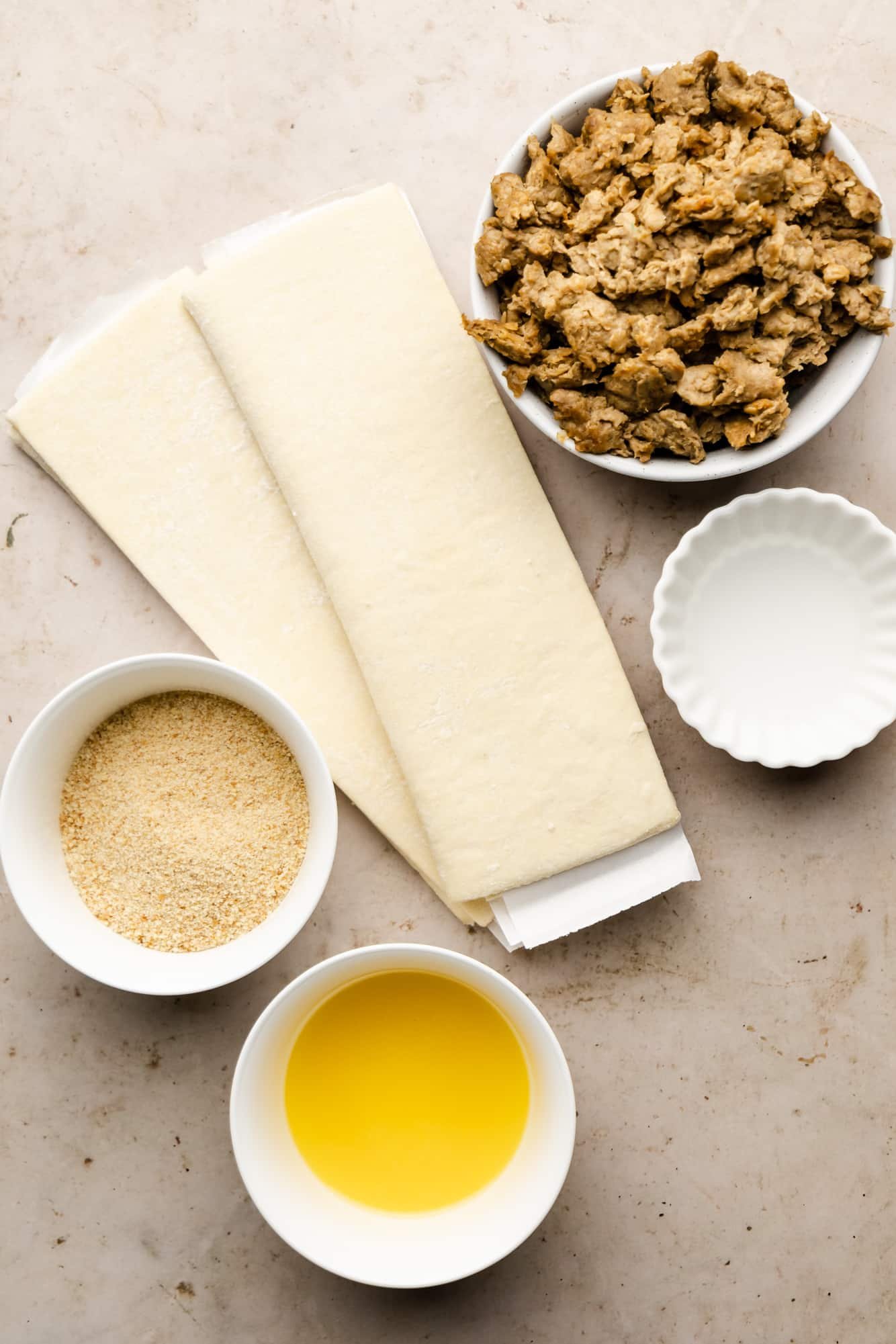 Ingredients needed (with substitutions)
Puff pastry – You can find store-bought vegan puff pastry in the frozen aisle of most major grocery stores. I like using the sheets because they save me from having to roll out a block of pastry. If you want to go all out, use my Easy Vegan Pie Crust instead.
Vegan sausage crumbles – I used Impossible Meat sausage crumbles. If you don't have these where you are, use any other brand you like or vegan ground beef instead. You can even use cooked lentils and mushrooms instead (more on this in the Variations section)!
Breadcrumbs – Either use store-bought vegan breadcrumbs or make them yourself by pulsing stale or toasted bread in a food processor until very crumbly. Usually panko breadcrumbs are vegan, so I use those most often.
Vegan butter – Melted butter is brushed over the pastry to give it a luxurious and eye-catching golden brown color. Any brand of vegan butter will do!
Water
How to make vegan sausage rolls
Find the complete recipe with measurements below in the recipe card.
Make sure the pastry is thawed before you get going! This should take about 30 minutes at room temperature. You can also leave it overnight in the fridge.
Stir the vegan sausage crumbles and breadcrumbs together in a bowl.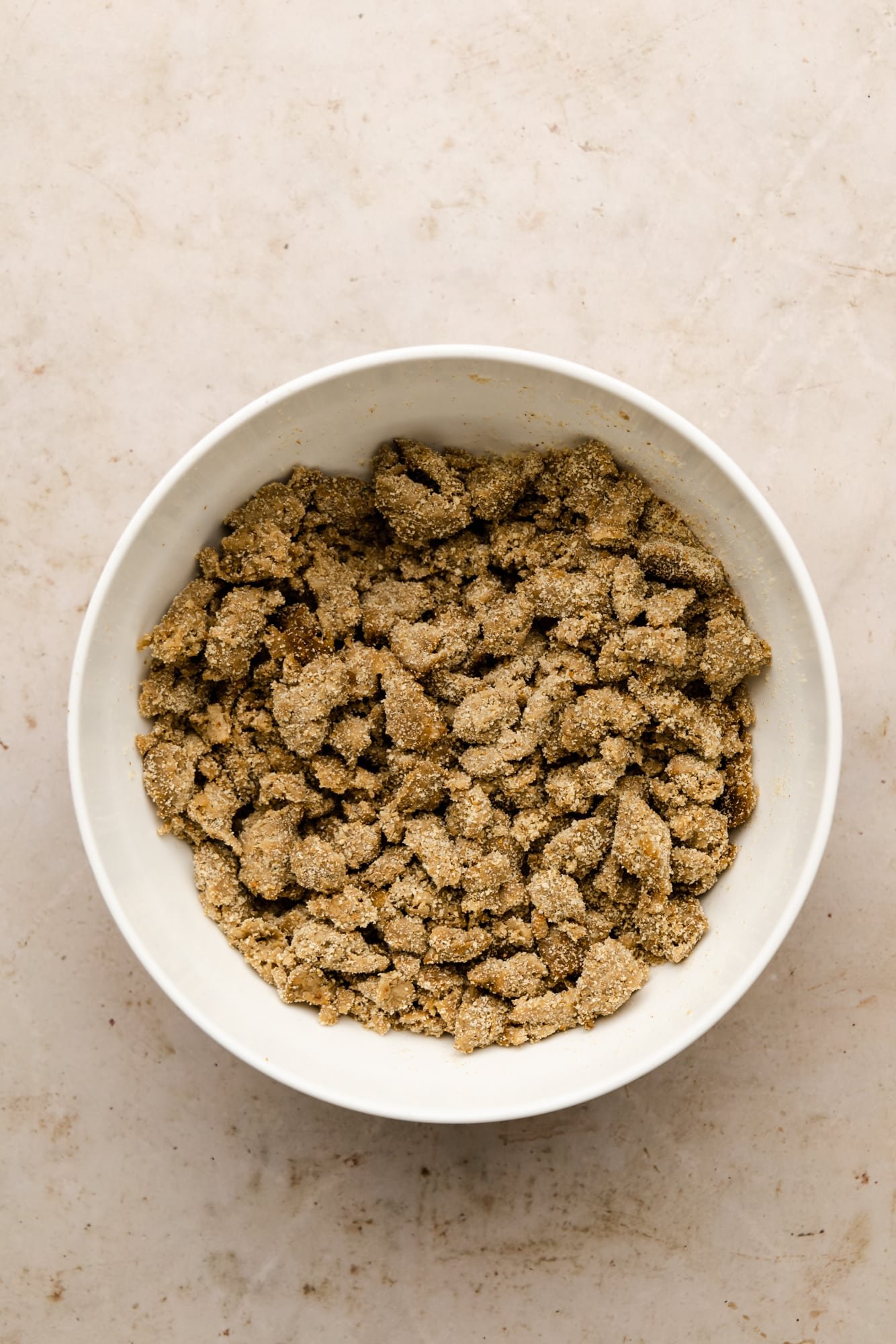 Next, unfold one of the puff pastry sheets and gently roll it out so it's a few inches wider. Cut it into 3 long rectangles. Repeat with the other sheet of pastry until you end up with 6 rectangles.
Spread the sausage mixture in the center of each of the 6 pastry portions. Leave a 1-inch border around the edges and ends for sealing.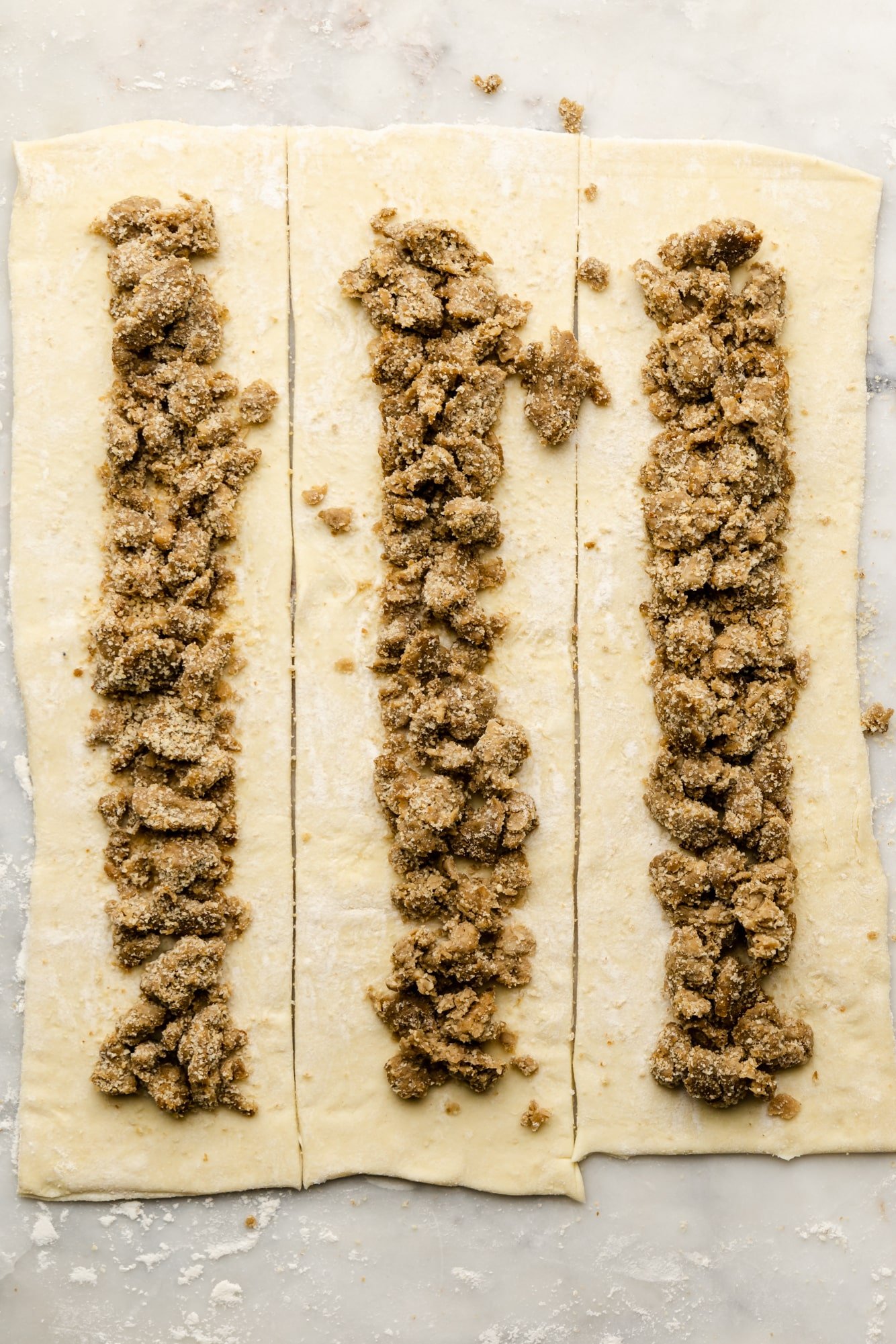 To seal, fold one side of the pastry over the other and pinch to close (wet the edges with a little water if you need help getting it to stick). Repeat with the remaining pastry/sausage.
Cut 2-inch long pieces from every rectangle and cut a few slits on top for venting. Place them on a prepared baking sheet.
Brush the tops of the sausage rolls with melted vegan butter before baking. You'll know they're ready when the pastry is golden brown and puffy. Serve the vegan sausage bites immediately and enjoy!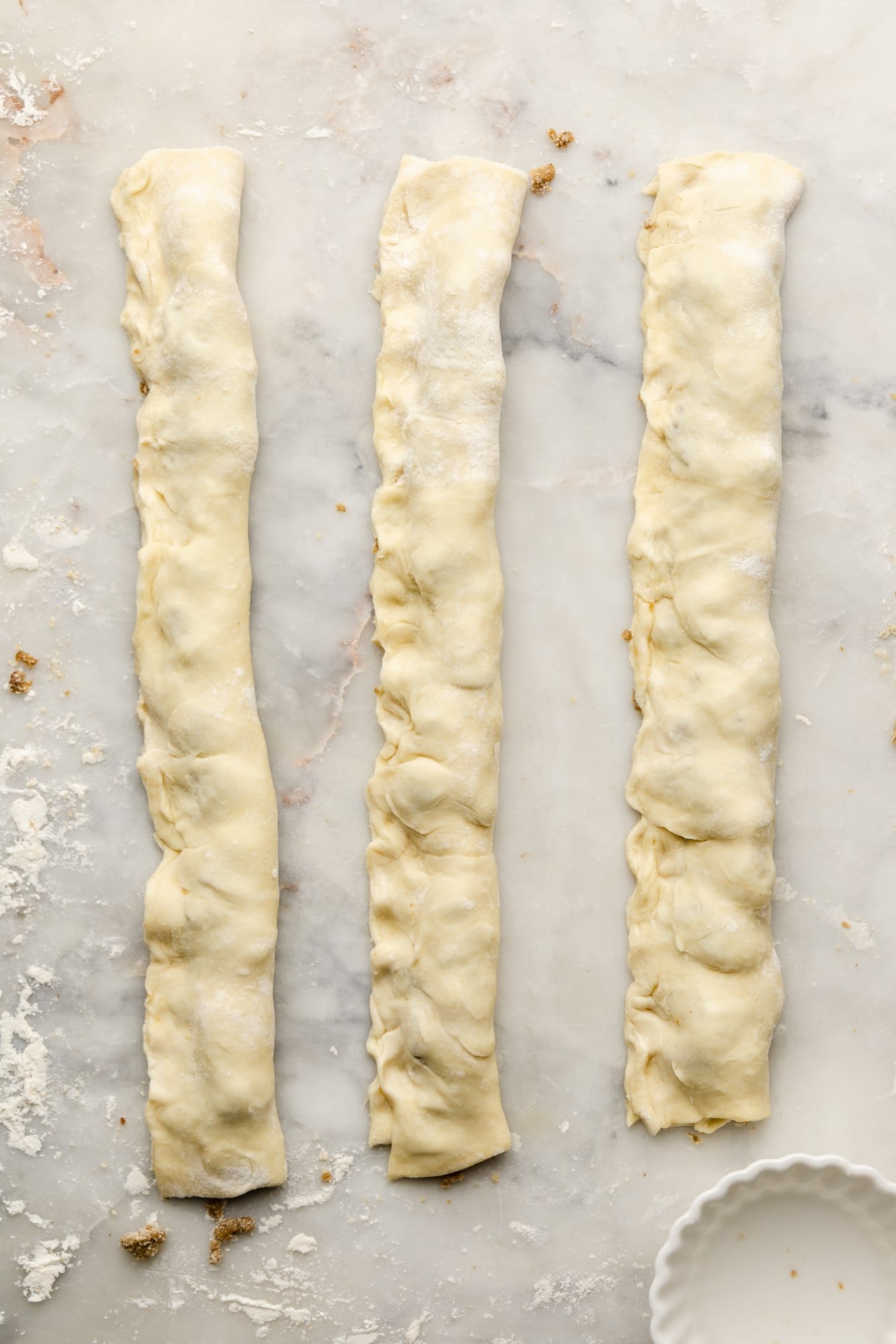 Variations
Gluten free – I haven't tested this recipe with gluten free puff pastry or gluten free pie crust, but it should work pretty well. Make sure you use gluten free breadcrumbs, too.
Add vegetables – Feel free to replace some of the vegan sausage crumbles with cooked mushrooms, lentils, celery, carrots, or fennel. They'll add substance and flavor to every bite.
Season the sausage – The sausage crumbles will likely come pre-seasoned but if you want to take the flavors up a notch, stir dry or fresh herbs and seasonings into the mix. Red chili flakes will add a touch of heat, fresh parsley has a subtle herbaceous pop, and dijon mustard is tangy. Use what you like!
Instead of vegan sausage – Make the sausage filling with a more wholesome mixture of cooked brown or green lentils and finely chopped and cooked mushrooms instead. You can use chopped nuts, like walnuts or almonds, instead of the breadcrumbs for a bit of crunch. Or use my tempeh sausage crumbles!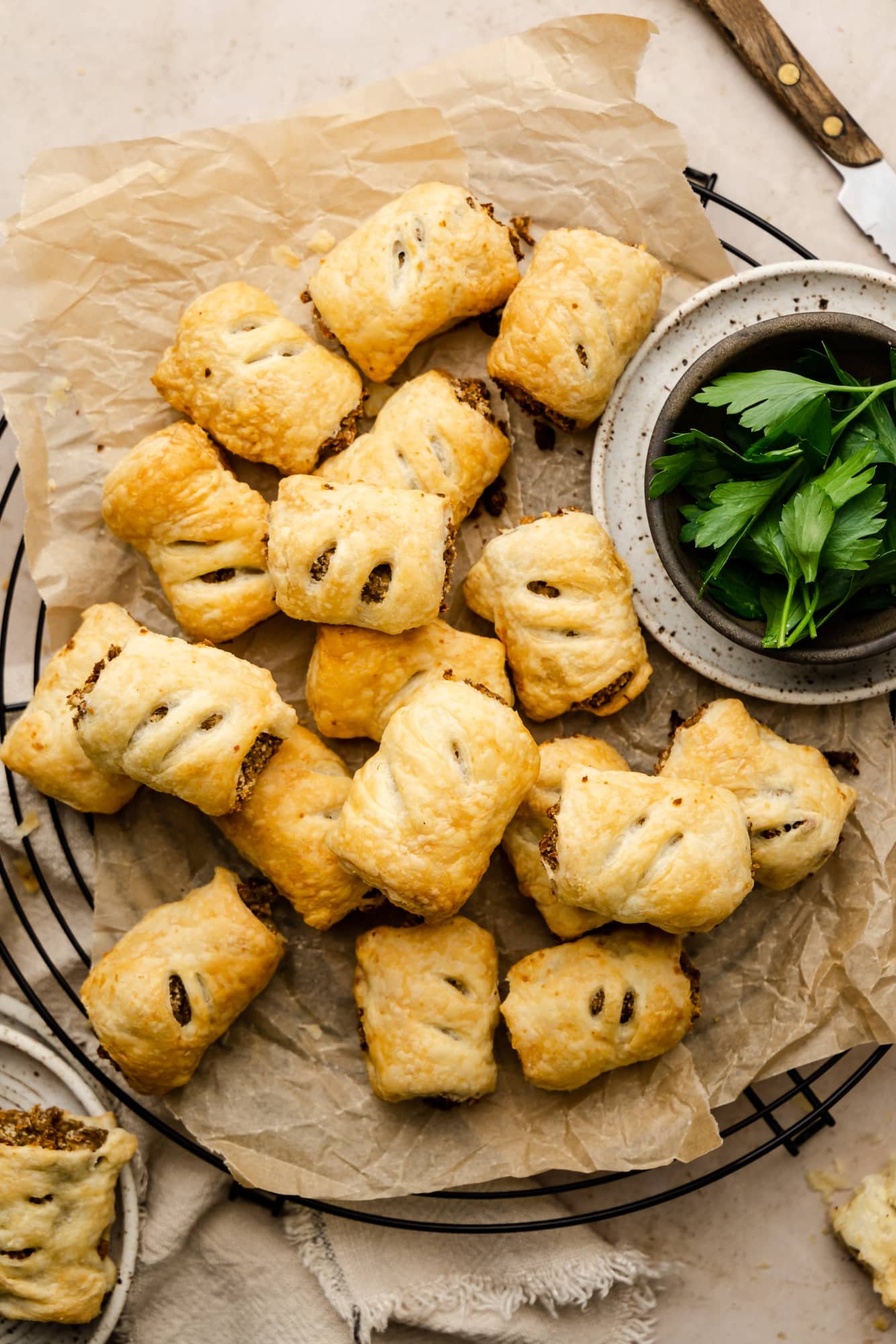 Frequently asked questions
Is puff pastry vegan?
There are many brands of vegan-friendly store-bought puff pastry available nowadays! Pepperidge Farm makes an accidentally vegan puff pastry that's delicious and really easy to work with. You should be able to find it or similar brands in the frozen section at most major grocery stores.
What do you serve with sausage rolls?
They are perfectly good on their own, but dipping sauces can be fun. Honey mustard sauce is the traditional choice but spicy mayonnaise or dijon mustard would also be good.
Can you freeze vegan sausage rolls?
Yes, they freeze really well! Once the assembled bites are on the baking sheet, flash freeze them until solid. Store them in an airtight container in the freezer for up to 3 months. They can be baked from frozen but may need a few extra minutes in the oven.
How do you store the leftovers?
The rolls are best served right out of the oven, but in case you end up with extras, store them in an airtight container in the fridge or freezer. To reheat, place them in a 425ºF oven until crisp and warmed through. Or air fry at 400 until warm and crispy.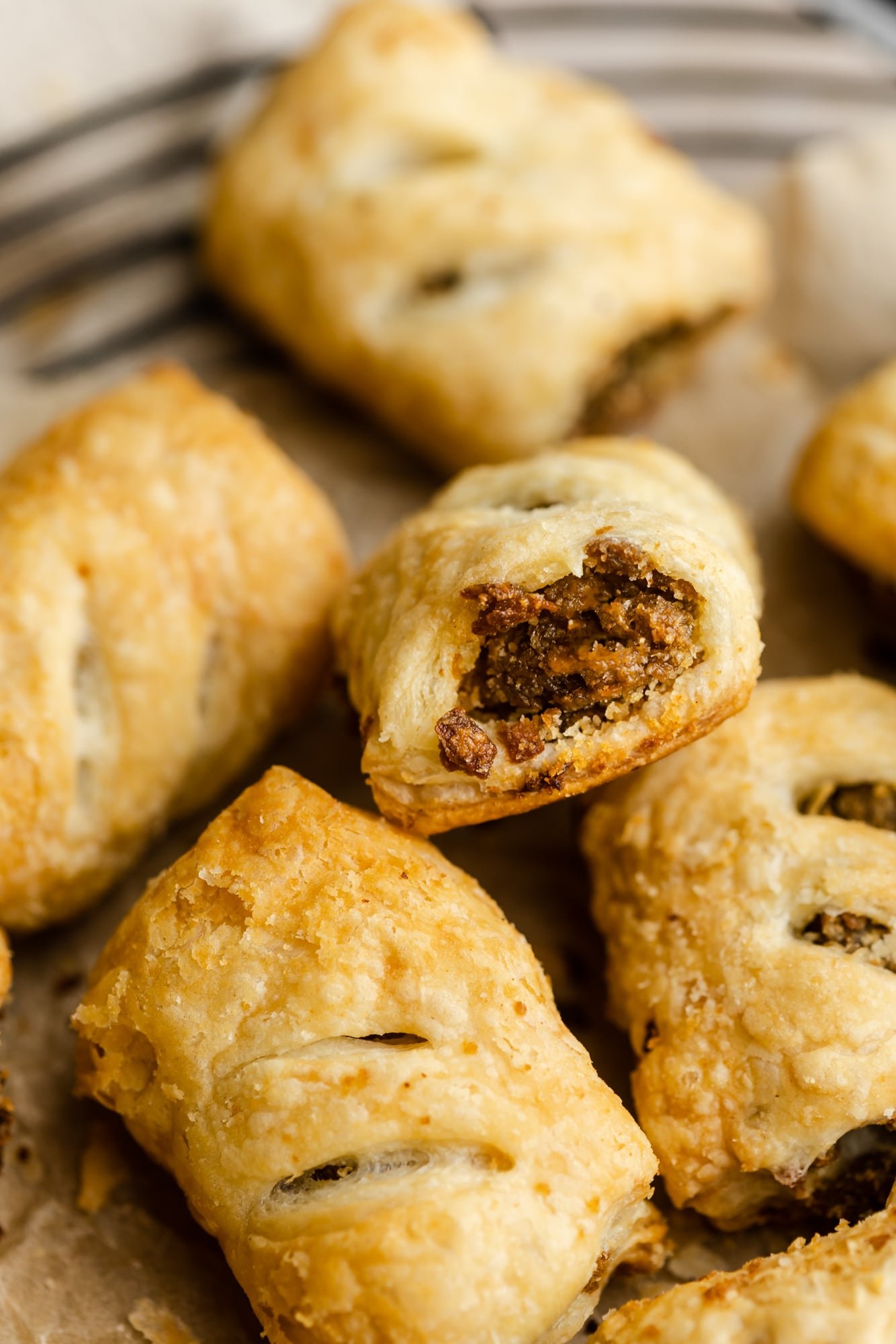 Want more vegan party snacks?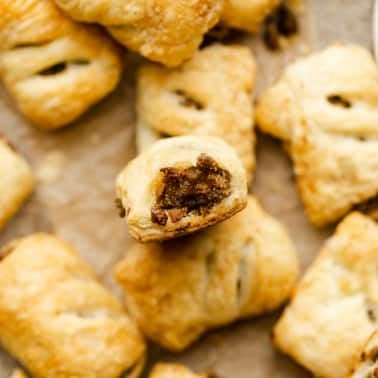 Vegan Sausage Rolls
Vegan Sausage Rolls are a savory pastry snack and are oh-so-comforting. Vegan sausage crumbles are wrapped in puff pastry, then baked until savory and crisp. Freezer-friendly and always a hit at parties!
Ingredients
2

sheets

frozen puff pastry, vegan

14

ounces

Impossible sausage crumbles

see Notes for options

1/2

cup

breadcrumbs, vegan

I used panko

few tablespoons water

2

tablespoons

melted vegan butter, for brushing pastry
Instructions
Set the frozen puff pastry out to thaw while you prepare the filling. It will take about 30 minutes to thaw.

Preheat oven to 425 degrees F and line a large baking sheet with parchment paper.

In a large bowl, mix together the vegan sausage crumbles and bread crumbs until well combined.

On a lightly floured surface, unfold one of the puff pastries and gently roll it out just a little bit. Cut into 3 long rectangles with a pizza cutter. Do the same with the other puff pastry so you have 6 long rectangles.

Divide the sausage mixture into 6 portions. Place the sausage in the center of each pastry piece, going all the way down and leave an inch or so on each side and at the ends.

Bring the sides together and pinch to seal, using a little water to help it stick together. Do the same with the rest of the pastry/sausage.

With a large knife, cut into 2 inch long pieces and place on the prepared baking sheet a few inches apart. Cut a few slits on the top of each one for venting.

Brush the tops of the sausage rolls with melted vegan butter and bake in the oven for 20 minutes or so, until the pastry is puffed up and the tops are golden. Serve immediately and enjoy!
Notes
The vegan sausage rolls freeze perfectly. I just let them cool, stick them in a freezer friendly bag or container, and freeze. To reheat, just pop them back in the oven (or an air fryer) and reheat until warm (425 degrees F). 
For the vegan sausage, I prefer Impossible vegan sausage here. If you can't find it, there are other options. Crumble up any vegan sausage you like and use it, or make my tempeh sausage crumbles and use them instead.
Nutrition
Calories:
78
kcal
|
Carbohydrates:
6
g
|
Protein:
2
g
|
Fat:
5
g
|
Saturated Fat:
1
g
|
Polyunsaturated Fat:
1
g
|
Monounsaturated Fat:
3
g
|
Trans Fat:
0.1
g
|
Sodium:
89
mg
|
Potassium:
17
mg
|
Fiber:
1
g
|
Sugar:
0.1
g
|
Vitamin A:
0.1
IU
|
Calcium:
2
mg
|
Iron:
2
mg