Thanksgiving just isn't complete without the Vegan Stuffing! Deliciously savory and made with simple ingredients, this easy side dish can be made ahead of time in the oven or the slow cooker.
Looking for more vegan side dishes for the holidays? You'll find a bunch in this list of Vegan Thanksgiving Recipes!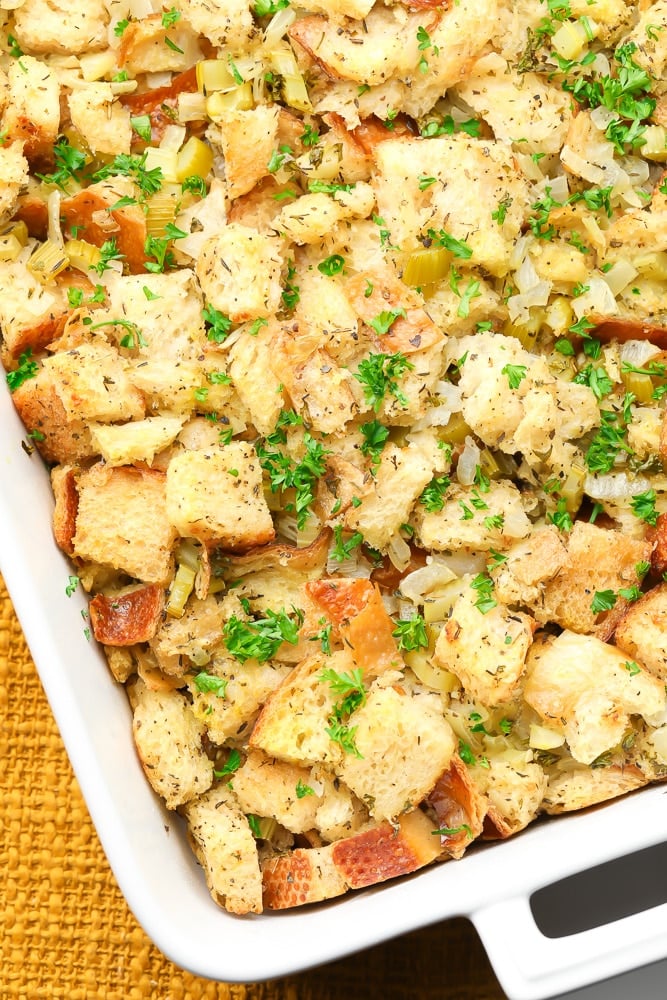 Chunks of crusty artisan bread doused in vegan butter, broth, and comforting herbs and spices… is there anything better than Vegan Stuffing?
This classic side dish screams "Thanksgiving". It just isn't the holidays without it! Thankfully, this vegan stuffing recipe is easy to make, only uses a handful of simple ingredients, and can be made ahead of time in the oven or slow cooker.
3 reasons why this is the best vegan stuffing recipe
Easy, simple ingredients: All you'll find in this recipe are ingredients reminiscent of the classic – bread, broth, butter, vegetables, and warm herbs and spices. That's it!
The savory flavors of the real thing: Traditional stuffing (or dressing) is layered with the savory, warm flavors of poultry, especially when it's baked inside the Thanksgiving turkey. Thankfully, there's no need for meat here. Those same great flavors are replicated in this vegan-friendly version thanks to a specific, yet short list of ingredients and herbs.
Save time and make it ahead: The holidays are busy enough and the last thing you need is a big batch of stuffing taking up valuable oven space. Instead, you can prepare and assemble this recipe days ahead of time and bake it right before your dinner guests arrive.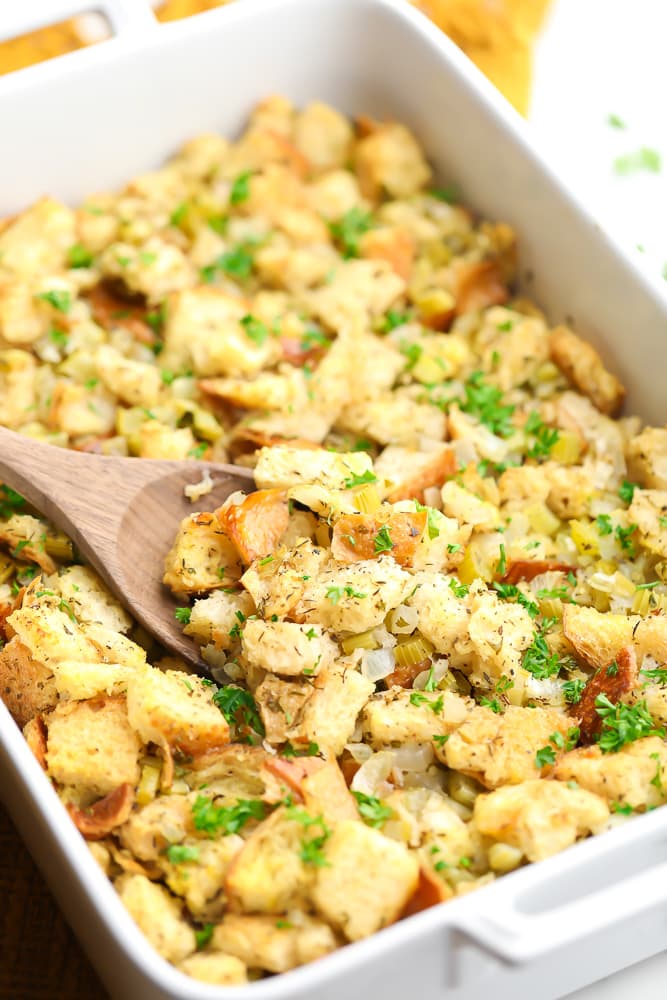 Ingredients needed (with substitutions)
Bread – The best bread to use in stuffing is any dense, neutral-flavored white bread. French bread and ciabatta are both wonderful options. Sourdough works too, although it will lend a slightly sour flavor to the stuffing.
Vegetable broth – I used Better Than Bouillon No-Chicken Base to help replicate the savory poultry flavors from the classic. Regular vegetable broth can also be used.
Cornstarch – Since we aren't using eggs, cornstarch helps thicken the stuffing and prevents it from becoming soggy. Arrowroot will work just as well.
Salt – Make sure to use less salt if you're using a very salty broth, or more if you are using a low sodium broth.
Black pepper
Vegan butter – Or use olive oil instead.
Onion and garlic – Aromatics are the backbone of any good vegan stuffing recipe. The onion and garlic are crucial and should never be skipped!
Celery – Or add even more veggies, like kale or mushrooms. You'll find a few more suggestions in the Variations section below.
Fresh parsley – Dried will work in a pinch but fresh is so much more flavorful and bright!
Dried herbs – Sage, thyme, and marjoram work together to fill the stuffing (as well as your home) with the warming flavors of fall and Thanksgiving. Feel free to take it up a notch and garnish the stuffing with crispy fried sage leaves or sprigs of fresh thyme.
How to make vegan stuffing
Find the complete printable recipe with measurements below in the recipe card.
Fresh bread cannot be used to make stuffing or else it will turn out mushy. That's why it's important to use day-old bread or dry out the bread cubes first. Toasting them for about 1 hour in the oven is the quickest and easiest way to achieve those soft on the inside and crisp on the outside results.
Lay the torn bread cubes on two large baking sheets and bake them at a low temperature in the oven until they're completely dry and crisp.
Sauté the onion and celery in the vegan butter, then add the garlic. Set aside.
Stir the dried bread crumbs, parsley, sage, thyme, marjoram, and onion/celery mixture together in a large bowl. Drizzle the broth mixture over the bread and vegetables until the bread is just barely soaked through (how much you use will depend on the type of bread).
Transfer the mixture to a greased baking dish. Cover with foil and bake for 30 minutes. Remove the foil and bake until it's starting to brown on top.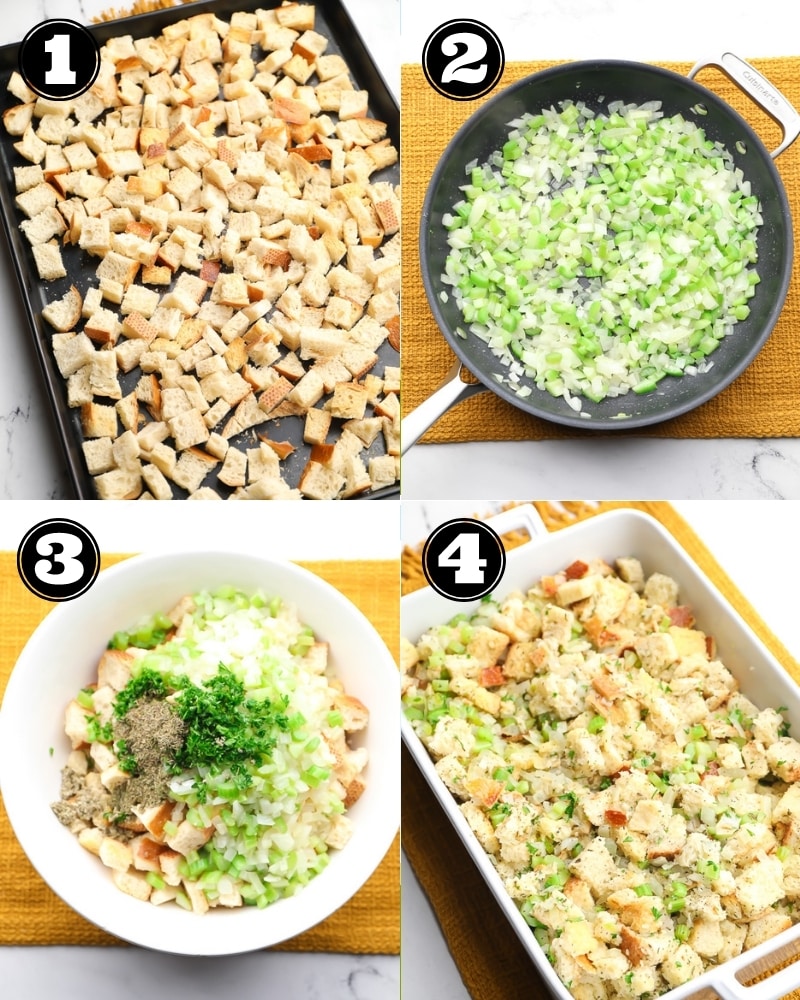 When the stuffing is done baking, let it sit in the baking dish for at least 15 minutes to help it stick together. Serve with plenty of vegan gravy and enjoy!
Slow cooker instructions
One of the best ways to save time (and free up valuable oven space) during the busy holiday season is to make vegan stuffing in the slow cooker. To do so, make the stuffing as normal before transferring it to a greased crockpot. Cook on High for 30 minutes, then on Low for 4 hours.
Variations
Gluten free vegan stuffing – Simply substitute the bread for your favorite crusty loaf of gluten free bread.
Vegan cornbread stuffing – Instead of making substitutions here, follow my cornbread stuffing recipe instead. It's a must for fall!
Add more vegetables – Sauteed carrots, mushrooms, leeks, brussels sprouts, kale, and bell peppers can all be added to the stuffing for extra color, texture, and nutrients.
Protein is always welcome – I recommend mixing sliced vegan sausage (Field Roast Italian Sausages are best), cooked green or brown lentils, or leftover seitan chicken into the stuffing for more protein.
More add-ins – Stir in dried cranberries, walnuts, pecans, or raisins for a complex textural element.
Frequently asked questions
Can you make vegan stuffing ahead of time? Yes, this is an easy recipe to prepare ahead. Simply assemble it in the baking dish as normal, then cover and refrigerate for up to 1 day (or freeze for longer). It can be baked straight from the fridge or freezer – you'll only need to add a few extra minutes to the baking time.
How do you store the leftovers? Keep the leftovers in an airtight container in the fridge and enjoy within 3 or 4 days. Vegan stuffing gets even better with age, so definitely make extras!
Is it freezer-friendly? Yes! You can freeze the unbaked or baked stuffing for up to 3 months.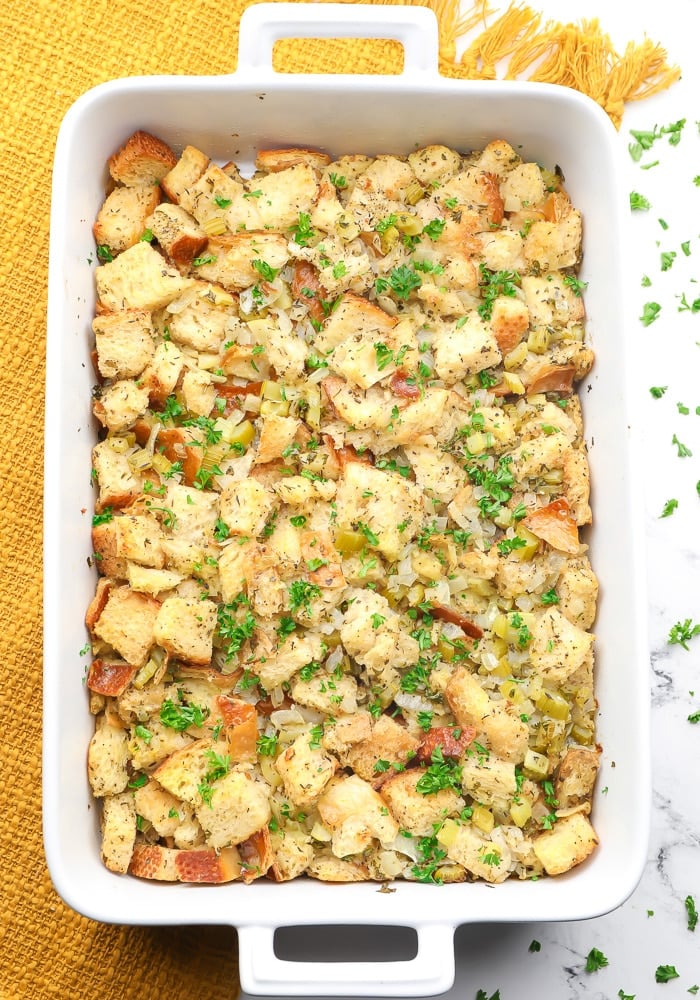 Want more Thanksgiving side dishes?
Serve each scoop of stuffing next to slices of vegan turkey roast and any of these flavor-packed, easy-to-make holiday sides: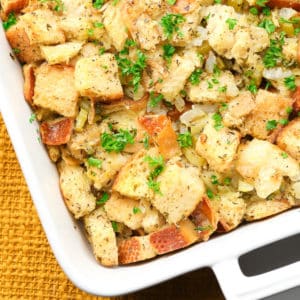 Vegan Stuffing
Thanksgiving just isn't complete without the Vegan Stuffing! Deliciously savory and made with simple ingredients, this easy side dish can be made ahead of time in the oven or the slow cooker.
Ingredients
2

pounds

hearty sourdough or french bread, cut into 3/4 inch cubes

about 14 cups cubed

3-4 1/2

cups

vegetable broth

I used Better Than Bouillon No-Chicken

2

tablespoons

cornstarch

3/4

teaspoon

salt, or more to taste

1/2

teaspoon

black pepper

4

tablespoons

vegan butter

or olive oil

2

cups

diced yellow onion

about 2 small or 1 large onion

2

cups

chopped celery

3

cloves

garlic, minced

1/3

cup

fresh parsley, chopped small

1

teaspoon

dried sage

2

teaspoons

dried thyme

1

teaspoon

dried marjoram
Instructions
Dry the breadcrumbs: Preheat the oven to 250 degrees F and spread the bread cubes evenly onto two large rimmed baking sheets. Place in the oven and bake for about 50-60 minutes, rotating the pans a few times (every 20 minutes). Remove from the oven. Set aside to cool.

Increase the oven temperature to 375 degrees and make sure one of the racks is in the center of the oven.

In a large bowl or glass measuring cup, whisk 3 cups of the broth with the cornstarch, salt and pepper until combined. Set aside.

In a large skillet, melt the vegan butter over medium heat. Add the onion and celery and sauté until translucent and softened, about 5-6 minutes. Add the garlic and cook 1 more minute. Remove from heat.

In a very large bowl, add the dried bread crumbs, parsley, sage, thyme and marjoram. Now add the onion/celery mixture.

Give the broth mixture once last whisk and then slowly start drizzling it in to the bowl with the bread and toss immediately. Pour in more broth while tossing until the bread is just barely soaked though. You don't want them to be too wet or too dry. I used about 4 cups, but it will depend on the bread you use.

Add to a greased 9×13 inch baking dish and spread into an even layer. Cover with foil and bake for 30 minutes, then remove the foil and cook uncovered for about 20 more minutes. If you want it a little more browned on top, broil for just a few minutes but watch carefully so it doesn't burn. Enjoy!

MAKE AHEAD OPTION: You can prepare the stuffing a day in advance, or longer if you freeze it. To make ahead, dry out the bread, sauté the vegetables and mix it all together with the broth/cornstarch mixture + herbs. Place in the casserole dish, then cover and refrigerate for a day, or freeze for longer. When ready to serve, pop it in the oven and bake as directed, plus a little extra time especially if you froze it.
Notes
Bread: I love stuffing with quality sourdough bread, but any hearty bread will work. I would avoid using sandwich type bread, but even that will work in a pinch. For gluten free, substitute a gluten free bread. You could even use store bought dried bread cubes, but it won't be nearly as tasty.
Broth: Choose a broth that you love. I almost always use Better than Bouillon Vegetable Flavor, but here I love their No-Chicken base.
May substitute arrowroot for cornstarch.
Add more or less salt to taste when tossing everything together. It will largely depend on how salty your broth is, so adjust as needed.
Store leftovers in the refrigerator for 3-4 days and reheat in the oven or air fryer to make it crispy again!
Nutrition
Serving:
1
of 12 servings
|
Calories:
269
kcal
|
Carbohydrates:
48
g
|
Protein:
9
g
|
Fat:
4
g
|
Saturated Fat:
1
g
|
Sodium:
852
mg
|
Potassium:
182
mg
|
Fiber:
3
g
|
Sugar:
4
g
|
Vitamin A:
406
IU
|
Vitamin C:
3
mg
|
Calcium:
51
mg
|
Iron:
3
mg