This Air Fryer Asparagus will be your new favorite way to enjoy asparagus! You only need 2 ingredients ( + salt and pepper) and it's ready in about 10 minutes. The air fryer is the perfect kitchen tool in the summer when it's too hot to turn on the oven!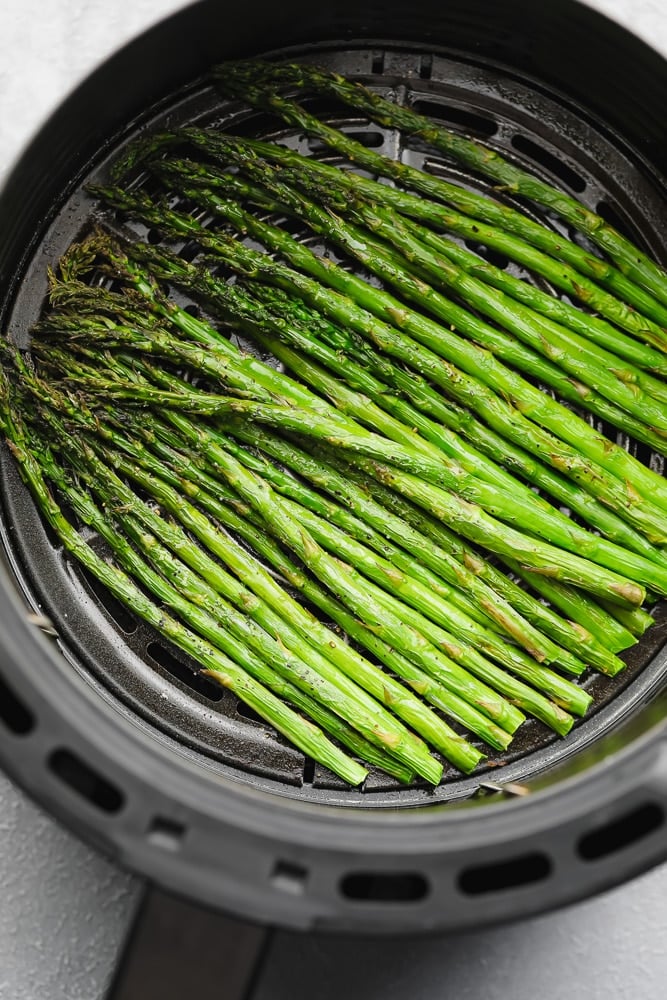 I seriously can't get enough of my air fryer. Tofu, brussels sprouts, classic french fries… it's one of the best tools to create flavorful, crispy, and delicious side dishes with so little effort and oil.
A summer staple, Air Fryer Asparagus cooks up quickly and only needs a small amount of oil, salt, and pepper to dress it up. The asparagus ends up perfectly crisp without turning on the oven or grill. For even more flavor, add fun mix-ins like fresh garlic or a sprinkle of vegan parmesan!
You're going to love this asparagus air fryer recipe because it's…
Quick and easy
Low maintenance
Versatile (add in more flavor!)
Pairs well with anything!
This flexible, easy, and tender side dish is perfect for your summer barbecues or when you need a quick side for weeknight dinners. Ready to eat in less than 10 minutes!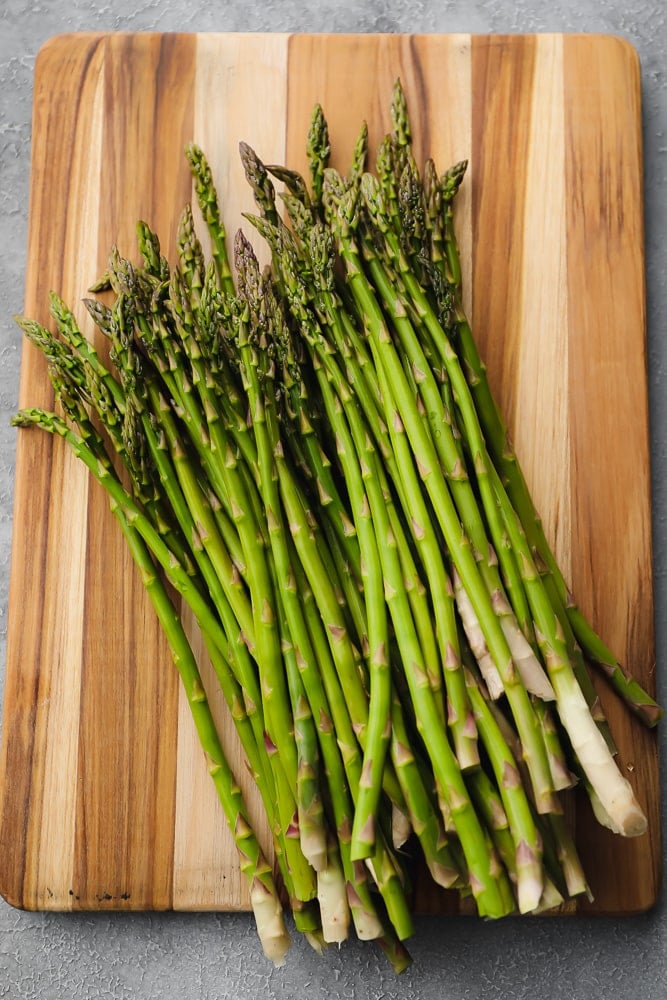 Find the complete recipe with measurements below.
Prepping asparagus
Asparagus spears have woody, tough ends that aren't edible. To chop them off, use a knife to cut off the bottom inch to inch and a half of each spear or snap them off with your hands.
Rinse the prepped asparagus well under cold water and pat dry with a paper towel before cooking them in the air fryer.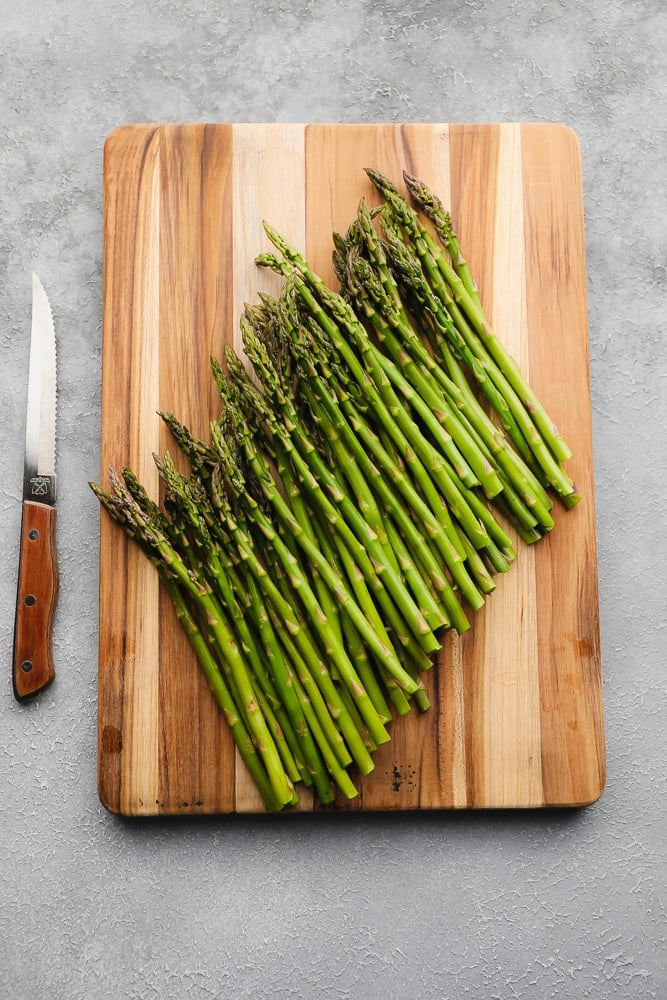 How to make asparagus in the air fryer
Trim the ends of the asparagus and spray the bottom of the air fryer basket with olive oil. Place the asparagus in a single layer in the air fryer, spray with oil, and sprinkle salt and pepper on top.
Air fry the asparagus until it's crisp but not blackened. Thicker pieces may take a bit longer, so keep an eye on them.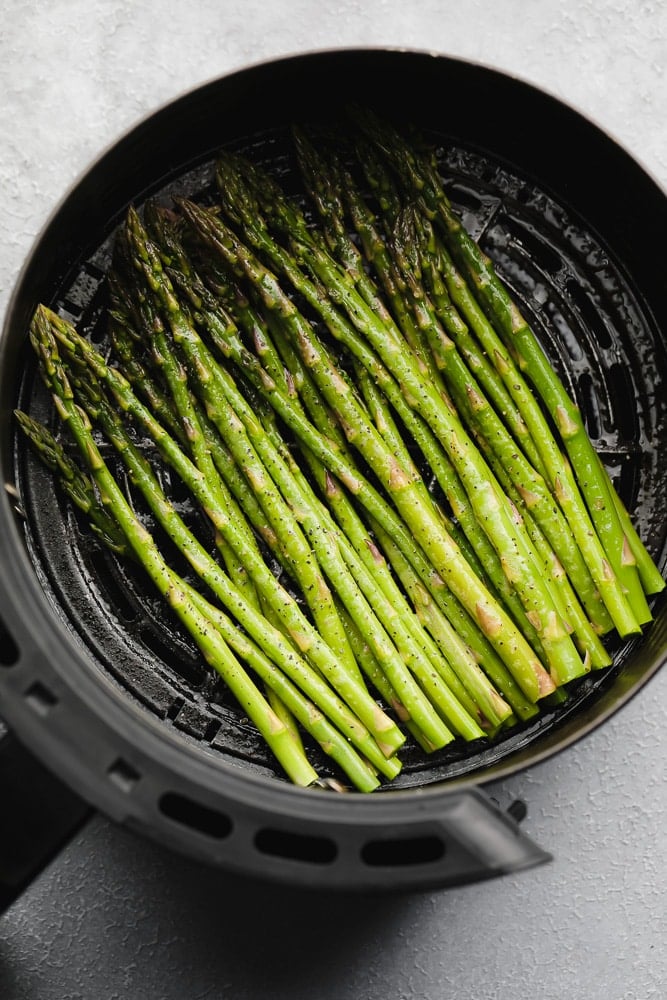 Add-ins
Garlic – Mince a few cloves of garlic and add them to cook with the asparagus.
Parmesan – Sprinkle the cooked asparagus with vegan parmesan for a cheesy finish.
Lemon juice – Add some brightness with a spritz of fresh lemon juice on top of the cooked asparagus.
Sesame oil – Toss the asparagus with a teaspoon of sesame oil. When it's done, sprinkle with sesame seeds and serve with rice and sesame tofu.
Olive oil – Feel free to use olive oil if you don't have spray. Use about 2 teaspoons and toss with the asparagus first.
Frequently asked questions
When is asparagus in season? Between April and June here on the west coast. When shopping, look for spears that are fresh, firm, and vibrant. You don't want them to show any signs of shriveling or mushiness.
What temperature to air fry asparagus? Set your air fryer to 400ºF. The spears will only need to cook for about 7 to 10 minutes at this temperature, depending on their thickness.
What goes well with asparagus? Almost everything! Serve it as a side to Lentil Shepherd's Pie, Veggie Burger's, or Vegan Meatloaf. Chop up any leftovers and add them to Carbonara, Vegan Quiche, or a Buddha Bowl.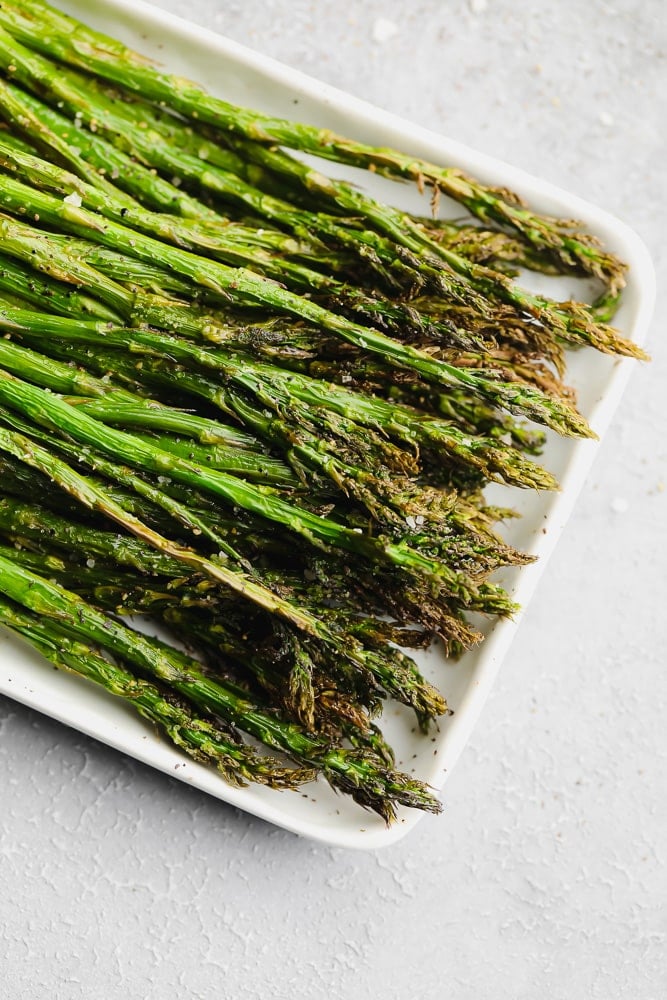 Want more veggie side dishes?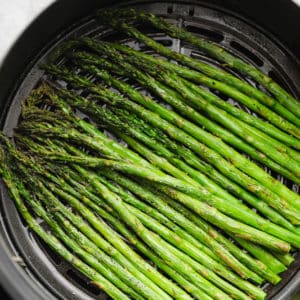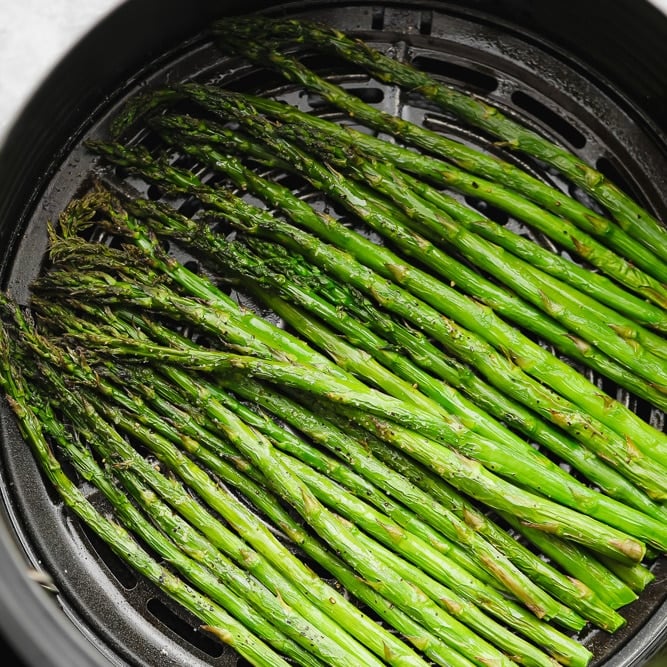 Air Fryer Asparagus
This Air Fryer Asparagus will be your new favorite way to enjoy asparagus! You only need 2 ingredients ( + salt and pepper) and it's ready in about 10 minutes.
Ingredients
1

pound

asparagus

olive oil spray

or 2 teaspoons olive oil

1/4

teaspoon

salt

1/8

teaspoon

black pepper
Instructions
Trim the chewy ends off the asparagus, about an inch or two from the bottom, either cutting them with a sharp knife or snapping with your hands.

Spray the bottom of the air fryer with olive oil.

Place the asparagus in the air fryer, in a single layer as much as possible (it's okay if some overlap a little though), and spray lightly with olive oil. Sprinkle with salt and pepper.

Air fry at 400 degrees F for 7-10 minutes, until crisp but not blackened and burned. Thin pieces will take only 7 minutes or so, while thicker pieces could take 10 or even 11 minutes, depending on their size. Check them often after 7 minutes to make sure the asparagus does not burn.

Serve immediately, sprinkling with some vegan parmesan, if desired. Store leftover asparagus in the refrigerator for 2-3 days, and reheat in the air fryer for about 2 minutes to re-crisp.
Notes
For variation, add a few cloves of minced garlic with the asparagus as it air fries, or toss cooked asparagus with a teaspoon of sesame oil and sprinkle with sesame seeds. You could also serve with a squeeze of fresh lemon juice.
For oil free, simply omit all oil. But watch the asparagus carefully, as it will burn easier with no oil. It also won't get very crispy.
While I prefer spray to evenly coat the asparagus without using a ton of oil, you can also simply toss it with 2 teaspoons of olive oil, then add to the air fryer.
Nutrition
Serving:
1
of 4 servings
|
Calories:
32
kcal
|
Carbohydrates:
4
g
|
Protein:
3
g
|
Fat:
1
g
|
Saturated Fat:
1
g
|
Sodium:
148
mg
|
Potassium:
230
mg
|
Fiber:
2
g
|
Sugar:
2
g
|
Vitamin A:
858
IU
|
Vitamin C:
6
mg
|
Calcium:
28
mg
|
Iron:
2
mg