Learn how to make 2 ingredient Cashew Cream, the dairy free alternative to heavy cream! Perfect for soups, creamy savory sauces, sour cream, sweet dessert topping or even coffee creamer.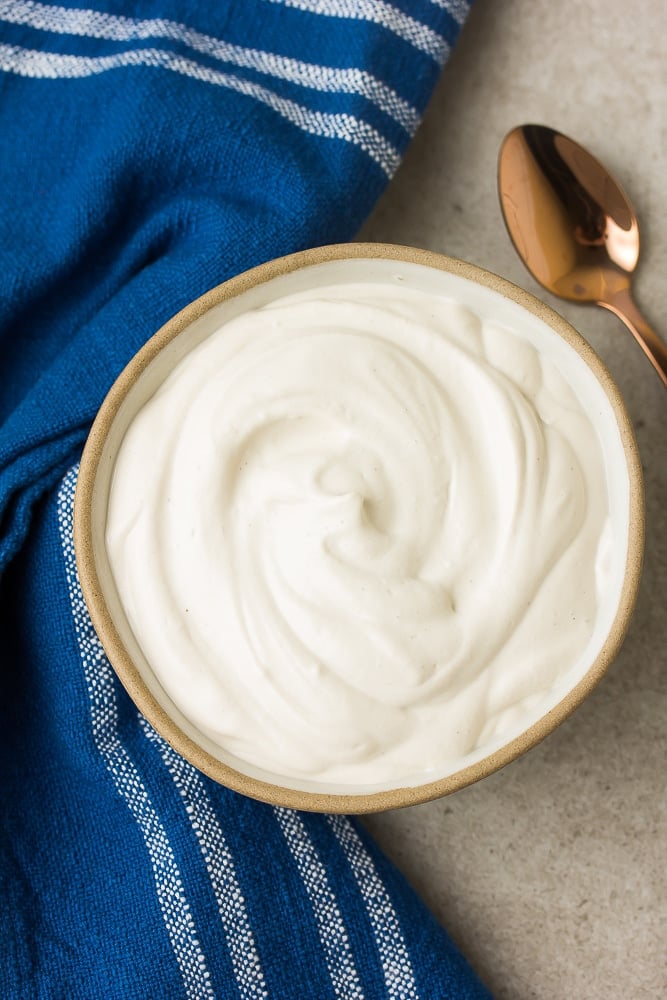 Cashew cream is a staple that I use all the time in my kitchen, and I want to teach you all about it! It's a perfect substitute for dairy heavy cream, and it has many other uses as well.
When I transitioned to a vegan diet 10 years ago, the thing I missed the most was dairy: creamy, rich foods and cheese. When I discovered the magic of cashews, I was in heaven! I didn't even miss dairy anymore. 
Here are just some of the ways I use cashew cream type sauces on a regular basis: Sour Cream, Mac and Cheese, Alfredo Sauce, Broccoli Cheese Soup, Vegan Mayo, Mushroom Stroganoff, Corn Chowder, Vegan Caesar Dressing and Buffalo "Chicken" Dip. The list goes on and on!
This post contains affiliate links. Read my full disclosure here.
How do you make it?
It's so easy! Soak some raw cashews. Drain, then add to a high powered blender along with some more water. (I use 1 1/2 cups raw soaked cashews + 1 cup water)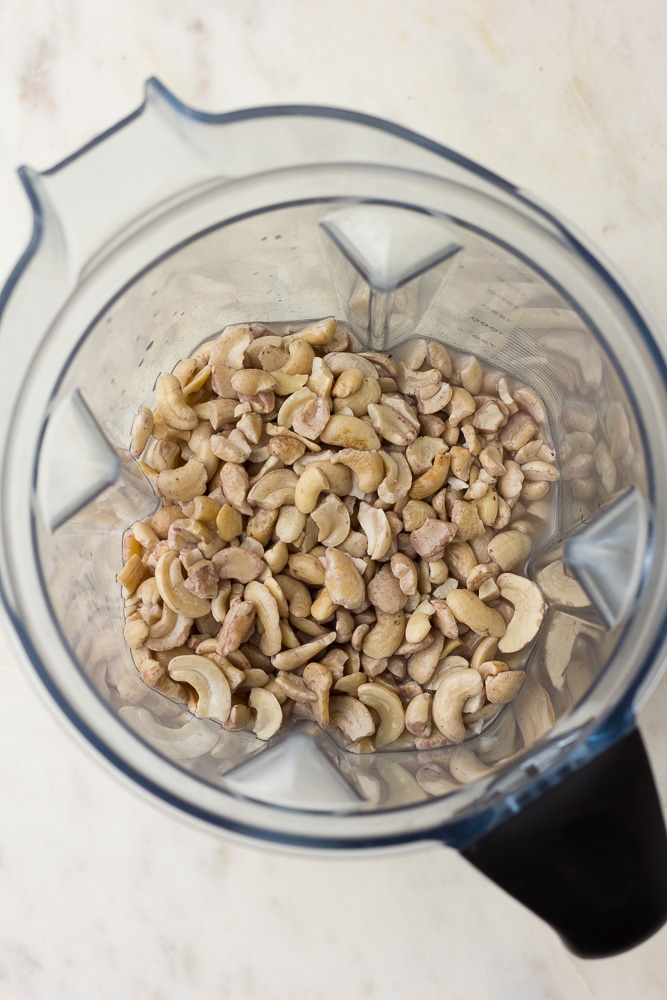 Blend until very smooth, scraping down the sides of your blender as needed. That's it! BUT, a couple of tips:
A Vitamix or other high powered blender is going to work the best here. If you do not have one, you can use a regular blender or food processor, but it's unlikely to get quite as creamy and smooth. And you will need to soak the cashews for longer.
You must use raw cashews. Roasted or salted will just not work!
On a budget? Yes, cashews can be pricey, but check prices at different stores. I never buy them at Whole Foods, but always either at Trader Joe's OR my local bargain store in the bulk bins. Raw cashew pieces work just as well as whole ones.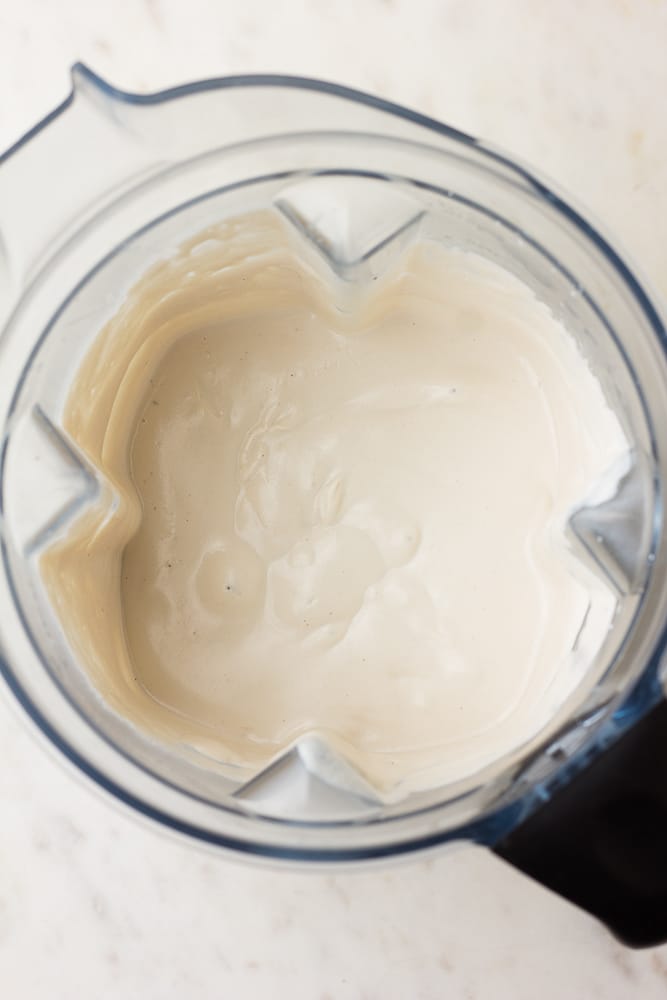 How to use it
In place of heavy cream to add to soups or creamy pasta sauces such as alfredo sauce.
As a savory cream for drizzling on buddha type bowls. Add salt, garlic and possibly even Sriracha hot sauce and/or nutritional yeast. This is also good on baked/roasted potatoes!
Vegan Mac and Cheese (a cheesy version)
Vegan Scalloped Potatoes! A personal favorite.
Add maple syrup and vanilla for a sweet version and use for an oatmeal topping or as a dip for fruit.
Cashew Cream for Coffee
To make a wonderful coffee creamer, use the sweet version and add an additional 1/2 cup of water when you blend it. Then store in the refrigerator to put in your coffee or tea!
How to store or freeze it?
It will keep in a covered container in the refrigerator for 5-6 days, or you can freeze it! I often make a big batch and then freeze some for later. Freeze in a freezer friendly container for up to 6 months.
When ready to use, let it thaw completely. You may need to re-blend it or just whisk well to make it smooth again.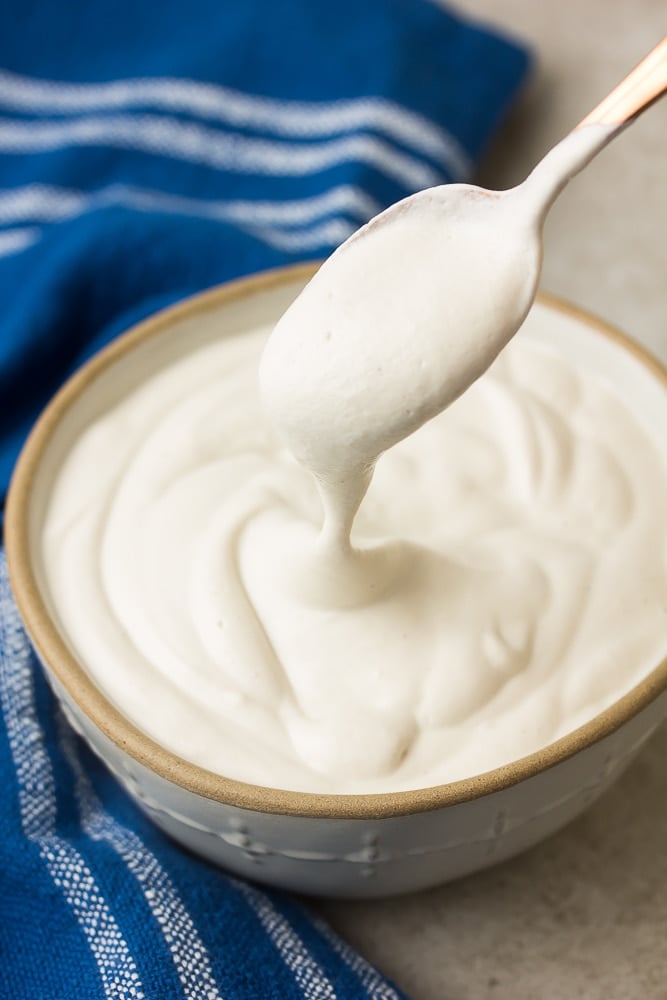 For more dairy free vegan staples, check out my Vegan Basics page!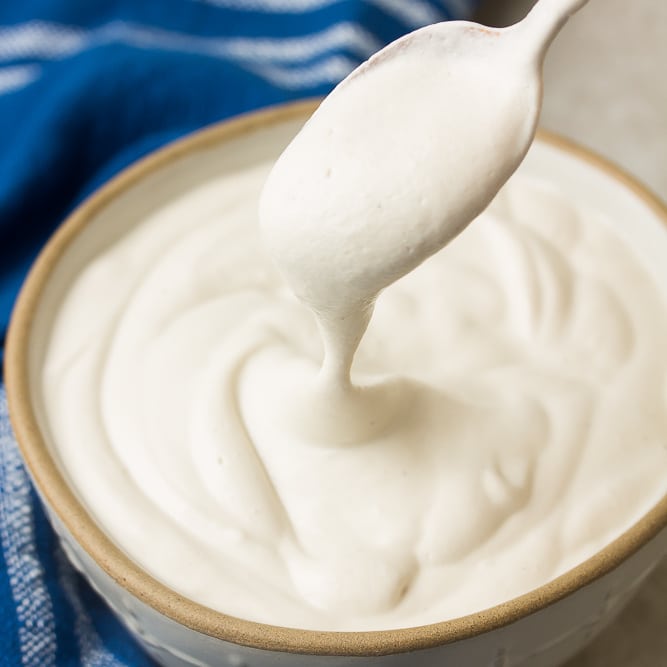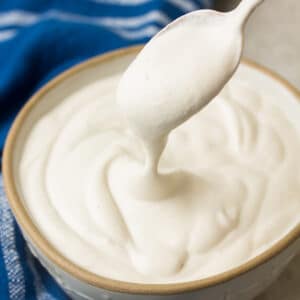 Cashew Cream
Learn how to make 2 ingredient Cashew Cream, the dairy free alternative to heavy cream! Perfect for soups, creamy sauces, sour cream or even a sweet dessert topping. 
PRINT
PIN
Ingredients
Savory Cashew Cream
3/4

teaspoon

salt

1-2

cloves

garlic

optional:

Sriracha hot sauce (1-2 teaspoons), nutritional yeast (1/4 cup, for cheesy flavor)
Instructions
Soak the cashews: Bring a few cups of water to a boil (I use my tea kettle for this). Add 1 1/2 cups cashews to a bowl and pour the boiling hot water on top to cover. Let them soak for 5 minutes, or 1 hour if you don't have a high powered blender.

Blend: Drain the cashews and add to high powered blender. Now add 1 cup fresh water and blend until very smooth. Scrape down the sides of the blender as needed. For savory cream, add salt, garlic and optional Sriracha or nutritional yeast. For sweet cream, add maple syrup and vanilla.

For coffee creamer, use the sweet version (maple syrup + vanilla) and add an additional 1/2 cup of water.

Store cashew cream in the refrigerator for 5-6 days. You can also freeze cashew cream, simply re-blend or whisk well once it thaws.
Recipe Notes
A high powered blender such as a Vitamix works best for this recipe, but a regular blender or food processor will work okay. If you don't have a Vitamix, soak the cashews for at least an hour or overnight.
Add plain cashew cream to soups or pasta sauces for added creaminess. Use a savory cream version for Buddha Bowls like in this Meal Prep. You can also make Vegan Alfredo Sauce, Vegan Sour Cream or Vegan Mayo. Or make a cheesy sauce like in Vegan Mac and Cheese.
Use sweet cashew cream as a dip for apples or berries.
NUTRITION INFORMATION
Calories:
134
kcal
Carbohydrates:
7
g
Protein:
4
g
Fat:
11
g
Saturated Fat:
2
g
Sodium:
4
mg
Potassium:
160
mg
Fiber:
1
g
Sugar:
1
g
Vitamin C:
1
mg
Calcium:
9
mg
Iron:
2
mg