An Indian inspired Chickpea and Eggplant Curry with fire roasted tomatoes, fresh garlic, ginger and served over brown rice.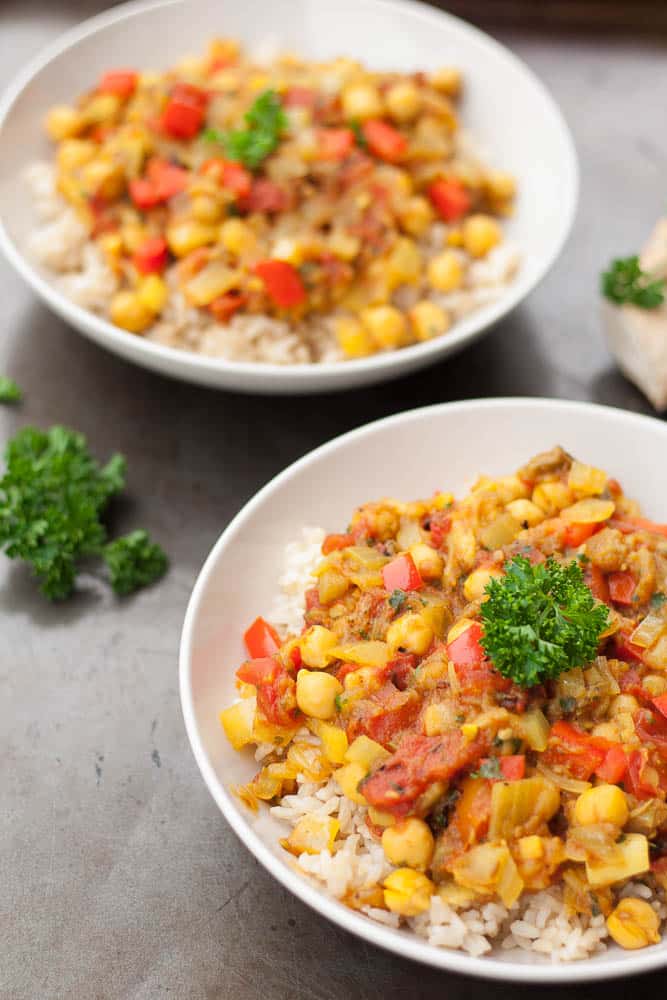 I used to really dislike eggplant. I just always thought it was a strange vegetable, with it's spongelike texture and purple skin. And when I first really started to cook, about 9 years ago, I remember something about having to sprinkle it with tons of salt and let it sit for awhile to get out the "bitter" taste or something like that. I did do that a few times, before I gave up dairy, and made Eggplant Parmesan. It was okay because of all the melty cheese, but I still didn't really care for eggplant itself.
Eventually I got friendly with eggplant, once I learned what to do with it. Now I absolutely LOVE the stuff! I don't "salt" it anymore, I just don't think it needs that personally. This Chickpea and Eggplant Curry is one of my favorite ways to eat eggplant. It has a wonderful, fragrant flavor but it's not too spicy. Believe it or not, my 18 month old likes this dish, and he doesn't like spicy food.
This Chickpea and Eggplant Curry might be a stretch for the picky kids out there, but maybe they would at least eat the chickpeas and brown rice. Last week I made this Chickpea and Eggplant Curry for my husband and I to eat for lunch all week and left the kids out of the mix. But if your kids are a little adventurous, give this a try for the whole family!
Now, I like eggplant just because it is delicious and yummy! But it's also super nutritious. At just 35 calories per cup, eggplant is full of antioxidants and various vitamins and minerals. Eat eggplant to fight free radical damage and inflammation.
Chickpea and Eggplant Curry is yummy alongside some brown rice. Add some naan or pita bread if desired. This recipe does make quite a bit, so feel free to cut the recipe in half or freeze some. This dish freezes beautifully. I recommend freezing in a couple of single serving containers for a quick and easy meal when you're in a pinch.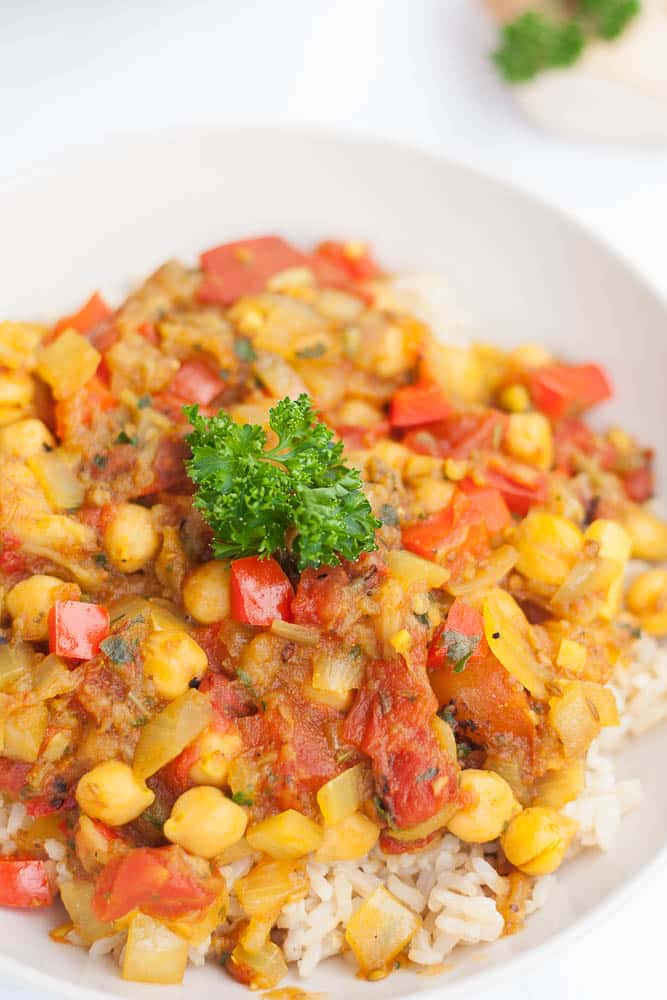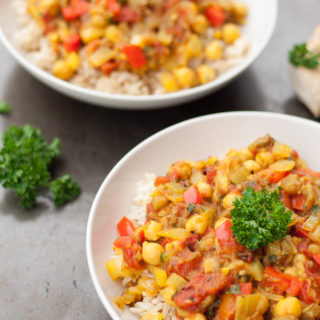 Chickpea and Eggplant Curry
An Indian inspired Chickpea Eggplant Curry.
PRINT
PIN
Ingredients
2

large

eggplants

2

tablespoons

olive oil, divided

2

medium

yellow onions, chopped

1

red bell pepper, seeded and diced

3

teaspoons

cumin seeds

3

teaspoons

coriander

1

teaspoon

turmeric

1/2

teaspoon

garam masala, optional

2

cloves

garlic, minced

2

tablespoons

fresh ginger, minced or grated

(2)

15-oz cans

fire roasted tomatoes

(2)

15-oz cans

chickpeas, drained and rinsed

1

cup

water

1/2

cup

fresh parsley, minced

1 1/2-2

teaspoons

salt

4

cups

cooked brown rice
Instructions
Preheat oven to 400 degrees. Prick the eggplants with a fork about 8-10 times and place on a baking sheet.

Bake eggplants for 45-50 minutes, until sunken and soft all the way through. Remove from oven and let cool. Peel (if desired) and chop into 1 inch pieces. Set aside.

Heat a large skillet, add 1 tablespoon olive oil, onions and red peppers to the pan. Cook over medium heat, stirring frequently, until the onion is translucent.

Next, clear a spot in the middle and sprinkle the cumin seeds directly on the pan. Pour the last tablespoon of olive oil on the seeds. Stir and cook them for about a minute, until they become fragrant. Now add the coriander, turmeric, garam masala if using, garlic and ginger. Stir and cook for 1 minute, adding a little water if needed.

Add the fire roasted tomatoes, chickpeas, cooked eggplant and water and simmer for 20 minutes. Stir in the minced parsley and add salt to taste.

Serve with cooked brown rice and/or whole wheat pita or naan.
Recipe Notes
You can find the spice garam masala at most grocery stores. I get mine at Winco or Whole Foods in bulk for cheap. You can leave it out if you don't have it, the recipe will still be good.
Nutritional information includes brown rice.
NUTRITION INFORMATION
Serving:
1
serving
Calories:
257
kcal
Carbohydrates:
46
g
Protein:
6
g
Fat:
6
g
Saturated Fat:
1
g
Sodium:
596
mg
Potassium:
611
mg
Fiber:
8
g
Sugar:
8
g
Vitamin A:
1090
IU
Vitamin C:
39
mg
Calcium:
53
mg
Iron:
2
mg