With 10 minutes of hands-on prep time and no kneading required, this Vegan Focaccia is ridiculously easy to make. The hardest part is waiting for it to rise, then bake!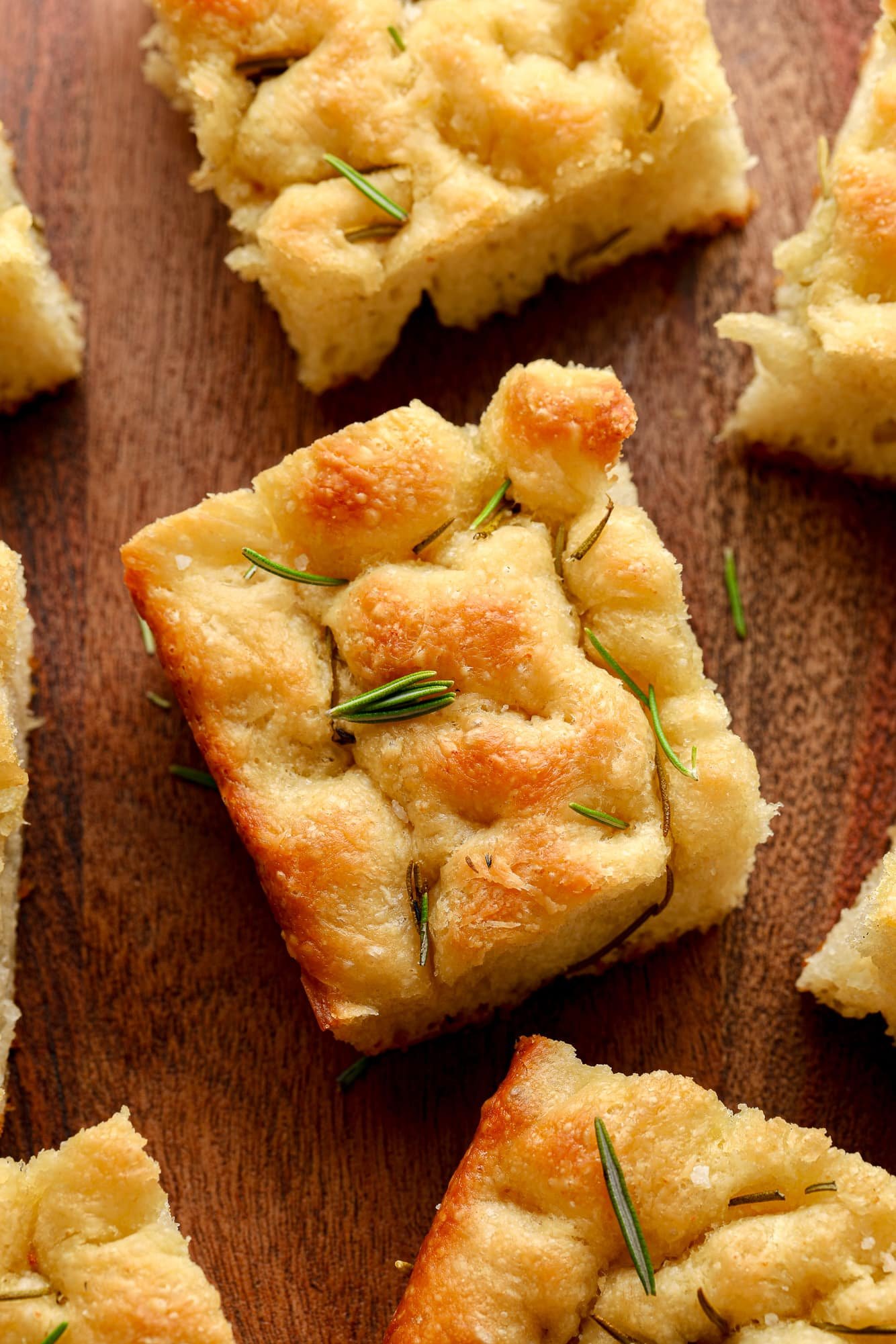 If bread is your favorite food, then you'll love this easy Vegan Focaccia recipe. It's slathered in olive oil, incredibly fluffy on the inside, and golden and crispy on the outside. Best of all, it's one of the most beginner-friendly artisan breads there is!
Just like my no knead Dutch Oven Bread, this focaccia recipe uses a handful of simple ingredients to give you bakery-style results every time. Making the dough is relatively hands-off and doesn't require much kneading, too. The fun part comes when it's time to coat the dough in olive oil and press dimples on top.
Toppings are a great way to upgrade your vegan focaccia bread's flavor. I used fresh rosemary and salt but you can use sliced vegetables, homemade sauces, and even vegan meat instead. Scroll down to the focaccia topping ideas below for more options!
What is focaccia?
Focaccia bread is a dimpled Italian flat bread made with yeast, flour, and lots of olive oil. It's a large, rectangular bread that's pillowy and fluffy on the inside while the outside is golden and crisp. Because of its long and wide shape, focaccia is fantastic at holding toppings or being used as an alternative crust for homemade pizza.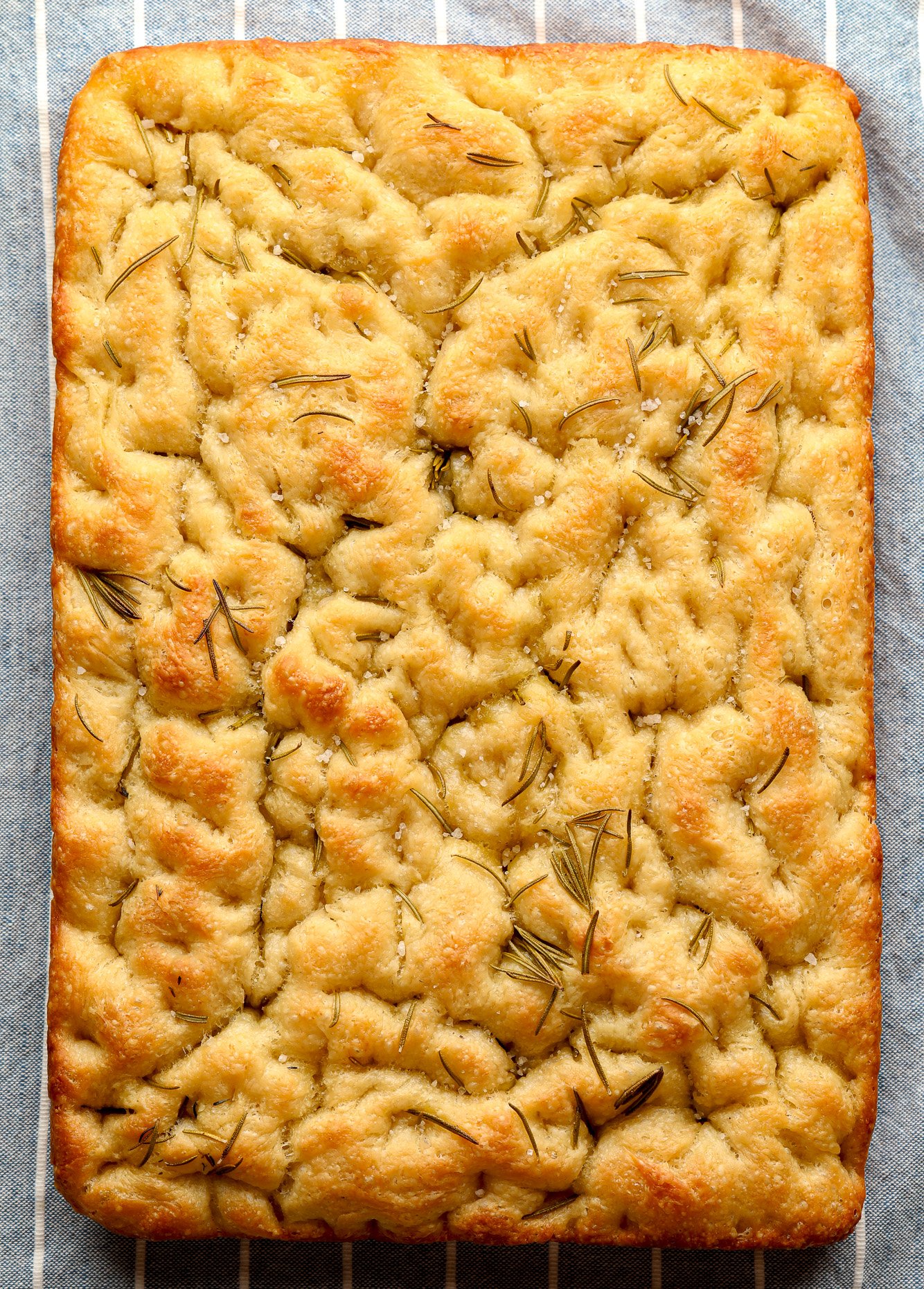 How to make vegan focaccia bread
Find the complete printable recipe with measurements below in the recipe card.
Whisk the flour, salt, yeast, and sugar together in a large bowl. Pour in the warm water and gently stir until you're left with a sticky dough.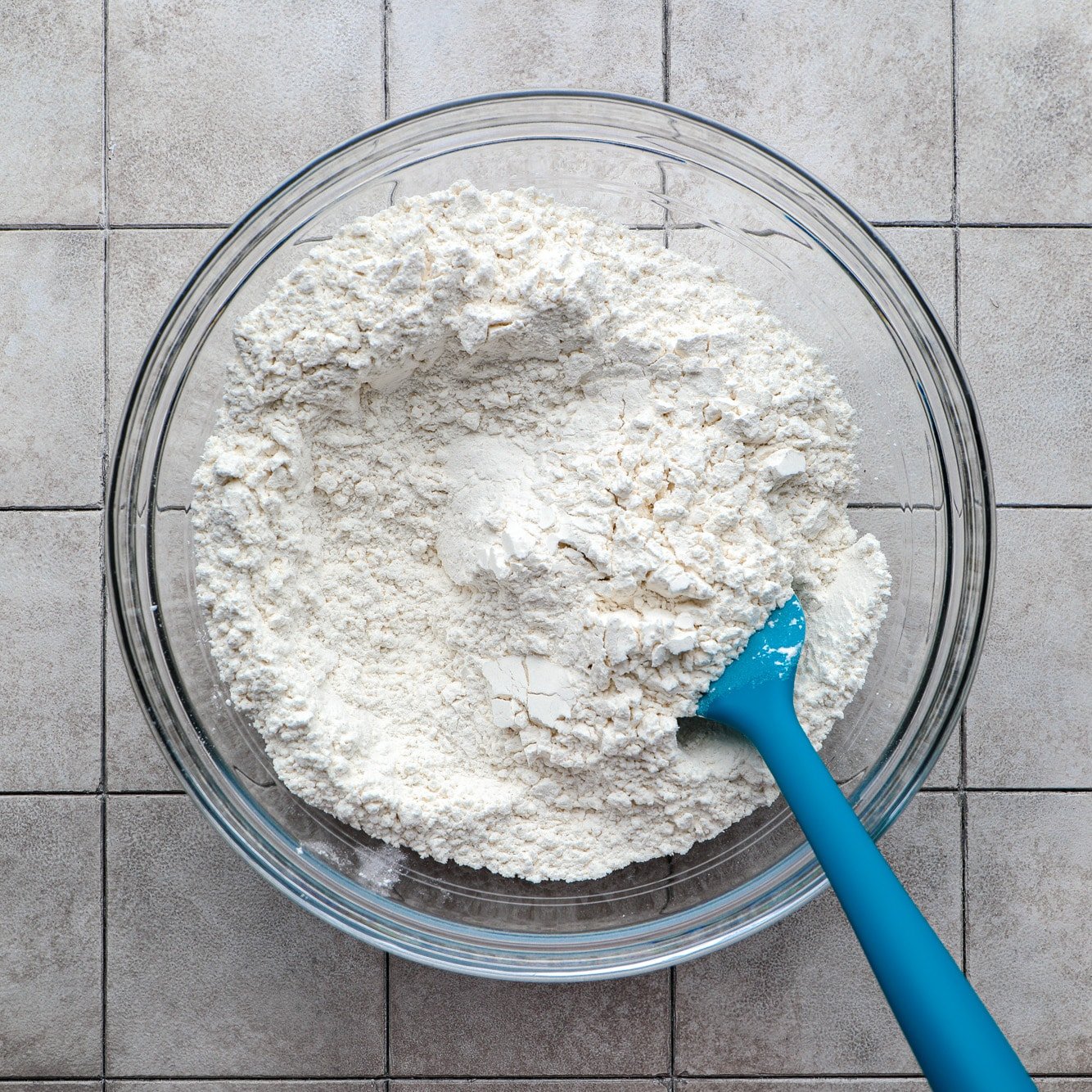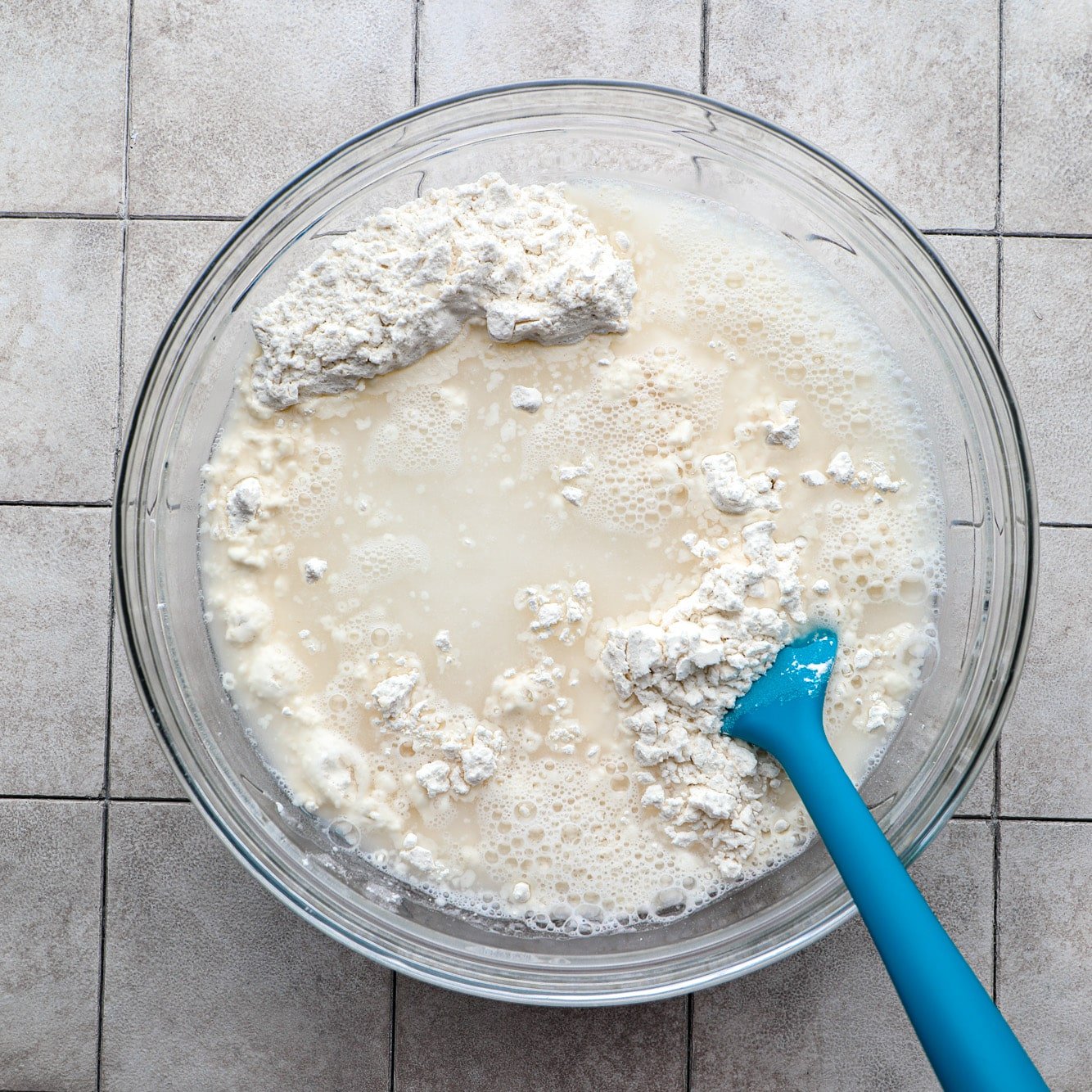 Pour some oil into the bowl and turn the dough to coat the outside.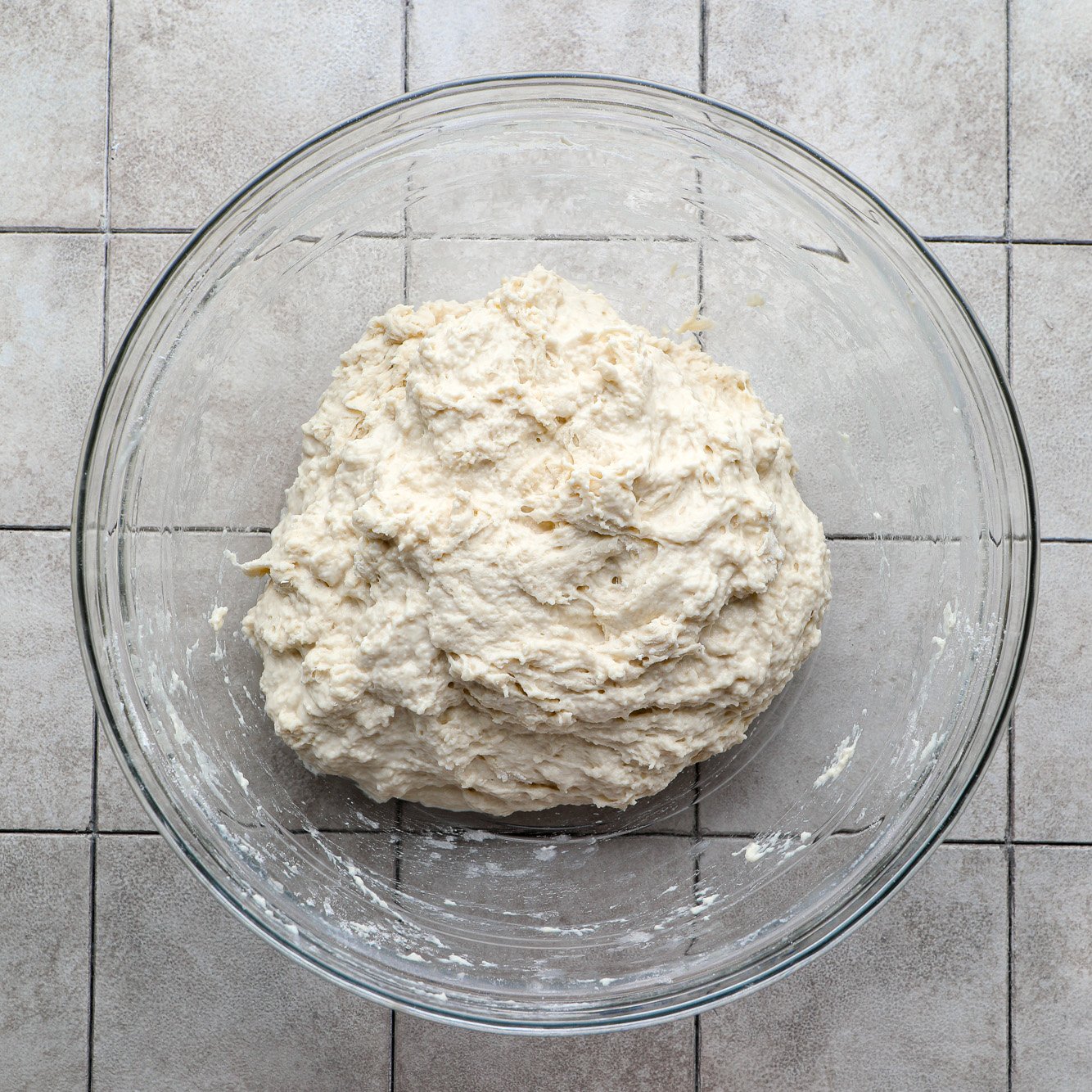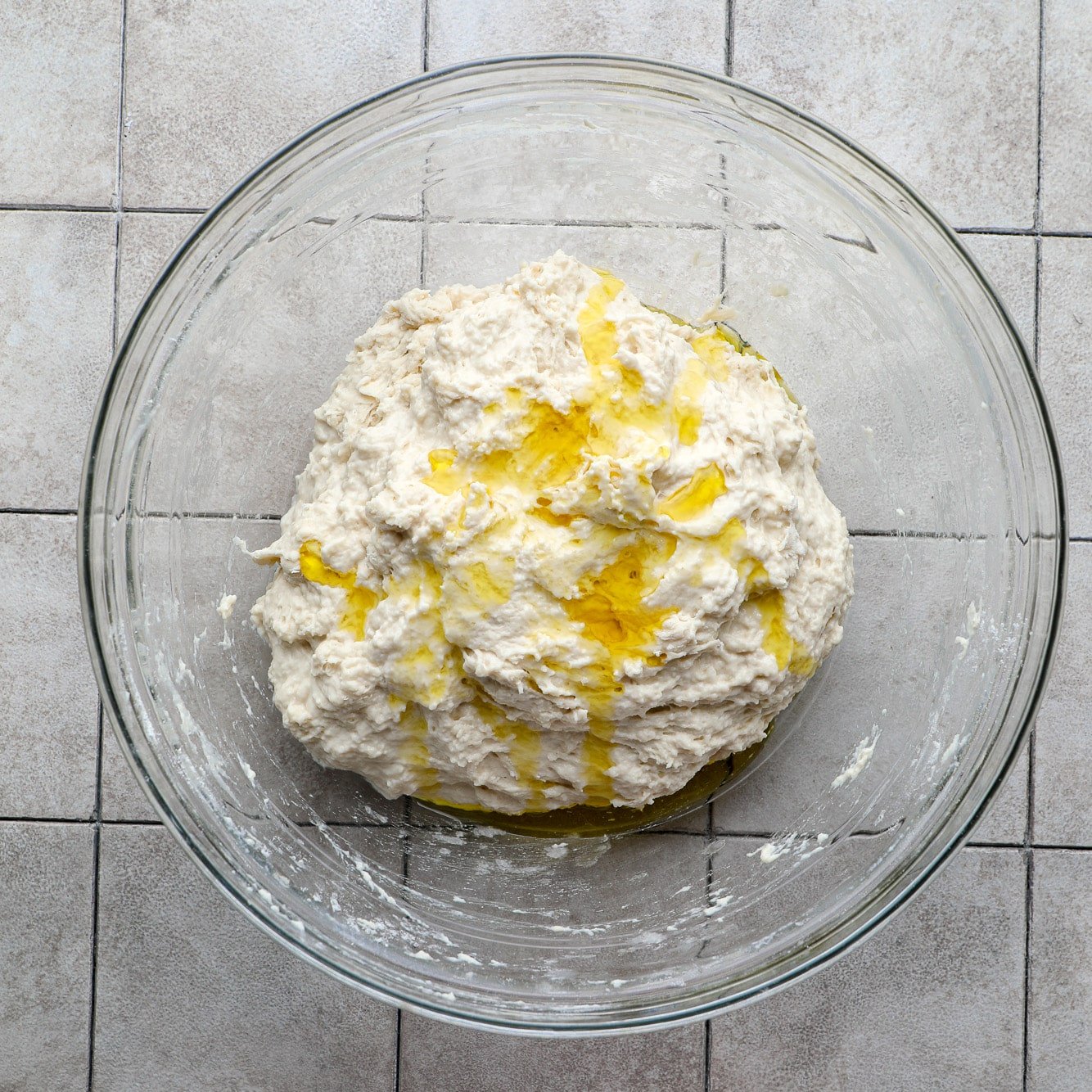 Cover the bowl with a damp tea towel and place it in the fridge. Let the dough rise overnight or for up to 3 days.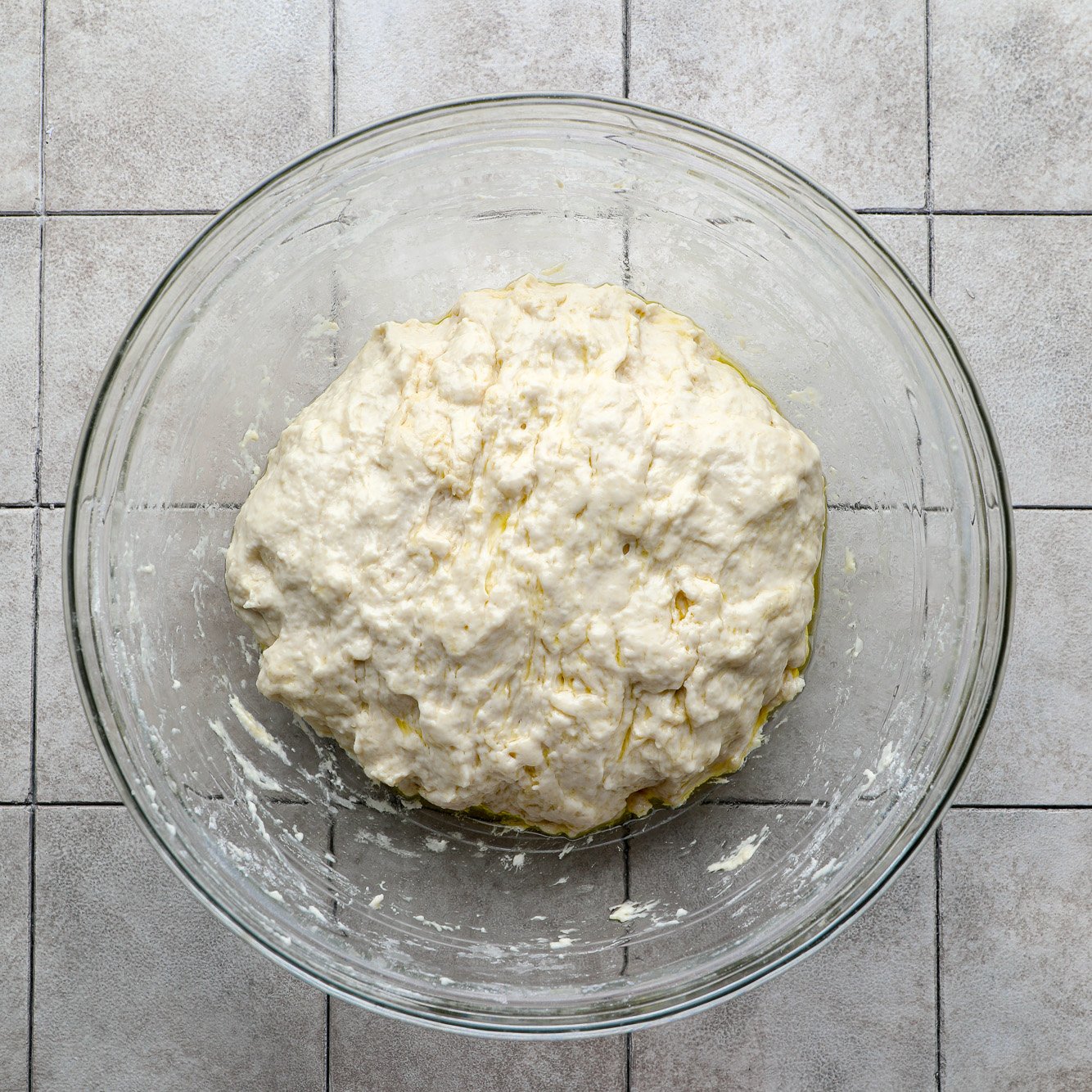 Pour some oil into a (vegan) buttered baking pan. Transfer the dough to the pan and roll it around in the oil. Cover the pan and set it aside so the dough can rise again.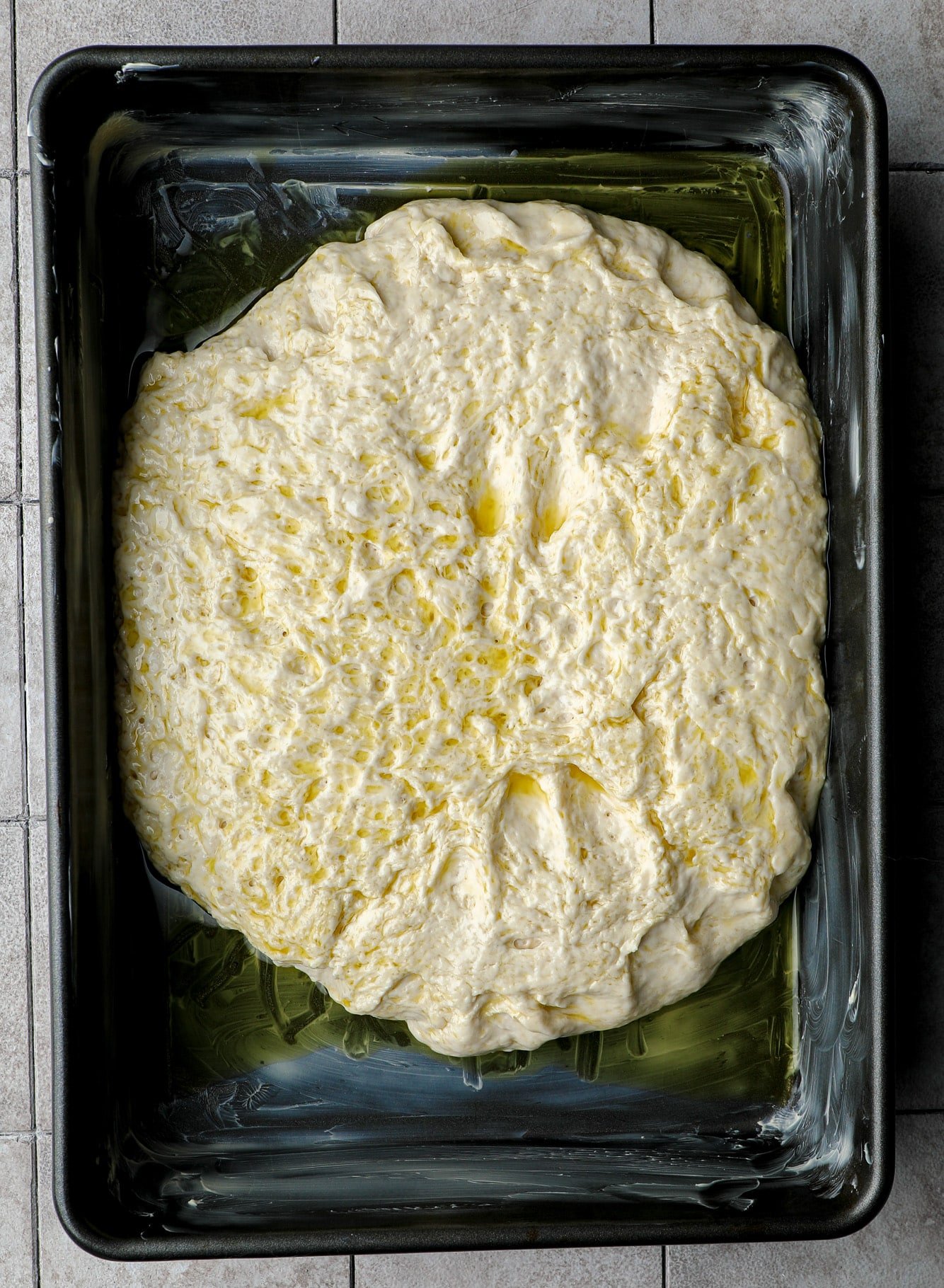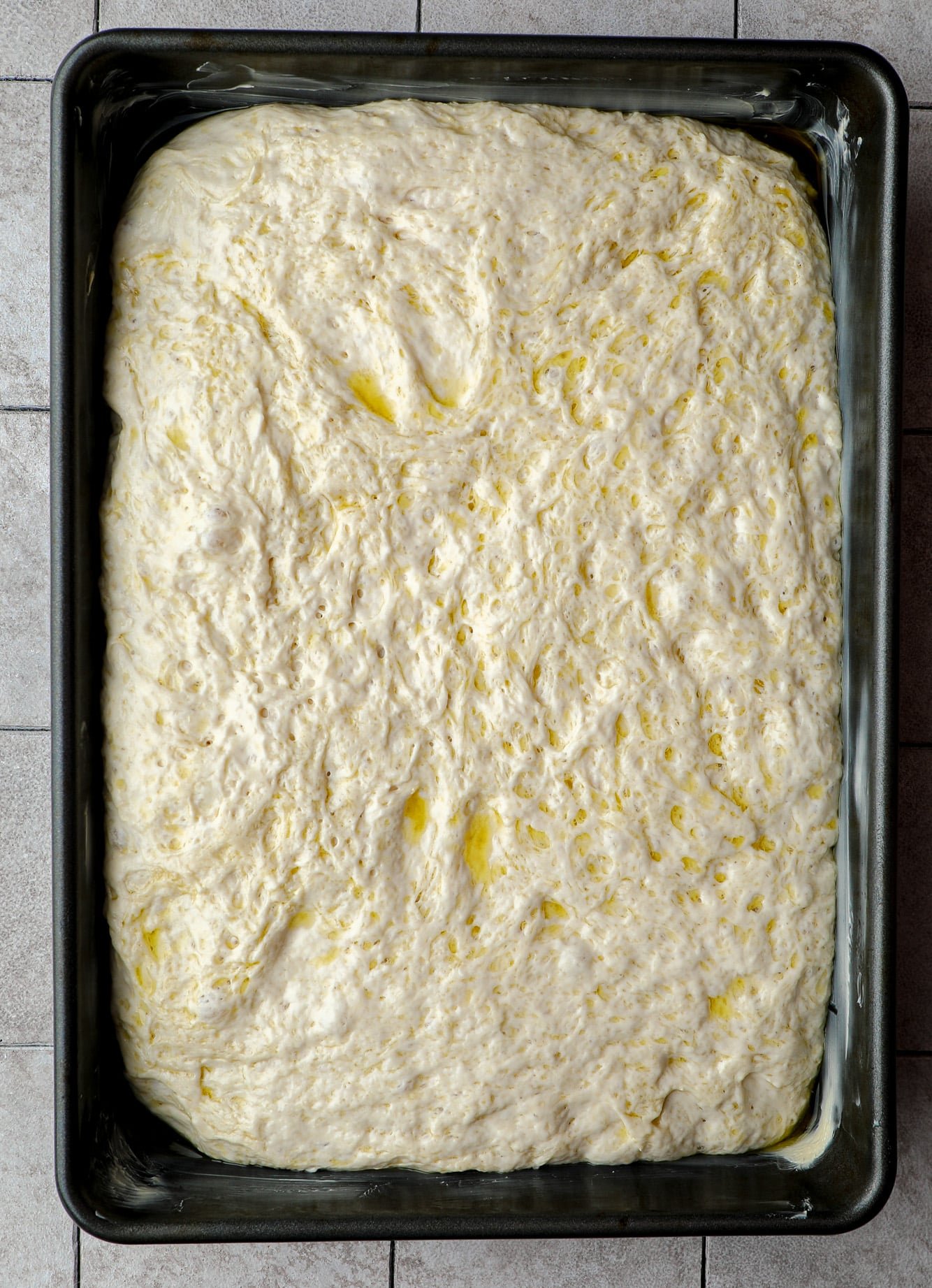 Sprinkle the toppings of your choice over the focaccia dough (I used fresh rosemary). Drizzle the remaining oil on top.
Using clean hands, press your fingers straight down into the dough to create deep dimples (you should hit the bottom of the pan). Gently stretch the dough to fill the pan.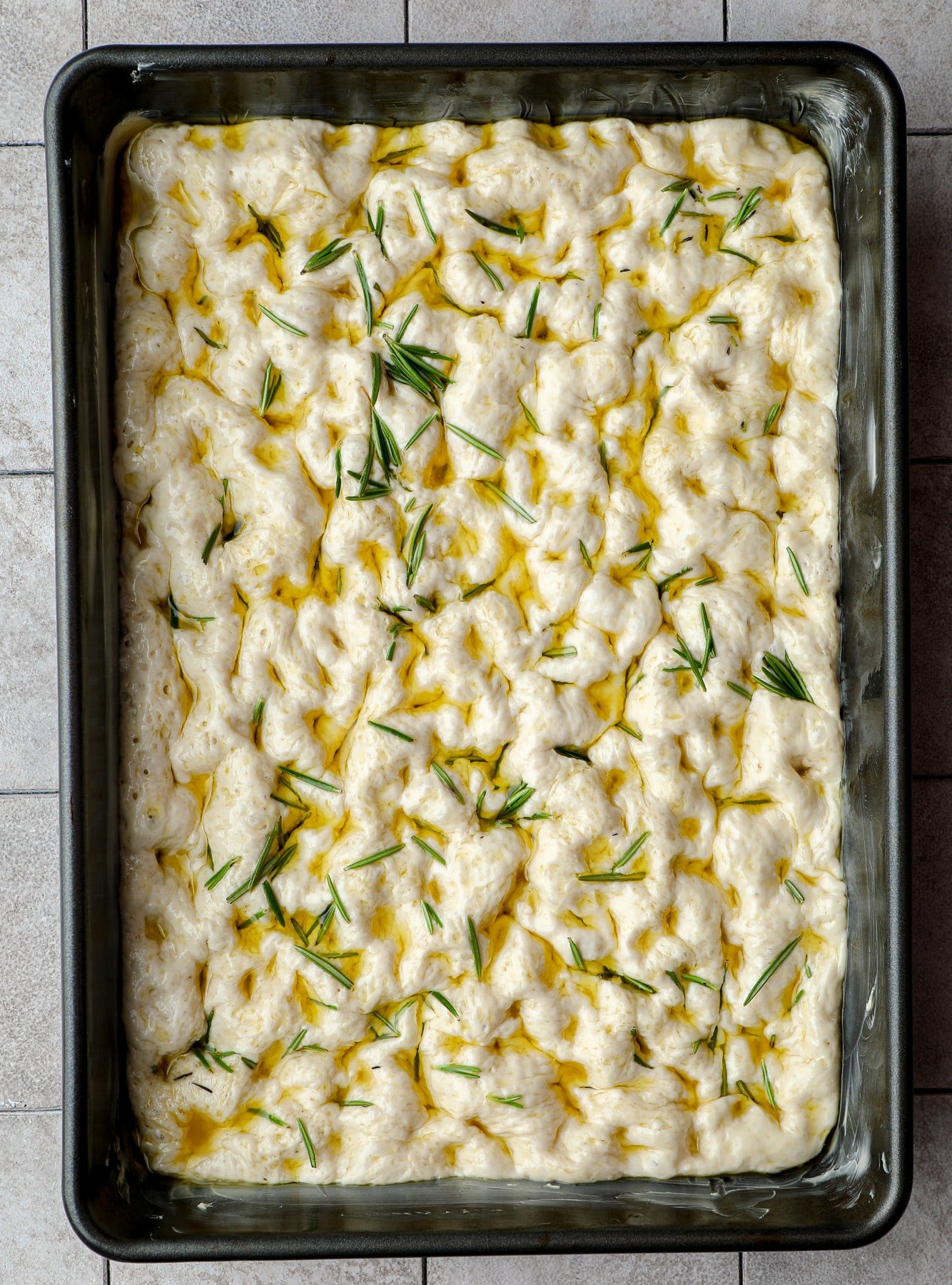 Bake the focaccia until it's golden brown and crisp on the bottom.
Set it aside to cool before slicing and serving. Enjoy!
Quick focaccia
Focaccia is truly so much better if you let it sit in the refrigerator overnight, or better yet for a few days. That said, you can make quick focaccia if you need to.
Simply let the dough rise in the bowl for 30 minutes in a warm place, then transfer to the pan and let rise for another 30 minutes. Bake per the instructions.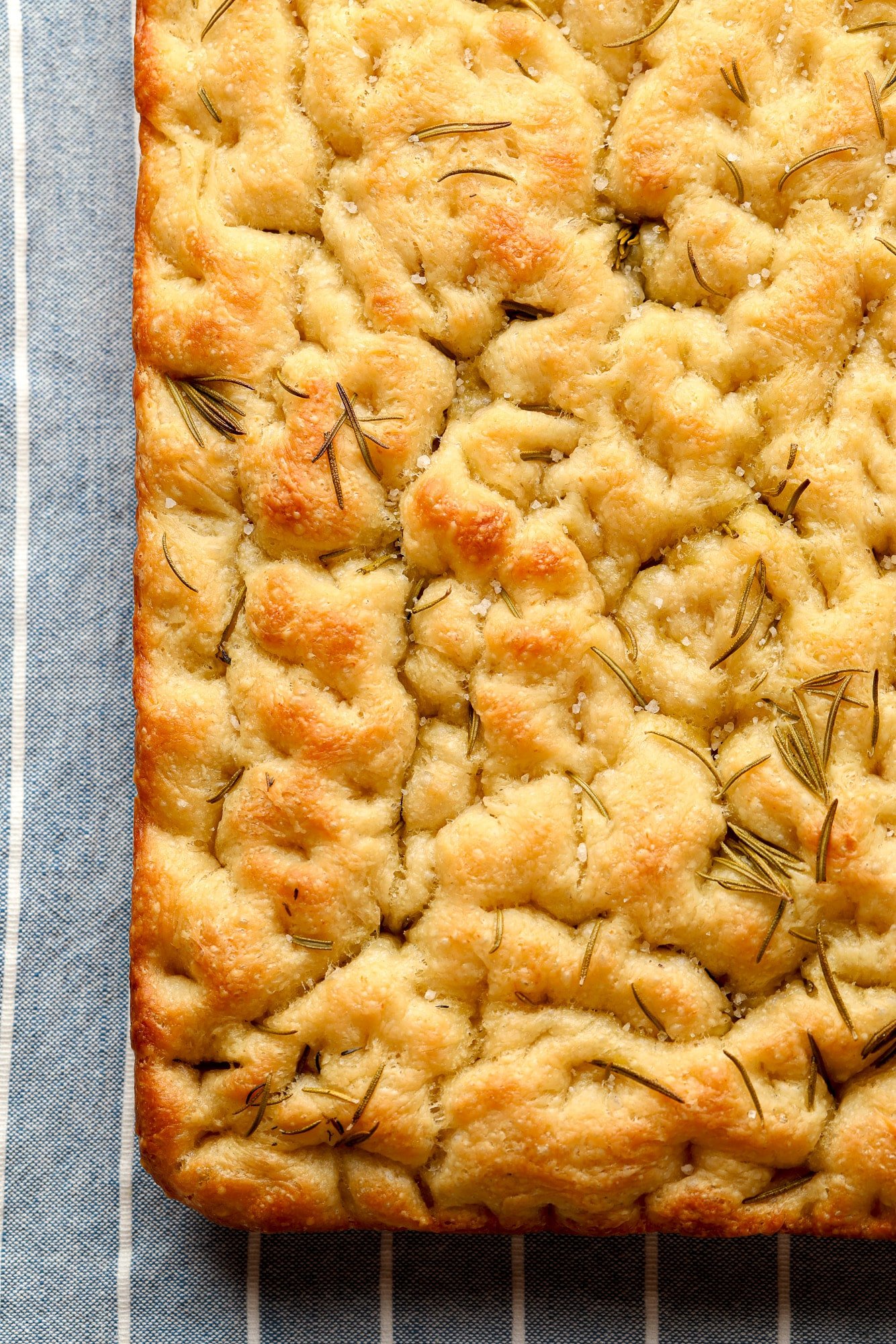 Toppings for focaccia bread
Mix and match the toppings for vegan focaccia as much as you like. Just make sure to press them into the dough before baking so they stick.
All of these ideas would be delicious:
Fresh or dried herbs – Rosemary, oregano, basil, thyme, or parsley.
Spices – Sea salt or flaky salt, garlic powder, freshly cracked pepper, or red chili flakes.
Aromatics – Thinly sliced garlic, roasted garlic cloves, or thinly sliced shallots, onions, or green onions.
Vegetables – Sliced peppers, asparagus, olives, sliced heirloom tomatoes, capers, thinly sliced zucchini or eggplant, cherry tomatoes, or thinly sliced potatoes.
Vegan meat – Sliced vegan pepperoni, tofu bacon, or tempeh bacon.
Vegan cheese – Shredded vegan parmesan, mozzarella, or ricotta.
Sauces – Pizza sauce, vegan pesto, dairy free alfredo sauce, or balsamic reduction.
Pro tip: If you're worried about the toppings burning in the oven, lightly brush them with more olive oil before baking.
Serving suggestions
Olive oil infuses so much flavor into focaccia. It's practically addictive when eaten on its own, but it can also be served in so many creative ways, such as:
Slice the focaccia and serve it with an Italian-style dinner. It pairs perfectly with vegan lasagna, spaghetti, chickpea soup, and vegan meatballs.
Eat it as a snack with olive oil and balsamic vinegar for dipping.
It's a comforting bread that makes bowls of butternut squash soup and tomato soup 10 times as cozy.
Layer the dough with pizza sauce, vegan pepperoni, dried herbs, and shredded vegan cheese for a focaccia pizza.
Slice the focaccia in half and layer it with hummus, leafy greens, and roasted vegetables for an epic vegan sandwich.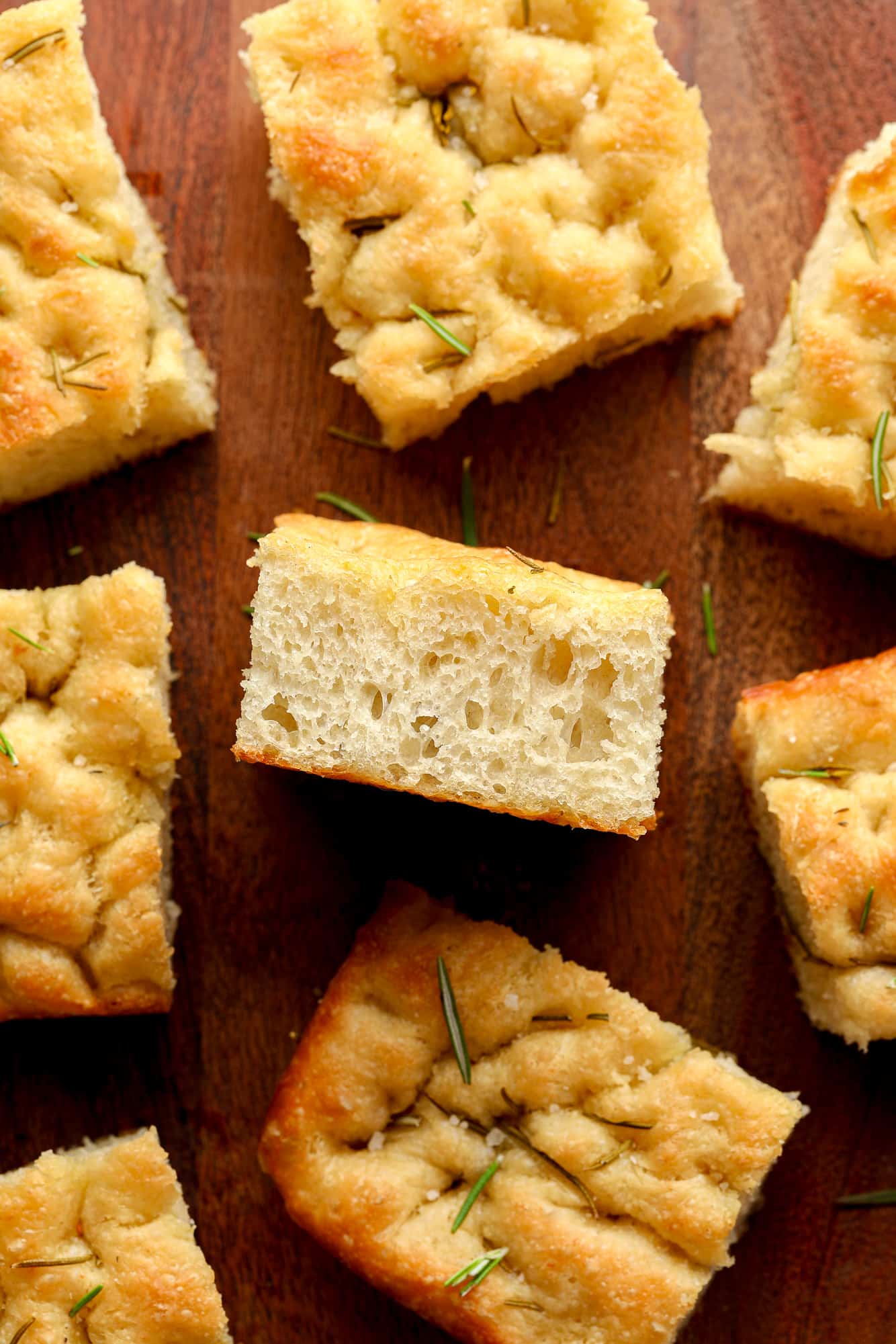 Frequently asked questions
Is focaccia hard to make?
Not at all. Experienced bakers and newbies will have an easy time making focaccia at home. Plus, the step-by-step instructions and pictures help guide you through the entire process.
Is focaccia vegan?
Traditionally, yes, focaccia is vegan-friendly. The dough is almost always made with flour, yeast, salt, water, and olive oil. 

Some recipes, however, call for eggs in the dough for added richness or use real butter for greasing the pans. And of course, layering the bread with non-vegan toppings will take away the bread's vegan status.
Is ciabatta the same as focaccia?
Both ciabatta and focaccia are Italian breads made with similar ingredients (flour, yeast, and water) but they are very different. Olive oil drastically changes the texture of focaccia, making it very soft on the inside and crunchy on the outside. Meanwhile, ciabatta is a denser white bread that's more suitable for sandwiches.
Can you make focaccia dough ahead of time?
Yes, the dough can be made and left to rest and rise in the fridge for up to 3 days ahead of time. Just keep it in a covered bowl in the fridge until it's time to bake.
How do you store focaccia?
Once it's baked and cooled, wrap the focaccia in plastic or keep it in an airtight container. It will stay fresh for about 3 to 4 days at room temperature. Afterward, it will start to dry out and go stale.
Can you freeze it?
Yes, focaccia freezes well for about 3 months. Wrap it in a layer of plastic and aluminum foil to prevent freezer burn.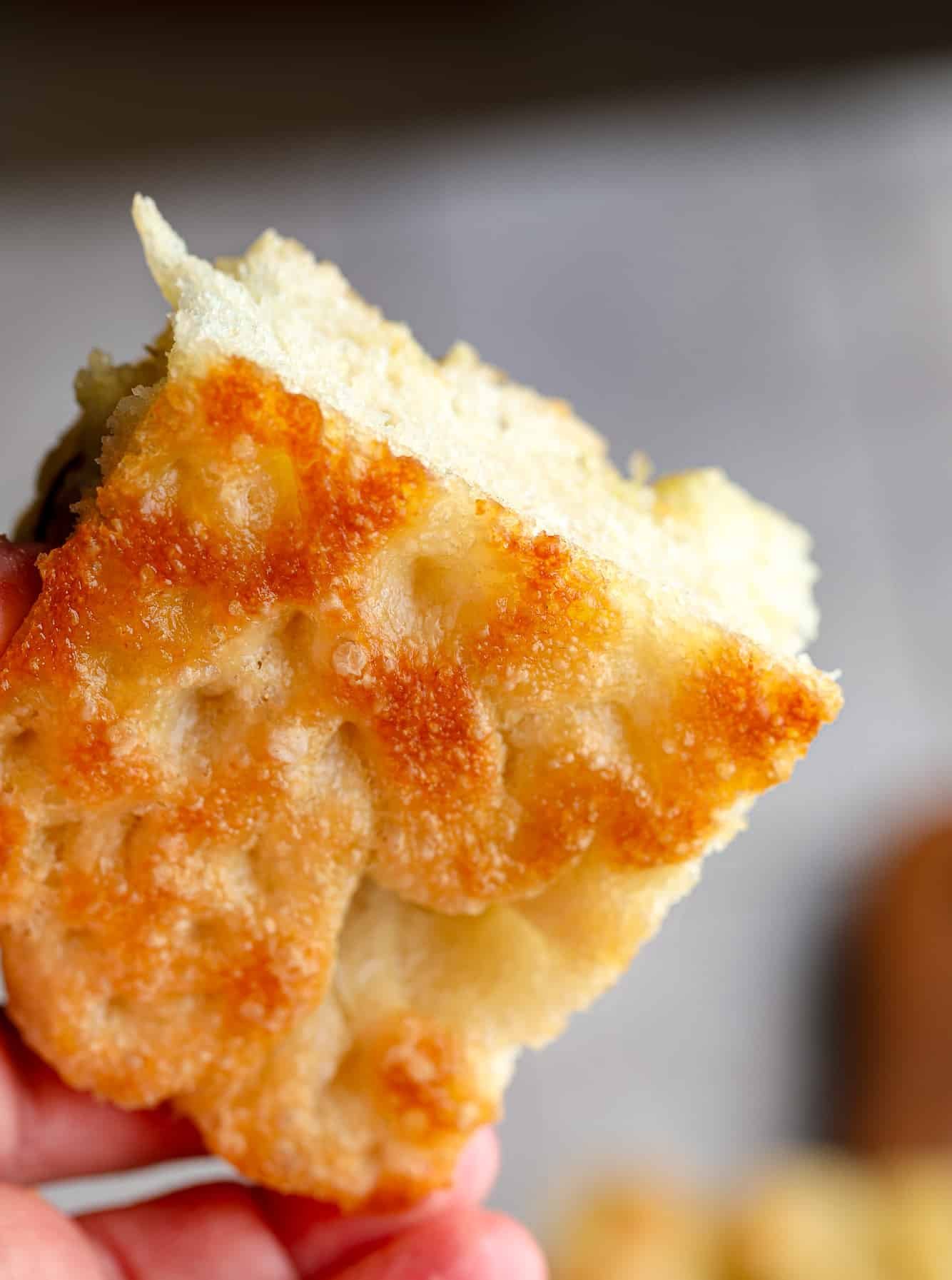 Want more bakery-style vegan bread recipes?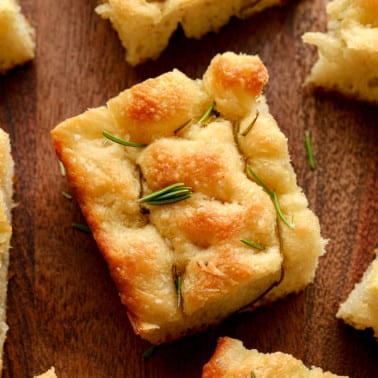 Vegan Focaccia
With 10 minutes of hands-on prep time and no kneading required, this Vegan Focaccia is ridiculously easy to make. The hardest part is waiting for it to rise, then bake!
Ingredients
4

cups

all purpose flour

or bread flour

2

teaspoons

salt

1

packet

instant yeast

2 1/4 tsp

2

teaspoons

granulated sugar

2

cups

warm water

6

tablespoons

olive oil, divided

vegan butter, for greasing the pan

flaky sea salt

Optional

fresh rosemary, sliced tomatoes
Instructions
In a large bowl, stir together the flour, salt, yeast and sugar.

Pour in the warm water and mix with a rubber spatula, until a sticky dough is formed.

Add 2 tablespoons of olive oil to the bowl and coat the outside of the entire dough ball, flipping it over inside the bowl.

Cover the bowl with a clean damp tea towel (or plastic wrap) and place in the refrigerator for at least 12 hours (overnight) or up to 3 days. To make the quick version, see Notes.

Grease a 9×13 inch pan with vegan butter. Pour 2 tablespoons of olive oil in the center of the pan.

Transfer the dough to the prepared pan, and roll the dough ball in the oil to coat it all over. Cover the pan and let the dough rise for 2-3 hours at room temperature, until the dough covers most of the pan and has expanded.

Preheat the oven to 425 degrees F.

If using fresh rosemary, sprinkle it over the dough. Drizzle the last 2 tablespoons of olive oil on the dough. Rub your hands lightly in the oil, then use all of your fingers to press straight down and create deep dimples, all the way down. Gently stretch the dough to fill the pan, if needed as you make the holes. Sprinkle with flaky sea salt.

Bake in the center rack of the oven for 25-30 minutes, until golden.

Carefully transfer the focaccia to a cooling rack. Let cool for 10 minutes, or longer, before slicing and serving.
Notes
Optional toppings – sliced peppers, asparagus, green onions, olives, tomatoes, onions, thinly sliced potatoes are all good options. Press the ingredients into the dough to embed them.

Storage – It will keep for a few days in an airtight container. Or wrap it well and freeze it.

Yeast options – You can use regular yeast instead, but you should mix it with the warm water before adding to the flour mixture, to proof it. This step isn't necessary with instant yeast.

Quick version – The focaccia will be SO MUCH BETTER if you let it sit in the refrigerator overnight, or for up to 3 days. But you can make quick focaccia if needed. Once you make the dough and coat in olive oil, let it rise for 30 minutes in a warm place, covered. Then transfer to the greased pan and let rise again for 30 minutes. Stretch the dough to cover the pan if needed, and dimple with your fingers per the instructions. Bake and enjoy!
Nutrition
Serving:
1
of 12 servings
|
Calories:
218
kcal
|
Carbohydrates:
33
g
|
Protein:
5
g
|
Fat:
7
g
|
Saturated Fat:
1
g
|
Polyunsaturated Fat:
1
g
|
Monounsaturated Fat:
5
g
|
Sodium:
391
mg
|
Potassium:
50
mg
|
Fiber:
1
g
|
Sugar:
1
g
|
Vitamin C:
0.002
mg
|
Calcium:
8
mg
|
Iron:
2
mg