The very Best Vegan Meatballs are made with Impossible ground beef and a ton of savory, irresistible flavors. They never fall apart and are perfect for meatball subs, party appetizers, spaghetti, and more!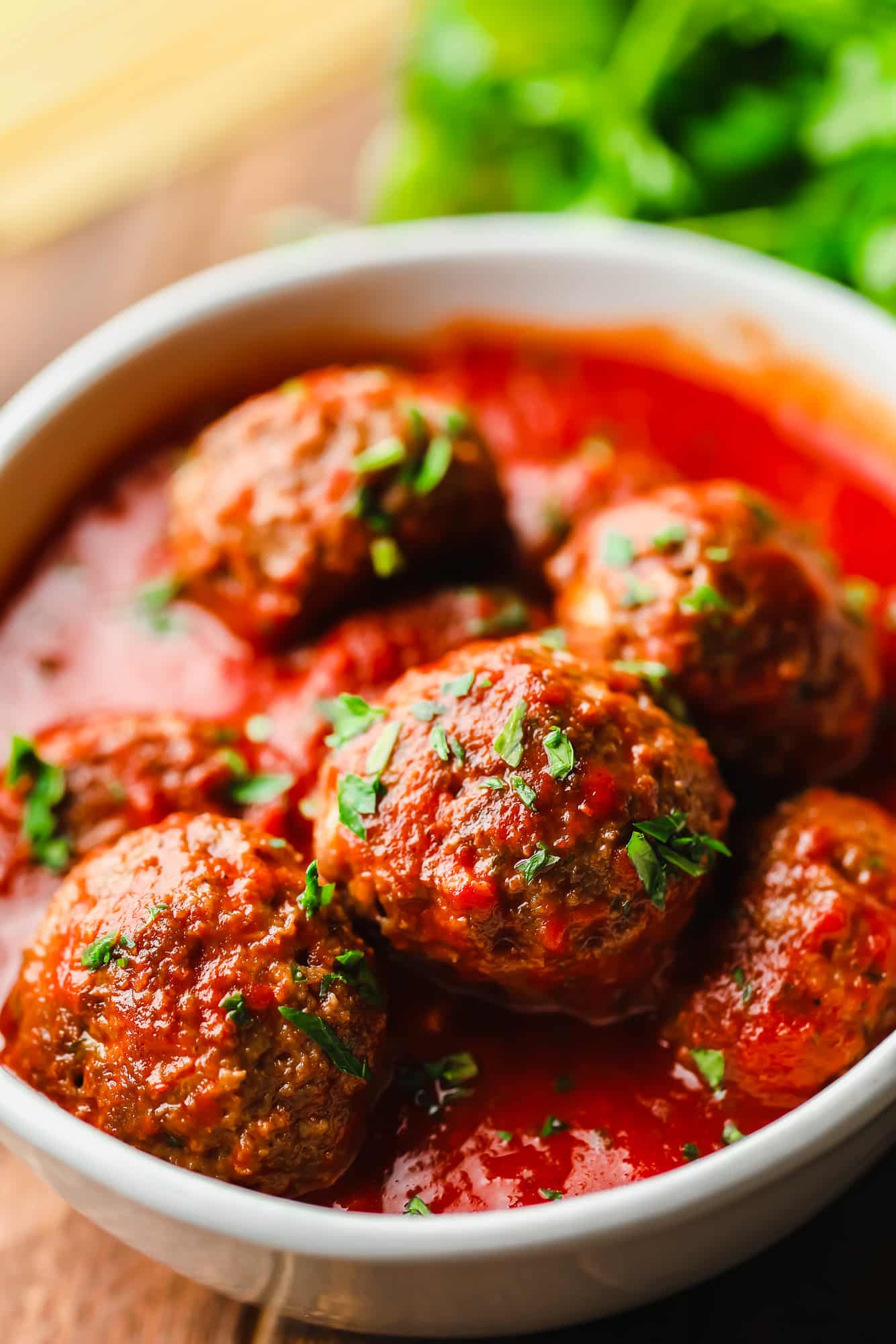 These are not your average vegan meatballs! While I love my Italian-style chickpea meatballs, these Best Vegan Meatballs are extra meaty and savory thanks to a mixture of Impossible ground beef, JUST Egg (or flaxseeds and water), breadcrumbs, and fresh parsley.
They're the best way to take spaghetti nights and crowd-pleasing appetizers over the top!
3 reasons why these are the best vegan meatballs:
Ultra meaty, just like real meatballs: The best part about making vegan meatballs with Impossible beef is that they end up feeling, looking, and tasting just like the real thing. The flavor is juicy and savory while the texture is deliciously tender.
They never fall apart: Thanks to moistened breadcrumbs and egg substitute in the meat mixture, the meatballs hold together well as they're rolled and baked.
Easy to make ahead of time: Go ahead and make a fresh batch of meatballs (all it takes is 20 minutes in the oven) or freeze them for later! It's always a good idea to have a batch of frozen vegan meatballs on hand at all times. Reheat them in a pinch and serve them for dinners or at the party!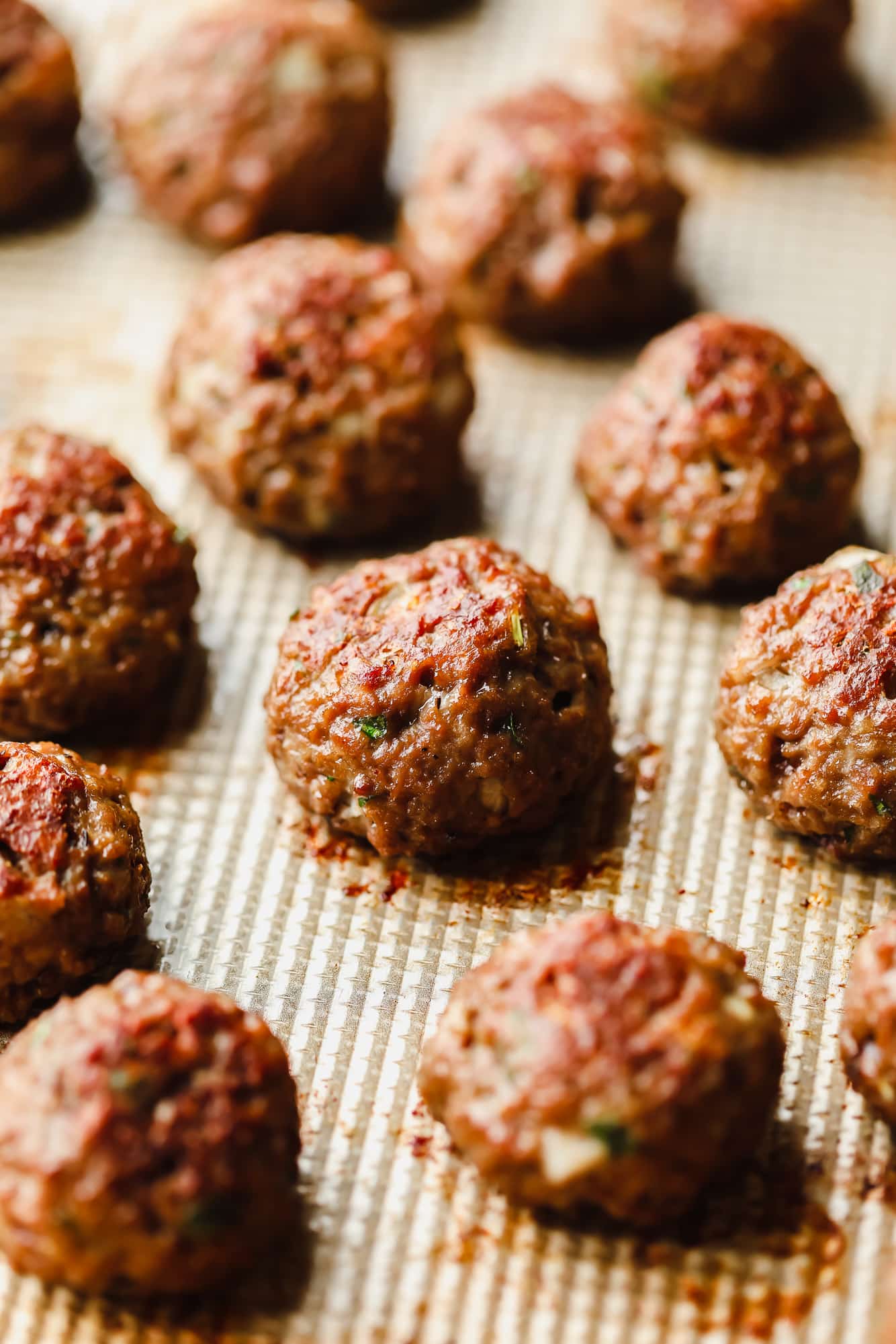 Ingredients needed (with substitutions)
Breadcrumbs – I used panko breadcrumbs because they're light and crisp. Regular breadcrumbs will work, too. Use gluten free breadcrumbs or possibly ground up oats instead for gluten free meatballs.
Soy milk – Or another unsweetened dairy free milk.
JUST Egg – This egg replacer is one of the secrets to keeping the meatballs together. If you don't have JUST Egg, use 2 flax eggs instead (2 tablespoons of ground flax stirred together with 5 tablespoons of water).
Garlic – Fresh garlic cloves give the meatballs a stronger, more savory flavor. If all you have is garlic powder at home, use ½ teaspoon instead.
Salt and pepper
Impossible ground beef – Making vegan meatballs with Impossible beef is the best way to help them taste as close to real meatballs as possible. Impossible Foods products are available in many well-stocked major grocery stores (use their location finder for more information) and, if it's available to you, use packs of Impossible ground beef rather than burger patties. You can make the meatballs with Beyond Meat instead, but I found they came out greasier and less tender.
Yellow onion
Parsley – Fresh Italian flat leaf parsley is best!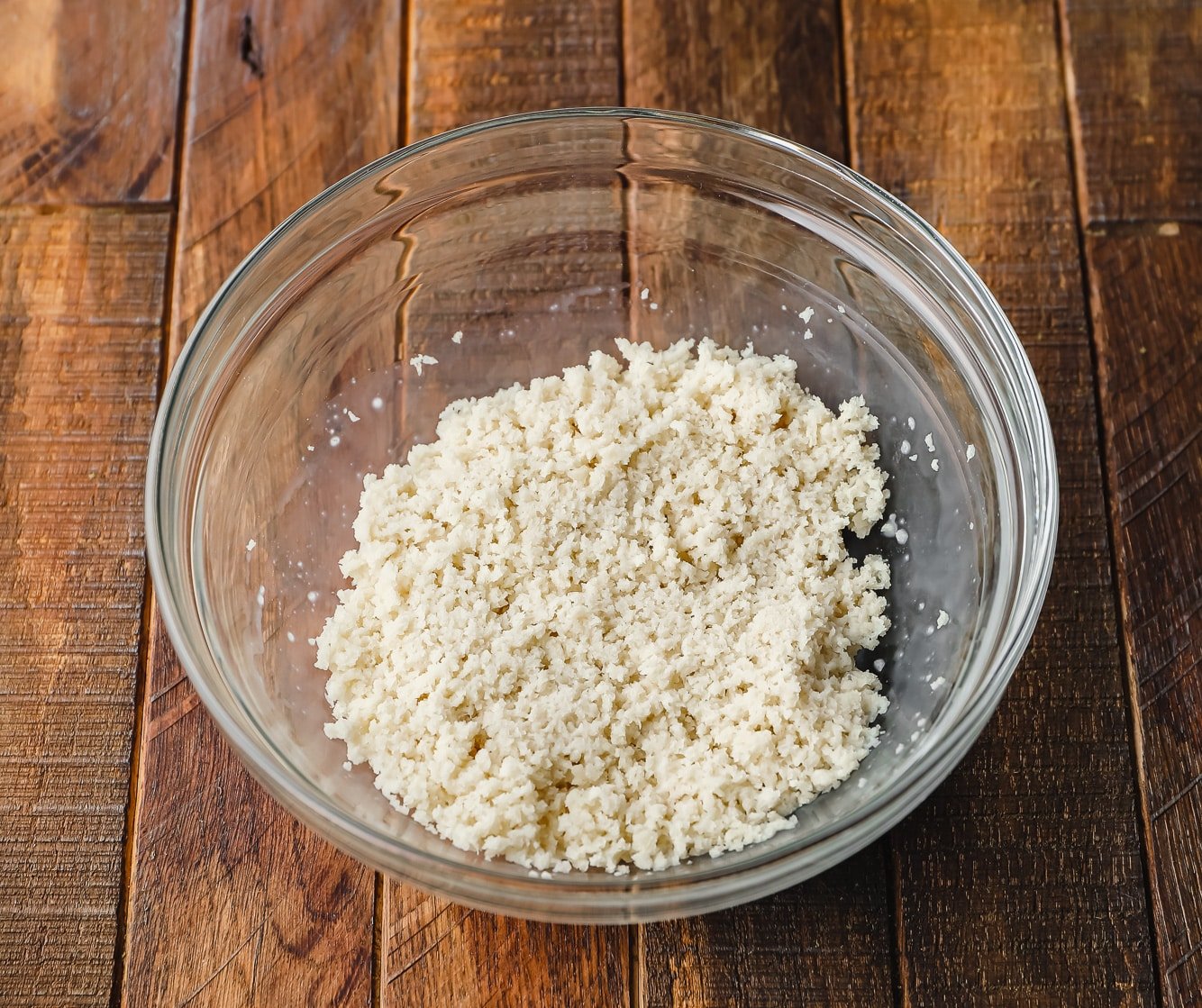 How to make vegan meatballs
Find the complete recipe with measurements below in the recipe card.
To start, add the breadcrumbs to a bowl and pour the milk over top. Leave them to soak for a few minutes before stirring in the JUST egg, garlic, salt, and pepper.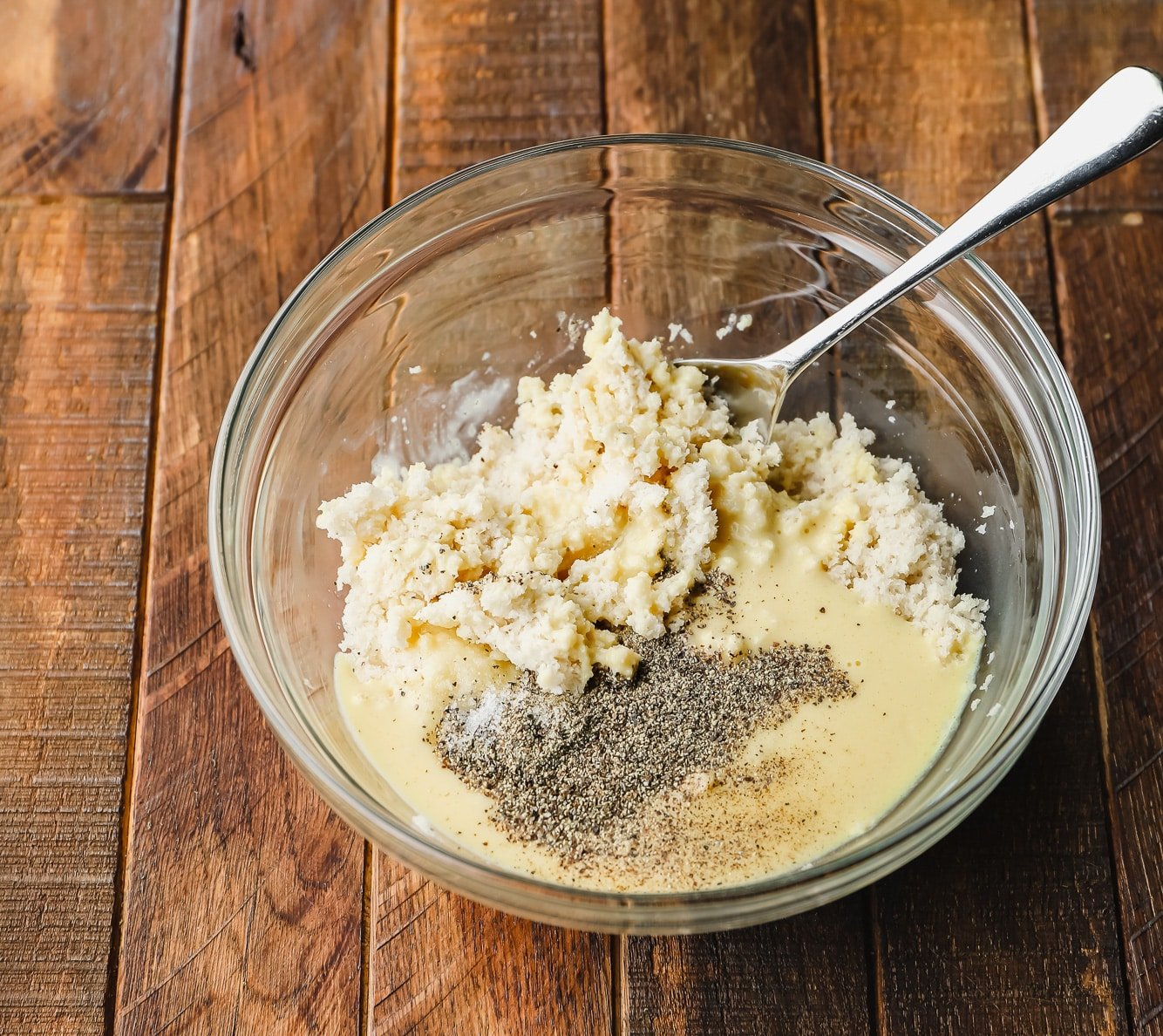 Add the Impossible beef and onion to a large bowl. Mix them with a wooden spoon or electric mixer.
After the two have come together, add the breadcrumb/milk mixture and fresh parsley. Mix again until combined.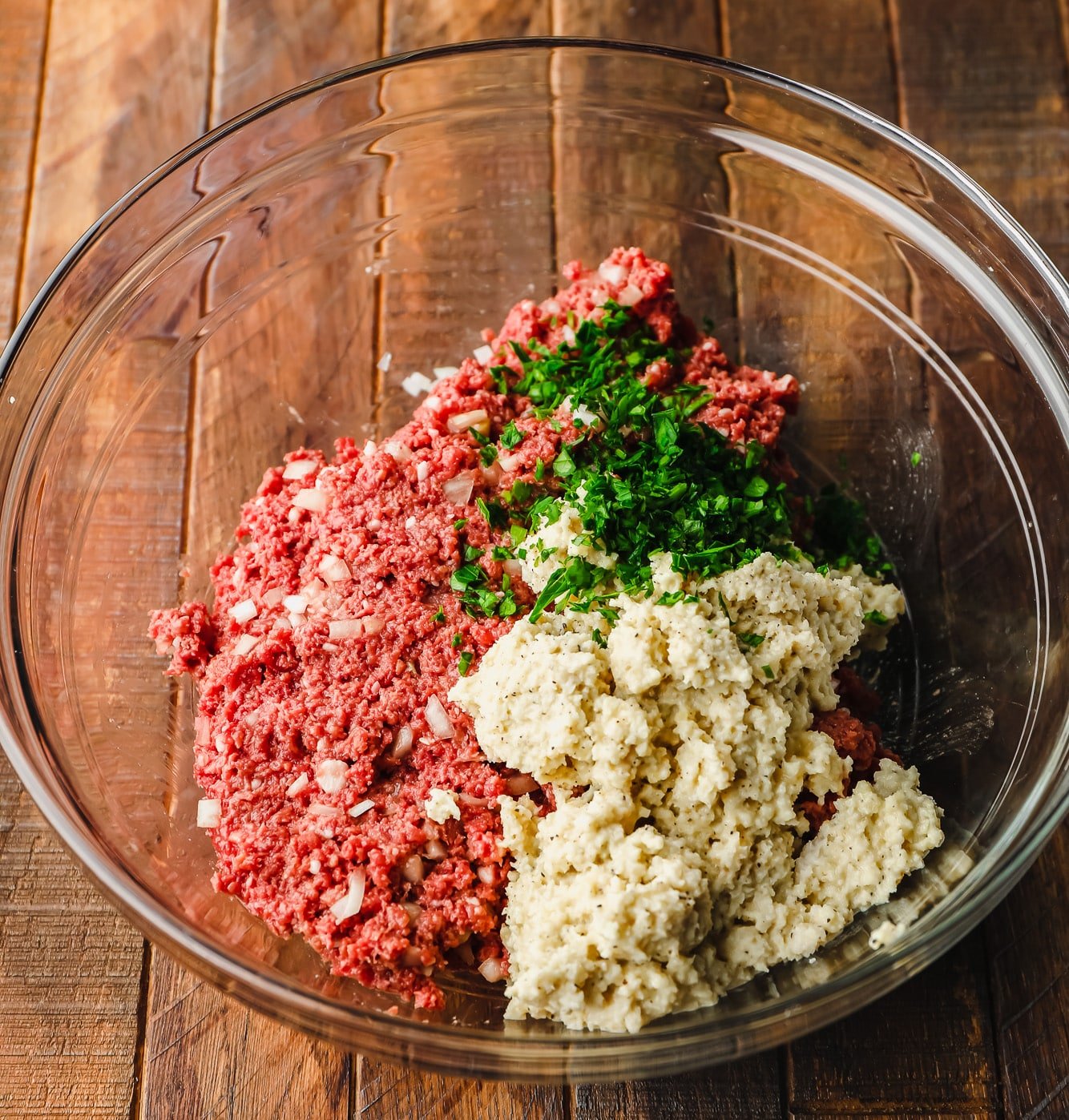 Roll small scoops of the meatball mixture into balls. The meatballs don't need to be perfectly round and can be either large or small (larger meatballs may need to be baked for 1 to 3 minutes longer). Place them on a prepared baking sheet.
Bake the vegan meatballs until they're browned all over and cooked through. Serve warm with the sauce of your choice, over a bowl of spaghetti, or anywhere else you like!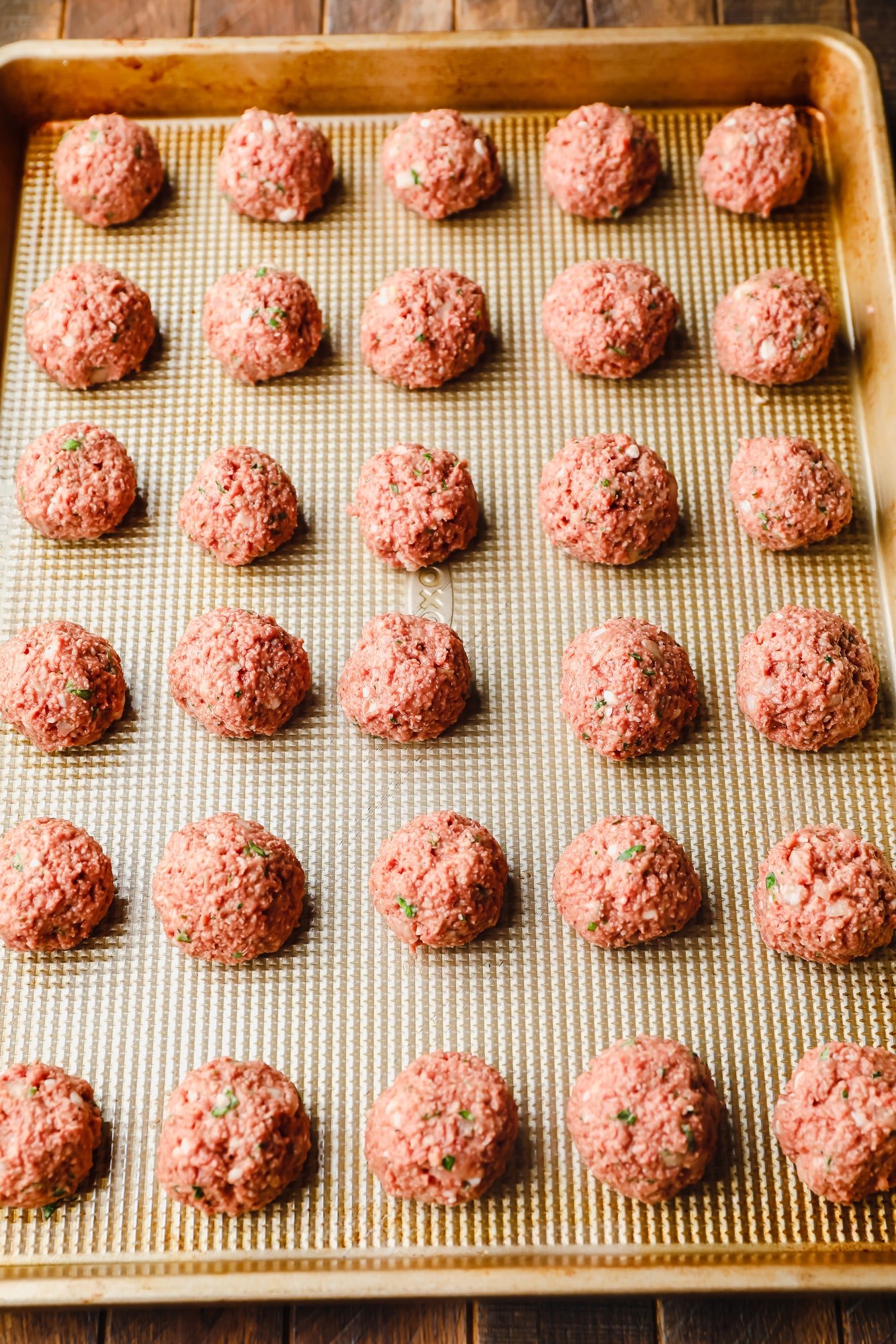 Serving suggestions
You can serve these meatballs in endlessly creative ways, from sauce-covered party appetizers to meaty sandwiches on game day. These are some of my favorite ways to enjoy them:
Make vegan grape jelly meatballs by covering the baked meatballs in a grape jelly and barbecue sauce mix.
Cover them in teriyaki sauce for a sweet and sour appetizer.
Toss them in a skillet with warm marinara sauce, then scoop over bowls of spaghetti.
Place a few meatballs over a bed of mashed potatoes and cover them in vegan gravy enriched with coconut milk to make vegan Swedish meatballs.
Swap the vegan ground beef in my Vegan Baked Ziti for these baked Impossible meatballs.
Toss them in buffalo sauce and stuff them into slider buns to make vegan meatball sliders.
They'd be perfect in these Vegan Meatballs Subs!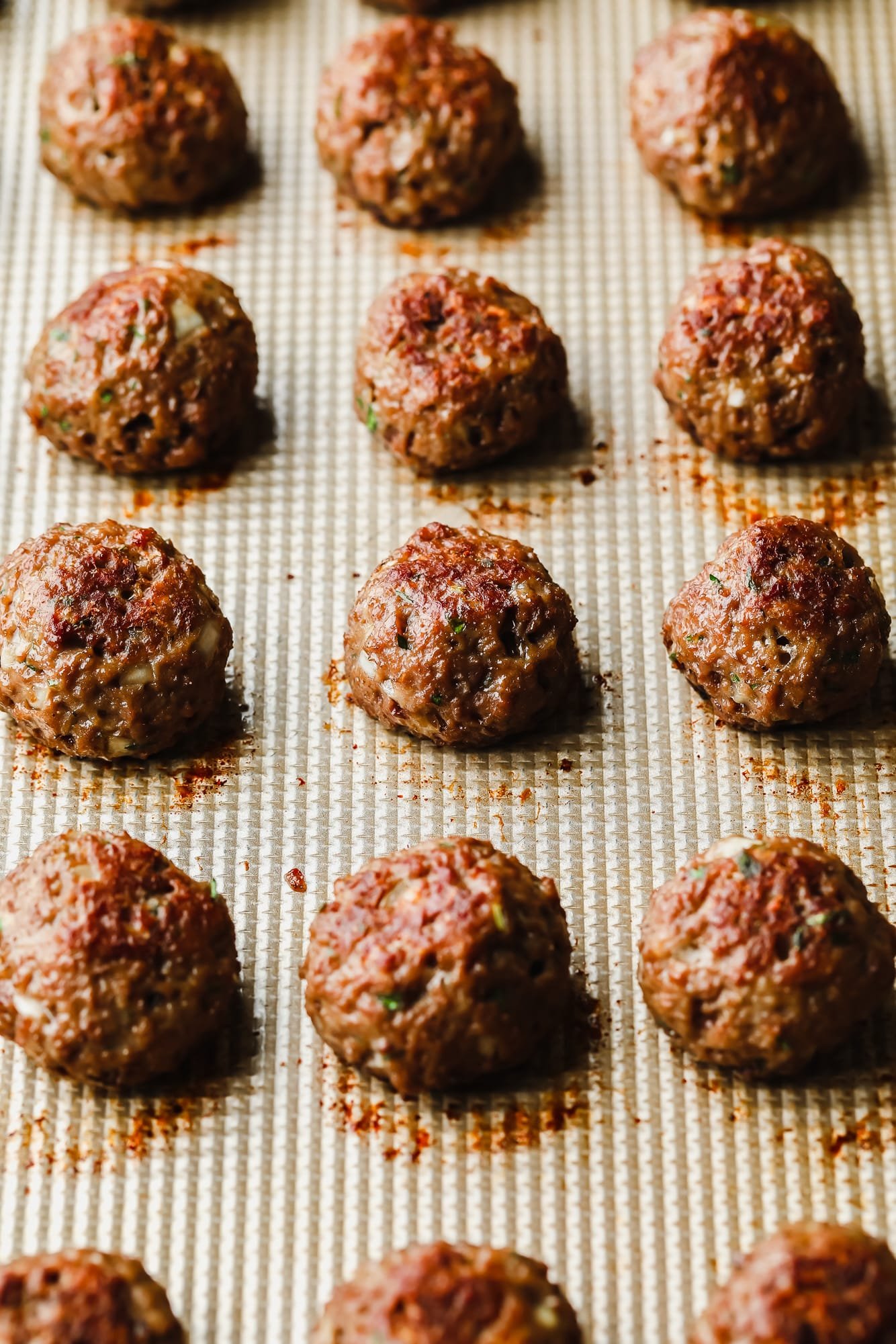 Frequently asked questions
How long do they last?
The baked meatballs will last for 3 to 4 days when stored in an airtight container in the fridge.
Can you freeze vegan meatballs?
Yes, they freeze very well. After they're baked and left to cool, flash freeze them on a lined baking sheet until solid. Transfer the meatballs to an airtight container or sealed freezer-safe bag and freeze for up to 3 months. Reheat them either thawed or from frozen in a 350ºF oven or directly in the sauce of your choice.
Impossible ground beef isn't available where I live. What else can I use?
The best substitution would be Beyond ground beef. Just know that when I tested the recipe with Beyond, the meatballs came out greasy and not as tender as the Impossible version.
Can they be made gluten free?
I haven't tested a gluten free version, however, the recipe should work just as well using gluten free panko breadcrumbs as a substitute.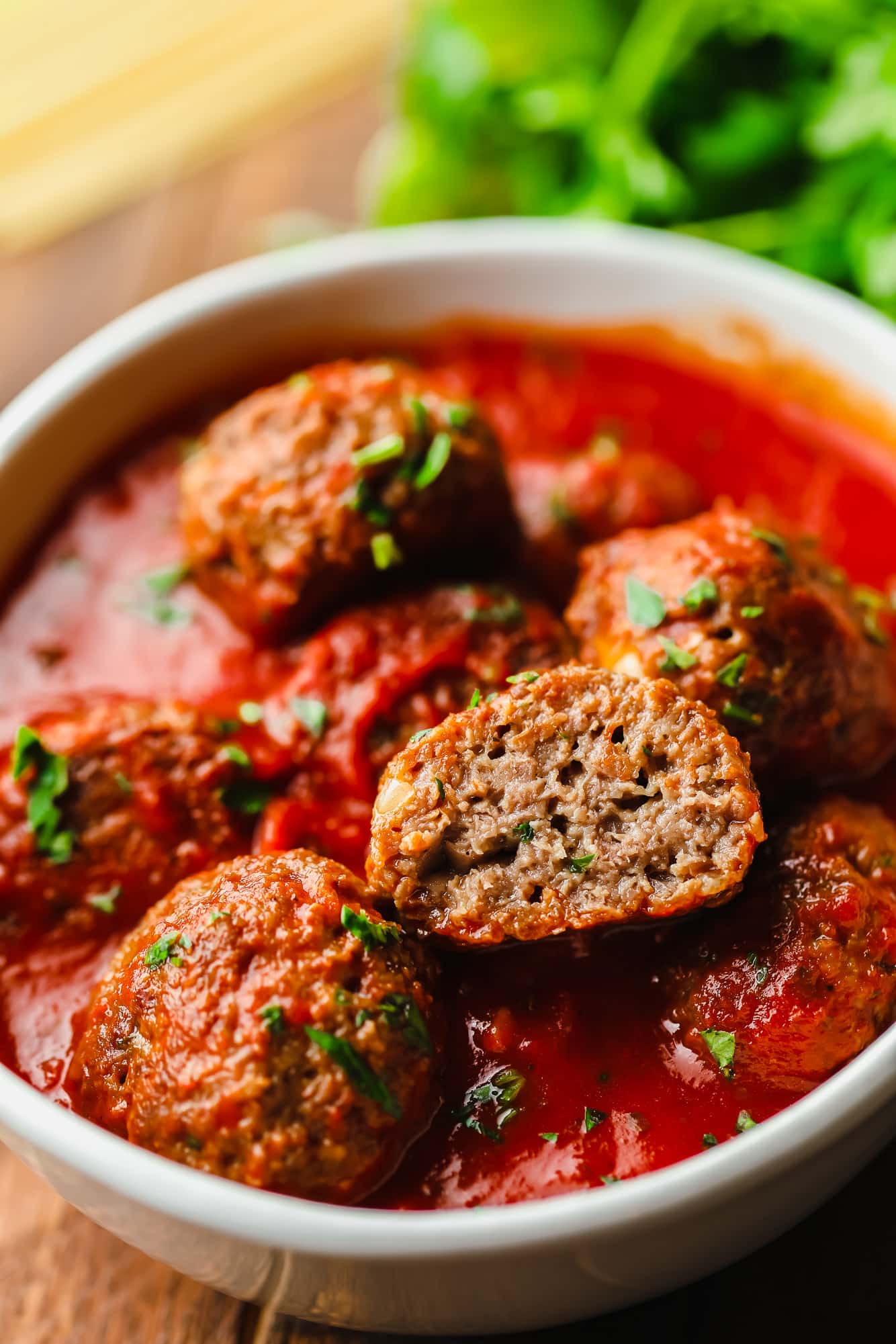 Want more meaty vegan recipes?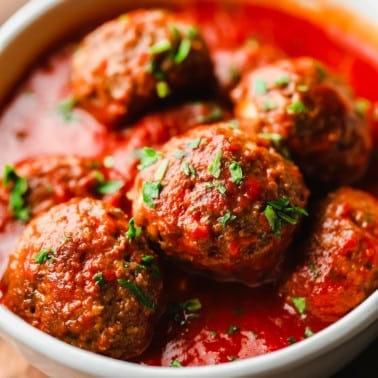 Best Vegan Meatballs
The very Best Vegan Meatballs are made with Impossible ground beef and a ton of savory, irresistible flavors. They never fall apart and are perfect for meatball subs, party appetizers, spaghetti, and more!
Ingredients
1/2

cup

breadcrumbs

I used panko

1/4

cup

unsweetened soy milk

4

tablespoons

JUST Egg

or flax eggs, see Notes

2

cloves

garlic, minced

1

teaspoon

salt

1/2

teaspoon

ground black pepper

(2) 12

ounce

packages Impossible ground beef

1/4

cup

finely chopped yellow onion

3

tablespoons

chopped Italian flat leaf parsley

optional
Instructions
Prepare oven and pan – Preheat the oven to 425 degrees F and coat a rimmed baking sheet with olive oil. Or line with parchment paper.

Breadcrumb mixture – In a small bowl, add the breadcrumbs and pour the milk over them. Let the breadcrumbs soak for 5 minutes, then add the JUST Egg, minced garlic, salt and black pepper. Mix everything together well. Set aside.

Mix meatballs – In a large bowl (or the bowl of a stand mixer), add the Impossible beef and finely chopped onion. Mix them together, either using a large wooden spoon or the paddle attachment on a stand mixer. Now add the bread mixture from the small bowl along with the fresh chopped parsley, if using. Mix everything together very well until combined.

Form the meatballs – Use a cookie scoop or to scoop a small portion of the meatball mixture and roll gently into balls. They don't have to be perfectly round. You can make them a bit larger or smaller. I prefer smaller meatballs.

Bake – Arrange the meatballs on the prepared pan. Bake for 10 minutes, then turn them over and cook for another 10 minutes, until they are browned and cooked through.

Serve – Serve warm in marinara sauce, or make grape jelly meatballs, swedish meatballs or use with teriyaki sauce. Or anywhere else you like!
Notes
For gluten free, use gluten free breadcrumbs or possible chopped gf oats.
May use any unsweetened, unflavored plant milk.
If you want, use 1/2 teaspoon garlic powder instead of fresh garlic.
Beyond Meat crumbles work too, but I did prefer them with Impossible Meat. My family could barely tell the difference though!
Nutrition
Serving:
1
meatball
|
Calories:
62
kcal
|
Carbohydrates:
3
g
|
Protein:
4
g
|
Fat:
3
g
|
Saturated Fat:
2
g
|
Polyunsaturated Fat:
0.2
g
|
Monounsaturated Fat:
0.2
g
|
Sodium:
176
mg
|
Potassium:
133
mg
|
Fiber:
1
g
|
Sugar:
0.2
g
|
Vitamin A:
38
IU
|
Vitamin C:
1
mg
|
Calcium:
7
mg
|
Iron:
0.1
mg