These vegan kofta are grilled to perfection and served with creamy vegan tzatziki. Made from a bold blend of vegan ground meat, spices, and herbs, they're a hearty protein to serve in flatbread wraps or Middle Eastern-inspired salads.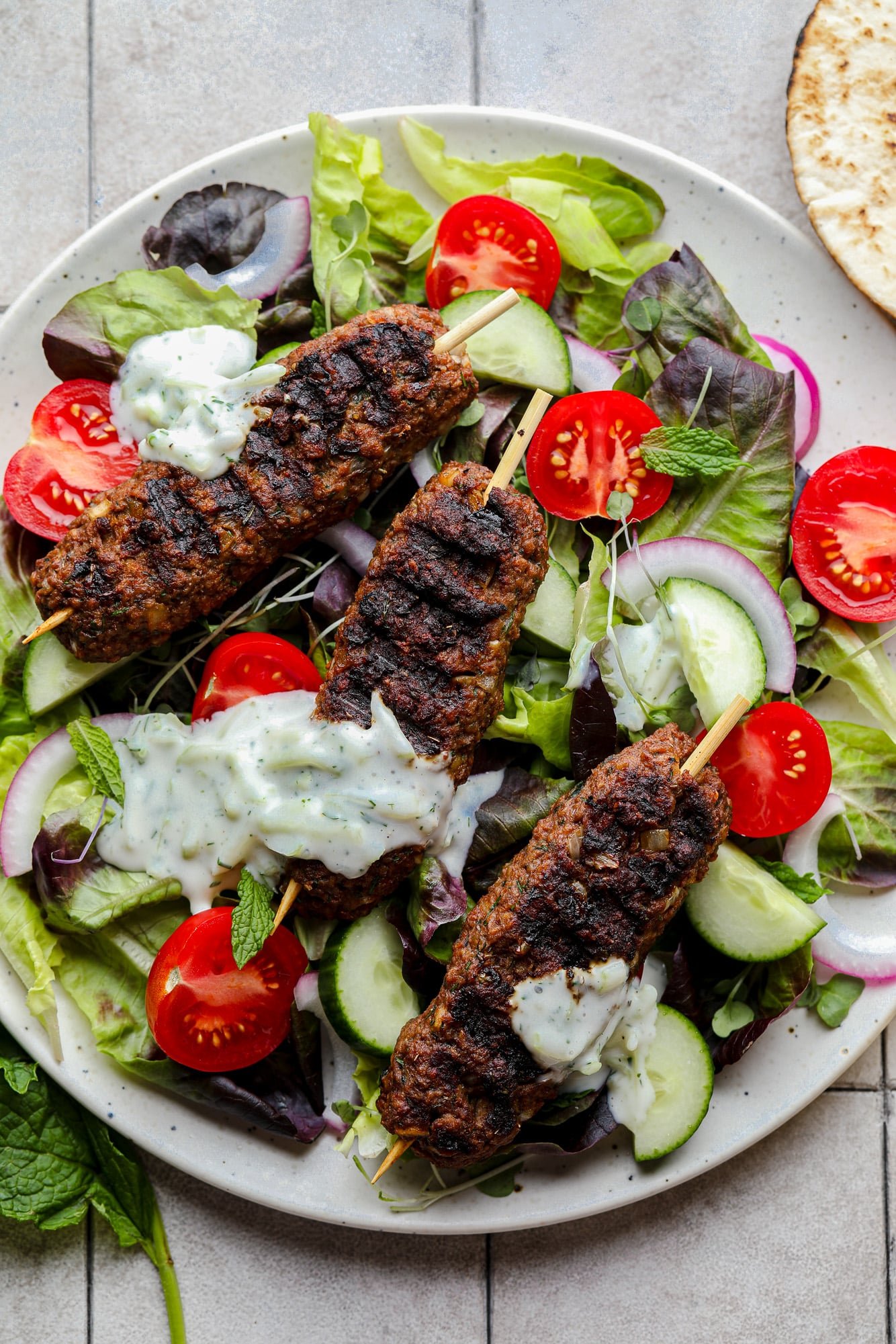 When you're looking for a meaty dish with bold flavors, turn to Vegan Kofta with tzatziki!
These tasty grilled kebabs are easy to make using a spiced vegan ground beef mixture. The "meat" is pressed onto skewers and cooked on a hot grill or pan until they're lightly charred and bursting with rich flavors.
The only way vegan kofta kebabs can get any better is when they're served with homemade vegan tzatziki. This cucumber yogurt sauce cools down the subtle heat in the meat while complimenting the bold Middle Eastern-inspired flavors. Serve the kofta and tzatziki in flatbread with veggies and you're left with an addictive meal!
What is kofta?
Middle Eastern kofta recipes (also called kefta, kifta, kafta, and koobideh) are traditionally made from seasoned ground lamb or beef. The meat is shaped into logs, then grilled until the outside is charred and the inside is juicy and meaty.
While far from authentic (here is an authentic kofta recipe), my vegan kofta recipe encapsulates what the traditional version is all about – flavor-rich ground "meat" that's grilled to crispy perfection!
Note: My kofta kebab recipe is much different than malai kofta, an Indian dish that serves potato and paneer meatballs in cream sauce. This recipe is inspired by the Middle Eastern versions.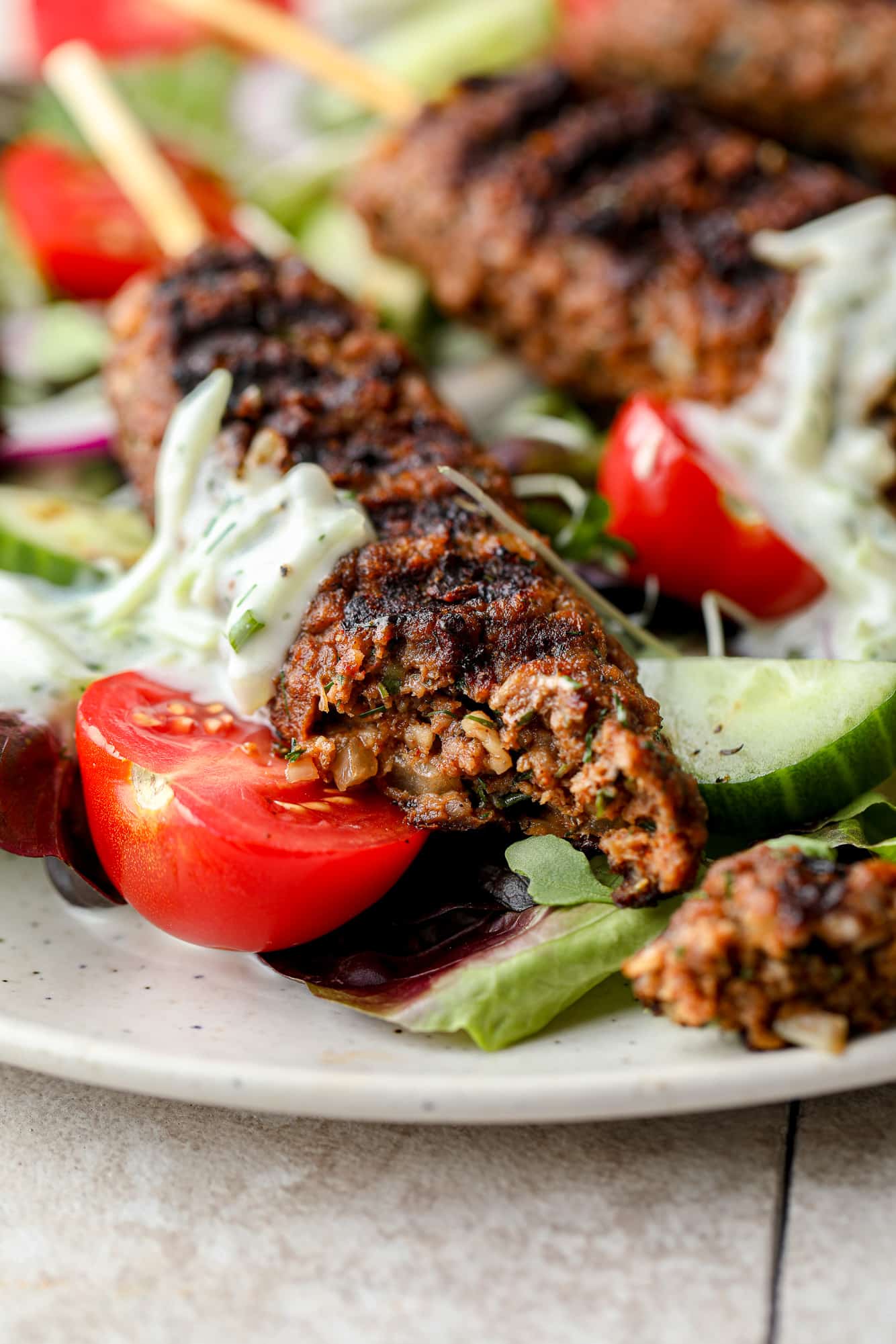 Ingredients needed (with substitutions)
Vegan ground beef – This is the star ingredient in this recipe, so it's important to use a brand of vegan ground beef that you already love. I used Impossible ground beef because of its realistic flavor and ability to be manipulated into different shapes without falling apart (as proven in my Vegan Meatballs recipe). Ground Beyond beef should also work well. You could probably use rehydrated TVP, but I haven't tested it.
Onion and garlic
Dry spices – A blend of paprika, cumin, oregano, cayenne, cinnamon, salt, and pepper yields rich flavors in the meat mixture. For a stronger flavor, add za'atar, turmeric, allspice, and/or coriander.
Fresh dill and mint
Easy Tzatziki Sauce – This creamy Mediterranean sauce is easy to make from scratch using grated cucumber, vegan yogurt (or tofu, like my original recipe), and pantry-staple herbs and aromatics. If you can, make extras to drizzle over a salad or serve as a dip with falafel!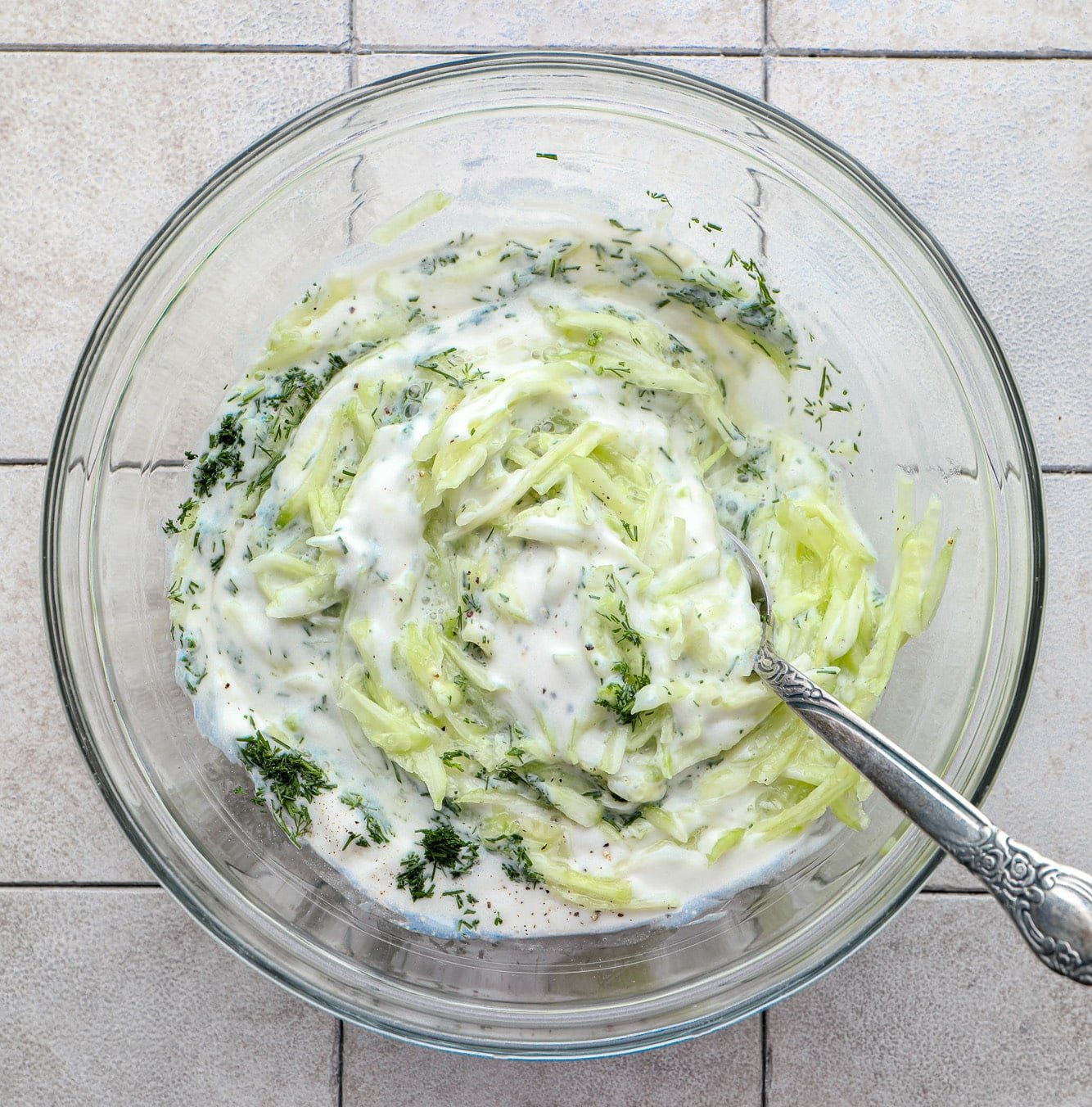 How to make vegan kofta
Start by making the tzatziki sauce. Simply stir all of the ingredients together in a small bowl, then place it in the fridge to chill until it's time to eat.
Next, mix the vegan ground beef with the rest of the kofta ingredients in a bowl.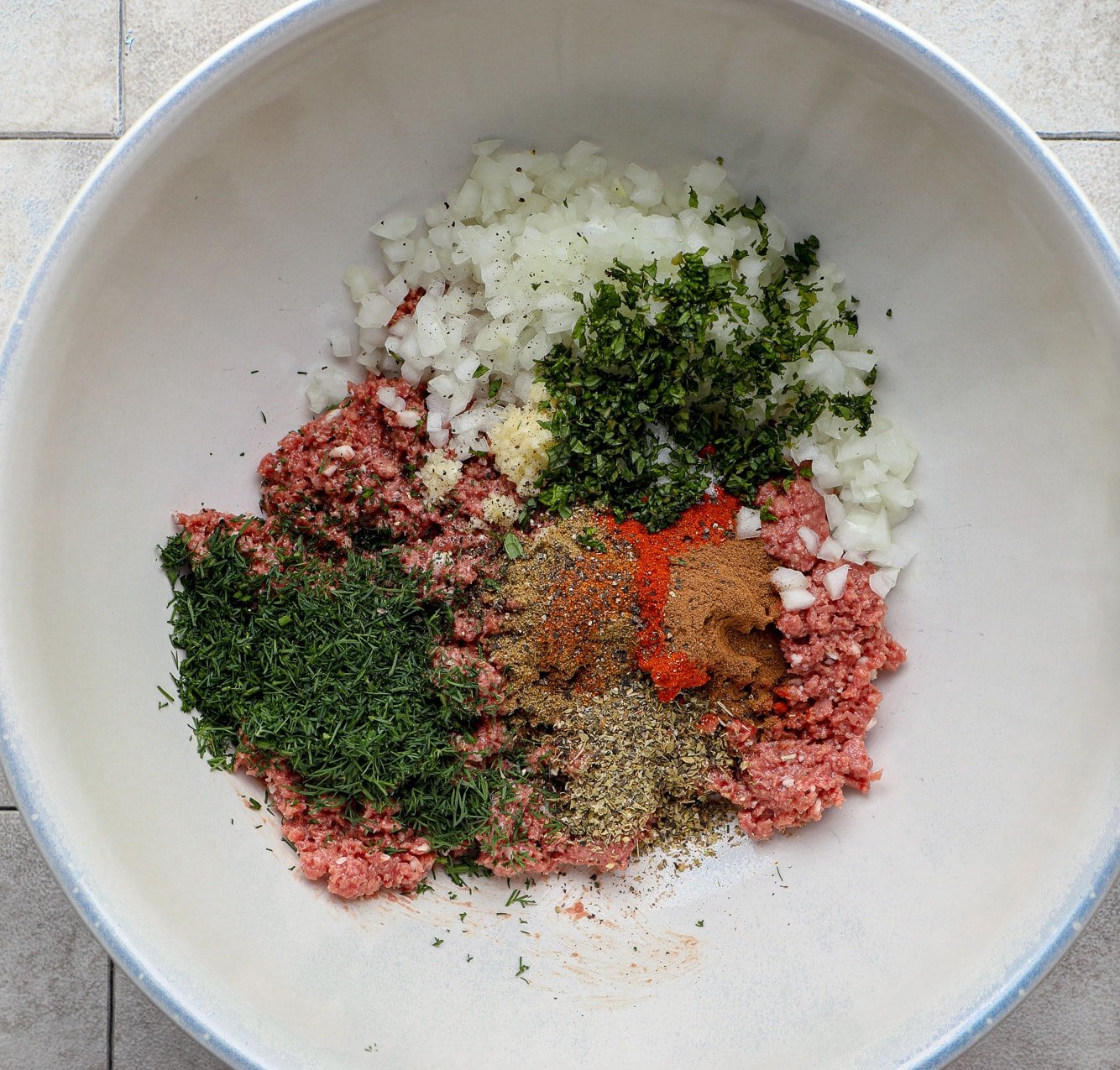 Form 6 to 7 portions of the ground beef mixture into log shapes. Pierce each one with a skewer.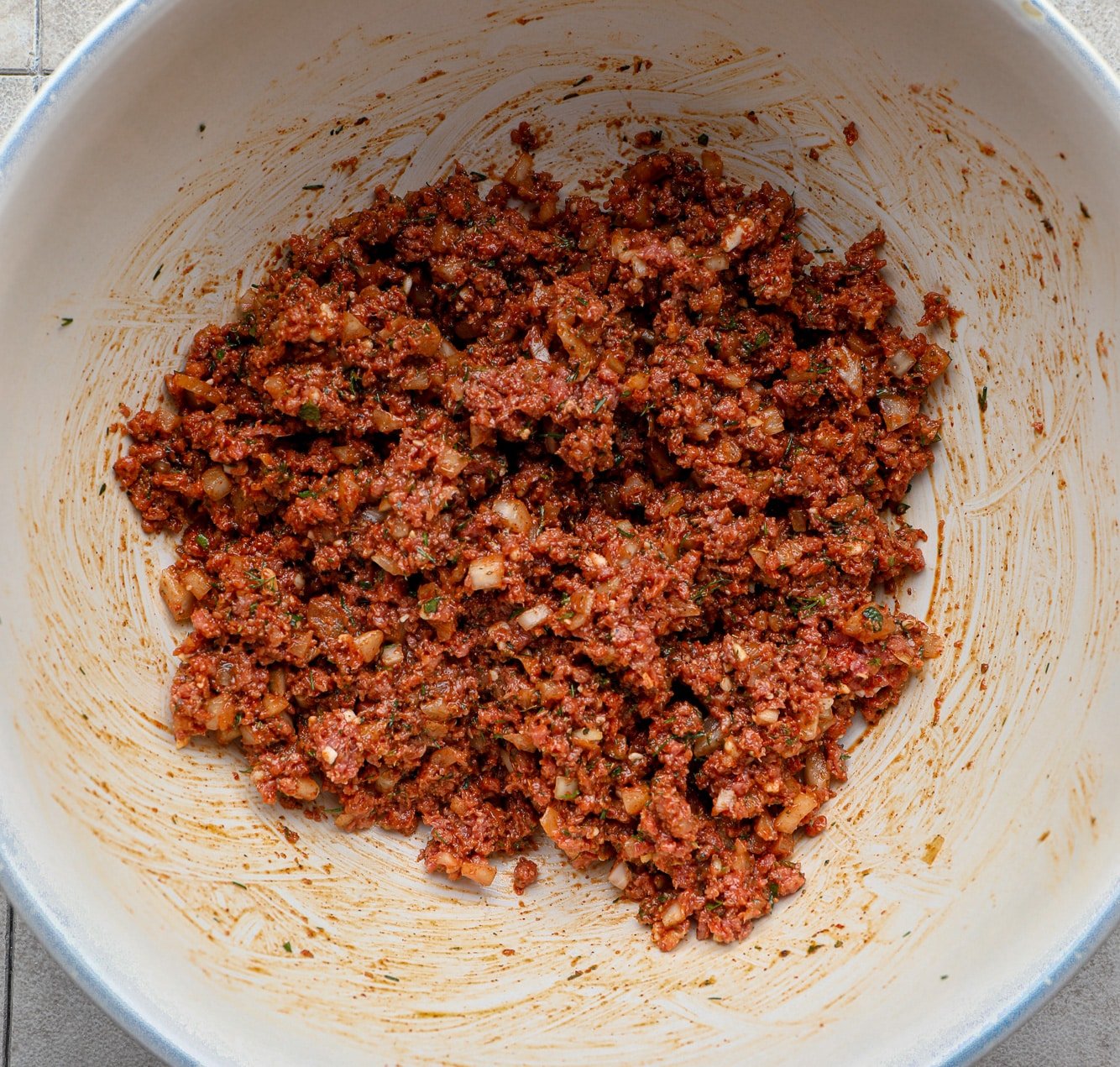 Sear the kofta skewers on a grill pan or outdoor grill until they're cooked through and nicely charred. Serve hot in flatbread with vegan tzatziki and your desired toppings, then enjoy!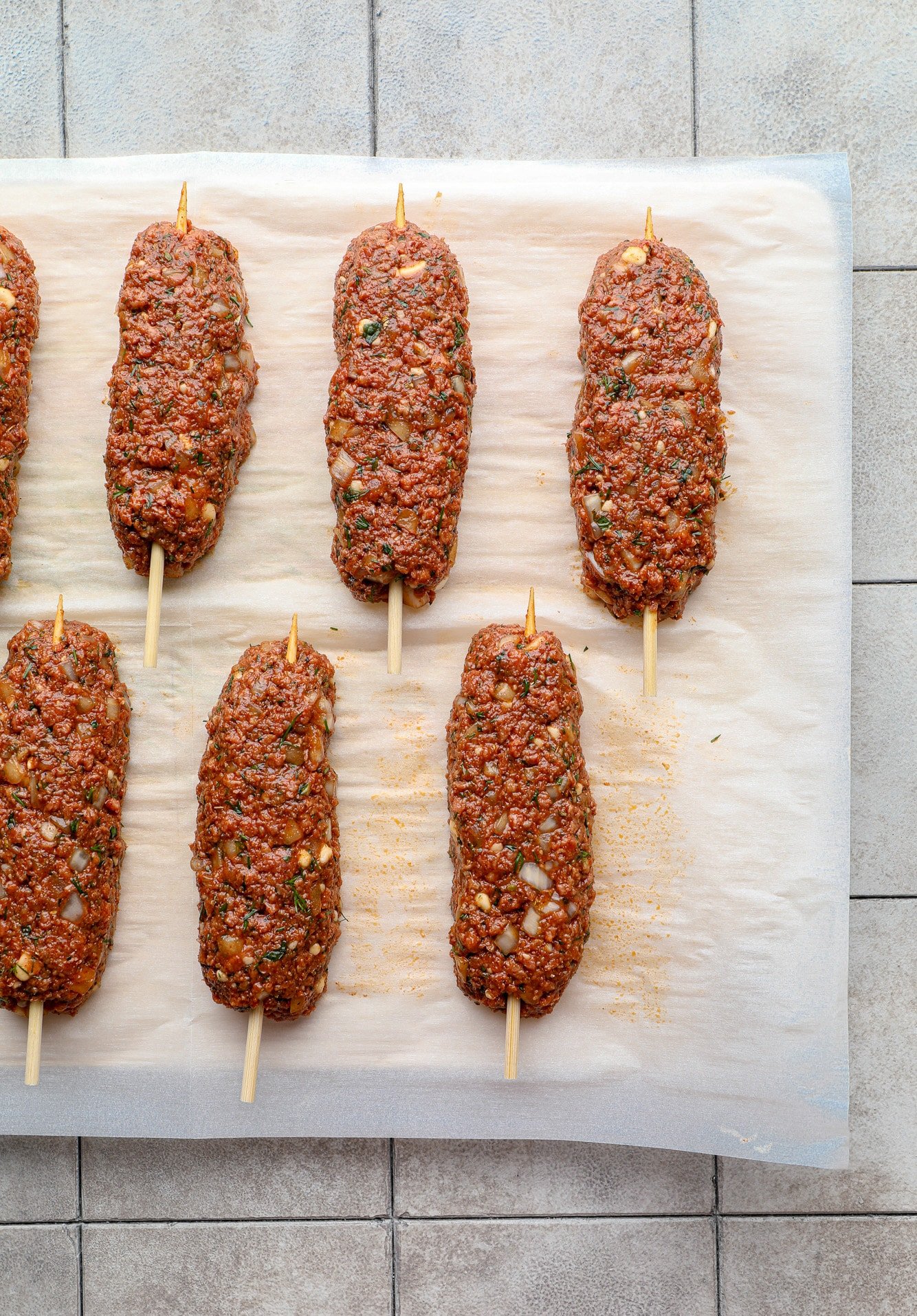 Tips for success
Grilling the kofta kebabs on an outdoor grill? Remember to soak the wooden skewers in a bowl of water for at least 30 minutes before cooking so they don't burn.
You need to really squeeze the meat logs to help them adhere to the skewer.
Omit the cayenne from the spice blend if you don't like spicy food.
You can add finely chopped nuts, like slivered almonds, into the meat mixture for a soft crunch.
Feel free to skip the tzatziki and serve the kofta with hummus instead.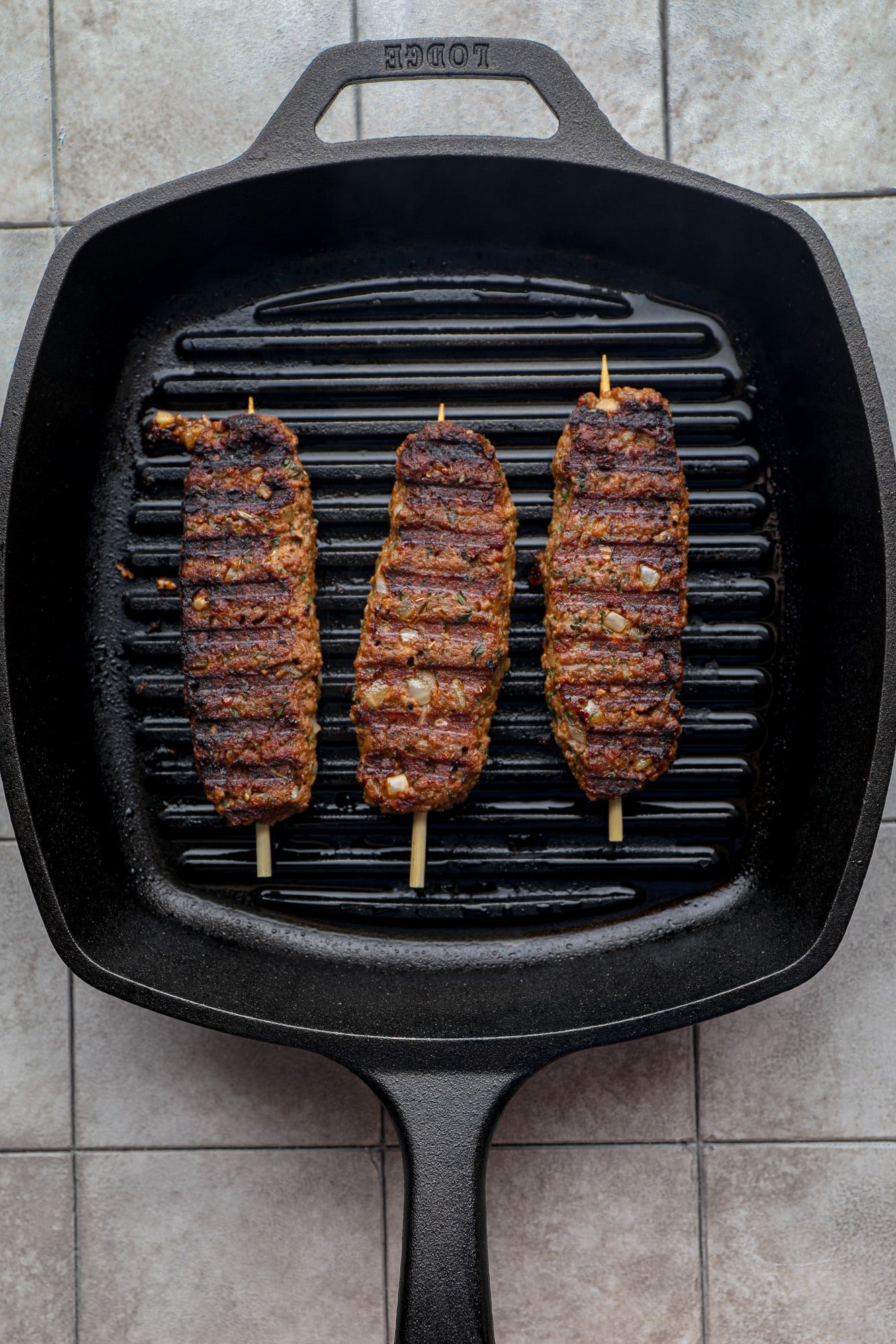 Frequently asked questions
How do you serve vegan kofta kebabs?
Serve the grilled kofta on flatbread with fresh and crisp toppings, like lettuce, tomato, onion slices or pickled onions, cucumber, olives, vegan feta, and/or parsley. Drizzle the tzatziki on top and dig in!

Want to skip the bread? Kofta is also a delicious protein to layer on top of a green salad and Mediterranean-inspired grain bowls.

To make it a meal, serve the kofta flatbread or salad with tabbouleh, falafel, vegetable kebabs, and chickpea salad on the side.
Can you bake them instead?
Absolutely! Lay the kofta on a baking sheet and bake for 15 to 20 minutes at 350ºF, flipping once halfway through.
Can you make kofta kebabs without the skewers?
Sure. Instead of squeezing the logs around the skewers, shape the meat mixture into small patties or cylinders instead. Cook as normal until they're crisp and charred.
How long do they last? Can I freeze them?
Leftover vegan kofta will last for up to 4 days when stored in an airtight container in the fridge. You can also freeze them for longer.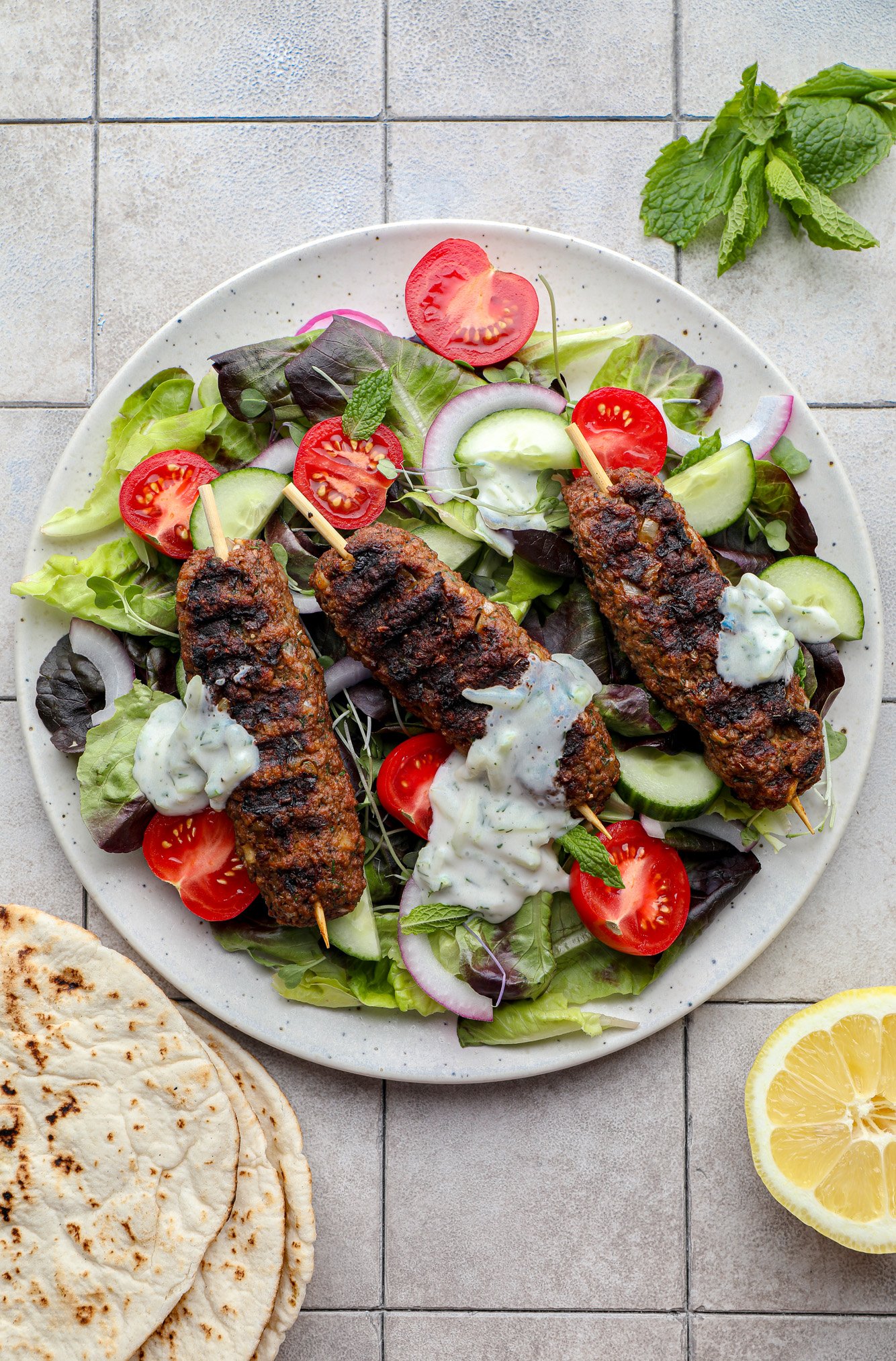 Want more meaty vegan recipes?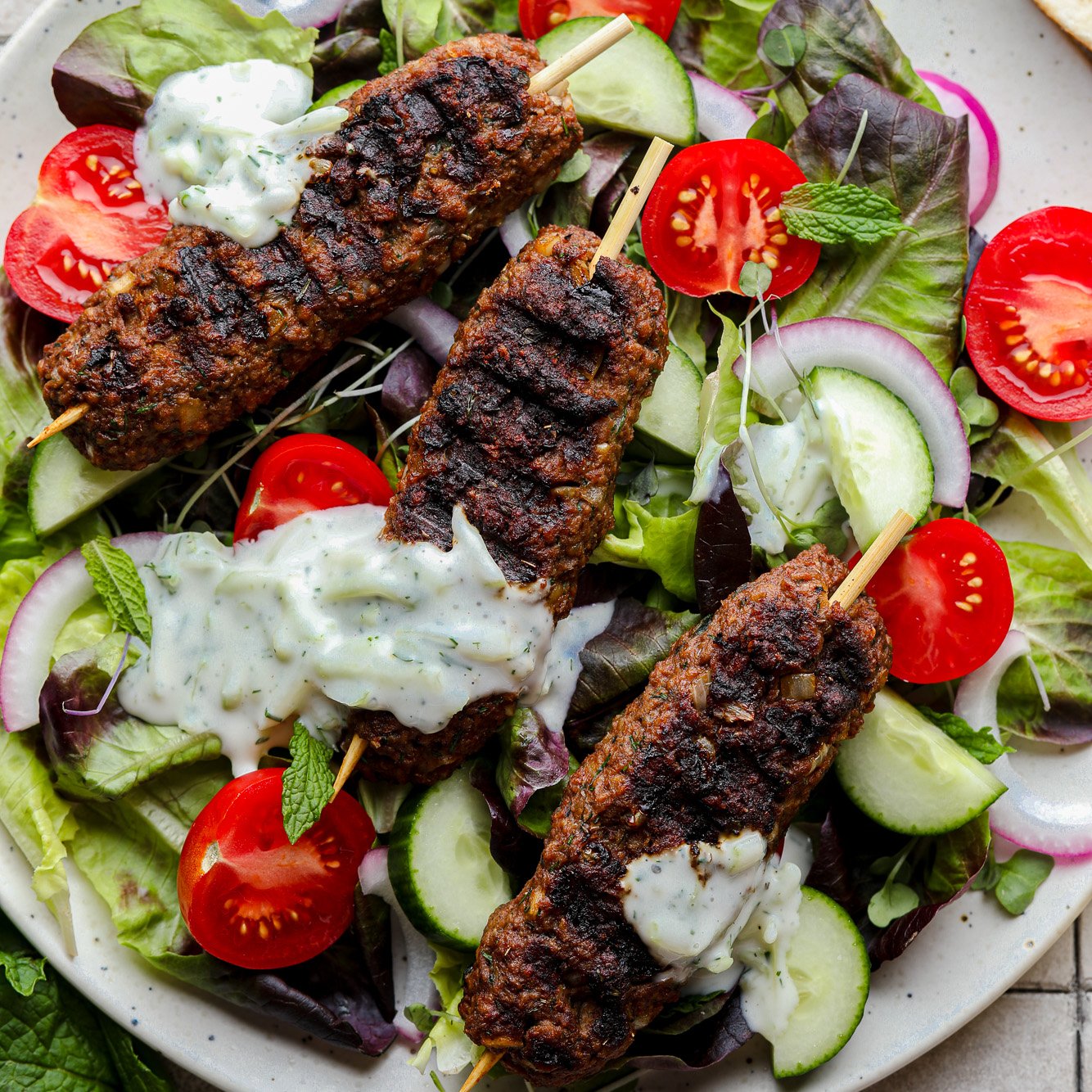 Vegan Kofta
These vegan kofta kebabs are grilled to perfection and served with creamy vegan tzatziki. Made from a bold blend of vegan ground meat, spices, and herbs, they're a hearty protein to serve in flatbread wraps or Middle Eastern-inspired salads.
Ingredients
Kofta
6-7

wooden skewers

16

ounces

vegan ground beef

I used Impossible brand

1

cup

finely minced yellow onion

2

cloves

garlic, minced

2

teaspoons

paprika

1

teaspoon

ground cumin

1

teaspoon

oregano

1/4

teaspoon

cayenne pepper

1/2

teaspoon

ground cinnamon

1/2

teaspoon

salt

1/4

teaspoon

ground black pepper

1/4

cup

fresh dill, chopped

1

tablespoon

fresh mint leaves, finely chopped
Easy Tzatziki sauce
1

cup

plain vegan yogurt

1/2

cup

peeled and grated cucumber

1

clove

garlic, minced

1

tablespoon

fresh lemon juice

1

tablespoon

fresh dill, chopped

salt + pepper, to taste
For serving
flatbread

lettuce, tomato and onion slices

chopped parsley
Instructions
Soak the wooden skewers in water for 30 minutes if you plan on cooking these on an outdoor grill to prevent them from burning.

Make the tzatziki sauce – Add all ingredients to a small bowl and stir to combine. Refrigerate until ready to serve.

Add the vegan ground beef to a large bowl, along with all the other kofta ingredients. Mix very well with a large spoon or your hands.

Divide the mixture into 6-7 portions. Form each portion into a log shape, then skewer the seasoned vegan beef, squeezing it to mold to the skewer. Continue until you have 6 or 7 skewers.

Place the kabobs on a pre-heated and lightly oiled grill pan (or an outdoor grill) over medium high heat. Cook for 5 minutes on one side, then carefully turn and cook for another 5 minutes.

Serve immediately in flatbread with tzatziki sauce, lettuce, tomato and onions and enjoy.
Notes
Bake instead – Place on a pan and bake for 15-20 minutes at 350 degrees F, flipping once halfway through.

Make it without skewers – Shape into small patties or cylinders instead and cook until done, without the skewers.

Store leftovers in the refrigerator for 4 days. They can also be frozen.
Nutrition
Serving:
1
of 7 kofta
|
Calories:
178
kcal
|
Carbohydrates:
8
g
|
Protein:
13
g
|
Fat:
11
g
|
Saturated Fat:
3
g
|
Polyunsaturated Fat:
0.1
g
|
Monounsaturated Fat:
0.1
g
|
Sodium:
373
mg
|
Potassium:
220
mg
|
Fiber:
2
g
|
Sugar:
2
g
|
Vitamin A:
485
IU
|
Vitamin C:
7
mg
|
Calcium:
118
mg
|
Iron:
3
mg