Vegan Kebabs
This post may contain affiliate links. Read my full disclosure here.
Meat-free Vegan Kebabs made from marinated soy curls and tender veggies. Grill them up for a flavorful summer meal or make them in the oven instead!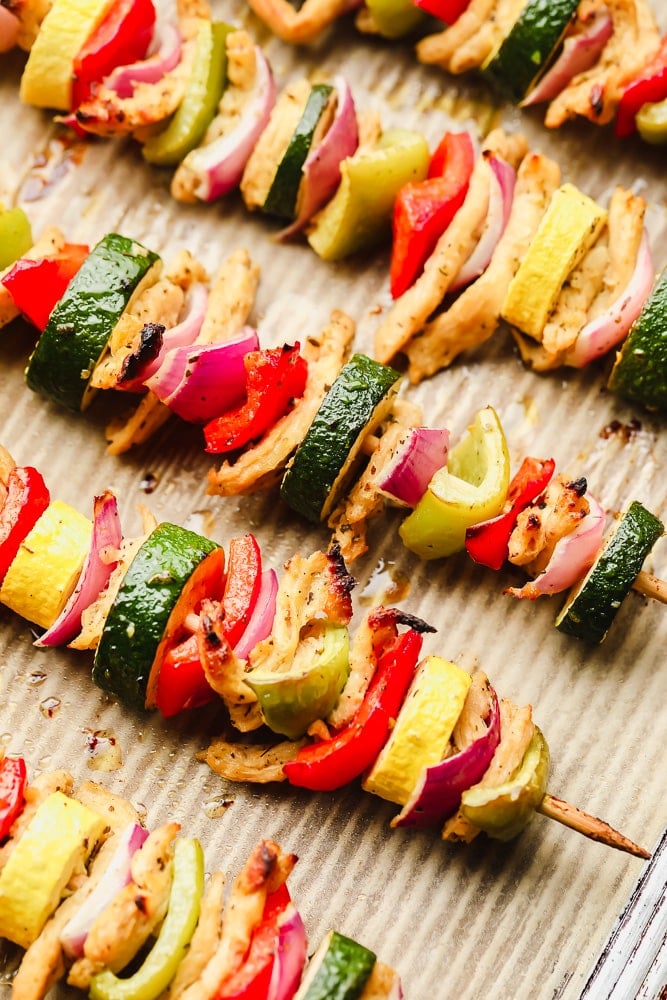 Easy, quick, and full of flavor, my Vegan Kebabs were made for summer barbecues. Not only are they loaded with tender, colorful veggies, but the marinated soy curls soak in classic Mediterranean flavors. It's one of the best skewer recipes ever!
You may be thinking, "how is it possible to replicate the bright Greek flavors in vegan chicken kebabs?" All you need is a great vegan meat substitute and an amazing marinade!
I used soy curls and a marinade made from oil, lemon, agave, garlic, and herbs. The hydrated soy curls soak up the zesty flavors like a sponge and in just a few hours, they're ready to be grilled alongside an array of colorful veggies.
In the end, you have tender and flavorful vegetarian kebabs that are necessary at any backyard barbecue party. Serve them with potato wedges, rice, and BBQ cauliflower to keep all of your guests full and happy!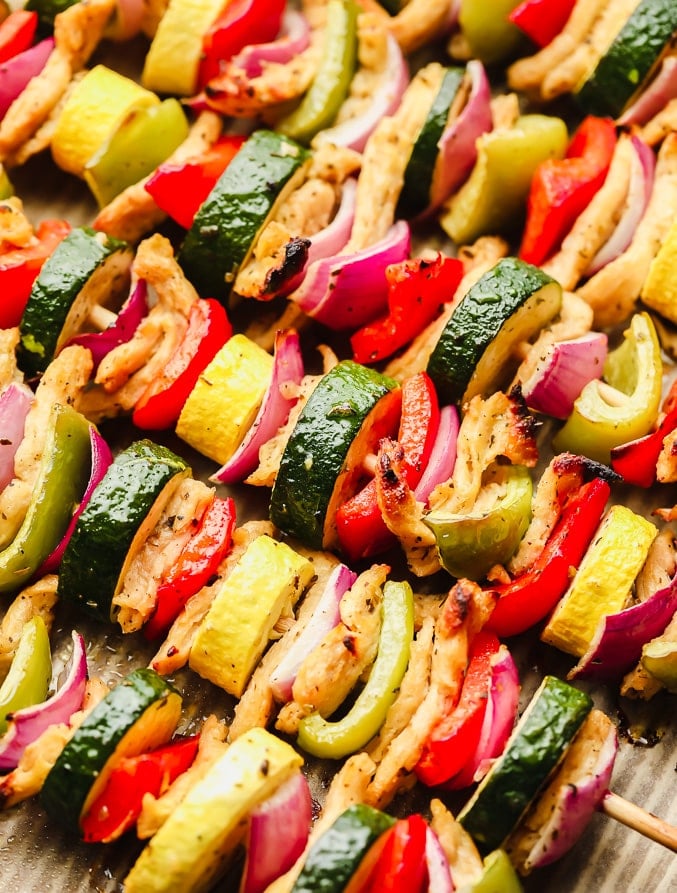 What is vegan kebab meat made of?
I made my vegan chicken kebab meat out of soy curls! Soy curls were the perfect choice because they're made from one ingredient (whole soy beans) and they soak up flavor like crazy. If you've never used soy curls before, you can buy them online on Amazon or at health food stores.
The soy curls will be rehydrated with water before they soak in the tangy and herbaceous kebab marinade. They can be left for as little as 30 minutes but I recommend letting them marinate for 4 to 5 hours for the best flavor!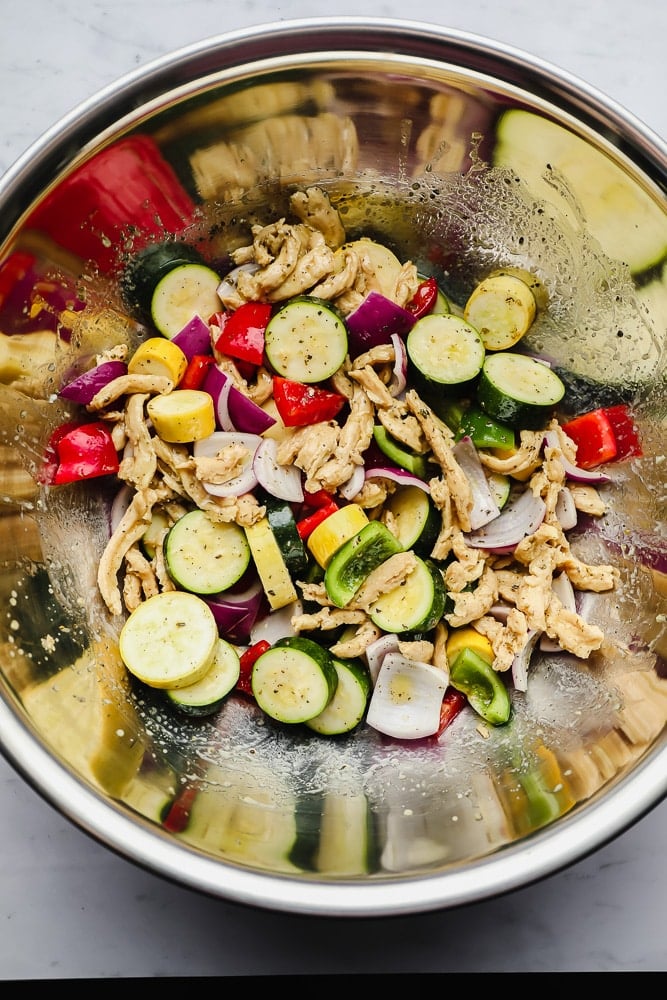 How to grill vegetarian kebabs
Begin by rehydrating the soy curls in hot water. Once they're doubled in size and soft, drain and squeeze out the excess water, and place them in a large bowl with the kebab marinade ingredients.
Thread the cut vegetables and marinated soy curls onto the skewers. Grill each vegan chicken kebab until the vegetables are tender.
Oven roasted vegan "chicken" kebabs
Once the soy curls have been rehydrated and marinated, thread them onto the skewer sticks along with the vegetables. Place the kebabs on a lined baking sheet and bake at 450ºF until the vegetables are tender.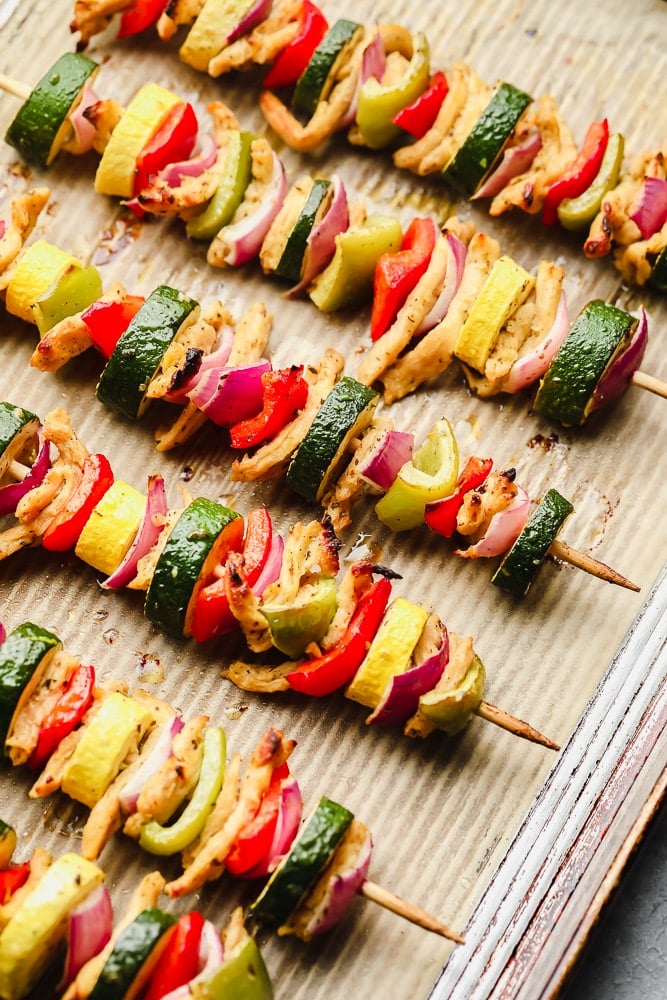 Tips and substitutions
Instead of soy curls – Premarinated tofu is a great substitution and skips the wait time! Alternatively, marinate extra firm tofu pieces in the kebab marinade or use tempeh or seitan (like my vegan chicken) instead. Or use vegan sausages, sliced, such as Field Roast brand.
Veggies – Use as many different veggies as you like! Mushrooms or cooked potato chunks would both be delicious.
Bamboo skewers – Soak these in a bowl of warm water for 10 to 30 minutes before assembling the kebabs. Don't skip this part or else the sticks will burn on the grill!
You only need half of the soy curls – The large soy curls are easy to thread on the skewers. Use the leftover small pieces to make my soy curl BBQ sandwiches or stir fry them with the leftover marinade. Yum!
Serving – I love the kebabs with rice and potato wedges on the side, but you can lighten things up with a vegan cobb salad or chickpea salad. Dress them up with ranch dressing, chimichurri, garlic sauce, or leftover marinade on top and enjoy!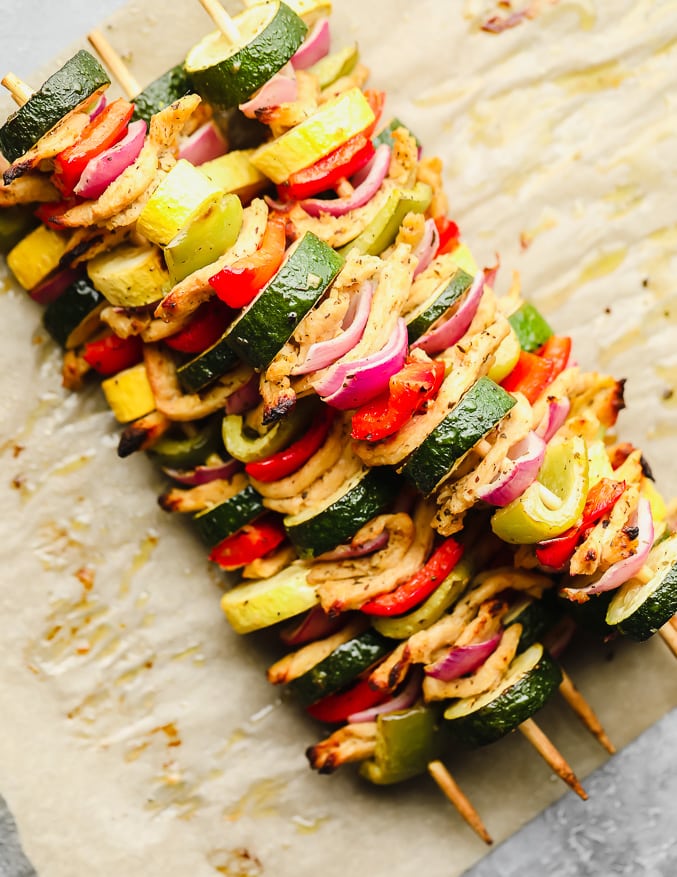 More vegan BBQ favorites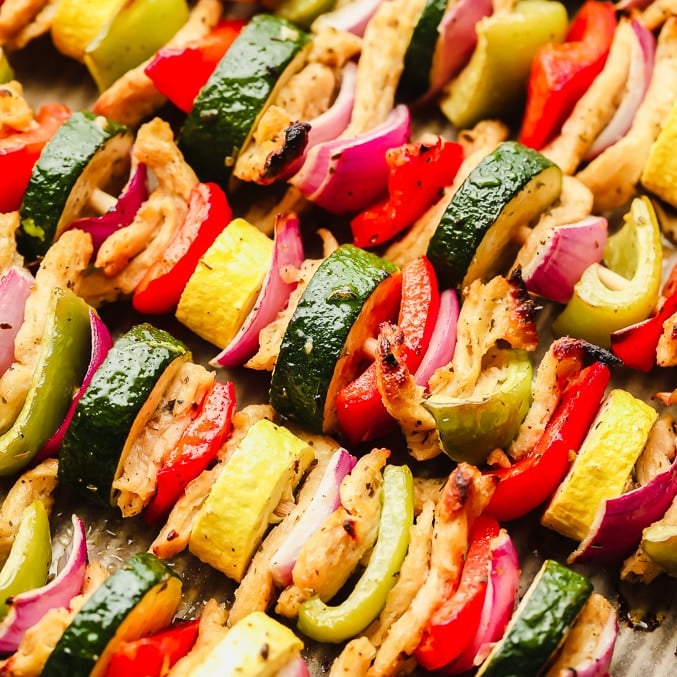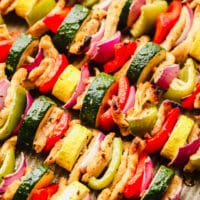 Vegan Kebabs
Meat-free Vegan Kebabs made from marinated soy curls and tender veggies. Grill them up for a flavorful summer meal or make them in the oven instead!
Ingredients
8

ounce

bag soy curls,

see notes for options

2

medium

zucchini, sliced into thick rounds

1

large

yellow summer squash, sliced into thick rounds

1

red bell pepper, cut into chunks

1

green bell pepper, cut into chunks

1

red onion, cut into chunks
Marinade
1/2

cup

olive oil

1/4

cup

lemon juice

1/4

cup

water

2

tablespoons

dijon mustard

2

tablespoons

agave

4

cloves

garlic, minced

1

teaspoon

dried oregano

1

teaspoon

dried basil

1/2

teaspoon

salt

1/2

teaspoon

ground black pepper
Instructions
If using bamboo skewer sticks, soak them in warm water for 10-30 minutes while you prepare all the vegetables. This will help them not burn on the grill!

In a large bowl, add the dehydrated soy curls, then cover with about 4 cups of hot water. Let them rehydrate for about 10 minutes until they have grown in size and softened. Drain in a colander and squeeze any excess water from the pieces.

In a large bowl (large enough to fit all the veggies and soy curls), whisk together the marinade ingredients. Add all the large pieces of soy curls to the marinade and the veggies, stir to coat and let marinate for at least 30 minutes. 4-5 hours is best! Save the little pieces of soy curls for another recipe or simply mix with a little bbq sauce and eat on a sandwich or salad.

Thread all the vegetables and larger pieces of soy curls onto the skewers until you have used everything up. The soy curls are a little delicate, so only use the larger pieces. They will thread just fine.

TO GRILL: Preheat the grill between 400-450 degrees F.  Place the kebabs on the grill and grill for 15-20 minutes, depending on how cooked/softened you want the vegetables to be. Turn the kebabs every 5 minutes or so and let them char a little bit.

OVEN: Preheat the oven to 450 degrees F. Place the skewers on a large baking sheet or two lined with parchment paper. Bake in the oven for 20-25 minutes, flipping the skewers after 15 minutes.
Notes
You could skip the soy curls or substitute some marinated tofu (don't marinate the already marinated tofu, just the veggies!) or even plain super firm tofu, if desired. Tempeh would also work, or vegan chicken, cut into pieces. You could also use vegan sausages, sliced up.

Feel free to use different veggies such as mushrooms or even cooked potato chunks.

You will only use about ½ the package of soy curls (only the large enough pieces to skewer). Make

soy curl bbq sandwiches

out of the leftovers! Or stir fry with the leftover marinade, yum!
Nutrition
Serving:
1
of 6 servings
,
Calories:
222
kcal
,
Carbohydrates:
21
g
,
Protein:
14
g
,
Fat:
10
g
,
Saturated Fat:
1
g
,
Sodium:
262
mg
,
Potassium:
451
mg
,
Fiber:
6
g
,
Sugar:
13
g
,
Vitamin A:
945
IU
,
Vitamin C:
68
mg
,
Calcium:
117
mg
,
Iron:
4
mg
We are a participant in the Amazon Services LLC Associates Program, an affiliate advertising program designed to provide a means for sites to earn advertising fees by advertising and linking to amazon.com. Read my full disclosure here