I am obsessed with this Vegan Shawarma! Marinated soy curls, fresh veggies, and a creamy shawarma sauce are all stuffed into soft flatbread. Best of all, it's easy to make for lunch or dinner.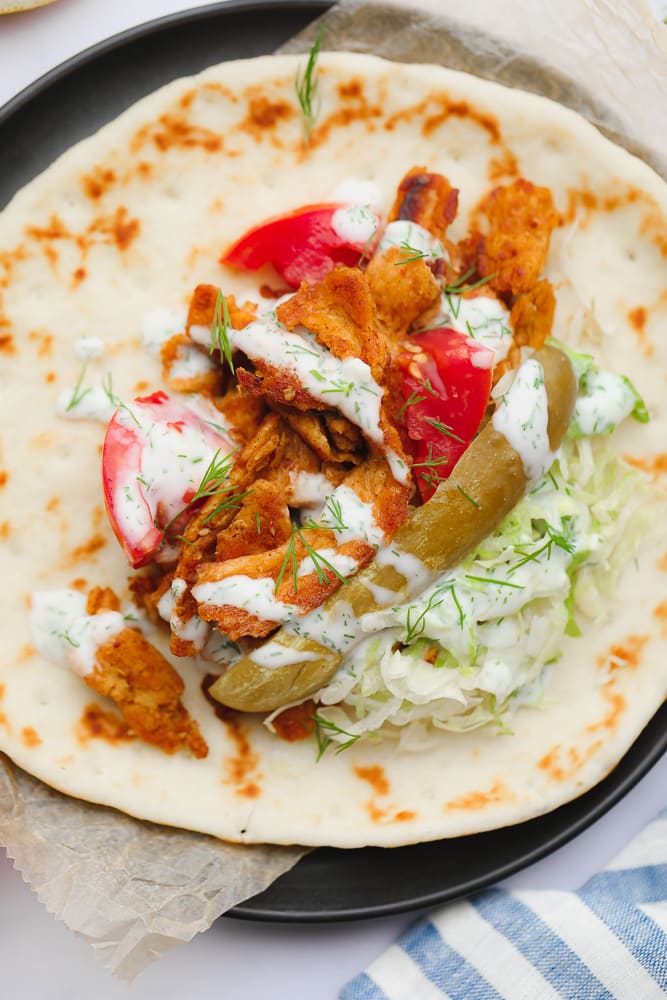 I can't get enough of this easy Vegan Shawarma. Stuffed in a fresh pita with vegetables, tangy pickles, and the best marinated soy curls, every bite is bursting with flavor! It only gets better after drizzling the amazing vegan shawarma sauce on top.
Once the soy curls have soaked in all of the flavors from the easy Middle Eastern-inspired marinade, they're ready to be cooked and stuffed into your bread of choice. I like to use pita bread, but flatbread or even naan will do! In just a few minutes, you'll have a filling, colorful, and flavorful vegetarian shawarma that's perfect for lunch or dinner.
Making vegan shawarma from scratch is not only easy, but it's also:
Healthy and flexible. Add as many veggies as you like!
So savory and garlicky (thanks to the shawarma sauce).
Loaded with flavor.
Easy to prepare ahead of time.
If you love using soy curls as a tasty meat alternative, then you have to try my Vegan Stir Fry and Vegan Beef and Broccoli!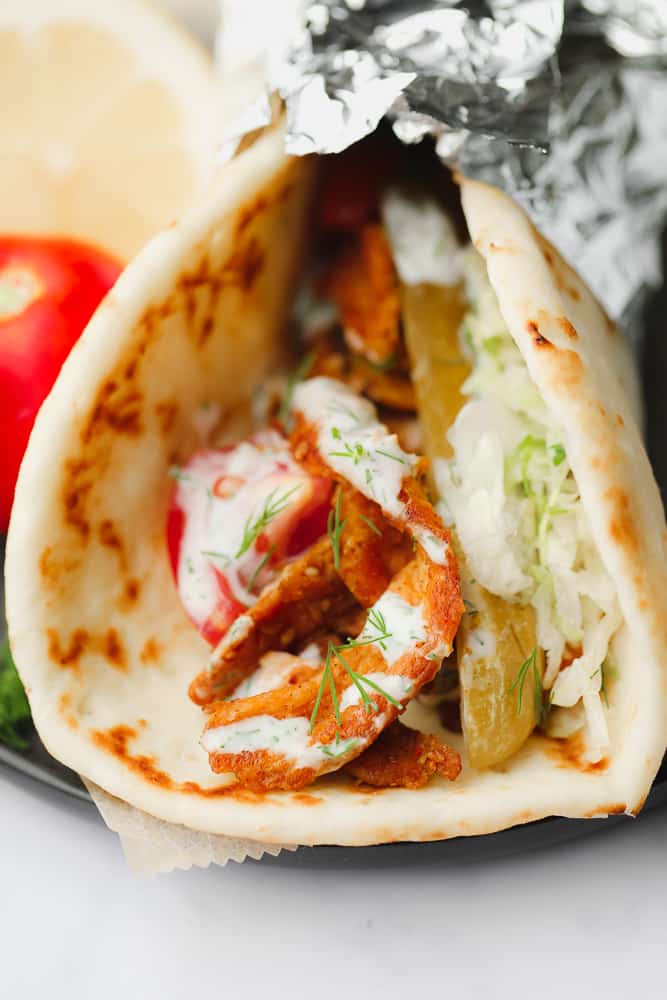 What goes into vegan shawarma?
Traditional Middle Eastern shawarma recipes are made with slow roasted meat and vegetables wrapped in a pita. I packed this veggie shawarma with crisp vegetables, a homemade sauce, and replaced the meat with marinated spiced soy curls.
These tender pieces of whole soybeans become so flavorful and chewy when mixed with the warming shawarma spices, you won't be missing the meat.
How to make it
Rehydrate the soy curls by letting them soak in a bowl of water until they're doubled in size. Drain and squeeze out any remaining moisture using your hands.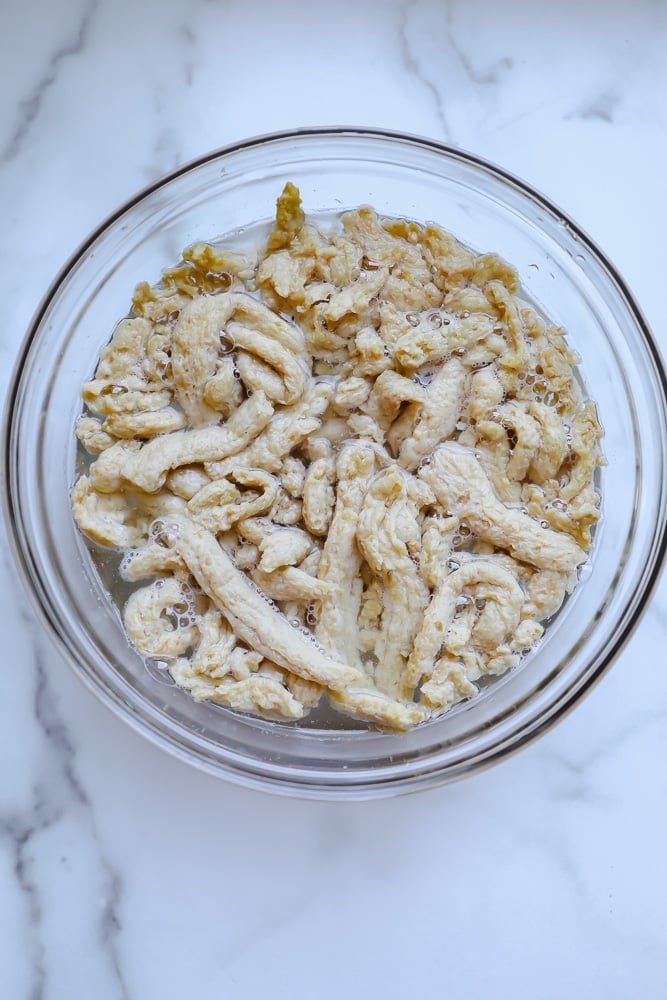 Place the soy curls in a bowl with all of the marinade ingredients. Let the soy curls soak up all of the flavors by letting them marinate in the fridge for at least 1 hour or up to 1 day.

Before it's time to eat, heat a skillet with some oil. Fry the shawarma soy curls until some pieces look a little crispy and charred. Stuff them in the pita bread along with pickles, tomatoes, lettuce, and Shawarma Sauce. Serve with plenty of sides and enjoy!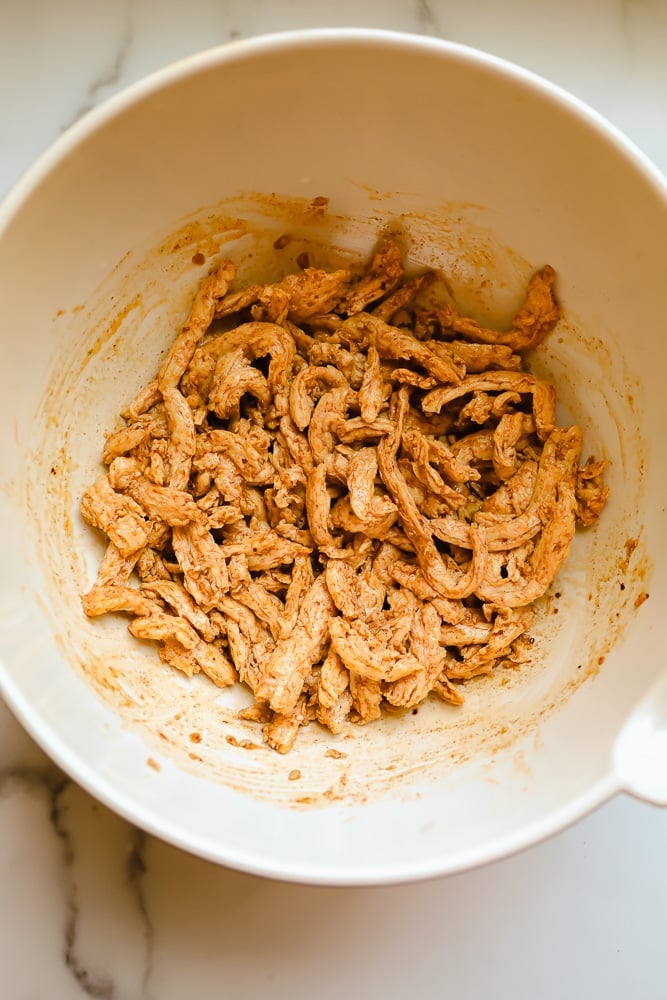 Tips and substitutions
Instead of soy curls – Use marinated chickpeas, vegan chicken, marinated tofu, vegan steak, roasted cauliflower, or tempeh.
Add-ins – Stuff your vegan shawarma with anything you like, such as pickled onions, cucumber, beans, red peppers, jalapeños, banana peppers, or leafy greens.
Vegan Feta – While feta is not traditionally found in shawarma, it's a pretty good addition!
Sauce – Although it's traditionally served with a delicious and savory garlic shawarma sauce, the flavors in shawarma would also pair well with vegan tzatziki, dairy free plain yogurt, homemade hummus, cashew cream, and tahini sauce.
Storing – Keep the marinated soy curls and any prepared veggie fillings in separate airtight containers in the fridge for up to 1 week.
Serving suggestions
The best side dishes to enjoy with vegetarian shawarma are refreshing and flavorful! Serve your wraps next to tabbouleh, chickpea salad, potato wedges, fattoush salad, hummus and veggies, or french fries.
Can I make it in advance?
The soy curls can be marinated and cooked ahead of time, but it's best to leave the assembly until it's time to eat. Let the soy curls marinate anywhere for 1 hour to 1 day before assembling the shawarma. Otherwise, you can store them in an airtight container and reheat them right before serving.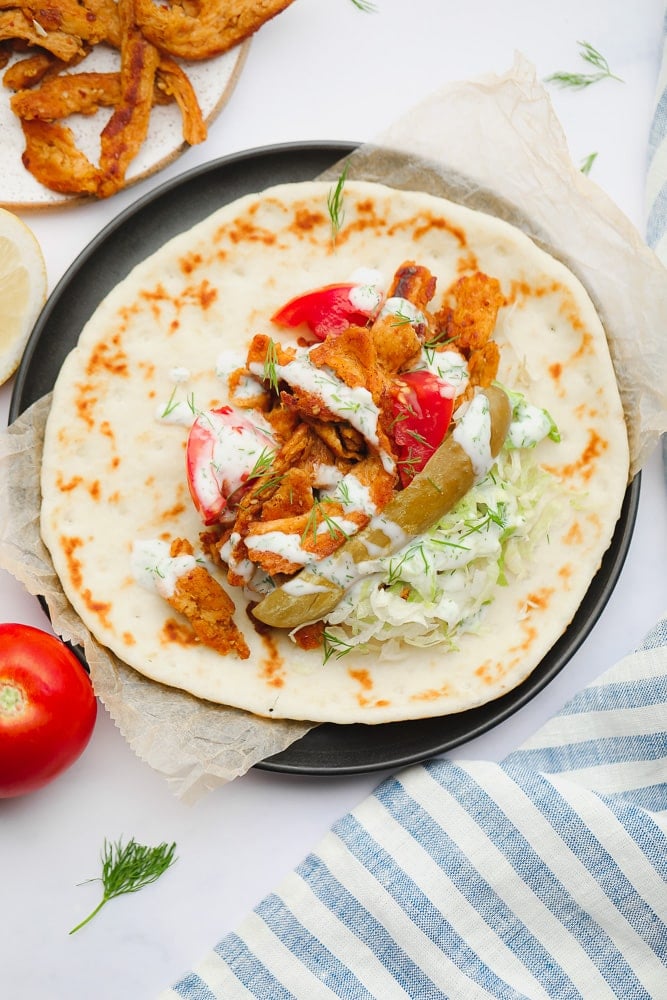 Looking for more delicious vegan recipes?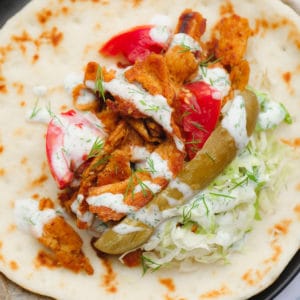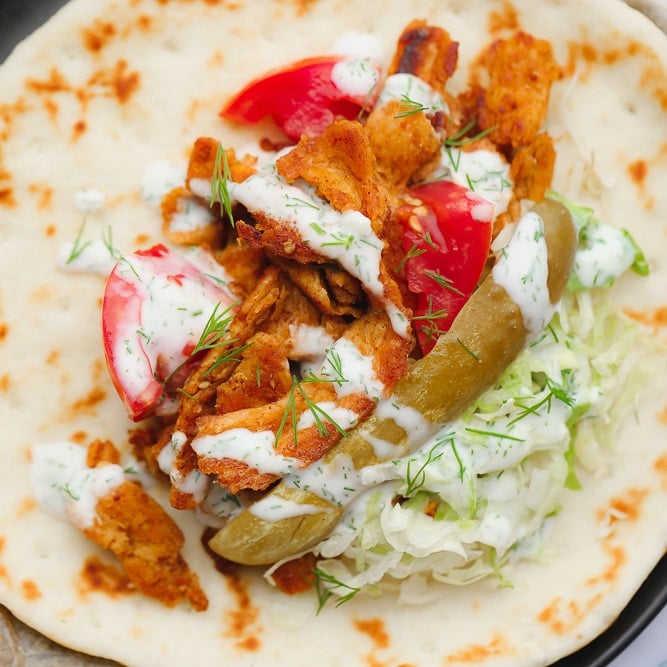 Vegan Shawarma
I am obsessed with this Vegan Shawarma! Marinated soy curls, fresh veggies, and a creamy shawarma sauce are all stuffed into soft flatbread. Best of all, it's easy to make for lunch or dinner.
Ingredients
Marinade
1/4

cup

olive oil

3

tablespoons

fresh lemon juice

5-6

garlic cloves, minced

1

teaspoon

salt

1

teaspoon

cardamom

1/4

teaspoon

ground cinnamon

1

teaspoon

paprika

1/2

teaspoon

ground cumin

1/4

teaspoon

crushed red pepper flakes
For Serving
4-5

flatbread or pita

dill pickles, spears or slices

sliced or quartered tomatoes

lettuce
Instructions
Prepare soy curls: In a large bowl, add the dehydrated soy curls, then cover with 3 cups warm water. Let them rehydrate for about 10 minutes until they have grown in size and softened. Drain in a colander and squeeze any excess water from the pieces.

Marinate: In a large bowl, add all the marinade ingredients and whisk to combine. Add the soaked and drained soy curls to the bowl with the marinade and stir to coat the soy curls. Cover the bowl and place in the refrigerator to marinate for 1 hour (or up to a day).

Cook: After the soy curls have marinated for at least an hour, heat a large skillet over medium-high heat. Add a few tablespoons of olive oil, then add the soy curls, including the marinade, and fry for about 5 minutes, until they get a little blackened in some areas. Remove from heat.

Serve: Serve the soy curl shawarma in pita or flatbread with pickles, tomatoes, lettuce and my amazing Shawarma Sauce, a simple tahini sauce or even just plain vegan yogurt. Enjoy!
Notes
Meal Prep/ Storage – Prepare the soy curls to keep on hand all week long for quick lunches or dinners. They will keep in a covered container for about a week. Simply reheat in the microwave or a pan until warm.
Gluten Free – To make the wraps gluten free, use gluten free pita or bread, or simply enjoy everything in salad form, or in a bowl with rice/quinoa.
Nut Free – It's nut free as long as you don't use a nut based yogurt to make the sauce. Use soy or coconut instead.
Nutrition
Serving:
1
of 5 servings
|
Calories:
299
kcal
|
Carbohydrates:
33
g
|
Protein:
15
g
|
Fat:
11
g
|
Saturated Fat:
2
g
|
Polyunsaturated Fat:
1
g
|
Monounsaturated Fat:
8
g
|
Sodium:
716
mg
|
Potassium:
93
mg
|
Fiber:
5
g
|
Sugar:
3
g
|
Vitamin A:
201
IU
|
Vitamin C:
5
mg
|
Calcium:
125
mg
|
Iron:
3
mg