A few of these quick and easy Pickled Red Onions on top of your favorite meals will add a burst of tangy flavor. Made with just 6 ingredients and ready in 30 minutes!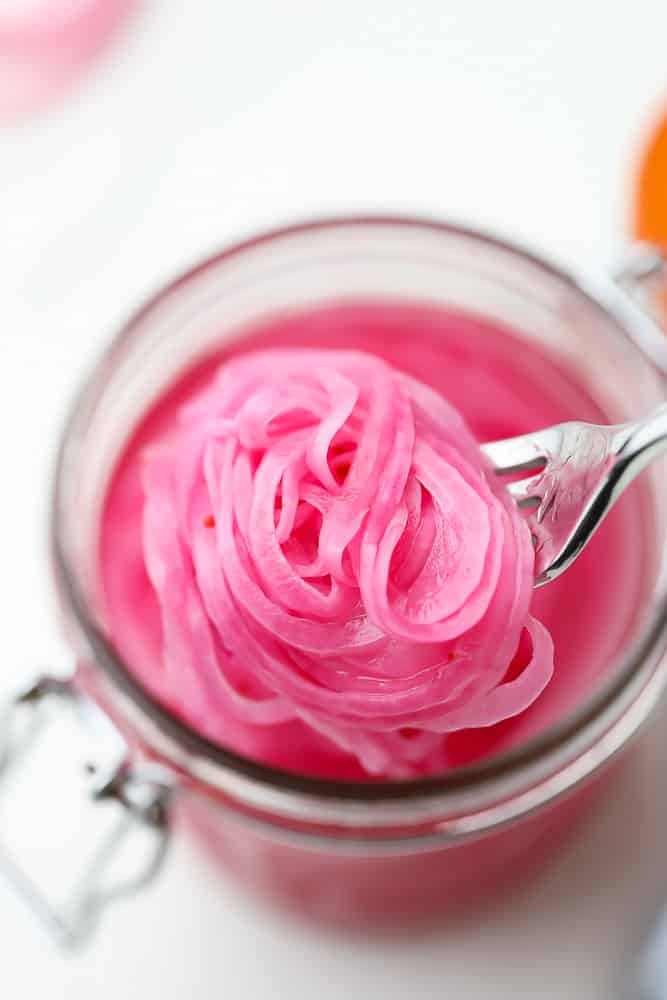 Pickling vegetables has never been so easy! These vibrant and tangy Pickled Red Onions are the pop of flavor your savory meals have been begging for. Made with just 6 ingredients and ready to eat in only 30 minutes, they're bound to become your new favorite condiment.
All you need is a red onion, vinegar, water, sugar, and salt. A touch of red pepper flakes will give the sliced onions a touch of heat and complexity that shouldn't be missed. The vinegar brine pickles the onion in no time and gives each slice a sweet, tangy, and bright flavor with just a bit of crunch.
Have some fun with each batch and experiment with add-ins, a combination of vinegars, and different spice levels. A small handful of pickled onions in a tempeh bacon sandwich, on top of enchiladas, or as a topping on taco night will take your meal to new and exciting levels.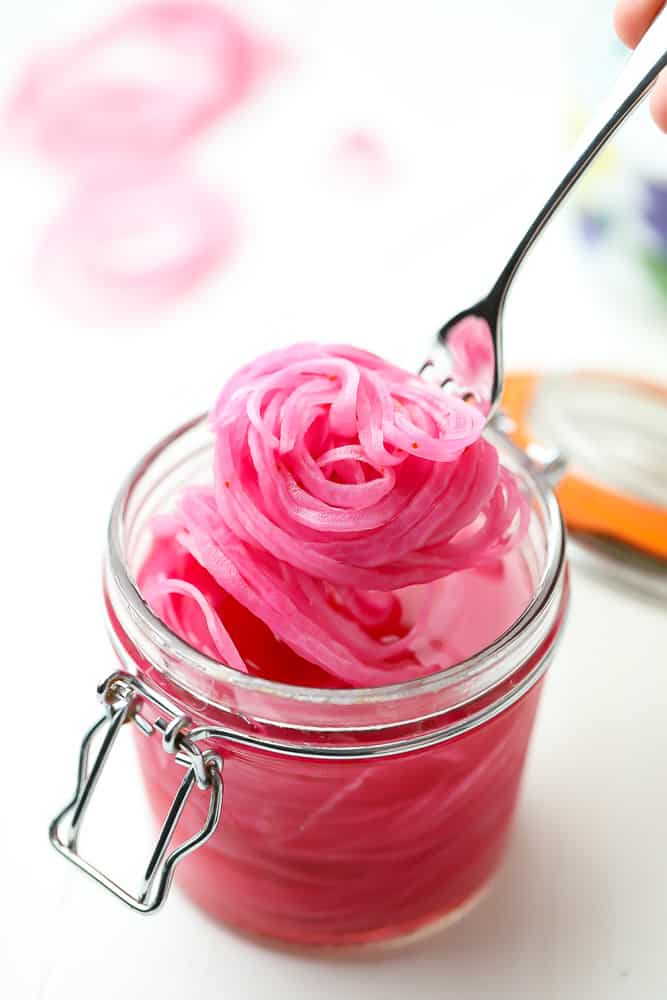 How to make pickled red onions
Use a mandolin or a sharp knife to slice the red onions very thin. The thinner they are, the quicker they'll pickle! Place them in the mason jar while you heat up the brine.
Heat the vinegar, water, sugar, salt, and pepper flakes in a small saucepan over medium heat. Remove it from the heat when it reaches a simmer and pour it over the onions in the jar.
Leave the onions to sit at room temperature until they cool completely. Afterward, you can store them in your fridge for weeks!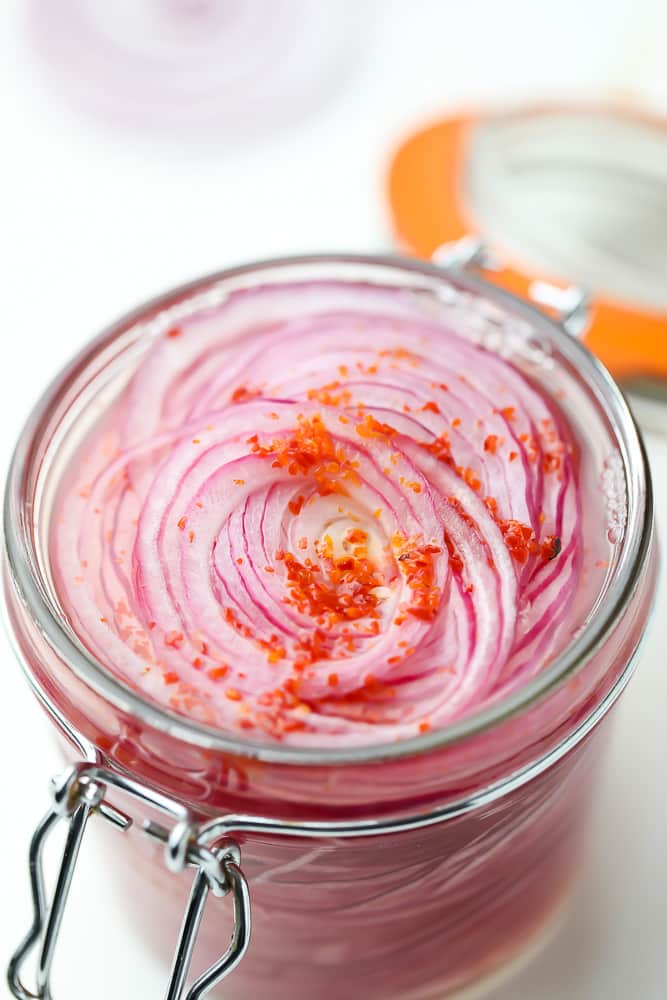 Serving suggestions
Quick pickled red onions go well with almost everything. Keep a jar in your fridge at all times to spruce up all of your savory meals. My personal favorite way to eat them is on avocado toast.
They're particularly delicious with Mexican recipes, adding a bright and zesty crunch to vegan tacos and burrito bowls, with jackfruit carnitas, on top of nachos, and much more.
Bring them to your backyard cookout to top on veggie burgers and sloppy joes, use them to zest up your weekday sandwiches or salads, or put the jar out with breakfast to add a little tang to your tofu scramble, avocado toast, or breakfast potatoes. The options are endless!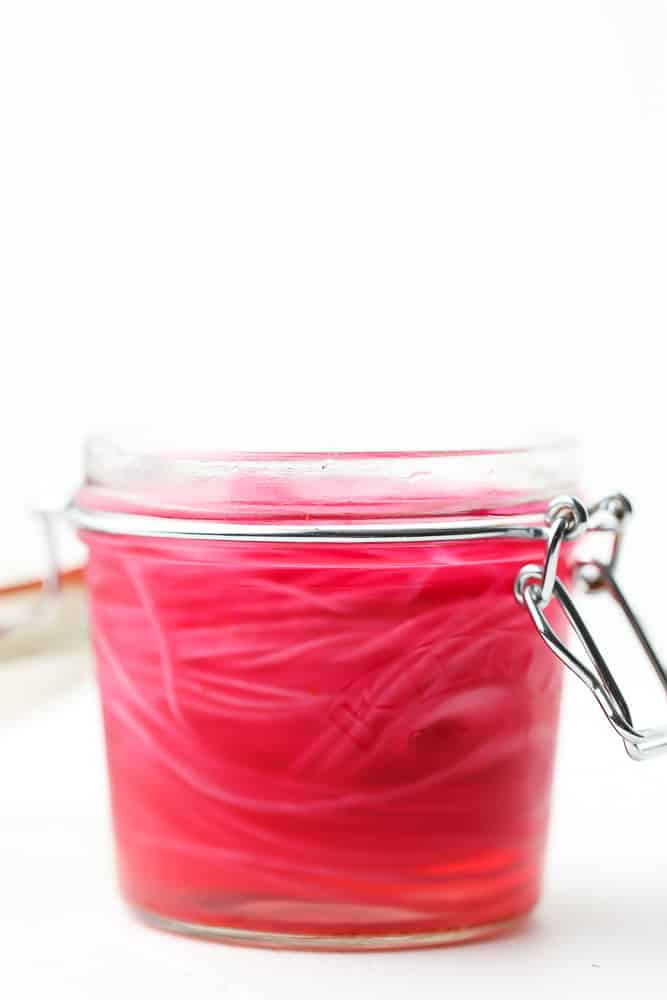 Recipe variations
Experiment with fun add-ins to give the picked red onions a more complex flavor profile, like:
A clove or two of fresh garlic.
A few slices of jalapeño peppers for a bit of heat.
Whole peppercorns.
Fresh dill.
Feel free to play around with the ingredients in this recipe as well. For example:
If you don't have sugar, try using coconut sugar, maple syrup, or monk fruit sweetener instead.
Change up the vinegar. Apple cider vinegar will make them taste sweet, whereas red wine vinegar will give them more depth. You can also use a combination of two different kinds of vinegar to make the flavors more captivating.
Use white or yellow onions instead of red.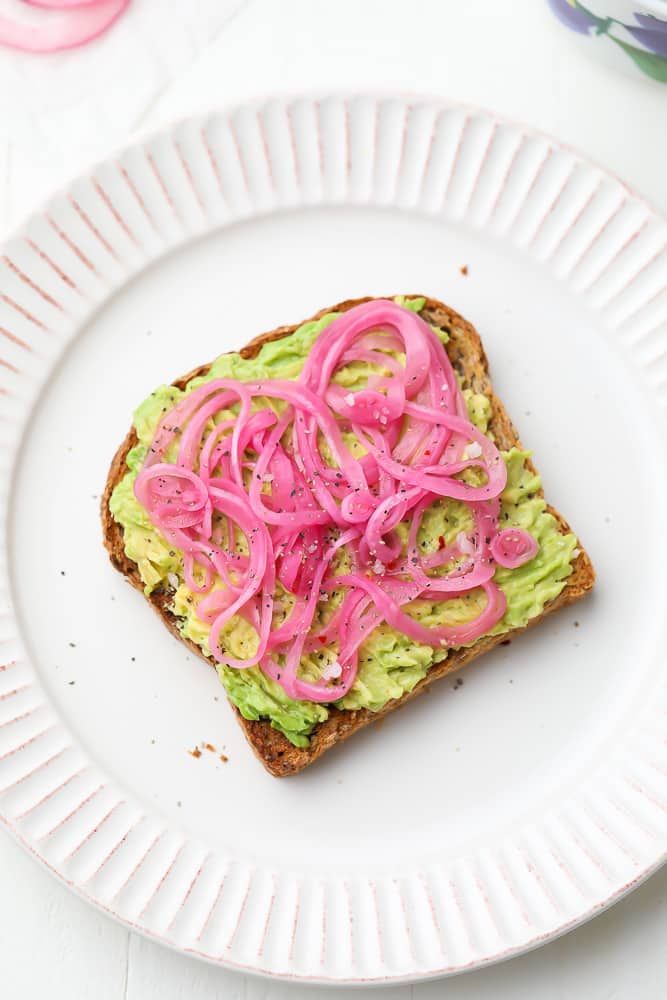 Frequently asked questions
Can you pickle other vegetables with this recipe? Yes! Try using carrots, cauliflower, asparagus, red cabbage, or pickles. It also works for other types of onions.
What do pickled red onions taste like? Tangy, complex, sweet, tart, and just a little crunchy. They're a vibrant condiment that will add brightness to any dish.
How long do they last? A jar of pickled red onions in the fridge will last for up to 2 weeks.
More uses for easy pickled red onions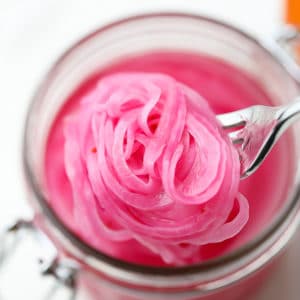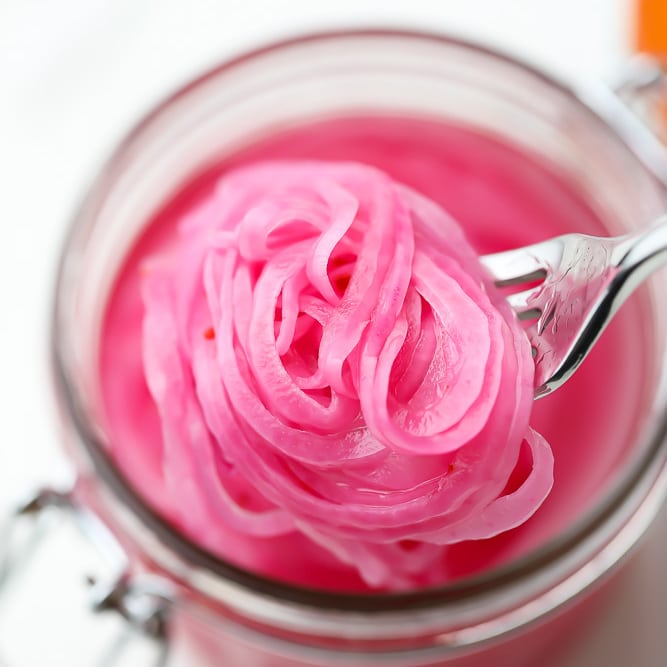 Pickled Red Onions
A few of these quick and easy Pickled Red Onions on top of your favorite meals will add a burst of tangy flavor. Made with just 6 ingredients and ready in 30 minutes!
Ingredients
1

medium

red onion

1/2

cup

white vinegar

1/2

cup

water

1 1/2

tablespoons

granulated sugar

1 1/2

teaspoons

salt

tiny pinch red pepper flakes
Instructions
Slice the red onion as thin as possible. Use a mandolin for evenly sliced onions.

Add the sliced red onions to a glass jar, such as a 16-ounce mason jar. Even a bowl will work or container with a lid, glass preferred.

In a small saucepan, combine the white vinegar, water, sugar, salt and pepper flakes. Bring the mixture to a simmer over medium heat, then immediately remove from heat.

Pour the pickling liquid over the onions in the jar. Use a butter knife to press the onions down into the liquid, making sure they are immersed completely. Let them sit at room temperature, uncovered, for 30 minutes, then cover and refrigerate for at least an hour before serving. They will have a stronger flavor after at least 4 hours in the refrigerator.

They will keep for approximately 2 weeks in the refrigerator.
Notes
Add 1-2 cloves fresh garlic to the jar.
For heat, add a few slices of jalapeño peppers.
Add a few whole black peppercorns for a peppery flavor.
Add a tablespoon or two of fresh dill.
Refined sugar free? Use coconut sugar, monk fruit, agave or maple syrup instead.
Nutrition
Serving:
1
of 12 servings
|
Calories:
11
kcal
|
Carbohydrates:
2
g
|
Protein:
1
g
|
Fat:
1
g
|
Saturated Fat:
1
g
|
Sodium:
292
mg
|
Potassium:
14
mg
|
Fiber:
1
g
|
Sugar:
2
g
|
Vitamin A:
1
IU
|
Vitamin C:
1
mg
|
Calcium:
3
mg
|
Iron:
1
mg