These crispy Cauliflower Wings are tossed in buffalo sauce and served with an easy vegan ranch dipping sauce. They're the ultimate game day snack you won't be able to resist!
Treat yourself to more addictive cauliflower wings, like these BBQ Cauliflower Wings, Bang Bang Cauliflower, Sticky Sesame Cauliflower, and Orange Cauliflower.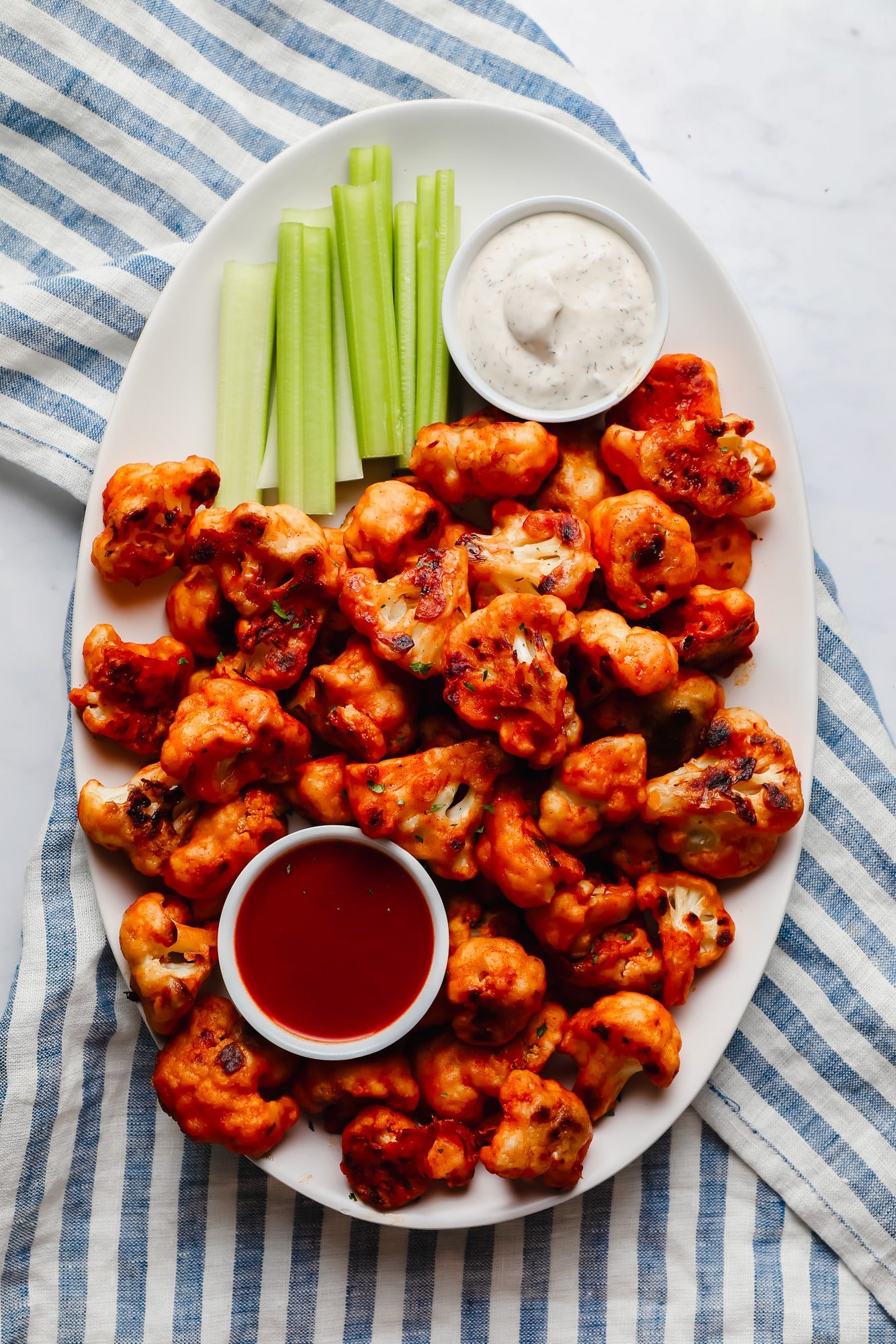 Whether you need a crowd-pleasing appetizer or an exciting dinner, Cauliflower Wings are the right choice! Cauliflower florets are breaded and baked until crispy, then tossed in spicy buffalo sauce and served with vegan ranch dressing on the side. They go fast, so plan on making extras if you want a plate all to yourself!
Why I love these buffalo cauliflower wings
Tender, meaty, and crunchy: Vegan cauliflower wings aren't pretending to be chicken but their meaty texture and addictive flavor make them irresistible!
Baked, not fried: Baking is a hands-off method that yields crispy-on-the-outside, meaty-on-the-inside wings every time. No messy or heavy deep fryer oil needed. If you want to make deep fried cauliflower wings, try this recipe: Buffalo Fried Cauliflower.
A snack you'll look forward to: Buffalo cauliflower wings are completely delicious. Snack on them with the easy vegan ranch dip during the big game, add them to Buddha bowls for a punch of spice, or enjoy them as a fun topping on mac and cheese.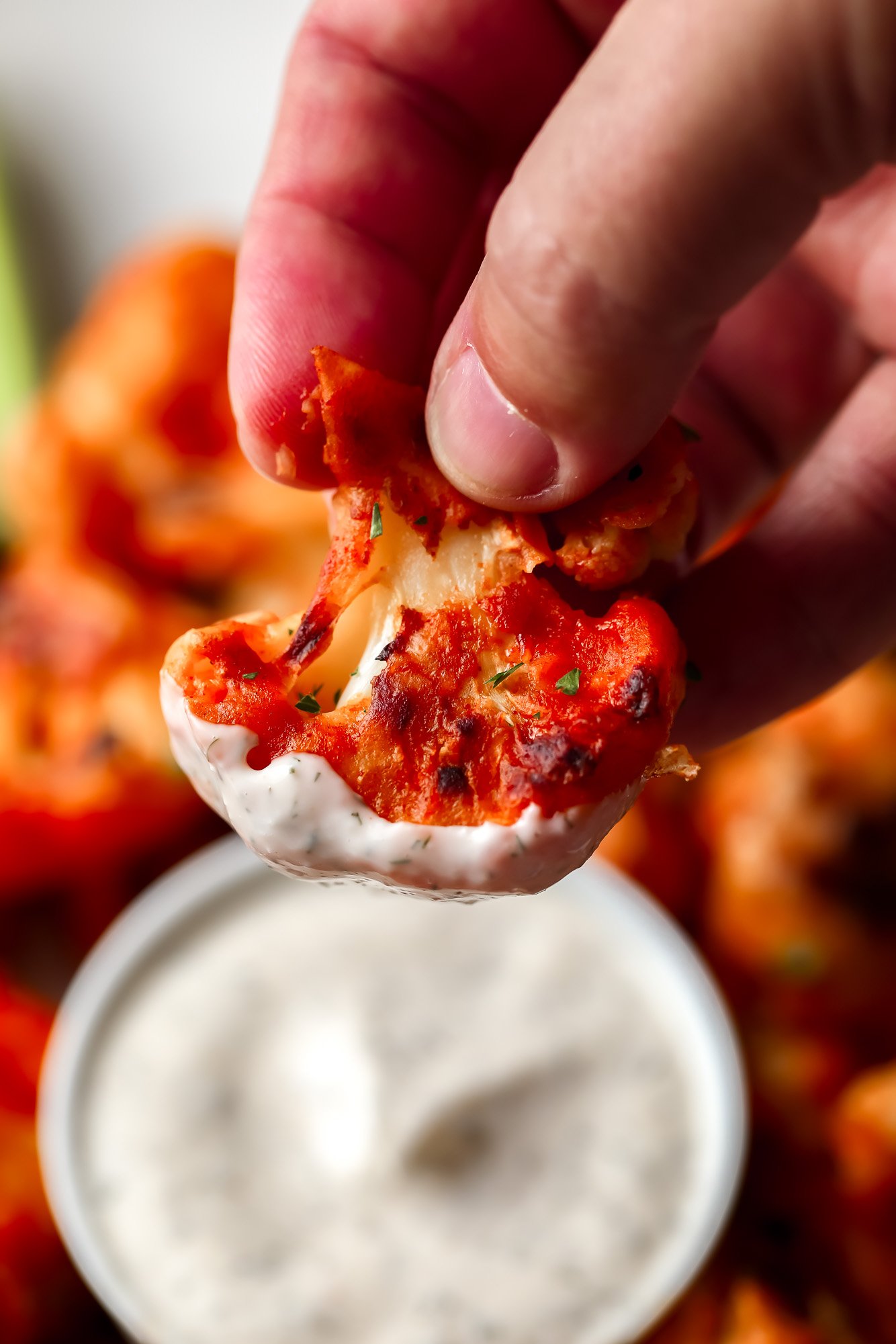 How to make cauliflower wings
Whisk the water, flour, garlic powder, onion powder, and salt together in a large bowl. Place the cauliflower florets in the bowl and toss to coat.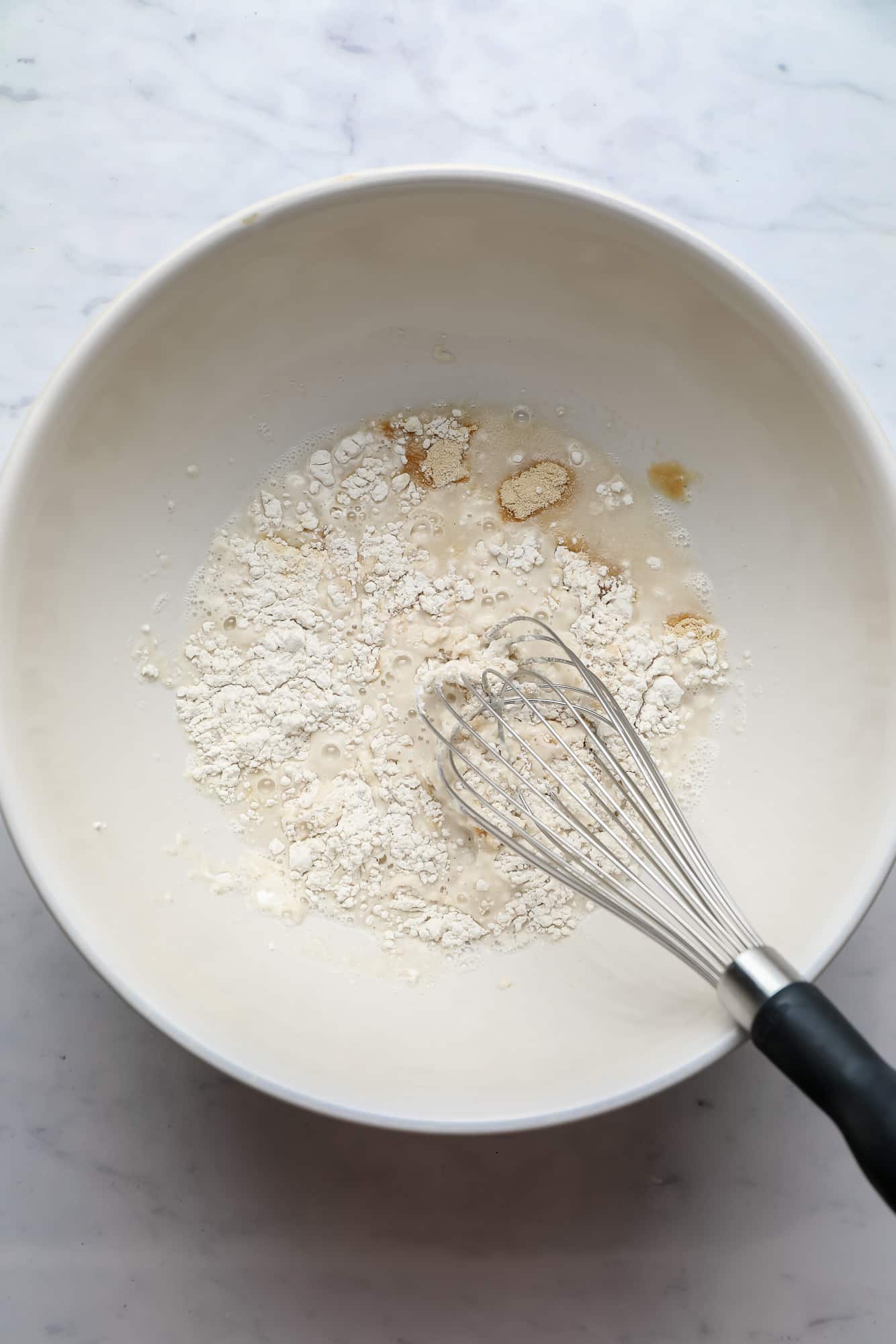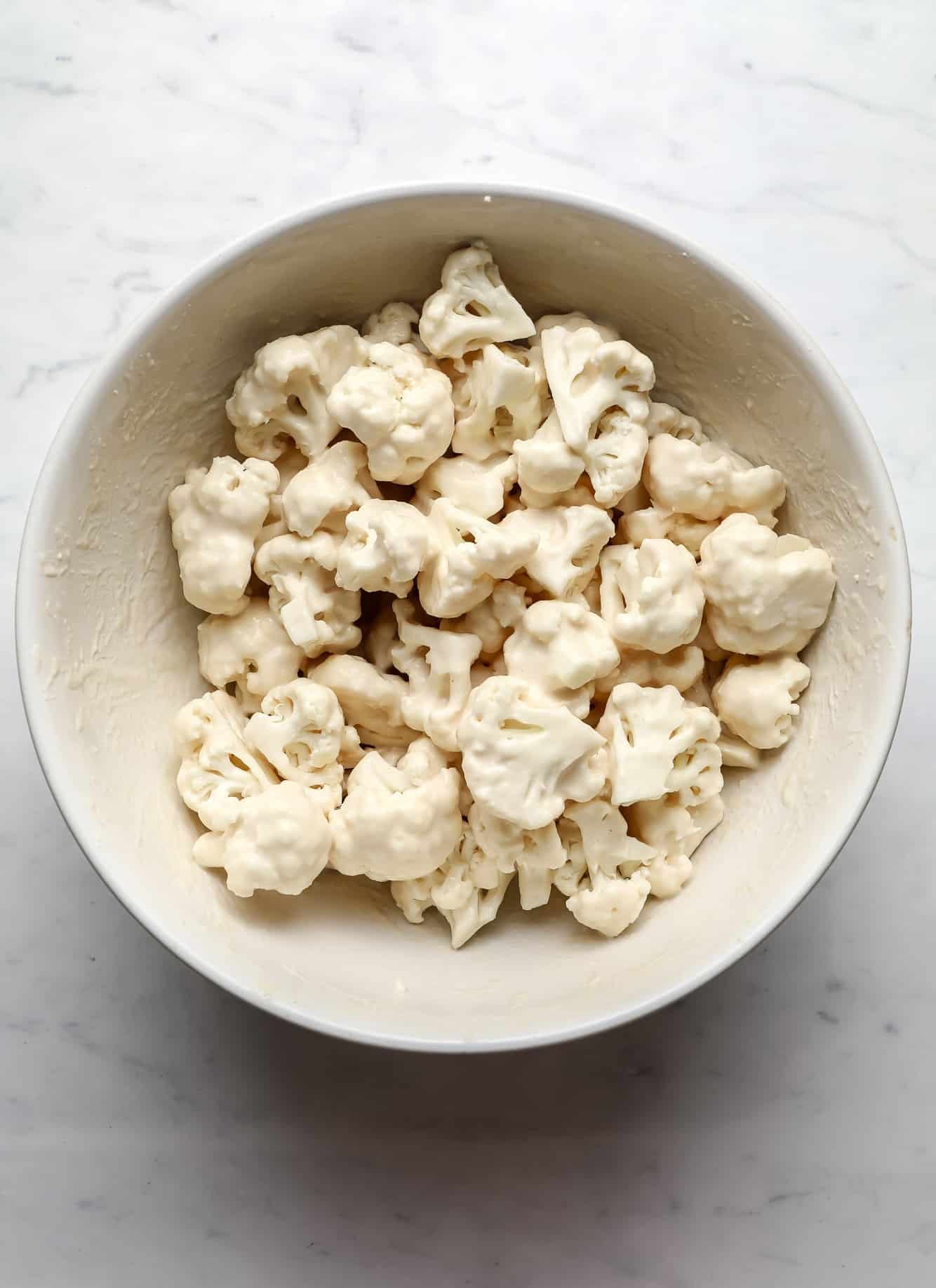 One by one, tap the excess batter off of the florets and lay them on a baking sheet.
Spray the tops with cooking spray so they get super crispy.
Pro tip: Leave about 1 inch of space in between each cauliflower wing on the baking tray. This prevents them from getting stuck together and encourages the breading to crisp up.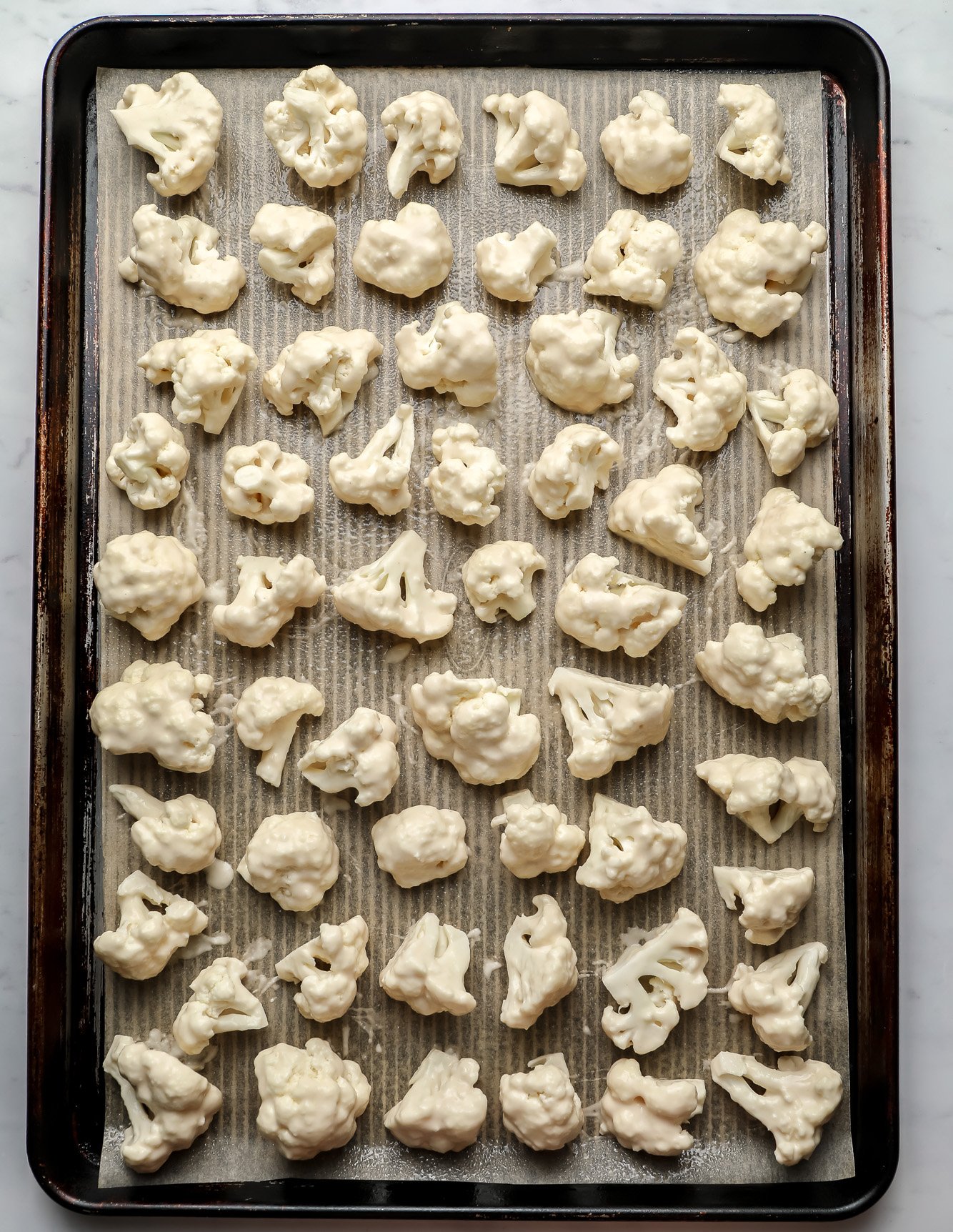 To make the vegan buffalo sauce, melt the vegan butter in a saucepan, then stir in the hot sauce and maple syrup/agave. Set it aside until the cauliflower is done baking.
Bake the cauliflower for 20 minutes, then flip the pieces. Continue baking until the breading is golden.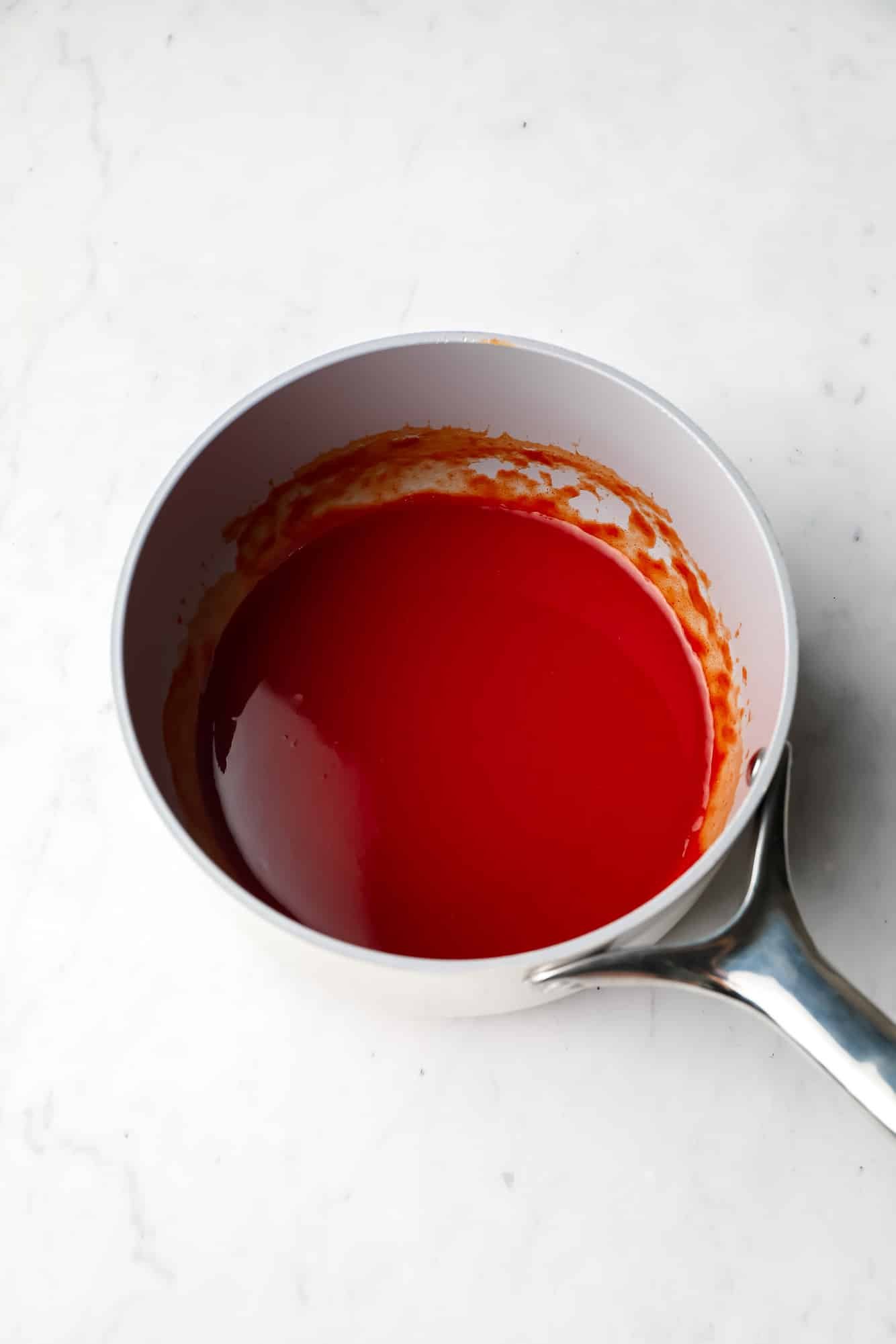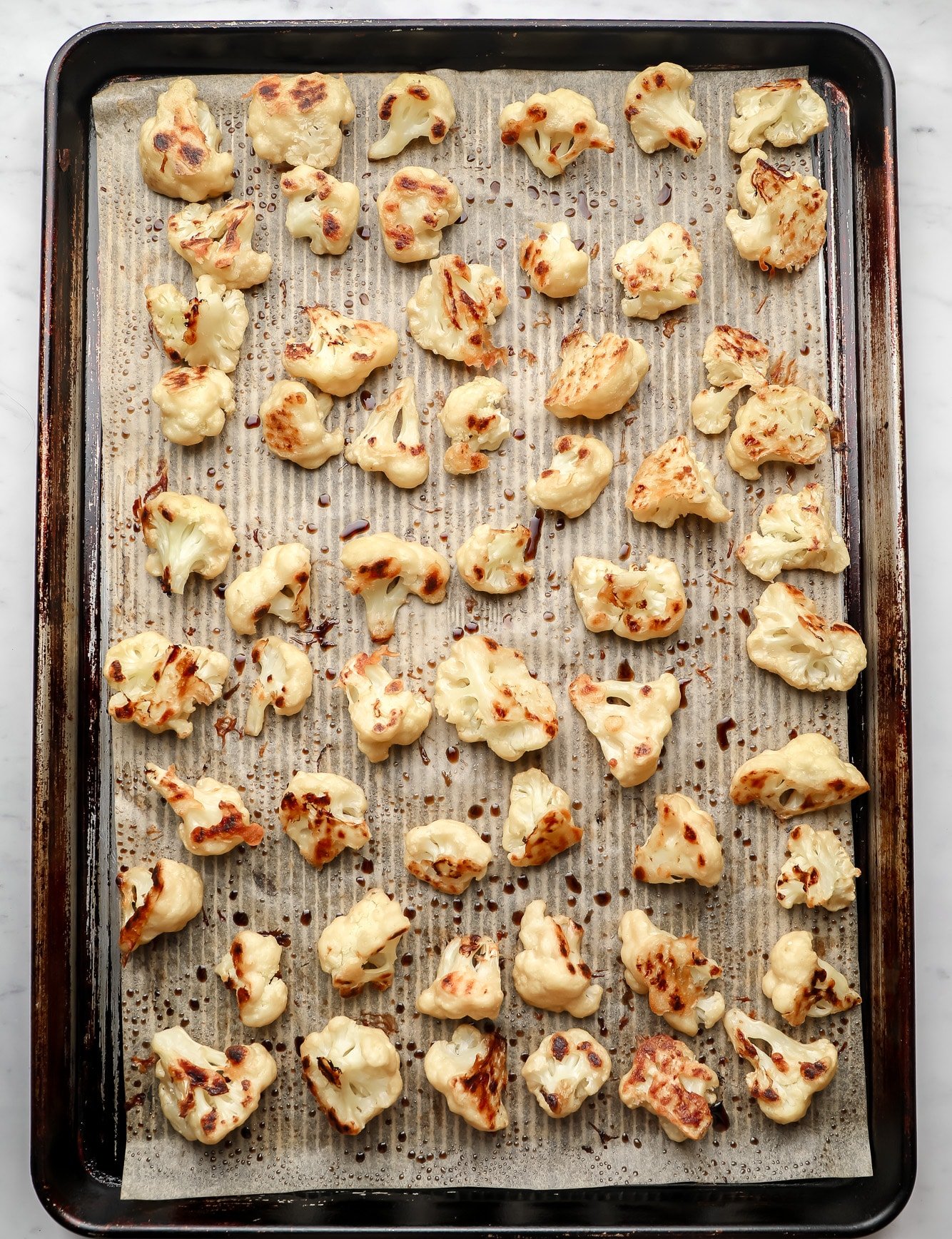 Toss the vegan cauliflower bites in the buffalo sauce, then return them to the baking sheet.
You can either bake the buffalo sauce-coated wings once more to make them crispy or serve them right away with vegan ranch dressing on the side.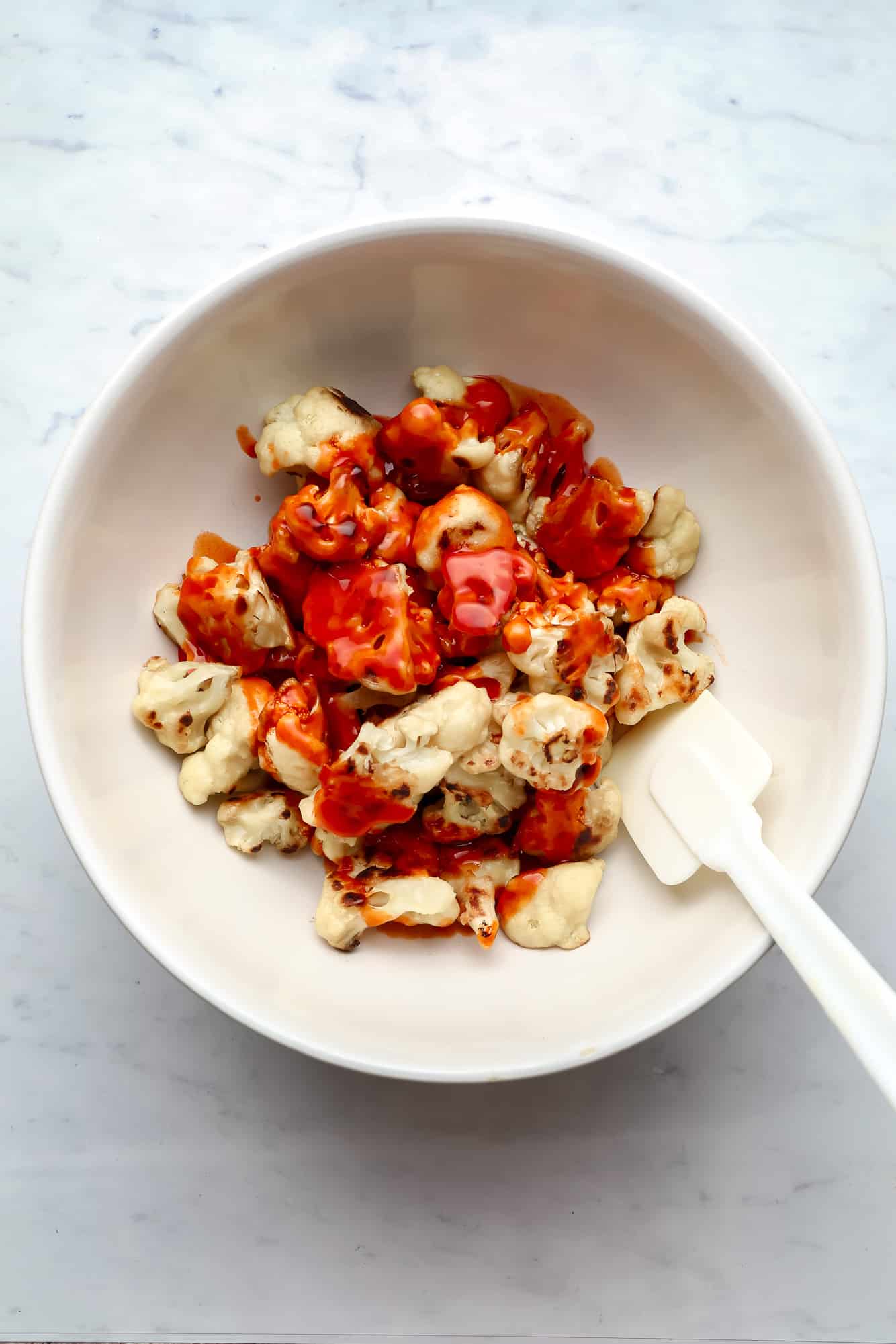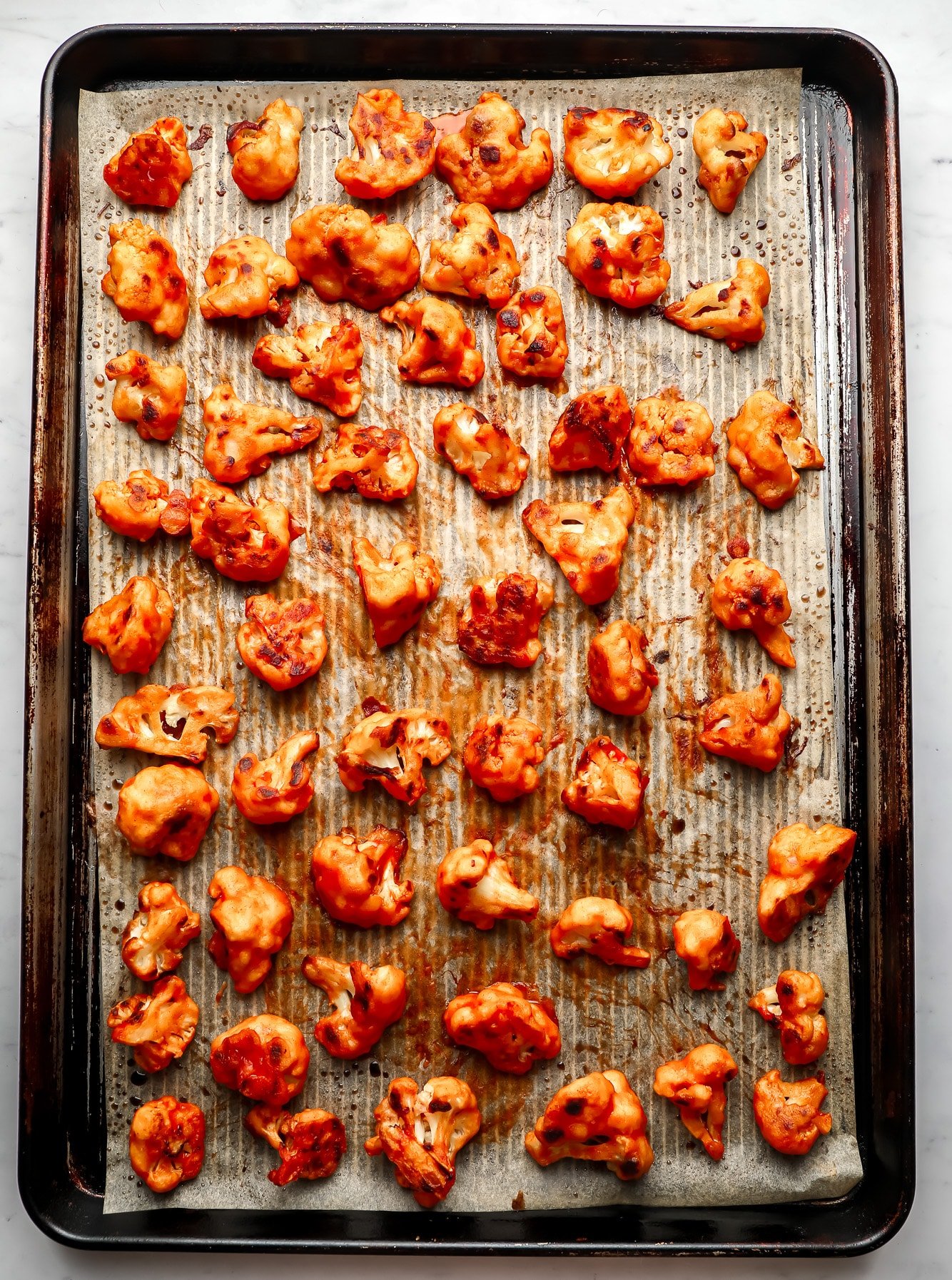 Cauliflower Wings Variations
Extra crunchy wings – After tossing them in the batter, roll the florets in 1 ½ cups of panko breadcrumbs. The breadcrumbs add a light and airy crunch to the otherwise tender and flavor-packed bites. Also, consider leaving the buffalo sauce on the side for dipping. The less sauce that's on the breaded cauliflower, the crispier they'll become.
Instead of buffalo sauce – Toss the florets in another wing sauce you like, such as teriyaki, hot sauce, barbecue sauce, bang bang sauce, or sesame sauce.
Gluten free – Make the breading with gluten free all purpose flour or almond flour instead.
Frozen cauliflower – You can use frozen cauliflower florets but make sure they're thawed completely before tossing them in the batter. Also, pat them dry with paper towels after thawing to help the batter stick.
Serve with a spread of dipping sauces – You can serve the baked cauliflower bites with the simple vegan ranch dipping sauce included in the recipe card or this cashew based Vegan Ranch, as well as my Vegan Blue Cheese Dressing, Barbecue Sauce, and Chipotle Sauce.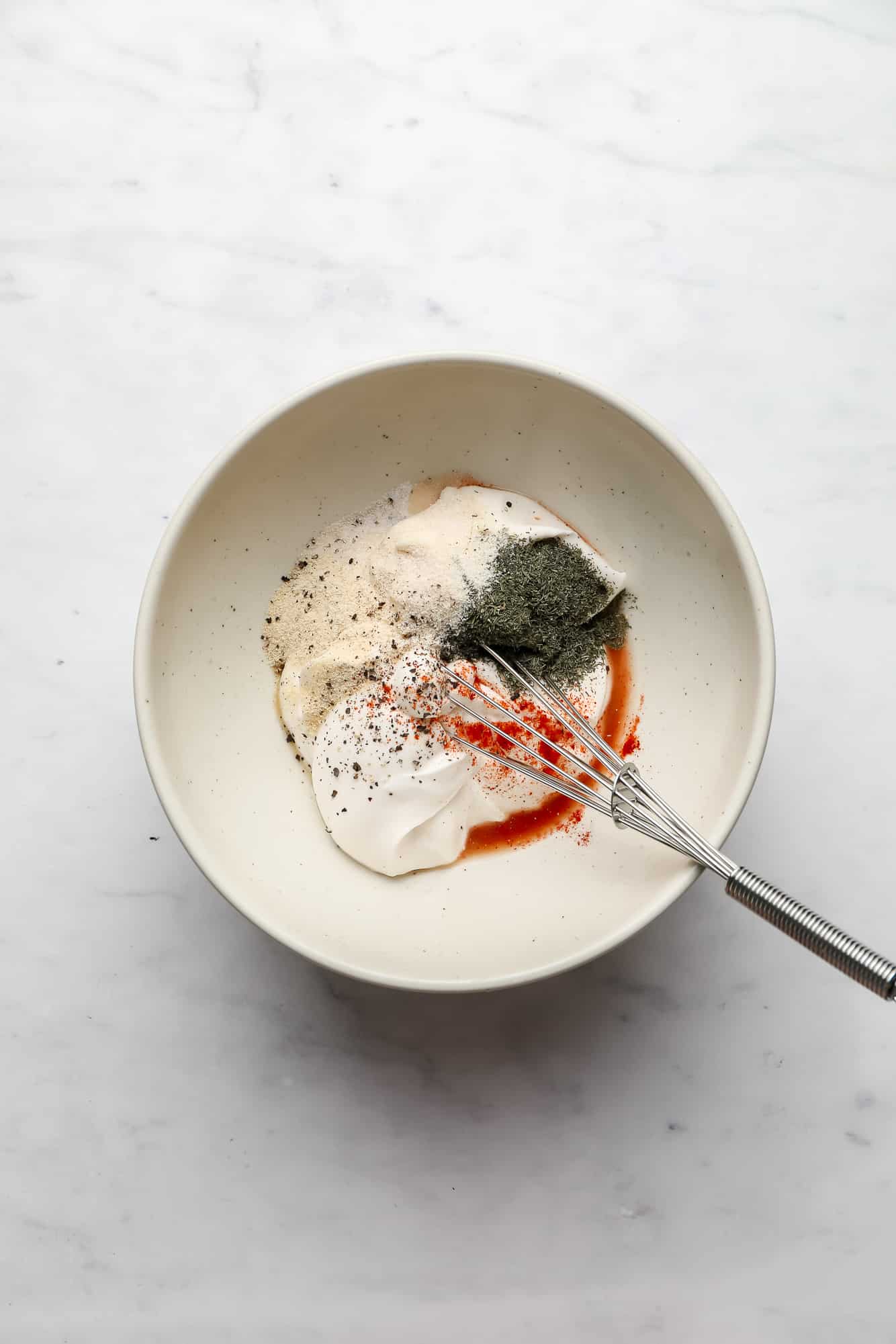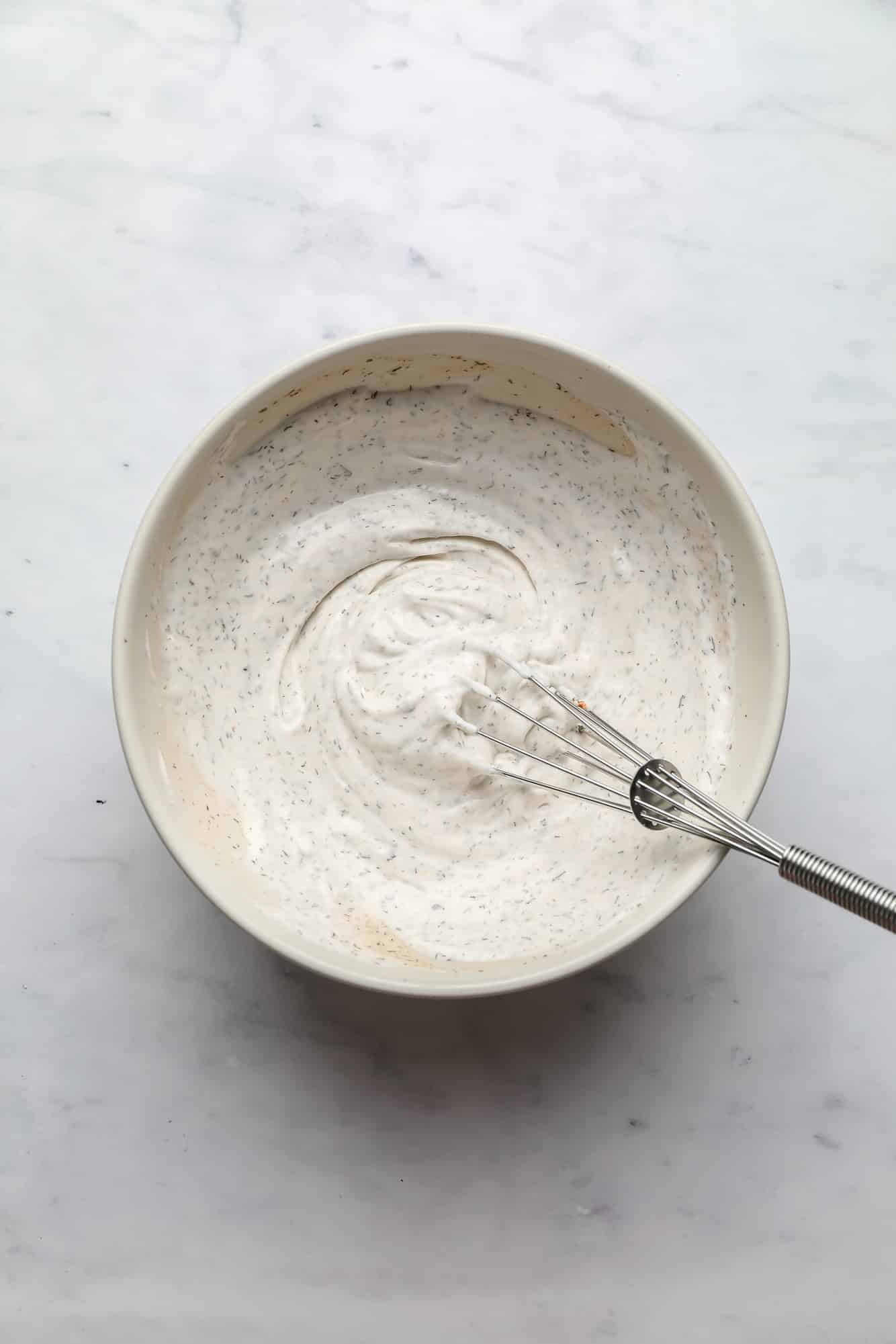 Frequently asked questions
Is buffalo sauce vegan?
Classic buffalo chicken wing sauce is not vegan-friendly because it's made with butter. It is, however, easy to make vegan! All you need to do is substitute vegan butter for the regular butter.
Are buffalo wings spicy?
Your mouth won't be set on fire but the buffalo cauliflower wings do have a moderate amount of heat. Stirring melted vegan butter into the buffalo sauce does tone down the heat slightly, but if it's still too spicy for you, leave the sauce on the side or swap it for any of the sauces I listed in the Variations.
Can you air fry cauliflower wings?
Yes! After they're battered, lay the florets in a single layer in the air fryer basket and cook at 350ºF for 15 to 25 minutes. Toss them in the hot sauce before serving.

Air frying does yield crispy cauliflower wings but it takes longer because you need to cook them in batches to avoid overcrowding. If the wings are touching each other, they'll turn out soggy.
How do you store the leftovers?
The bites are best enjoyed fresh out of the oven, but you could store leftovers in a sealed container in the fridge for up to 2 days.

Reheat leftovers in the oven or, better yet, an air fryer until crispy, about 10 minutes.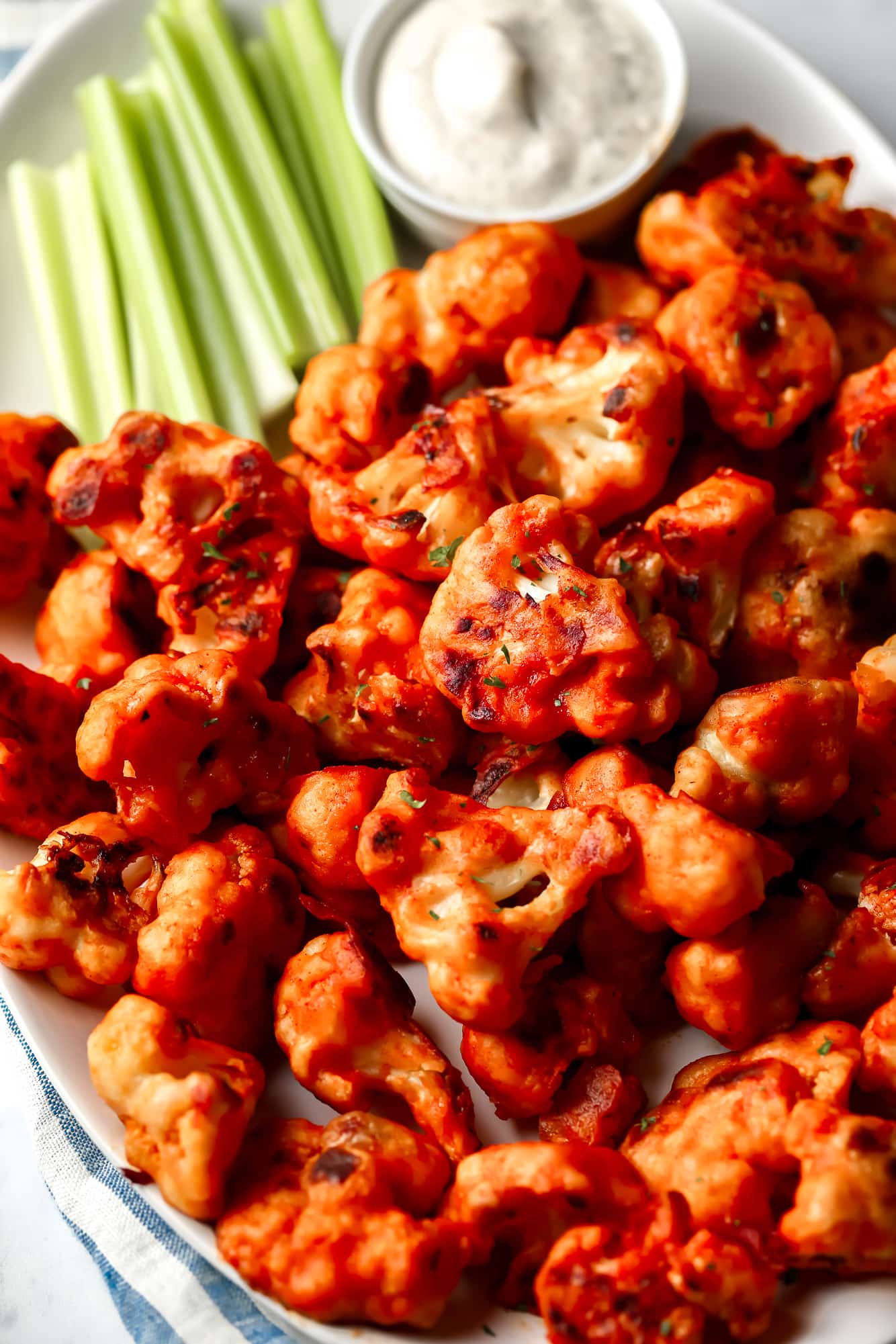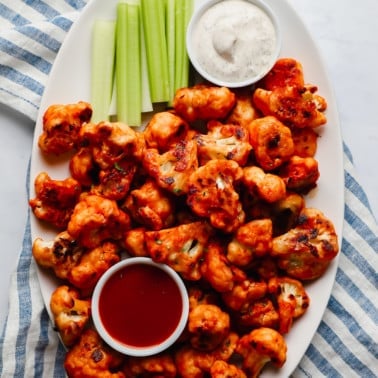 Buffalo Cauliflower Wings
These crispy Cauliflower Wings are tossed in buffalo sauce and served with an easy vegan ranch dipping sauce. They're the ultimate game day snack you won't be able to resist!
Ingredients
1

large head cauliflower (about 5 cups)

1

cup

water

3/4

cup

all purpose flour

1

tablespoon

garlic powder

1

tablespoon

onion powder

1/4

teaspoon

salt

1

cup

Frank's Red Hot Sauce

1

tablespoon

vegan butter, melted

1

tablespoon

pure maple syrup or agave
Easy Vegan Ranch
1

cup

vegan mayo

1

teaspoon

apple cider vinegar

1

teaspoon

dried dill

1

teaspoon

onion powder

1/2

teaspoon

garlic powder

tiny pinch of paprika

tiny pinch of black pepper

salt, to taste

2

tablespoons

unsweetened soy milk, or even water, to thin as needed
Instructions
Preheat the oven to 425 degrees F. Line a large baking sheet with parchment paper. Spray generously with oil.

Wash and cut cauliflower into bite sized pieces.

In a large bowl, add water, flour, garlic and onion powder, and salt. Whisk until well combined.

Add the cauliflower to the batter in the bowl, and toss to combine and really coat the cauliflower. Remove the pieces of cauliflower, one by one, and tap off the excess batter a few times on the side of the bowl.

Place on the prepared baking sheet and make sure they are not touching each other, or they will all get stuck together as they bake. Spray the tops with oil, this will help them get super crispy.

Bake for 20 minutes. Flip them over and bake for 15 more minutes, until golden and crispy.

While the cauliflower are baking, prepare the hot sauce/butter mixture. Melt the butter in a saucepan on the stove over medium heat. Once melted, add the hot sauce, maple syrup or agave and stir. Set aside.

Once the cauliflower have cooked and are crispy, toss the florets with the sauce in a large bowl, then return to the pan. You can serve them immediately, or to make them crispier, put them back in the oven for 15-20 minutes. If you want them super crispy, leave the buffalo sauce on the side for dipping as you go.
For the Easy Vegan Ranch
Add all the ranch ingredients to a medium bowl and whisk until combined. Taste and add salt, if desired, or more herbs. That's it! Enjoy.
Notes
I find all purpose flour yields the best flavor and texture here, but it also works with almond flour, white whole wheat flour or a gluten free all purpose flour. 
Gluten free: Use a gluten free flour or almond flour, and skip the breadcrumbs.
Oil free: Skip the vegan butter and don't spray with oil.
Breadcrumbs: To make them extra-crispy, roll the cauliflower in panko breadcrumbs (you will need about 1 1/2 cups) once they are coated in the flour/milk mixture. Then bake per the instructions.
Frozen cauliflower: Fresh is better, but frozen will work. Make sure to thaw and then pat dry before using.
Nutrition
Serving:
1
serving
|
Calories:
150
kcal
|
Carbohydrates:
27
g
|
Protein:
5
g
|
Fat:
3
g
|
Saturated Fat:
1
g
|
Sodium:
1670
mg
|
Potassium:
440
mg
|
Fiber:
4
g
|
Sugar:
3
g
|
Vitamin A:
134
IU
|
Vitamin C:
61
mg
|
Calcium:
38
mg
|
Iron:
2
mg