Crispy Tofu (Vegan Chicken Nuggets)
This post may contain affiliate links. Read my full disclosure here.
Incredibly crispy tofu, that will remind you of chicken nuggets! Tofu is quickly marinated, then coated with crunchy seasoned cornflake crumbs and baked to crispy perfection! Dip in classic sauce (recipe included), ketchup, barbecue sauce or ranch.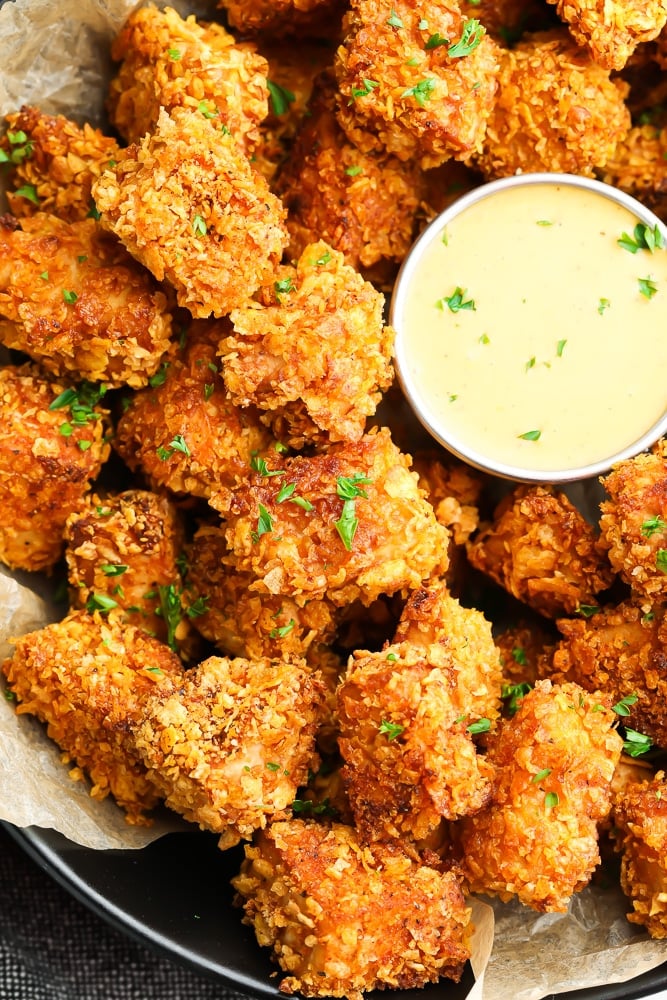 If you thought tofu could never taste good, think again! This quick and easy Crispy Tofu is crunchy on the outside and tender on the inside, just like your favorite store bought nuggets (better, actually). You can make this recipe in under 1 hour and have a snack that will definitely please your inner child!
Mixing tofu pieces with a marinade, cornstarch, and cornflakes will crisp up every piece and mimic that faux chicken nugget texture we know and love. These tasty bites are best enjoyed next to a dipping sauce, so don't forget to include the amazing classic dip, ketchup, ranch dressing, or bbq sauce!
Consider serving some Oven Roasted Potato Wedges on the side.
Is crispy tofu healthy?
This recipe is much more healthy than store bought vegan nuggets because they contain less grease and have simple ingredients. Tofu is a plant-based protein and also contains plenty of nutrients, meaning you can enjoy this recipe as a healthy snack or for a protein-filled dinner. Better yet, the recipe doesn't call for any flour or bread crumbs, so it's easy to make a gluten free version instead!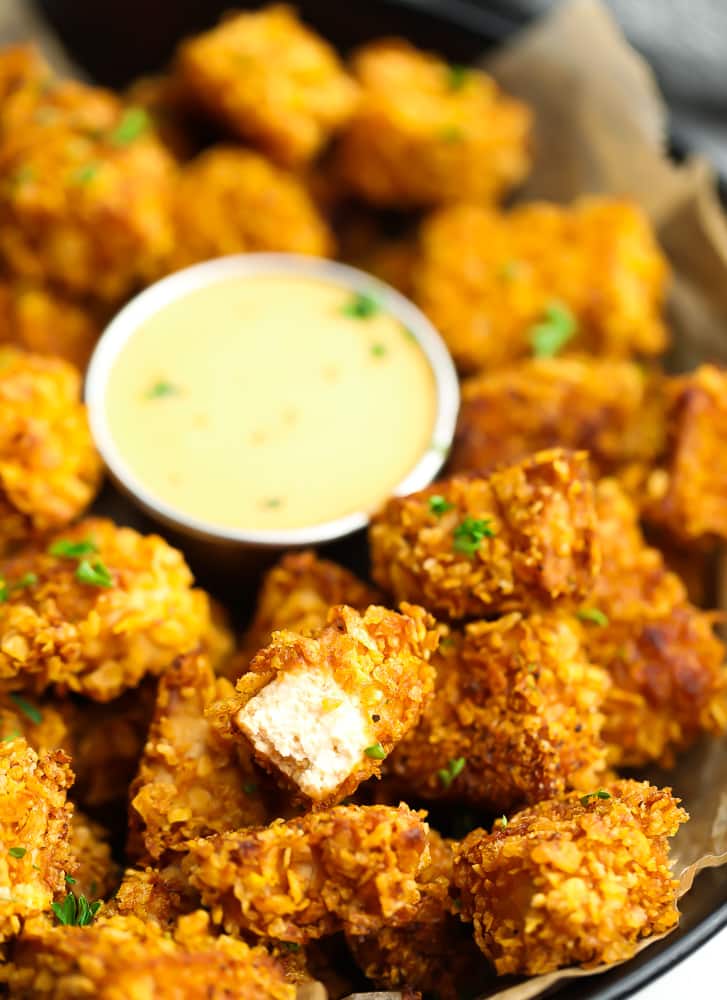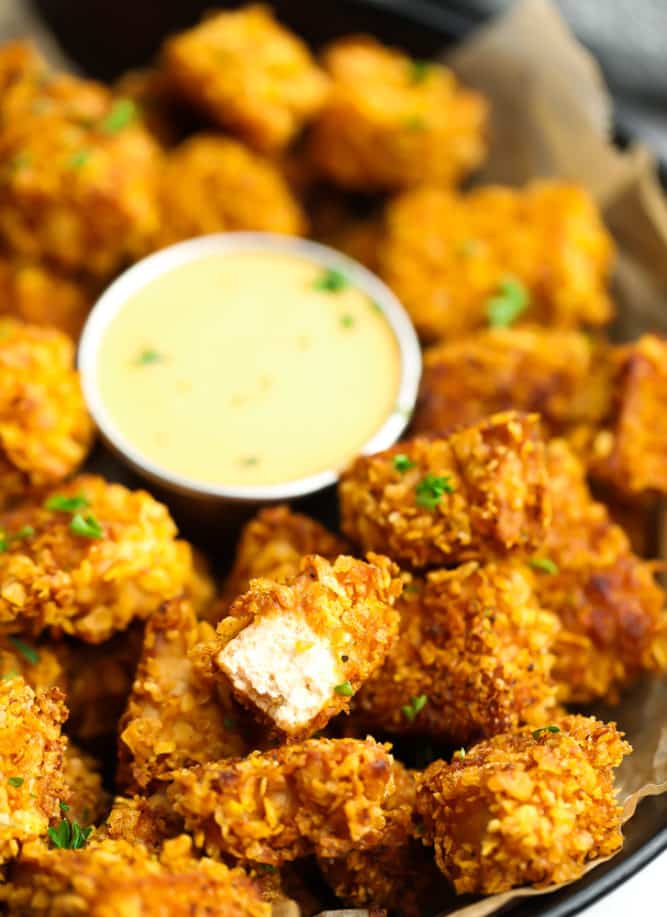 Ingredients needed (with substitutions)
Extra firm or firm tofu

– Extra firm works the best, but if all you can find is firm, go for it. You do need to press it, unless you purchase the kind in the vacuum pack (not in water).

Soy sauce

– To soak into the tofu and add a little salty umami flavor so the tofu is not bland. Use tamari for gluten free. If you're watching your salt intake, you can cut way back on this, as needed.

Water
Onion powder, garlic powder, and smoked paprika
Soy milk

– Feel free to use any dairy-free milk you have, as long as it is unsweetened and unflavored.

Cornstarch

– This will form a crispy layer on the outside of each tofu nugget. You can replace it with arrowroot starch, but they may not turn out as crispy.

Cornflakes

– For the crunch! Crumble them in a food processor or place them in a sealed bag and use a rolling pin to crush them. Replace them with panko breadcrumbs if you wish.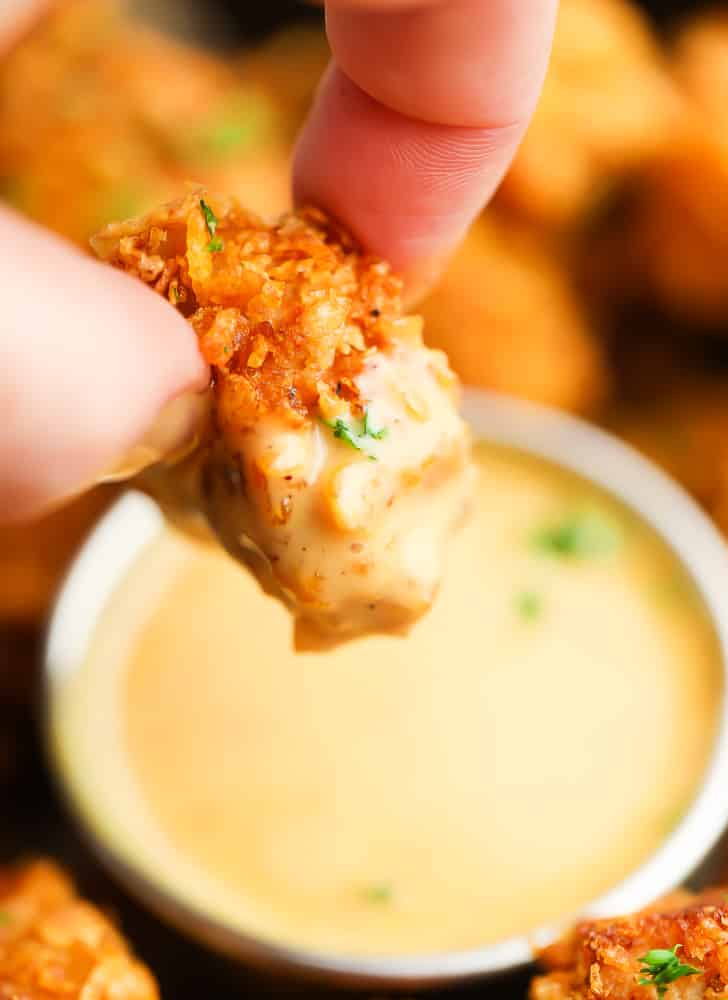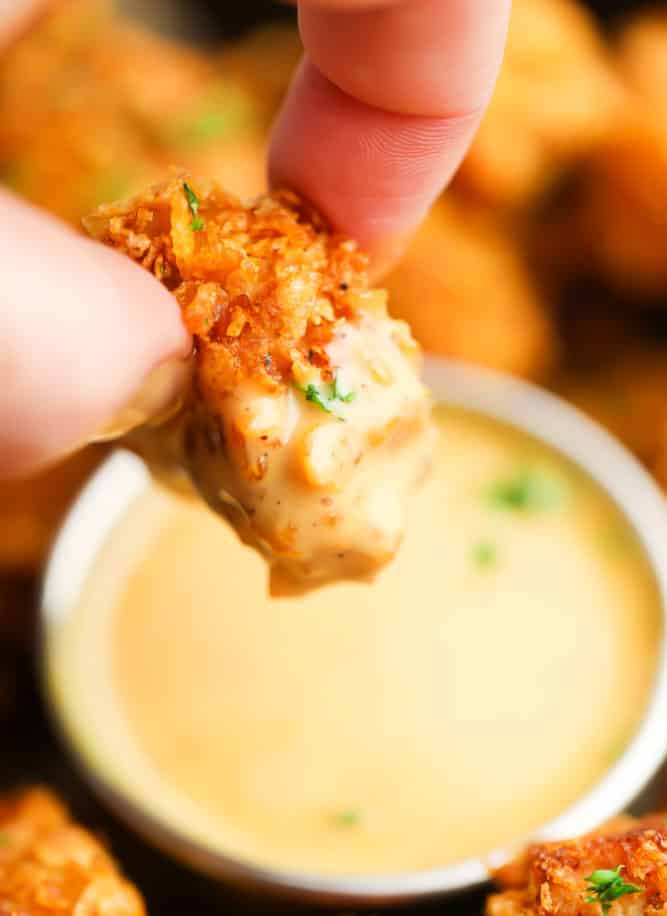 How to make crispy tofu nuggets
Whisk the marinade ingredients together in a large bowl, then add the tofu pieces and stir to coat. They should marinate for 10 to 15 minutes to soak in all the flavors.
Preheat the oven, line a large baking sheet with parchment paper, and spray the top with cooking spray. Whisk together the soy milk and cornstarch in a bowl to combine.
Add the cornflakes, spices, salt, and pepper to a food processor and pulse until coarse crumbs form. Pour the mixture into a medium bowl and set up your station so the milk/cornstarch is first and the cornflake mixture is second.
Dip the tofu in the wet mixture first, then roll in the cornflakes. Place each piece on the baking sheet when they're fully coated.
Spray the nuggets with cooking oil, then bake for 15 minutes. Flip, then bake for another 15 minutes. Serve hot with your favorite dip and enjoy!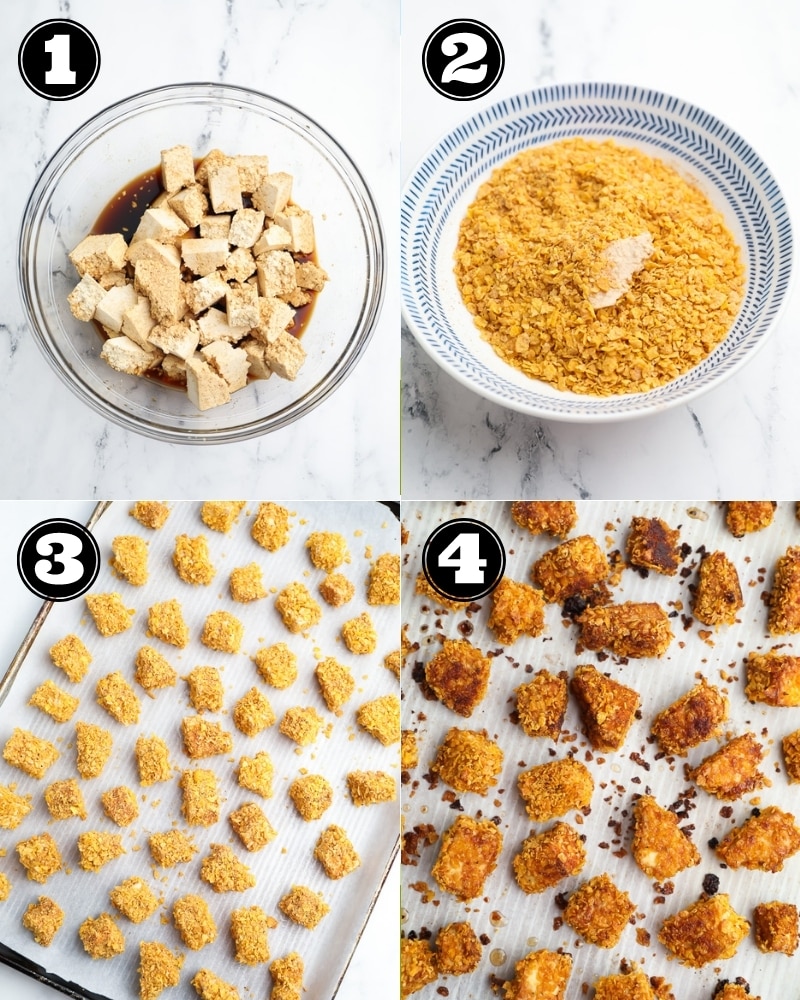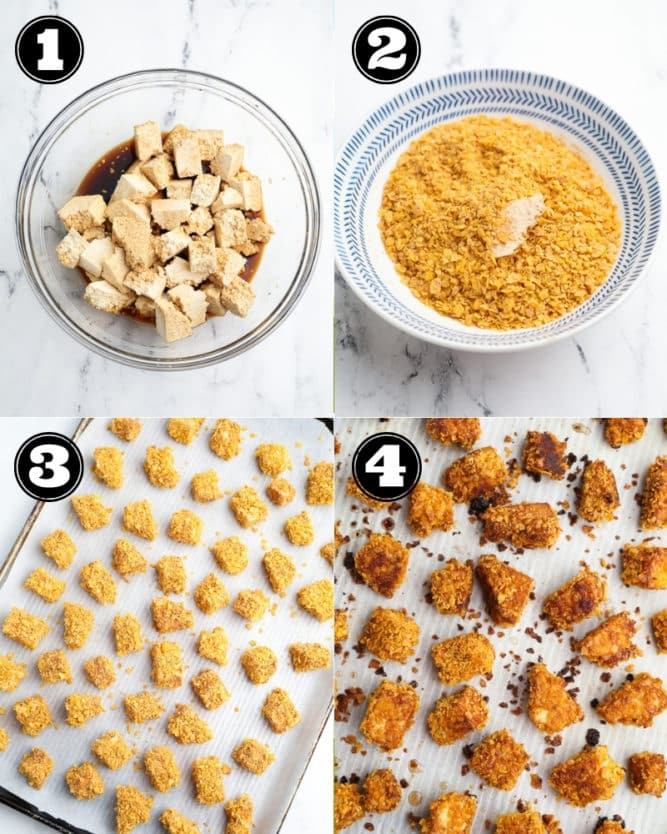 Air Fryer instructions
Spray your air fryer basket with cooking spray and place the coated tofu in a single layer (work in batches so the pieces aren't touching). Spray with cooking spray, then set the fryer for 350ºF for 10 minutes. Flip the tofu, then cook for another 15 minutes.
Skillet instructions
Heat 2 tablespoons of oil in a large skillet on the stovetop. Add the pieces into the pan (making sure they aren't touching) and cook until each side is golden brown. It helps if you leave the pieces alone so they have plenty of time to get crispy.
I much prefer to bake the tofu because it's less hands on and requires much less oil than the stovetop. Do what works best for you!
Tips for success
Press the tofu well.

Lay the pieces on a clean dish towel or paper towel, and lay another on top. Lay a heavy book or cast iron pan on top to drain the excess water.

Instead of simply cutting the tofu into cubes, tear it for a variation and better texture.
Want to know the easiest way to drain and press tofu?

Get a

tofu press

. They're life changing!

Don't skip the tofu marinade. It's what gives these vegan nuggets a ton of flavor.
Spread the tofu pieces in an even layer on your baking sheet.

They could stick together if they're touching, plus it will give the nuggets a chance to cook more evenly.
Serving suggestions
There are a million ways to enjoy these tasty vegan "chicken" nuggets!
Serve the vegan nuggets on their own with a dipping sauce or two for a fun snack or kid-friendly dinner. I love to make a mix of vegan mayo, mustard, maple syrup, and bbq sauce (chik fil a copycat), but you could try them with just ketchup, yellow mustard or barbecue sauce.
Use them in any of these meal ideas:
Storing leftovers and reheating
These are best enjoyed within an hour of baking for maximum crispiness. If you have leftovers, they can be stored for 3-4 days in an airtight container in the fridge. Just know that they may lose their crisp and become chewy.
Reheat leftovers in a 350ºF oven or in a skillet on the stovetop until warmed through. Better yet, reheat in an air fryer (<— here's the one I have). The air fryer is worth it just for reheating leftovers if you ask me!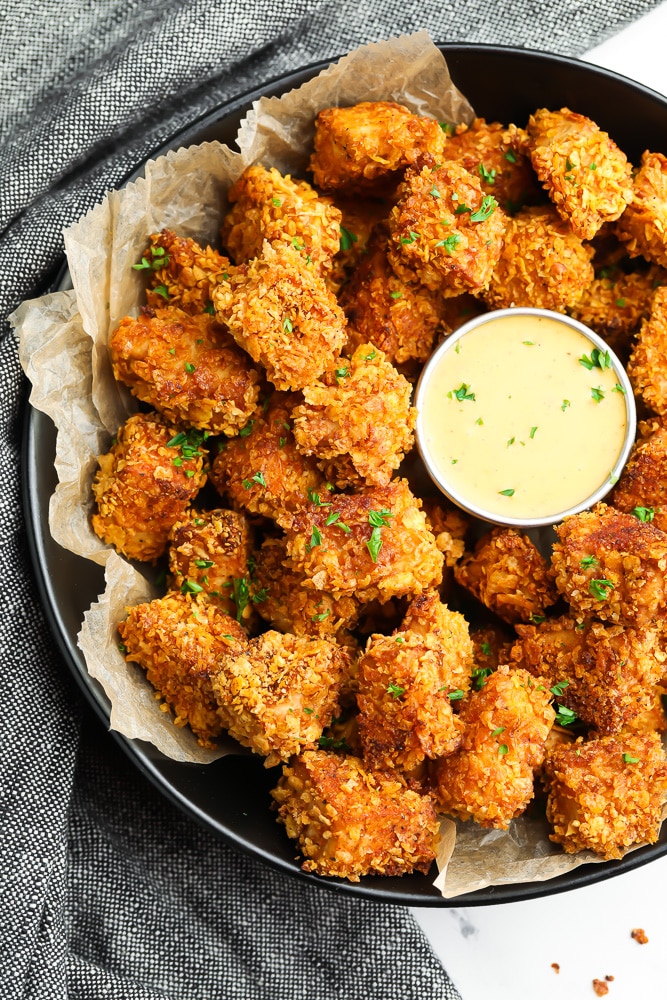 Looking for more vegan snacks?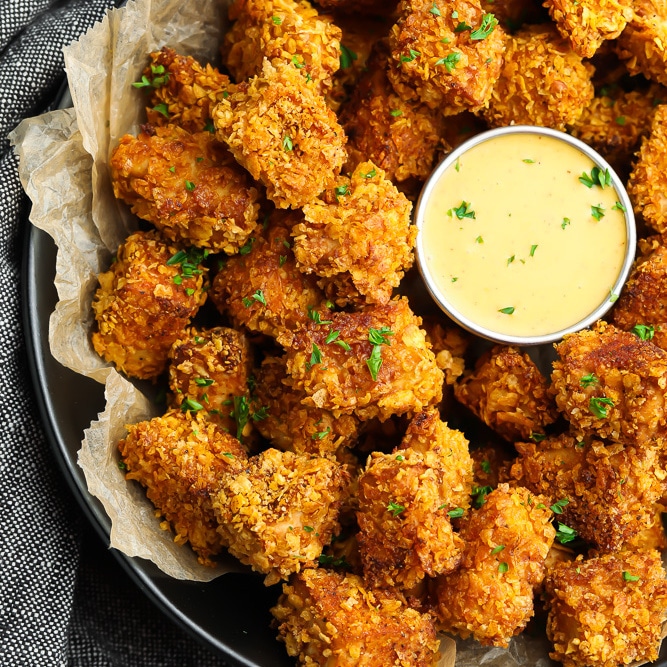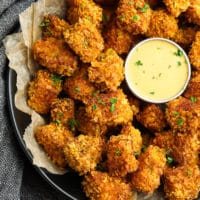 Crispy Tofu (Vegan Chicken Nuggets)
Incredibly crispy tofu, that will remind you of chicken nuggets! Tofu is quickly marinated, then coated with crunchy seasoned cornflake crumbs and baked to crispy perfection!
Ingredients
Instructions
Prepare the tofu
Press the tofu by wrapping in paper towels (or a clean dry tea towel). Place a plate or pan on top of the wrapped tofu, and put a couple of heavy books on top of that. Let the tofu press for about 30 minutes.

Slice the tofu into about 6 slices. Now, rip each slice into medium-large pieces. You can also simply cut them into cubes, if you prefer, but ripping gives the tofu a great texture for the nuggets.

In a large bowl, whisk all the marinade ingredients together until well combined. Add the tofu pieces to the bowl and stir gently to coat the pieces. Let marinate for 10 minutes.
Bread the tofu
Preheat the oven to 425 degrees F and line a large baking sheet or two with parchment paper. Spray the parchment paper with cooking spray. This will help the nuggets be very crispy and not stick.

In a medium sized bowl, whisk together the soy milk and cornstarch. Set aside.

In a food processor, add the cornflakes, smoked paprika, onion powder, salt and pepper and pulse until coarse crumbs form. Don't process into a fine powder, you want some texture. Pour onto a large rimmed plate or bowl.

Dip the tofu chunks into the milk/cornstarch mixture, then roll in the cornflake mixture to coat all sides as much as possible. It works well to have one hand for the wet bowl, and one for the dry bowl.

Place tofu on the baking sheet, not touching each other. Spray well with cooking spray. Place in the oven and bake for 15 minutes, then flip and bake for 10-15 more minutes, until golden and crispy.

Serve with dip of choice and enjoy!

Optional Classic Dip: Simply whisk all dip ingredients in a bowl. That's it!
Notes
If you are sensitive to salt or watching your salt intake, feel free to reduce the soy sauce and increase water, such as 1/4 cup soy sauce and 3/4 cup water. 
Any unsweetened non-dairy milk should work in place of soy.
If you don't want to use cornflakes, vegan panko breadcrumbs work in place, though they are not gluten free. And I highly prefer the crunch of cornflakes.
For oil free, omit the cooking spray. They won't stick to parchment paper but they won't get quite as golden and crispy.
Leftovers: Store leftover nuggets in the refrigerator for 3-4 days, and reheat in an air fryer, oven or stovetop until crispy again.
Nutrition
Serving:
1
serving
,
Calories:
165
kcal
,
Carbohydrates:
19
g
,
Protein:
12
g
,
Fat:
5
g
,
Saturated Fat:
1
g
,
Sodium:
796
mg
,
Potassium:
107
mg
,
Fiber:
2
g
,
Sugar:
2
g
,
Vitamin A:
436
IU
,
Vitamin C:
3
mg
,
Calcium:
168
mg
,
Iron:
6
mg
We are a participant in the Amazon Services LLC Associates Program, an affiliate advertising program designed to provide a means for sites to earn advertising fees by advertising and linking to amazon.com. Read my full disclosure here