Enjoy the irresistible crunch from the very best Vegan Fried Chicken! Made from seitan and simple seasonings, these crispy vegan tenders make for a delicious party snack or side.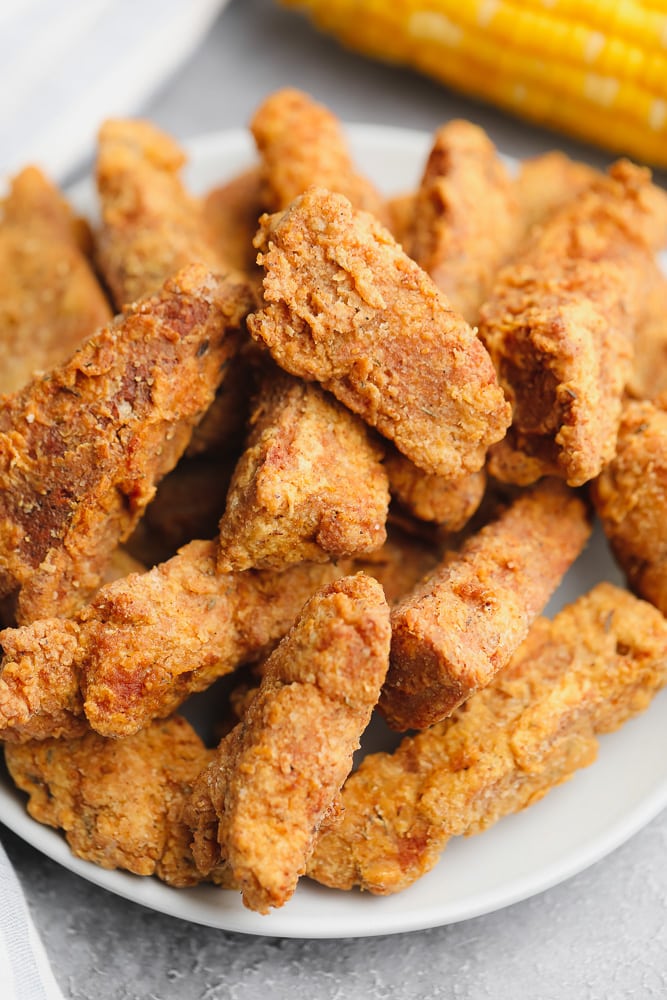 With more and more vegan fried chicken options popping up at restaurants (like the Beyond fried chicken at KFC), I wanted to try making my own copycat recipe at home. With a perfectly crispy, golden brown breading and a tender and meaty inside, this Vegan Fried Chicken is a real winner!
Most homemade fried chicken starts the same way: breading the chicken in flour and spices before it's fried in vegetable oil. In this recipe, the chicken is replaced with hearty vegan seitan that's been dredged in a rich vegan buttermilk and seasoned breading. The irresistible crunch and juicy, meaty inside is so satisfying and even better than the real thing.
This vegan chicken is the BEST because it's:
Moist on the inside and crispy on the outside.
Perfectly seasoned- no bland vegan alternative here!
Got best craggly, crunchy outside. Seriously, the best part!
Delicious on a sandwich, with potato wedges, or dipped in sauce.
You've gotta make these strips as part of the spread at your next party. Along with my Cauliflower Wings and Buffalo Chicken Dip, your guests will be clamoring for more!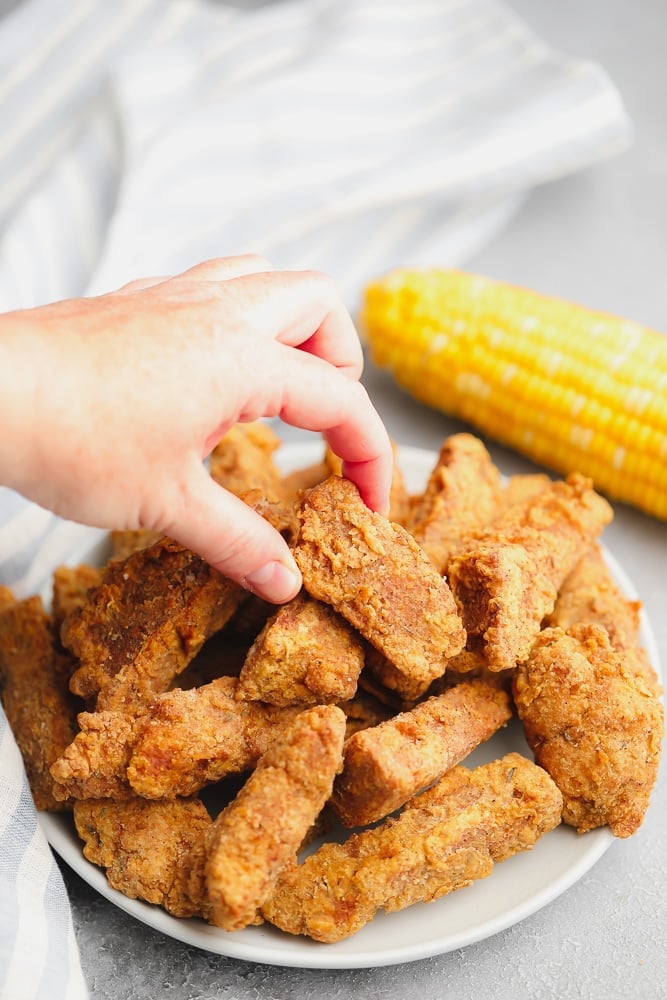 What is it made of?
Seitan! This miracle vegan meat alternative is made by combining vital wheat gluten, seasonings, and veggie broth together. After it's done boiling in veggie broth, the finished seitan is moist and tender, just like meat.
Seitan is usually my go-to choice when I want to make meaty-tasting and perfectly tender vegan chicken, "turkey" roast, and vegan pepperoni. It might sound a little intimidating at first, but it's really quite simple to make at home. I keep the process as simple as possible.
How to make vegan fried chicken
Find the complete recipe with measurements below.
Make the seitan chicken by stirring all of the dry ingredients together in a bowl. Pour the broth and oil over top and stir until it comes together. Transfer it to a clean surface and knead a few times.
While you bring the broth to a boil on the stove, break the "chicken" into two halves. Place them in the broth to simmer for 25 minutes.
Prepare to dredge the seitan chicken by adding the buttermilk mixture ingredients to one bowl and the flour and spices in another bowl.
Slice the seitan into strips. Coat each piece in the dry mixture first, then the buttermilk mixture, and the dry mixture again to finish.
Heat a pot of vegetable oil up to 350ºF. Fry each coated piece of vegan chicken on both sides until golden brown.
Serve hot with chipotle mayo, ketchup, ranch, or barbecue sauce for dipping!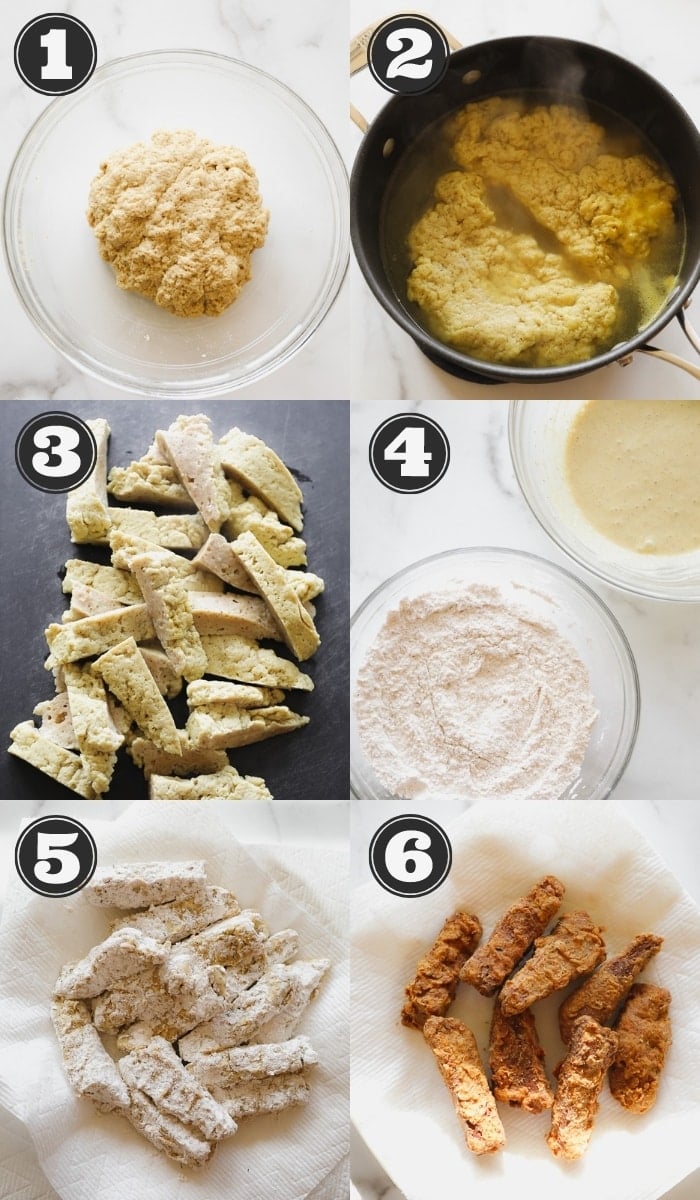 Air fryer instructions
Prepare the seitan and dredge the "chicken" pieces as normal. Place them in an even layer in your air fryer basket (working in batches if needed) and spray with nonstick cooking spray. Air fry the "chicken" at 375ºF for 15 minutes, flipping each piece halfway through. While air frying might *work*, the outcome will not taste nearly as good as frying.
Baking instructions
Again, prepare the "chicken" pieces as normal. Lay them on a parchment-lined baking sheet, spray well with oil and bake in a 425°F oven for 10 minutes. Flip and bake for another 10 minutes or until the pieces are golden brown and crispy. Again, if you can possibly fry these on the stovetop the outcome will be much better than baking.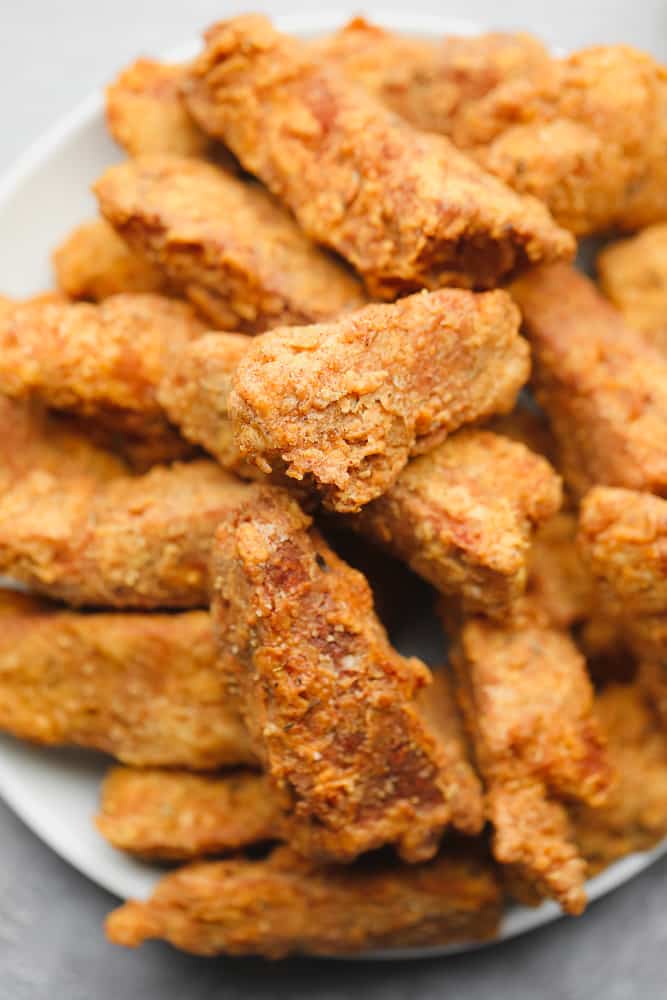 Tips and substitutions
For less mess, designate one hand for the wet dredge and one for the dry.
Don't skip the cornstarch! It's the secret to the crispiest fried "chicken".
Best oil for frying – Use vegetable oil or an alternative with a high smoke point, like peanut oil, canola oil, safflower oil.
Boiling seitan in broth as opposed to baking or steaming it (like in my vegan chicken recipe) allows it to absorb as much moisture and flavor as possible.
Instead of seitan – Make this with pressed extra firm tofu, osyter mushrooms or cauliflower florets.
Gluten free – I recommend using the tofu method above (as seitan isn't gluten-free) and replace the flour with cornstarch, chickpea flour, or a gluten free 1:1 blend.
What to serve with fried "chicken"?
To make your meal or backyard party complete, serve alongside any of these delicious side dishes: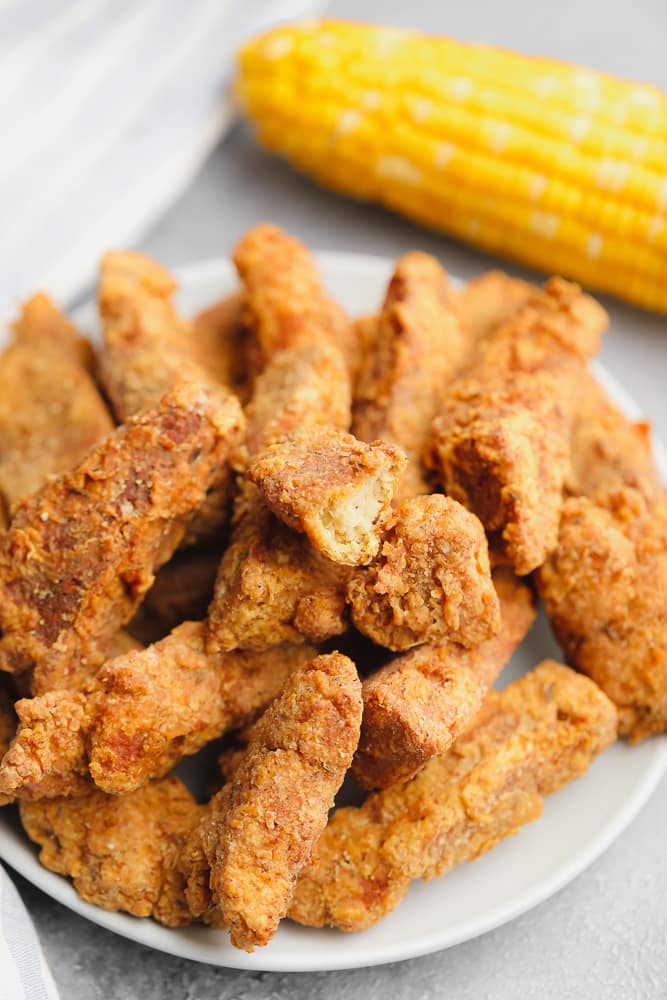 More fun vegan foods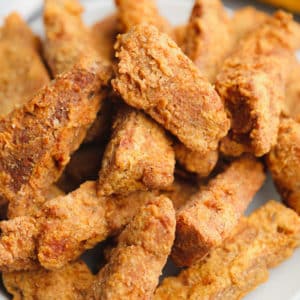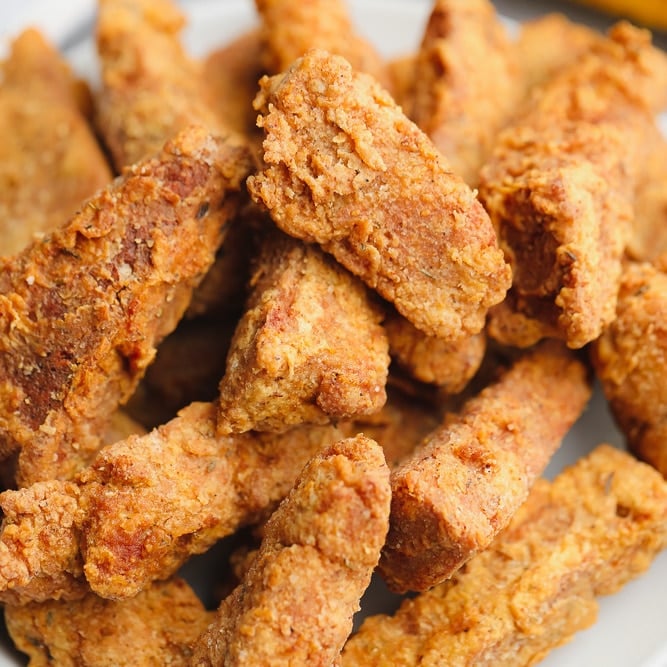 Vegan Fried Chicken
Enjoy the irresistible crunch from the very best Vegan Fried Chicken! Made from seitan and simple seasonings, these crispy vegan tenders make for a delicious party snack or side.
Ingredients
Dry mixture
3/4

cup

all purpose flour

3/4

cup

cornstarch

1

teaspoon

salt

1

teaspoon

black pepper

1

teaspoon

paprika

1

teaspoon

onion powder

2

teaspoons

garlic powder

1

teaspoon

dried thyme

1

teaspoon

oregano
For frying
heat safe oil, such as vegetable or peanut oil
Instructions
Prepare the seitan chicken
In a large bowl, stir together the vital wheat gluten, nutritional yeast, onion powder, garlic powder, black pepper, cajun seasoning and salt. 

Now add the broth and oil to the bowl with the dry ingredients, and stir until the mixture starts to come together.

Transfer to a clean surface and knead for a minute or two with your hands until it comes together as a large ball of messy dough. 

Break or slice the "chicken" into two halves. Meanwhile, bring the broth to a boil in a medium pot.

Place the two pieces of seitan into the broth and simmer, covered, for 25 minutes. Set aside off the heat and remove the seitan, setting it on a cutting board.
Fry the vegan chicken
In a medium sized bowl, combine all the ingredients for the buttermilk mixture. This is your wet batter bowl. Whisk until smooth.

In another medium sized bowl, add all the ingredients for the dry mixture and stir to combine.

Slice the cooked seitan chicken into strips. I like to cut them fairly small or thin for the best texture. They don't all have to be the same size.

Dip each piece into the dry ingredient bowl to coat, then coat in the buttermilk mixture,  then coat once more in the dry flour mixture. Designate one hand for the wet and one for dry, this will make things much easier. As you coat the "chicken" pieces, place them on a paper towel lined plate until they are all coated.

In a large pot or pan with high sides, bring a few inches of vegetable oil (safe for frying) to 350 degrees F. Use a thermometer for safety!

Fry until golden brown on each side, about 3-4 minutes on each side.
Notes
It's called vegan FRIED chicken for a reason, so I recommend frying for the best possible outcome. However, if you must you can try air frying or baking. Instructions are included in the post above. They won't taste the same though.
For gluten free, don't make the seitan and use extra firm tofu instead, or oyster mushrooms or even cauliflower. And replace the regular flour with gluten free all purpose flour.
For the best flavor, I recommend using Better Than Bouillon No Chicken Base. Follow the instructions on the container and mix with water to make broth. 
Nutrition
Serving:
1
of 6 servings
|
Calories:
505
kcal
|
Carbohydrates:
44
g
|
Protein:
29
g
|
Fat:
24
g
|
Saturated Fat:
4
g
|
Sodium:
1628
mg
|
Potassium:
248
mg
|
Fiber:
3
g
|
Sugar:
3
g
|
Vitamin A:
889
IU
|
Vitamin C:
1
mg
|
Calcium:
114
mg
|
Iron:
4
mg