These creamy and indulgent Instant Pot Refried Beans are the best! Easy to make entirely in a pressure cooker, they're a vegan and protein-packed side dish or filling to pair with all of your favorite Mexican-inspired recipes.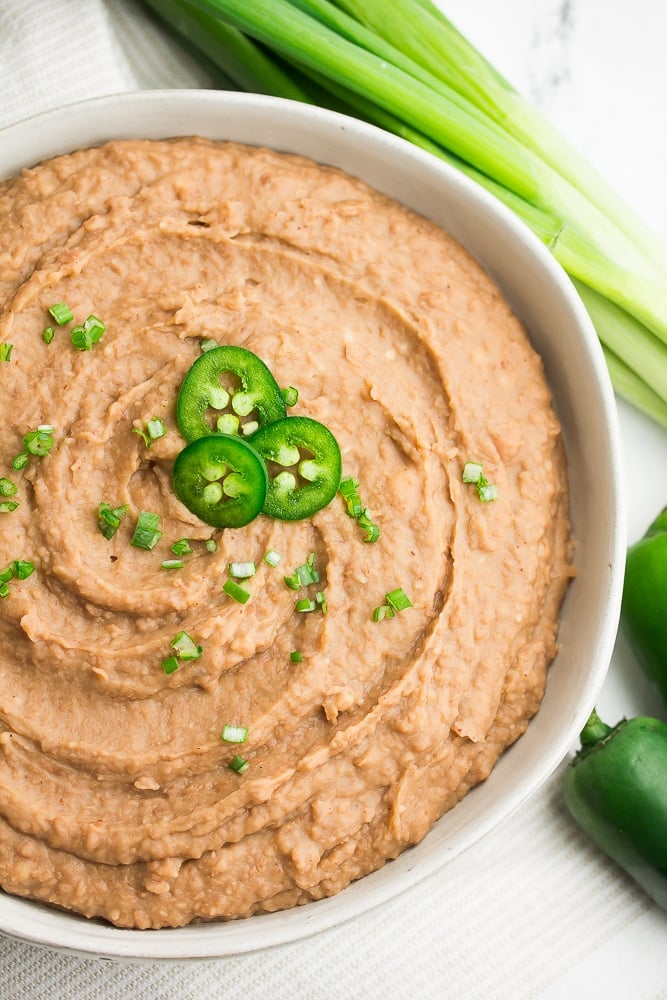 Learning how to make vegan Instant Pot Refried Beans is a quick and easy alternative to the stovetop method. They come together in one pot in just 1 hour!
Once they're ready, the silky smooth refried pinto beans add protein and substance to vegan burritos and tacos, or can be served on the side of enchiladas and quesadillas. It's one of the best and easiest Mexican-inspired vegan side dishes to keep in your fridge or freezer at all times.
Are these the best pressure cooker refried beans?
Yes, and I'll give you 3 reasons why:
Classic flavors that are fun to play with: While these refried beans are far from authentic, they have smoky flavors and a creamy texture that will still remind you of your favorite Mexican restaurant. You can add chili peppers, liquid smoke, dried herbs and spices, vegan cheese, and other additions to play with the flavors!
A true one-pot recipe: The entire cooking process takes place in the Instant Pot, from sauteeing the vegetables to cooking the beans to blending the finished batch. It's a tried and true one-pot recipe.
20+ five-star reviews: The reviews speak for themselves… Shannon says, "I have tried other Instant Pot refried beans recipes. I then tried yours!!! Definitely no comparison!! The best refried beans ever!!" And Kelly says, "WOW…these beans were delicious! My family and I will be enjoying this recipe for many years to come."
Ingredients needed (with substitutions)
Dry pinto beans – Pinto beans are the traditional choice in refried beans recipes, but both dried black beans and white navy beans can be used as a substitute. Always use dried beans and not canned.
Olive oil – Oil is important because it adds fat and flavor to the beans.
Onion – Sauteed onions give the refried beans a savory baseline of flavor. You could saute a diced jalapeno along with the onion and garlic for extra spice.
Garlic
Water – Or use vegetable broth for extra flavor!
Chili powder – Feel free to use an extra teaspoon if you love the heat. If you aren't a fan of spicy food, use paprika or smoked paprika instead.
Cumin
Salt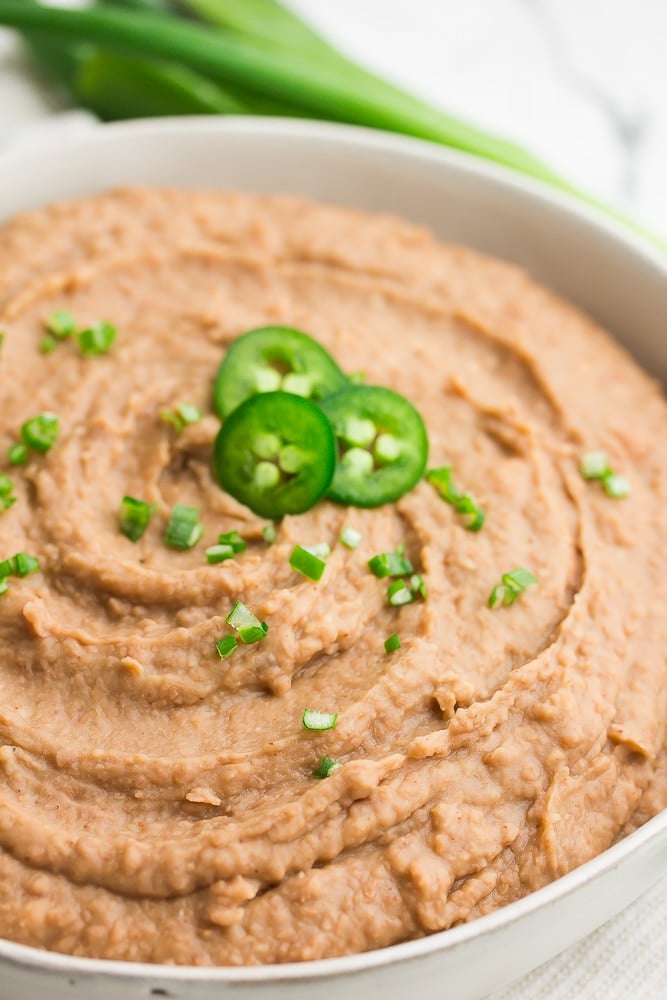 How to make Instant Pot refried beans
Find the complete printable recipe with measurements below in the recipe card.
Add the olive oil to the Instant Pot and turn on Saute mode to heat it up. Once hot, add the onion and garlic and saute until soft. Turn off Saute mode to deglaze the pot with water (or broth).
Stir the dry pinto beans, the rest of the water, spices, and salt into the pot.
Place the lid on top and cook on High Pressure for 40 minutes. Once the time is up, let the pressure release naturally for 20 minutes and vent the rest manually. Reserve 2 cups of the cooking liquid after removing the lid and drain the rest.
Use an immersion blender to puree the beans until they're smooth and creamy, adding splashes of the reserved liquid as needed. Adjust the seasonings to your taste, then serve!
If you don't have an immersion blender, you can mash the beans by hand using a potato masher or process them in small batches in a food processor or blender.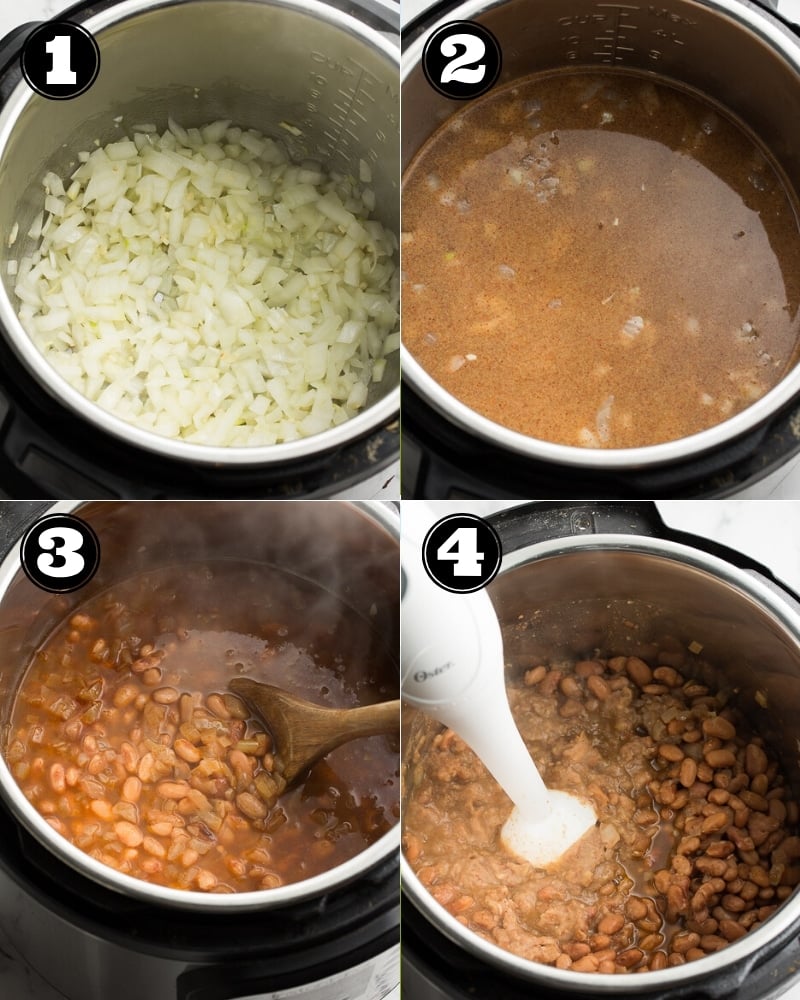 Serving suggestions
Vegan refried beans are often served on the side of Mexican dishes with toppings to liven up the flavor, such as cilantro, vegan cheese, jalapenos, or lime juice. They would pair really well next to my vegan enchiladas and carne asada.
The beans also make for a protein-packed filling in chik'n burritos, quesadillas, taquitos, and tacos. You could even add a scoop on top of a vegan burrito bowl to make it extra filling!
Frequently asked questions
What size Instant Pot should I use? Making refried beans in a 6-Quart Instant Pot will make enough for a family of 5. For 1 or 2 people, a 3-Quart will do just fine. And if you're focusing on meal prep, make a large batch in an 8-Quart. The cooking times will be the same using each one, but you may need to cut the recipe in half when using the smaller Instant Pot (3-quart).
I got a BURN message on my Instant Pot! What should I do? If your Instant Pot easily gives you the burn message, don't saute the onion and garlic. Simply add everything to the pot and cook.
Do you have to soak the beans? It isn't a necessary step but they can be soaked ahead of time. Just decrease the cooking time to 15 or 20 minutes.
How do you store refried beans? Store the beans in airtight containers in the fridge for 5 days.
Can you freeze them? Yes. To freeze flat, place the beans in a large, freezer-safe bag, seal, then flatten and freeze. When ready to use, thaw in the refrigerator overnight and reheat on the stove.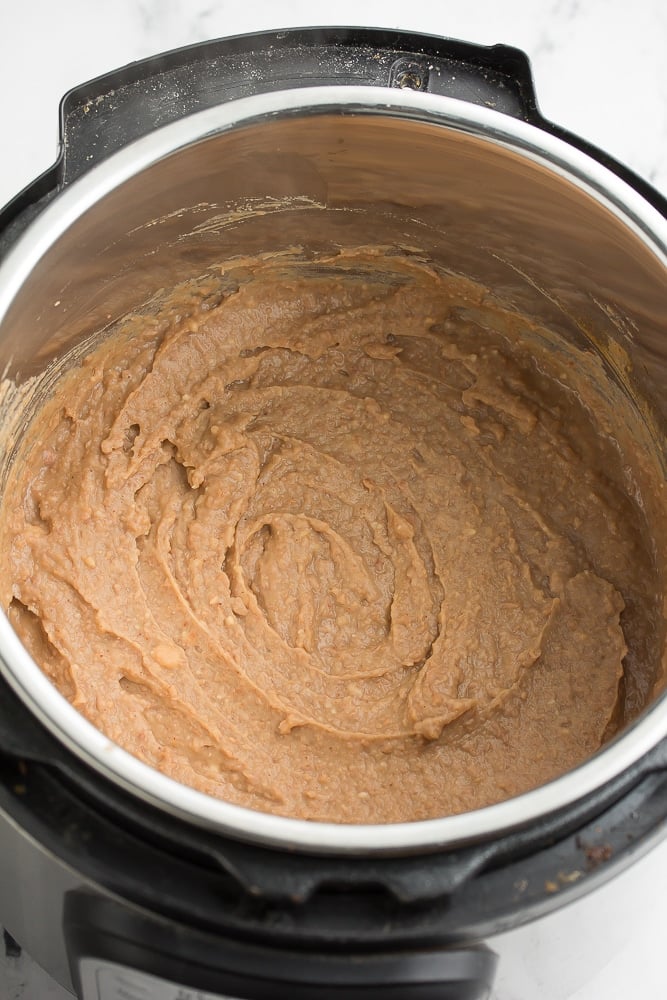 Want more Mexican-inspired vegan recipes?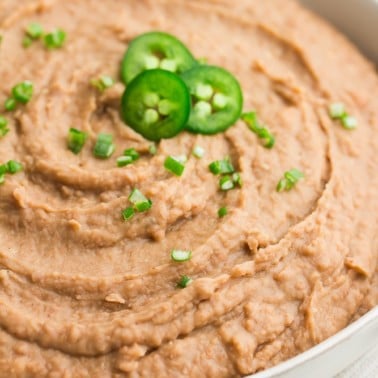 Instant Pot Refried Beans
These creamy and indulgent Instant Pot Refried Beans are the best! Easy to make entirely in a pressure cooker, they're a vegan and protein-packed side dish or filling to pair with all of your favorite Mexican-inspired recipes.
Ingredients
1

pound

dry pinto beans (about 2 1/4 cups)

1-2

tablespoons

olive oil

1

medium onion, chopped

4

cloves garlic, minced

6

cups

water

1

teaspoon

chili powder

1

teaspoon

cumin

1-2

teaspoons

salt, to taste
Instructions
Rinse the pinto beans in a large colander, picking out any misshapen beans. Set aside.

In the Instant Pot, turn on the Saute feature and warm the olive oil. Add the onion and garlic and cook for 2-3 minutes, stirring constantly. Turn off the Instant Pot for a moment. Pour a small amount of water into the Instant Pot, and scrape along the bottom to remove any bits of food (this will help prevent the BURN message).

Add the dry pinto beans, the rest of the water, spices and 1 teaspoon of salt to the pot. Give it a little stir.

Place the lid on the Instant Pot and make sure the valve is set to "sealing". Set to manual, high pressure for 40 minutes.

Once the timer goes off, allow the pressure to release naturally for 20 minutes, then vent any remaining pressure manually.

Keep 2 cups of the liquid from the cooked beans in a bowl, then drain the rest of the liquid. Return the beans back to the pot.

Use an immersion blender to blend the beans to the desired consistency, adding some of the reserved liquid as needed. The beans will continue to thicken as they cool. Add more salt to taste. Serve with any desired toppings and enjoy!
Notes
How to store refried beans: Keep in covered containers in the refrigerator for 5 days. They also freeze well. To save space, freeze flat in large freezer ziplock bags. Thaw in the refrigerator overnight before warming on the stovetop and serving.
If your Instant Pot gets the burn message easily: Instead of sauteing the onion and garlic in oil, simply skip the sauteing and add everything together in the pot.
If you wish to pre-soak the beans, you can decrease the pressure cooking time t0 15-20 minutes. 
Don't have an immersion blender? You can leave the beans whole, use a potato masher, or transfer in small batches to a food processor/blender and process until smooth.
For a change, use black beans instead!
Nutrition
Serving:
1
serving
|
Calories:
222
kcal
|
Carbohydrates:
37
g
|
Protein:
12
g
|
Fat:
3
g
|
Saturated Fat:
1
g
|
Sodium:
312
mg
|
Potassium:
825
mg
|
Fiber:
9
g
|
Sugar:
2
g
|
Vitamin A:
74
IU
|
Vitamin C:
5
mg
|
Calcium:
78
mg
|
Iron:
3
mg
This recipe was originally posted in December 2017 and has been updated with newer photos and writing.