This easy Vegan Stir Fry is loaded with veggies, soy curl "chicken" and the most amazing stir fry sauce made with soy sauce, agave, ginger, garlic and sesame oil! It's ready in under 30 minutes and the whole family will love it. Make sure to try my Vegan Beef and Broccoli and Easy Drunken Noodles for more quick dinners!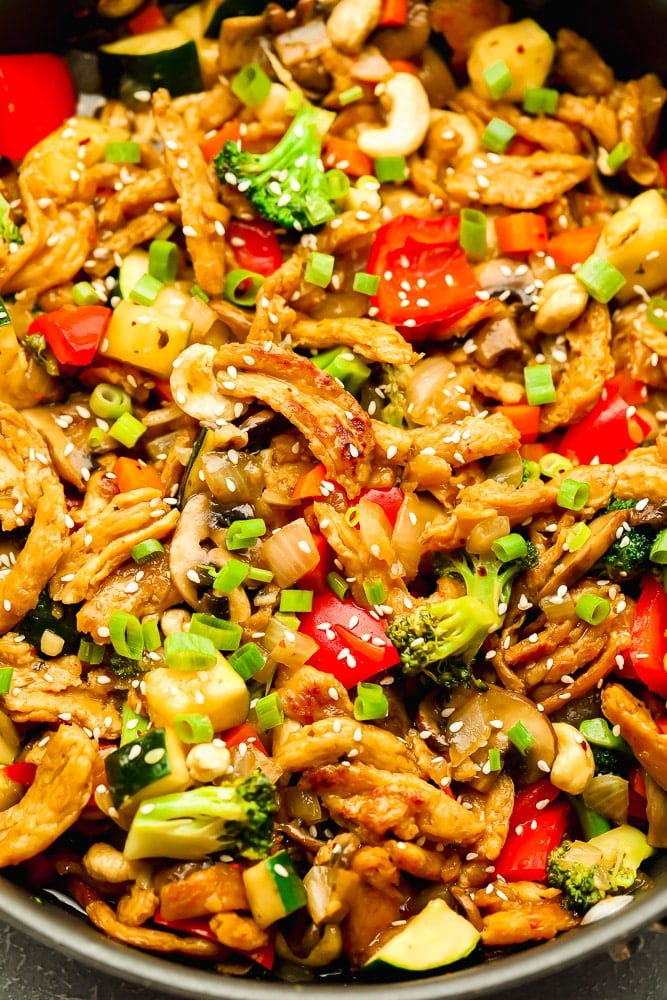 I'm a huge fan of stir fry because it's a really easy and flexible meal you can make with vegetables, tofu, tempeh, noodles, rice, and so much more. I've made Peanut Tempeh Stir Fry and Tofu Veggie Stir Fry before, but this Vegan Stir Fry with soy curls and homemade stir fry sauce is so meaty, filling, and perfectly balanced. Like a chicken stir fry but veganized!
This vegan stir fry checks all of the boxes. It's:
Loaded with veggies and a flavorful sauce.
Swaps chicken for meaty soy curls.
Made with really simple ingredients.
The perfect clean-out-your-fridge meal!
This entire easy dinner takes less than 30 minutes to put together. Bites of tenderly cooked vegetables and soy curls tossed in a flavorful sauce are so satisfying. As a bonus, this flexible recipe can be made with almost anything you like!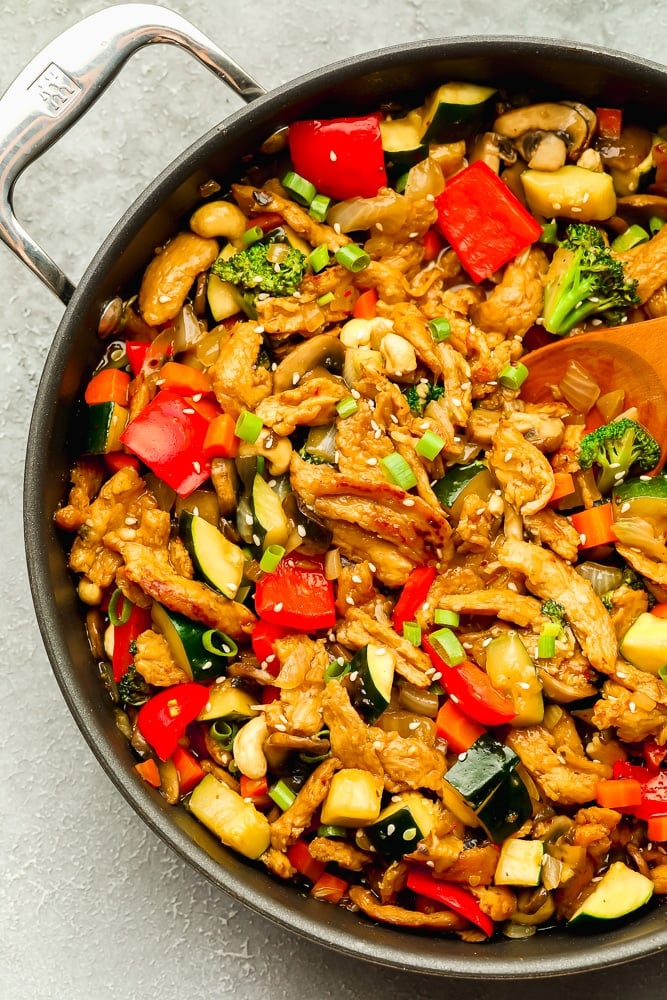 What are soy curls?
Soy curls are one of the best vegan meat substitutes because they're made with only one ingredient: whole soybeans! They're naturally gluten free and vegan, and sold dehydrated so all you have to do is rehydrate them in water or vegetable broth before using them in stir fry's, sandwiches, kebabs, and more.
You can usually find soy curls for a good price online or at your local health food store. I recommend buying more than one bag so you get a better bang for your buck.
What are the best veggies for stir fry?
Anything you like! I used zucchini, broccoli, carrots, mushrooms, and red bell pepper to make this vegetable stir fry but almost any veggie will work. If you'd like, add in snap peas, baby corn, cauliflower, leafy greens, water chestnuts, asparagus, bok choy, or cabbage as well. 
To make the meal even easier, purchase pre-chopped veggies. I love using frozen minced ginger and pre-chopped garlic!
How to make easy vegan stir fry
It may seem like there are a lot of steps to this recipe, but the process is quick and simple. You can have this easy weeknight dinner ready in less than 30 minutes! Here's how it's done:
Rehydrate the soy curls in a few cups of water for about 10 minutes. When they're done, drain the curls well and squeeze out any excess water. Next, make the vegan stir fry sauce by whisking all of the sauce ingredients together in a bowl.
Sauté the soy curls in a skillet with some broth and chicken seasoning to brown them slightly.
Transfer the soy curls to a plate nearby.
Add the veggies to the hot pan and sauté until tender.
Next, add the ginger and garlic.
Add the soy curls back to the pan and pour the stir fry sauce over everything and stir. Once the sauce thickens, remove the stir fry from the heat and stir in the cashews. Serve with rice or noodles and your favorite toppings, then enjoy!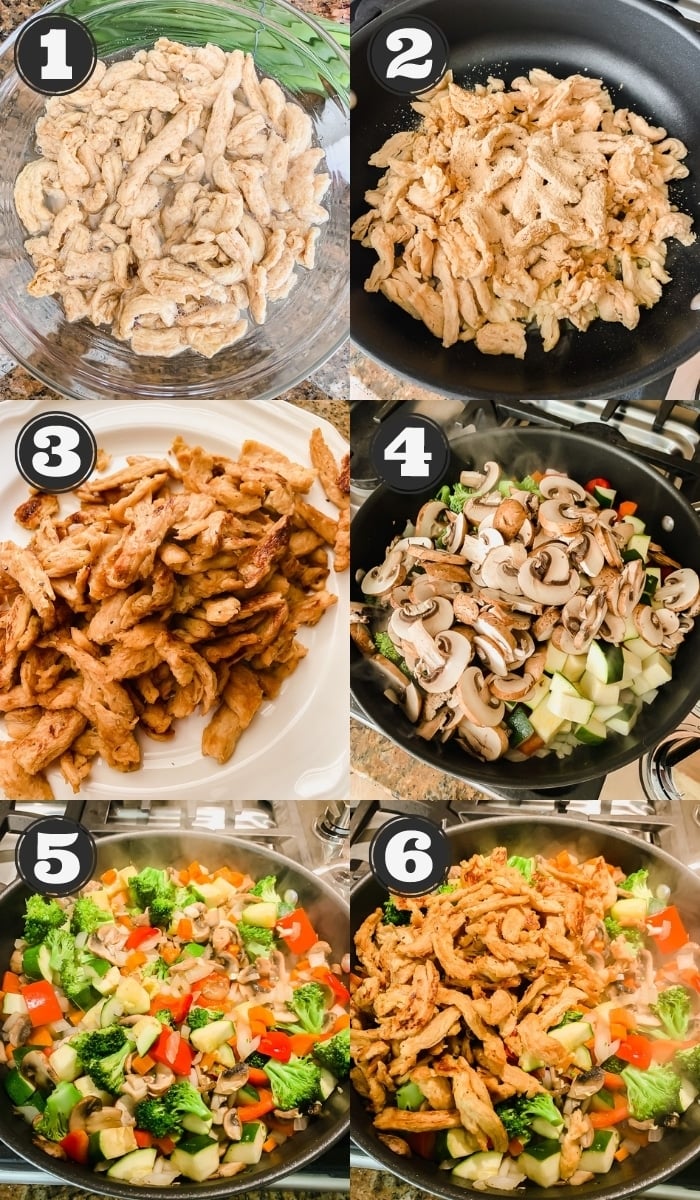 Serving suggestions
Complete the meal by serving each bowl of vegan stir fry with noodles, grains, toppings, and tasty side dishes. Use these suggestions to get started:
Noodles – Toss the stir fry veggies in rice, udon, ramen, soba, or any long pasta noodles.
Rice –  Jasmine, basmati, white, or brown rice can be served underneath or on the side of the stir fry. You can even try my Vegan Fried Rice or Coconut Rice for extra flavor.
Other grains – Swap the traditional choices for quinoa, farro, or cauliflower rice.
Toppings – Top each bowl with peanuts, red pepper flakes, sesame seeds, green onion, cashews, hot sauce, lime juice, bean sprouts, red chili peppers, or cilantro.
Side dishes – Enjoy your stir fry with spring rolls, Thai peanut noodles or golden fried rice on the side.
Variations
Tofu – If you can't find soy curls, you can substitute them with extra firm tofu instead. Simply pan-fry, air fry, or bake the tofu cubes first, then add them in with the stir fry veggies at the very end.
Vegan meat – Marinated tempeh, vegan chicken or any other vegan chicken-like product work in place of the soy curls as well! Or just use all veggies.
Gluten free – Use gluten free tamari instead of soy sauce.
Nut free – Omit the cashews/peanuts.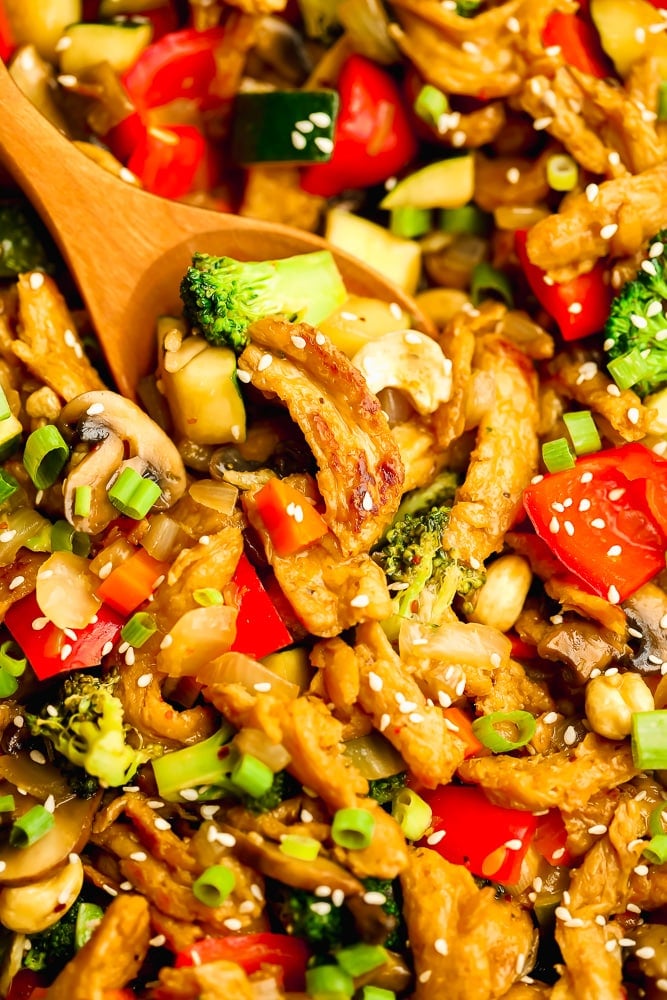 Want more soy curl recipes?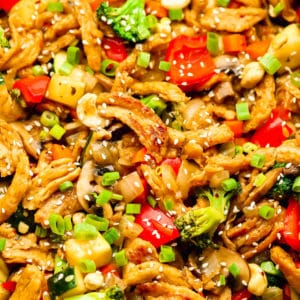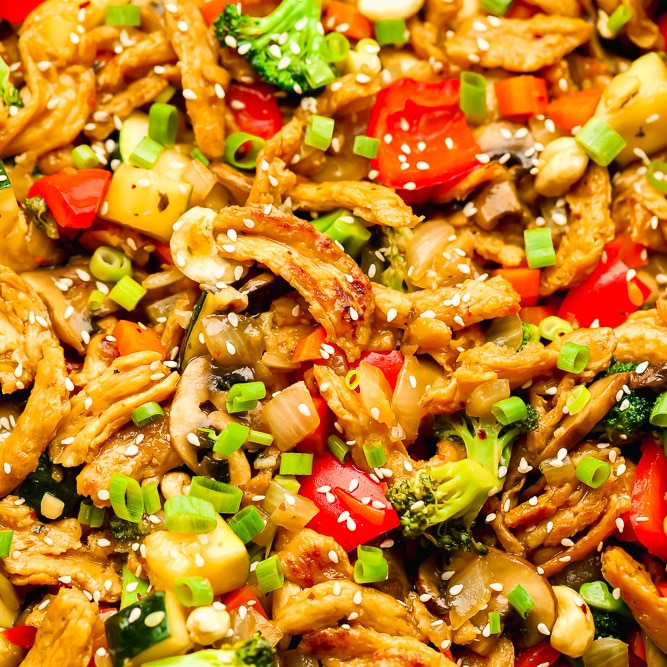 Vegan Stir Fry
This easy Vegan Stir Fry is loaded with veggies, soy curl "chicken" and the most amazing stir fry sauce made with soy sauce, agave, ginger, garlic and sesame oil! It's ready in under 30 minutes and the whole family will love it.
Ingredients
For the Stir Fry
4

ounces

soy curls (half a bag)

3

cups

water

2 1/2

tablespoons

Butler Chik-Style Seasoning, optional

2

tablespoons

olive oil, divided

1

small

onion, diced

1

medium

zucchini, sliced and halved or quartered

2

cups

broccoli florets

1

medium

carrot, peeled and chopped

8

ounces

mushrooms, sliced

1

red bell pepper, seeded and chopped into large chunks

4

cloves

garlic, minced

2

teaspoons

fresh minced ginger

1/2

cup

cashews or peanuts, optional

chopped green onions

sesame seeds
Instructions
Prepare soy curls: In a large bowl, add the dehydrated soy curls, then cover with about 3 cups of warm water. Let them rehydrate for about 10 minutes until they have grown in size and softened. Drain in a colander and squeeze any excess water from the pieces.

Make the sauce: In a medium bowl, whisk together all the sauce ingredients. Set aside.

In a large sauté pan or wok, add 1 tablespoon of olive oil and heat over medium-high heat. Add the soy curls, optional chicken seasoning and stir fry for about 5 minutes. Transfer the cooked soy curls to a plate nearby.

To the pan, add an additional tablespoon of olive oil, then the onion, zucchini, broccoli, carrots, mushrooms and red bell pepper. Stir often for 2-3 minutes until crisp tender.

Add the garlic and ginger, and cook for another minute, stirring.

Add the soy curls back to the pan. Whisk the stir fry sauce one last time and pour over the soy curls and vegetables. Stir to combine; the sauce will thicken a bit.

Once the sauce thickens, remove the pan from heat. Stir in the cashews or peanuts, if using. Serve over rice or noodles with chopped green onions, sesame seeds and hot sauce, if desired. Enjoy!
Notes
If you don't like soy curls or don't have them, you can substitute

tofu

instead. Simply fry it in a pan first, bake it or air fry, then add in at the very end. You can also just use more veggies,

tempeh

or

vegan chicken

.

The Chik-Style seasoning is totally optional, but so good. It gives the soy curls a lot of flavor.

Make it gluten free by using gluten free tamari.

Nut free? Leave out the cashews/peanuts.
Nutrition
Serving:
1
of 4 servings
|
Calories:
304
kcal
|
Carbohydrates:
34
g
|
Protein:
19
g
|
Fat:
11
g
|
Saturated Fat:
2
g
|
Polyunsaturated Fat:
2
g
|
Monounsaturated Fat:
7
g
|
Sodium:
696
mg
|
Potassium:
630
mg
|
Fiber:
8
g
|
Sugar:
19
g
|
Vitamin A:
3924
IU
|
Vitamin C:
92
mg
|
Calcium:
144
mg
|
Iron:
4
mg