Easily jazz up your roasted cauliflower with a burst of curry! This Roasted Curried Cauliflower is easy to make, packed with flavor, and sure to bring life to grain bowls, salads, and more.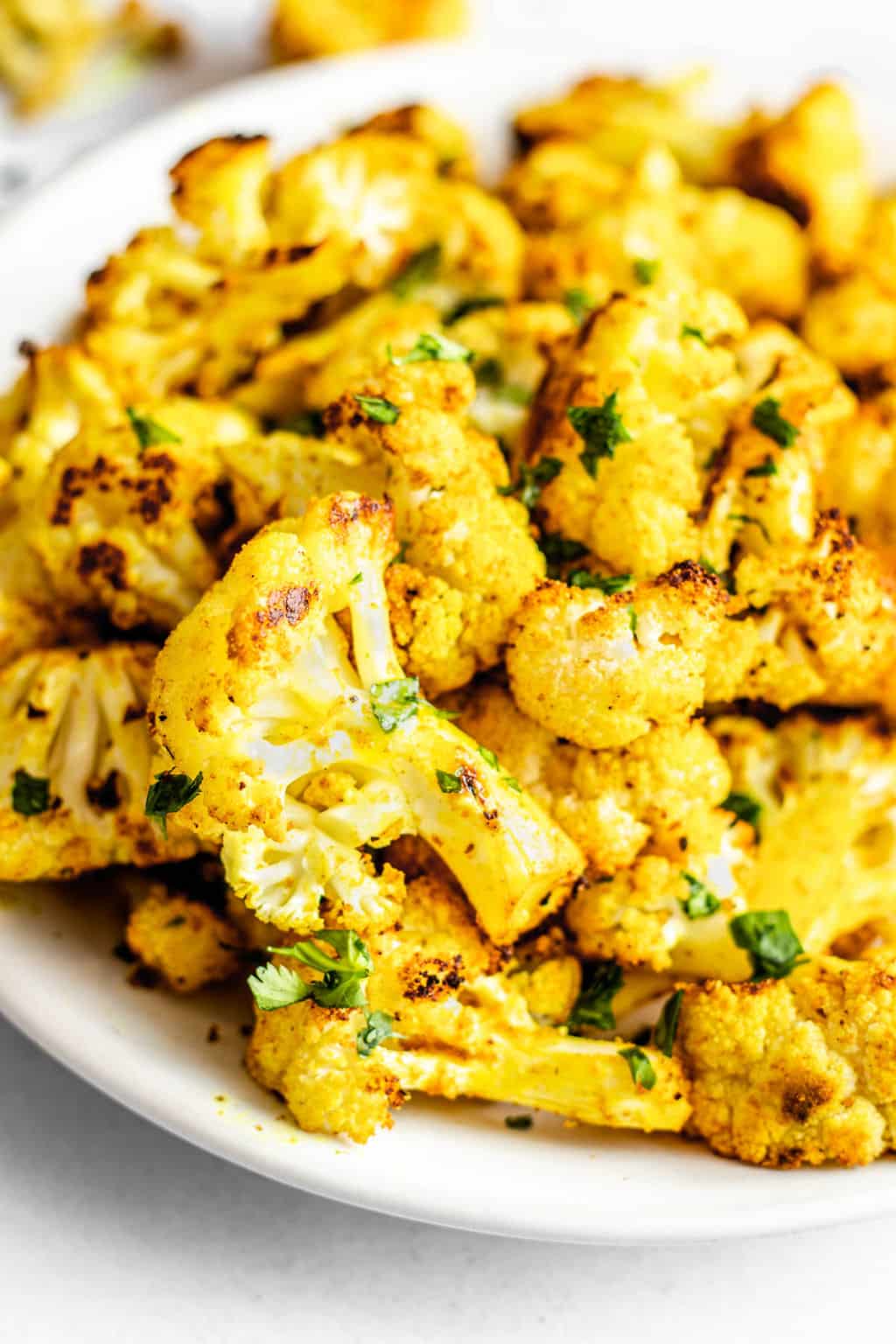 Whenever you need an easy and no-nonsense side dish to pair with dinner, roasted vegetables are where it's at! Simply toss a batch of chopped broccoli, brussels sprouts, potatoes, or carrots with some oil and seasonings and bake in the oven until tender and delicious. They go well with everything!
Steamed or raw cauliflower is pretty boring and bland, but something magical happens when you roast it. Just like with these Cauliflower Fajitas and Sticky Sesame Cauliflower, roasting cauliflower transforms the lowly vegetable into something that you won't be able to stop eating!
If you want to take your everyday roasted vegetables up a notch, you have to try this Roasted Curried Cauliflower recipe. Cauliflower florets are tossed with oil, curry powder, salt, and pepper before quickly roasting in the oven. A little lemon juice and cilantro on top goes a long way and gives each bite an added burst of brightness.
I just know you're going to love this flavorful curried cauliflower recipe! It's:
An easy 30-minute side dish
Made with 5 simple ingredients
Full of warm spices
The best way to add flavor and substance to grain bowls, salads, veggie wraps, and more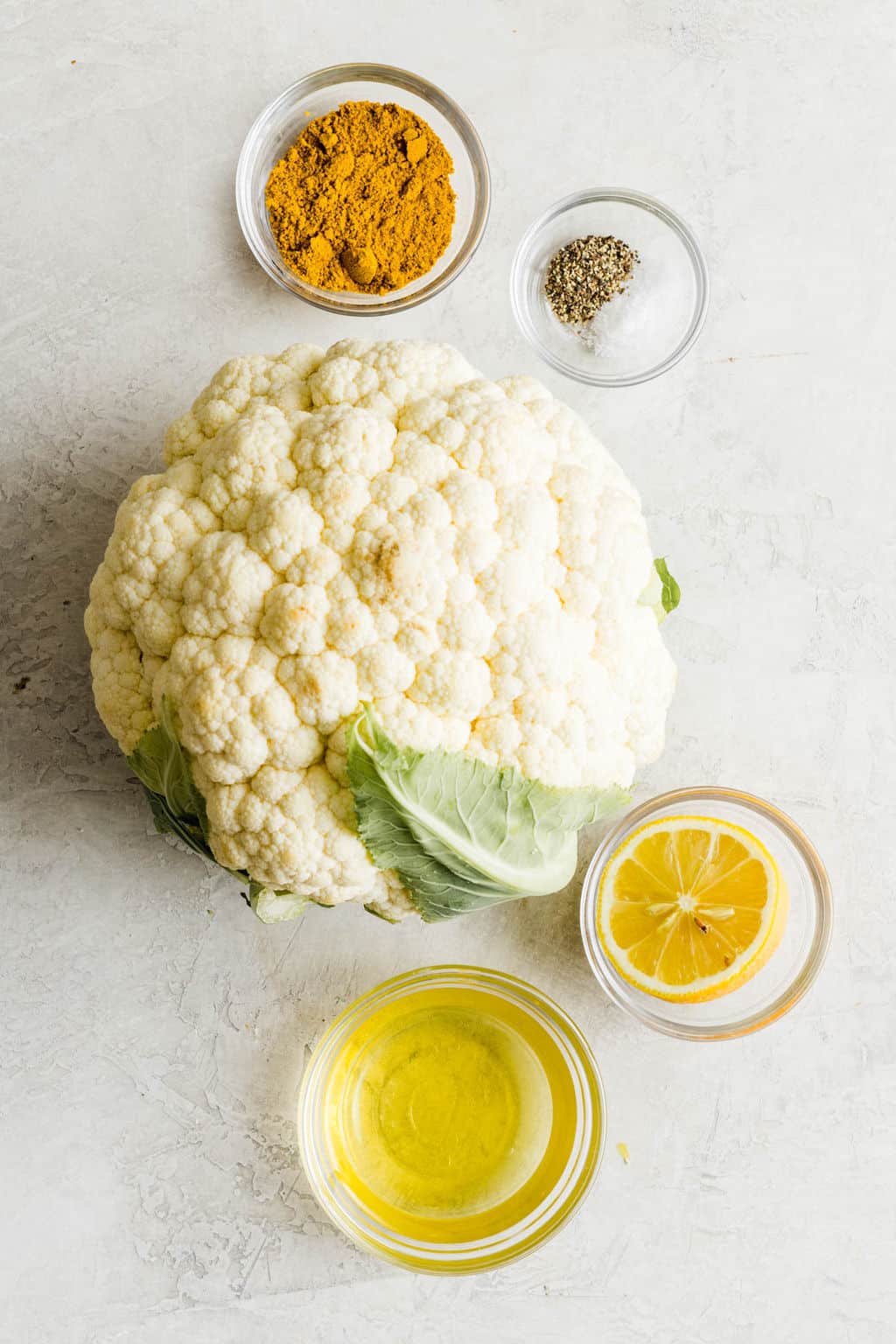 Ingredients needed (with substitutions)
Cauliflower – Either chop the cauliflower head into florets yourself or save some time by buying pre-cut florets. Frozen cauliflower florets will also work. Simply mix the frozen cauliflower with the other ingredients and roast.
Olive oil – For oil free roasted cauliflower, omit the olive oil entirely.
Curry powder – Pre-mixed curry powder is usually made with a blend of ground turmeric, cumin, coriander, ginger, chili powder, black pepper, fenugreek, fennel, and more. It's easy to find at most major grocery stores or you can make it yourself. For added warmth, add a sprinkle of garam masala or cinnamon to the curried cauliflower.
Salt and pepper
Lemon juice – Freshly squeezed is best!
Cilantro – For serving. Parsley works too!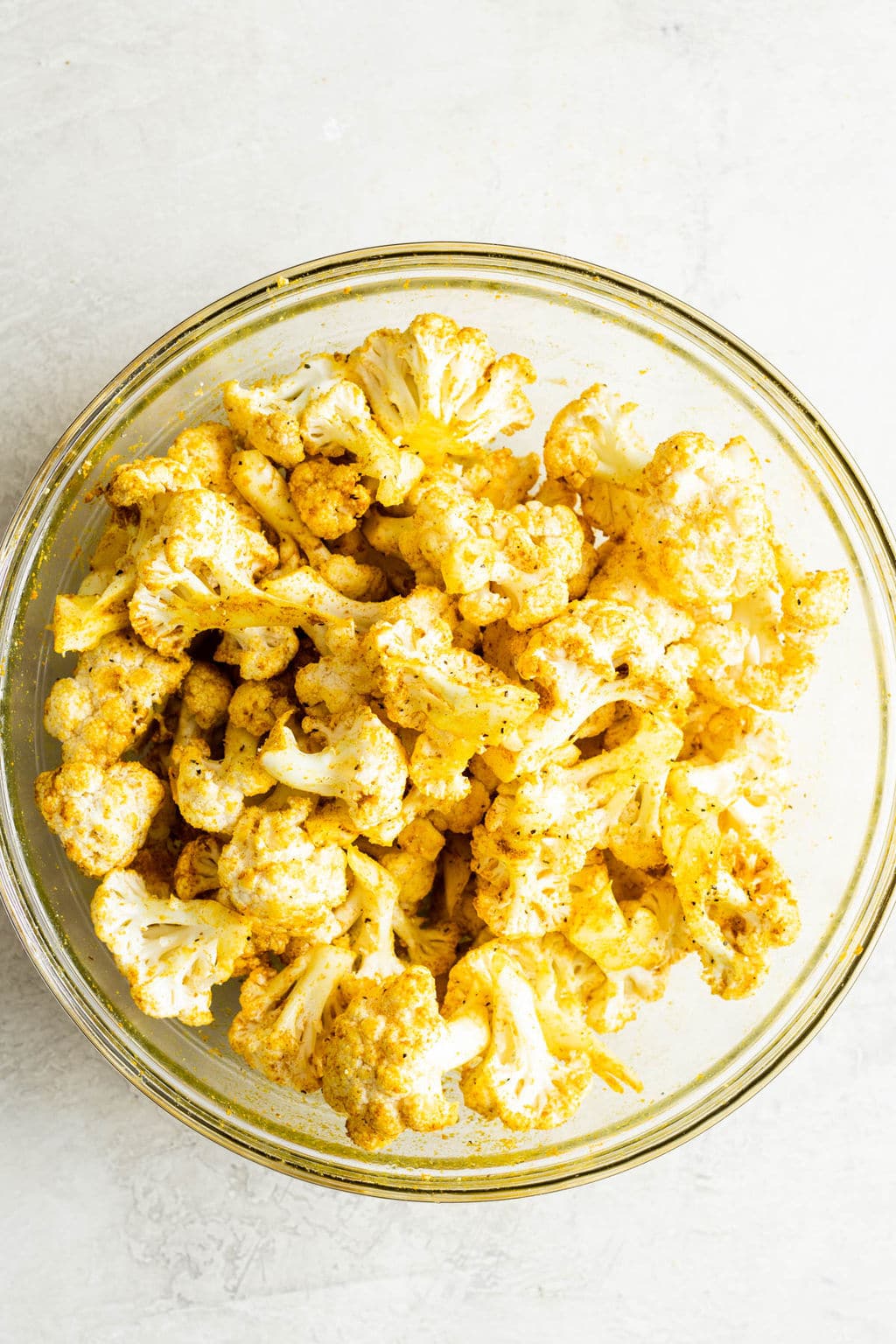 How to make roasted curried cauliflower
Find the complete recipe with measurements below.
Toss the cauliflower florets in a bowl with the olive oil, curry powder, salt, and black pepper. Lay them in an even layer on a parchment-lined baking sheet.
Roast the curried cauliflower in the oven until the florets are tender and the edges are brown. Drizzle fresh lemon juice and cilantro on top, then enjoy!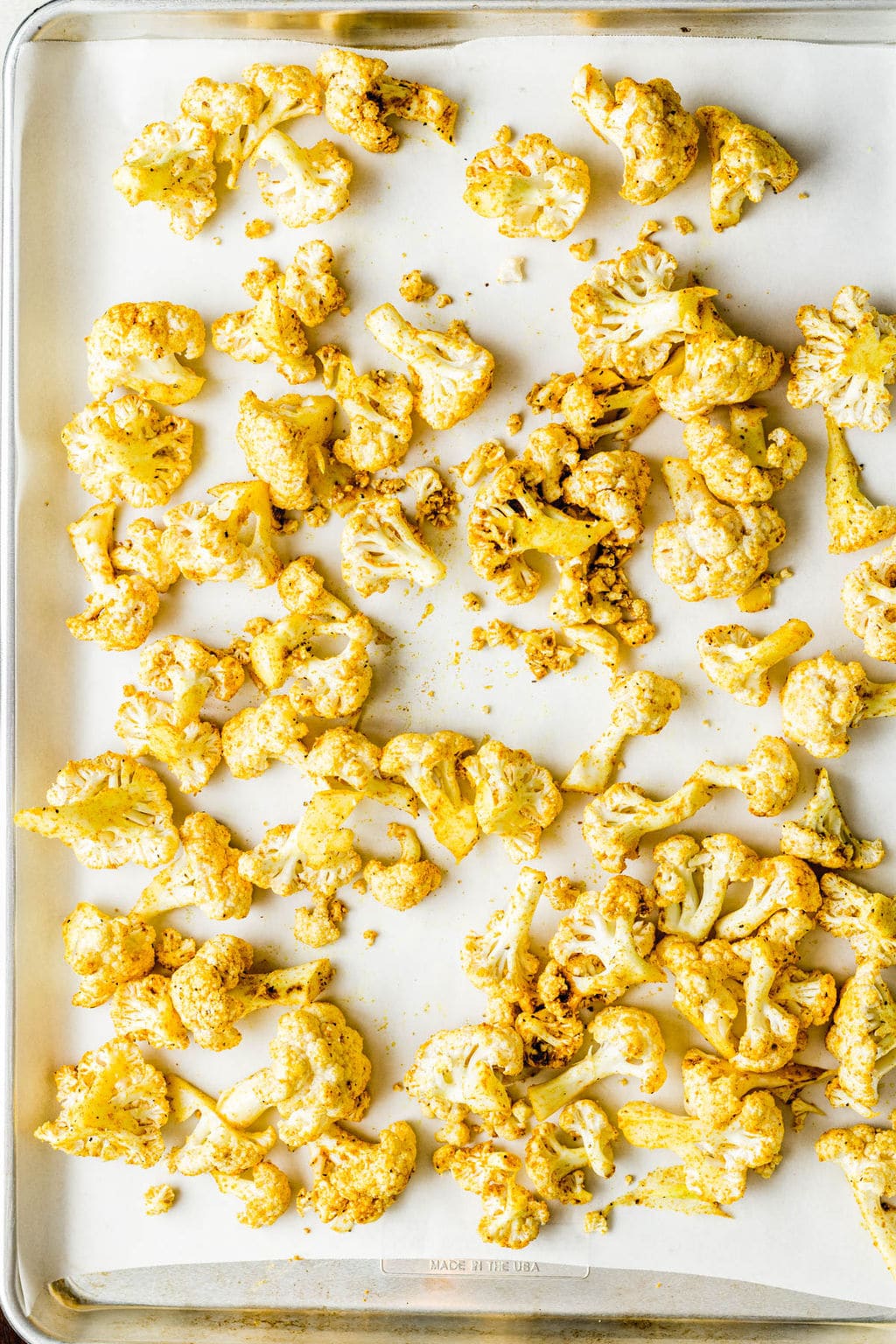 Serving suggestions
Roasted curried cauliflower is so versatile and can be enjoyed in endless ways! Use any of these serving suggestions for inspiration: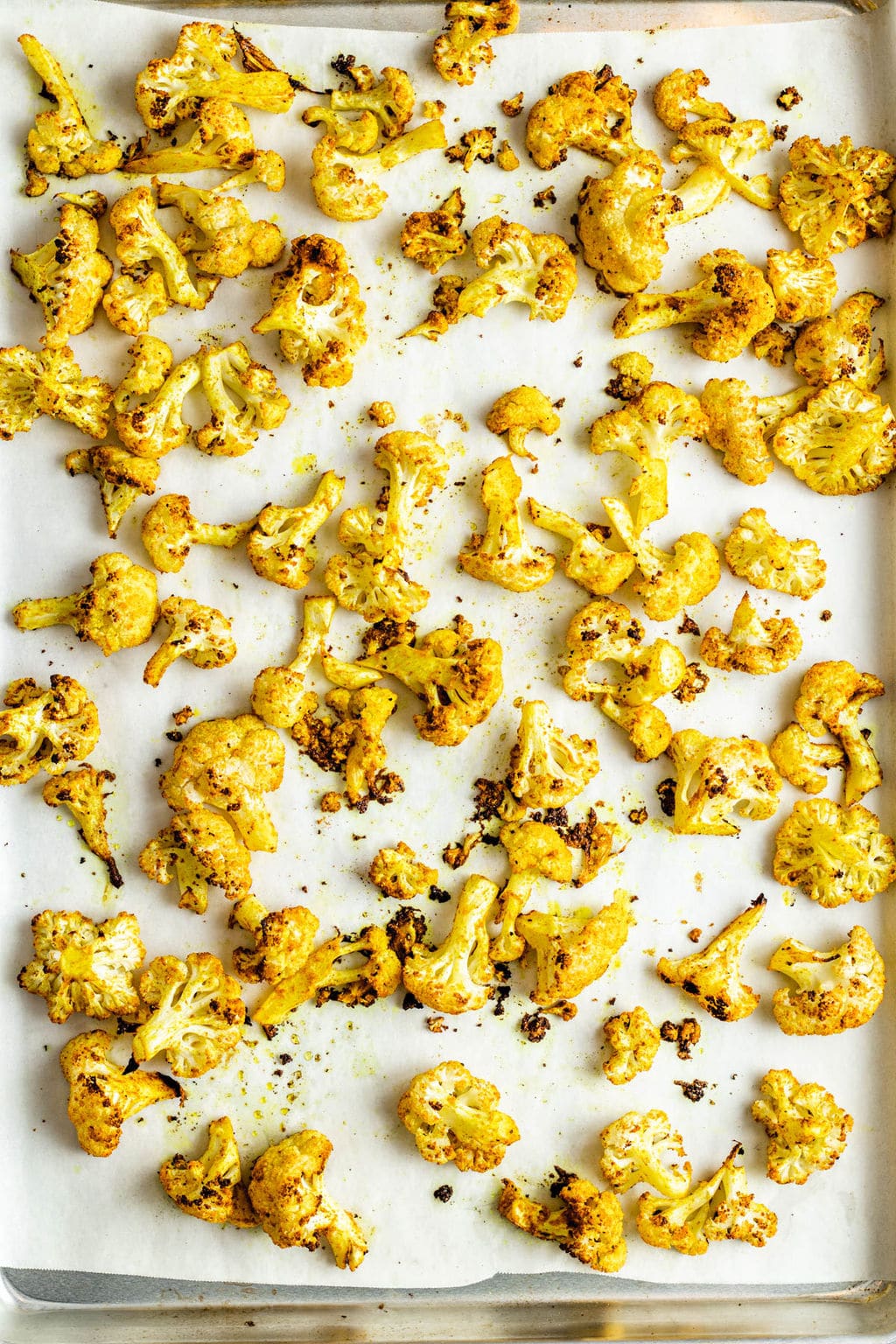 Want more amazing cauliflower recipes?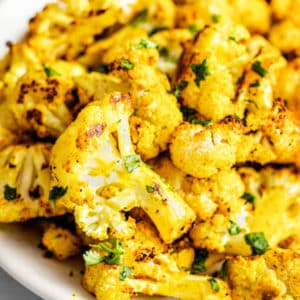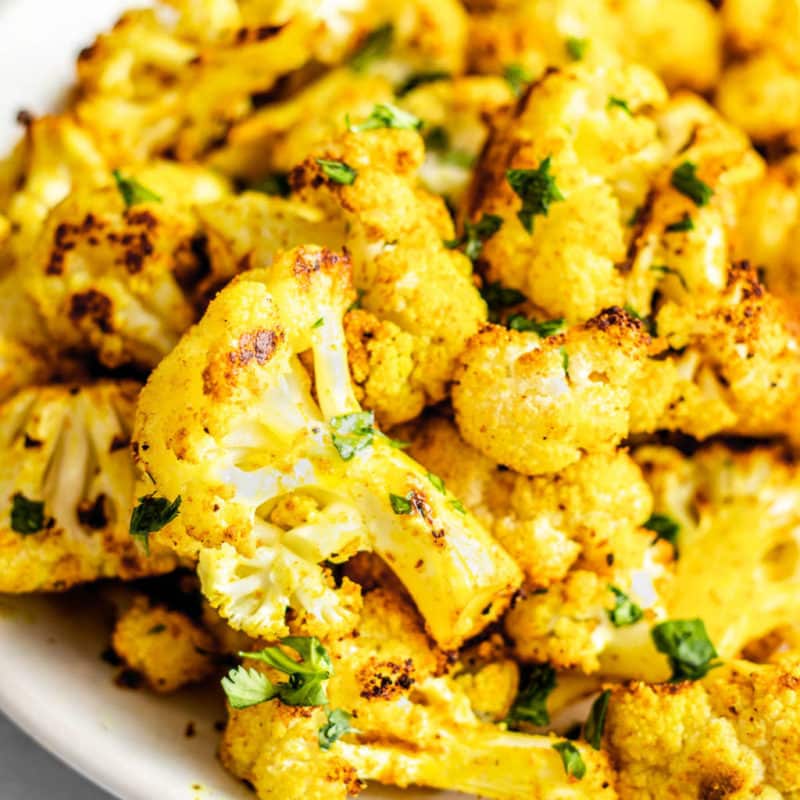 Roasted Curried Cauliflower
Easily jazz up your roasted cauliflower with a burst of curry! This Roasted Curried Cauliflower is easy to make, packed with flavor, and sure to bring life to grain bowls, salads, and more.
Ingredients
1

large

head cauliflower, chopped into florets

3

tablespoons

olive oil

1

tablespoon

curry powder

1/2

teaspoon

salt

1/4

teaspoon

ground black pepper

1

tablespoon

fresh squeezed lemon juice

2-3

tablespoons

chopped fresh cilantro or parsley
Instructions
Preheat oven to 425 degrees F and line a large rimmed baking sheet with parchment paper.

In a large bowl, toss the cauliflower florets with the olive oil, curry powder, salt and black pepper.

Arrange the cauliflower on the prepared pan in a single layer.

Roast in the oven for 25-30 minutes until browned, but be careful not to burn the florets. You may flip the cauliflower midway through roasting, but it's not necessary.

Drizzle the roasted cauliflower with the fresh lemon juice and toss to combine. Serve with cilantro or parsley and enjoy!
Notes
Leftover roasted cauliflower will keep for 4 days in an airtight container in the refrigerator. It can be frozen as well, if needed.
Add 1/4 teaspoon ground cinnamon for a slightly sweet addition. Or just a sprinkle of garam masala for more intense flavor.
Oil free – Simply omit the olive oil. The cauliflower won't get nearly as golden and browned, but it still works.
Frozen cauliflower – You can absolutely use this recipe with frozen cauliflower florets as well. Just mix the oil/spices with the frozen cauliflower and roast until browned and cooked.
Nutrition
Serving:
1
of 8 servings
|
Calories:
76
kcal
|
Carbohydrates:
6
g
|
Protein:
2
g
|
Fat:
6
g
|
Saturated Fat:
1
g
|
Polyunsaturated Fat:
1
g
|
Monounsaturated Fat:
4
g
|
Sodium:
177
mg
|
Potassium:
328
mg
|
Fiber:
2
g
|
Sugar:
2
g
|
Vitamin A:
8
IU
|
Vitamin C:
51
mg
|
Calcium:
27
mg
|
Iron:
1
mg