Marinated Tempeh
This post may contain affiliate links. Read my full disclosure here.
Ever wonder what tempeh is and how to transform this simple plant protein into a mouthwatering meal? I'll teach you how to make the most delicious marinated tempeh.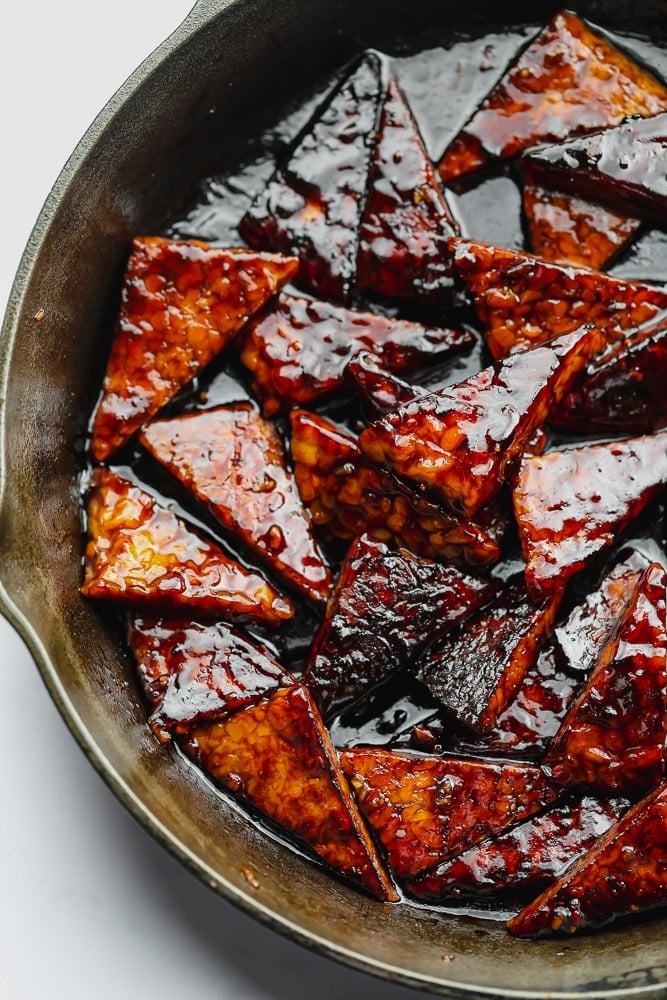 What is tempeh?
Tempeh (pronounced tem-pei not tem-pah as I used to say!) is believed to have originated in Indonesia many years ago and is still popular there today. It's typically made from fermented soybeans, but often you will find other ingredients in the mix, such as barley, other grains or beans. It's an excellent source of protein and the texture is completely different from tofu.
What does tempeh taste like?
It has a nutty flavor but is really quite mild. I wouldn't suggest eating it plain (same goes for tofu) but rather cook it with flavoring and sauces, as it absorbs other flavors beautifully. It's not as soft as tofu, but is quite firm and meaty.
Tempeh vs tofu
While they are both made out of soy, tempeh has a completely different flavor and texture than tofu. It's more firm, meaty with a nutty texture that is nothing like tofu. It also doesn't need to be pressed, making it easier to prepare. If you haven't figured out how to make tofu taste good, check out my Marinated Tofu (The Best Tofu Ever!)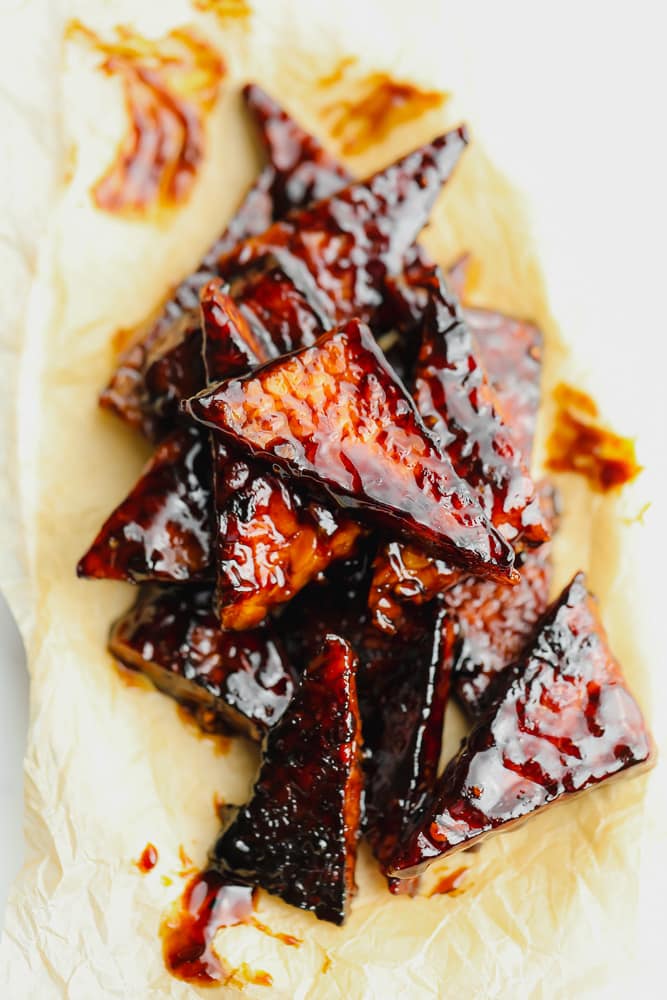 How to cook tempeh
There are multiple ways to prepare tempeh. For this basic marinated tempeh recipe, we will first steam the tempeh blocks. Steaming releases any bitter flavors while also helping the delicious marinade seep in when marinating. You can skip steaming if you want, but it does bring the flavor up a notch, in my opinion.
Find the complete recipe with measurements below.
Open the packages and cut each block into 2 pieces. Steam for 10 minutes.
Marinade: In a large dish, combine balsamic vinegar, maple syrup, soy sauce, garlic and olive oil. Whisk to combine right in the dish.
Slice into triangles, or any other shape you like. I do this by first cutting the steamed squares in half.
Then, slice each piece lengthwise.
Next cut those thinner squares in a diagonal, making triangles.
Continue until all the pieces are cut.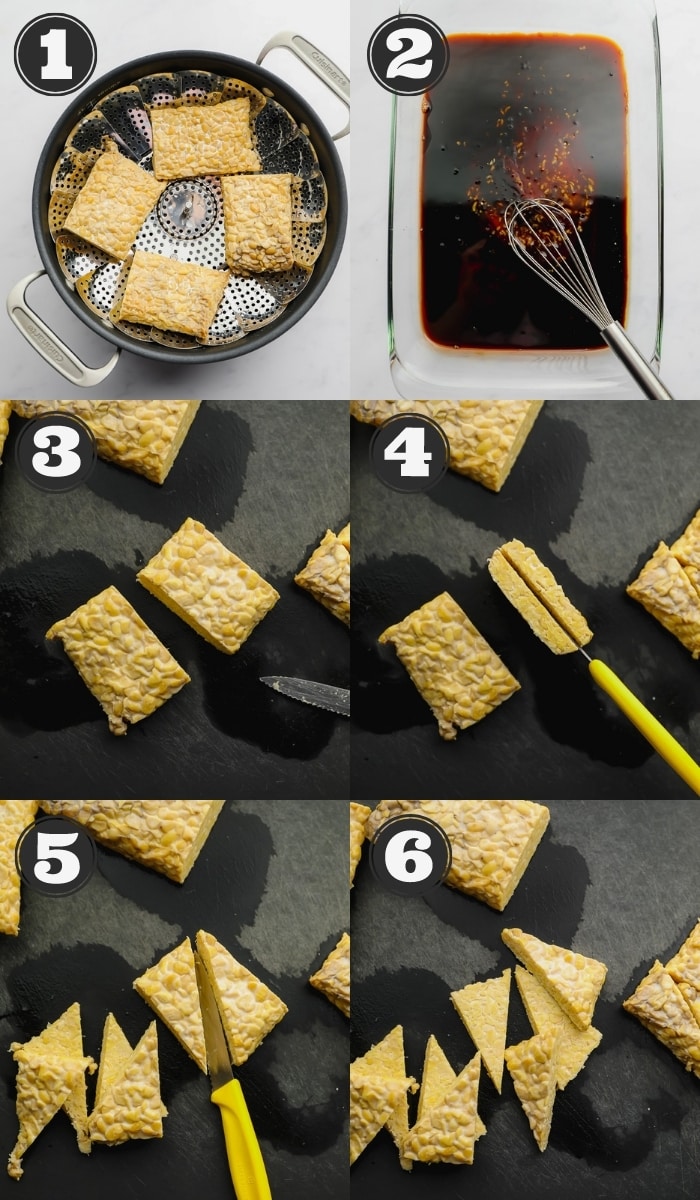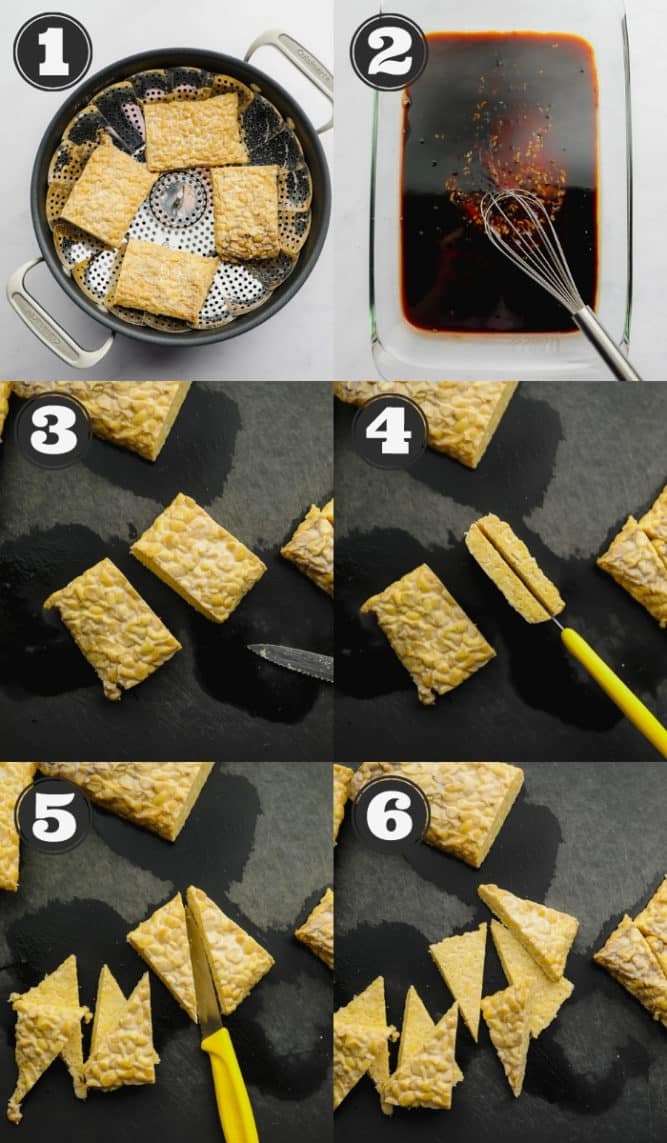 Place the tempeh in the dish with the marinade and turn all the pieces over until they are coated in the sauce. Let marinate for at least an hour, or overnight, in the refrigerator. The longer it marinates, the more flavor there will be!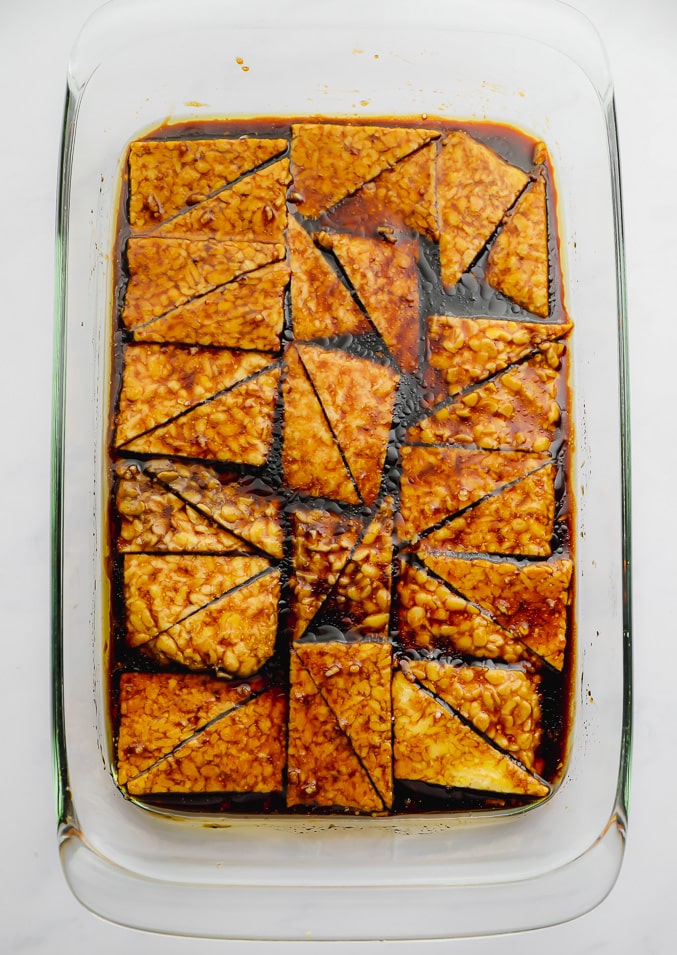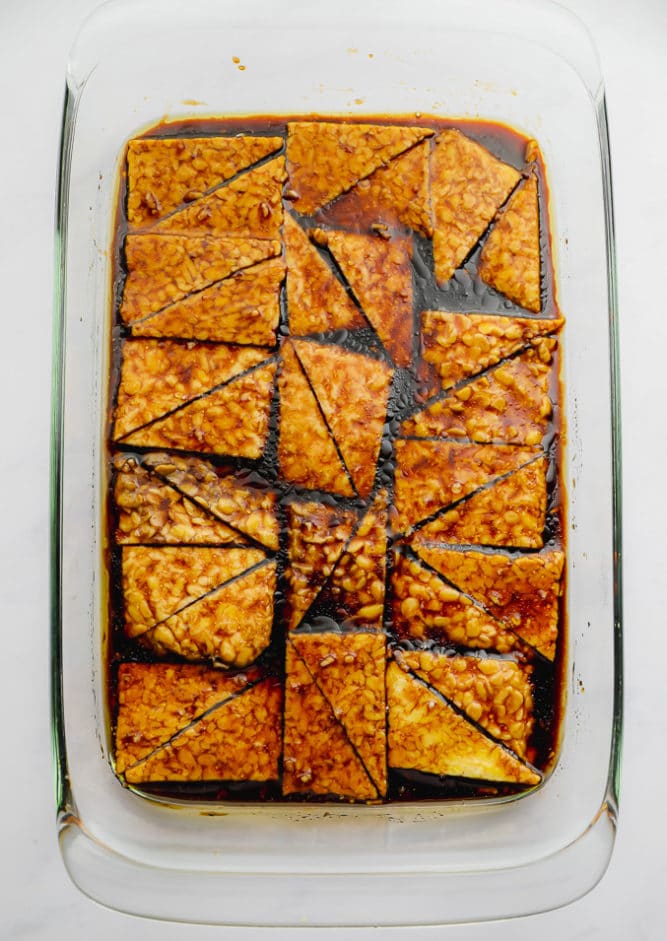 Once it has marinated for at least an hour, warm a few tablespoons of oil over medium-high heat in a large pan (I prefer cast iron.) Add the pieces, leaving the extra marinade in the dish for now. Fry until a little golden brown on each side, flipping carefully with a spatula.
To finish, pour the extra marinade into a bowl and whisk the tablespoon of cornstarch in until smooth. Pour into the pan and stir until the sauce thickens and the tempeh is coated. Turn off the heat and serve immediately.
Bake or air fry instead
Bake: Preheat the oven to 350 degrees F and line a large baking sheet with parchment paper. Place the marinated pieces on the pan and bake for 15 minutes, flip and bake 15 more minutes. Meanwhile, warm the sauce in a pan with the cornstarch. When the tempeh is done baking, stir into the thickened sauce.
Air Fry: You can also air fry tempeh. Air fry at 400 degrees for 15-20 minutes, shaking occasionally until golden brown. Mix with the thickened extra marinade once done.
What to serve marinated tempeh with?
Serve over a bed of basmati rice, mashed potatoes, with potato wedges and perhaps some steamed kale, kale caesar salad, potato salad, air fryer asparagus, chickpea salad or roasted brussels sprouts.
Or put the slices on a sandwich with vegan mayo, lettuce and tomato. It's also good on a salad.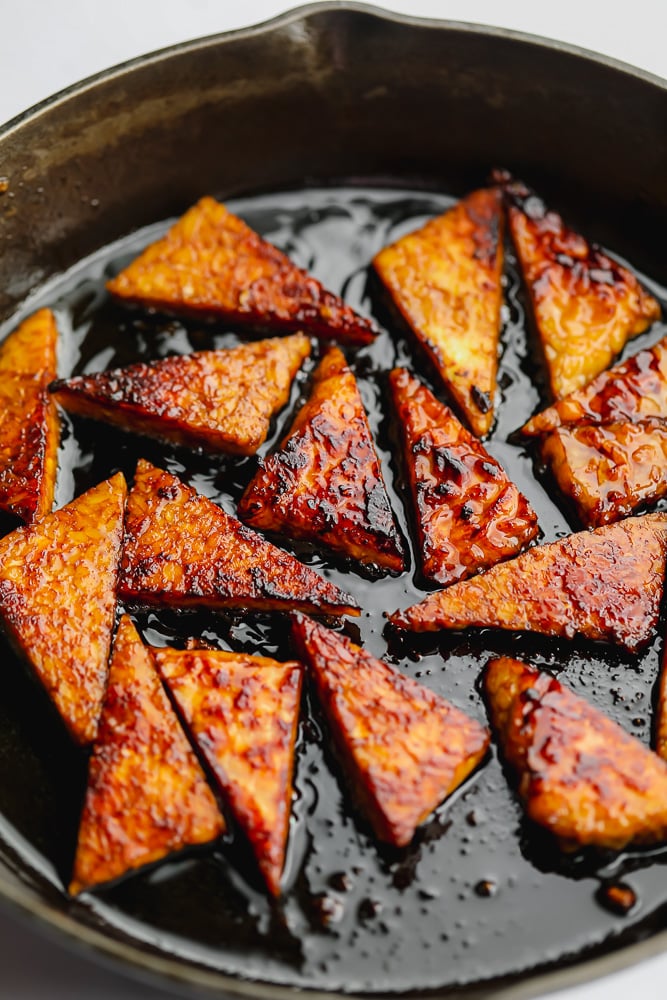 Frequently asked questions
Where to buy tempeh? Most grocery stores carry it now as it's quite popular, but health food stores will always have it, such as Whole Foods, Sprouts and other local stores. Trader Joe's also carries it.
Can you eat tempeh raw? Technically it's safe to do so, but I wouldn't! It does not taste good. I recommend cooking it and adding flavor.
Is tempeh gluten free? Unfortunately, most tempeh is not gluten free because there is often barley or some other grain added. However, Lightlife original tempeh contains only soy and brown rice as far as I know, so that should be safe. Check the ingredients list to be safe if you are allergic/intolerant to gluten.
Can you freeze tempeh? Yes, you can absolutely freeze tempeh. So stock up the next time you make a trip to Trader Joes! Simply thaw overnight in the refrigerator or quickly thaw in a bowl of warm water, when ready to use.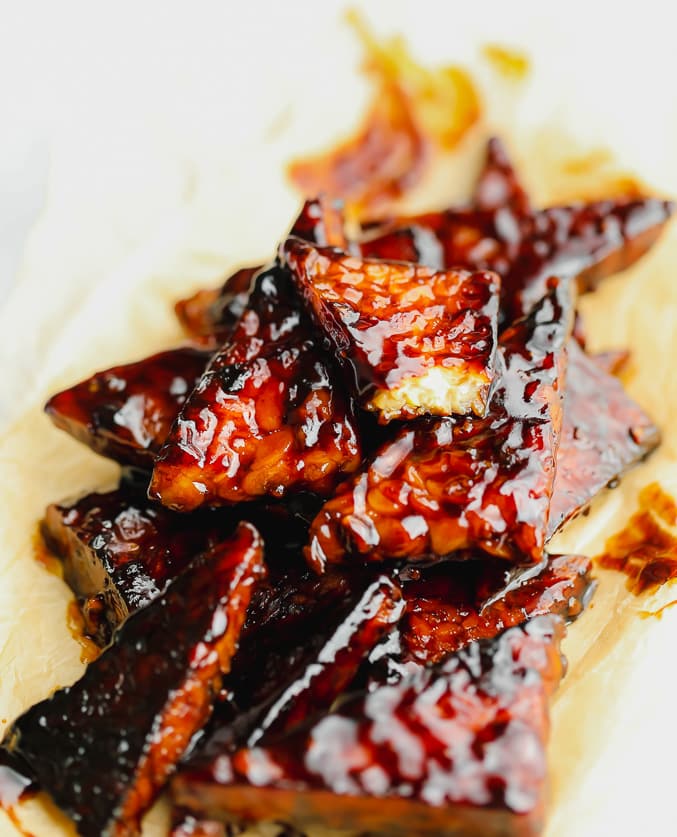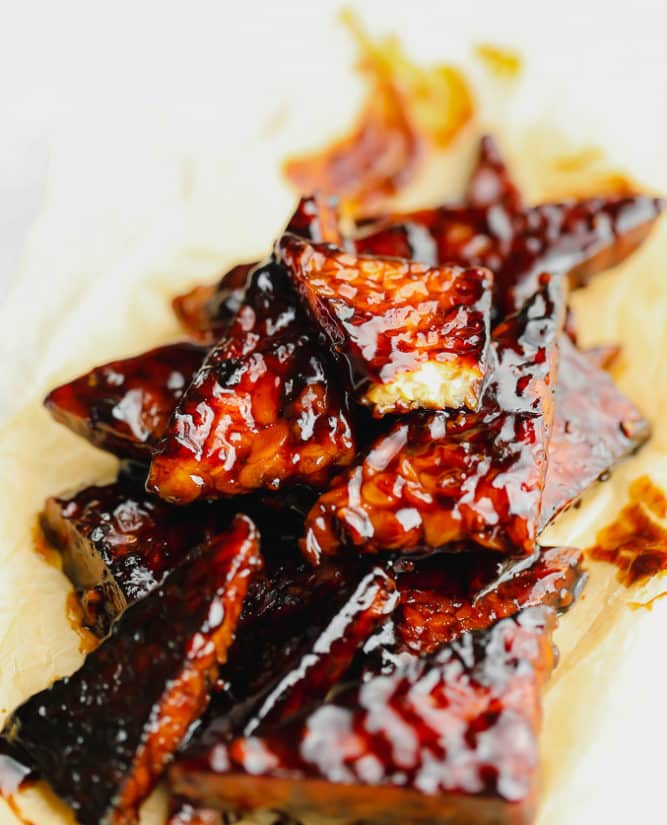 My favorite recipes using tempeh
I hope I've convinced you to give tempeh a try! Here are some more vegan recipes using tempeh: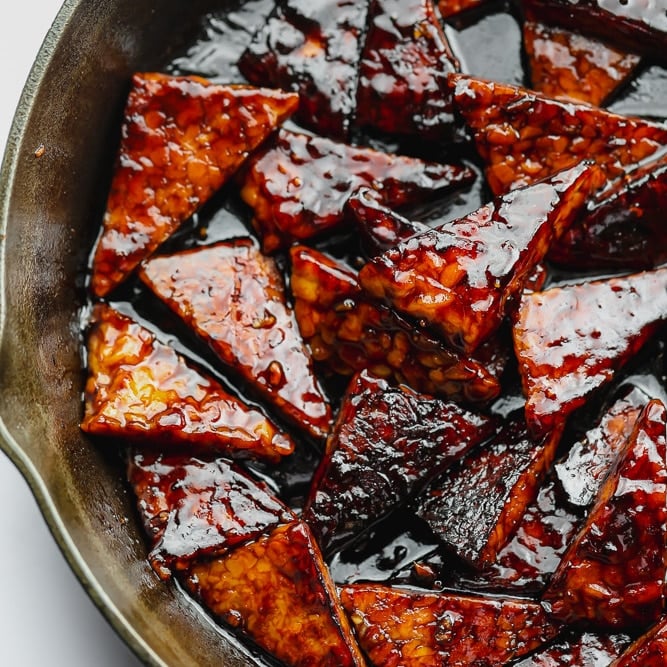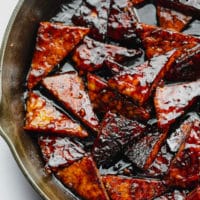 Marinated Tempeh
The most incredible and flavor packed Marinated Tempeh. Never eat bland tempeh again!
Instructions
Prepare the tempeh: Remove tempeh from packages and steam for 10 minutes as whole blocks. slice into small triangles or cubes.

Make the marinade: In a shallow dish (such as a 9×13 inch dish) add the balsamic vinegar, maple syrup, soy sauce, garlic and olive oil. Whisk right in the dish to combine.

Marinate tempeh: Add the sliced tempeh to the shallow dish and toss to coat each piece in the marinade. Cover and let the tempeh marinate for at least an hour and up to 24 hours for more flavor. The longer you let it sit, the more flavorful it will be. Stir and toss the cubes a few times during marinating.

Cook: Heat a few tablespoons of olive oil over medium-high heat in a large non-stick or cast iron skillet. Add the tempeh pieces, leaving the extra marinade in the dish for now. Cook until a little golden brown on each side, flipping often with a spatula.

To finish: Pour the extra marinade from the large dish into a small bowl, and whisk in the cornstarch. Immediately add the sauce to the tempeh in the pan and stir constantly, until the sauce thickens and the tempeh is coated in the sauce.
Notes
Gluten free: Make sure the tempeh you buy is gluten free and not made with barley or gluten containing products. Check the ingredients list carefully. And substitute gluten free tamari for the soy sauce.
I recommend Grand Reserve Balsamic Vinegar. It's so tasty and high quality at a reasonable price. My local grocery store carries it, as well as Whole Foods and many other stores.
Oil free: If needed, leave out the olive oil. Use a quality non-stick pan for frying, or bake instead on a parchment lined baking sheet. 350 degrees for 15 minutes, flip and bake 15 minutes more. Coat with the thickened sauce after coming out of the oven.
Nutrition
Serving:
1
of 4 servings
,
Calories:
425
kcal
,
Carbohydrates:
28
g
,
Protein:
24.5
g
,
Fat:
25
g
,
Saturated Fat:
4
g
,
Sodium:
590
mg
,
Potassium:
600
mg
,
Fiber:
4
g
,
Sugar:
16
g
,
Calcium:
159
mg
,
Iron:
3
mg
We are a participant in the Amazon Services LLC Associates Program, an affiliate advertising program designed to provide a means for sites to earn advertising fees by advertising and linking to amazon.com. Read my full disclosure here