When you are just getting started with a vegan diet, it can seem very overwhelming. You might be wondering if you are destined to only eat salads for the rest of your life! I assure you, that is not the case. You will enjoy an abundance of food as a vegan, including versions of your favorite meals like burgers, spaghetti and meatballs, pot pie, butter "chicken", lasagna and more!
I created this vegan grocery list to get you started and take the guess work out of shopping. (FREE PRINTABLE)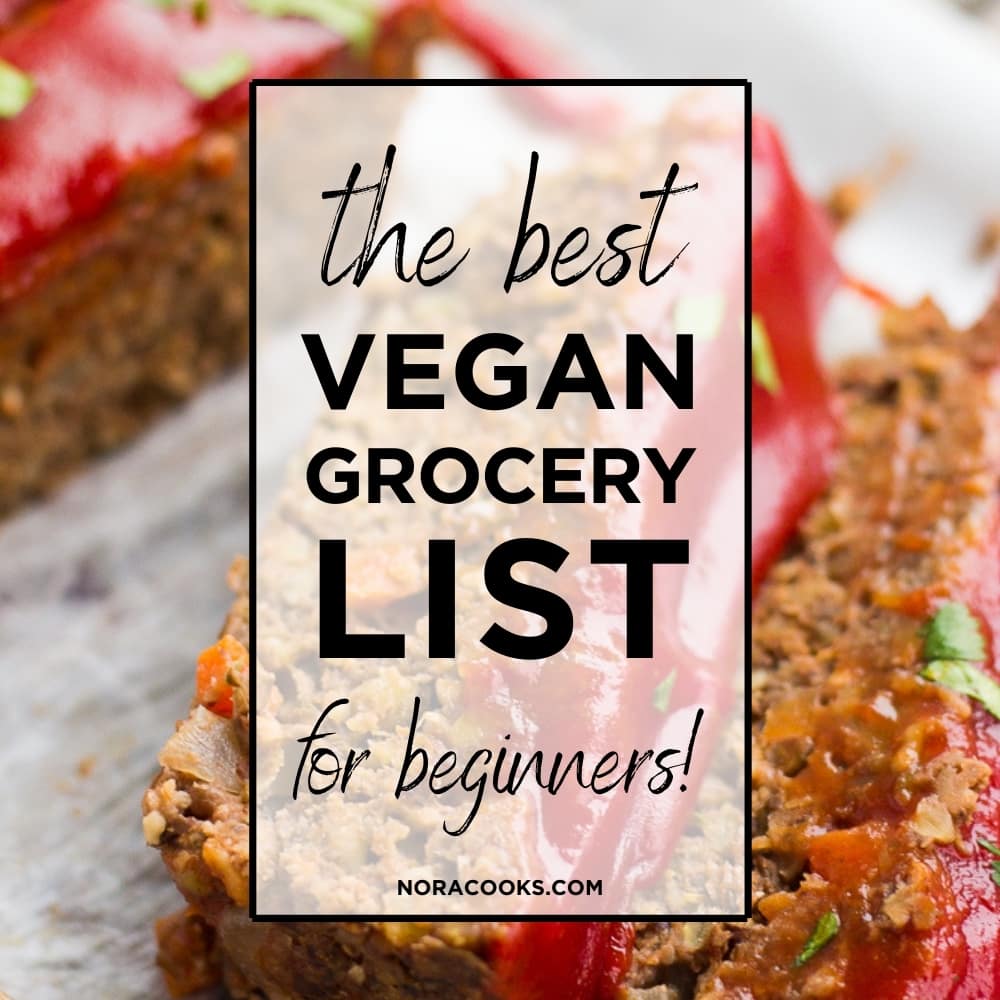 What can vegans not eat?
I know this may seem obvious to some, but I think it's a good place to start as there is actually quite a bit of confusion in our culture about what exactly a vegan can or can not eat.
The basic answer is that vegans do not eat animals or their byproducts, so no meat, dairy (cheese, milk, yogurt), eggs, or honey. If it's an animal or it came from an animal, we don't eat it. This includes gelatin products, like regular marshmallows, jello, etc.
Some people think being vegan means you are also gluten free, but that is not the case. I eat plenty of bread and other gluten containing foods! Of course, if you have to be gluten free for health reasons, you can exclude it from your diet. But vegan does not equal gluten free.
Vegans CAN eat sugar, but some white sugar is processed with animal bones. If you buy organic, it will be vegan. This depends on where you live in the world and what company you are buying from.
Some people choose to eat more whole foods as a vegan (a whole foods plant based diet) while others include some vegan processed food, sugar and flour, like me! ?  This is a personal choice. As long as no animals were harmed in the making, it's all gravy to me (and yes, you can have vegan gravy!).
What do vegans eat?
Let me first say that being vegan is not about perfection. Slip ups may happen, or you might think something is vegan only later to realize it wasn't. Don't beat yourself up if that happens.
Maybe you need to take it slow, first cutting out meat, then dairy, then eggs. Do what works for you! If you are trying to eat more plants and ease yourself in to this lifestyle, I support your efforts! Make sure to check out 10 Tips for Going Vegan.
So, what do vegans eat? Everything else! Fruit and vegetables, of course, but also oatmeal, bread, pasta, vegan cheese, vegan mayo, vegan meat alternatives (if you choose to), beans, nuts, tofu, tempeh, chips, crackers, vegan desserts and more.
Check out my recipe index to explore the deliciousness that is vegan food!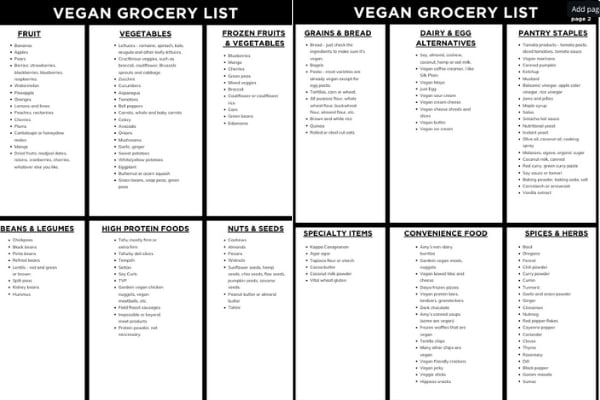 Vegan grocery list
FREE PRINTABLE VEGAN GROCERY LIST – Click here to print the organized list.
Here I'll break down my basic list of staples you may want to have on hand. Pick and choose what you like, and base it around your meals. With the printable, you can add any additional ingredients you need after you pick what breakfast, lunches and dinners you plan on making.
Fresh fruits
Typically I buy whatever is in season and on sale, but I tend to purchase apples and bananas year round.
Bananas

Apples

Pears

Berries – Strawberries, blackberries, blueberries, raspberries.

Watermelon

Pineapple

Oranges

Lemons and limes

Peaches, nectarines

Cherries

Plums

Cantaloupe, honeydew melon

Mango

Dried fruits – Medjool dates, raisins, cranberries, cherries, whatever else you like.
Fresh vegetables
Lettuces – Romaine, spinach, kale, arugula and other leafy lettuces.

Cruciferous veggies – Broccoli, cauliflower, brussels sprouts and cabbage.

Zucchini

Cucumbers

Asparagus

Tomatoes

Bell peppers

Carrots, whole and baby carrots

Celery

Avocado

Onions

Mushrooms

Garlic – Buy minced in jars for easy cooking.

Ginger – I often buy a tube of this, or frozen cubes.

Sweet potatoes

White/yellow potatoes

Eggplant

Butternut or acorn squash

Green beans, snap peas, green peas
Frozen fruits & vegetables
Blueberries

Mango

Cherries

Green peas

Broccoli

Cauliflower or cauliflower rice

Corn

Green beans

Edamame
Beans & legumes
I typically buy organic canned beans for convenience, but you can purchase dried as well, which are more budget friendly.
Chickpeas

Black beans

Pinto beans

Refried beans

Lentils – red and green or brown

Split peas

Kidney beans

Hummus
Vegan high protein foods & meat alternatives
Tofu, mostly firm or extra firm

Tofurky deli slices – My kids LOVE these in sandwiches.

Seitan

TVP

Gardein vegan chicken nuggets, vegan meatballs, etc.

Impossible or beyond meat products

Protein powder – Not necessary but only if you like this sort of thing. I personally can't stand protein powders! At least I haven't found one I can stomach.
Nuts & seeds
Cashews

– Raw cashews make the most delicious

vegan cheeses

and other creamy food. I buy them in bulk and at the best price I can find!

Almonds

Pecans

Walnuts

Sunflower seeds, hemp seeds, chia seeds, flax seeds, pumpkin seeds, sesame seeds.

Peanut butter or almond butter

Tahini
Grains & bread
Bread – Just check the ingredients to make sure it's vegan. I like Dave's Killer Bread, sourdough bread and Ezekial sprouted bread. But even cheap sandwich bread is often vegan.

Pasta – Most varieties are already vegan except for egg pasta. Choose white, whole wheat or gluten free. They even make bean based pasta now!

Tortillas, corn or wheat.

All purpose flour, whole wheat flour, buckwheat flour, almond flour, etc.

Brown and white rice

Quinoa if you like it

Rolled or steel cut oats
Plant milks, dairy and egg alternatives
Soy, almond, cashew, coconut, hemp or oat milk.

Vegan coffee creamer – I like Silk Plain.

Just Egg

Vegan cheese shreds and slices – Currently loving Violife brand, but I also love Chao, Miyoko's and even Daiya.

Vegan butter

– There are so many brands nowadays. I use Earth Balance, Miyoko's and Country Crock the most.

Or make your own

!

Vegan ice cream – Cashew SoDelicious brand is my absolute favorite!
Other pantry staples
Tomato products – Tomato paste, diced tomatoes, tomato sauce.

Vegan marinara for pasta

Canned pumpkin

Ketchup

Mustard

Balsamic vinegar

Apple cider vinegar

Rice vinegar

Jams and jellies

Maple syrup

Salsa

Sriracha hot sauce

Nutritional yeast

Instant yeast

Olive oil

Coconut oil

Cooking spray

Molasses

Agave

Organic sugar varieties for baking

Coconut milk, canned

Red curry and green curry paste

Soy sauce or tamari

Baking powder and baking soda

Salt

Cornstarch or arrowroot

Vanilla extract
Speciality items to consider
Convenience foods that are vegan
This will greatly depend on what's available to you and where you live in the world, but these are some of my favorite convenience foods:
Amy's non-dairy burritos

Gardein vegan meals, nuggets

Vegan boxed Mac and cheese – Daiya or Amy's brand.

Daiya frozen pizzas

Vegan protein bars, larabars, granola bars

Dark chocolate

Amy's canned soups -Some varieties are vegan.

Frozen waffles that are vegan

Tortilla chips

Potato chips, other vegan friendly chips

Vegan friendly crackers

Veggie sticks

Hippeas snacks
Spices and herbs
Basil, oregano, fennel, chili powder, curry powder, cumin, turmeric, garlic and onion powder, ginger, cinnamon, nutmeg, red pepper flakes, cayenne pepper, coriander, cloves, thyme, rosemary, dill, black pepper, garam masala, sumac.
❤️  Nora