No matter why you are thinking about making the switch, these 10 Tips For Going Vegan are sure to help you on your way! As a mom of three who went vegan almost a decade ago, I will share with you what helped me most on this journey!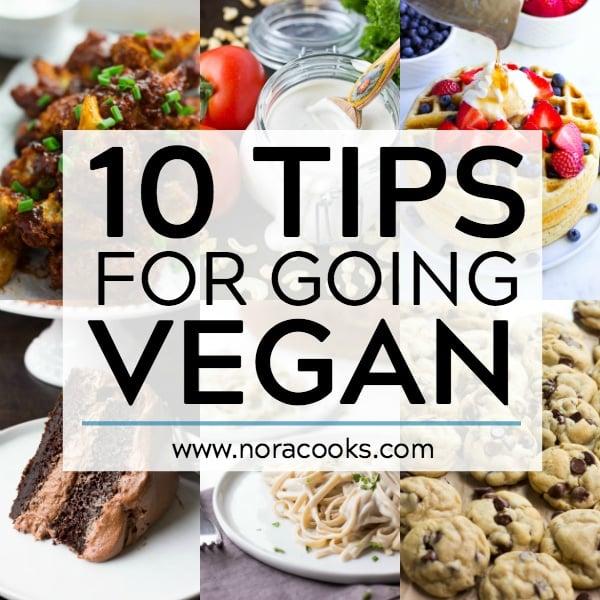 Transitioning to a vegan diet is easier than you might think. Whether you want to make the transition gradually, or overnight, the biggest hurdle probably revolves around the question "But what do I eat now?" Since that is my area of expertise, that's what this post will focus on. I went vegan almost a decade ago, overnight, along with my husband and twin toddlers at the time. Originally my husband and I said we would try it for a few weeks, and see if we wanted to continue. Well, we knew quickly we could never go back! The food was delicious, and the more we learned about factory farming and the detrimental effects of animal products on the environment, we knew this was our lifestyle for good.
For years, I practiced my vegan cooking and baking, making recipes from other blogs and cookbooks. I learned what tasted good, and what my family did not care for. A couple of years ago I started this blog, to be the place to find delicious, family friendly, everyday vegan recipes, like the ones I had been searching for for years! So many recipes seemed too fancy or complicated when I was starting out vegan. I wanted simple, delicious, normal food that my kids would eat! I think there are many more people out there that would go vegan if they knew how yummy vegan eating can be, and how simple.
DISCLAIMER: I am not a nutritionist or a physician. I am simply a vegan cook and mom of 3 who enjoys food and sharing my recipes. What you see on this blog is not intended to replace your physician's advice and is not intended to cure, treat or prevent any disease. Please talk to your doctor about what is right for you.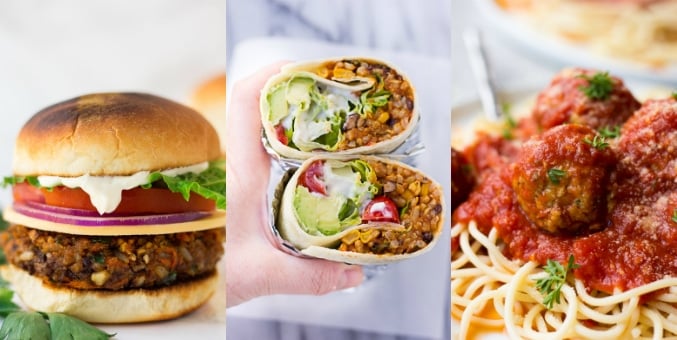 1. Eat familiar foods you already enjoy.
Think about the foods you are familiar with, and adapt them to be vegan. Do you like Spaghetti? Bean burritos? Lasagna? Pizza? Burgers? Soup or Chili? Ranch dressing? Great! Then make delicious vegan versions of them.
This can be especially helpful if you have kids making the transition, as kids often want to eat foods they are familiar with. You can probably think of several foods that are already vegan that you enjoy, such as peanut butter toast, oatmeal, black bean soup and much more.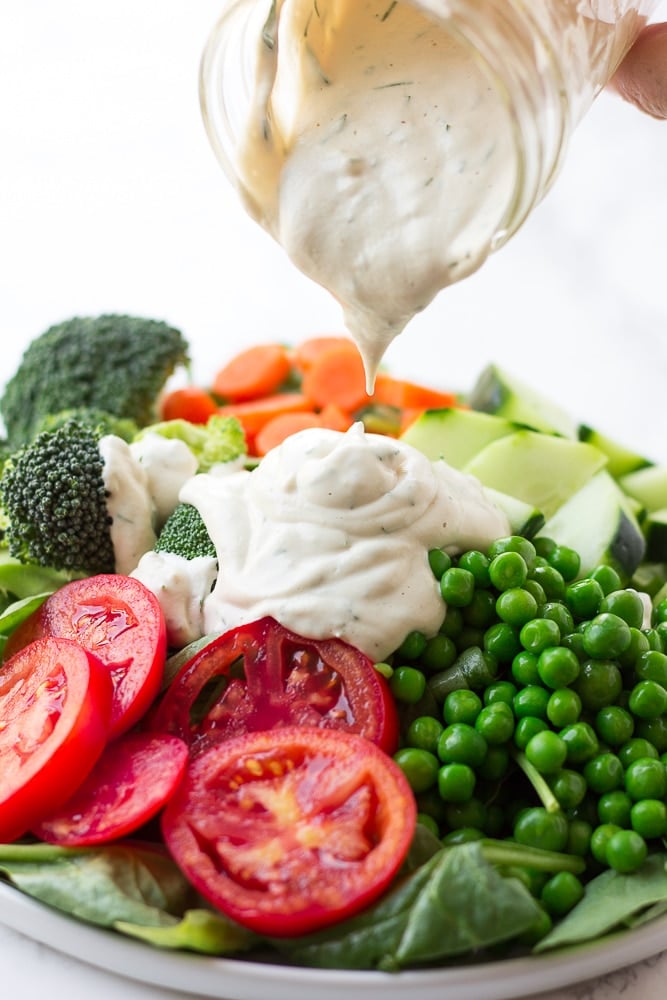 2. Develop a routine.
Routines make everything easier. Every weekend, make a plan for what you want to cook and eat the next week. Make a shopping list, and shop for the whole week. This will save you money, time and so much mental energy!
Make enough food at dinner so you have leftovers for lunch the next day, or dinner the following evening. Don't be afraid to double or even triple recipes if you don't like cooking every day!
Develop a routine of having a big, hearty salad every day for lunch (if that works for you) and prep it ahead of time. Or meal prep for lunches with this Nourish Bowl Vegan Meal Prep.
Figure out what vegan breakfasts and snacks you enjoy, and make sure you have those things on hand. Find what works for you!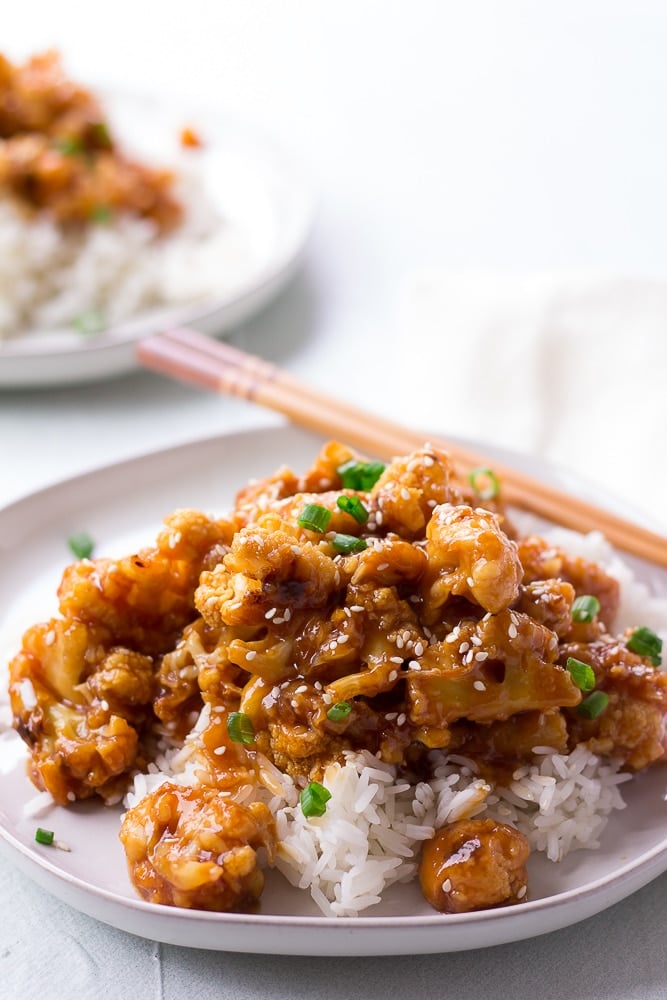 3. Try out some new recipes to find what you like.
Once you have a few familiar recipes you enjoy, branch out and try something new! If you have picky kids, maybe try a new recipe once a week and see how the family likes it. You just might be surprised and find something new to eat that everyone loves! Maybe try Vegan Falafel Wraps, Sticky Sesame Cauliflower or Red Thai Curry Vegetables.
SEE my Recipe Index for a lot more ideas!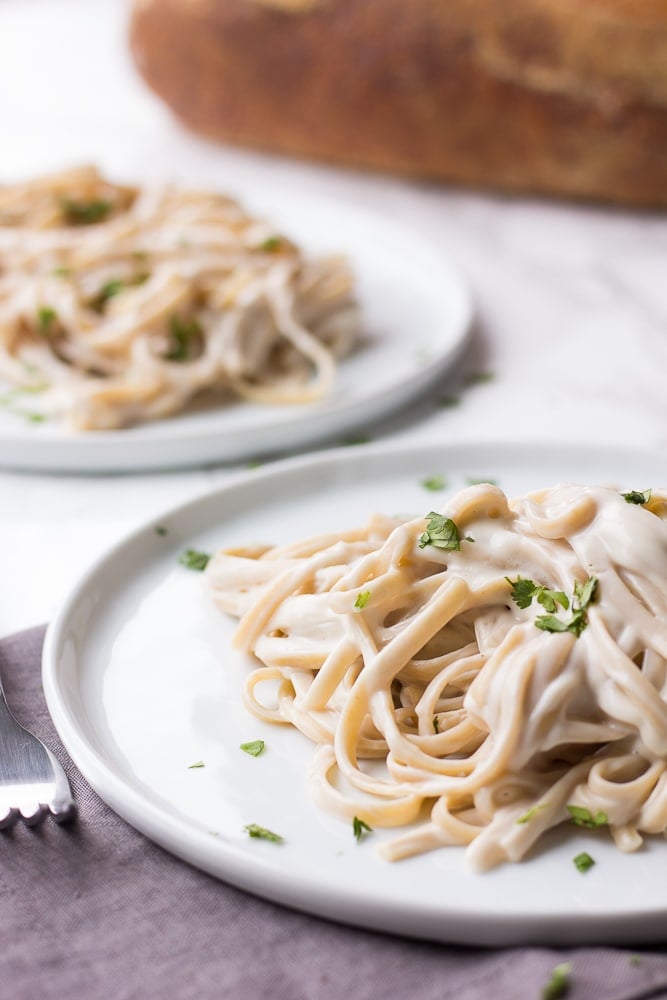 4. Consider new appliances to make the transition easier and more enjoyable.
You don't need anything special to eat vegan, but there are some tools that make it easier and a whole lot more enjoyable!
By far the #1 kitchen appliance I recommend is a high powered blender, such as a Vitamix. It is pricey, but SO worth it! They last for years and years, and you will use this thing every day. It's essential for making smooth, creamy sauces, cheeses and soups like these: Vegan Alfredo Sauce, Stretchy Mozzarella, Broccoli Cheese Soup and Vegan Nacho Cheese. Not to mention if you are a fan of green smoothies, you will need a good blender. I even make oat flour and breadcrumbs in it.
Other helpful appliances and tools:
This post contains affiliate links.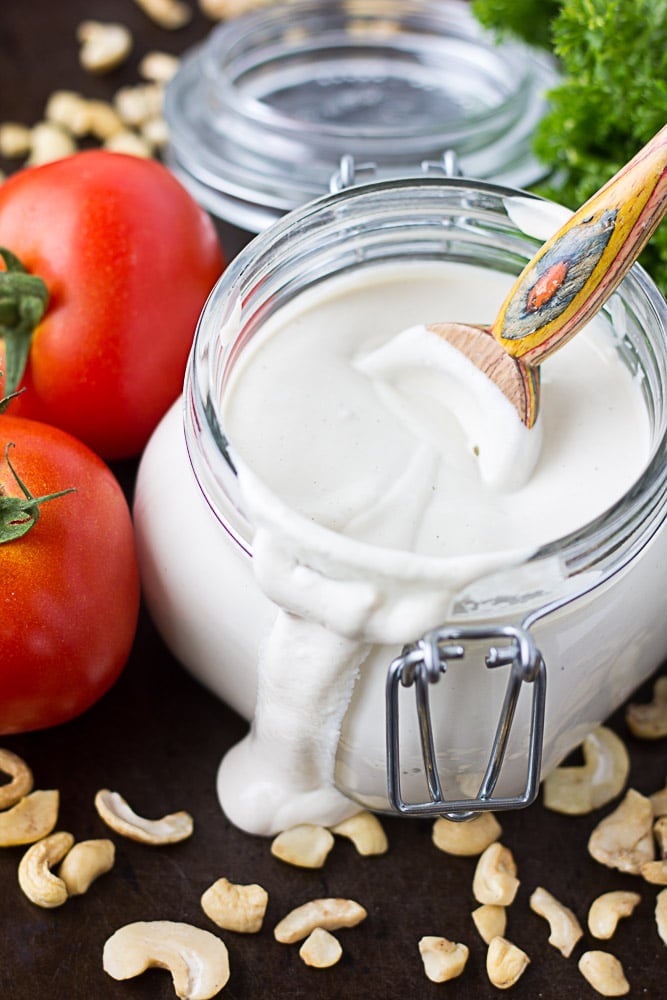 5. Discover vegan products to replace non-vegan staples.
There are so many quality vegan products on the market these days to choose from! You don't even have to shop at Whole Foods to find them like you used to. You can find vegan creamer, milks, cheeses, vegan "meats", and vegan ice creams at many everyday grocery stores. You can try different products and decide which ones you like. My kids and I like the Daiya brand cheese slices and shreds (for pizza). Gardein has a lot of vegan "meats" like "chicken" nuggets and more that my kids especially enjoy.
If you don't want to eat store-bought processed vegan foods, I also have a lot of recipes to replace non-vegan staples: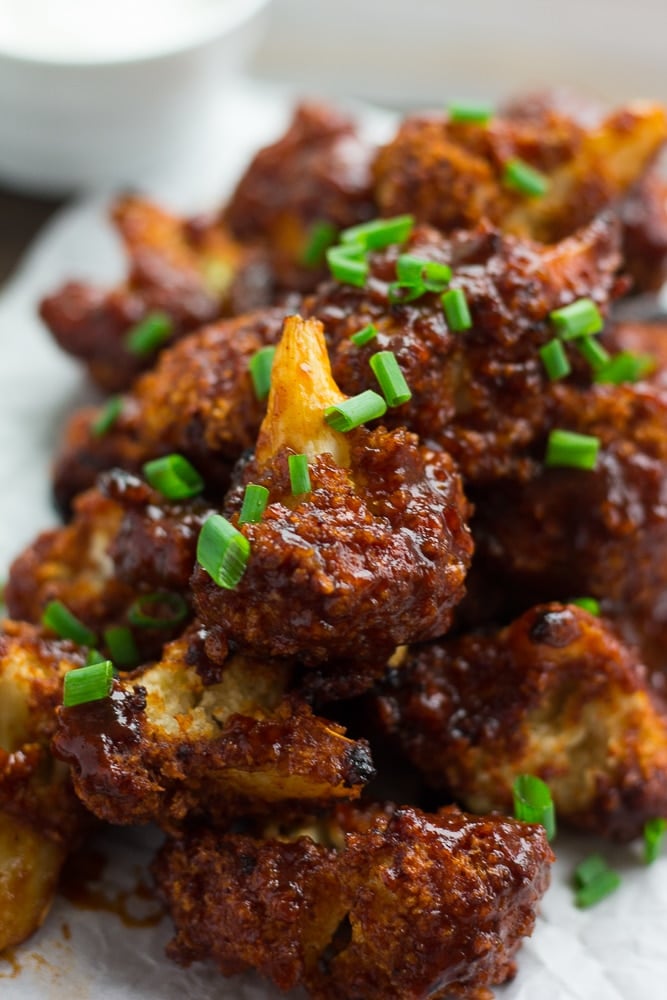 6. Find the best grocery stores to buy vegan food without breaking the bank.
You don't have to shop at Whole Foods to eat vegan! I love all the beautiful produce there, and the specialty vegan products, but I can't afford to shop there on a regular basis. Not with a family of 5!
I save a lot of money by shopping at Trader Joe's and Winco (my local discount store with lots of bulk bins!) You can shop nearly anywhere and eat vegan. Target has recently started selling a lot more vegan foods, as well as Wal Mart. Shop around and find the best prices in your area. If your options are very limited where you live, try Amazon. Plant a garden!
7. Discover restaurants/fast food places where you can easily eat vegan.
You would be surprised how many places serve vegan dishes. Look at the menu online before you go, ask for substitutions and be creative if needed! Our go-to is always Chipotle for fast food, but you can even eat at Taco Bell in a pinch. You can get a veggie delight sandwich at Subway, always a baked potato at Wendy's, and Red Robin has a delicious veggie burger now! Check out Happy Cow to find vegan food in your area.
I really prefer the food I make at home, but it's nice to have options when you just don't want to cook or you're traveling. See this article on Vegan Fast Food and Chain-Restaurant Options for more details on where you can eat vegan and how to do it.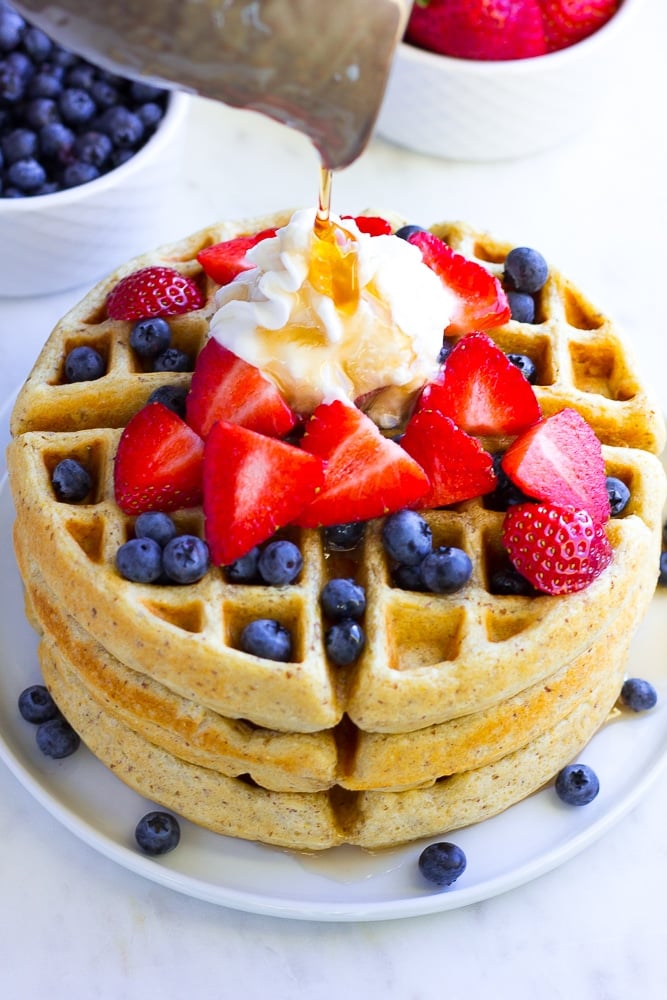 8. Find a vegan breakfast that you love, and you can eat over and over again. 
I ate oatmeal every morning for YEARS, and loved it. I used to make apple pie oatmeal, by adding fresh diced apples, cinnamon, pure maple syrup and walnuts. Or plain oatmeal with fresh blueberries, walnuts and dates on top. Maybe that sounds good to you, or maybe you prefer a savory breakfast.
My husband usually eats sprouted bread toast with hummus, avocado, greens, sprouts, tomatoes and whatever else we have on hand. For a special breakfast, try my Vegan Biscuits and Gravy or Best Ever Vegan Waffles.
I love avocado toast these days with sliced thin cucumbers and sometimes tomatoes or sprouts. Find something you love, so you can start your day right! Maybe for you it's a big green smoothie, tofu scramble, or even soup or leftovers. Whatever it is, find what you like and what works for you, and keep those things on hand.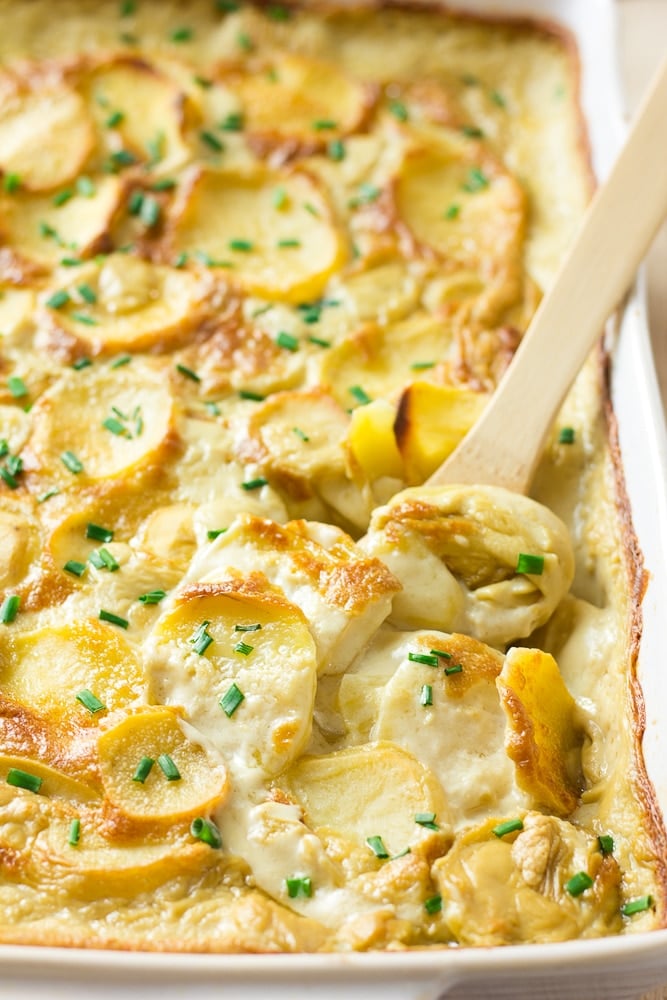 9. Don't try to live on vegetables alone. Eating vegan is satisfying, filling and enjoyable.
Some people have this idea about vegans, that the only thing they eat is vegetables. Nothing could be further from the truth! Now, I absolutely love vegetables and salads, but I can't live on them. Even when I have a large salad, I top it with about a cup of beans, sometimes 1/2 an avocado and often a nut based dressing. It's filling and satisfying to the max!
Eat your vegetables, but also make sure you are eating potatoes, brown rice, pasta, bread, nuts, nut butters, seeds, fruit, beans, oatmeal, tofu, tempeh, etc.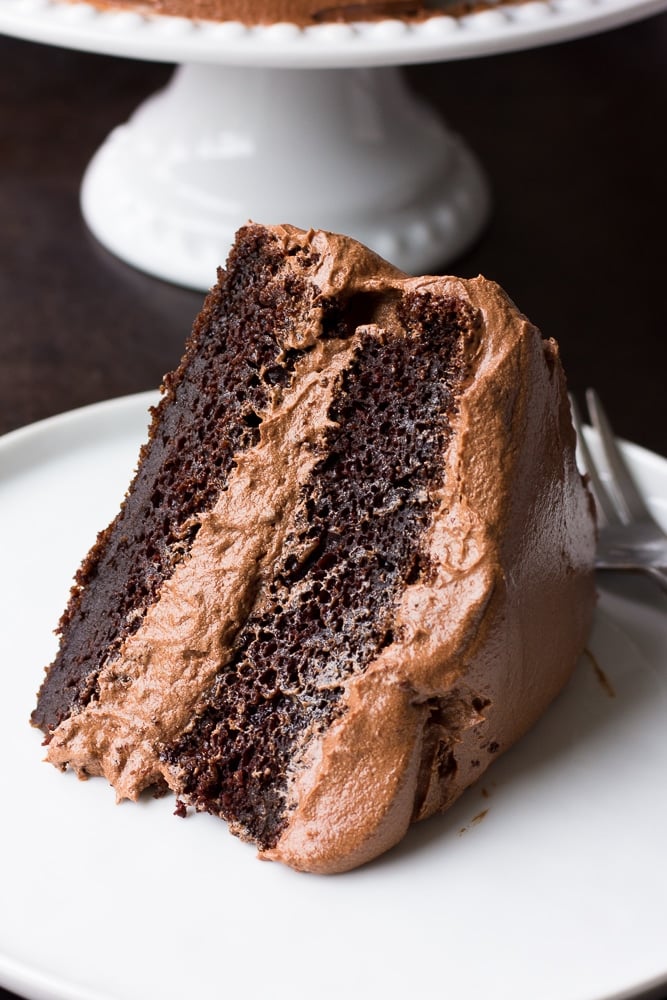 10. Try some fun vegan dessert recipes.
I have a major sweet tooth and so does my family, so I am always baking something. If you are afraid you'll have to eat animal products to have delicious desserts, don't worry, you absolutely don't! Whether it's a batch of cookies, or a cake for a special occasion, I've got you covered. No one would ever guess any of these desserts are vegan!
Here my my most popular dessert recipes:
You can find all of my dessert recipes here.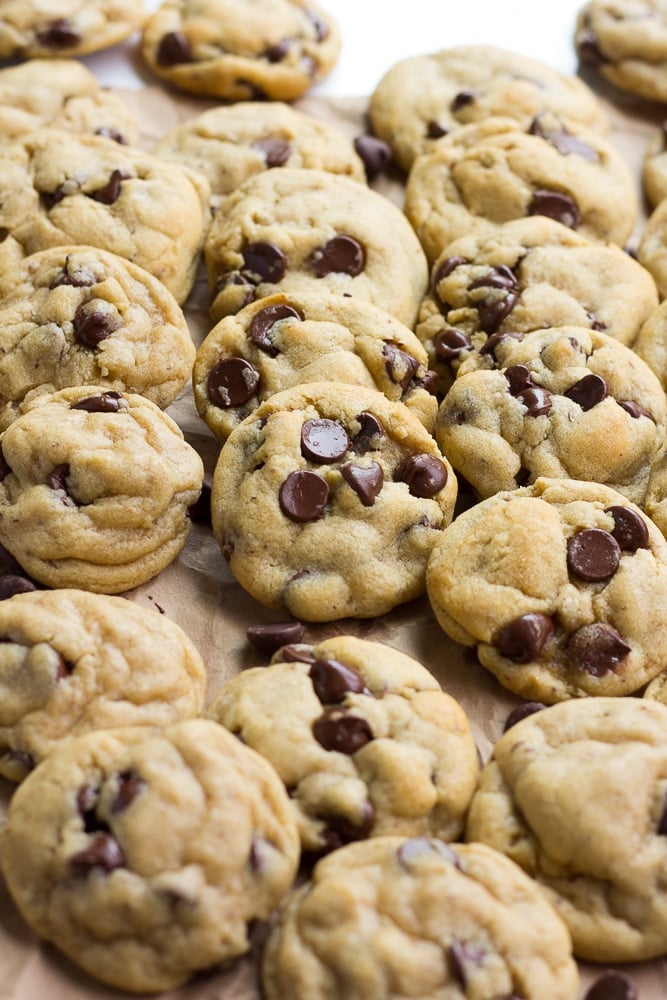 Thanks for reading! I hope you found something in this article to help you on your vegan journey.