After my last post (Emergency Vegan Food Supply), where I shared vegan food items to stock up on in case of an emergency, I decided to go through all the recipes I have and see if any fit the bill for using these ingredients. I found so many that do in fact use pantry staples! It was helpful for me to get them all in one place, and I hope you find it helpful too.
What are pantry staples?
Pantry staples are simply foods/ingredients that you use often, usually stored in a pantry or cupboard. Think beans, rice, flour, oats, canned tomatoes, spices, peanut butter, etc. It's a great idea to keep some extra around for times when budgets are tight and you can whip up a quick meal.
*To be clear, I'm not suggesting you stock up on food for months, especially right now when people are panicking and stores are running out of food. Think about having two weeks of food on hand, and in the future, grab a few extra cans here and there, until you have built up a nice sized food pantry. You don't have to buy everything all at once.*
For this particular round up of pantry staples recipes, I've included the use of foods that can be frozen as well, such as frozen vegetables, fruits, and even optional frozen vegan "meat" (only a few times, and it's optional). Of course, if the power is out and you truly need to cook from non-perishable foods, you may have to sub canned vegetables and do the best you can. Many of the recipes don't need anything from the freezer/refrigerator anyhow.
This post contains affiliate links. Read my full disclosure here.
There are quite a few recipes that call for tofu. And while I typically buy the refrigerated tofu packed in water, you can actually buy shelf stable extra firm tofu (I bought a case of 12 from Amazon) so it becomes a pantry item. Tofu packed in water can also be frozen. If you don't have tofu, I give the option of subbing chickpeas or sometimes frozen cauliflower.
Don't be afraid to leave out an item if you don't have it, or use garlic powder instead of fresh garlic. I have included 30 main dishes, 10 breakfasts as well as 10 easy desserts, because we all need something sweet in our lives, right? 🙂
To go to the recipe, you can click on either the photo OR the title below each photo.
Main Dish Recipes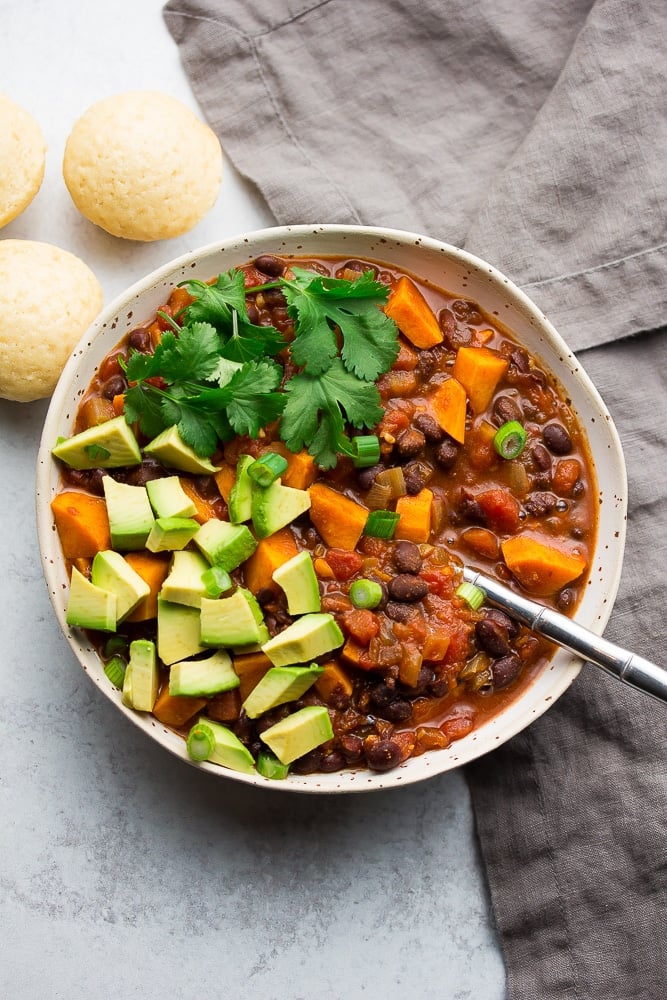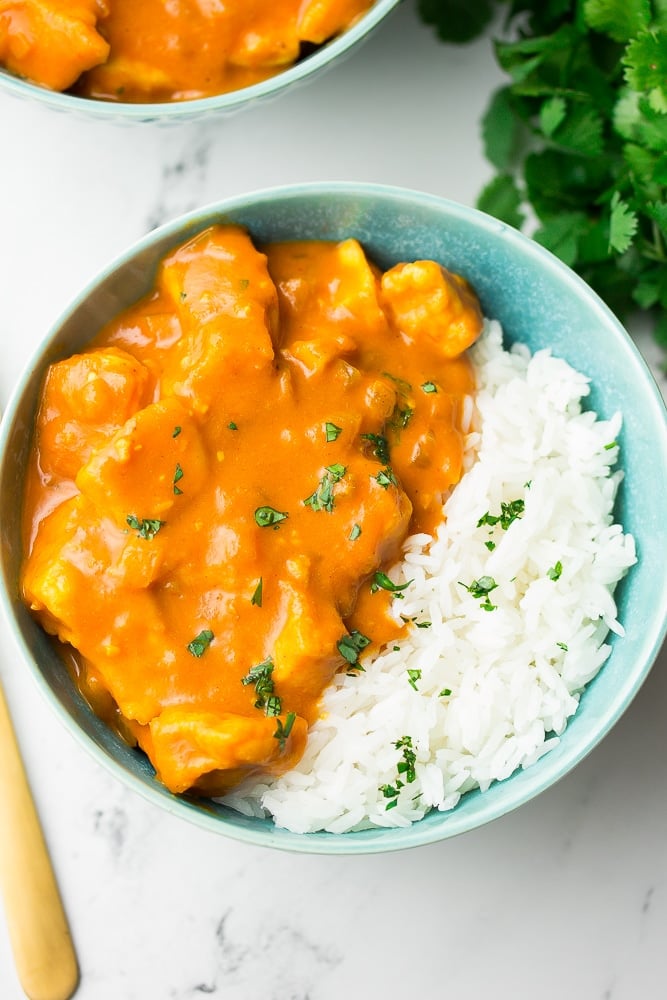 Vegan Tikka Masala – may sub chickpeas for tofu, also use pinch of powdered ginger instead of fresh.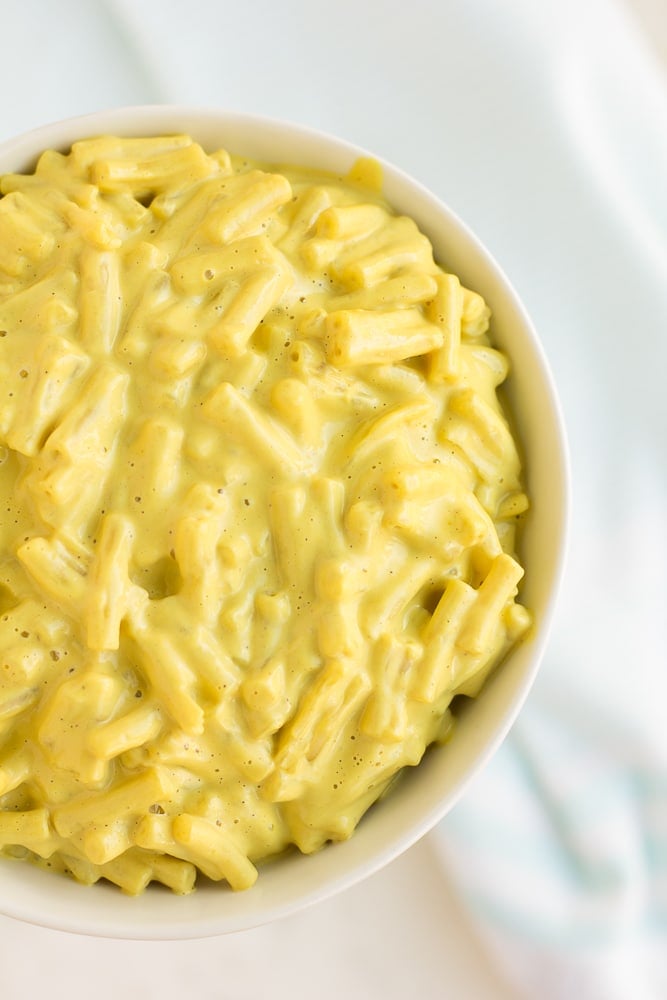 The Best Vegan Mac and Cheese – serve with frozen cooked green peas or broccoli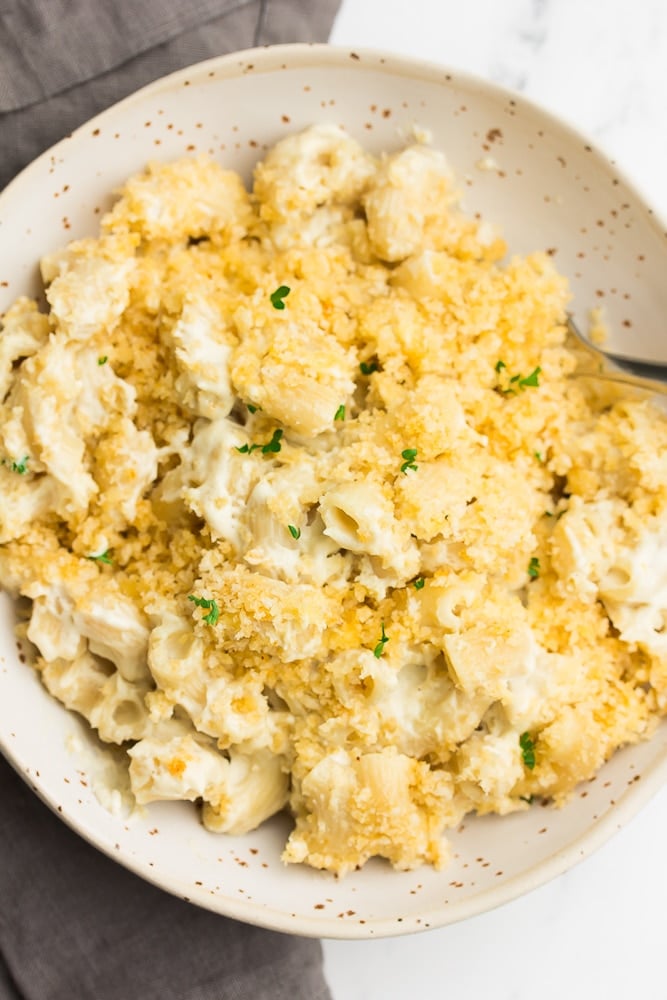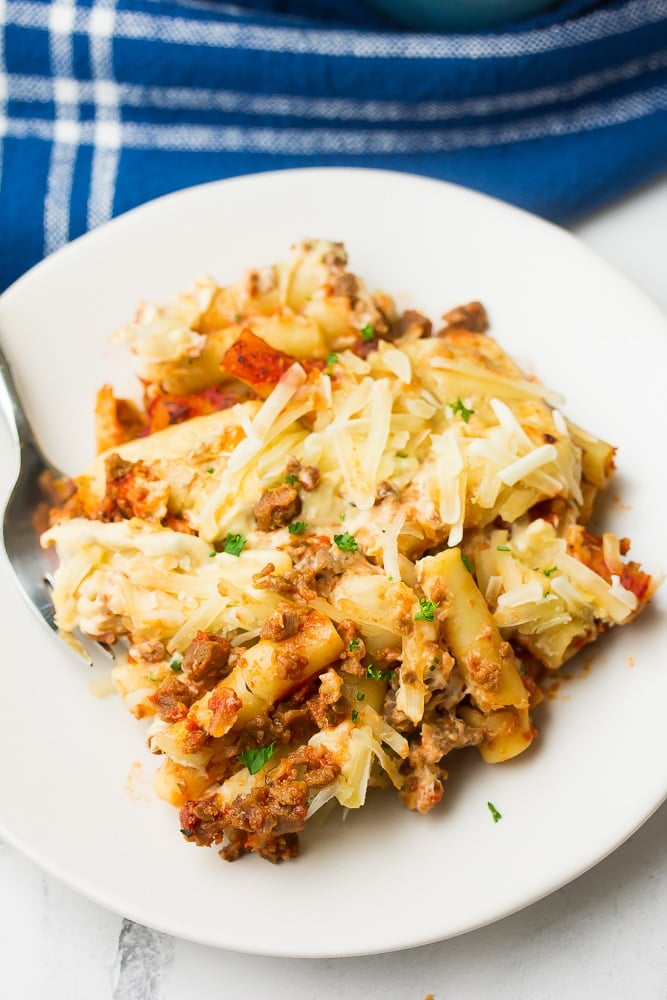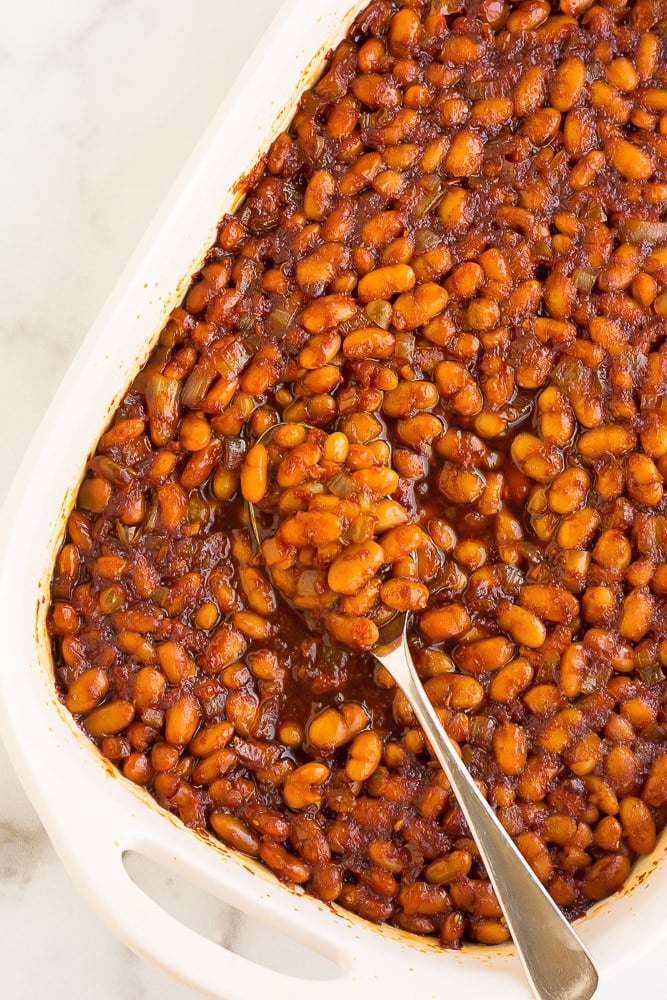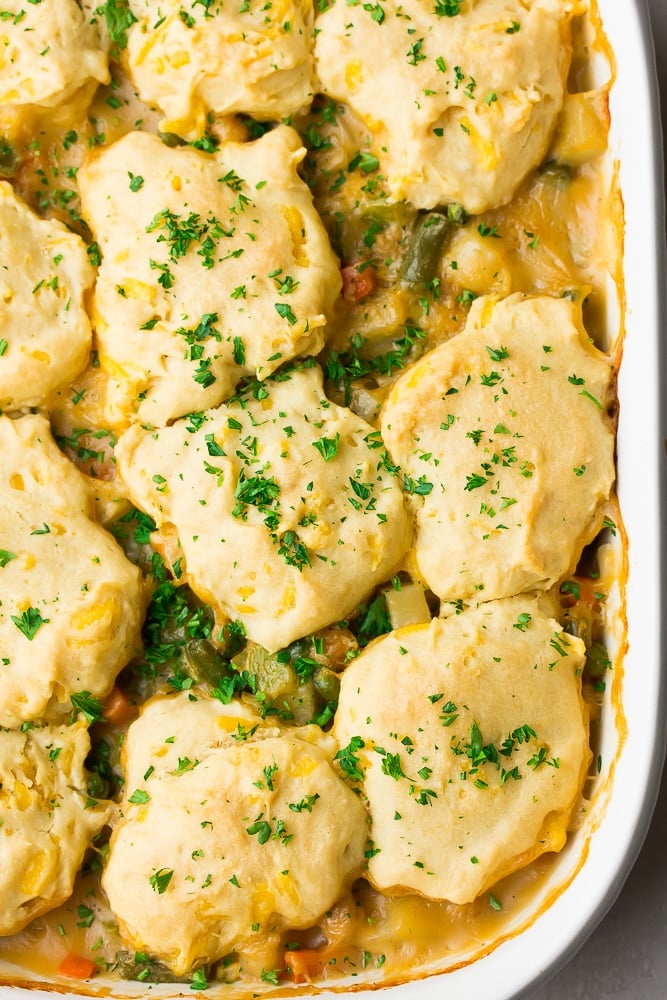 Biscuit Topped Chickpea Pot Pie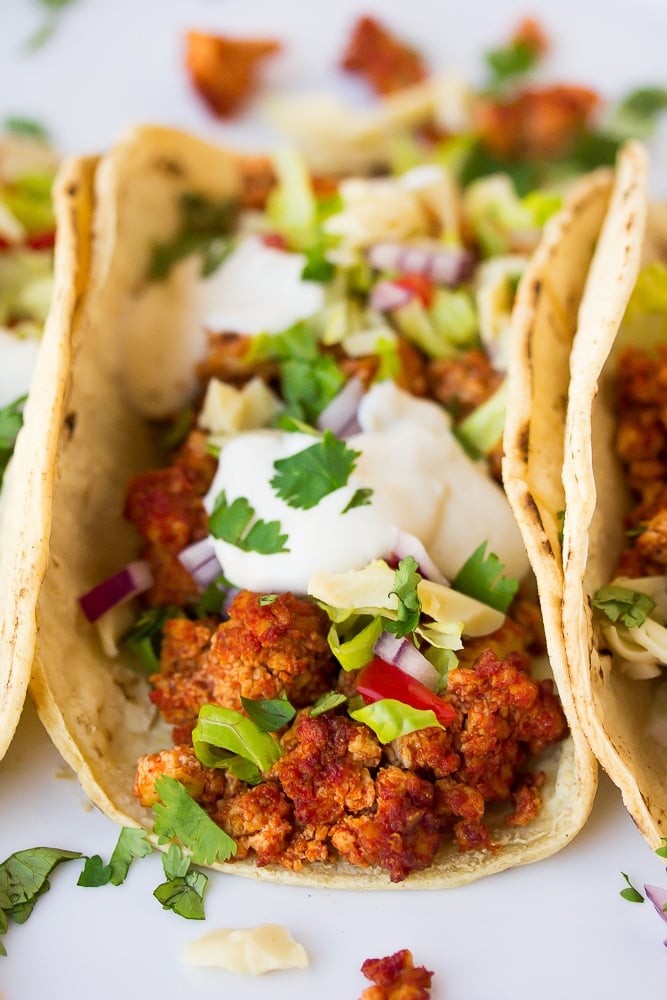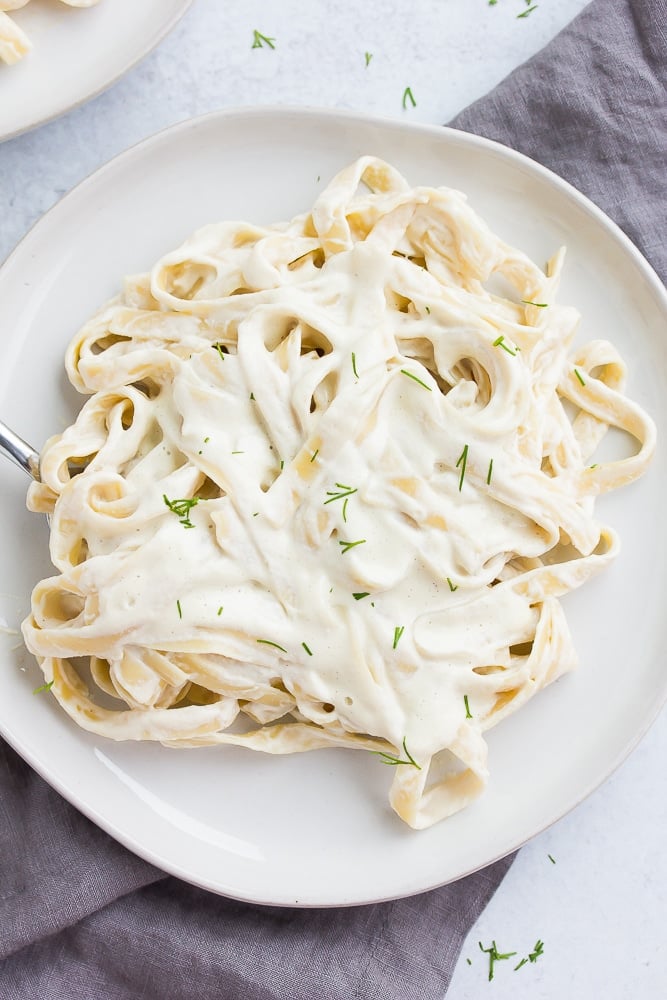 Vegan Alfredo – Add vegan chickenless nuggets, optional or steamed frozen broccoli/peas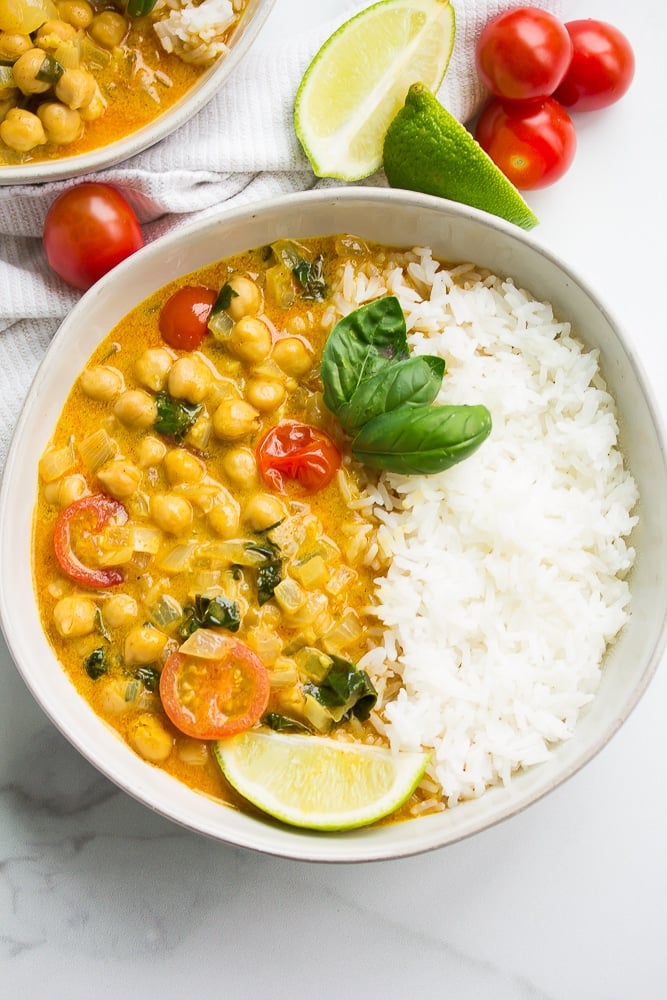 20 Minute Chickpea Curry – If you don't have curry paste, you can substitute curry powder. It's also fine to leave out the tomatoes and basil.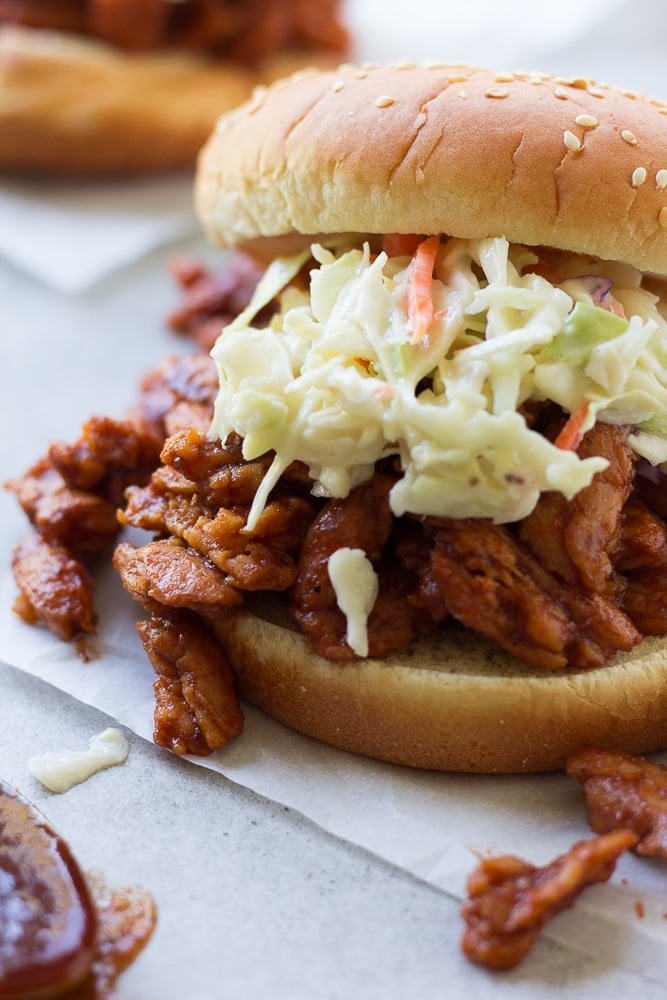 Best Vegan BBQ Sandwich with Soy Curls – leave out coleslaw if you don't have it, can always add a steamed frozen veggie as a side.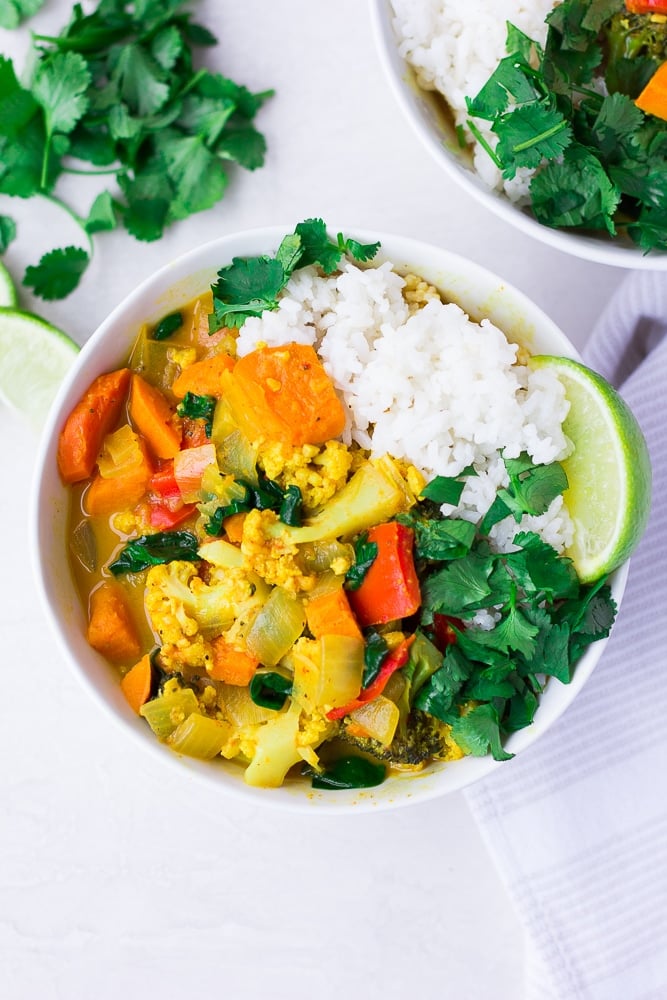 Easy Vegan Curry – substitute frozen vegetables for fresh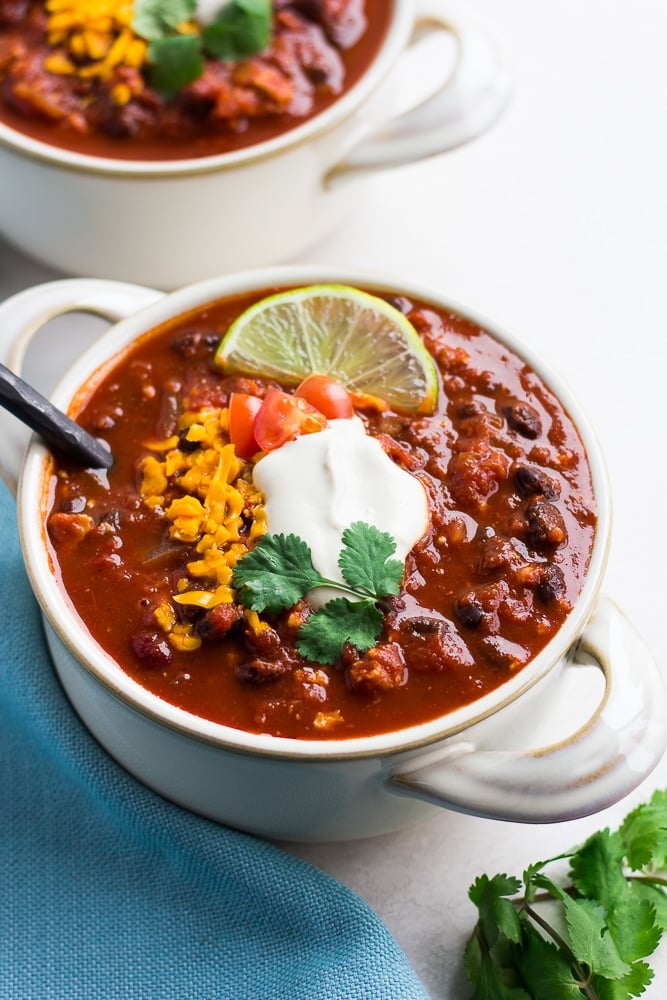 Ultimate Vegan Chili – May substitute vegan ground "meat" for the tofu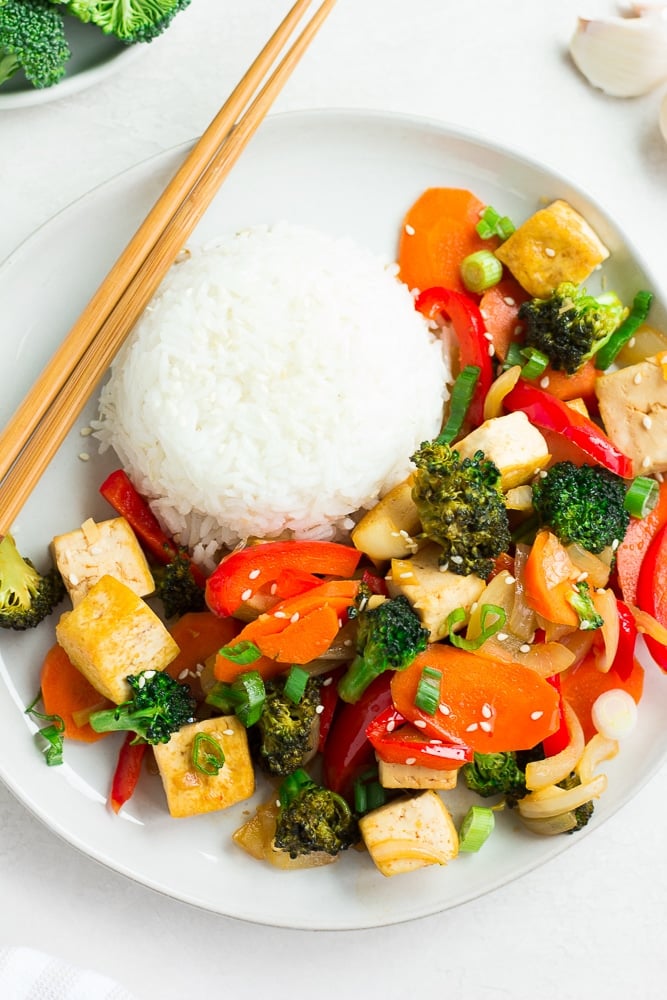 Everyday Tofu Stir Fry – May substitute frozen vegetables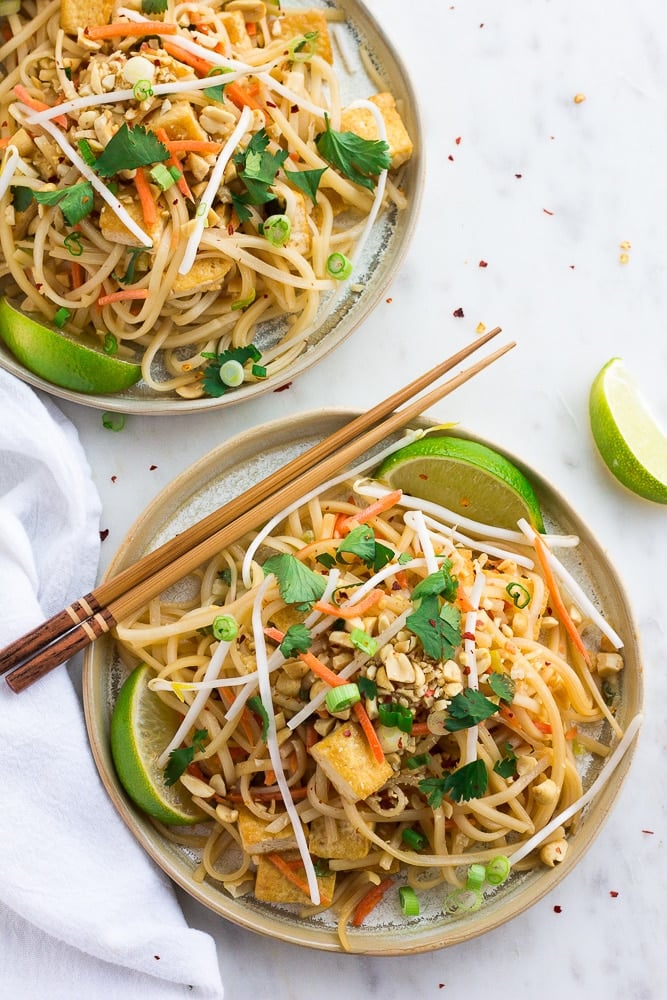 30 Minute Vegan Pad Thai – leave out fresh ingredients as needed, or add some frozen veggies like broccoli, carrots or peas.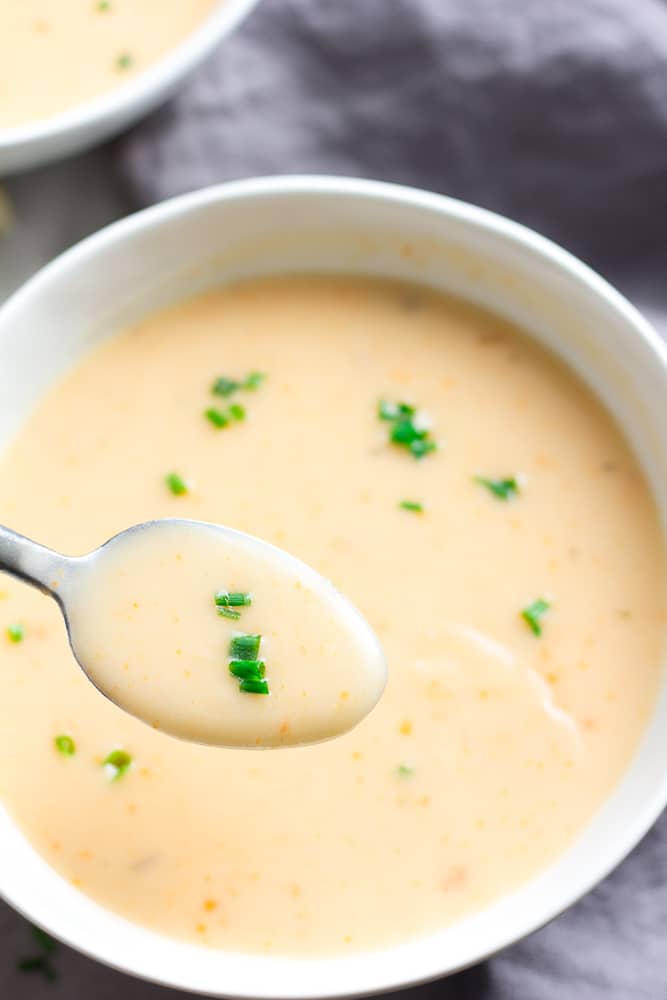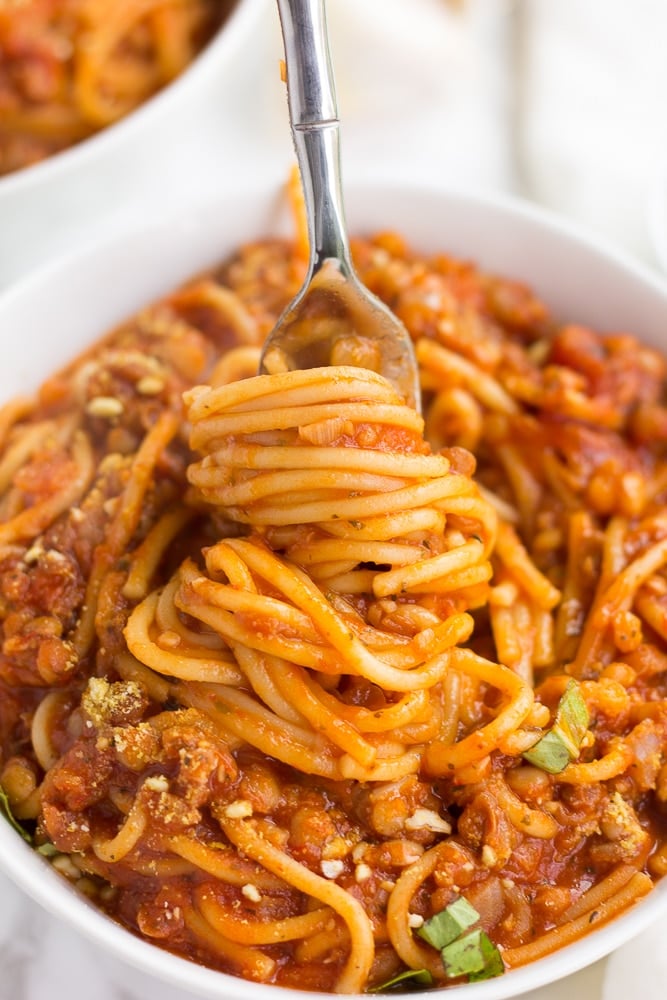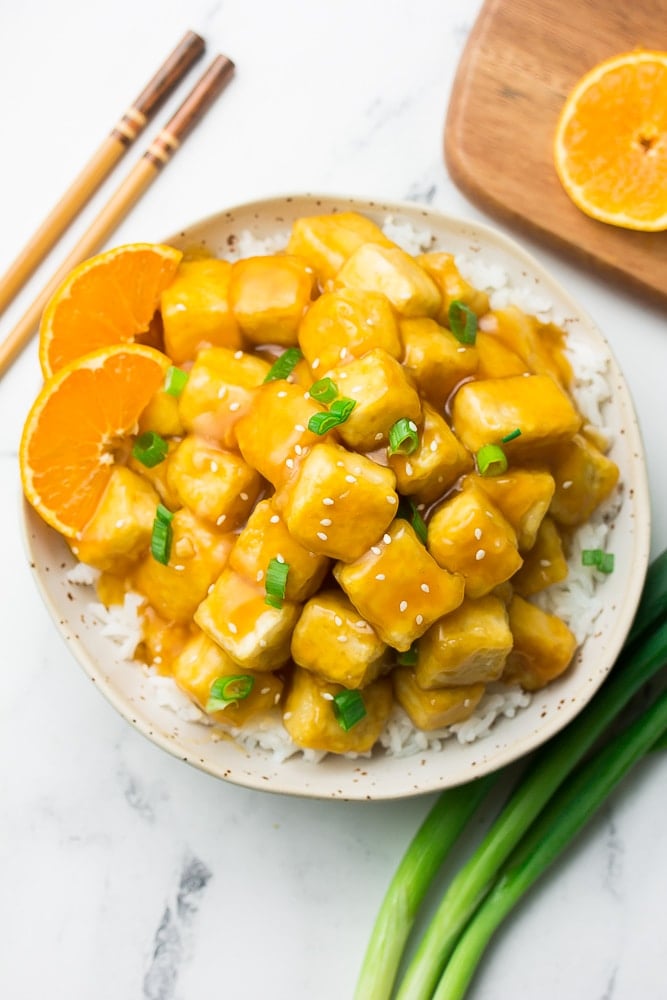 Crispy Baked Orange Tofu – may also substitute chickpeas or cauliflower for the tofu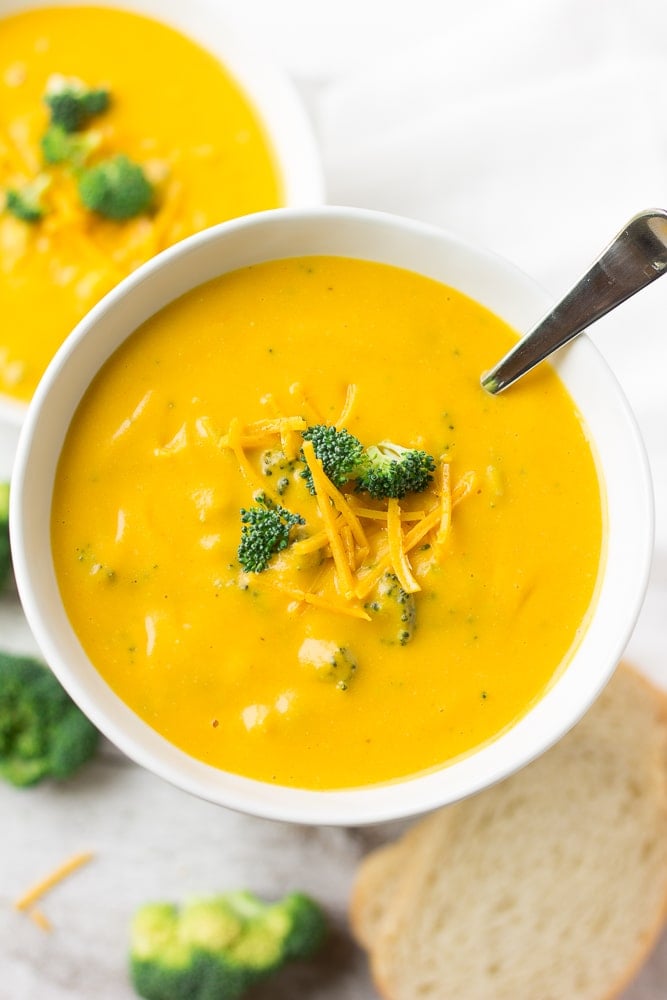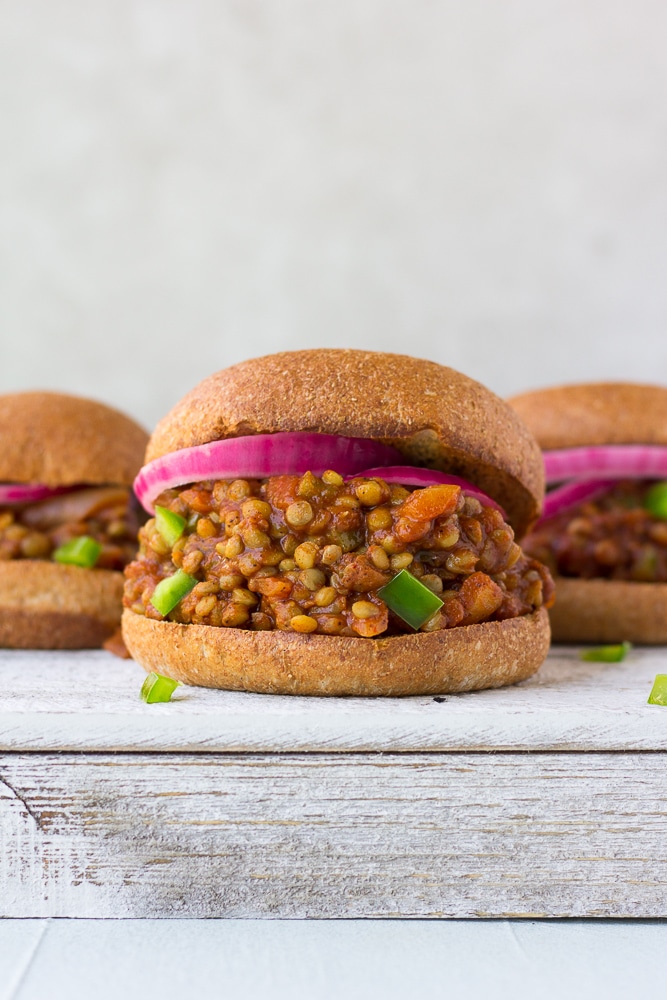 Vegan Sloppy Joes – may leave out green pepper if you don't have it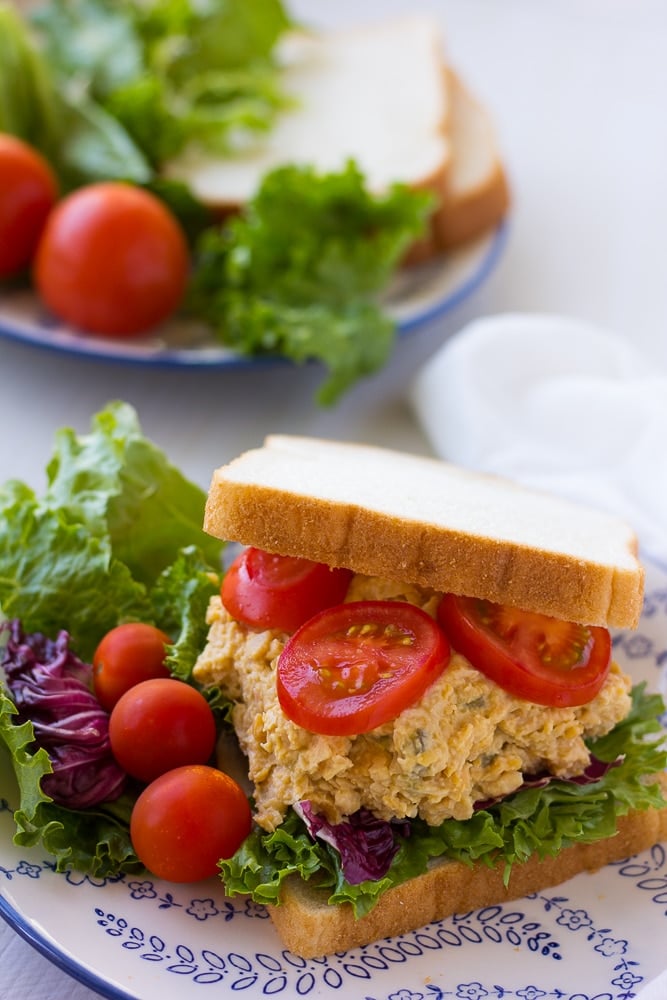 The Best and Easiest Chickpea Tuna Salad Sandwiches – leave out celery if needed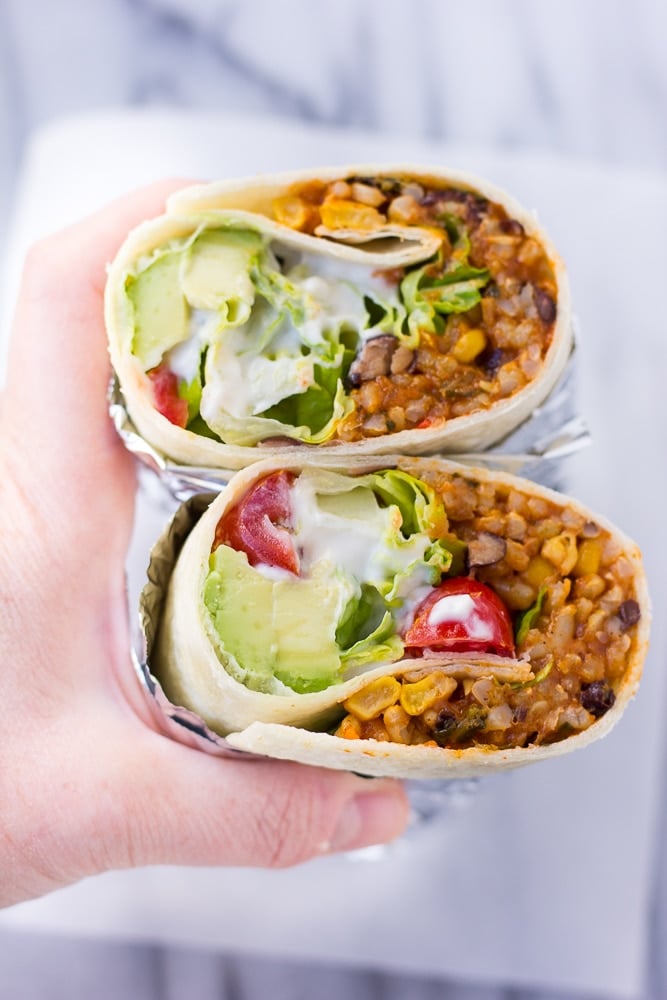 Vegan Burritos – leave out red pepper and kale if you don't have it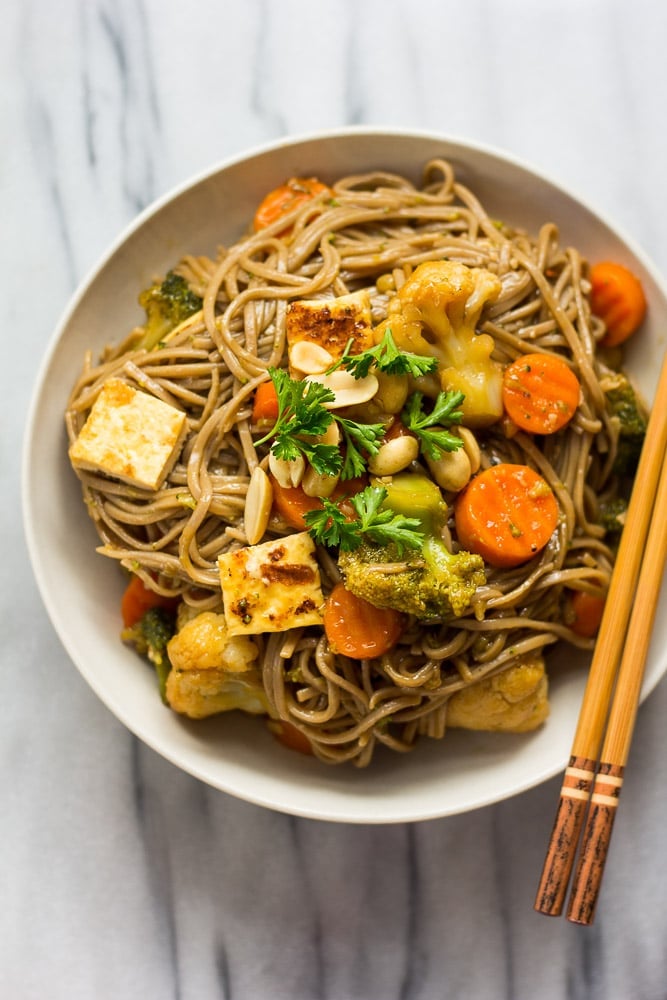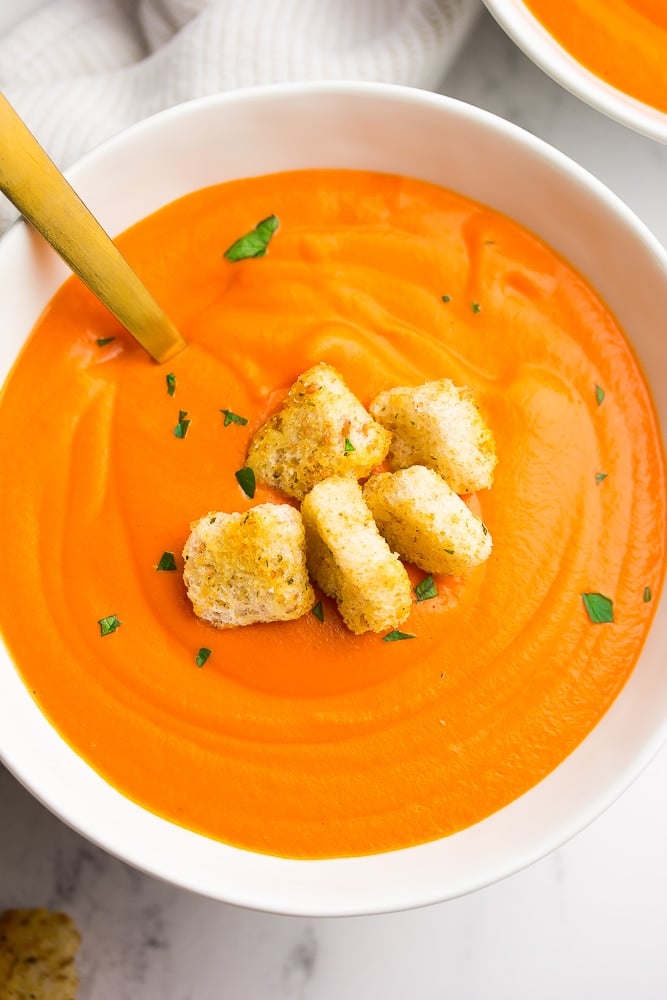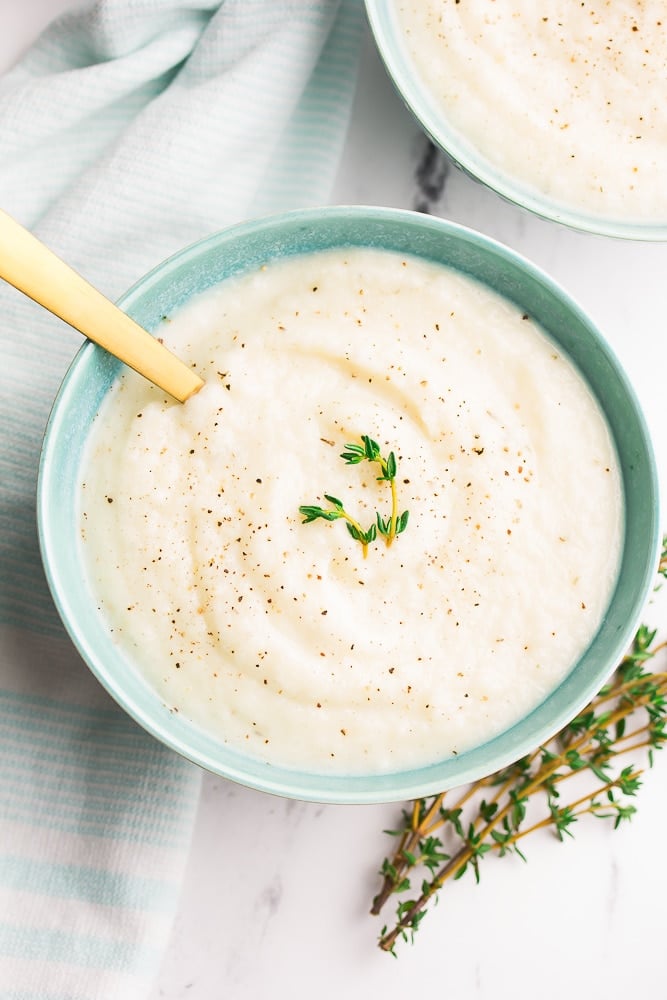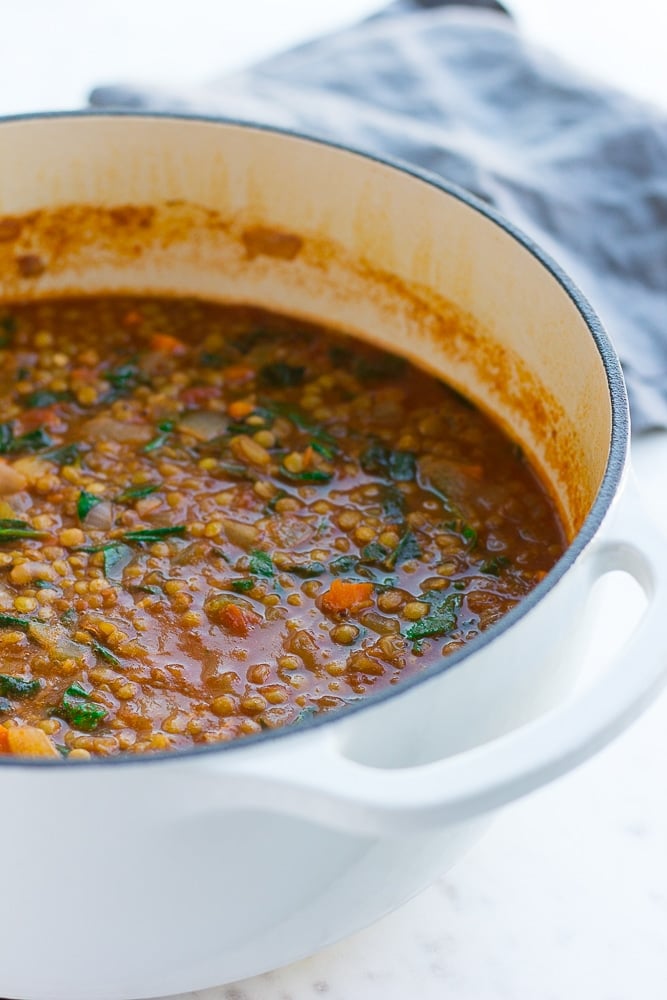 Everyday Vegan Lentil Soup – could leave out carrots and celery, use frozen spinach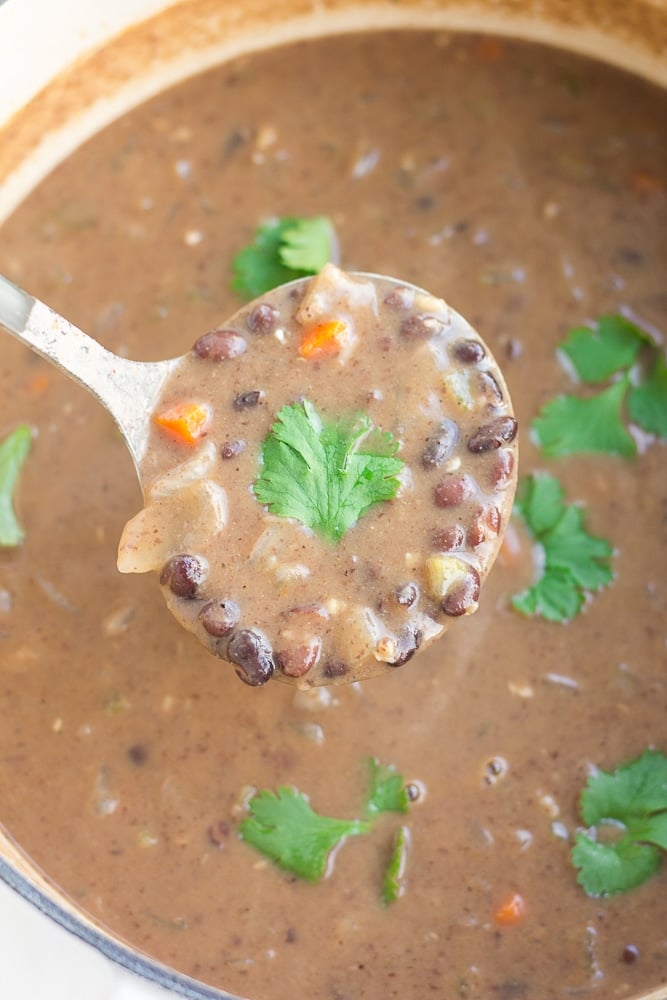 Black Bean Soup – leave out carrots and celery if needed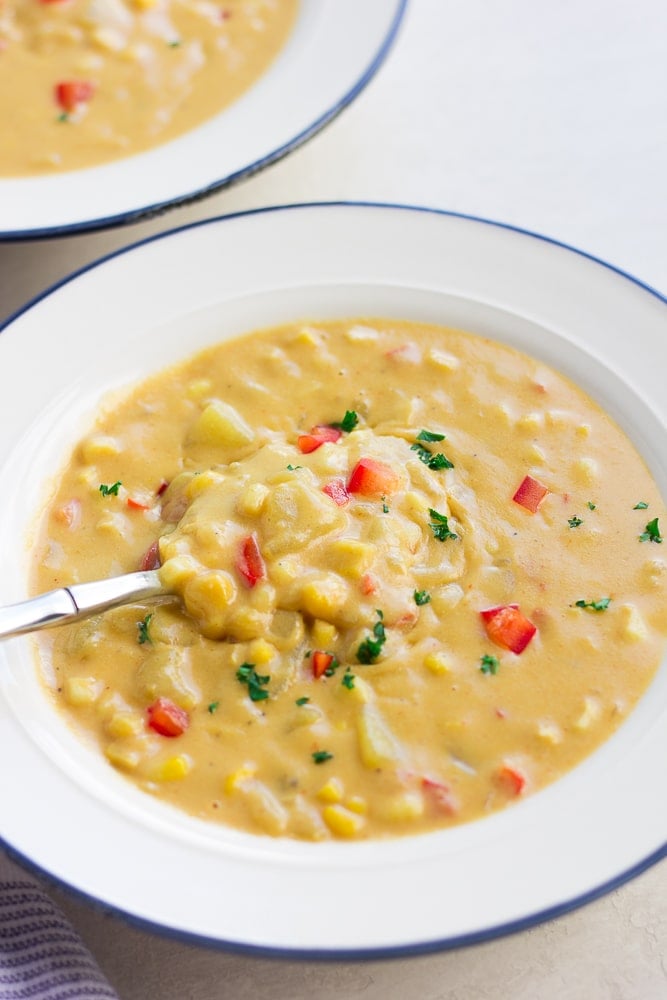 Vegan Corn Chowder – may leave out red pepper, use canned or frozen corn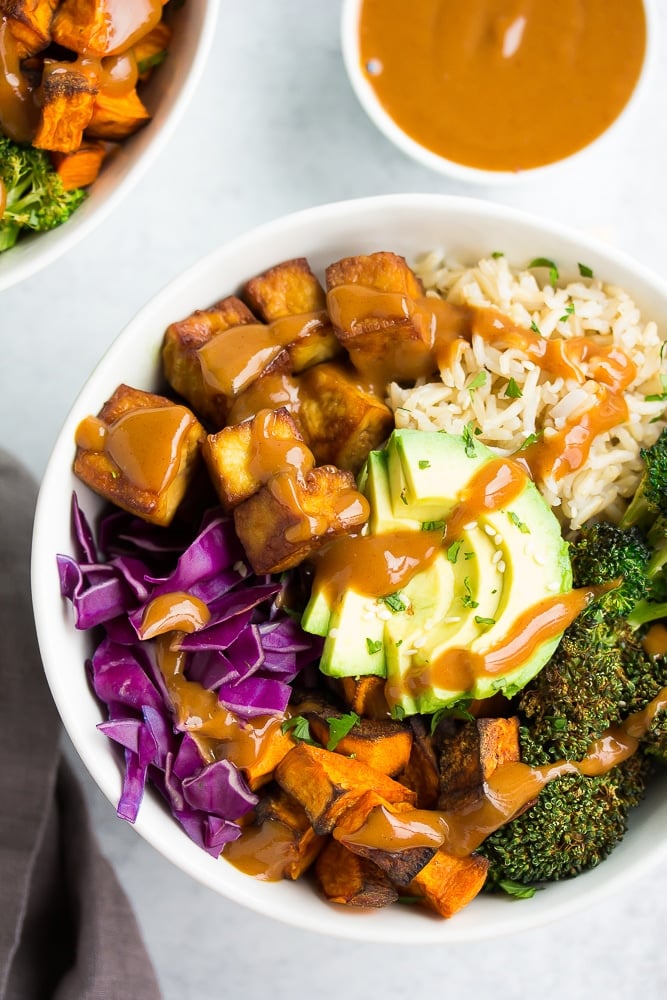 Vegan Buddha Bowl – a great way to use whatever you have! Substitute beans, leave out tofu, use frozen vegetables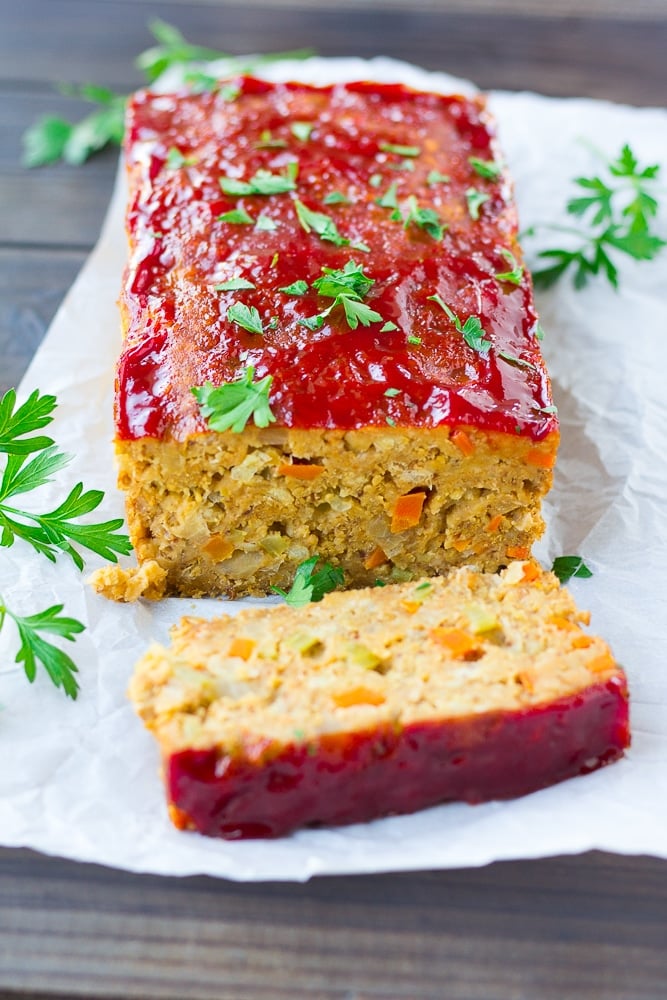 The Best Vegan Meatloaf – may leave out carrots and celery if needed
Breakfast Recipes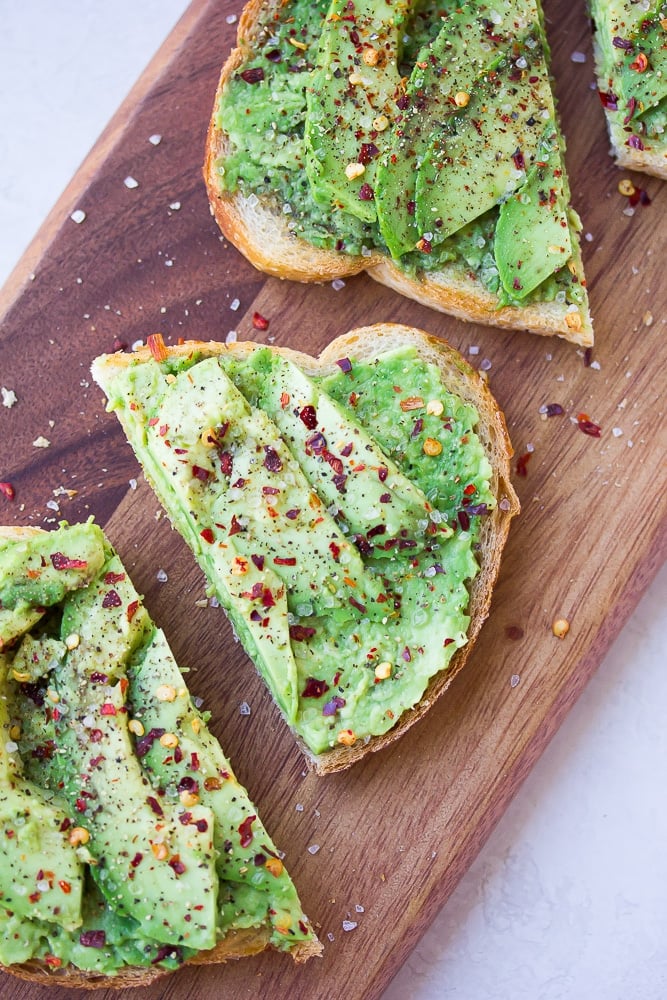 Simple Avocado Toast – I have bread frozen, and if you buy avocados still green they will last a quite a while. Store them in the refrigerator to slow down the ripening process.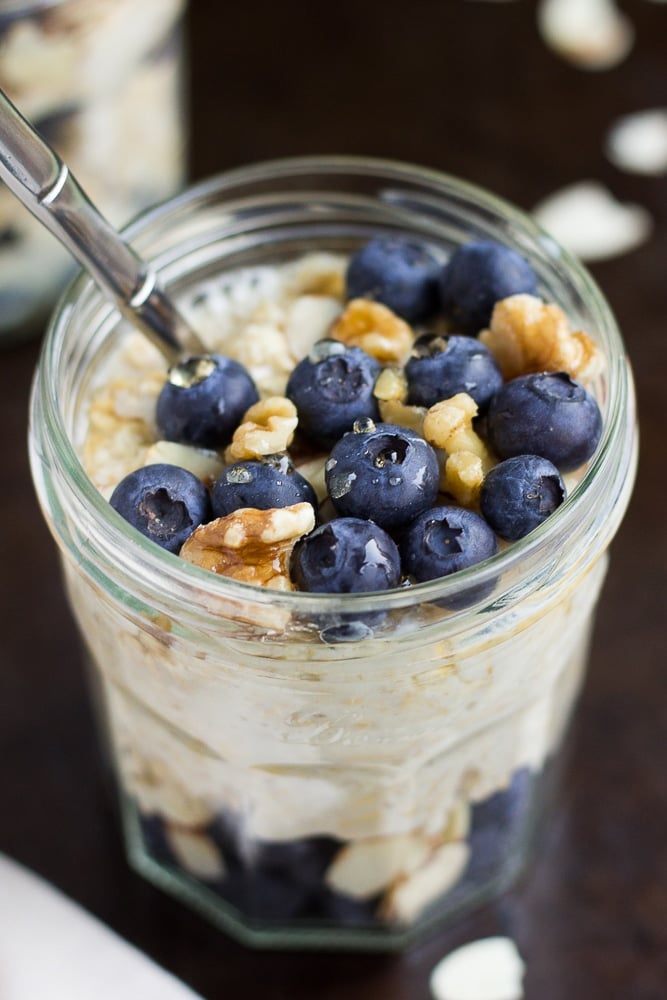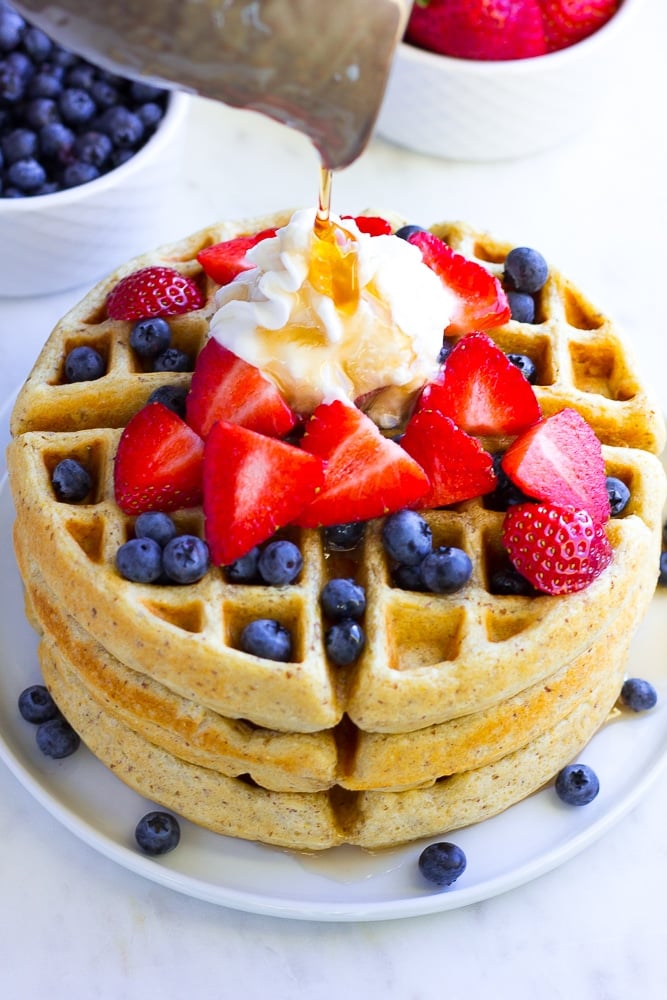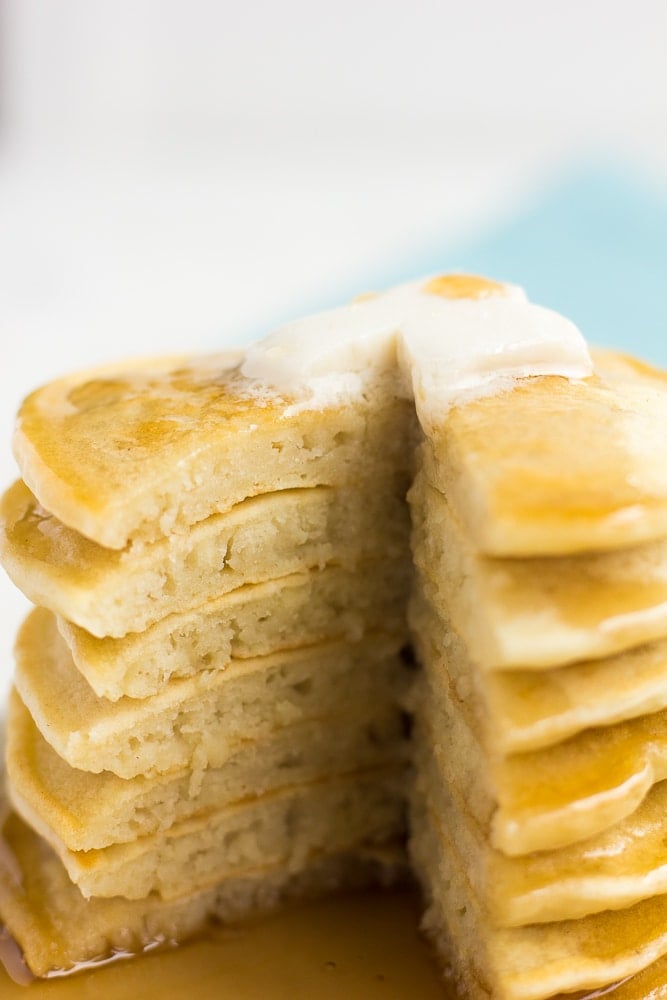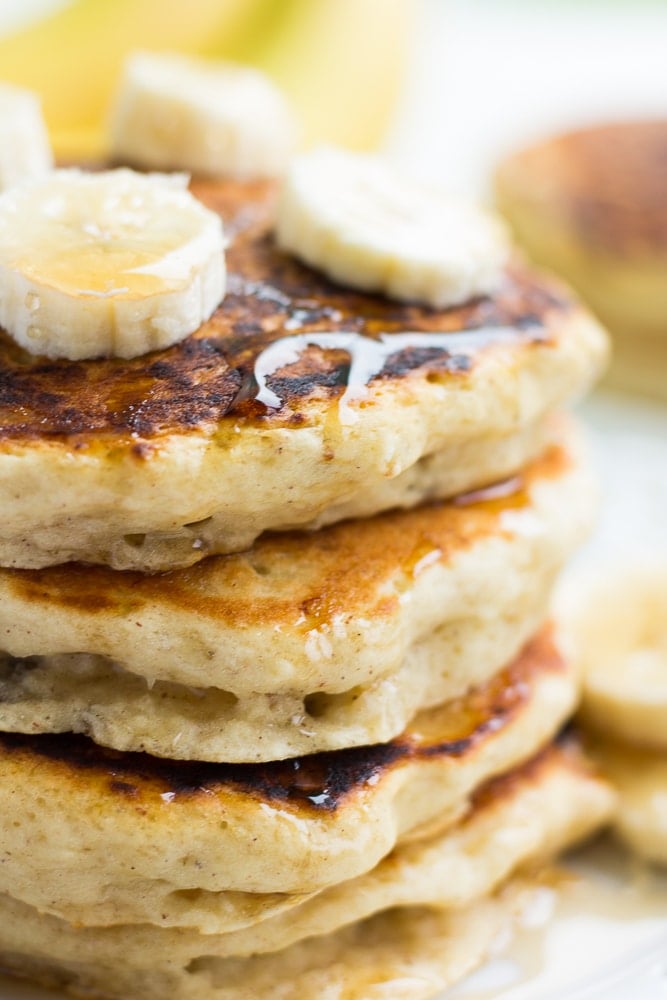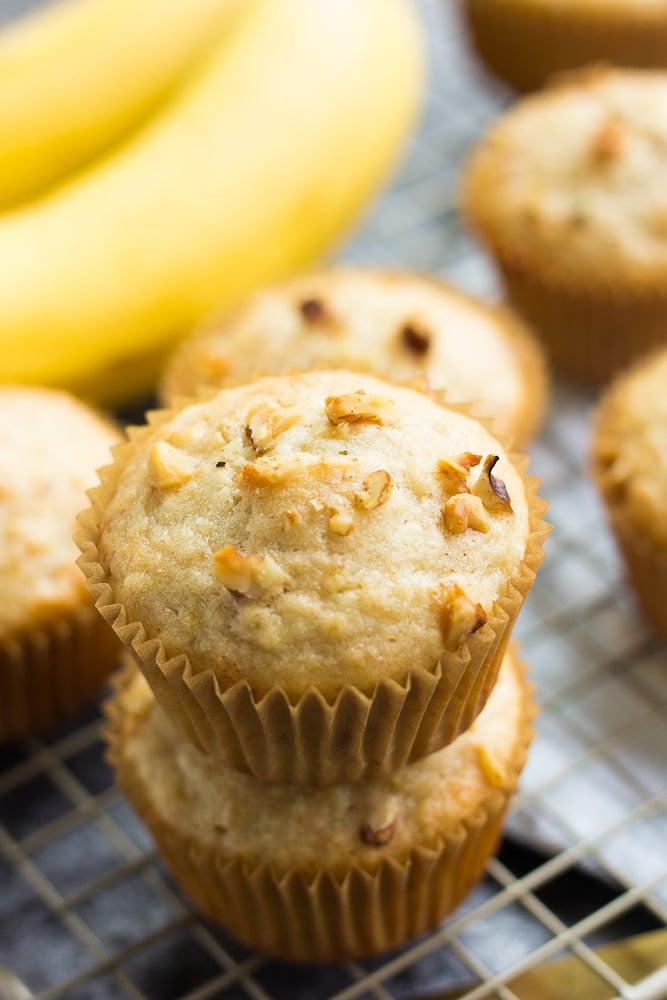 Quick & Easy Vegan Banana Muffins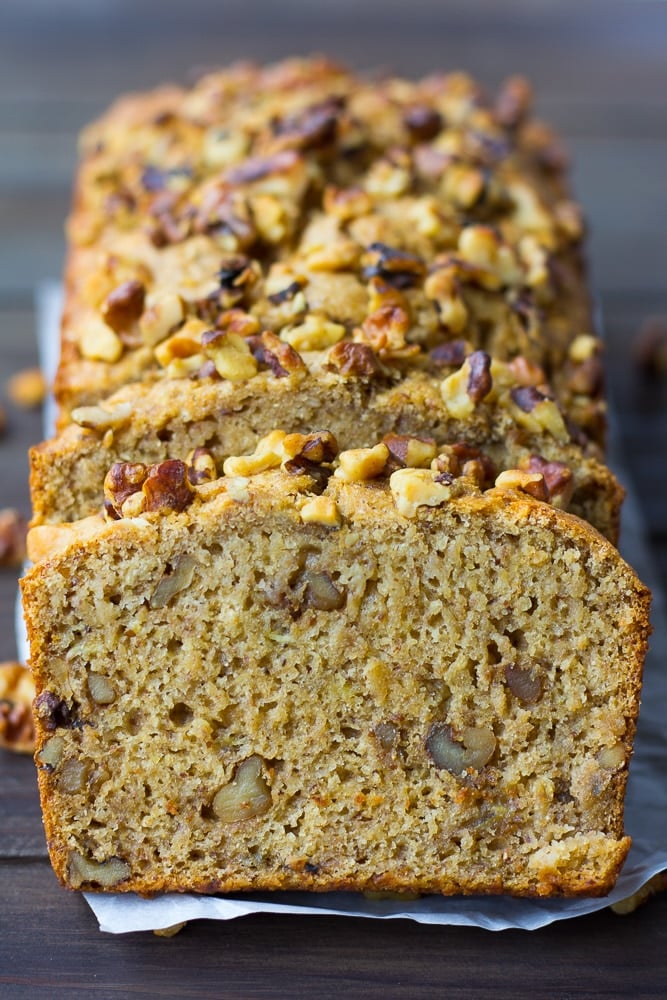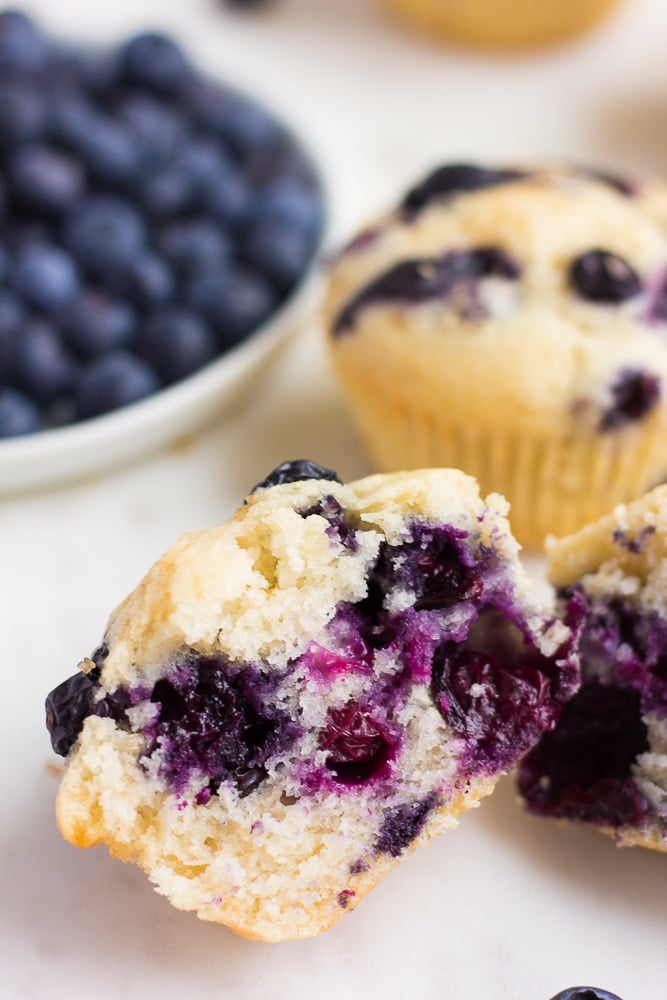 1 Bowl Vegan Blueberry Muffins – Use frozen blueberries, or even non-dairy chocolate chips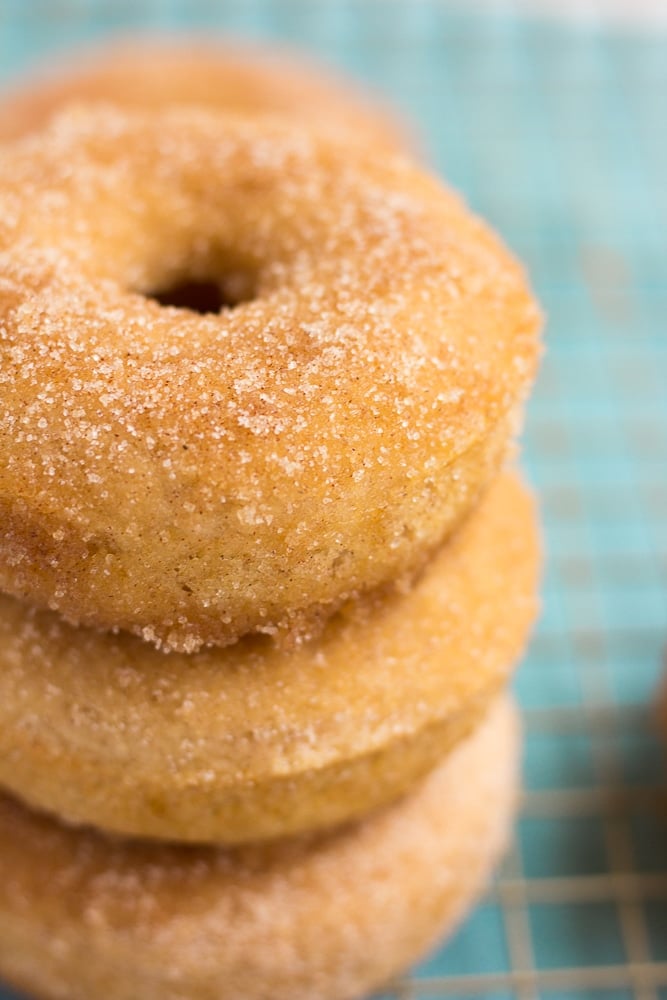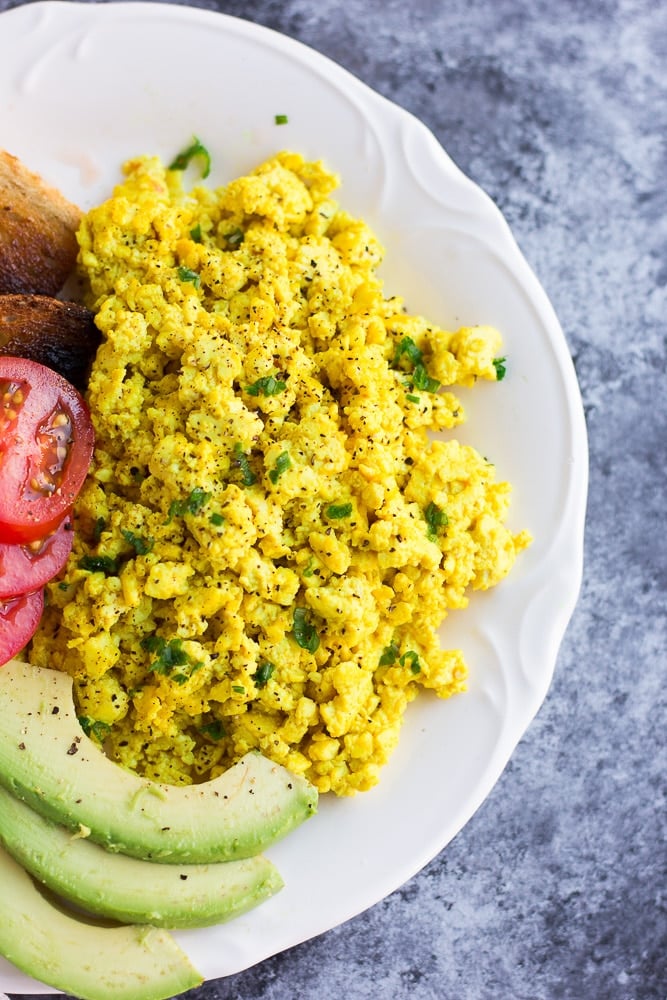 Simple Dessert Recipes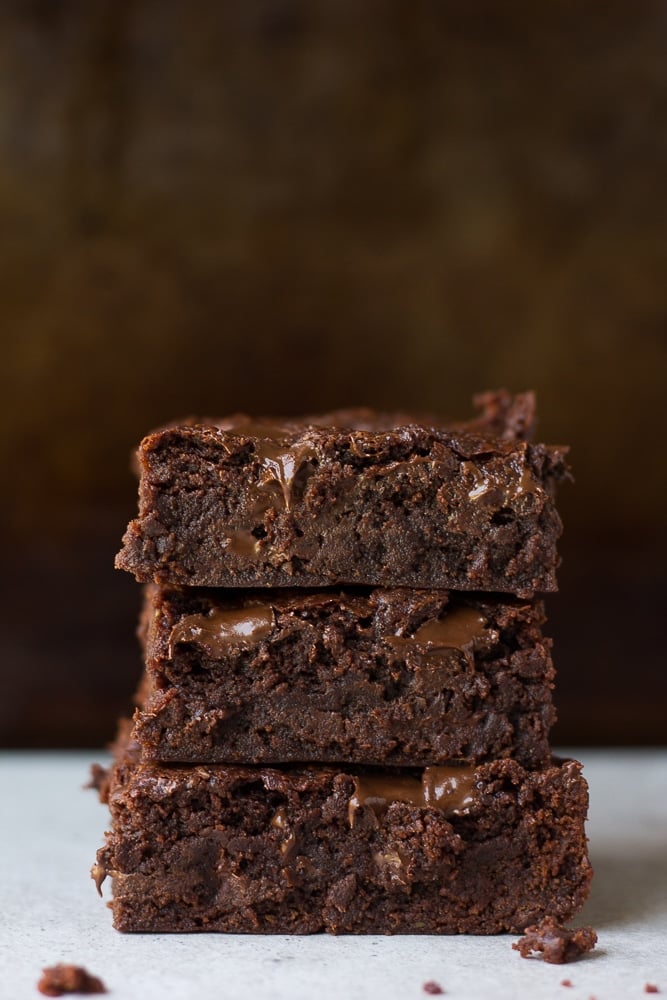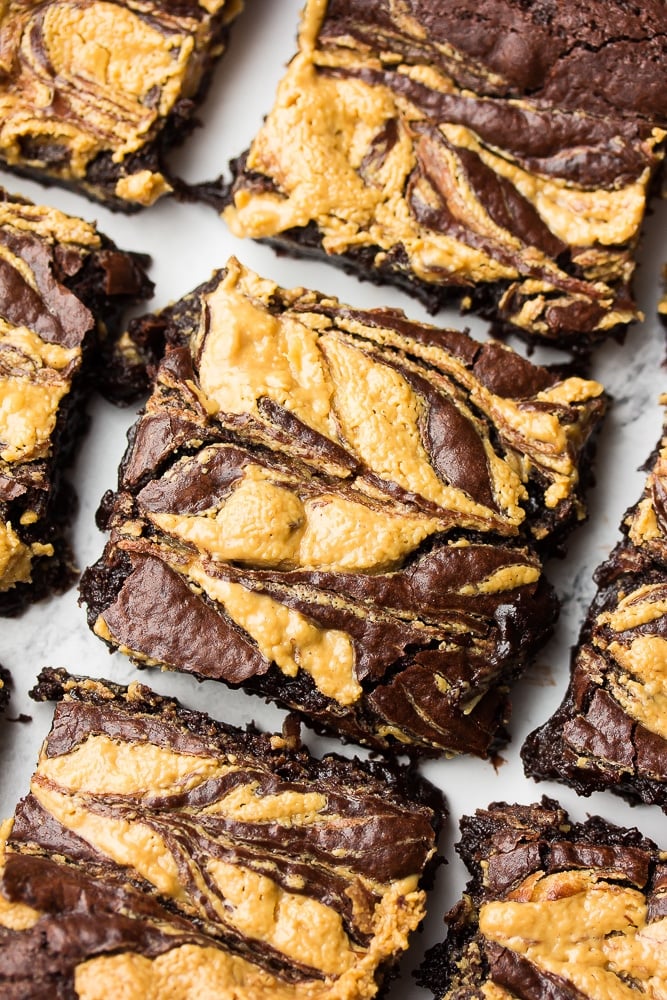 Vegan Peanut Butter Swirl Brownies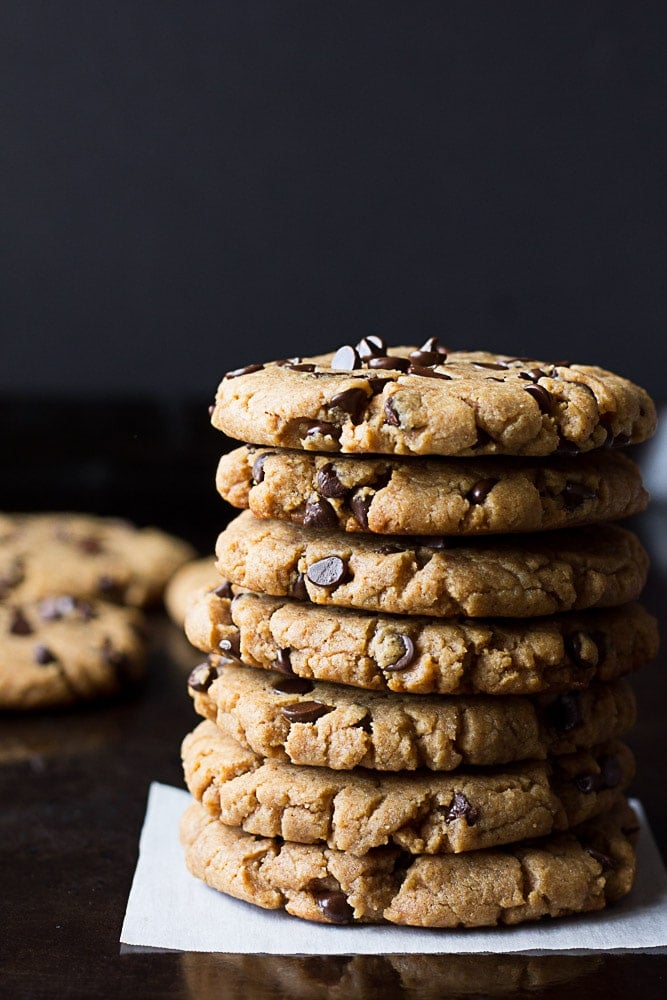 Peanut Butter Chocolate Chip Cookies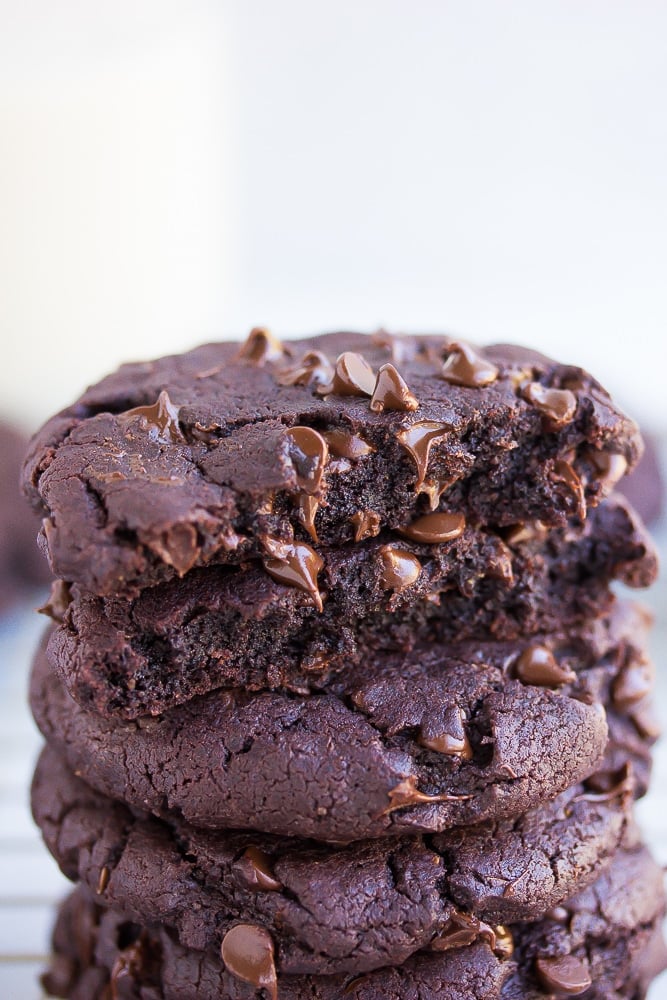 Ultimate Vegan Chocolate Cookies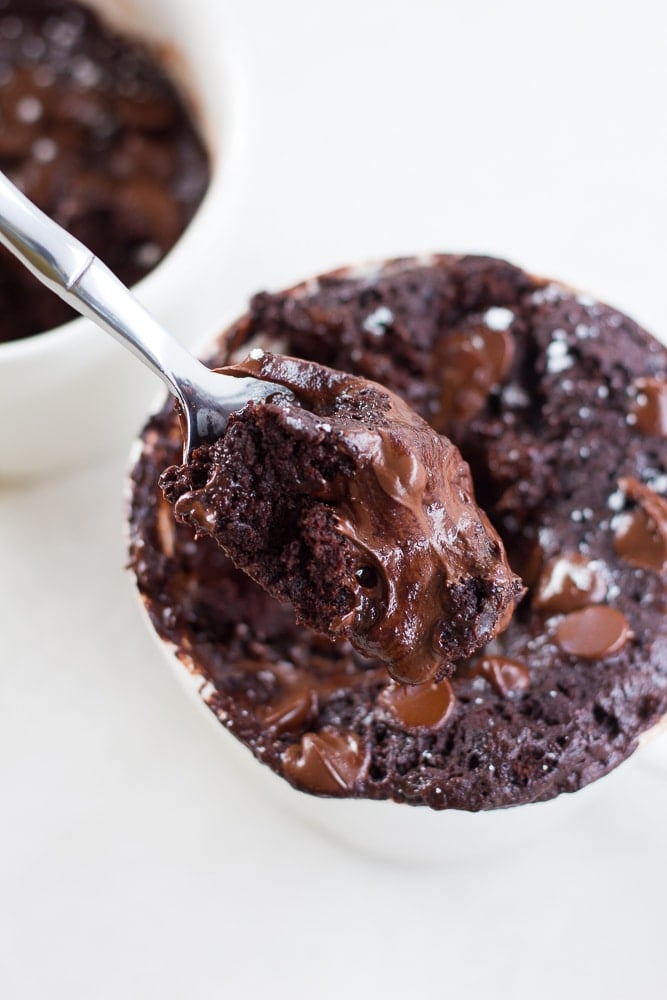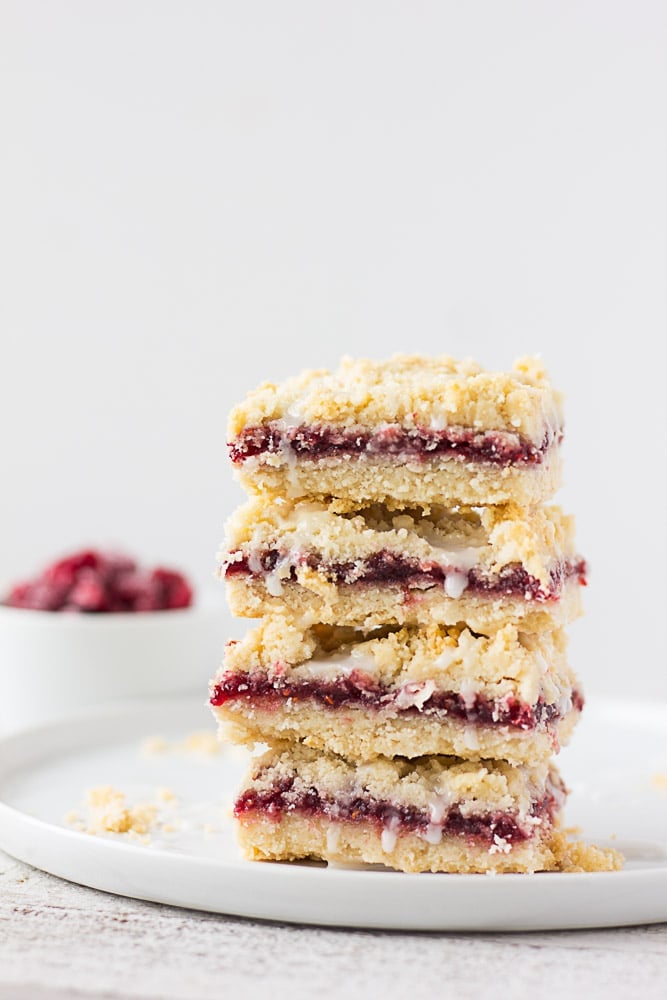 Vegan Raspberry Bars – You can use any jam you have: strawberry or apricot are good choices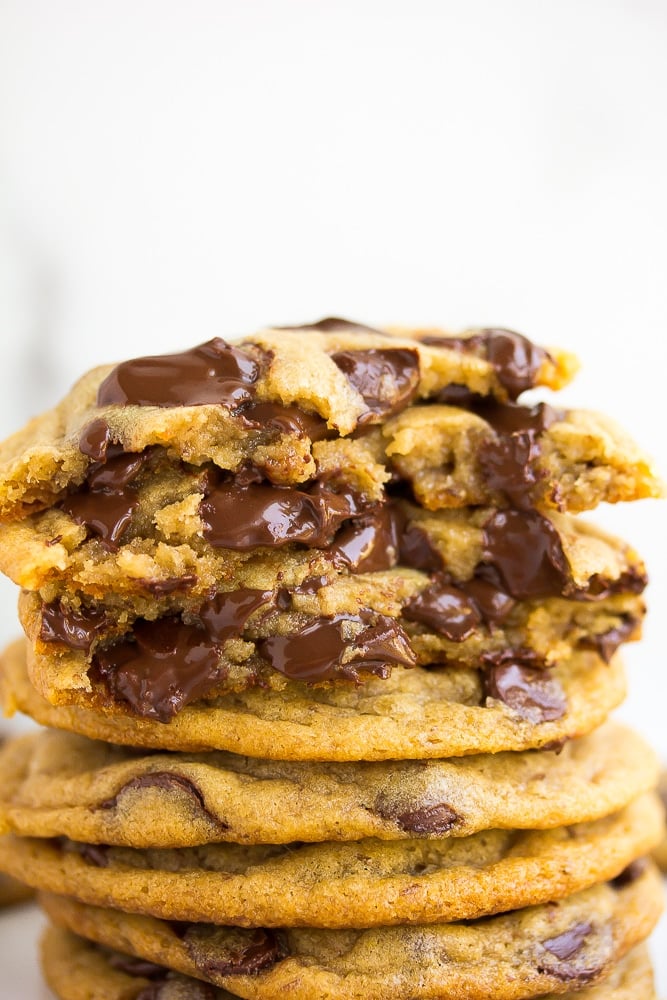 Perfect Vegan Chocolate Chip Cookies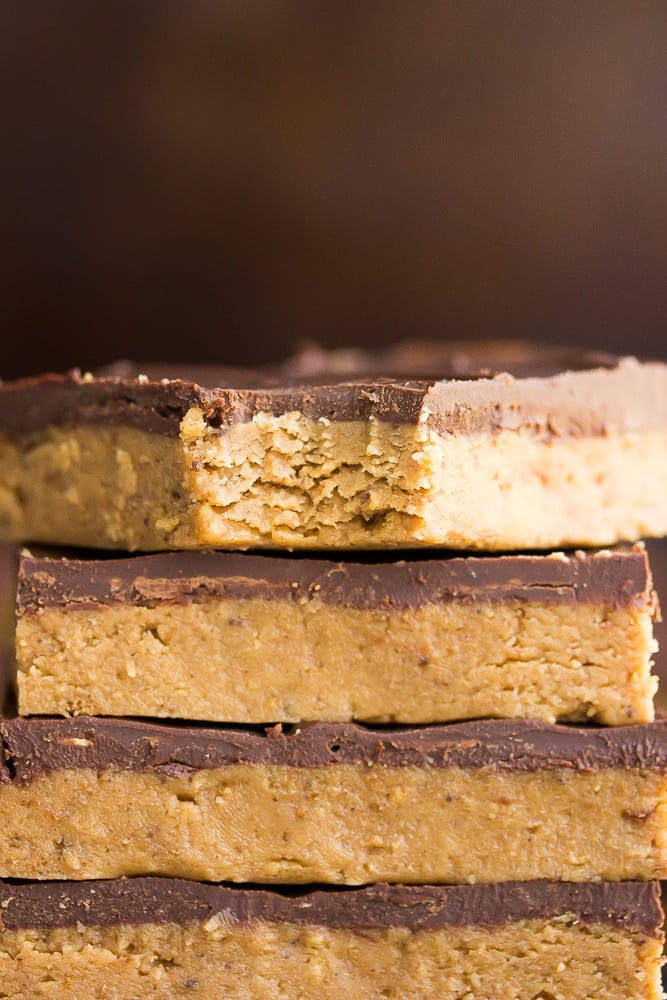 Vegan Chocolate Peanut Butter Bars