Trying to help your family go vegan? I've been there! 10 tip for raising vegan kids + lots of kid friendly meal ideas for breakfast, lunch and dinner.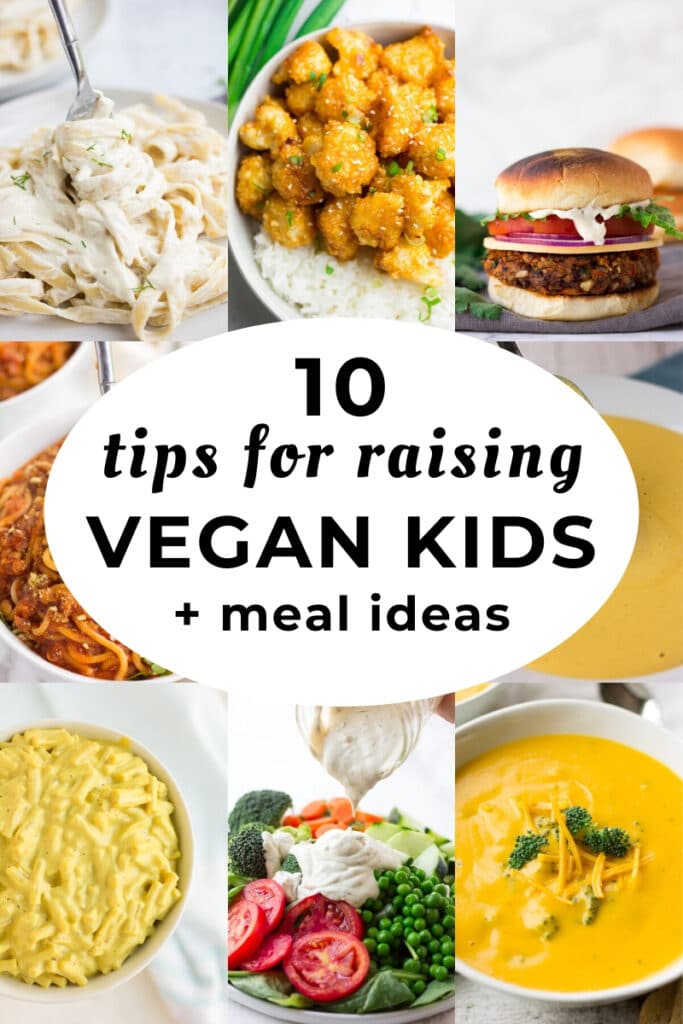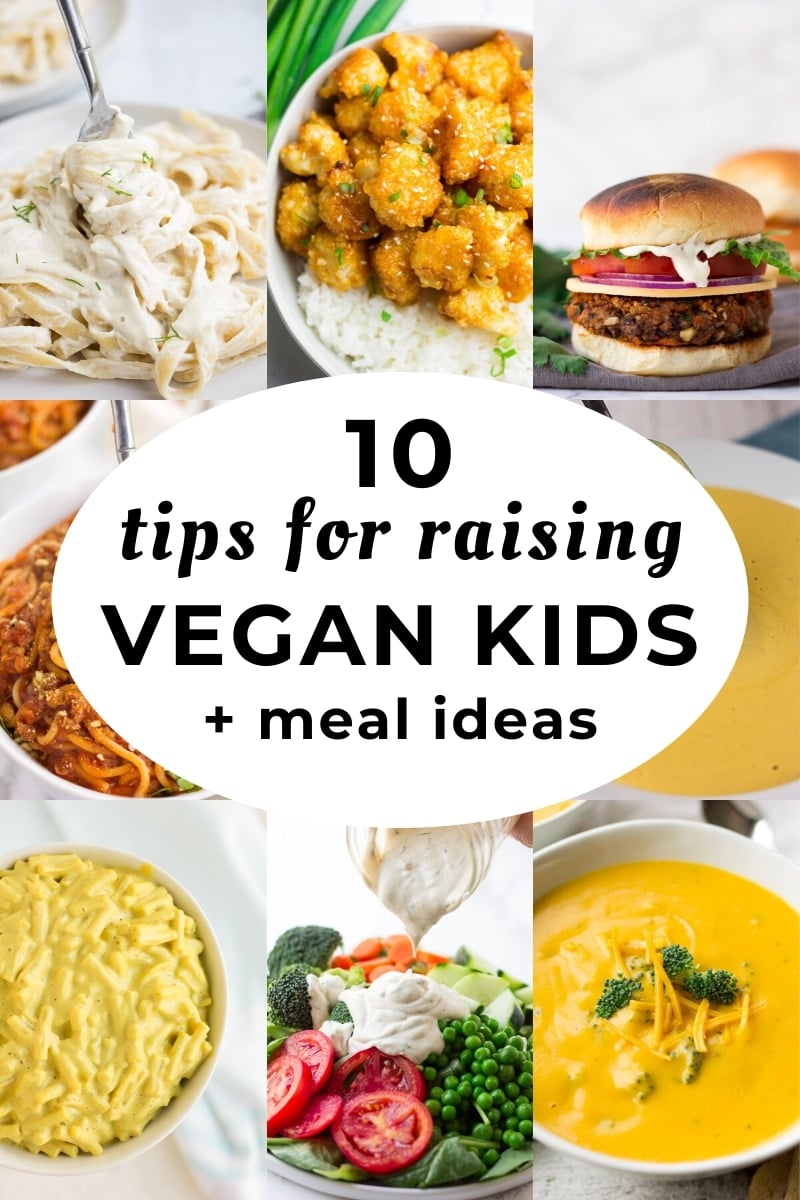 Want to go vegan but not sure what to feed your kids? I can help!
I have 10 + years of experience feeding my family vegan foods, and have learned a lot along the way. I have had one super picky child, one adventurous eater, and one that falls somewhere in the middle (my youngest). If you have picky kids like I have, I have a lot of good tips for you. I want to help you make meal times less of a struggle!
Remember, different strategies work for different children. For example, my twins (now almost 12) never enjoyed eating fruit that much, but my youngest loves pretty much all fruit. Talk about an easy snack. The twins also didn't care too much about having a dip for veggies, but my 4 year old will eat loads of brussels sprouts and broccoli if he has a dip to go with them!
10 Tips for Raising Vegan Kids
1. Let them get involved and help you meal plan.
Ask your kids what they would like to see on the menu for the week. Let them browse recipes with you so they can pick what looks good. And if you can, grow a garden, visit the farmer's market and involve them in cooking and baking.
2. Make familiar foods.
Are your kids used to eating spaghetti, burritos, meatballs, burgers, mac and cheese? Create vegan versions of all their favorite dishes. You can try new recipes as well, but make sure you let kids (and adults for that matter) enjoy the flavors and types of meals they are used to. Also, embrace vegan meat and cheese alternatives if it helps. Gardein chickenless nuggets are a lifesaver, as well as vegan sliced and shredded cheeses and tofurky slices. My older kids LOVE beyond and impossible burgers when we go out.
3. Make green smoothies, and let your kids help.
There was a time when my twins enjoyed a green smoothie, and they occasionally still do. My 4 year old is not a big fan unfortunately! He really seems to like to chew his food, and he just loves to eat. He does like to take drinks from my cup, so whenever I have a green smoothie I share it with him. Smoothies are a great way to get greens, fruits and nuts/seeds into picky kids. Just don't force it or your kids may come to despise them!
4. Keep foods separate sometimes.
I am the kind of person who likes to put everything in a bowl together, but my kids generally don't appreciate this. If we are having buddha bowls, or tofu-rice-veggie bowls, I'll give my kids the ingredients separate on a plate. If it's a meal where you can easily do that, it can really help out a kid with a picky palate.
5. Keep vegan snacks in the house!
There are tons of snacks that are vegan. Fruit, pretzels or pretzel thins with hummus, or vegetables with hummus, rice crackers, tortilla chips and salsa, energy bars (larabars, luna bars, clif bars), toast, popcorn, cereal, vegan yogurts, applesauce cups or squeezies, dried fruit, trail mix, nuts… The list goes on and on. My kids are active and need snacks they can grab in the afternoon or evening.
6. Celebrate with fun desserts!
Delicious vegan desserts are such a great way to introduce someone to the vegan lifestyle. From chocolate cake, chocolate chip cookies, vegan mug cake to funfetti vegan cupcakes, there are a million desserts you can bake with your kids (and impress their friends!).
7. Give your kids lots of fruit.
Kids usually love fruit, even if they don't love vegetables. Some of my kid's favorite fruits to eat are apples, bananas, oranges, strawberries, raspberries, blueberries, peaches, nectarines, pineapple, watermelon, mango and pears.
8. Don't cook separate meals for your kids.
I have definitely cooked separate meals for my kids before and it causes me so much stress! Try to keep them in mind when you plan meals for the week, and even if it's not something they love, offer a few sides they do like, such as apples, bread, corn or whatever. If they absolutely hate what I've made, I do offer to let my older kids to go make their own PB and J.
9. Don't stress your kids out about food and create anxiety.
Celebrate and enjoy eating food with your kids! Don't make eating a big deal, don't talk about diets or show them other restrictive behavior. Eating vegan is not a "diet" but a way of life. One that can be satisfying, delicious and normal! Help them practice "intuitive eating" and learn to listen to their own bodies. For more on this check out Ellen Satter's division of responsibility when it comes to feeding kids. I have found her ideas so helpful. 🙂
10. Depending on their age, let them make their own decisions outside the home.
This might be a little controversial, but at some point, as your children grow up, they will have to learn to make their own decisions around food. The age will vary depending on your family, but kids will eventually have to decide for themselves if they are going to continue to be vegan. Of course, you can still control the food you make and keep in your home, but they will eventually make their own decisions. I believe leading with kindness and openness is always the best option.
Meal Ideas for Kids
Breakfast
Peanut butter toast, with or without jelly or banana slices
Avocado toast, if you child loves avocado
Oatmeal with blueberries (I always have frozen on hand)
Cereal with non-dairy milk (check ingredients to ensure vegan)
My older kids like vegan breakfast sausage (Gardein brand usually)
Lunch
Sandwiches: PB and J, Hummus sandwich (bread, hummus, lettuce, cucumbers, maybe tomatoes), tofurky vegan cheese sandwich (my older kids have this almost every day right now), pita with hummus and veggies, chickpea tuna sandwiches or wraps.
Burritos (my kids love Amy's non-dairy burritos)
Leftovers from dinner, we do this a lot
Vegan Nuggets, Gardein brand is my favorite
Add vegetable sides: Peas, green beans, carrots and ranch, cucumber slices, corn, steamed broccoli, tomatoes and any other veggies your kids like.
Don't forget the dip! My youngest will eat so many vegetables if he has a dip he likes to go with it. His favorite is actually peanut sauce, but ranch is good too.
Dinner
*This article has been updated from when it was first posted in June 2017.